What Is Ai Selfie App
An artificial intelligence (AI) selfie app is a mobile application that improves and modifies user-taken selfies. These apps analyse and classify various facial traits using AI algorithms, then apply various filters and effects to enhance the selfie's appearance. Other functions included in some AI selfie apps include backdrop removal, skin smoothing, and cosmetics application. As more people try to improve their selfies and post them on social media sites, these apps have grown in popularity in recent years. Snapchat, Instagram, and Facetune are a few of the well-known AI selfie apps.
Best Ai Selfie App
Relight
Relight by ClipDrop is an excellent web-based solution for applying artificial intelligence to relight a taken image and produce stunning images. All photographers concur that favourable lighting conditions are necessary for creating quality photos.
Professional photographers use sophisticated light sources in their studios because of this. Relight can assist in resolving the problem if you capture a portrait in poor lighting.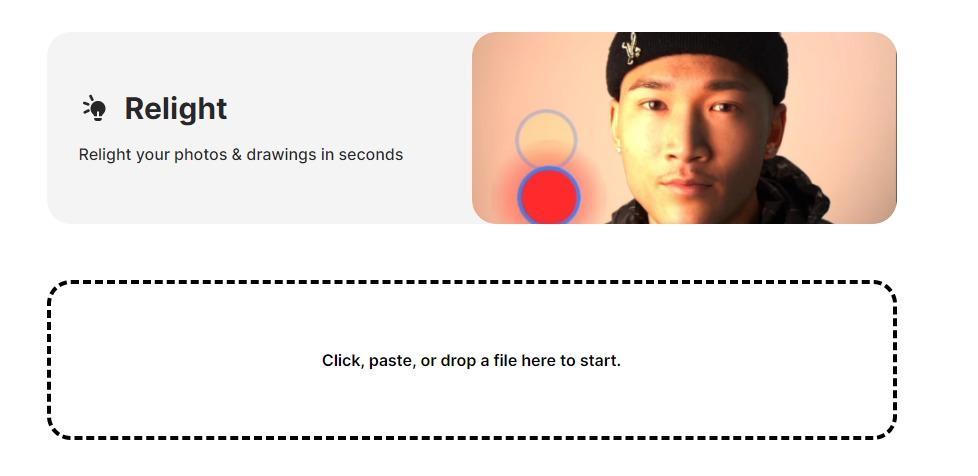 Relight's flexibility in adding and moving light sources is what sets it apart. Users of conventional photo editing software can only alter the brightness or contrast; not the lighting itself. Relight takes it a step further by utilising AI to give consumers the ability to tweak lighting much like an expert would in their studio.
The ClipDrop programme can also teleport objects, upscale photographs, add texts, remove/add a background, fix flaws, and clean up blemishes.
It only takes a few clicks to upload the selfie you wish to alter, and the AI-powered tool will instantly give you a polished outcome.
It is available for free installation from the Play Store and App Store. However, more advanced capabilities can be unlocked through in-app payments.
NightCafe
The AI face generating tool on NightCafe is a useful tool for increasing creativity. By providing language cues or utilising pre-existing images, this web-based AI tool is ideal for producing beautiful and realistic portraits.
The precision of NightCafe's algorithm was achieved by studying millions of web images and text pairs. Because of its vast exposure to online content, this programme can now produce faces based on detailed text descriptions.
For instance, you might type "professional man" into the text box and then choose the preset style "B&W Portrait." NightCafe will create an AI face that closely matches your written description in a matter of seconds.
The AI face generator in NightCafe can be useful if you're seeking for a fake face to use on your social media profiles, for online marketing, for making digital art, etc. Despite not being an app for taking and editing selfies.
The tool's user interface is clear and uncomplicated. Therefore, anyone may use this tool to make beautiful AI portraits; professionals are not required. Currently, NightCafe offers free creation and download of up to 28 AI faces per day.
Its advanced mode, which unlocks a tonne of awesome features like Model, Sampling Method, Seed, Aspect Ratio, Overall Prompt Weight, CLIP Guidance, Resolution & Runtime, etc., is, however, a premium option.
Lensa
Lensa is one of the best options to choose from if you're looking for an app to edit portrait selfies. Even those who are technologically handicapped can use it without any problems because to its straightforward user interface and user-friendly features.
This software gives the best skin-refining results available. Each of your selfies can be improved by erasing imperfections and using additional cosmetic effects. The app's auto-adjust editing functionality is rather excellent. Additionally, because Lensa is AI-powered, all you have to do is choose the type of retouching you want, and it will handle the rest.

You can upload a handful of your photographs to the app's database, and Lensa automatically develops some amazing-looking avatars, such as an astronaut or a price from ancient times. However, making AI-powered avatars is still one of Lensa AI's top-selling products. With this AI selfie maker, the options are endless!
Additionally, Lensa has an eyebrow feature that enables you to create appealing facial contours. The programme allows you to compare the "before" and "after" versions of your altered image and even go back to the original if you're not happy with the changes.
Additionally, the app offers a background changer that lets you change the background of your selfie to any image you desire. Additional benefits of the app include color intensity, lens correction, fade effect, sharpness tool, saturation editor, temperature tool, multiple avatar styles, and many more to give you a perfect selfie every time.
Portrait AI
PortraitAI can satiate your curiosity about what you might have looked like in the 1800s. Users can employ Artificial Intelligence technology to construct their own 18th-century avatars with the AI selfie generator.
Uploading a selfie will trigger the AI to create a portrait based on that selfie. The traditional portraits that the app produces are not protected by copyright. Therefore, you are free to use those portraits everywhere, including social media profiles and artwork.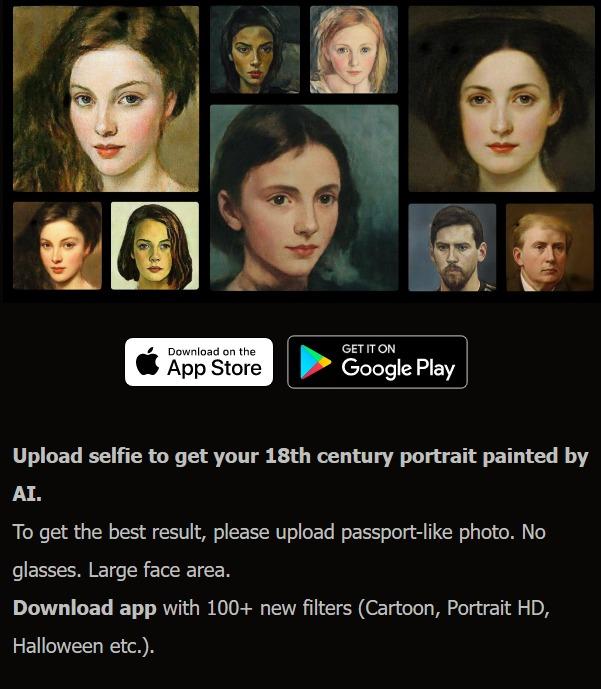 More than 100 filters are available, including Chubby, Anime, Cartoon+, Gorilla, Pablo Picasso, Halloween, and a number of others. For the greatest results, try taking your selfie in a well-lit area without your glasses.
Also, keep in mind that European individual images were used in the AI's training. As a result, PortraitAI occasionally has trouble processing selfies of persons of colour. The creators of the app are aware of this problem and are working to resolve it.
In the Play Store, PortraitAI currently provides a free service, however the portraits have watermarks. You can get rid of them by buying the premium version.
AI Time Machine
Users can design their avatars using the entertaining, online AI selfie generator called MyHeritage's AI Time Machine by making predictions about how they would have appeared in various historical eras.
Users merely need to input their images for the tool to generate incredibly lifelike avatars from the distant past to the near future using artificial intelligence. Users are instructed by the tool to upload 10 to 25 photos shot from various perspectives.
You will be prompted by MyHeritage's AI Time Machine to enter your name and gender after uploading. When everything is finished, the AI technology will get to work and send you an email to let you know when your avatars are ready.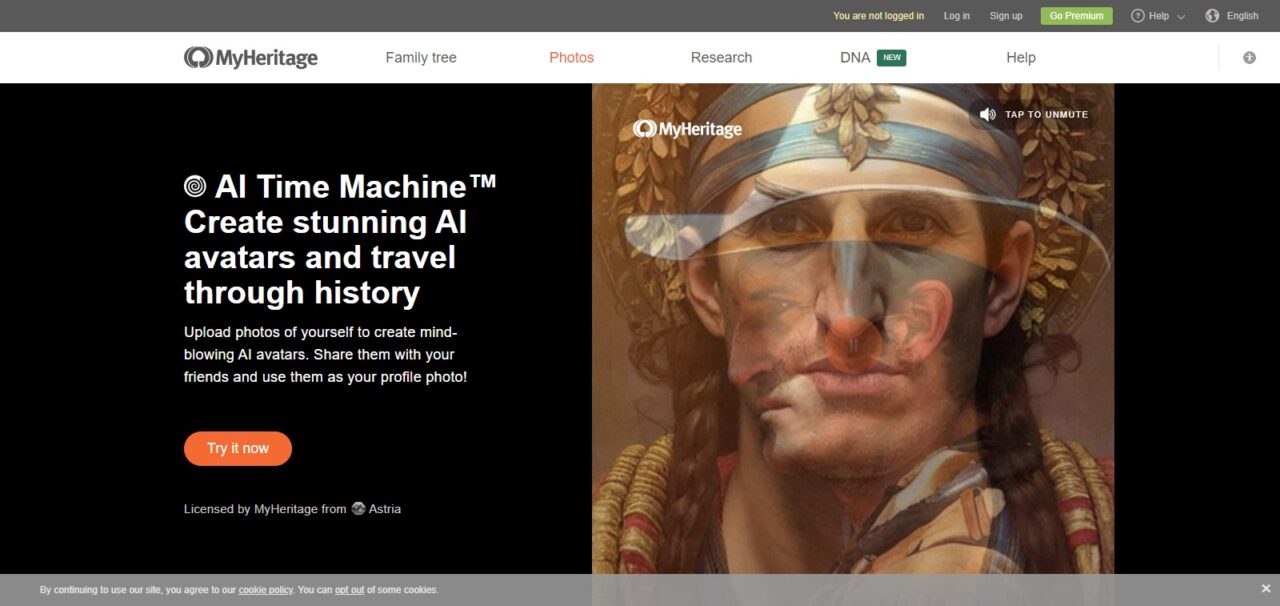 MyHeritage counsels uniqueness, diversity, numerous stances, expressions, images taken in diverse locations, absence of heavy makeup or eyewear, etc. for optimum outcomes.
No two people will ever have avatars that are alike since the AI is so good at inventing them. Results will be particular to each user only. You can transform into a pharaoh, a knight, or even an astronaut with just a few clicks.
MyHeritage provides tools for colouring, improving, or even animating your portraits in addition to the AI Time Machine feature.
The initial launch phase of MyHeritage's AI Time Machine is under underway. During this time, there may be free promotions that let users build one model and produce 160 photographs for 20 different themes without paying a dime.
Luminar AI
This fantastic AI-powered editor called Luminar AI is best described as powerful, quick, and feature-rich. The editor offers tools that are specifically geared towards editing certain photo components, such as the atmosphere, sky, face, skin, and body. The effects will be immediately applied to those areas after activation.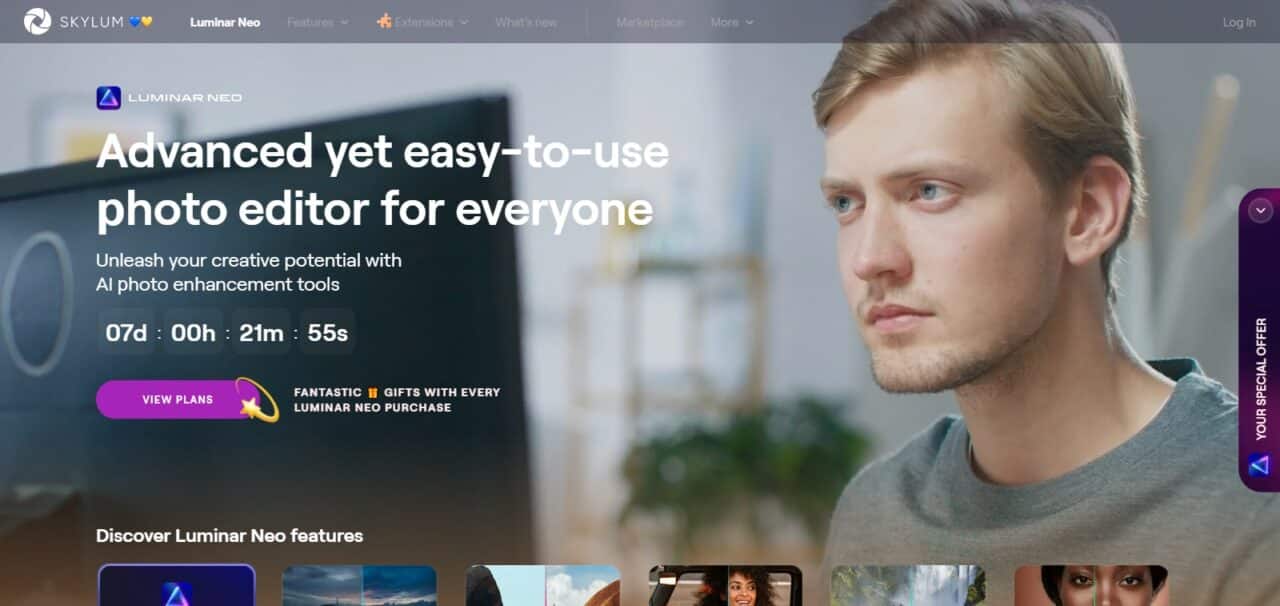 Their artificial intelligence analyses your photo in a matter of seconds, producing an adjusted version that is noticeably more attractive than the original. Additionally, it contains presets you can use to give your inconsistently high-quality images taken with various devices a uniform look, making it appear as though they were all taken during a single photo shoot.
I've only begun to explore the vast capabilities of this tool so far. For a free trial to get a feel for it, go ahead and do that. It is accessible through Windows and macOS software as well as Photoshop, Lightroom, and Apple Photos plugins.
Movavi Picverse
With Movavi Picverse, a tool made for photographers of all skill levels, you can count on nothing but perfect outcomes. It includes a user-friendly interface and a variety of tools that let you edit your photos, remove backgrounds, create new ones, and add colour to B&W images.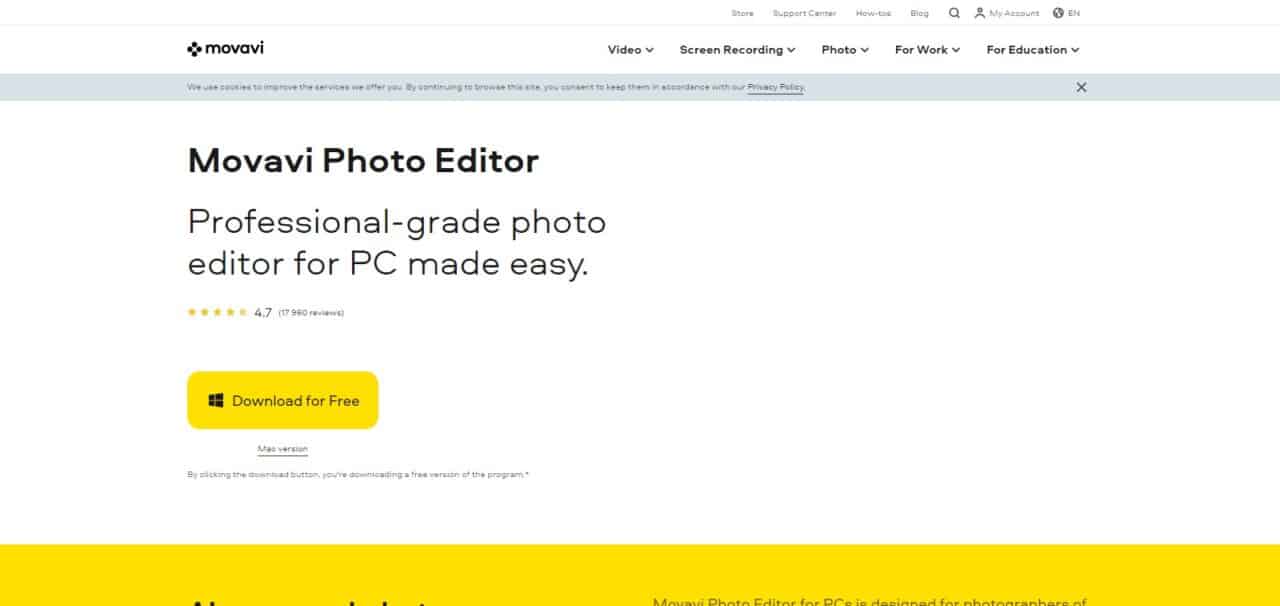 This programme allows you to open RAW files and instantly converts them into JPEG. You can also add text, alter the font, and open RAW files. German, Spanish, Turkish, Japanese, and other languages are among the many that Movavi Picverse is accessible in.
Best Ai Selfie App Conclusion
Selfie apps with AI technology have grown in popularity over the past few years, and with good reason. These apps employ AI to improve selfies in a variety of ways, such as eliminating imperfections, altering lighting and contrast, or even adding makeup or virtual backgrounds. YouCam Perfect is one of the top AI selfie applications accessible right now.
Users of this software can make collages and add frames to their photographs in addition to a variety of AI-powered beauty tools and filters. Anyone trying to improve their selfies will find YouCam Perfect to be a seamless and fun experience thanks to its user-friendly UI and sophisticated editing features.
Best Ai Selfie App FAQ
What is an AI-powered selfie app?
An AI-powered selfie app is a mobile application that uses artificial intelligence technology to enhance selfies and improve their quality.
What features can I expect from an AI-powered selfie app?
The features of AI-powered selfie apps may vary, but some common ones include skin smoothing, blemish removal, makeup application, lighting and contrast adjustment, and virtual backgrounds.
What is the best AI-powered selfie app available today?
There are several excellent AI-powered selfie apps available, but one of the most highly rated is YouCam Perfect. This app offers a wide range of AI-powered beauty tools and filters, as well as features like collage creation and frame addition.
Are AI-powered selfie apps easy to use?
Most AI-powered selfie apps are designed to be user-friendly, with intuitive interfaces and straightforward controls. Even those with no prior editing experience should be able to use these apps without difficulty.
Do I need a high-end smartphone to use an AI-powered selfie app?
While some AI-powered selfie apps may require certain hardware specifications to function optimally, most should be compatible with a wide range of smartphones and devices. However, for the best results, it is recommended to use a device with a high-quality camera.