A cutting-edge financial tool that combines the practicality of conventional debit cards with the strength of cryptocurrency is the Best Crypto Debit Card UK. It enables users to use their digital assets at any online or offline retailer that accepts credit cards. People can easily make transactions with this card and change their cryptocurrency into fiat currencies like the British pound.
The Best Crypto Debit Card UK provide a number of advantages, such as cheap exchange rates, minimal fees, and increased security features like encryption and two-factor authentication. Additionally, these cards give users the freedom to manage their cryptocurrency holdings and keep track of their transactions via user-friendly mobile apps or online platforms.
Using the top cryptocurrency debit card in the UK, individuals can enjoy the benefits of both the crypto world and traditional financial systems, making it a game-changer for the adoption of cryptocurrencies in everyday life.
What is Debit Card Uk?
In the UK, a debit card is a type of payment card that lets users take money out of their bank account to use for purchases, cash withdrawals, and other financial operations. It gives consumers easy access to their money and is connected to a specific bank account. Debit cards offer a quick and convenient way to make payments since when a transaction is made,
The money is taken right out of the user's bank account. In the UK, the majority of businesses, including shops, eateries, and online services, accept debit cards. For safe transactions, they frequently have a chip and PIN system or contactless payment technology. Furthermore, some debit cards may provide further characteristics like reward programmes, cashback choices, or the capacity to link accounts.
Here Is List Of Best Crypto Debit Card UK
Coinbase Card
WireX
Nexo
CoinJar
CryptoPay
1. Coinbase Card (Best Crypto Debit Card UK)
A popular cryptocurrency exchange, Coinbase, offers the Coinbase Card, a cryptocurrency debit card. It enables users to spend their cryptocurrency holdings at any business accepting Visa cards by connecting their Coinbase accounts to the card. When using contactless payments, withdrawing cash from ATMs, or making purchases online or in-person, users can instantaneously change their cryptocurrency into fiat money.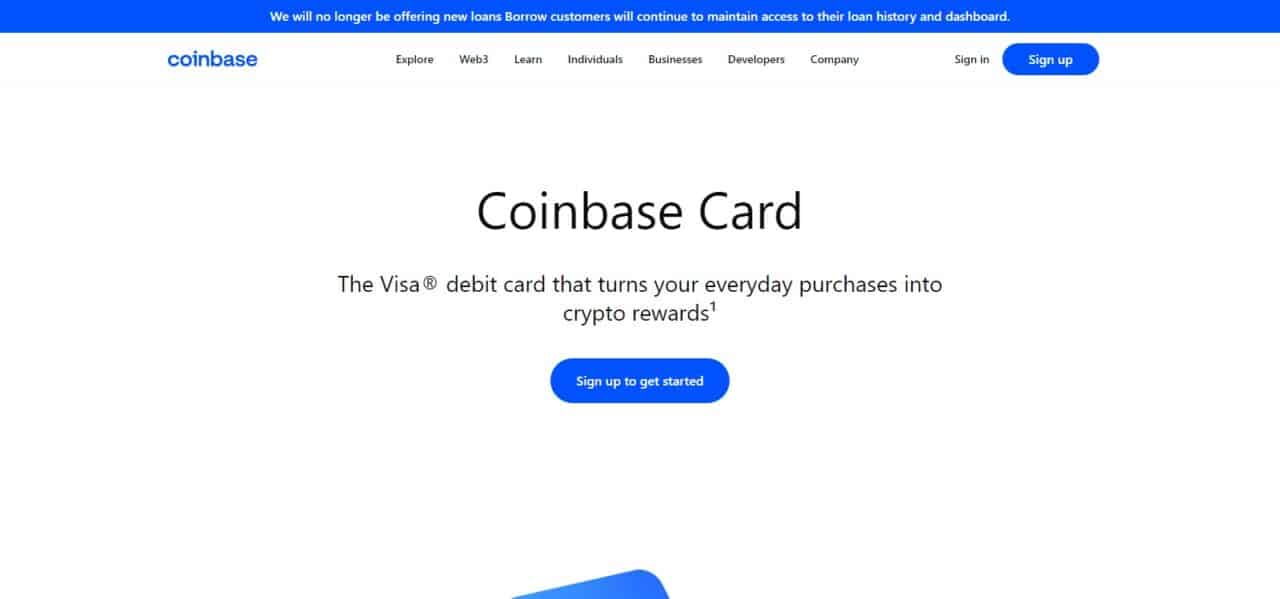 The Coinbase Card mobile app offers tools for managing card settings, choosing the cryptocurrency to use for transactions, and keeping tabs on spending. Availability may change based on where the user is. Visit the official Coinbase website or get in touch with their assistance to get the most accurate and recent information.
2. WireX
A cryptocurrency wallet and a multicurrency prepaid card are both available through Wirex, a digital payment company. Users of Wirex can safely store, purchase, sell, and trade both conventional currencies like the US dollar, British pound, and euro as well as well-known cryptocurrencies like Bitcoin, Ethereum, and Litecoin.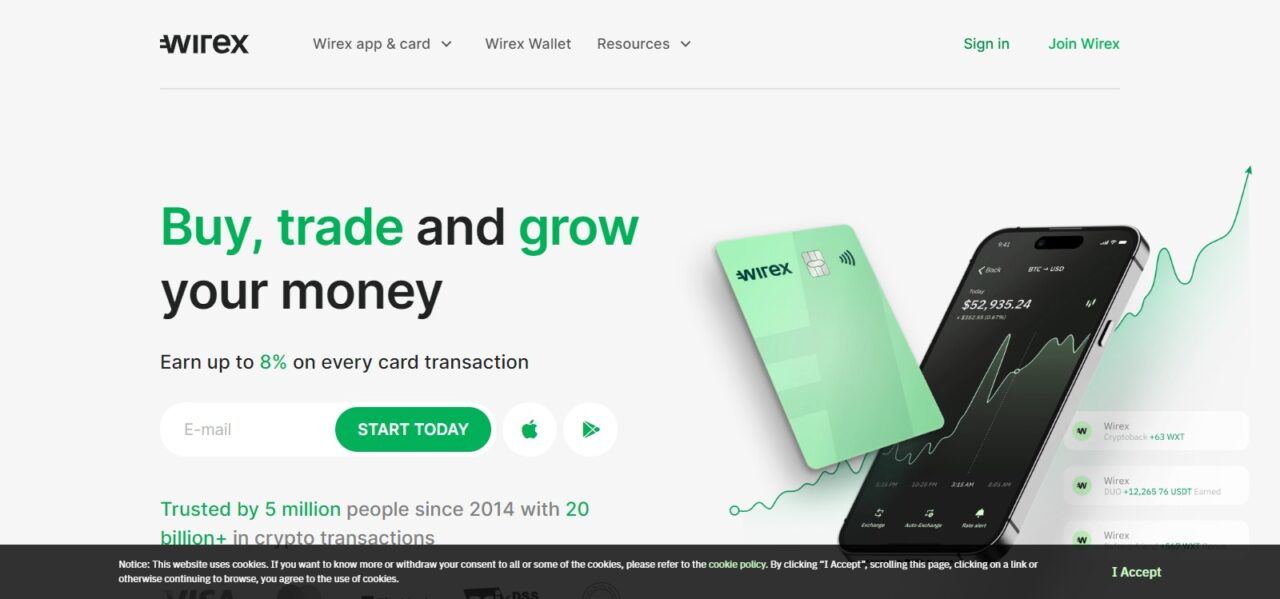 With the Wirex prepaid card, customers can utilise their bitcoin and fiat money balances at any business that takes Visa. It may be controlled by a simple smartphone app and allows contactless payments. Real-time notifications, transaction histories, and the option to instantly change currencies are among services offered by Wirex.
By giving consumers freedom and simplicity in managing their digital and fiat assets, the platform hopes to close the gap between conventional banking and cryptocurrencies. For the most precise and recent information it's recommended to visit the official Wirex website or contact their support.
3. Nexo (Best Crypto Debit Card UK)
Users can borrow money using their bitcoin holdings on Nexo, a platform for cryptocurrency lending. It offers a variety of financial services, such as high-yield interest accounts, fast loans backed by cryptocurrencies, and cryptocurrency exchanges. Users can use Nexo to deposit their cryptocurrency and earn interest on their investments.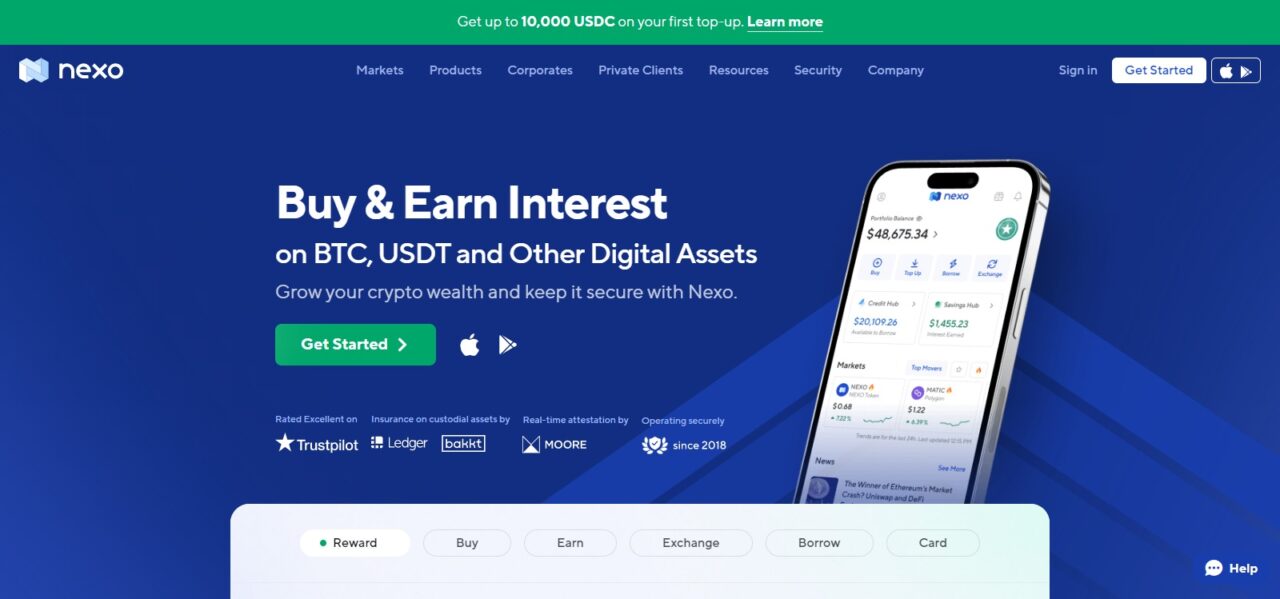 Daily interest payments are sent right to the user's Nexo wallet. Users also have the choice to borrow money against their cryptocurrency holdings without undergoing a credit check. Users have the option of receiving their loans in fiat money or stablecoins, and the loan amount is based on the value of the cryptocurrencies that are deposited.
Nexo intends to give cryptocurrency investors access to liquidity while allowing them to keep control of their digital assets in a safe and effective manner. It is suggested that you go the official Nexo website or contact their support for the most accurate and up-to-date information about their services.
4. CoinJar
The cryptocurrency marketplace CoinJar provides a number of services for purchasing, selling, and maintaining coins. It offers a user-friendly interface and accepts a variety of cryptocurrencies, including Ripple, Litecoin, Ethereum, and Bitcoin. Users of CoinJar can build wallets to safely store their digital assets.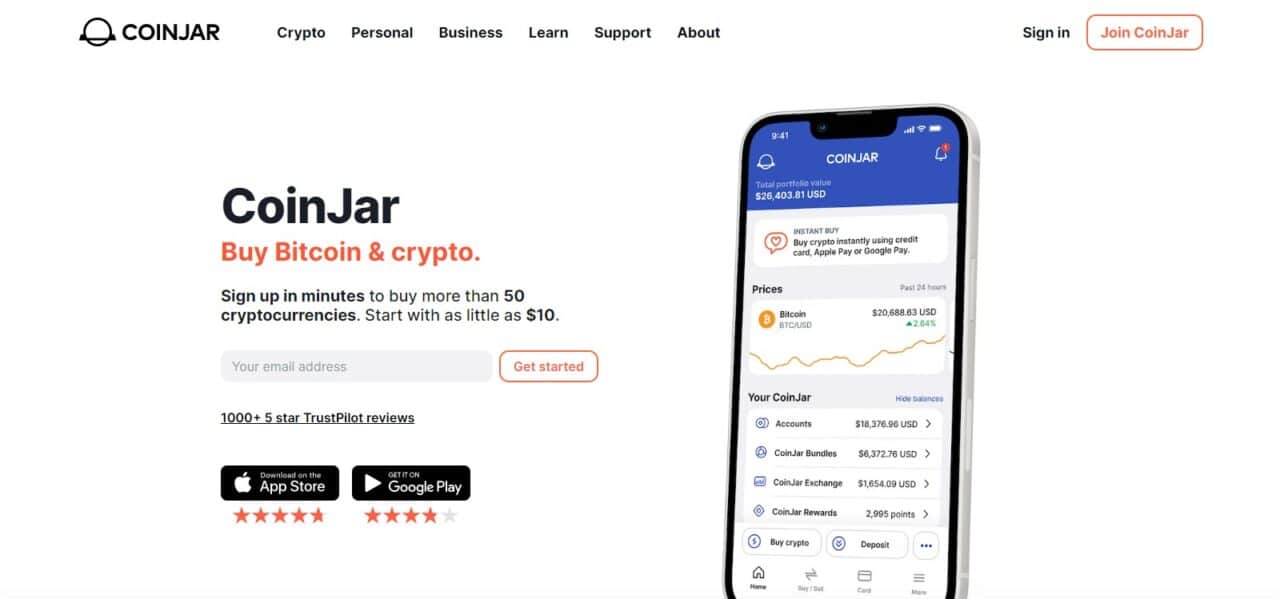 Through their CoinJar accounts, users may quickly buy and sell cryptocurrencies using fiat currency. Users can trade other digital assets on the platform's cryptocurrency exchange, which is also available. CoinJar also offers a smartphone app that makes it simple to access account balances, transactions, and market information.
It intends to make both newbies and seasoned traders more comfortable by streamlining the process of entering and navigating the world of cryptocurrency. When looking for the most precise and recent information on CoinJar and its services,  it's recommended to visit their official website or contact their support.
5. CryptoPay (Best Crypto Debit Card UK)
With the help of the cryptocurrency payment network CryptoPay, customers may easily store, transmit, and receive digital currencies. It provides a variety of services to fill the void left by cryptocurrencies and conventional financial systems. Users of CryptoPay can build wallets for a number of cryptocurrencies, such as Ripple, Litecoin, Ethereum, and Bitcoin.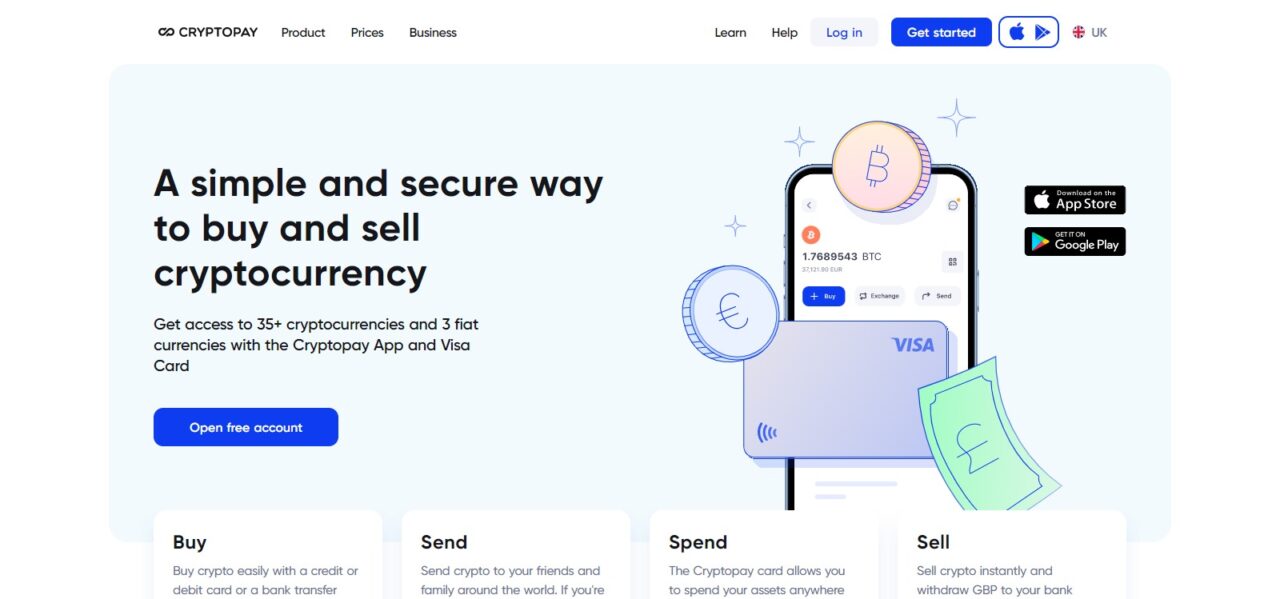 These wallets give consumers the ability to transact easily and securely keep their digital assets. In addition, CryptoPay offers a prepaid debit card that can be filled with cryptocurrencies and used at any business that accepts Visa or Mastercard to make regular purchases. The site provides practical features including the ability to withdraw money from ATMs and fast conversions between cryptocurrency and fiat currencies.
CryptoPay seeks to make bitcoin payments simple and offer a user-friendly experience for people wishing to incorporate cryptocurrencies into their daily life through a user-friendly smartphone app. It is advised to check CryptoPay's official website or get in touch with their support team if you want the most precise and recent information on their services.
Conclusion
In conclusion, when it comes to choosing the best crypto debit card in the UK, several factors come into play. It is important to consider features such as supported cryptocurrencies, ease of use, security measures, exchange rates, fees, and customer support. Two popular options worth considering are Coinbase Card and Wirex.
Coinbase Card offers a seamless integration with Coinbase's platform, allowing users to spend their cryptocurrencies at any Visa-accepting merchant. With its user-friendly mobile app and instant conversion of crypto to fiat currency, Coinbase Card provides a convenient and reliable option for crypto enthusiasts in the UK.
Best Crypto Debit Card UK FAQ
What is a crypto debit card?
A crypto debit card is a payment card that allows users to spend their cryptocurrencies, such as Bitcoin or Ethereum, at merchants that accept traditional debit or credit cards. It functions like a regular debit card, but instead of drawing funds from a traditional bank account, it converts the user's crypto holdings into fiat currency at the point of sale.
What is the best crypto debit card in the UK?
The best crypto debit card in the UK can vary depending on individual preferences and needs. However, popular options include Coinbase Card and Wirex. Coinbase Card offers seamless integration with the Coinbase platform, while Wirex provides a multicurrency prepaid card and wallet with extensive features.
How do crypto debit cards work?
Crypto debit cards work by linking the user's cryptocurrency wallet to the card. When making a purchase, the card automatically converts the chosen cryptocurrency into fiat currency at the current exchange rate. The transaction is then processed as a regular debit card payment, allowing users to spend their crypto assets conveniently.
What cryptocurrencies can I use with a crypto debit card?
The cryptocurrencies supported by a crypto debit card depend on the specific card provider. However, popular options generally support major cryptocurrencies like Bitcoin (BTC), Ethereum (ETH), Litecoin (LTC), and Ripple (XRP), among others.
How secure are crypto debit cards?
Crypto debit cards employ various security measures to protect user funds. These can include two-factor authentication (2FA), encryption, and secure storage of user data. It's essential to choose a reputable card provider with a strong track record of security and user protection.