Best Tourist Places In Sikkim, nestled in the northeastern part of India, is a treasure trove of natural beauty and cultural diversity, making it a captivating destination for tourists. One of the most iconic attractions is the Nathula Pass, a high-altitude mountain pass that offers breathtaking views of the snow-capped Himalayas and serves as the Indo-China border.
The serene Gurudongmar Lake, situated at an elevation of over 17,000 feet, is another jewel in Sikkim's crown, surrounded by pristine landscapes and considered sacred by both Buddhists and Sikhs. The capital city, Gangtok, is a bustling yet charming urban center, with its vibrant markets, monasteries, and the enchanting Tsomgo Lake. Yumthang Valley, known as the Valley of Flowers, is a haven for nature enthusiasts, adorned with a myriad of colorful blooms and snow-capped peaks.
Additionally, Pelling boasts the majestic Kanchenjunga Falls and the ancient Pemayangtse Monastery, providing a glimpse into Sikkim's rich cultural heritage. Sikkim's tourist places offer a harmonious blend of natural wonders and cultural treasures, creating an unforgettable experience for those who venture into this Himalayan paradise.
Here is List Of Best Tourist Places In Sikkim
Khangchendzonga National Park
Gangtok
Gurudongmar Lake – Sacred Lake Ethereal vibes
Yumthang Valley- Valley of Flowers
Lachung – Discover your Soul
Dzongu – Explore The Lifestyle of Lepchas
Enchey Monastery – Embrace the divinity
Nathula Pass – Pass of Euphoria
Jawaharlal Nehru Botanical Garden – Best Piece of Nature
Tashi View Point – Alluring Sunsets and Sunrises
10 Best Tourist Places In Sikkim
1. Khangchendzonga National Park
Khangchendzonga National Park in Sikkim, India, has been recognized as a UNESCO World Heritage Site due to its remarkable biodiversity and natural beauty. At over 850 square miles, this park covers three of the highest peaks in the world – Mount Khangchendzonga at 28,169 feet is its third-highest summit – as well as providing habitat to an abundance of plants and wildlife – such as red pandas, snow leopards, Himalayan tahrs and much more.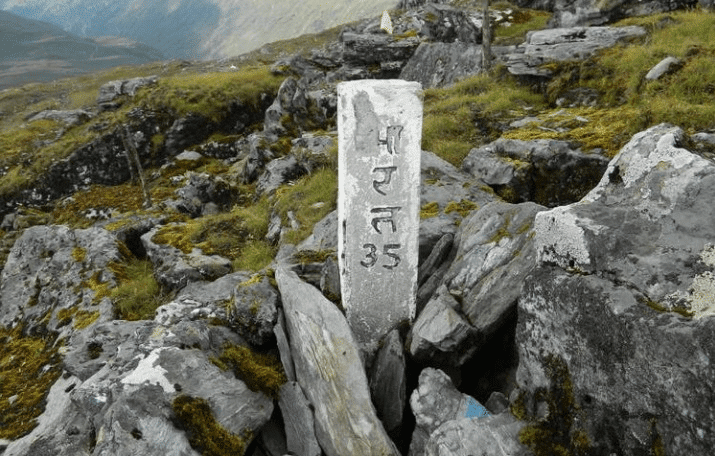 This beautiful landscape boasts alpine meadows, dense forests and glacial lakes; offering trekkers and nature enthusiasts alike a scenic landscape for exploring. Tshongu Lake and Zemu Glacier add further allure to this park, drawing both adventure seekers and those in search of peace to its shores.
Sikkim is rich with cultural significance, featuring numerous monasteries and traditional villages with ancient architectural charm that allow visitors to gain an immersive experience of both its natural and cultural heritage. Khangchendzonga National Park stands as a testament to this delicate balance between human civilization and nature in the Himalayan ecosystem.
2. Gangtok (Best Tourist Places In Sikkim)
Gangtok, the capital and largest town of Sikkim state in India, is an engaging hill station that seamlessly blends modernity with traditional charm. Perched atop an eastern Himalayan range, Gangtok offers picturesque mountain vistas as well as lush greenery to delight visitors from near and far. Gangtok is known for its clean streets and well-planned design, reflecting its dedication to environmental conservation. No visit would be complete without seeing Enchey Monastery perched atop a hilltop.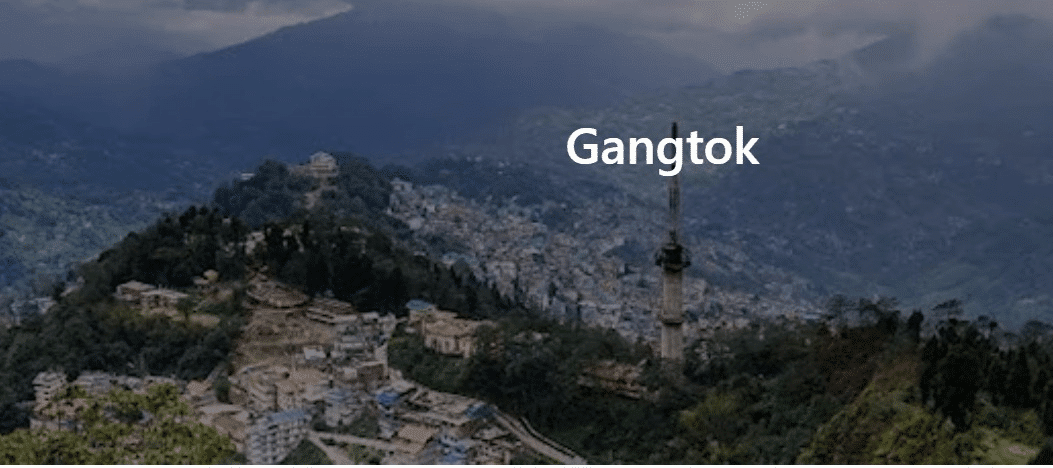 Namgyal Institute of Tibetology offers insight into Tibetan culture and history. For an immersive experience, MG Marg, the bustling pedestrian market located at the heart of town offers shops, restaurants and cafes offering vibrant atmosphere that draws both locals and tourists. Gangtok serves as an entryway to several tourist destinations in Sikkim, such as Tsomgo Lake, Nathula Pass and Rumtek Monastery. With its blend of natural beauty, cultural richness and modern amenities, Gangtok makes for an enjoyable Himalayan experience.
3. Gurudongmar Lake – Sacred Lake Ethereal vibes
Gurudongmar Lake in Sikkim's north is an exquisite jewel amongst the majestic Himalayas, resting at an elevation of over 17,000 feet and being one of the highest lakes worldwide. This sacred lake holds both cultural and spiritual significance for Sikkimese people and visitors from abroad alike. Legend has it that Guru Padmasambhava, founder of Tibetan Buddhism, blessed Lake Harihar for being sacred for both Buddhists and Sikhs alike.
Gurudongmar Lake exudes an air of mysticism as visitors witness its crystal-clear blue waters surrounded by snow-capped peaks and prayer flags flapping in the crisp mountain air. Furthermore, it remains frozen most of the year adding another mysterious layer to this magical oasis.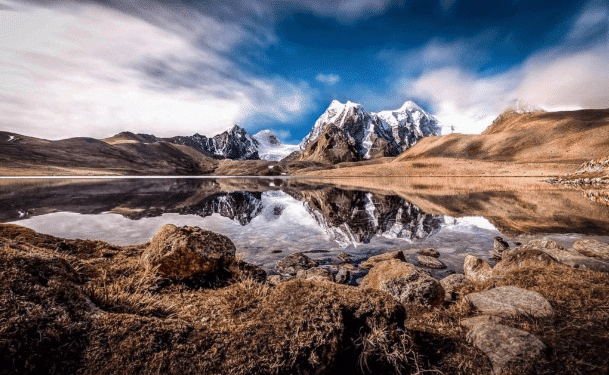 Pilgrims and travelers alike are drawn to Lake Balata because of both its stunning beauty and spiritual energy present in its surrounding. Journeying to Gurudongmar Lake can be an arduous endeavor, passing over rugged terrains and high mountain passes; yet seeing this sacred lake will leave an indelible mark in one's mind and heart forever.
4. Yumthang Valley- Valley of Flowers (Top Tourist Places In Sikkim)
Yumthang Valley, commonly referred to as the "Valley of Flowers," is an idyllic and captivating destination located in northern Sikkim. Famed for its picturesque alpine meadows, vibrant floral carpets and snow-capped peaks – Yumthang is an eye candy for nature enthusiasts and photographers. When spring rolls around it comes alive with vivid wildflower blooms; Rhododendrons Primulas and other species paint this breathtaking scene in various hues of red pink purple white with the Yumthang River meandering through adds another scenic touch completing this picture perfect picture of this picturesque destination.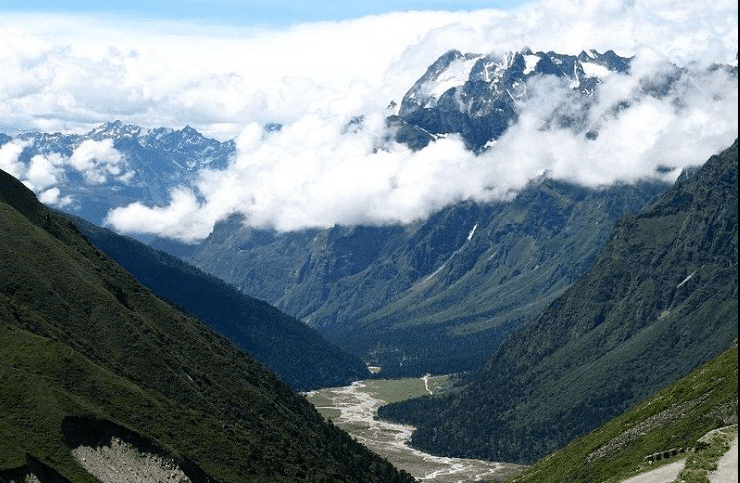 Yumthang, home to Pauhunri and Shundu Tsenpa Mountains, offers not only breathtaking landscapes but also abundant biodiversity. Shingba Rhododendron Sanctuary located near its valley houses an array of plant life and animals that give Yumthang its unique charm and appeal.
Yumthang Valley's natural beauty aside, Yumthang Valley also serves as an entryway to higher altitudes such as Yumesamdong or Zero Point where tree line vanishes to reveal stunning panoramic views of snow-covered landscapes. No matter your interest – adventure seeking, botany admirer or simply tranquility seekers all will find an experience unique to Yumthang Valley within the Himalayan ranges.
5. Lachung – Discover your Soul
Lachung, nestled in the northern reaches of Sikkim, is a peaceful mountain village that allows visitors to find their inner soul among its picturesque Himalayan surroundings. From snowcapped peaks, lush greenery and cascading waterfalls – Lachung is sure to inspire and offer respite from daily life's hectic pace.
Lachung serves as the gateway to Yumthang Valley and Zero Point, providing visitors with an ideal starting point to discover its natural attractions. Lachung itself features traditional Tibetan-style houses adorned with prayer flags that flutter in the mountain breeze – giving Lachung its distinct sense of peace and serenity.

One of Lachung's key attractions is the Lachung Monastery, an exquisite spiritual sanctuary that gives visitors an insight into its rich cultural heritage. Additionally, Lachung Chu River flows peacefully through its village setting, providing visitors with the perfect setting for soul-rejuvenating walks along its banks.
Lachung's charm lies not only in its picturesque views but also in the warmth of its people. Locals' culture and hospitality add depth to Lachung, creating an incredible connection with both place and self for visitors. Lachung offers travelers an ideal setting to discover their inner selves amidst the grand Himalayan ranges.
6. Dzongu – Explore The Lifestyle of Lepchas
Dzongu, in Sikkim's northern corner, offers visitors a serene and offbeat destination where they can experience traditional Lepcha community lifestyle. Sheltered by lush forests and the towering Khangchendzonga range, it presents an exquisite blend of natural beauty and cultural richness.
Dzongu is home to the Lepcha people of Sikkim, and offers visitors an amazing opportunity to observe their ancient customs, traditions, and sustainable way of life. Lepchas are widely known for having strong ties with nature that manifest themselves through daily practices and rituals.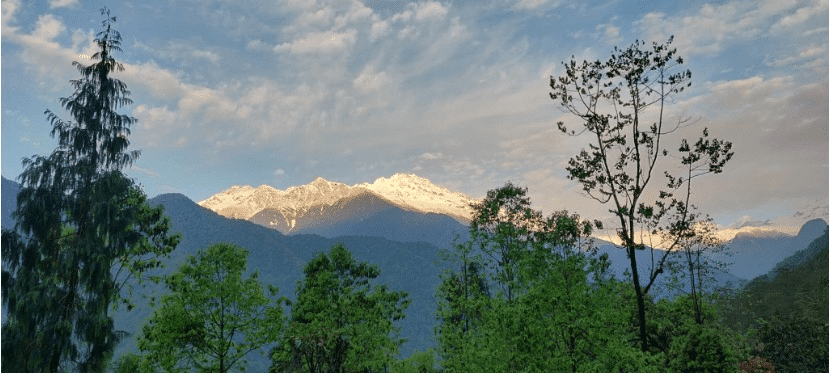 This region is filled with charming hamlets set among terraced fields, cardamom plantations and dense forests. Traditional Lepcha houses adorned with colorful wooden carvings add charm to the scene while Tingvong and Dzongu Reserve Forests add biodiversity for nature walks and bird watching opportunities.
Tingchim, the main village in Dzongu, houses the Dzongu Cultural Center where visitors can engage with local communities, witness traditional dance and music performances, gain insights into Lepcha culture and lifestyle, and participate in traditional Lepcha traditions. Kalep and Hee Gyathang hot springs provide relaxation within nature.
Dzongu offers travelers a tranquil respite from the mainstream tourist trail, providing them with an opportunity to immerse themselves in authentic Lepcha culture and its beautiful landscapes. Here one can truly appreciate their simplicity, resilience, and harmony which characterise life among indigenous inhabitants.
7. Enchey Monastery – Embrace the divinity (Best Tourist Places In Sikkim)
Enchey Monastery in Sikkim offers visitors a place of spiritual refuge that provides access to its rich spiritual legacy and the worship of deities – it was established during the 19th century and serves as an important center of Nyingma Tibetan Buddhism.
Enchey Monastery stands as an iconic architectural gem, boasting beautiful woodwork and vivid murals that display exquisite craftsmanship. However, monks and devotees from across Bhutan come here for prayer, meditation, and religious ceremonies; its name "Enchey" in local language translates as "solitary," which perfectly captures its peaceful ambiance and location.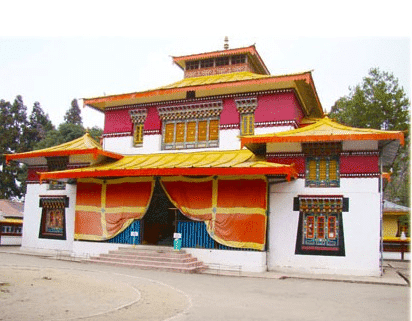 The monastery's main hall features images of various deities, including those associated with Khangchendzonga and Guru Padmasambhava for protection. Monks wear colorful costumes and masks during its annual Cham dance festival to create an eye-catching spectacle that draws both locals and tourists.
Enchey Monastery offers breathtaking panoramic views of the Himalayan range and Gangtok valley, providing a peaceful location for reflection and contemplation. Prayer flags fluttering gently overhead add to its spiritual atmosphere, creating an immersive experience and inviting visitors looking for moments of respite in nature's heart of peace and connection to divinity in its vicinity.
8. Nathula Pass – Pass of Euphoria
Nathula Pass, perched high atop an immense mountain range in the eastern Himalayas at over 14,000 feet elevation on the Indo-China border, evokes feelings of wonder with its breathtaking views and strategic importance. Connecting Sikkim in India to Tibet via this historic Silk Route route, Nathula now stands as an enthralling tourist destination.
Nathula Pass offers visitors a breathtaking journey, through winding roads that showcase breathtaking panoramic views of snow-capped peaks, alpine meadows and cascading waterfalls. As visitors ascend higher altitudes, air becomes crisp and landscapes transform into winter wonderlands during colder months.
Nathula Pass has long been recognized for its historical importance as a trade route between India and Tibet, and remnants of the Silk Route can still be seen along its route. Adorned with prayer flags that wave in the mountain breeze, adding an additional spiritual component to this remarkable location.
At Nathula border post, visitors can gain an inside look into military operations in the region as well as witness the camaraderie between Indian and Chinese soldiers stationed along its borders.
Nathula Pass never ceases to amaze visitors with its magnificent grandeur – whether covered with snow in wintertime or blooming with vibrant alpine flora in summer. Visitors of all kinds are regularly moved by standing upon this high altitude pass surrounded by the Himalayas – making this high altitude pass a must visit destination for anyone searching for both natural beauty and history in mountain surroundings.
9. Jawaharlal Nehru Botanical Garden – Best Piece of Nature
The Jawaharlal Nehru Botanical Garden of Sikkim stands as an enduring reminder of how nature and humanity coexist peacefully. Nestled into its idyllic surroundings near Gangtok's capital city, Gangtok, this garden pays homage to India's first Prime Minister Jawaharlal Nehru by featuring Himalayan-region flora species in abundance.
Spread across acres of lush terrain, Sikkim's Garden of Sikkim is an exquisite display of its rich botanical heritage. Visitors are met by an impressive display of indigenous and exotic plant species including orchids, rhododendrons, bamboos and medicinal plants. Its design seamlessly combines manicured landscapes with natural forest elements for an atmospheric experience inviting exploration and contemplation.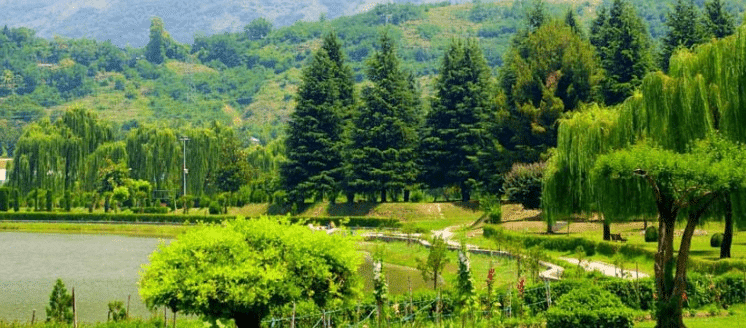 At the Jawaharlal Nehru Botanical Garden, one of its many attractions is its conservatory featuring rare orchid species native to Eastern Himalayas. Additionally, visitors can stroll along scenic walking trails that let them appreciate all of nature's diversity while relaxing in tranquil ambiance and admiring diverse flora.
The Jawaharlal Nehru Botanical Garden not only stands as a botanical marvel, but it is also an educational resource, featuring information boards that highlight ecological importance of various plant species. Perfect for nature lovers and botanists alike – or those simply seeking peace and relaxation – the garden stands as a living tribute to Sikkim's natural landscapes, offering visitors a chance to connect with nature within Eastern Himalayas region.
10. Tashi View Point – Alluring Sunsets and Sunrises
Tashi View Point near Gangtok offers breathtaking panoramic views of its surroundings and, most notably, alluring sunsets and sunrises. Aptly named after Tashi Namgyal – former King of Sikkim – this viewpoint attracts both locals and visitors looking to witness the magic of changing sky over Himalayas.
Tashi View Point offers visitors a breathtaking 180-degree panorama of snow-capped peaks – including Kanchenjunga – as far as the eye can see. A white-washed pavilion and manicured gardens create a peaceful setting where visitors can appreciate all that Eastern Himalayas has to offer.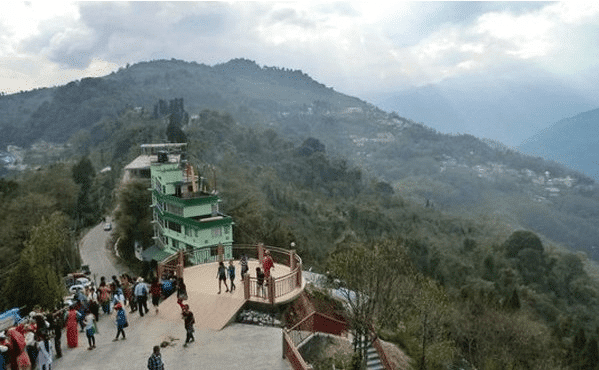 Tashi View Point's beauty extends far beyond daylight hours; it is famed for offering unparalleled access to sunrise and sunset's mesmerizing display of colors. As soon as the sun has vanished below the horizon, mountains clad with vibrant orange, pink, and gold hues become illuminated, captivating onlookers with its spellbinding presence.
Photographers and nature enthusiasts find Tashi View Point to be an ideal vantage point from which to capture the changing moods of the Himalayan landscape. The cool mountain air and distant sounds of prayer flags fluttering in the breeze add an immersive sensory experience that makes this serene sanctuary ideal for photographers, nature enthusiasts, or simply anyone seeking natural beauty and some peace and serenity.
Benefits Of Best Tourist Places In Sikkim
The tourist places in Sikkim offer a myriad of benefits, making the region a sought-after destination for travelers seeking a unique and enriching experience. Here are some key benefits of visiting the best tourist places in Sikkim:
Natural Beauty: Sikkim is renowned for its stunning landscapes, including snow-capped mountains, alpine meadows, pristine lakes, and dense forests. The natural beauty of the region provides a visual feast for visitors, offering a refreshing and rejuvenating escape from urban life.
Cultural Diversity: Sikkim is home to a diverse mix of cultures and ethnicities, including the Lepchas, Bhutias, and Nepalis. This cultural richness is reflected in the traditional architecture, festivals, and rituals, providing travelers with a unique opportunity to immerse themselves in the local way of life.
Biodiversity: The state's commitment to environmental conservation is evident in its numerous national parks and wildlife sanctuaries. Sikkim boasts a rich biodiversity with a variety of flora and fauna, including rare and endangered species. This biodiversity adds to the ecological significance of the region.
Spiritual and Religious Sites: Sikkim is dotted with monasteries, stupas, and temples that hold cultural and spiritual importance. These sacred sites, such as the Enchey Monastery and Rumtek Monastery, provide visitors with a glimpse into the region's religious traditions and offer a serene environment for reflection.
Adventure Opportunities: The topography of Sikkim lends itself to a variety of adventure activities, including trekking, mountaineering, river rafting, and more. Adventure enthusiasts can explore the challenging terrains and pristine wilderness, creating memorable and adrenaline-pumping experiences.
Wellness and Tranquility: Sikkim's serene landscapes, coupled with its Buddhist influence, make it an ideal destination for wellness and tranquility. Visitors can indulge in yoga retreats, meditation, and spa experiences amidst the peaceful Himalayan surroundings.
Gateway to the Himalayas: Sikkim serves as a gateway to the Himalayan range, providing access to iconic peaks such as Kanchenjunga and Nathula Pass. This makes it an attractive destination for mountaineers, trekkers, and those seeking high-altitude adventures.
Culinary Delights: Sikkim's culinary scene reflects its diverse cultural influences. Visitors can savor local delicacies, including momos, thukpa, and traditional Sikkimese dishes, adding a gastronomic dimension to their travel experience.
In essence, the best tourist places in Sikkim offer a holistic and enriching experience, combining natural beauty, cultural diversity, adventure, and spiritual exploration. Whether seeking adventure or tranquility, Sikkim caters to a wide range of interests, making it a versatile and rewarding travel destination.
Best Tourist Places In Sikkim Conclusion
Sikkim stands as an alluring jewel in northeast India, offering visitors experiences that combine natural beauty, cultural variety, and spiritual depth. Sikkim boasts some of the finest tourist spots, boasting majestic Himalayan peaks, sparkling lakes, dense forests and vibrant cultural traditions that all combine seamlessly into an amazing travel experience.
No matter your travel interests – from monasteries like Enchey and Rumtek to thrilling high-altitude adventures at Nathula Pass or the scenic beauty of Yumthang Valley and Gurudongmar Lake – Sikkim offers something to please every visitor. Environmental conservation efforts in this region can be seen through its vast national parks that serve as homes to rare and endangered species.
Sikkim is more than just a destination; it's an experience, providing wellness, serenity and adventure while forging deep connections between nature and culture. Visitors experiencing all Sikkim has to offer will embark on an enthralling journey that leaves unforgettable memories of its majestic Himalayan mountain range and serene landscapes that offer respite for their souls.
Best Tourist Places In Sikkim FAQ
What are the must-visit places in Sikkim?
Sikkim boasts several must-visit places, including Gurudongmar Lake, Nathula Pass, Yumthang Valley, Gangtok, Enchey Monastery, and the Jawaharlal Nehru Botanical Garden
What is the best time to visit Sikkim?
The best time to visit Sikkim is during the spring and autumn months (March to May and September to November) when the weather is pleasant, and the landscapes are in full bloom.
Are permits required to visit Nathula Pass?
Yes, a special permit is required for Indian and foreign tourists to visit Nathula Pass due to its proximity to the Indo-China border. The permit can be obtained through registered tour operators.
What adventure activities can be enjoyed in Sikkim?
Sikkim offers a range of adventure activities, including trekking, river rafting, paragliding, mountain biking, and mountaineering. The diverse topography caters to both novice and experienced adventure enthusiasts.
Is Sikkim suitable for family vacations?
Yes, Sikkim is an excellent destination for family vacations. It offers a mix of cultural experiences, natural beauty, and adventure activities suitable for all age groups.