About BonusCloud
BonusCloud develop an exclusive encrypted network based on Kademlia network and aggregate it based on the user's basic network function. It provides different types of computing environments to communities to meet the requirements of different developers. Different BonusCloud employees are assigned to support different scenarios according to different storage, bandwidth capabilities.
BonusCloud provides our customers with an open and reliable environment for valuable exchange of computing abilities.
Token Basic Information
| | |
| --- | --- |
| Token Name | BonusCloud |
| Token Symbol | BXC |
| Social Media | Facebook, Twitter, Telegram |
| Email support | hi@bonuscloud.io |
| Volume 24h | $ 1.12 |
| Language | English |
| Restriction | No restriction |
| Whitepaper | Click Here For View Whitepaper |
| Website | Click Here For Visit ICO Homepage |
Problem
Lack of industry standards
Suppliers of cloud computing industry are mostly tycoon players in the big game. From perspective of commercial value, each player wants to set the industry standard, so each cloud computing supplier has their own set of standards and systems for users to define application standards. When users work with multiple platforms for the benefit of lower costs and higher stability, they have no choice but to adapt to the standards of multiple suppliers. Therefore, users have to bear the usage costs brought by competition among commercial products.
Black box operating environment
As a black-box environment offered to users, centralized cloud computing platform makes it impossible for users to keep their resources and applications in a reliable status. On the other hand, cloud computing enterprises tend to be intrusive to the resources of users due to the purpose of control and management. Under such an environment, there have been multiple examples of user data loss and application malfunction caused by cloud computing service providers' own bugs (e.g. certain public cloud's security products had deleted user files).
Excessively high cost
Due to huge initial investments and multi-oligarch monopoly in the cloud computing industry, cloud computing vendors have strong pursuit of profitability. According to Amazon's financial statements, EBITDA (gross margin) of AWS reached almost 45% with operating margin of 25% (net profit).
Decentralized Cloud Computing Platform BonusCloud Solution
BonusCloud Blockchain technology and its development give everyone a new trustworthy and collaborative ecosystem-model. And combination of Blockchain and cloud computing technology could solve issues in the centralized cloud computing platforms. A decentralized cloud computing platform is also an ideal application platform for future Blockchain DApps.
Ecosystem Model
BonusCloud Platform will develop a bilateral (multi-lateral) ecosystem, which is composed out of workers, bookkeepers, application developers, application users, and resource trading platforms. Bilateral market will lead to "bilateral network effect" which is cross-side network effect: the value captured by users at one side of market will depend on number of users on the other side. Take the example of Uber's business model, the user value of passengers depends on the number of drivers.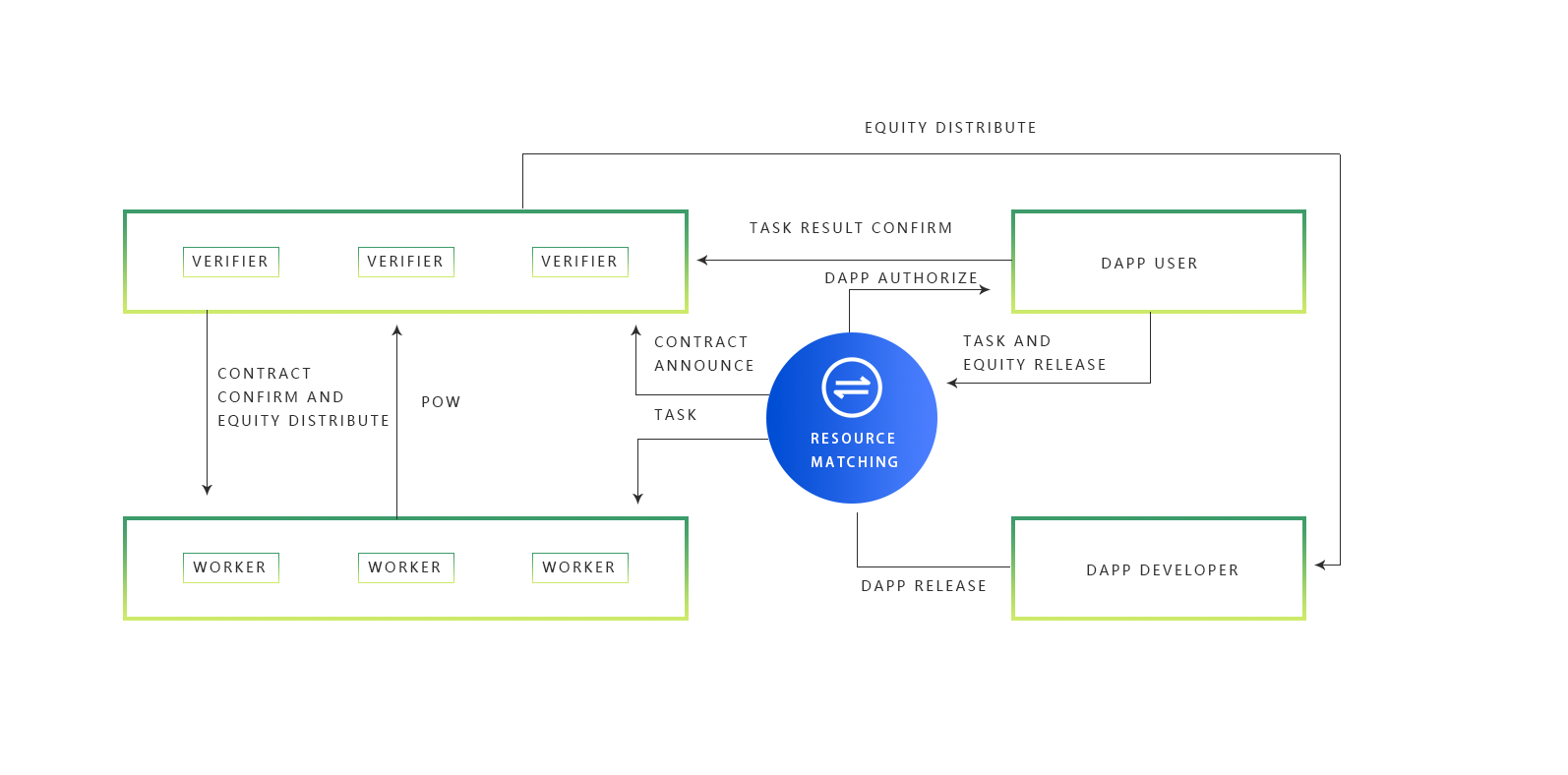 Workers
Workers are contributors of basic resources of the BonusCloud Platform with specific computing capability, storage, network and other resources. After tasks are released on trade matching platform, workers whose current idle resources can meet the conditions of application users will compete for the tasks.
P2P Computing and Cloud Storage
On-demand and elastic content/storage/application distributed architecture is called as CDN-aaS. BonusCloud Users who voluntarily connect to periphery computing node devices provide services for media content sharing, distributed encrypted file storage and obtain quantifiable remuneration through the means of sharing idle computing capability and providing storage resources and network bandwidth.
VPN Periphery Access
Users run a heterogeneous-platform-compatible client application on the edge node of voluntary connection, which is connected to the cloud and is encrypted in communication. The edge nodes are used as CPE devices that make up the SD-WAN. Users with high bandwidth can cluster as a super node through the sharing of bandwidth.
Advantage of BonusCloud
Security
BonusCloud Runs in an exclusive kernel, and provides isolation of CPU, memory, network, and IO. Strong hardware isolation can be achieved through the usage of virtualized VT extensions.
Compatibility
Supports OCI container format, industry standards of Kubernetes CRI interface, as well as traditional virtualization technologies.
Simplicity
No need to embed an operating container in a completely virtual machine, usage method is similar to Docker.
Performance
BonusCloud Performance is aligned with that of Linux container.
Also Read – Click Here for Read All ICO Review
This article is writing on 8 June 2020 based on information available online & news portal. If you feel it's outdated or incorrect, please write here to update it. Mail us: support@coinworldstory.com Or Whatsapp Us- +13098896258
Disclaimer:
Not all the websites Whi listed in Top List are 100% safe to use or investment. We do not promote any of those. Due diligence is your own responsibility. You should never make an investment in an online program with money you aren't prepared to lose. Make sure to research the website. So Please take care of your investments. and be on the safe site and avoid much losing online.