About Bottrex Trading Bot
Bottrex Trading Bot is an online platform that automates your Bitcoin and other cryptocurrency buying and selling operations on up to 6 exchanges, according to your defined settings and strategies. One of the great advantages that the robot offers is that it works 100% in the cloud, so you don't have to leave the computer on for it to do operations, much less install some software, all you need is a cell phone or browser with internet access to automate your operations.
With more than 12 thousand registered users and 150 thousand trades carried out, Bottrex has been growing over the last few months and has become the first and only Brazilian robot to automate BitcoinTrade operations with BRL (Real) parity. It is now possible to operate on up to 6 exchanges at the same time. The exchanges that are available are: Bittrex, BitcoinTrade, Binance, Huobi, Kucoin, Bitfinex and HitBTC.
The robot operates with several cryptocurrencies simultaneously. The main ones are: Bitcoin, Litecoin, Ethereum, Ethereum Classic, Dash, Zcash, EOS, Stellar, IOTA, Nano, Monero, Ripple, Cardano and Bitcoin Cash. The latest negotiations are available on the website's homepage and you can transparently follow all results, positive or negative.
Bottrex Bot Key Points
| Key | Points |
| --- | --- |
| Bot Name | Bottrex Bot |
| Bot Type | Cryptocurrency Trading Bot |
| Average Price | $10 |
| Exchange Supported | Binance, Bittrex |
| Fund Safety | All Your Coins Remain On The Exchange |
| Free trial | No |
| Customer Support | 24/7 |
| Payment plans | Monthly plan |
| Available Support | Live Chat & Dedicated Help Page |
| Official Website | Click Here To Visit |
How To Get Started On Bottrex Bot
2- Choose Bot
Their Is Wide Variety Of Bots Available At Bottrex. Choose Bot According To Your Need . If You Are Beginner Start With Easy Bot Setup .
3- Connect Exchange
Now It Is Very Necessary Step To Integrate Bottrex Bot With Cryptocurrency Exchange . Connect Bot With Supported Exchange . Follow Guidelines Which Are Available At CLEO Website .
4- Choose Pair
Now Choose Trading Pair & Select Coin Which You Want Your Bot Trading Automatic For You .
5- Follow Step
Follow Step Which Are Provided By Bottrex CEO Team At Their Website .
Plans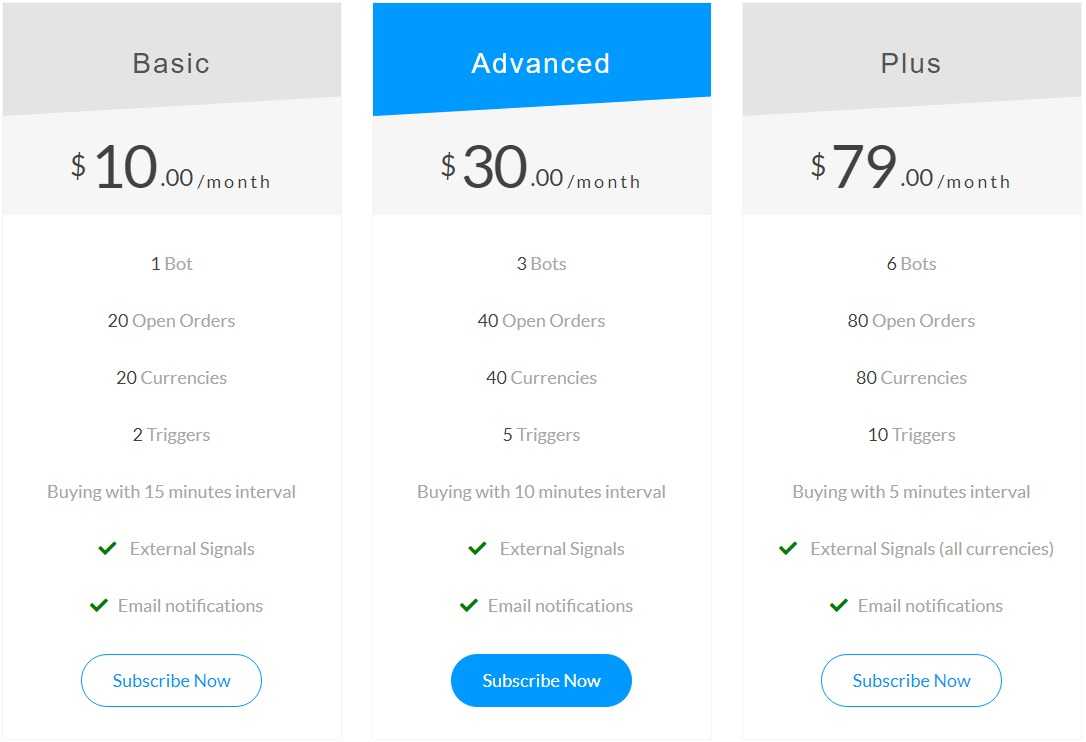 Highly Customizable bot
Bottrex offers a highly customizable robot. You can choose the best options available. Bottex provides you with several tools that you can use to customize a profitable bot. You can use Stop Loss to trace the price in its up tread to and places a trade immediately the price starts falling. With these settings, you can maximize your profits and minimize your losses. Other settings include values, allocated balance, and order limit.
Benefits
Check out some advantages that Bottrex offers you.
Exchanges
Set up Bottrex to work on up to 6 exchanges at one time according to your plan. Bittrex, BitcoinTrade, Binance, Huobi, Bitfinex, OKEX, NovaDAX, HitBTC and Kucoin.
Cryptocurrencies
The robot operates with over 900 cryptocurrencies simultaneously. They are the main ones: Bitcoin, Litecoin, Ethereum, Dash, Monero, Ripple and Cardano.
Cloud
You don't have to leave your computer on, your robot will work in the cloud 24hrs a day.
Customizable
Customize your robot by choosing the best available options, Cryptocurrencies, Stop Loss, Trailing Stop, Values, Allocated Balance, Order Limit, Strategies, and more.
Strategy
Build your own strategy using as many indicators as you want. The platform has more than 10 fully customizable indicators. RSI, MACD, Bollinger Bands, EMA, etc.
COMMUNITY
Follow all the news and interact with other users of the platform in the official group of telegram, which has over 2,000 participants.
Safety
Bottrex has restricted access to your cryptocurrency exchange perform trade. The bot connects with the exchange through API keys. Therefore, your funds remains secure in your exchange account.
Bottrex is also committed to maintain the safety and privacy of the users. It advises users to activate two-factor authentication (2FA) to protect their accounts. The platform also uses other security measures such as SSL to enhance security.
Support Channels
Bottrex has a strong social media presence on Facebook and Twitter where users can use to interact with the customer support team. You can submit your questions or feedback through these channels or through support tickets and receive a quick response.