Currently, the market value of Bitcoin is the highest since November 22, 2018.
At present, the world's largest crypto currency BTC has risen by 7% in 30 minutes, the highest point in four months.
According to CoinDesk data, BTC soared to $4,715 at 4:32 am UTC time, and with a large daily bullish volume, the transaction price rose by $668 at the close.
As of the writing, the BTC price rose by 19.17% in 24 hours, the transaction price was 4926 US dollars, broke the resistance level of 4192 US dollars, and continued to linger between the high and low.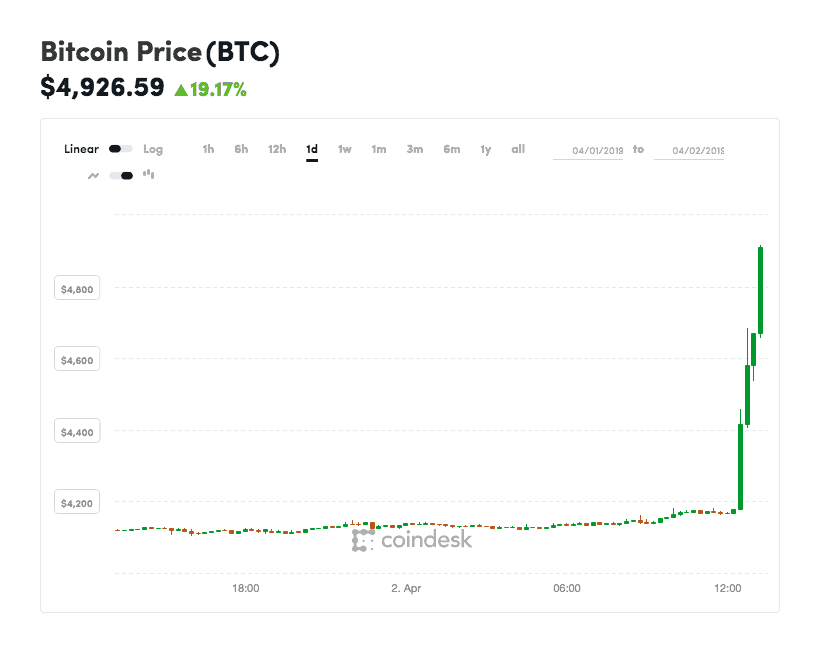 In addition, the market value of BTC has also risen sharply, and has now increased by 5.1 billion US dollars to reach 78.8 billion US dollars, the highest level since November 22, 2018.
At a time of rising prices, Bitcoin bulls are racing fiercely and breaking through the three key resistance levels of $4,200, $4,420 and $4,567.
In addition to the sharp rise in BTC, ETH and LTC rose by 5.5% and 8.1% respectively, while TRX's increase reached 9.02%.
Article Disclaimer
The Information Presented Here Does Not Constitute Investment Advice Or An Offer To Invest. The Statements, Views, And Opinions Expressed In This Article Are Solely Those Of The Author/company And Do Not Represent Those Of Coinworldstory. We Strongly Advise Our Readers To Do Your Own Research (DYOR) Before Investing In Any Cryptocurrency, Blockchain Project, Or Ico, Particularly Those That Guarantee Profits. Furthermore, Coinworldstory Does Not Guarantee Or Imply That The Cryptocurrencies Or Projects Published Are Legal In Any Specific Reader's Location. It Is The Reader's Responsibility To Know The Laws Regarding Cryptocurrencies And Icos In His Or Her Country. Please Respect Your Country Law & Take Advice From Your Advisor .