About Buycoins Cryptocurrency
Buycoins Cryptocurrency is a service that enables users trade cryptocurrency instantly with no wait time. Users can buy/sell cryptocurrency directly from/to us via the app without the hassle of looking for traders to buy from or sell to. We're currently based in Lagos, Nigeria and cater to Nigerians in Nigeria who are interested in trading cryptocurrency.
Operating Company
| | |
| --- | --- |
| Exchange Name | Buycoins Cryptocurrency |
| Support | 24/7 |
| Language | English |
| Deposit Fee | Free |
| Contacts | +234 908 748 2440 (Monday – Friday from 10am – 6pm) |
| Email Support | support@buycoins.africa |
| Official Site | https://buycoins.africa/ |
How To  Start With Buycoins Cryptocurrency
To Start Trading With Buycoins Cryptocurrency Indian Residents First Have To Sign Up For An Account By Following The Steps Below.
Step 1. Click On The "Login/Signup" Link On The Top Right Hand Corner Of The Buycoins Cryptocurrency Website.
Step 2. In The Form, Fill In Your First Name, Last Name, Mobile Number, Email ID And Password.
Step 3. If You Have A Referral Code, Enter The Code While Creating Your Account.
Step 4. Submit The Form And Wait For An Activation Email To Be Sent To You.
Step 5. Click On The "Confirm Email" Link In The Activation Email.
Step 6. After Your Account Is Activated, You'll Be Sent A 6 Digit One Time Password (OTP), Which You Have To Enter After Logging Into Your Buycoins Cryptocurrency Account.
Zero Trade Fees
Buycoins peer-to-peer trading transactions are totally free! There is no other platform on the continent offering this, that's including LocalBitcoins (1%), Remitano (1%), and Paxful (1%).
New to Cryptocurrency?
Are you looking to trade cryptocurrency but are unsure about some things. Or you've just been hearing about this thing called Bitcoin and you want to learn more. We created a course just for you! BuyCoins Learning provides you with free learning content to help you get started with Bitcoin and other cryptocurrencies.
Naira Token
Naira Token (NGNT) is a new stable cryptocurrency. Unlike other coins that may change their value in relation to the Naira, NGNT will always have a value equal to the Naira.
When you deposit Naira into BuyCoins, you're really buying NGNT at a 1:1 rate, and you can always redeem your NGNT for Naira from us.
BuyCoins – Buy & Sell Bitcoin, Ethereum, Litecoin
BuyCoins allows you to buy and sell digital currencies such as Bitcoin, Ethereum, and Litecoin instantly.
Why use Buycoins?
* ZERO FIAT TRANSACTION FEES
* ZERO FEES & MARGIN ON PEER-TO-PEER TRANSACTIONS
* INSTANT PAYMENTS
* SECURE WALLET
* YOUR FAVOURITE CRYPTOCURRENCIES
Buying Peer-to-Peer
Buying Peer-to-Peer on BuyCoins involves interacting with a sell trade ad or posting a buy trade. You can find out how to post a buy trade ad here. This articles shows the process of interacting with a seller.
Step 1: Go to the Find Trade Ads page
Click the hamburger menu and select 'Find Trade Ads'.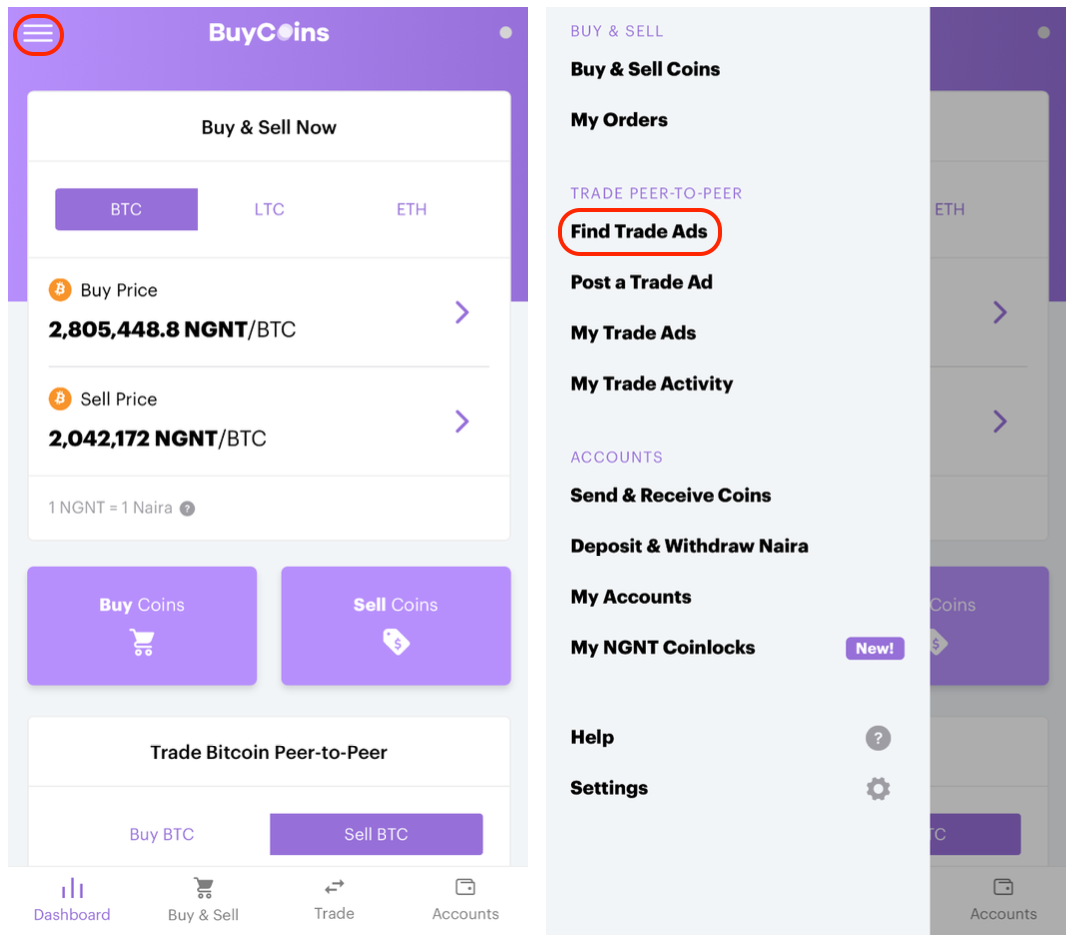 Step 2: Choose your preferred trade ad
After clicking on 'Find Trade Ads', you'll see trade ads posted by other traders. Go through the list and select the trade ad you wish to engage with and click on 'View' to see more information about the trade ad.
Click on review details if you wish to proceed with the trade.
Step 3: Confirm Purchase
If you're satisfied with the trade details, click on "Buy BTC".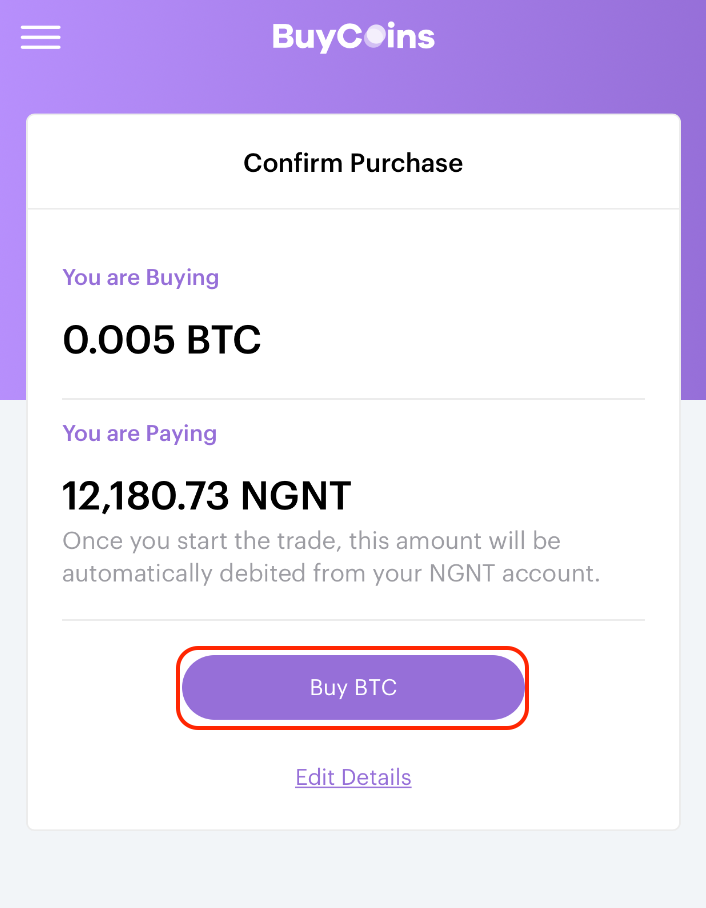 If you have enough NGNT in your NGNT account, the amount for the trade would be automatically transferred to the seller. If you do not, you have 15 minutes to make a deposit of the trade amount to your Naira Account.
When you make a deposit to your NGNT Account, this amount would be automatically sent to the seller.
What makes us special?
With BuyCoins Exchange , you can buy, sell, receive, send and store Bitcoin, Ethereum, Litecoin and USD Coin from the comfort of your mobile device via a dedicated app. You'll be getting a secure wallet, zero extra fees when buying or selling cryptocurrency, instant settlements, and your favourite coins all in one place. It's easy to use and setting up your account takes less than 3 minutes.
At BuyCoins, the goal is to provide a platform that serves our users' needs – whether it is buying, selling, storing or transferring Bitcoin, Ethereum, Litecoin and USD Coin – as conveniently and quickly as possible. We're passionate about safe, secure, easy, convenient and instant transactions. To ensure this, we provide secure wallets, employ seamless payment methods, and host user information on secure servers.
We're unbeatable on the continent
Instant Payments
When you sell cryptocurrency to us, you get paid directly into your Naira Token account instantly.
Secure Wallet
You can store your cryptocurrencies securely in the BuyCoins wallet for free.
Your Favourite Coins
BuyCoins Exchange are the only platform in Africa that supports buying, selling, and secure storage of Bitcoin, Ethereum, Litecoin and USD Coin.
Contact us
You can reach the BuyCoins team via email, Twitter, Facebook, and live chat. You can also call us here +234 908 748 2440 on weekdays from 10am – 6pm.
Disclaimer:
Not all the websites Which listed in Top List are 100% safe to use or investment. We do not promote any of those. Due diligence is your own responsibility. You should never make an investment in an online program with money you aren't prepared to lose. Make sure to research the website. So Please take care of your investments. and be on the safe side and avoid much losing online.
Article Disclaimer
The Information Presented Here Does Not Constitute Investment Advice Or An Offer To Invest. The Statements, Views, And Opinions Expressed In This Article Are Solely Those Of The Author/company And Do Not Represent Those Of Coinworldstory. We Strongly Advise Our Readers To Do Your Own Research (DYOR) Before Investing In Any Cryptocurrency, Blockchain Project, Or Ico, Particularly Those That Guarantee Profits. Furthermore, Coinworldstory Does Not Guarantee Or Imply That The Cryptocurrencies Or Projects Published Are Legal In Any Specific Reader's Location. It Is The Reader's Responsibility To Know The Laws Regarding Cryptocurrencies And Icos In His Or Her Country. Please Respect Your Country Law & Take Advice From Your Advisor .