Chainers.io, a blockchain-based gaming platform that is integrated with Polygon's internal blockchain, has gained considerable attention due to its integration. This article dives into its core aspects; specifically how players can earn Non-Fungible Tokens (NFTs) and FRIs (in-game currency) by simply signing in using emails, such as tops, pants, and hats that they obtain can then be freely combined together or sold off on the market for FRI or used in an immersive AR mode for exploration.
While FRI has yet to be launched this article provides an overview of Chainer's work; precisely its user-friendly approach and initial rewards are given.
What Is Chainers?
Chainers is an innovative NFT metaverse game that allows gamers to acquire exclusive Chainers NFTs for free each time they interact with its platform.
This metaverse project is tailored to provide users with an engaging metaverse experience while giving access to complimentary NFTs. The project's core principles center around empowering players in metaverse gaming, emphasizing the significance of NFTs, and building a community-driven DAO (Decentralized Autonomous Organization).
Chainers is an online ecosystem where players can create metaverse personas and engage with fellow players while having the creative freedom to construct virtual assets such as residences, furnishings, apparel, and accessories. Platform users may also participate in free online games for rewards; establish NFT domains of their own; and turn imaginative concepts into tangible assets.
How does Chainers work?
To acquire complimentary NFTs, simply access the game at chainers.io and enjoy the convenience of multiple login options, including Facebook, Twitter, or Google Mail.
Upon logging in, the platform automatically assigns a wallet address, streamlining the entry process for web2 players. This eliminates the initial need to manage mnemonic phrases and navigate various web3 gaming complexities, enabling direct access via webpages or mobile browsers.
For first-time logins, a generous reward awaits: 6 NFTs and 120 FRIs are provided free of charge. Subsequently, players can anticipate a daily allocation of 3 NFTs and 10 FRIs, enhancing the ongoing gaming experience.
Ensure daily logins to the game to acquire three cards, with a diverse array of NFTs distributed at random, each possessing unique attributes ranging from common to rare.
Effortlessly amass an array of free NFT assets, aptly referred to as Chainer-heroes, to enhance your in-game characters and accumulate increasingly coveted rare NFTs.
In the forthcoming stages, these NFTs will serve multifaceted purposes, including collateral for farming, the creation of valuable game assets, active participation in gaming activities, engagement in governance voting, social networking, and other functionalities. These endeavors will enable the expansion of your in-game wealth and provide opportunities to generate tangible earnings.
Initial Rewards for New Players
Chainers NFT provides an enticing incentive to new players. When first logging in, newcomers are welcomed with an initial reward of 6 NFTs and 120 FRIs as an initial boost for their gaming experience. Furthermore, daily rewards consisting of 3 NFTs and 10 FRIs encourage continued exploration within the Chainers NFT ecosystem.
The Versatility of Chainers NFT: Combining, Selling, and Exploring
Chainers NFT offers players a selection of virtual clothing items such as tops, pants, and hats that allow for highly customizable gaming experiences – tops, pants, and hats can all be mixed and matched freely to create unique avatars using digital fashion items.
Chainers NFT goes beyond mere collection and customization; players also have the ability to sell their NFTs in the marketplace and trade them for FRI, the platform's native cryptocurrency. This market functionality adds an economic element to the game that may allow them to monetize their virtual assets in-game.
Chainers NFT provides an AR mode, which enables players to explore virtual landscapes and embark on exciting adventures; adding a unique and interactive twist to the gaming experience.
Is Chainers free? 
Chainers is an accessible free-to-play experience, meaning that anyone can join, create their avatar, and start playing right away – no monetary investment necessary! Additionally, for those interested in the acquisition of NFTs and other in-game items (optional acquisition), such as NFT packs.
Chainers offers an engaging gameplay experience, complete with an appealing rewards system to enable players to earn CCC coins – the primary currency used within the game – through taking part in challenges and accomplishing various tasks, leading you towards unlocking valuable in-game items.
Is Chainer NFT game legit? 
Chainers has quickly established its legitimacy through its official website and coverage from prominent publications and influencers. Although its team has chosen not to release their identities publicly, their project has earned significant acclaim.
The Chainers team, as described on their website, consists of talented, imaginative, and knowledgeable individuals specialized in web3 gaming technology. Web3 technology forms a key pillar of their project, encouraging inclusion within gaming while encouraging autonomous decision-making for all participants.
Chainers game features an advanced tokenomics model built around two tokens: ChainCoin ($CCC) is used as the primary medium of exchange in-game and offers high levels of fungibility within its ecosystem; notably, Chainers NFT metaverse relies heavily on CCC, an infinite supply token with steady price stability ensuring constant demand and sustained value.
Chainers: Universe ($CHU), as an additional token within the game, acts as an administrative token, enabling holders to participate in decision-making processes regarding various aspects of play.
What are the anticipated prospects for Chainers in the future?
The Chainers game has been carefully created with user experience in mind, offering players from Web2 the chance to easily access it directly through their browsers.
The current player count of over 200,000 individuals is a testament to the game's immense success, while the development team actively interacts with its community on Twitter to show its dedication and passion for this project. Their roadmap outlines plans for optimizing the AR experience, increasing overall gameplay enjoyment, finalizing the user reward system with FRI system launch and elevating NFT value, adding ecosystem-expanding games as well as augmenting the reward pool to enable participants to generate income within the game itself, thus drawing even more participants.
Early adopters stand to gain from watching a game develop over time, setting higher expectations of its future. Yet web3 game development presents challenges: since Axie Infinity to StepN there hasn't been an exceptional title – game lifecycles being finite; thus waiting in anticipation for another breakthrough web3 title that exceeds all expectations remains high.
Chainers is still developing, yet its future development remains unpredictable; however, its incorporation of AR elements adds an intriguing and captivating layer that draws players in to explore its potential further.
Team Behind Chainers
Chainers Team are an enthusiastic, creative, and accomplished team, distinguished by its uniqueness and embrace of decentralized philosophy.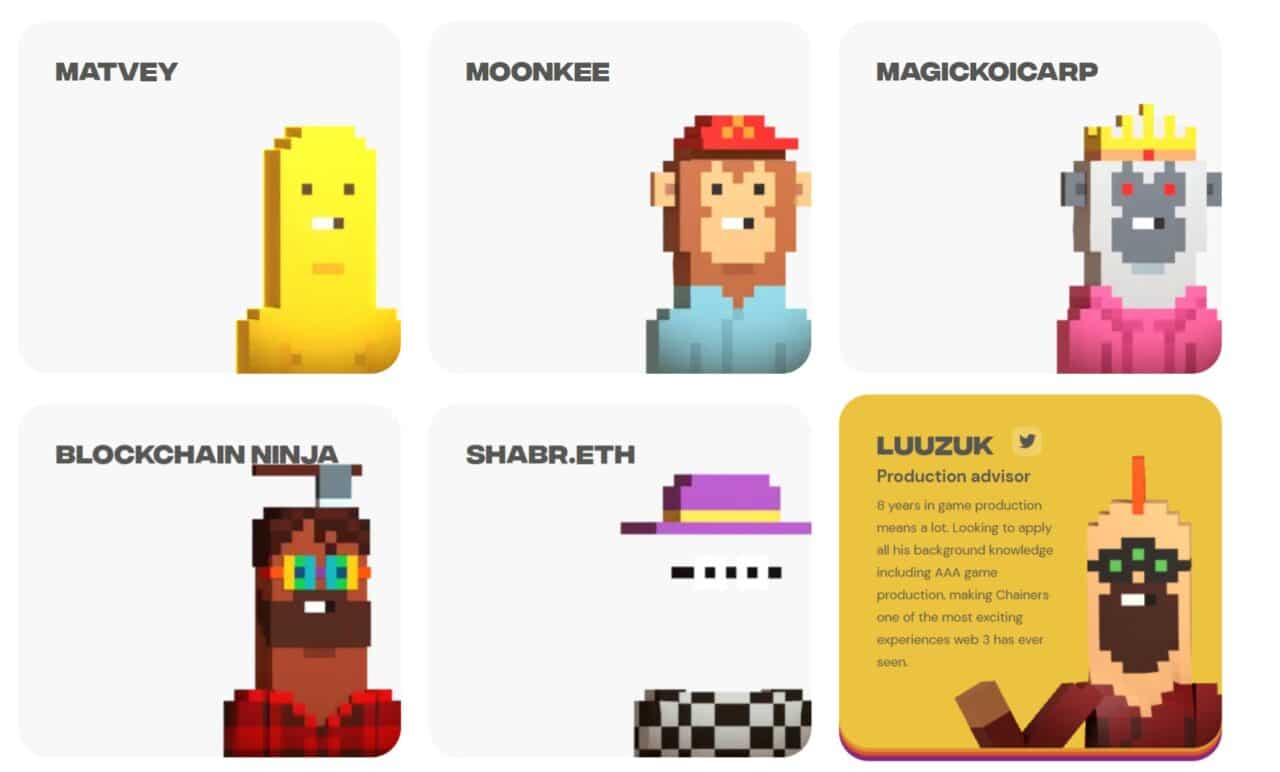 Since our project's conception, they have come together as an intricate collective with members who have accomplished success in both AAA games as well as Web3 – something which brings great pride! While some may be new to Web3, others boast experience working within it as part of AAA studios – an accomplishment that we truly take great pleasure in celebrating!
Conclusion: Chainers NFT – Bridging the Gap Between Web2 and Web3 Gaming
Overall, Chainers NFT represents an exciting venture into blockchain-based gaming. Integrating with Polygon's internal blockchain, this platform aims to offer users an engaging yet cost-effective gaming experience with a user-friendly approach, initial rewards, and a diverse NFT ecosystem. As this game progresses and FRI launches, Chainers NFT could revolutionize how players engage with NFTs and blockchain gaming as it bridges web2 gaming experiences with web3 experiences – it will be fascinating to witness its progression further shape the landscape of blockchain gaming!
FAQ
How To Play Chainers In Ar?
Every day, seize your complimentary NFTs and utilize your smartphone to scan a unique QR code, enabling your Chainer to join you in a real-life gathering with friends.
What Is Chainers Shop, And What Can I Do There?
Chainers Shop is your destination to put your $FRI towards something worthwhile! Here, you can purchase additional National Football Team booster packs and seasonal cards with your $FRI that won't be found elsewhere in regular daily NFT packs. These exclusive Shop NFTs make for truly special collectible cards!
What Is $fri, And Why Do I Need It?
$FRI serves as both in-game and Chainers Shop currency. When purchasing your initial Chainer, you receive 140 $FRI; with every NFT pack claimed you receive another 10$FRI added to your balance.
Within your dressing room, you have the ability to directly trade any Chainers NFT for $FRI or explore our brand-new Chainers Shop to purchase unique Chainers NFTs with your money.