According to CoinDesk reported Crypto Exchange Coinbase officially for the first time Ethernet Square add tokens to their professional trading platform Coinbase Pro.
Coinbase announced on Thursday that it has begun accepting deposits from ZRX and will start trading around 5 pm that day, or 12 hours after the announcement. This means that Coinbase first added support for ERC-20 tokens running on the Ethereum network.
"Once sufficient liquidity is established, the transaction will begin with ZRX/USD, ZRX/EUR and ZRX/BTC orders. ZRX transactions will be available to users in most jurisdictions, but will not be open to New York residents in the early stages. "Coinbase Pro general manager David Farmer said.
Although ZRX is available through Coinbase Pro, it is currently not available to investors through the company's website or its iOS and Android apps.
Like some of the previously launched products, ZRX's add-on program is divided into four phases: transfer only, transfer only, limit trading and full trading.
According to CoinMarketCap's data, the price of the token began to soar after the announcement of the news and rose to the highest point since mid-August.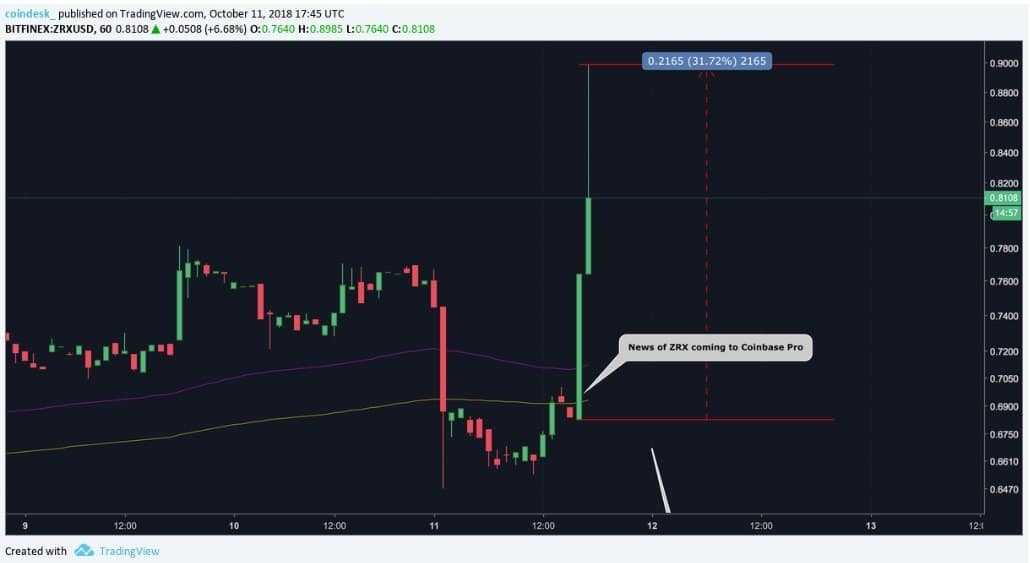 As can be seen from the above chart, the surge in ZRX prices began a few minutes before UTC time 17:00, and eventually rose 31% from a daily low of $0.64.
A Coinbase spokesperson confirmed that the announcement was issued at UTC17:00, but noted that the platform began accepting deposits at 16:55 UTC to ensure the smooth progress of the process.