About CondorChain Coin
CondorChain Coin, Gaming and NFT markets are expected to grow to $231.19 billion, $504.29 billion and $211.72 billion respectively by 2030. This shows the extent to which these sectors need a revolutionary blockchain that will enable convenience, effectiveness and speed. CondorChain is an EVM-based decentralized, scalable blockchain made specially to help Defi and GameFi projects thrive. CondorChain runs using a high-performance Proof of Stake (PoS) consensus algorithm.
CondorChain Coin is the first and only blockchain focusing on a specific segment; built for DeFi, GameFi and NFT projects. Without any direct competition, CondorChain is set to gather the right community and help them flourish. CondorChain aims at attracting projects from other chains and new developers by incentivizing them with Your investment pool, unmatched high user-friendliness and reduced error-risk, thereby increasing the value for CDR holders.
CondorChain Coin (CDR) Point Table
| Coin Basic | Information |
| --- | --- |
| Coin Name | CondorChain Coin |
| Short Name | CDR |
| Circulating Supply | N/A |
| Max Supply | 50,000,000 |
| Source Code | Click Here To View Source Code |
| Explorers | Click Here To View Explorers |
| Twitter Page | Click Here To Visit Twitter Group |
| Whitepaper | Click Here To View |
| Support | 24/7 |
| Official Project Website | Click Here To Visit Project Website |
Taxes
To attract more users and developers to CondorChain Coin, CDR in BSC will have some taxes but there will be no taxes in CondorChain! In BSC, CDR has 3% Buy/Sell tax. 1% goes directly to the pool rewarding liquidity providers. The other 1% will be used to reward validators. The last 1% goes directly to Your investment pool. In CondorChain, CDR has no taxes, only gas fees in the native token (CDR) that will be used to reward validators.
Liquidity
Add liquidity to any pair that includes CDR and earn the highest trading fees you can earn on any other platform. To incentivise users to provide liquidity, they're giving them 1% from CDR Buy/Sell Taxes. Earn 1% of all trades proportional to your share of the pool. Fees are added to the pool, accrue in real time and can be claimed by withdrawing your liquidity.
Why Choose CondorChain Coin?
Investment Pool
During this bear market, a lot of projects are struggling to stay alive and many developers are hesitating to launch new projects. They're creating a pool that will be filled from presale funds and taxes. This will incentivise existing projects on other chains and new developers to deploy on CondorChain.
Ease of Use
With your developer friendly SDK, CondorChain is designed to make onboarding hassle free for developers, users and investors. Everything that one can salvage from a blockchain is included. from the CondorBridge to the NFT marketplace.
Scalability
Some blockchains have inherent scalability issues that limits transactions resulting in delays and high fees. This is solved in CondorChain. The DeFi, GameFi and NFT projects built on CondorChain will have ability to grow bandwidth and have capacity to effortlessly support a massive network. The developers will be able to create more features as their projects grow.
Security
Security is the biggest challenge to the growth of DeFi projects. It's therefore crucial for any DeFi, GameFi and NFT project to thrive. The CondorChain solved the security issue to ensure project developers are at ease. The layered architecture of CondorChain and decentralization provides maximum security.
Micro Fees
High gas fees in most blockchains pose a great barrier for developers that want to scale fast. They minimize friction to maximize virality through micro fees. The cheaper the transaction, the lesser they feel like fees; meaning user experience is much better. This leads to more user retention and maximized growth; which is beneficial to project developers.
Where Can You Buy CondorChain Coin (CDR)?
Tokens Can Be Purchased On Most Exchanges. One Choice To Trade Is On PancakeSwap (V2) As It Has The Highest WBNB/CDR. e Trading Volume, $8,947 As Of February 2021. Next is OKEx, With A Trading Volume Of $6,180,82. Other option To Trade Include WBNB/CDR And Huobi Global. Of Course, It Is Important To Note That Investing In Cryptocurrency Comes With A Risk, Just Like Any Other Investment Opportunity.
Market Screenshot


CondorChain Coin Supported Wallet
Several Browser And Mobile App Based Wallets Support CondorChain Coin. Here Is Example Of Wallet Which CondorChain Coin – Trust Wallet For Hardware Ledger Nano.
Roadmap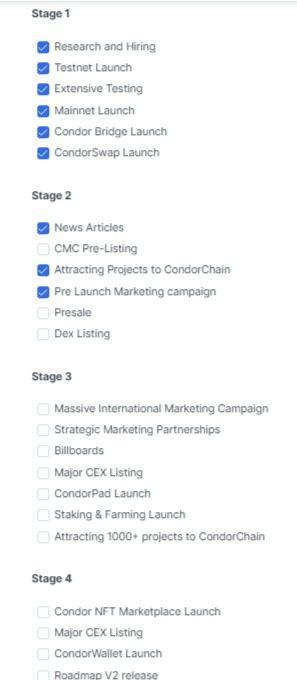 FAQ Of CondorChain Coin
You Can Buy or Sell Balancer Token On Some Popular Exchange For Example – PancakeSwap (V2).
Circulating Supply Of Balancer Token Is N/A.