About Data Lake Coin
Data Lake Coin live in a digital world in which data analytics and artificial intelligence significantly impact your daily lives. They influence what wear, what this eat, where they travel, and how this spend your free time. In medicine the impact of data has much more drastic effects, as access to high-quality medical data is a matter of life or death for patients every day. In this particular area, the desire to save human life by discovering modern methods of therapy and diagnostics often contradicts another fundamental right of the patient – the right to privacy and the right to dispose of one's data. Medical data is the basis of today's medicine.
Access to data is essential to any scientific research and discovery. The demand for complete medical data obtained transparently is enormous, and can be converted into hundreds of billions of dollars1 . Despite this, there is no data access solution worldwide that gives terminally ill patients hope for new therapies by using the already collected medical data of many other similar patients, at the same time not violating their privacy.
Data Lake Coin Point Table
The Key to Unlocking the Data
The consent application is used for storing and managing Data Donors' consents for the use of their anonymous data for scientific research. The consents are given by Data Donors electronically after verification of their identity (KYC). Data Lake has to verify the identity of each Data Donor to be sure, that consent is given in his/her own name. On the basis of the Data Donor's consent, Data Lake is authorized to access the Donor's medical data stored by various entities, which are legally obliged to share it.
Data Processing System – The Heart of Data Lake
The vast majority of medical data is stored in hospitals, clinics and laboratories. On the basis of Data Donors' informed and explicit consents, Data Lake is able to demand that these entities share it in electronic form. Effective data collection would therefore require integration of Data Providers' repositories with the Data Processing System. Before the data is made available for the Data Recipients it also has to undergo an effective anonymization process.
Primary Market Players
Data Donors
Anyone can join the Data Lake ecosystem to become a Data Donor and help fight incurable diseases. Data Donors log into the system, undergo a KYC procedure, and give consent to the use of their anonymous medical data – the giving of consent is saved on the blockchain. Today, about 77% of Poles and 79% of Germans4 declare their willingness to altruistically donate anonymous medical data the same way they donate blood or bone marrow. Data Donors will be further encouraged to participate in the system by becoming beneficiaries of a portion of the $LAKE tokens generated by the data transfers.
Data Providers
Data Providers are hospitals and laboratories who store and process patients' medical data. The value of the medical data unused by hospitals is estimated at around US $100 billion5 in Europe alone. Medical entities are legally obliged to store patients' medical data for many years, which is costly and brings no revenue. Hospitals however have serious doubts about sharing anonymous data without patient's express consent.
Participation in the Data Lake ecosystem will enable Data Providers to share their patients' medical data in a safe, transparent, and automated manner. The Data Providers will also be reimbursed for the costs of plugging into the Data Lake System. The data donation system will allow for the merging of data from various data repositories, breaking the existing silage in data access and significantly increasing its value.
Data Recipients
According to research by E&Y, such companies are willing to pay from £100 to £5,000 to get the complete data set of a single patient. Demand from these customers for high-quality, complete medical data is still unmet, while having access to it is business-critical and determines the market success of these companies. Data Lake will also create an entirely new medical data market to which many previously excluded entities like small startups and individual researchers will have access (data democratization). Data Recipients will provide the influx of funds into the ecosystem.
Why Choose Data Lake Coin?
Governance
Possession of the $LAKE token will allow ecosystem participants to vote on certain decisions regarding the system, e.g. the value of the ecosystem tax, supporting chosen research on non-profit basis, disbursing research and charity grants in $LAKE, and more. The classification of the $LAKE token including its utility may change depending on the regulatory landscape.
Benefits Panel
$LAKE storage for a given time in the Data Donor's panel will allow the token holders to access the benefits in the panel, such as healthcare & wellness products and services discounts, educational materials and more.
Participation Staking
$LAKE storage will be required by business players such as Data Buyers, Consent Gatherers, Integrators and Trust Entities as a form of entry ticket to earn from participation in the new medical data economy. This will be introduced only when not detrimental to the growth of the business.
Where Can You Buy Data Lake Coin?
Tokens Can Be Purchased On Most Exchanges. One Choice To Trade Is On Uniswap (V3), As It Has The Highest WETH/LAKE. e Trading Volume, $8,947 As Of February 2021. Next is OKEx, With A Trading Volume Of $6,180,82. Other option To Trade Include WETH/LAKE And Huobi Global. Of Course, It Is Important To Note That Investing In Cryptocurrency Comes With A Risk, Just Like Any Other Investment Opportunity.
Market Screenshot


Data Lake Coin Supported Wallet
Several Browser And Mobile App Based Wallets Support Data Lake Coin. Here Is Example Of Wallet Which Data Lake Coin – Trust Wallet For Hardware Ledger Nano.
Team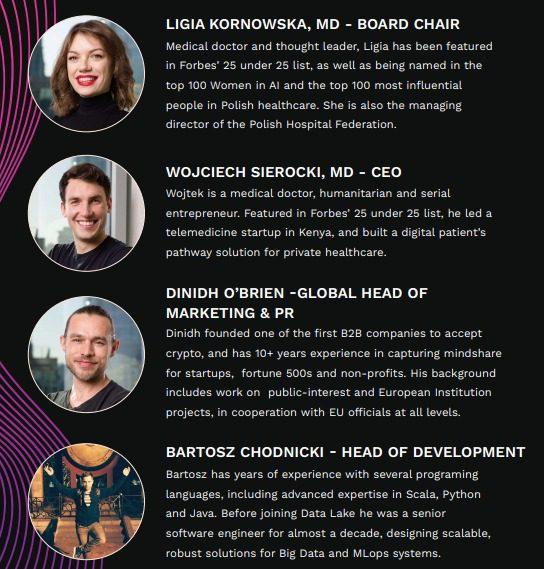 Roadmap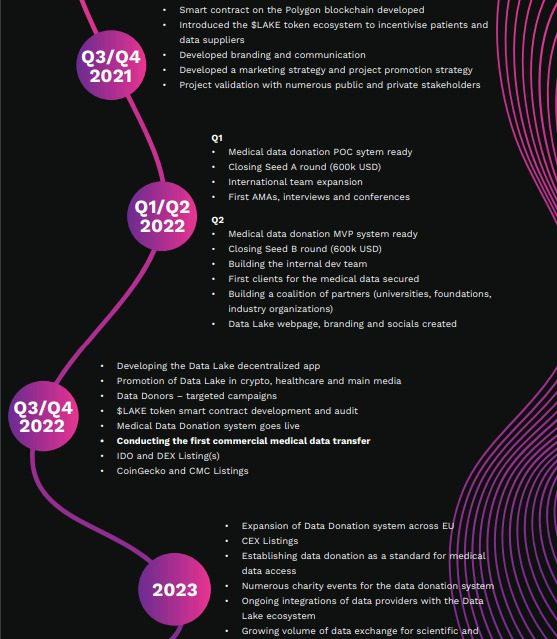 FAQ Of Data Lake Coin
Where I Can Find Data Lake Coin Whitepaper?
You Can Find Data Lake Coin Whitepaper By Clicking Here.
Where I Can Buy/Sell Balancer Token?
You Can Buy or Sell Balancer Token On Some Popular Exchange For Example – Uniswap (V3).
What is Circulating Supply Of Balancer Token?
Circulating Supply Of Balancer Token Is 120,000,000 LAKE.