About Dubbz Coin
Dubbz Coin is the merging of traditional and web3 gaming a bridge and accelerator to blockchain-based gaming. Dubbz brings blockchain-based wagering to AAA titles such as Call of Duty, FIFA, Fortnite, and more. 24/7 available referees and player recordings ensure that cheating has no place on the Dubbz platform. The Dubbz web3 gaming marketplace will merge traditional AAA titles and blockchain-based games into the same platform and give blockchain games the closer to even playing field it needs to help drive adoption.
Traditional gamers without exposure to Web3.0 and cryptocurrency will feel comfortable using Dubbz, there is no overwhelming interface or force feeding of web3.0 to alienate traditional gamers. Dubbz Coin will provide a platform for game developers to list their blockchain-based games free of charge on your marketplace. The Dubbz team will work with game developers to integrate your dAPP into their game and provide monetization and exposure to their product.
Dubbz Coin Point Table
A Social Hub For All Things Gaming
The Dubbz Platform goes far beyond in-game wagering. With social features including Chats, Friend Requests, Leaderboards, Game Statistics and more, the Dubbz Social hub strives to become as vibrant and huge a community as the likes of PlayStation Network and Xbox Live, but with far more benefits to its user base. Dubbz will be a fully-fledged social experience, geared towards interaction, competition and having a serious amount of fun, making Dubbz a cherished destination rather than a mere service.
Want to tune into a tournament with a huge cash prize that's generating lots of hype? Thanks to the Dubbz live streaming feature, you and thousands of other spectators can partake in the excitement together and support the competitors with interactive, streamable tournament matches.
Blockchain Gaming Portal Integration
Dubbz users will be able to jump in and out of games with the click of a button in their browser. They can use their existing Dubbz USDC balance… no need to buy a separate token or pay token taxes to try out some game. With your Ready Player Me partnership your Dubbz avatar will even be your playable character in many of the games on the portal.
If you're a blockchain game developer there's no need to spend on marketing, community building, or rely on taxes to stay afloat. With Dubbz you'll be immediately introduced to an active player base ready to wager real money on your game. No unsustainable P2E ponzinomics but real sustainable PVP wagers and tournaments.
Dubbz Dividends System
Presenting the Dubbz Dividends System (DDS), a first-of-its-kind revenue distribution system built with the Dubbz token holders firmly in mind. Independent of trading volume, these are real user rewards. Thanks to the DDS, holders of the native DUBBZ token earn a percentage of revenue generated by the Dubbz platform in the form of USDC on Polygon. All wagers and dividends are recorded and verifiable on the blockchain, even wagers placed by players using fiat.
Why Choose Dubbz Coin?
Game Wagering
Wagers are placed with the polygon version of USDC for all matches on Dubbz. For users that are not using the web3 dAPP but instead the native Dubbz wallet they have deposited to, Dubbz will pull the balance from their account and wager USDC on the blockchain on their behalf. Once the match has ended, a winner is then determined and the pooled winnings, minus a minimal Dubbz platform fee, are distributed to the victorious player. If users wish to challenge opponents directly they can do so, skipping the matchmaking system.
Safety and Security
Security is of utmost importance which is why Dubbz employs 24/7 trained referees to monitor games and support tickets. If participants experience any in-game issues like setting up the match, a chat will be available for them to seek assistance. If a participant suspects any kind of interference or foul play such as botting or any manner of cheating then this will be investigated and handled by the Dubbz dispute system. Dubbz has implemented a robust security protocol to safeguard its community and allow users to wager with peace of mind.
Community
The genius behind both these incentives is that they're both utterly independent of volume. Platform adoption results in holders accruing dividends, irrespective of how the underlying Dubbz asset is performing or the current macroeconomic outlook. Holders who do not even wish to engage in the gaming platform or partake in wagering still remain incentivized to carry out customer advocacy thanks to both the incentivised referral system and the dividend distribution system that are at work within the Dubbz ecosystem.
Where Can You Buy Dubbz Coin?
Tokens Can Be Purchased On Most Exchanges. One Choice To Trade Is On Uniswap (V2), As It Has The Highest DUBBZ/WETH. e Trading Volume, $8,947 As Of February 2021. Next is OKEx, With A Trading Volume Of $6,180,82. Other option To Trade Include DUBBZ/WETH And Huobi Global. Of Course, It Is Important To Note That Investing In Cryptocurrency Comes With A Risk, Just Like Any Other Investment Opportunity.
Market Screenshot


Dubbz Coin Supported Wallet
Several Browser And Mobile App Based Wallets Support Dubbz. Here Is Example Of Wallet Which Dubbz – Trust Wallet For Hardware Ledger Nano.
Team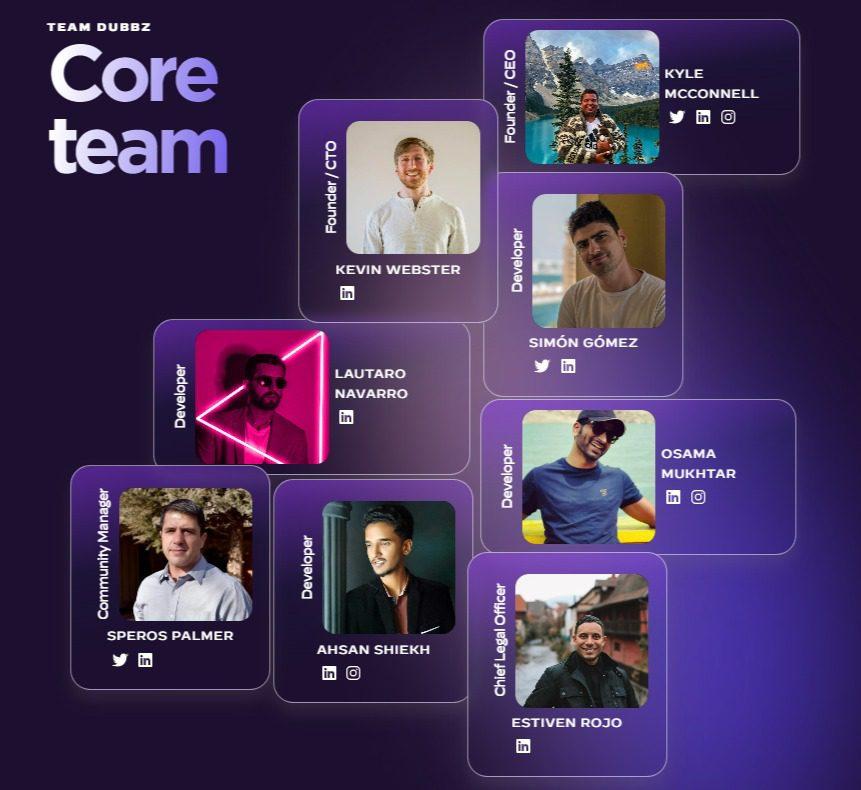 Roadmap

FAQ Of Dubbz Coin
Where I Can Find Dubbz Coin Whitepaper?
You Can Find Dubbz Coin Whitepaper By Clicking Here.
Where I Can Buy/Sell Balancer Token?
You Can Buy or Sell Balancer Token On Some Popular Exchange For Example – Uniswap (V2).
What is Circulating Supply Of Balancer Token?
Circulating Supply Of Balancer Token Is N/A.