Hello Guys Today We Talk About Where & How To Buy Everscale (EVER). We Describe Everything In Details . Read Our Article Carefully . Please Note This Article Only For Educational Purposes Not Financial Advice .
Everscale (EVER) can be purchased on a variety of cryptocurrency exchanges, including Binance, BitForex, and Gate.io. To purchase Everscale, you will first need to create an account on one of these exchanges and link it to a payment method, such as a bank account or credit card. Once your account is set up, you can then search for Everscale and place a buy order at the current market price or at a specific price you set.
What Is Everscale (EVER)?
Everscale is a layer-1 PoS blockchain network of the 5th generation. It is one of the most technologically advanced blockchain networks, and that is not a marketing exaggeration. Everscale incorporates all of the blockchain innovations and concepts of recent years. Its versatility helps it to develop as a decentralized hub for lots of blockchains and resource-demanding applications such as GameFi, DeFi, micro-transactions, real-time bidding, etc.
EVER is the native token of Everscale that serves as a fee token and governance token. EVER is listed on multiple exchanges. On some exchanges it is featured in the wrapped ERC-20 version, called WEVER. Everscale has dynamic multithreading and sharding technology. The blockchain consists of a Masterchain and a multitude of shards, called workchains.
The Masterchain contains all block proofs from all workchains in the network, so the network's security depends on it, similarly to Polkadot and Ethereum 2.0. But, unlike other blockchains, on Everscale, sharding is dynamic: a new workchain can be added any time when the capacity of the current workchains is almost utilized, to prevent even the slightest congestion.
Also, when a new validator node joins Everscale, it gets assigned to a workchain and to a thread, so the validators don't have to process data of the whole network. They only handle a limited amount of data, so the overall throughput of the network is the cumulative amount of transactions that the workchains are able to process.
Where To Buy Everscale (EVER) ( Best Everscale Exchange)
Coinstore
Coinstore was founded in 2020. There are 160 employees worldwide distributed mainly in Asia, Europe, and the Middle East, serving more than 850,000 registered users in 175 countries. Coinstore provides global users with fast and smooth cryptocurrency trading services, derivatives business, OTC services, and NFT services.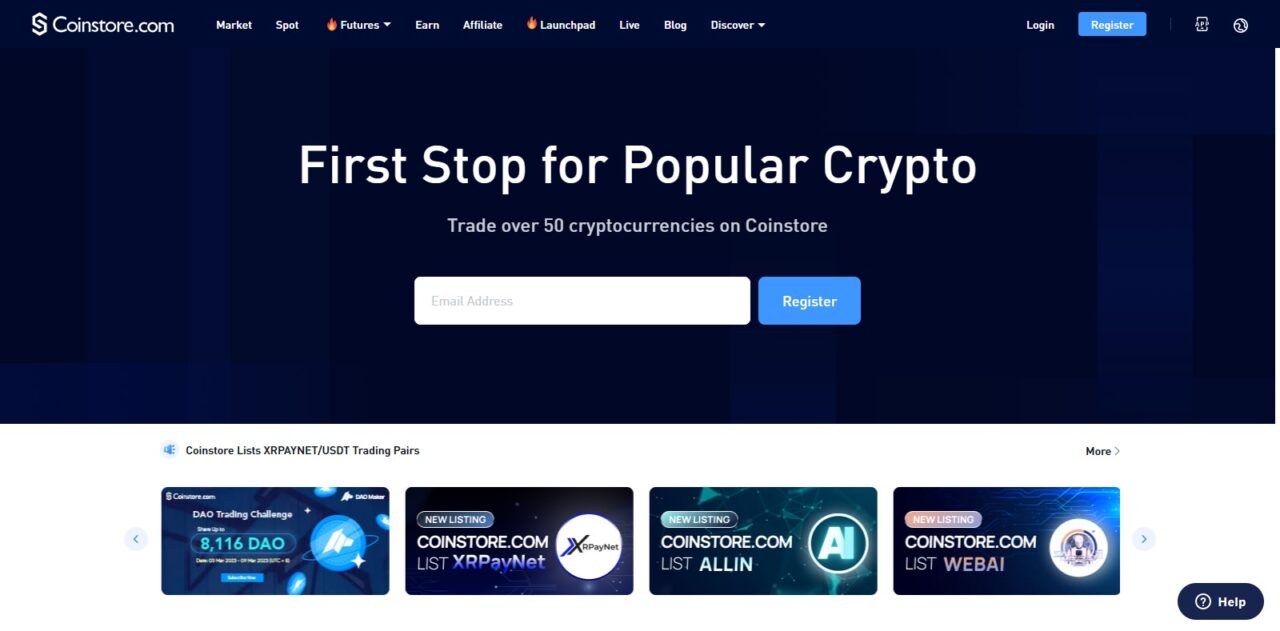 Coinstore Labs provides project owners with integrated solutions of "technology development, compliance counseling, integrated marketing, community operations, investment incubation" and much more. Coinstore supports 102 spot pairs and 34 futures pairs. All features are available on Coinstore's mobile app for iOS and Android, and on desktop. Coinstore has implemented robust AML/CFT measures, which include a mandatory, tiered approach to KYC.
Hotbit
Founded in 2018 and holding an Estonian MTR license, an American MSB license, an Australian AUSTRAC license, and a Canadian MSB license, Hotbit cryptocurrency exchange is known as a cryptocurrency trading platform that continues to develop and integrate various forms of businesses such as spot trading, financial derivatives, cryptocurrency investment, and DAPP into one platform. Currently, Hotbit's company covers more than 210 countries and areas. Based on its globalized and unified strategies, Hotbit continues to focus on the world's emerging markets such as Russia, Turkey, and southeastern Asia markets. It was ranked one of the top 3 most welcomed exchanges by Russian media in 2019.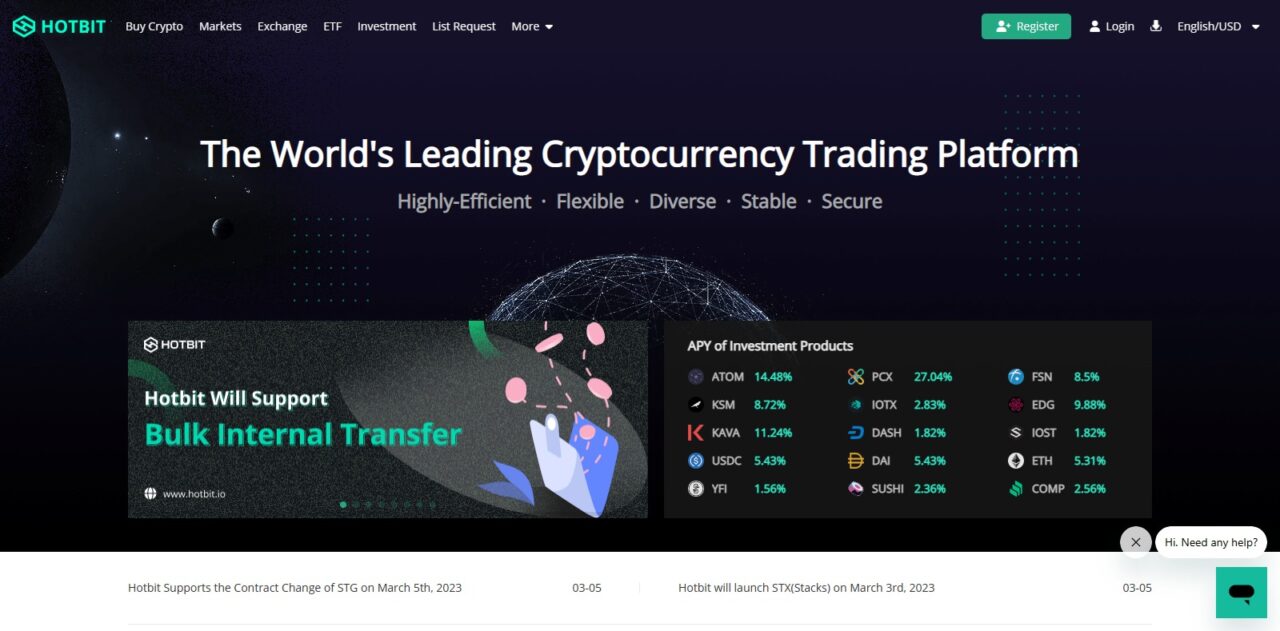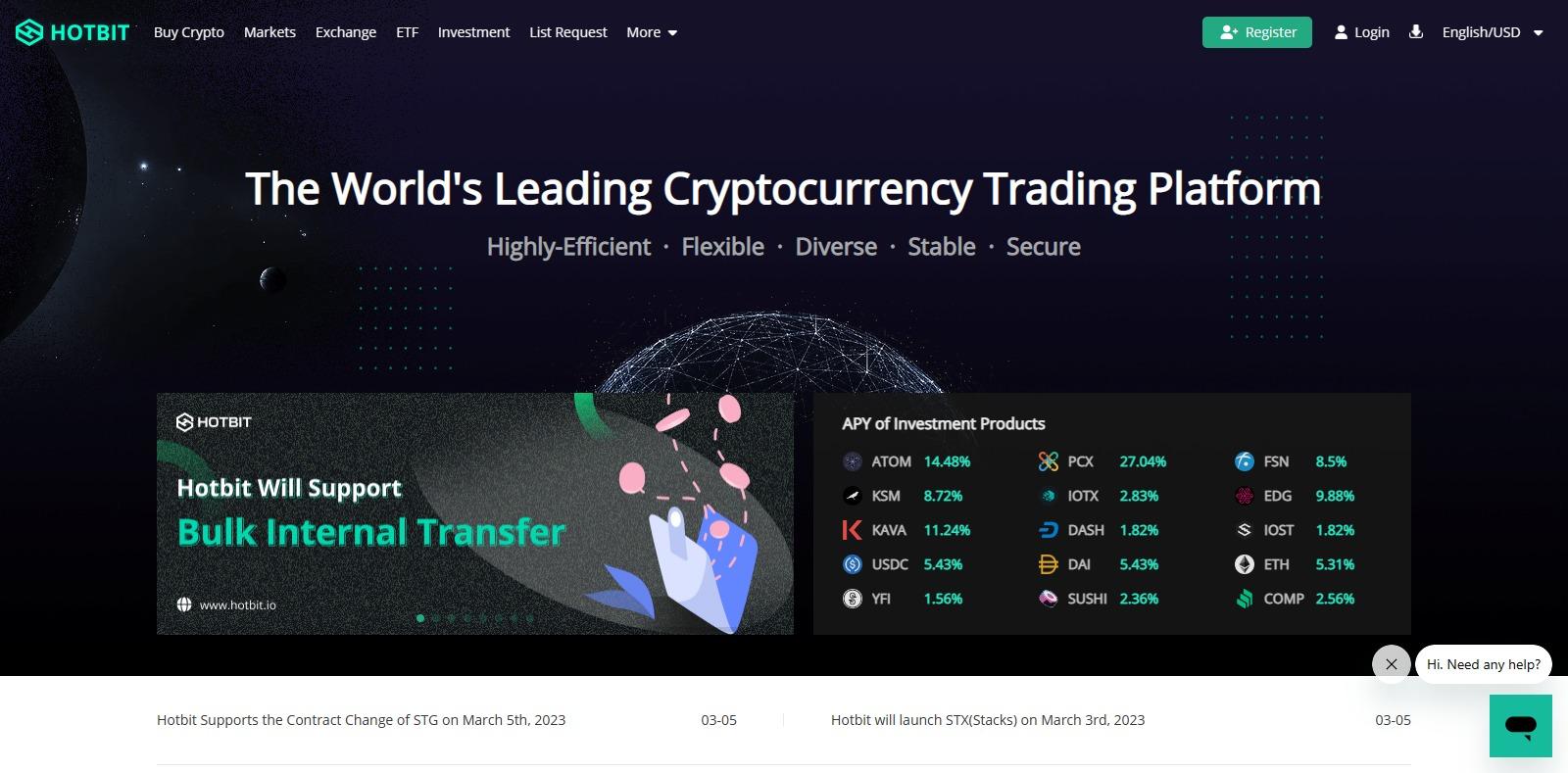 Hotbit had listed 2,000+ trading pairs in total and was ranked No. 1 among all exchanges regarding the number of types of cryptocurrency projects listed. Hotbit has accumulated 7,000,000+ registered users from more than 210 countries and areas all over the world. Hotbit started to distribute current deposit interests for its users, which means that Hotbit was the first cryptocurrency exchange in the world to offer daily current deposit interests to its users with no token lockup or freeze required.
Kuna
Founded by Michael Chobanian in 2016, Kuna Exchange claims to be the first public cryptocurrency exchange in CIS countries and Ukraine. The exchange reportedly serves over 500,000 users. Over 30 different trading pairs are available on the platform. The team claims that every account is 100% secured with cash reserves.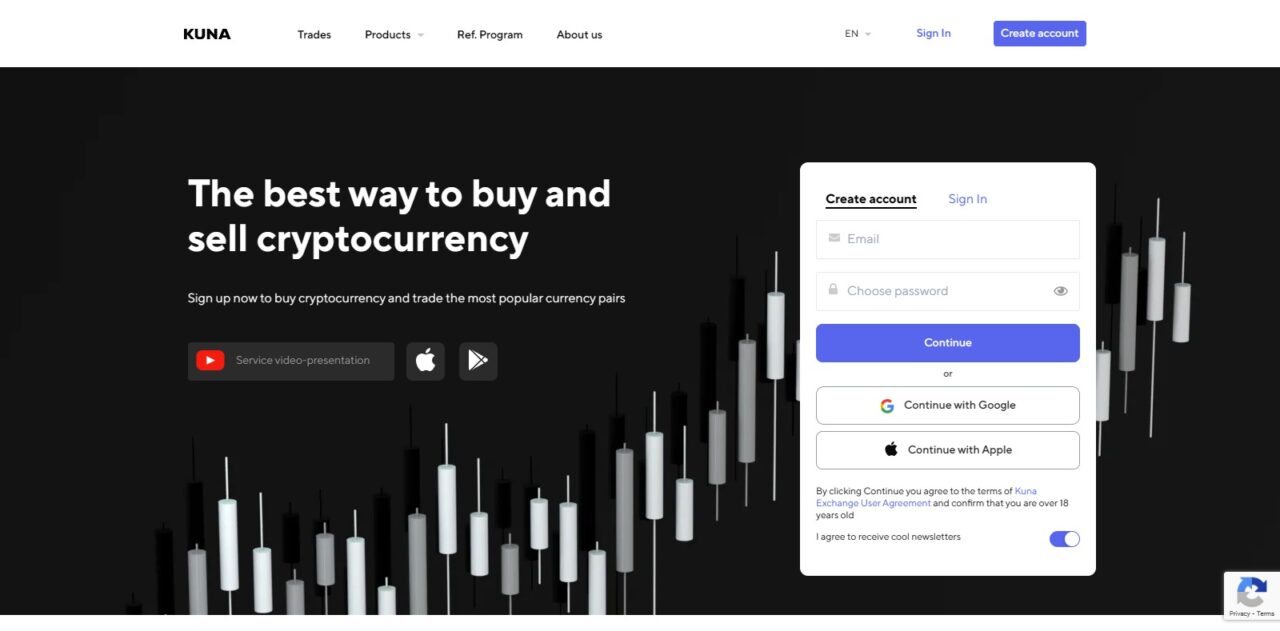 KUNA serves 500K+ users and complies with GDPR (Regulation on the protection of natural persons with regard to the processing of personal data and on the free movement of such data, and repealing Directive 95/46/EC).
HitBTC
HitBTC is a crypto exchange that has over 800 trading pairs. The platform was created in 2013, and provides exchange, custodial and other related services. HitBTC offers a range of APIs such as REST, WebSocket, FIX API. The UI was developed to meet the needs of the most demanding and sophisticated traders. Users can take advantage of rebates and competitive trading fees via the Trading Fee Tier system.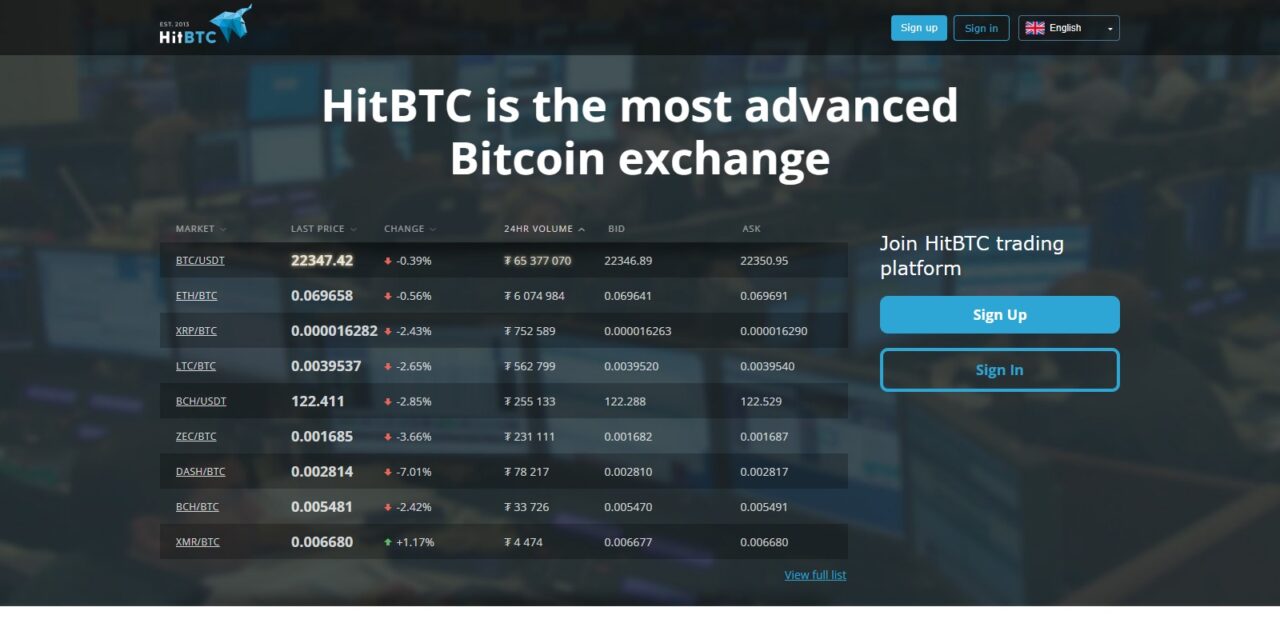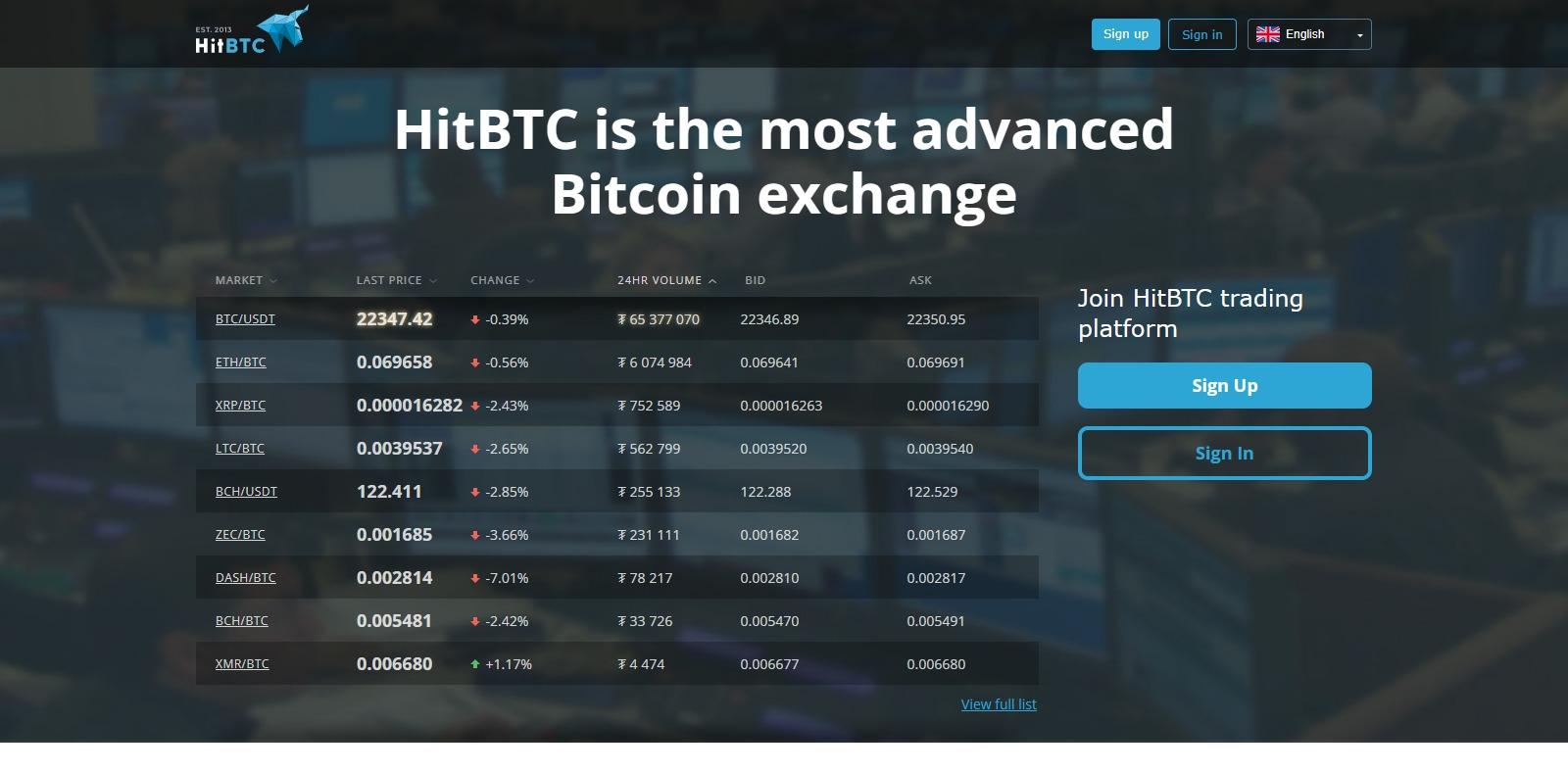 User security is reportedly secure via stringent security procedures, including cold storage and encryption technology. HitBTC also offers 2-factor authentication and various whitelists. The platform has reportedly decreased its data-access latency while expanding the platform's technical capabilities.The exchange works with individual customers and corporate clients, and has offices all over the world including Rio de Janeiro, Santiago, Hong Kong, Beijing and Singapore.
Bitrue
Founded in 2018, Bitrue is one of the world's most advanced cryptocurrency exchanges and management platforms. Bitrue employs blockchain and emerging technologies that enable access to an expansive suite of crypto products, options, and services.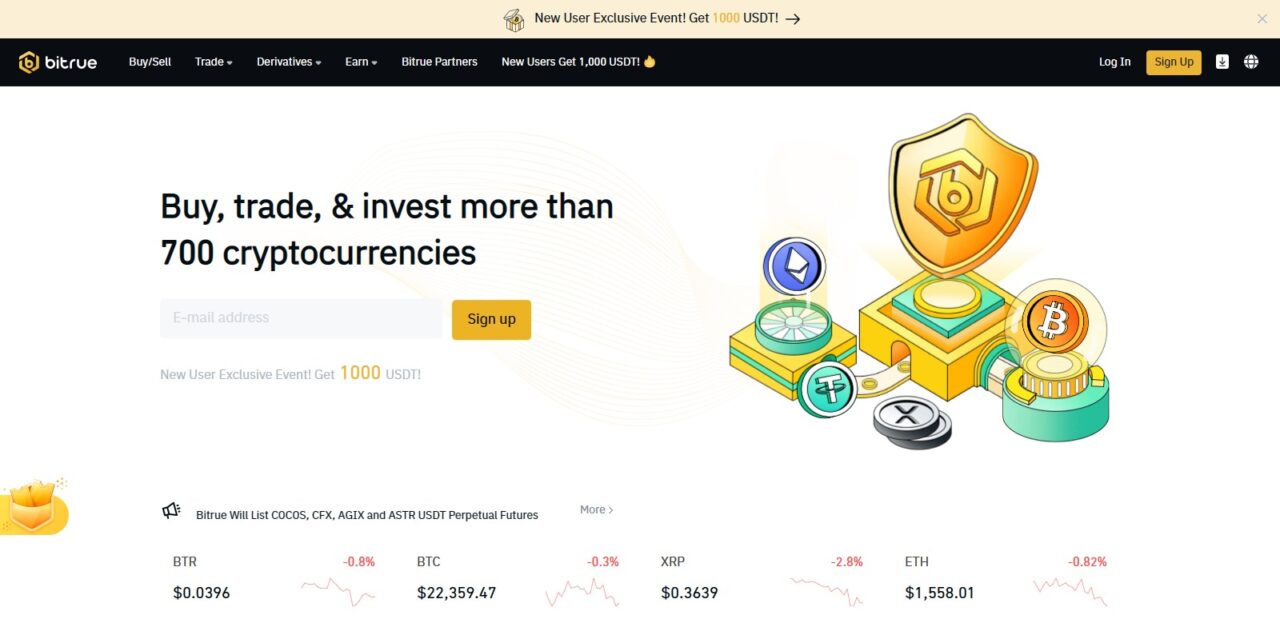 As a digital assets trading platform, Bitrue operates with globalization, specialization, and diversification at its core. Bitrue's mission is to become a key player in making blockchain and digital assets infrastructure available to everyone by enabling users to buy, sell and invest in more than 700 cryptocurrencies.
The crypto exchange is available globally in countries like the US, the UK, Canada, and Singapore. However, people in OFAC (Office of Foreign Assets Control of the U.S. Treasury Department) countries or regions like China, where crypto companies are banned, are restricted. Within the US, the company does not operate in Texas or New York.
How to Buy Everscale
After conducting some research, I found that Everscale (EVA) is a relatively new cryptocurrency launched on the Binance Smart Chain (BSC) in early 2022. Here are the steps you can follow to buy Everscale:
Create a Binance account: Everscale is currently available for trading only on Binance, a leading cryptocurrency exchange. So, the first step is to create an account on Binance if you don't have one already.
Fund your account: Once you have created your Binance account, you will need to fund it with some cryptocurrency or fiat money. You can do this by transferring Bitcoin, Ethereum, or other cryptocurrencies to your Binance account or by depositing fiat money via bank transfer or credit/debit card.
Navigate to the EVA trading page: Once your Binance account is funded, navigate to the EVA trading page. You can do this by clicking on the "Trade" button on the top menu and searching for EVA in the search box.
Place an order: Once you are on the EVA trading page, you can place a buy order by choosing the amount of EVA you want to buy and the price you want to pay. You can also choose between a market or limit order.
Store your EVA: After your buy order has been filled, you will see your EVA balance in your Binance wallet. It's important to store your EVA in a secure wallet to protect it from potential hacks or theft. You can either use Binance's built-in wallet or transfer your EVA to an external wallet that you control.
Please note that buying and selling cryptocurrencies can be a high-risk activity, and the price of Everscale can be volatile. It's important to do your own research and invest only what you can afford to lose. Additionally, be sure to comply with any applicable laws and regulations related to cryptocurrency trading in your jurisdiction.
EVER Price Live Data
The live Everscale price today is $0.093206 USD with a 24-hour trading volume of $10,504,816 USD. They update EVER to USD price in real-time. Everscale is up 1.77% in the last 24 hours. The current CoinMarketCap ranking is #178, with a live market cap of $161,926,967 USD. It has a circulating supply of 1,737,296,852 EVER coins and the max. supply is not available.
Symbol Good For Investment Or Not ?
Everscale is a relatively new and small project and it's not widely traded on many exchanges, which can make it more risky and volatile than more established cryptocurrencies. Additionally, it is important to consider the overall market conditions and the potential regulatory changes that could affect the value of Everscale and other cryptocurrencies.
Everscale Wallets
However, since EVA is built on the Binance Smart Chain (BSC), you can store it in any BSC-compatible wallet that supports BEP-20 tokens. Here are some popular BSC wallets you can use:
Binance Wallet: Binance offers its own wallet that supports BEP-20 tokens, including EVA. You can download the Binance wallet from the App Store or Google Play Store.
Trust Wallet: Trust Wallet is a popular mobile wallet that supports BEP-20 tokens, including EVA. You can download Trust Wallet from the App Store or Google Play Store.
Metamask: Metamask is a popular browser extension wallet that supports Binance Smart Chain. You can add BSC as a custom network in Metamask and then store your EVA in your Metamask wallet.
MyEtherWallet (MEW): MEW is a popular web-based wallet that supports BEP-20 tokens, including EVA. You can connect MEW to the Binance Smart Chain network and then store your EVA in your MEW wallet.
Regardless of which wallet you choose, it's important to follow best practices for cryptocurrency security, such as enabling two-factor authentication, backing up your private keys or recovery seed phrase, and never sharing your wallet information with anyone.
Please Note
Cryptocurrency trading carries a high level of risk and may not be suitable for all investors. Before deciding to trade digital assets you should carefully consider your investment objectives, level of experience and risk appetite. The possibility exists that you could sustain a loss of some or all of your initial investment and, therefore, you should not invest money that you cannot afford to lose. You should be aware of all the risks associated with digital asset trading and seek advice from an independent financial advisor if you have any doubts.
Everscale Faq
What is cryptocurrency?
Cryptocurrency is a type of digital currency that uses encryption techniques to secure and verify transactions and control the creation of new units. Cryptocurrencies operate independently of central banks and governments and are often decentralized, meaning they are not controlled by a single entity.
How does cryptocurrency work?
Cryptocurrencies are built on a blockchain, which is a decentralized ledger that records all transactions made using the cryptocurrency. Each block on the chain contains a cryptographic hash of the previous block, making it resistant to tampering. Transactions are verified and recorded by a network of nodes or computers that work together to maintain the blockchain.
How do I buy cryptocurrency?
To buy cryptocurrency, you typically need to create an account on a cryptocurrency exchange and deposit funds using a bank transfer, credit card, or other payment method. Once your account is funded, you can place an order to buy the cryptocurrency of your choice.
How do I store cryptocurrency?
Cryptocurrencies can be stored in a digital wallet, which is a software program that allows you to send, receive, and store cryptocurrency. There are several types of wallets, including hot wallets (connected to the internet) and cold wallets (offline or hardware devices). It's important to choose a reputable wallet provider and follow best practices for security, such as backing up your private keys or seed phrase.