Hello Guys Today We Talk About Where & How To Buy Osmosis Token (OSMO). We Describe Everything In Details . Read Our Article Carefully. Please Note This Article Only For Educational Purposes Not Financial Advice .
Osmosis Token (OSMO) can be purchased on a variety of cryptocurrency exchanges, including Binance, BitForex, and Gate.io. To purchase Osmosis Token, you will first need to create an account on one of these exchanges and link it to a payment method, such as a bank account or credit card. Once your account is set up, you can then search for OSMO and place a buy order at the current market price or at a specific price you set.
What Is Osmosis Token (OSMO)?
Osmosis (OSMO) is a decentralized exchange (DEX) for Cosmos, an ecosystem of sovereign, interoperable blockchains all connected trustlessly over IBC, the Inter-Blockchain Communication Protocol. Osmosis also offers non-IBC assets bridged from the Ethereum and Polkadot ecosystems. Originally based on Balancer-style pools, Osmosis is moving to a more sustainable concentrated liquidity model that provides a superior trading and liquidity provision experience.
As an appchain DEX, Osmosis has greater control over the full blockchain stack than DEXs that must follow the code of a parent chain. This fine-grained control has enabled, for example, the development of Superfluid Staking, an improvement to Proof-of-Stake security. Superfluid staking allows the underlying OSMO in an LP position to add to chain security and earn staking rewards for doing so. The customizability of appchains also allows for the development of a transaction mempool shielded with threshold encryption, which will greatly reduce harmful MEV on Osmosis.
Osmosis's vision is to build a cross-chain native DEX and trading suite that connects all chains over IBC, including Ethereum and Bitcoin. To build out the trading functionalities, Osmosis has invited external developers to create a bespoke DEX ecosystem that includes lending, credit, margin, fiat on-ramps, Defi strategy vaults, NFTs, stablecoins, and more – all the functionalities of a centralized exchange and more, plus the trust-minimization of decentralized finance.
Where & How To Buy Osmosis Token (OSMO) (Best Osmosis Exchange)
MEXC
MEXC is a centralized crypto exchange that provides access to spot, margin and futures trading. Founded in 2018, the exchange also offers quantitative trading, leveraged ETFs and index ETFs. Under the MEXC Earn, products also include: launchpad, M-day airdrops, MX-DeFi, Staking, ETH 2.0 Staking and more.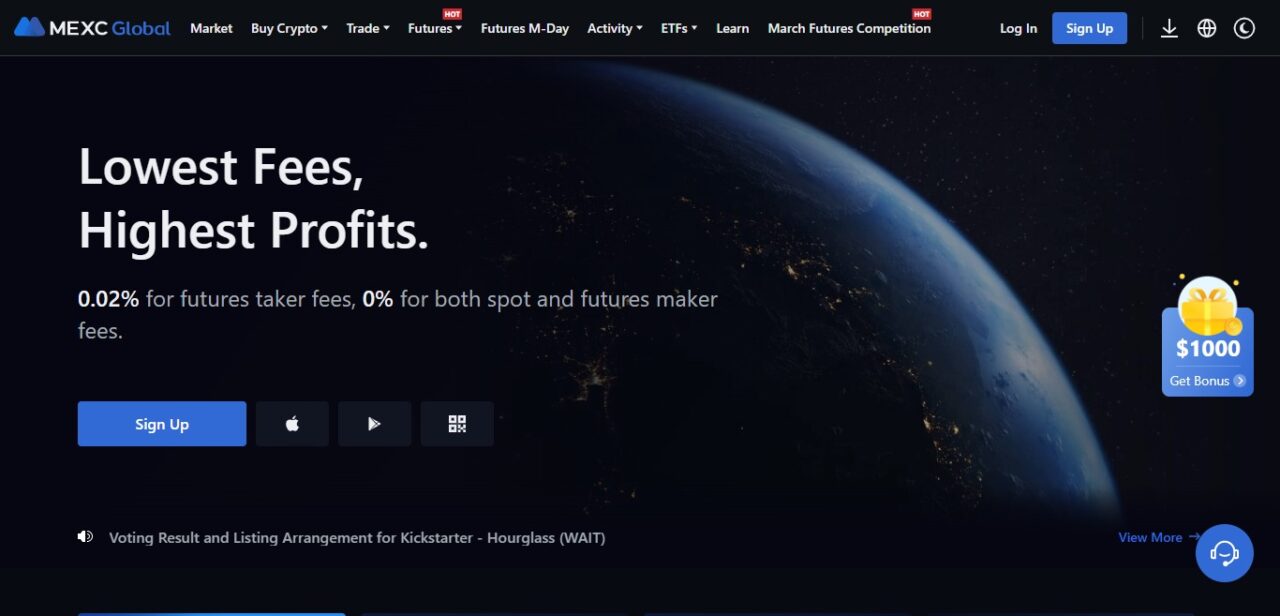 Users can purchase cryptocurrencies using credit or debit cards, global bank transfer, P2P trading and third-party payments such as Simplex, Banxa and Mercuryo. The exchange serves over 200 countries and more than 6 million users. It holds key licenses in countries like Australia, Estonia and the United States.
LBank
LBank is a globally based centralized exchange (CEX) platform that was established in 2015. The platform allows users to buy and sell major crypto assets like Bitcoin (BTC) and Ethereum (ETH) in over 149 fiat currencies, with over 20 payment methods.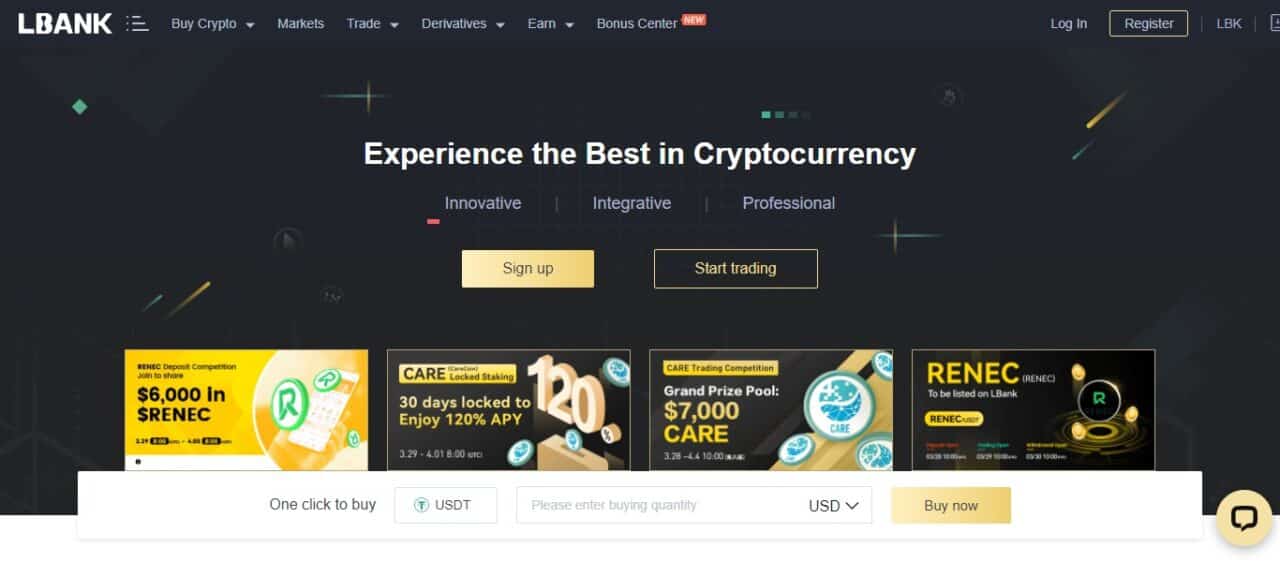 The company has licenses from the National Futures Association, Italian Organismo degli Agenti e dei Mediatori, and money services businesses in the United States & Canada.
LBank's financial products include spot and margin trading, crypto futures and options, staking, and ETF trading of crypto assets. Other services include peer-to-peer (P2P) transactions and grid trading.
Bitrue
Founded in 2018, Bitrue is one of the world's most advanced cryptocurrency exchanges and management platforms. Bitrue employs blockchain and emerging technologies that enable access to an expansive suite of crypto products, options, and services.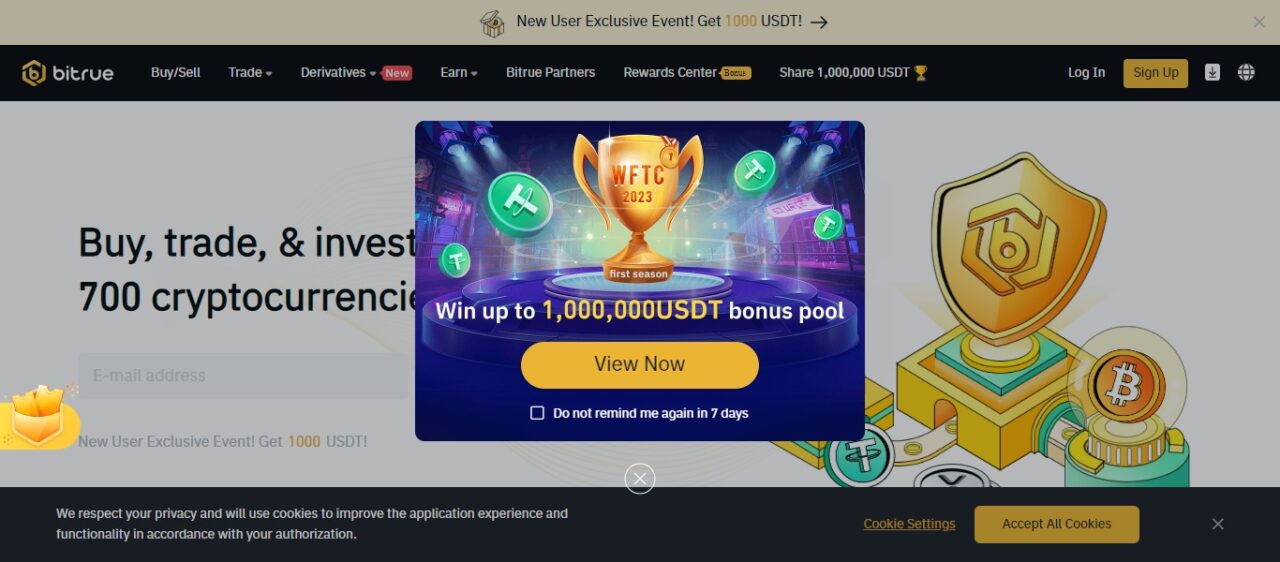 As a digital assets trading platform, Bitrue operates with globalization, specialization, and diversification at its core. Bitrue's mission is to become a key player in making blockchain and digital assets infrastructure available to everyone by enabling users to buy, sell and invest in more than 700 cryptocurrencies.
CoinEx
CoinEx is a global crypto exchange committed to making crypto trading easier. Available in 15 languages, the exchange offers a wide range of products and services, including spot trading, futures trading, margin trading, AMM, crypto finance, and strategic trading. CoinEx provides easy-to-use, secure, and reliable crypto trading services for more than 4 million users in over 200 countries and regions.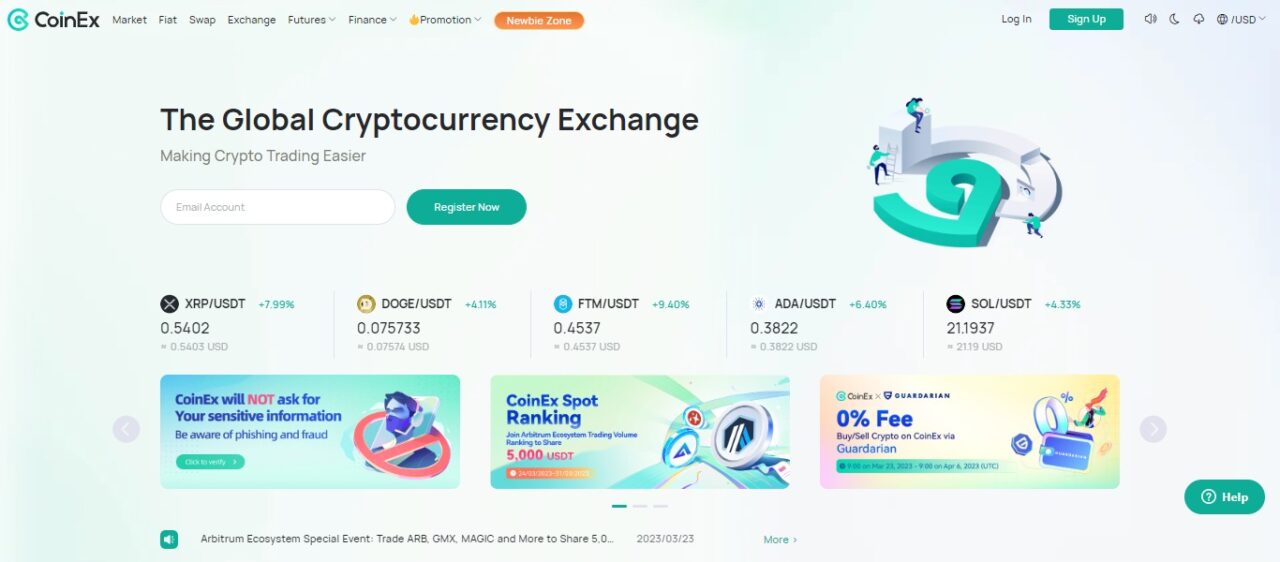 CoinEx features dedicated sections for BTC and stablecoins, as well as access to over 600 premium and innovative cryptos. With a zero-accident record, CoinEx has earned the recognition and trust of users through its user-friendly products, fast and stable performance, and seamless deposit and withdrawal processes. Available in multiple languages, CoinEx has always put users first and aims to provide pleasant crypto trading experiences for users as their gateway to the crypto world.
In 2022, CoinEx launched the "Merkle Tree" audit method as Proof of Reserve, becoming one of the earliest crypto trading platforms to disclose such proof of reserve. Committed to its bottom line of security and transparency, the exchange has lived up to its commitment to a 100% reserve ratio. On this secure, transparent crypto exchange, users' assets are never misused for any reason whatsoever, and all withdrawal requests are promptly processed.
Sifchain
Sifchain aims to be the first Omni-Chain DEX, targeting 20–25 blockchains for cross-chain integration. The targeted blockchains represent the overwhelming majority of all cryptocurrency trading volume, meaning that the whole cryptocurrencies liquidity can be accessed on-chain through the Sifchain DEX. As a decentralized exchange, Sifchain combines liquidity pools and order books for optimal order execution, while implementing adaptive AMMs for limit orders and token swaps.
Traders will be able to place limit orders that are executed against the liquidity pool as the market price fluctuates. Sifchain will also allow traders to use margin on their trades by borrowing from the liquidity pool. The interest rate is set based on market demand and liquidity supply.
Liquidity providers are able to add liquidity into Sifchain's liquidity pools symmetrically or asymmetrically, while front-running in order placements is prevented through a commitment-reveal scheme. Sifchain allows coordinated deployment of capital by DAOs, and simplifies the process of blockchain integration by lowering the barriers for open-source communities.
Korbit
Korbit is a South Korean exchange, one of the oldest and largest in the industry. The platform claims to provide its clients with beneficial terms of cooperation, competitive fees, access to popular cryptocurrency markets, secure asset management, and a trading API that supports automated trading.
The centralized exchange is convenient for both beginners and skilled users. However, for international traders, the experience can be challenging as the platform is aimed at local players in the South Korean crypto market. It also grants access to ETH 2.0 staking and a NFT marketplace. Another feature is Korbit's virtual asset reward service aka Korbit piggy bank.

Korbit allows customers to use the local currency, Korean Won (KRW), for crypto transactions. The exchange provides a low entry threshold, a set of basic tools and functions for technical analysis, and a well-established trading terminal in the browser. The site has an optimized and comfortable interface.
Throughout its existence, the platform has reportedly never been hacked. It has a modern and advanced security system, and logins/withdrawals/deposits are protected by 2-factor authentication.
How to Buy Osmosis Token
Here are the general procedures to take if you want to purchase Osmosis Tokens:
You must first create a digital wallet that accepts Osmosis Tokens. As Osmosis is based on the Cosmos blockchain, you will require a wallet that accepts assets with a Cosmos foundation. Keplr, Cosmostation, and Trust Wallet are a few examples of these wallets.
Once your wallet is configured, you must fund it with a coin that the wallet accepts. Usually, you may buy Osmosis Tokens with Bitcoin or Ethereum.
After adding money to your wallet, go to one of the cryptocurrency exchanges, such Binance or BitMax, that lists Osmosis Token. Open an exchange account and carry out any required KYC (know your customer) checks.
You can deposit your coin to the exchange and exchange it for Osmosis Tokens once the verification process is complete. Place a purchase order after choosing the Osmosis Token trading pair.
Your Osmosis Tokens will appear in your exchange wallet once your order has been filled. Afterwards, you can take them out and store them in your digital wallet.
Keep in mind that the procedure may vary slightly based on the exchange and wallet you select. It is crucial to conduct your own research and follow appropriate
OSMO Price Live Data
The live Osmosis price today is $0.808288 USD with a 24-hour trading volume of $7,845,255 USD. They update OSMO to USD price in real-time. Osmosis is up 1.62% in the last 24 hours. The current CoinMarketCap ranking is #98, with a live market cap of $398,155,155 USD. It has a circulating supply of 492,590,761 OSMO coins and a max. supply of 1,000,000,000 OSMO coins.
OSMO Good For Investment Or Not ?
OSMO is a relatively new and small project and it's not widely traded on many exchanges, which can make it more risky and volatile than more established cryptocurrencies. Additionally, it is important to consider the overall market conditions and the potential regulatory changes that could affect the value of Sandbox and other cryptocurrencies.
Osmosis Token Wallets
A cryptocurrency called Osmosis (OSMO) is based on the Cosmos blockchain. Here are some possibilities if you're looking for a wallet to keep your OSMO tokens:
Keplr: Keplr is a non-custodial wallet that accepts OSMO and other cosmos-based assets. It is a wallet that works with web-based dApps, such as Osmosis, and is a browser extension.
Cosmostation: OSMO and other cosmos-based assets are supported by Cosmostation, a non-custodial wallet. Both Android and iOS have a mobile app for it.
Trust Wallet: OSMO is one of the several cryptocurrencies that Trust Wallet, a mobile wallet, offers. It offers trading within the app and is accessible on both iOS and Android.
Ledger Nano S/X: OSMO is supported by the Ledger hardware wallets as well. Both the Ledger Nano S and the Ledger Nano X are well-known hardware wallets that let you store your cryptocurrency offline for increased security.
Please Note
Cryptocurrency trading carries a high level of risk and may not be suitable for all investors. Before deciding to trade digital assets you should carefully consider your investment objectives, level of experience and risk appetite. The possibility exists that you could sustain a loss of some or all of your initial investment and, therefore, you should not invest money that you cannot afford to lose. You should be aware of all the risks associated with digital asset trading and seek advice from an independent financial advisor if you have any doubts.
Osmosis Token Faq
What is Osmosis Token?
The native cryptocurrency of the Osmosis decentralised exchange (DEX), which is based on the Cosmos blockchain, is called Osmosis Token (OSMO). On the platform, OSMO is employed for governance and liquidity provision.
How can I buy Osmosis Token?
Osmosis Token is available for purchase on a number of cryptocurrency exchanges, including Binance, BitMax, and KuCoin. You must create an OSMO-compatible digital wallet and fund it with a supported cryptocurrency, like Bitcoin or Ethereum.
How can I store Osmosis Token?
Osmosis Token can be kept in any wallet that accepts assets based on Cosmos, including hardware wallets from Ledger, Keplr, Cosmostation, and Trust Wallet.
What is liquidity provision on Osmosis?
On Osmosis, the process of adding tokens to a liquidity pool in return for liquidity provider (LP) tokens is referred as as liquidity provision. Users can gain incentives in the form of trading commissions and staking rewards by using LP tokens, which stand in for a portion of the pool.
What is the Osmosis DEX?
In the Cosmos blockchain, there is a decentralised exchange called Osmosis DEX. Without the involvement of middlemen, it enables peer-to-peer cryptocurrency trading between users. Compared to conventional centralised exchanges, the platform is intended to be more effective and adaptable.