Mining farm sometimes bring their owners a good amount. This inspires many people to start mining cryptocurrency, but not everyone has enough money to buy powerful equipment. Therefore, some are interested in how a mining farm can be created on a laptop. In this article, we will try to answer this question and find out the feasibility of such a venture, and also tell you how to start this process.
What Is Mining On A Laptop
First of all, you should deal with the fact that it is the extraction of coins on a laptop and what fundamental differences it has. The first thing that catches your eye is the difference in performance when it comes to full-size graphics cards and built-in wearable devices. Iron for laptops (usually marked "M" at the end of the model name) has characteristics specially lowered by the manufacturer, which allow to reduce the heat transfer of the device and, consequently, reduce the requirements for the cooling system. Its characteristics are also very important for the mining process, as the components will constantly work at full capacity.
Some users go further and try to organize mining on a laptop with an external video card, but this solution is not absolutely stable. Details of the pros and cons of this approach are described on a variety of subject forums about farms for the extraction of cryptocurrency.
Which laptop is suitable for mining
Choose a mobile computer that will be used for the extraction of cryptocurrency, should be based on the above parameters. The video card should differ in high power, which is found only on expensive gaming and professional models. It should be noted that the performance will still remain lower than that of the farm of the video cards that we could have collected for this money. Processors in wearable computers are also an order of magnitude weaker, but mining a farm on a laptop can still use CPU. Moreover, you can turn on both minings on the processor and mining on the video card, which will significantly improve the efficiency of your device.
What cryptocurrencies can be mine on a laptop
Based on the fact that components in laptops are just cut-down versions of desktop solutions, you can mine the same coins as full-fledged GPU and CPU farms. Thus, the most suitable are coins that use the following algorithms:
CryptoNight ( 

Monero

 )

Ethash ( 

Ethereum

 )

Equihash ( 

ZCash

 )
Another good option is to get coins that have just recently appeared on the market.  Usually,  they have low difficulty high block rewards. If the iron is not too weak, you can even try to mine them in solo. It is likely that these currencies are undervalued and will become much more popular in the future, and their value will increase many times, as has happened on the market more than once. It should be noted that it can also work with popular currencies, which simply have not yet had time to reach their peak value.
How to set up mining on a laptop
The operating system on the laptop works the same way as on a stationary PC, which could be used for mining the farm. This means that the software does not require any special settings for organizing this process on a laptop. You only need to choose a miner program that is suitable for your hardware. For Nvidia and AMD video cards, different applications from different developers are used and they cannot be interchangeable. Mining on processors usually occurs regardless of the manufacturer and miners are used the same. You can also use miners that are embedded in a wallet for a particular cryptocurrency, but they are not always the most productive solution.
However, some points are still different and their setting is not the same as on a regular farm. It should be remembered, for example, that the cooling system is more sensitive to overheating of components and generally not so reliable. This means that when setting up the program, one should obviously indicate a lower critical temperature, the achievement of which will interrupt the process in order to extend the life of the iron. The lower the temperature you specify, the slower the fan speed can be set. This will also reduce wear on the cooling system.
Another way to reduce the load on iron is to use miners, which allow using only part of the available computing power for mining. This approach is often used by attackers when they include a miner in virus software. For example, for some algorithms, there are programs in which you can turn on mining on only a few cores. However, this method will be completely ineffective on a weak laptop.
This video details how to set up mining on a laptop using the Nicehash service:
Pool Tips
When choosing a pool for mining on a laptop, you should consider all the same factors as when choosing a pool for high-performance mining farm. It is necessary to pay attention to reviews of other miners, the stability of work and payments, as well as the availability of the possibility of an additional configuration of the service. For equipment with low productivity is also very important to be the minimum amount of payments. It depends on it how soon you can get the first reward. If the minimum payment is high, then you will not see the first money soon, and it will be especially noticeable when mining on a laptop. The best option would be a pool that pays in fact in small fractions and does not require the accumulation of any amount.
A program for mining on a laptop
Choose a program for the extraction of cryptocurrency, as mentioned above, should be based on the hardware that is installed on your computer. For each algorithm, there are versions for different manufacturers of GPU chips and separate versions for the CPU. Corresponding software can be found on the BitcoinTalk forum. Most developers have themes for each of their products there. In addition, miners are often indicated in cryptocurrency topics that can be used for mining. It should be noted that mining is not performed on integrated video cards, so their owners should use the central processor or allocate some amount of money and try to invest in cloud mining.
Mining profitability on a laptop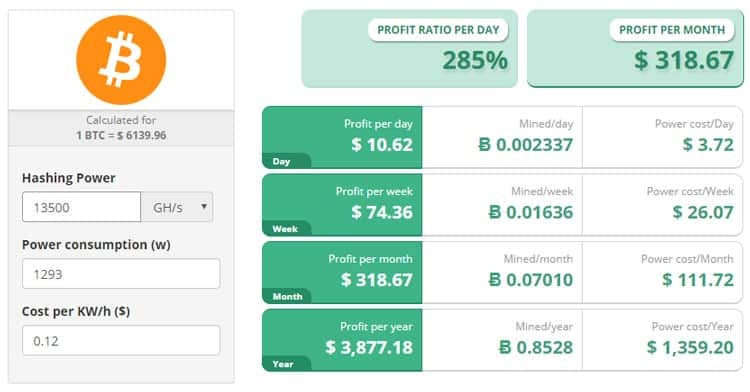 As for profitability, then everything depends on the final hash rate that you managed to get, as well as the chosen algorithm. It is obvious that mining of bitcoins on a laptop is impossible, like, for example, Litecoin. However, it is quite possible to organize the extraction of Ether or ZCash. Make a trial run of the miner, find out how fast it works on your laptop and calculate the potential income using a special calculator. On the Internet, you can find a lot of services that calculate how much you can earn at a certain mining speed. It should be borne in mind that these services are based on information that is relevant only at the moment and in the future the market situation may change.
Advantages and disadvantages of mining on a laptop
Benefits

disadvantages

1. The possibility of mining cryptocurrency on the available hardware. 

Mining on a laptop allows you to test the setting of mining and get acquainted with how it works.This is a great way to learn how to work with a miner program and even earn a little crypt. 




2. Low power consumption. 

Another feature is the use of a relatively small amount of electricity by a laptop, even at maximum load. Thus, you do not spend on light more than you can earn and do not need a high-performance and overly reliable power source. 




3. Easy to set up.

Setting up cryptocurrency mining on a laptop is almost the same as setting up a regular farm and finding detailed instructions on the Internet is easy. Because of this, you can get the experience of running a mining farm.

1. Low yield. 

Because of the limitations of the performance of laptops, you will not be able to do mining seriously and, moreover, to organize the extraction of Bitcoin. This approach is introductory, but you can make money on some projects with low complexity if you are lucky. 




2. Increase equipment wear rate. 

It is not a secret for anyone that running the computer at maximum power results in high heat transfer, which makes the cooling system work in enhanced mode. This is especially felt in laptops because due to their compactness, components have fewer resources for cooling.
Conclusion
In conclusion, it should be noted that mining on a laptop is a good way to thoroughly familiarize yourself with cryptocurrency mining processes and gain experience in setting up a farm. However, it will not bring a lot of money and maynite bitcoin or lightcoin will fail. Moreover, the wear rate of the equipment will significantly increase and the device may become unstable. In high-performance gaming laptops with a good cooling system, this is unlikely to be noticeable, but mining on a weak laptop sooner or later will lead to this.
On the other hand, even on iron with low productivity, it is possible to mine coins, the network of which still has low complexity, and then wait for their value to increase. Anyway, if you want to start mining and are ready to deal with it, but you do not have the opportunity to purchase serious equipment, then you should start with a laptop.