What is Miro Ai?
Teams can collaborate online in real time using the cloud-based whiteboarding tool Miro Ai, regardless of where they are located. Teams can use the digital canvas it offers to generate ideas, discuss, and visualize them using tools like mind maps, diagrams, and virtual post-it notes. Teams can efficiently communicate, share comments, and work together on projects with Miro even if they are working remotely.
In addition, Miro provides a variety of tools and connectors that improve its functionality, such as mobile access, screen sharing, video conferencing, and third-party integrations. Projects like product development, design sprints, agile workflows, and strategic planning are just a few examples of the many sorts of projects that teams may build and manage using Miro. With a drag-and-drop interface and adjustable templates, the platform is created to be simple to use and accessible to people of all technical backgrounds.
Key Points
| Key | Point |
| --- | --- |
| Product Name | Miro Ai |
| Product Type | Ai Visual Collaboration |
| Free Trail | Yes Available Basic Version |
| Price Start From | $8 Per Member |
| Deployment | SaaS/Web/Cloud Mobile – Android Mobile – iOS |
| Offline/Online Support | Online |
| Customer Type | Large Enterprises ,Medium Business ,Small Business |
| Official Website | Click Here To Visit |
Miro AI Transcription Pricing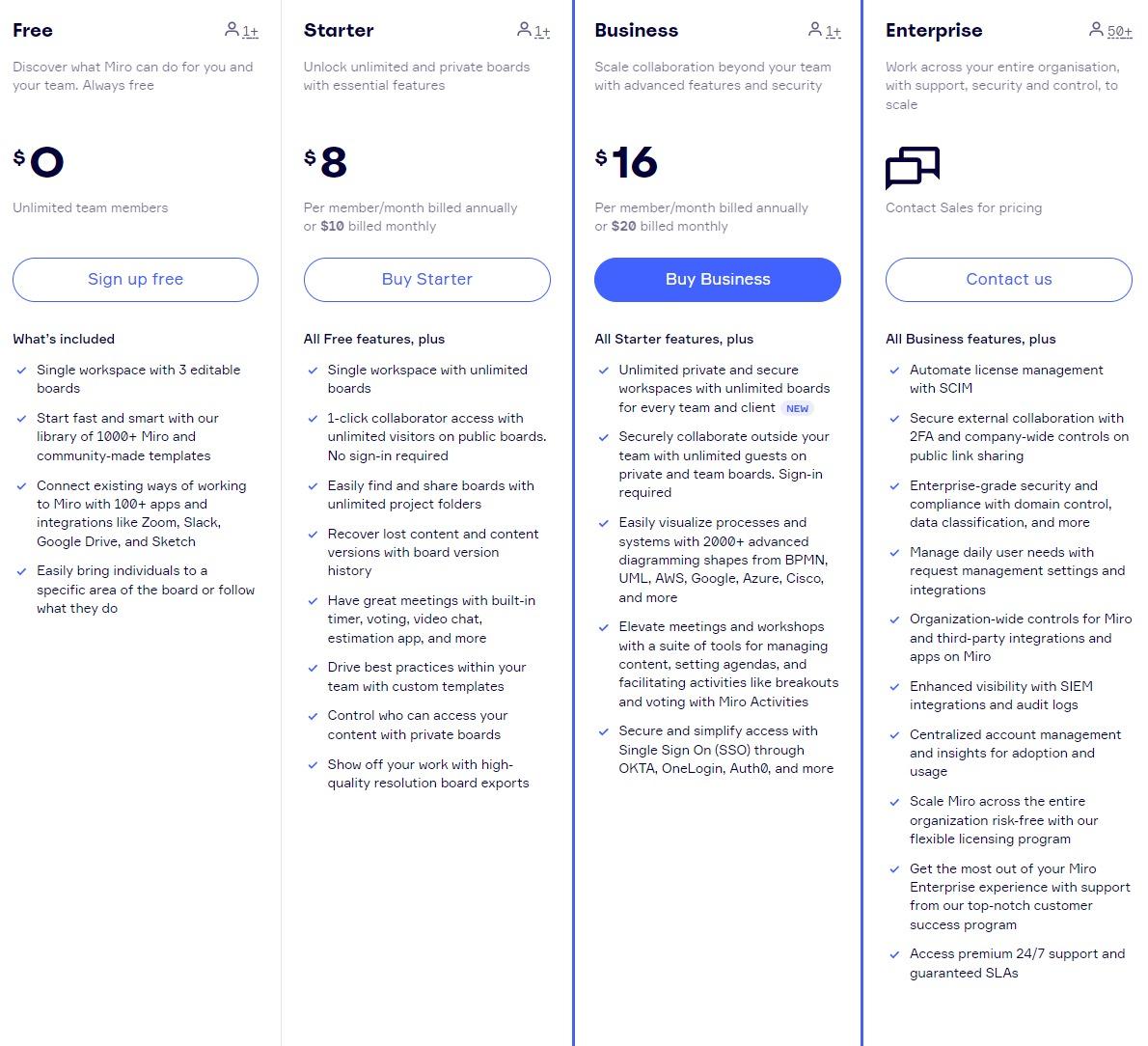 How to Sign Up & Use Miro AI?
Click the "Sign up for free" button in the top right corner of the website, https://miro.com.
either sign up with your Google account or enter your email address and password.
Create a Miro account by following the on-screen instructions, then create a profile.
Once you've logged in, you may work with your team by starting a new board or joining an existing one.
Use the visual tools in Miro to interact in real-time on projects, brainstorm ideas, and draw diagrams.
You may utilize AI-powered chatbots like Dialogflow to build interactive visualizations that answer to natural language queries, or you can link Miro to third-party resources like Google Drive to take advantage of AI-powered connections.
Miro.com AI Features
Real-time collaboration
Regardless of their geographical location, Miro enables several users to work together on the same project in real-time.
Visual templates
To help customers get their projects off the ground, Miro offers a wide variety of editable templates.
Mind maps and diagrams
Mind maps and diagrams are two examples of the visual thoughts and concepts that users of Miro can develop and collaborate on.
Integrations
Miro is compatible with many well-known programs, like Google Drive, Trello, Slack, and others.
Annotations and virtual sticky notes
Miro users may add virtual annotations and sticky notes to their projects, making it simple to organize ideas and criticism.
Video conferencing
The Miro platform allows users to host video conferences, which makes it simple to interact and cooperate with team members.
Project management
Miro has features that make it simple to keep projects on track, like task assignment and progress tracking.
Mobile application
The Miro mobile app enables users to work together even on the go.
Security and compliance
To guarantee the security and privacy of user data, Miro has earned SOC 2 Type II certification and complies with GDPR, CCPA, and other data privacy laws.
Miro.com Ai Pro Or Cons
| PRO | CONS |
| --- | --- |
| AI can help automate repetitive tasks, such as organizing and categorizing data, freeing up time for users to focus on higher-level tasks. | AI algorithms can be biased, which can lead to inaccurate or discriminatory results. |
| AI can help identify patterns and trends in data, which can help users make more informed decisions. | AI can be complex and difficult to understand, which can make it challenging for users to trust the results. |
| AI can help personalize the user experience, making it easier for users to find the information and tools they need. | AI implementation can raise privacy concerns, particularly when it comes to collecting and using personal data. |
| | |
Miro AI Alternative
Lucidspark: A platform for collaboration that gives users access to mind mapping and diagramming tools, as well as AI-powered insights and suggestions to aid in decision-making.
Mural: A digital workplace with AI-powered features like automated flowchart development and visual collaboration analytics that enables users to collaborate on visual projects.
Conceptboard: A platform for collaboration with digital whiteboards, templates, and connections to well-known apps like Slack and Trello. It also has AI-powered capabilities like real-time feedback analysis and automated task tracking.
Stormboard: Stormboard is a platform for group brainstorming that combines voting, prioritization, and digital sticky notes with AI-powered sentiment analysis and keyword tagging.
Miro.com AI Conclusion
To sum up, Miro is a well-known online collaboration tool that provides a range of tools for producing and exchanging visual projects. Although the extent of AI application in Miro is unclear, it's probable that AI algorithms are applied to improve specific characteristics like data analysis or personalisation. But it's crucial to remember that AI can have constraints and potential biases that must be taken into account. It's critical to take into account the unique use cases and requirements, as well as the potential advantages and disadvantages of using AI, when assessing Miro or any other collaboration platform with AI capabilities.