About MyLead
The MyLead affiliate network was established in 2014. It operates on the global market. This online monetization portal is available in 9 languages, and it has over 450,000 registered users.
MyLead has won many awards. In 2021 it was awarded in the main category "Fast 50" during the Deloitte Technology Fast 50 Central Europe. Additionally, since March 2022 MyLead is on the elite FT 1000 list, which gathers the fastest growing companies from all over Europe. The list was compiled by the Financial Times and Statista. MyLead is also the best affiliate network according to Affbank.
MyLead offers over 3,000 affiliate programs in dozens of categories, including: E-commerce, Nutra, Gaming, Crypto/Forex, Adult and Dating, Gambling, Sweepstakes and many more.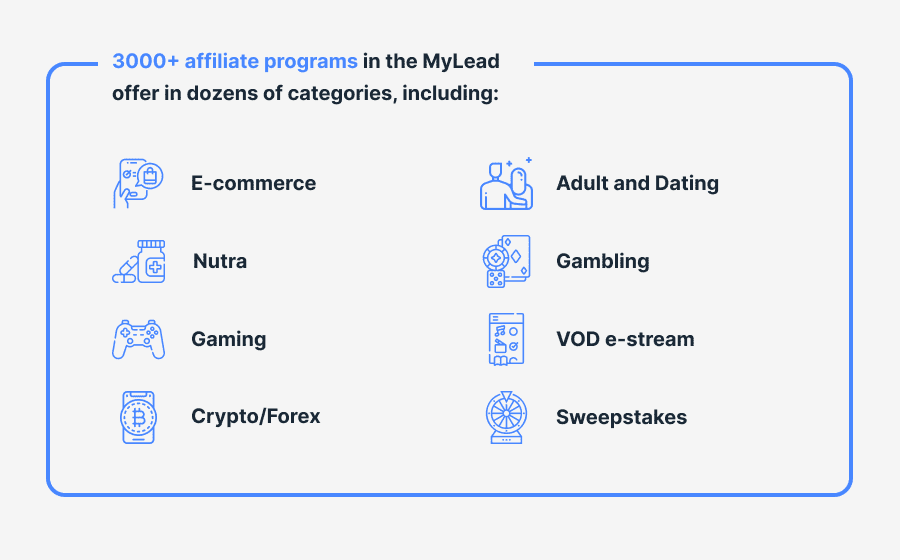 You can withdraw your money via PayPal, Skrill, Revolut, Bitcoin, WebMoney, YooMoney, QIWI or Capitalist. The waiting time for funds can take up to 14 business days.

You can contact MyLead via the helpline, email, Skype, Telegram, or Discord server.

Tools available in MyLead
The affiliate network is the author of free tools that help you make money more effectively. MyLead provides its users with an affiliate Content Locker, which allows you to block access to a particular part of an article or website, or HideLink cloaker, which extends the life of affiliate links and effectively protects against unwanted traffic generated by bots. MyLead also has a browser extension that makes it easy to access statistics.
User support
The network focuses on free education for users. In the MyLead panel you can find many ebooks and case studies about new interesting ways of earning, like how to make money on TikTok, limits on Facebook and Instagram or how to earn on Messenger. They are distinguished by comprehensive content and an innovative approach to earning online. On The MyLead affiliate network YouTube channel you will find video guides, interviews and tutorials to help you use the portal. Additionally, after joining MyLead, you can contact the mentor Alex, who will support you in your first steps in your affiliate journey.