About Okage Inu Coin
Okage Inu Coin creating a blockchain that is a high TPS, scalable, subnet blockchain on Avalanche, they are able to create the ideal memecoin trading environment that is future-proof. No matter the volume on OkageChain, fees remain consistent and fast. Additionally, they are creating a Team Trading DEX which will allow tokens on Uniswap to be listed and incubated by the Okage community. Unlike a traditional tokens with relatable branding, Okage Inu is a true DeFi powerhouse.
Okage Inu Coin is aiming to become the DeFi spaces' premiere layer-1 blockchain for transacting memecoins. They are building a comprehensive ecosystem that incentivizes tokens to partner with by utilizing your Cross-Chain Bridge Development, Team Trading DEX, to pair liquidity on OkageChain, and use $OKAGE across multiple blockchains.
Okage Inu Coin is the optimal choice for transact-ability and scalability. Okage Inu will be the world's 3rd Avalanche subnet, enabling users to operate natively on Avalanche, bridging from Ethereum or Other EVM Chains including Shibarium. This allows Okage to be the world's most optimized memecoin chain, outcompeting all other EVM chains.
Okage Inu Coin Point Table
What Is $OKAGE?
Okage Inu is an ERC-20 token operating on the Ethereum blockchain which is utilized to power OkageChain on Avalanche by incentivizing validators, and also acts as a liquidity pairing for tokens utilizing your team trading DEX.
Is Okage Inu Safe?
Your liquidity is locked on Unicrypt until [06/07/2023 15:00] and will be extended they have released the multi-chain bridge. Additionally, the Okage Inu smart contract is renouned, meaning the no entitiy may alter tax, functions, and any item on the contract. Your team is committed to providing the best possible DeFi ecosystem.
Okage Inu Token
Okage Inu, aside from it's many use cases and intrinsically valuable ecosystem, is a highly relatable and brand-able token that appeals towards mainstream investors searching for an alternative to DOGE or SHIBA that executes work.
Tokenomics
Okage Inu stealth launched with no team tokens withheld or airdrops distributed. A truely fair distribution of tokens are traded on the fair market with no max wallet – meaning that any investor may accumulate the supply. This is beneficial for the volume that funds your ecosystem and provides long-term value to your investors.
Team Trading Dentralized Exchange
OkageSwap will be an exclusive DEX offered to partners of Okage Inu. By using OkageSwap, users will be able to invite members to a team and once accepted, OkageSwap will display the volume for each team during the set round duration. A minuscule platform fee is collected to further the Okage Inu ecosystem in exchange. By partnering with Okage Inu, tokens can offer unique contests, events, and also collect information about trading volume/users to empower their token. The platform works similarly to Uniswap, however, teams will be able to formed and the Okage Inu community will incubate partners. Requirements for partnership:
Token Is Able To Trade Uniswap V2 Liquidity Pairings
Smart Contract Is Renounced And/Or Audited
Minimum Liquidity Of 15 ETH
Team Pitch Deck Is Approved By The Okage Inu Team As Valuable To DeFi
Team Pairs OKAGE/??? Liquidity Equal To 10 ETH Minimum.
Why Choose Okage Inu Coin?
Avalanche Subnet Chain
OkageChain Is your End Goal. A Blockchain On Avalanche Where they Create The Ideal Memecoin Chain.
Trading Team Platform
Okage Inu Will Feature A Specialized DEX That Incentivizes Healthy Volume Through Exclusivity.
Multi-Chain Bridge
Being a cross-chain token, Okage Inu will bridge to Avalanche and Shibarium.
Secure and Dedicated
Your Liquidity Is Locked And The Contract Is Renounced To Ensure Investor Safety and Confidence.
Where Can You Buy Okage Inu Coin?
Tokens Can Be Purchased On Most Exchanges. One Choice To Trade Is On Uniswap (V2), As It Has The Highest OKAGE/WETH. e Trading Volume, $8,947 As Of February 2021. Next is OKEx, With A Trading Volume Of $6,180,82. Other option To Trade Include OKAGE/WETH And Huobi Global. Of Course, It Is Important To Note That Investing In Cryptocurrency Comes With A Risk, Just Like Any Other Investment Opportunity.
Market Screenshot

Okage Inu Coin Supported Wallet
Several Browser And Mobile App Based Wallets Support Okage Inu Coin. Here Is Example Of Wallet Which Okage Inu Coin – Trust Wallet For Hardware Ledger Nano.
Roadmap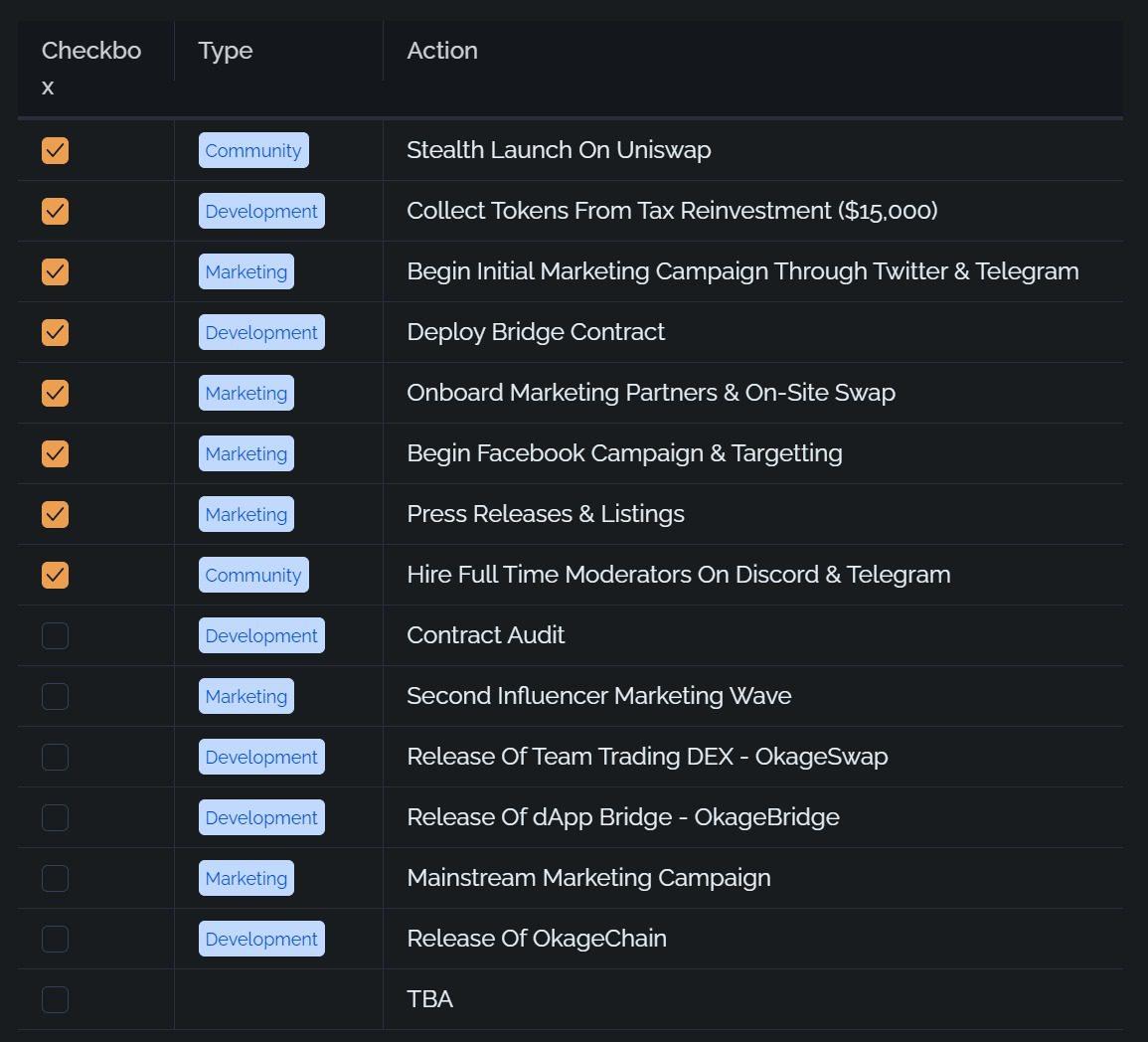 FAQ Of Okage Inu Coin
Where I Can Find Okage Inu Coin Whitepaper?
You Can Find Okage Inu Coin Whitepaper By Clicking Here.
Where I Can Buy/Sell Balancer Token?
You Can Buy or Sell Balancer Token On Some Popular Exchange For Example – Uniswap (V2).
What is Circulating Supply Of Balancer Token?
Circulating Supply Of Balancer Token Is N/A.