What is Otter?
Otter.AI is an AI-powered app that helps you record, transcribe, search, and share conversations and meetings. It uses artificial intelligence and natural language processing to transcribe audio and video conversations in real time and make them searchable and shareable.
Key Points
| Key | Point |
| --- | --- |
| Product Name | Otter |
| Product Type | Transcription |
| Free Trail | Yes Available Basic Version |
| Price Start From | 8.33 USD Per Month |
| Deployment | SaaS/Web/Cloud Mobile – Android Mobile – iOS |
| Offline/Online Support | Online |
| Customer Type | Large Enterprises ,Medium Business ,Small Business |
| Official Website | Click Here To Visit |
Otter Transcription Pricing
Now it's time to talk about company plans and pricing.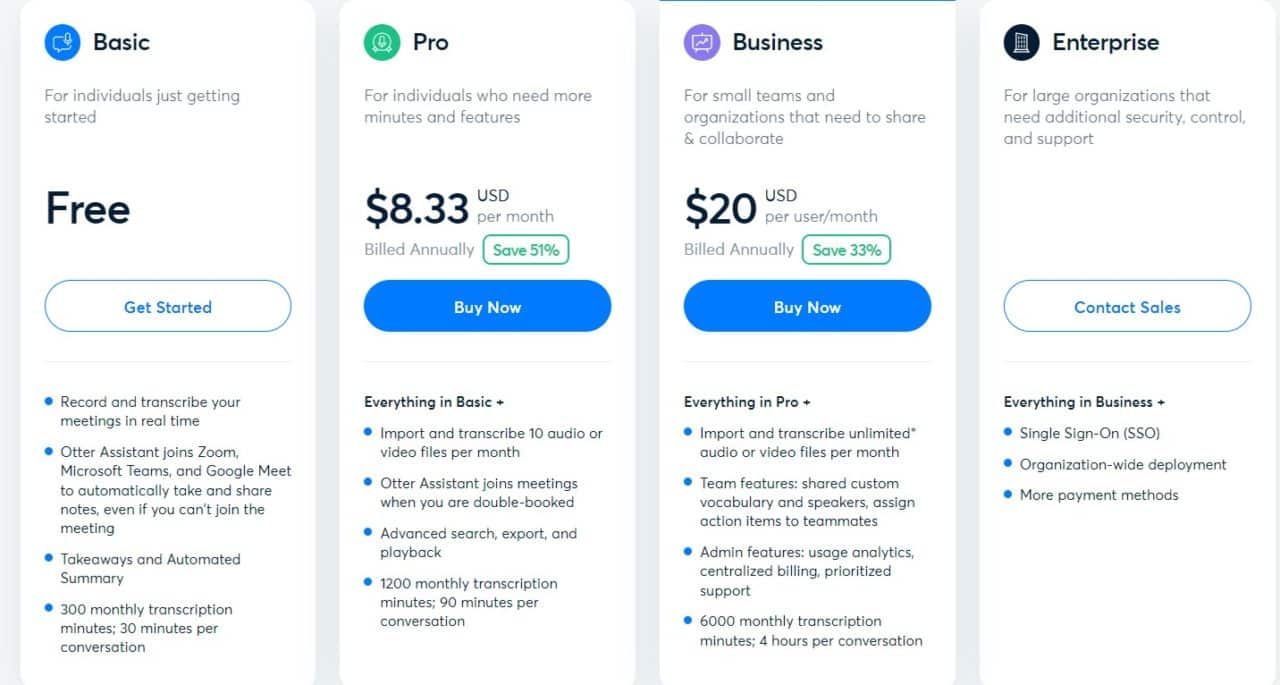 Otter.ai pricing is based on a per-minute charge. The free version of the Otter.ai app allows users to transcribe up to 500 minutes of audio and video per month. The Pro plan costs $8.33 per month with unlimited minutes, and the Business plan costs $20 per month with unlimited minutes and other features such as team collaboration and high-quality output. Enterprise plans are available for larger organizations.
How to Sign Up & Use Otter ?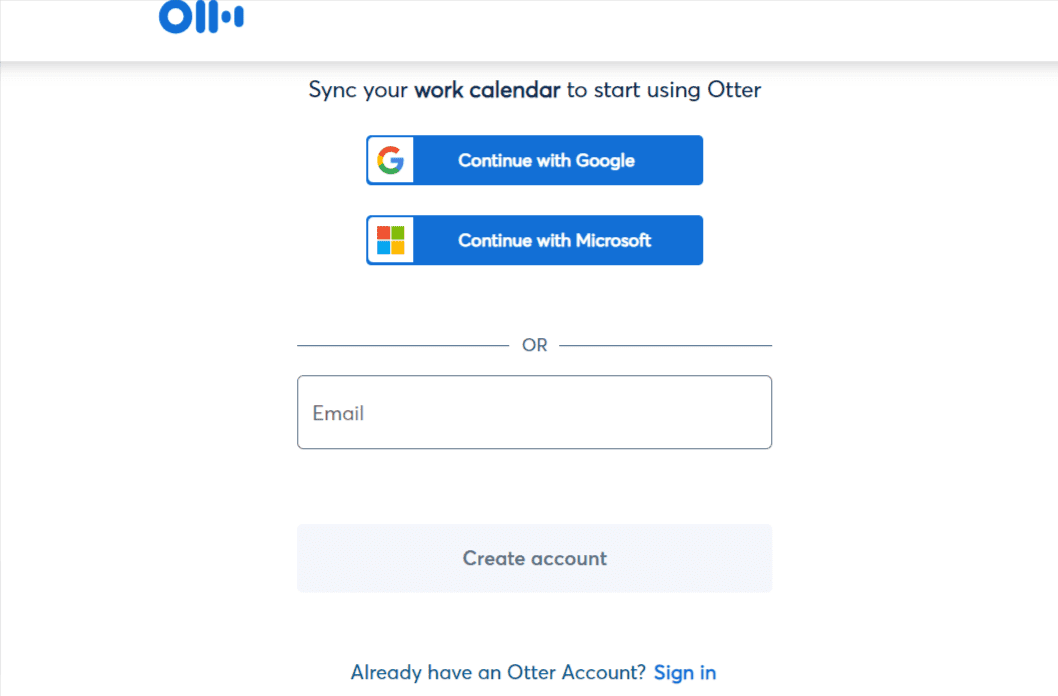 1. Go to the Otter.ai website at https://otter.ai.
2. Sign up for a free account.
3. Download the Otter.ai app from the Apple App Store or Google Play Store.
4. Open the app and sign in with your account credentials.
5. To start recording, tap the red "Record" button in the top right corner of the app.
6. Speak into your device microphone as you would normally.
7. When you're done recording, tap the red "Stop" button.
8. Your recording will be automatically transcribed and available in the Otter.ai app.
9. To edit or view your transcript, tap the "Transcripts" tab on the bottom navigation bar.
10. To share your transcript, tap the blue "Share" button at the top right corner of the app
Otter Tool Key Features
Automatic Transcription
Otter.ai can transcribe speech and audio recordings in real-time, with a high level of accuracy.
Use Otter your way
Engage more with meeting participants without the worry of taking notes, refer back to Otter's real time transcription so you never miss a word, and access, annotate, and share notes for better collaboration.
AI-assisted Editing
Otter.ai provides AI-assisted editing tools to help users quickly and accurately edit their transcripts. These tools include auto-formatting, auto-punctuation, auto-timestamps and auto-speaker recognition .
Access Otter anywhere
Capture all of your important conversations and meetings, whether in-person, hybrid, mobile, or virtual. Otter Assistant integrates with Zoom, Microsoft Teams, and Google Meet while storing all notes in one central, secure, and accessible place.
Get smarter with Otter
Otter's transcription AI technology is built to get smarter and better understand your conversations over time – applying speaker identification, custom vocabulary, and advanced summary so you can work and collaborate smarter.
Customizable Workflows
Otter.ai allows users to customize their workflows for different types of projects. This includes the ability to automatically assign tasks, create custom labels, and store notes.
Security
Otter.ai ensures that transcripts are secure and private. Data is encrypted both in transit and at rest, and access can be restricted to certain users.
How To Contact Otter.ai Team?

You can contact Otter.ai customer care by emailing help@otter.ai or filling out the form at https://help.otter.ai/hc/en-us .
Otter Pro Or Cons
| PRO | CONS |
| --- | --- |
| Otter.ai is an extremely accurate and reliable AI transcription service that can convert speech into text quickly and accurately. | The service offers audio and video editing capabilities, allowing users to make corrections and adjustments to their transcriptions |
| The service is available in multiple languages, so users can transcribe audio and video in different languages | Otter.ai is an expensive service, so not all users can afford it |
| It offers a wide range of features and customization options, allowing users to tailor the service to their specific needs | The service does not offer a human transcription service, so users may need to take extra time to make corrections to their transcriptions |
| Otter.ai is easy to use and offers a free version, so users can get started quickly | The service is not available in all countries, so some users may not be able to take advantage of it |
Otter Review Video
Otter.ai Alternative
Below Is Some Alternative Of Otter.ai Tools
1. Descript: Descript is a speech-to-text platform that converts audio and video files into accurate, searchable transcripts. It offers various features like transcription, editing, collaboration, and integration with other apps.
2. Happy Scribe: Happy Scribe is a transcription and subtitling platform that converts audio and video files into accurate transcripts and subtitles. It offers features like fast turnaround, multiple file formats, keyword search, and more.
3. Trint: Trint is a transcription platform that offers automated and human-generated transcripts. It features AI-powered speech recognition, integration with popular video conferencing platforms, and tools for searching, editing, and sharing transcripts.
Final Verdict on Otter.ai
Otter.ai is an innovative and useful tool for transcribing audio and video recordings quickly and accurately. Its features are powerful and easy to use, and its accuracy is impressive. It is an excellent choice for businesses and individuals who need a reliable and affordable transcription service.
1. How do I use Otter.ai?
Otter.ai is an AI-powered note-taking and collaboration platform. To use it, you'll need to sign up for an account and start recording or uploading audio or videos. Once you have your recordings, Otter.ai will automatically transcribe and generate detailed notes for you. You can then use the Otter.ai interface to review and edit your notes, share them with others, and save them in various formats.
How accurate is Otter.ai?
Otter.ai is highly accurate and can achieve accuracy rates of up to 95%. Accuracy rates depend on multiple factors, including the quality of the audio, the speaker's accent, and the complexity of the content.
Does Otter.ai offer customer support?
Yes. Otter.ai offers customer support via email and phone. You can also access the Otter.ai Help
What languages does Otter.ai support?
Otter.ai currently supports transcription of audio and video recordings in English, Chinese, Japanese, Spanish, and French.
How can I use Otter.ai for free?
You can use Otter.ai for free with up to 600 minutes of transcription per month. To access this free tier, simply sign up for an account and start transcribing.