About Robotera
The next major play-to-earn metaverse game that will transform the gaming industry is RobotEra. Enter the fascinating world of Taro and take control of your own fate. Players will have the exclusive chance to transform into Robots in this metaverse, opening up a wide range of opportunities for exploration, adventure, and financial gain. The entire RobotEra ecosystem, which is propelled by the $TARO token, depends on decentralisation and blockchain technology to thrive.
The metaverse runs on $TARO, which powers everything from player-to-environment (P2E) gaming, non-fungible tokens (NFTs), and the in-game store to development and in-game currency. Accept the future of gaming, where your ingenuity, talent, and capacity for strategic thought are not only praised but also rewarded in the ever-expanding RobotEra universe.
RobotEra Crypto Point Table
How To Buy RobotEra
Step 1
First, make sure you have the MetaMask wallet installed on your browser, or use one of the wallets to connect to one of the supported wallets (we recommend Trust Wallet).
Purchasing from a desktop browser will give you a smoother buying experience. For this we recommend Metamask.
If you are buying on a mobile phone, we recommend using Trust Wallet and connecting through the built-in browser (just copy https://robotera.io to the Trust Wallet browser).
Step 2
Once you have the wallet provider you want to use, click Connect Wallet and select the appropriate option. In the case of a mobile wallet app, you will need to select Wallet Connect. Then you will have 2 options to choose from.
Step 3
After the pre-sale is over, you will be able to claim your TARO tokens. We'll post the details closer, but you'll need to visit the main site https://robotera.io and click the silver 'Claim' button.
Eco System
RobotEra building a sandbox-like planet-rebuilding metaverse. You will become a robot, managing your own land and participating in the creationof the world. It can also acquire resources from the land, create robot companions.Here, create everything you can imagine and start a new era with other robots.
RobotEra TOKEN
Add TARO tokens to your wallet using the contract information below.
$TARO tokens will appear in your wallet after you have claimed them.
$TARO Verified Smart Contract Address:: 0xB6B54eA09f7eF54080Eb358B03ce9107cf078342
PROJECT NAME: RobotEra: Robotera
Token Symbol : TARO: TARO
Blockchain Ethereum: ERC20: ERC20
Total Supply :: 1,800,000,000
RobotEra Features
Dynamic environment Construction
In RobotEra, you are able to create Taro's environment anyway you choose. Every element of the metaverse is up to you to mould and build, from breathtaking landscapes and futuristic cities to secret caverns and ancient ruins.
RobotEra Play as a Robot
Put yourself in a Robot's position to gain access to a variety of skills, talents, and personalization possibilities. Every encounter within the metaverse is truly unique and diverse since every Robot has special qualities and characteristics that have an impact on your preferred gameplay style.
Discover and Explore
Set off on exhilarating expeditions, find buried riches, and solve Taro's riddles. Numerous quests, mysteries, and difficulties await you in the metaverse and will keep you interested and submerged in the virtual world.
Opportunities for Play-to-Earn
RobotEra revolutionises the gaming sector by offering a play-to-earn paradigm. Play P2E games so that your abilities, triumphs, and in-game actions can have a real-world impact. As you advance, accumulate $TARO tokens to monetise your gaming experience.
Integration of the $TARO Token
The economy of RobotEra is based on the $TARO token. Everything in the metaverse is run by it, including game development, in-game money, and the ability to buy premium items from the in-game shop. Earn $TARO tokens through games, exchange them for goods and services, or even use them to buy special NFTs in the metaverse.
RobotEra integrates non-fungible token
RobotEra integrates non-fungible tokens (NFTs), enabling you to hold and exchange distinctive digital assets in the metaverse. ammo, uncommon stuff, and other accessories as NFTs, each with its own distinct attributes and value.
RobotEra Roadmap
RobotEra's roadmap is a little different. As multiverse evolves, so does roadmap, with community input. Every quarter we'll bring you exciting new content and updates!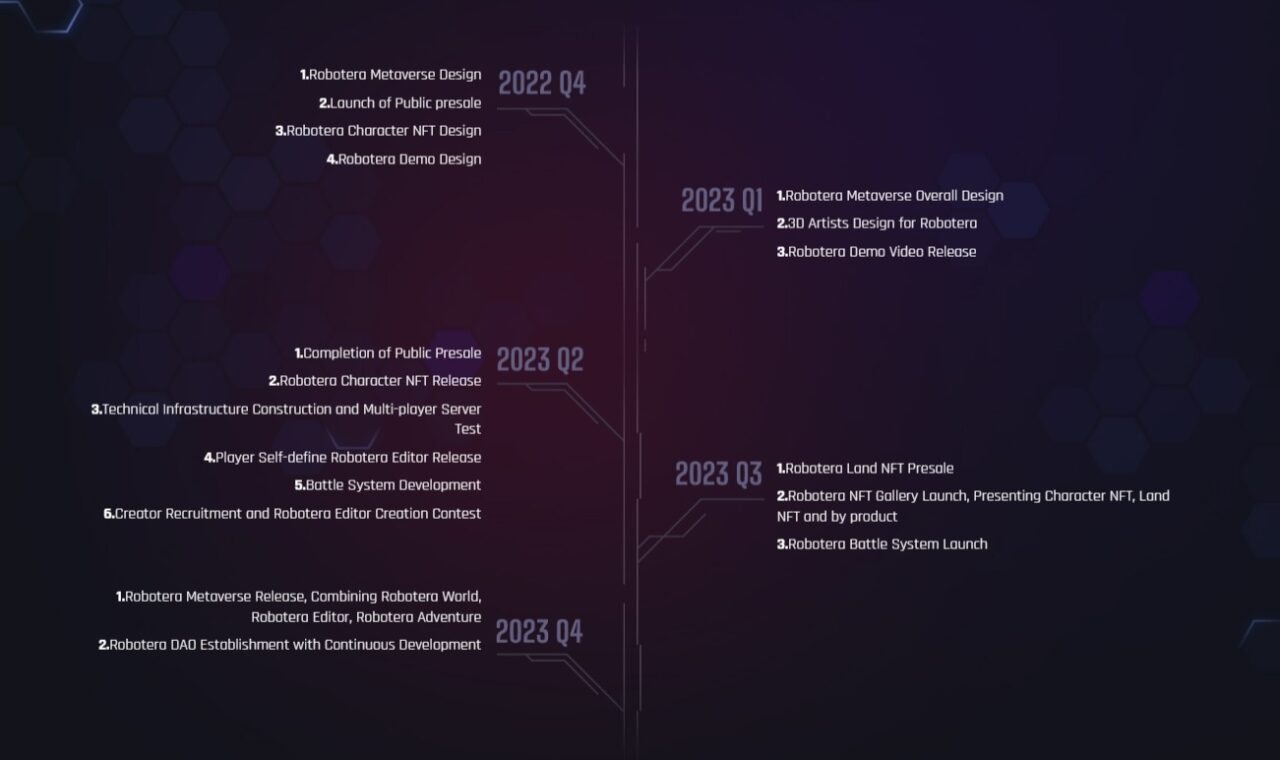 Team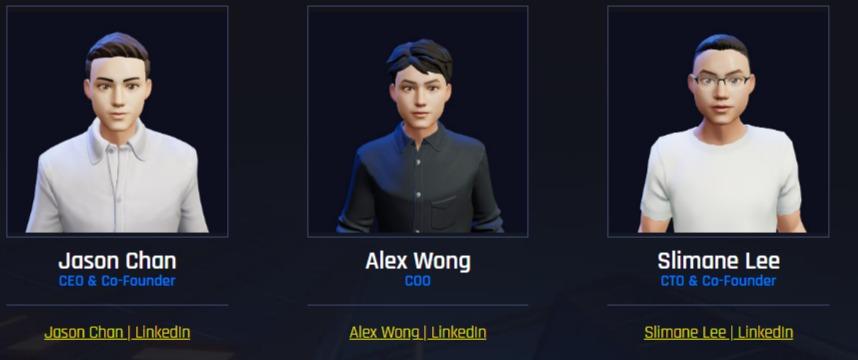 RobotEra Conclusion
In conclusion, RobotEra is poised to usher in the play-to-earn metaverse gaming industry's next major shift. This game offers an unmatched amount of creativity, exploration, and earning potential by allowing players to create the world of Taro in accordance with their own vision and casting them in the position of Robots.
RobotEra, which is powered by the $TARO token, guarantees the seamless use of blockchain technology throughout the metaverse and gives players access to P2P gameplay, NFT trading, and an in-game shop.
Players will experience thrilling adventures, unearth hidden treasures, and engage with a thriving community of like-minded enthusiasts in a dynamic and constantly evolving universe. Get ready to embrace a future where your gaming prowess has real-world value and where the opportunities are endless.
FAQ
What is RobotEra?
This is an upcoming play-to-earn metaverse game that allows players to build and shape the virtual world of Taro. In the game, players take on the role of Robots, offering a unique and immersive experience where they can discover, play, and earn.
How does RobotEra work?
The leverages the power of blockchain technology and the $TARO token to power its entire ecosystem. The $TARO token serves as the in-game currency, facilitates P2E gameplay, enables the purchase of NFTs, and supports transactions within the in-game store. Players can earn $TARO tokens through their gameplay activities and even trade them in external marketplaces.
How can I build the world of Taro?
In They, players have the freedom to shape the world of Taro according to their imagination. They can create stunning landscapes, futuristic cities, and other environments using the game's building tools and mechanics. The possibilities for world-building are virtually limitless.
What can I do as a Robot in RobotEra?
As a Robot in They , you can engage in various activities such as quests, challenges, exploration, and interacting with other players. Each Robot comes with unique abilities and customization options, allowing you to tailor your gameplay experience to your preferences.
How can I earn in RobotEra?
They introduces a play-to-earn model, where players can monetize their in-game activities and achievements. By participating in P2E gameplay, completing quests, and accumulating rare items, players can earn $TARO tokens, which can be traded, sold, or used within the game's economy.
What are NFTs in RobotEra?
They integrates non-fungible tokens (NFTs), which are unique digital assets that players can own and trade. These NFTs can represent rare items, weapons, accessories, or other in-game collectibles, each with its own distinct attributes and value.