Hello Coinworldstory Visitors . Today We Introduce World Best Hardware For Storing Your Crypto With Safe Mind . Read Our Deep Review About SecuX Hardware Wallet .
After Numerous Thefts Of Cryptocurrencies From Online Wallets And Exchanges, The Developers Thought About Improving The Security Of Users. 2013 Became One Of The Key Years In The Industry – The World's First Hardware Device Was Released, Which Is Designed To Prevent Theft Of Users' Digital Assets. Gradually, Year After Year, The Market Began To Replenish With New Devices For The Safe Storage And Use Of Cryptocurrencies.
What Is A Hardware Wallet?
Hardware Wallets Refer To The Cold Method Of Storing Cryptocurrencies, Since These Keys Are Not Located In A General-purpose Operating System Such As Windows, Mac, Linux, Where A Huge Number Of Applications, Processes And Programs Are Running, But On A Microchip Strictly Designed For This Purpose. Private Keys Never Leave The Device; Instead, A Signed Transaction Enters The Os, Which Does Not Reveal Any Useful Information To A Malicious Program Or Attacker.
During The Activation Of The Wallet, It Is Proposed To Set A Pin-code That Will Prevent Access To The Cryptocurrency In Case The Device Is Stolen Or Lost. The Second Step Is To Write A Mnemonic Phrase (Seed) Of 12, 24 Words. This Is The Most Important Password That Can Calculate The Private Keys Of All Accounts And All Supported Coins. Seed Phrase Or Recovery Phrase Allows You To Restore All Existing Funds In Cryptocurrency Wallets That Support The Bip39 Standard. An Example Of A 12-word Mnemonic Phrase:
About SecuX Tech Company
Secux Technology Inc. Is A Blockchain Security Company Based In Taiwan, In The City Of Hsinchu. It Was Founded In March 2018, By A Group Of Professionals And Blockchain Enthusiasts, Devoted To Evolving Complete Security Solutions For People's Digital Assets.
Not Much Longer After The Company Was Founded, Secux Technology Inc. Has Released For The Global Market Their Hardware Wallets. Also, By The End Of 2019, Secux Technology Inc. Was Awarded Twice For Their Professionalism By The Uk's Cv Magazine. Firstly, The Company Got The Award For The Technology Innovator Of The Year 2019. And Secondly, They Have Got The Award For The Best Cross-platform Hardware Wallets, Also For The Year Of 2019.
Secux Technology Inc. Is A Top Crypto-asset Hardware Wallet Producer, That Also Provides Integrated Cryptocurrency Payments Solutions, The World's First Ble Payment Technology, Called Secux Stream Series. This Technology Is Exceptional For Point-of-sale Terminals.
With This Top-of-creation, Secux Stream Series, Cryptocurrency Payments Would Be Made Easy, Fast, And Highly Secure. Therefore, Every Point Of A Sale Service Provider Or Physical Retailer Could Quickly Enter Cryptocurrency Commerce, Accepting Cryptocurrency Payments.
Basic Information
| Key | Points |
| --- | --- |
| Brand Name | SecuX |
| Made In | Taiwan |
| Case Material | Aluminum Frame with rubber base ( v20),Plastic Housing with Ultrasonic Welding (W20,W10) |
| Supported Cryptocurrencies: | BTC, ETH, LTC, and a huge number of ERC-20 Coins |
| Bluetooth Supported | Yes Supported |
| Supported Platform | Windows, macOS, Linux, Android, iOS |
SecuX Provide 3 Hardware Wallet
Secux Technology Inc. Developed 3 Models Of Crypto Hardware Wallets. The First Is The Lite Version, Secux W10 Lite Crypto Wallet, The Second Is A Middle-class Product, Secux W20 Fantasy Crypto Wallet, And The Third Being The Company's Flagship, And Top Of The Line, Secux V20 Flagship.
Let's See Some Details For Secux Hardware Wallets, Specifications, Compatibility, Prices, And Let's Start With The Top Of The Line Product:
1.SecuX V20 Hardware Wallet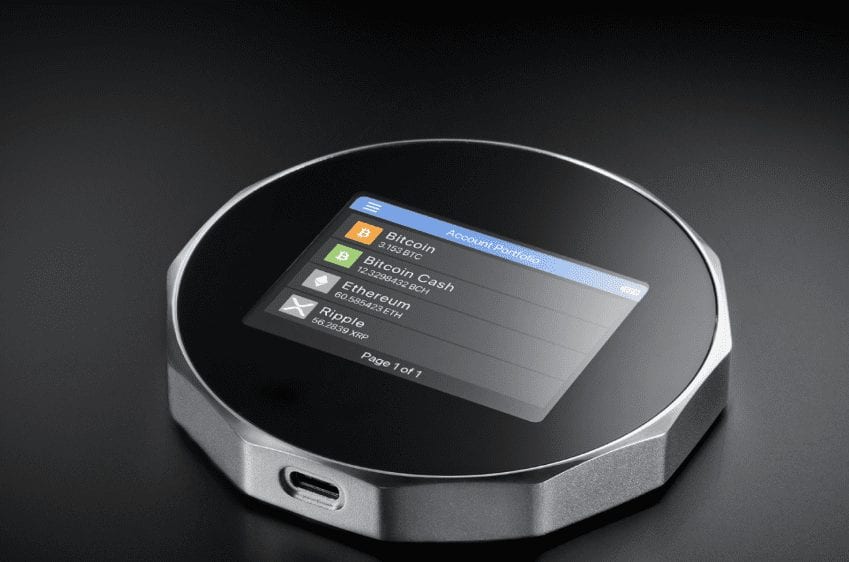 The SecuX V20 is a hardware wallet which supports many major cryptocurrencies and thousands of Ethereum-based tokens. It's the top of the line version of Taiwanese manufacturer SecuX's product offerings.
After Unboxing And Looking At The Secux V20 Device, I Was Pleasantly Surprised That The Overall Quality And Screen Size Was Much Larger Than Other Mid-tier Devices In This Price Range, Such As The Ledger Nano X And The Trezor Model T. Now, Those Devices Are Classic And Original Devices, But They Are Tiny And Made Of A Somewhat Flimsy, Plastic Form-factor.
This Device Has A Beautiful Brushed Aluminum Reinforced Hardware Wallet. It Has A Clean Flat Display And The Back Has A Durable Padding Rubber-like Backing That Is Built For Abuse And Stability. I Would Have No Qualms With Dropping This Device As It's Built Very Solidly And Feels Heavy In Your Hand, Unlike Their Entry-level Devices. The Secux V20 Has Only One Microusb Port And One Button For Activating The Device And For 2fa.
The Secux V20 Device Is The Only One With A Unique Form Factor And Octagon Design That Is Very Sleek And Very Durable. This Device Is Connected By Bluetooth! That Means It Has Wireless Support And Can Be Managed With Full Functionality By The Secux App For Ios And Android. It Also Has A Usb Cable, So It Can Be Managed Online With A Web Wallet As Well, Hence, Why It's Considered A "cross-platform" Device.
The Unique And Notable Coins That Are Natively Supported On These Devices Is Groestlcoin (Grs) And Ripple (Xrp). Not Many Hardware Wallets Support These Coins Natively, However, Almost All Hardware Wallets Support An Array Of Erc-20 Tokens And Your Main-stream Coins, Like Btc And Eth.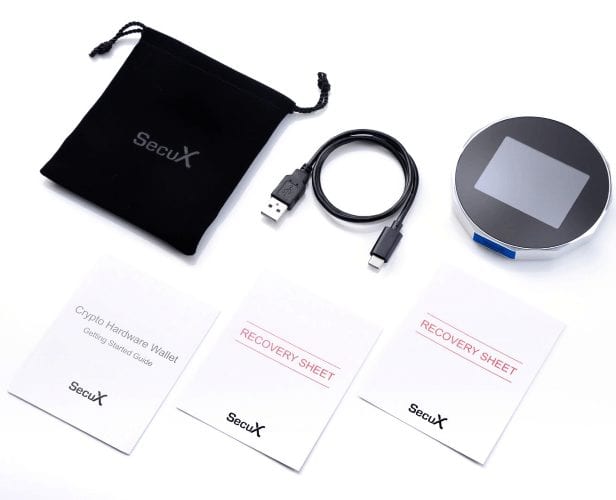 This Device Comes In At An Entry Price Of 139$ And Is A Usb Connected Device That Does Connect To A Web Application That Allows You To Fully Manage The Device. With A 2.8 Inch Color Touch Screen, You Can Use To Manage And Authorize Transactions.
Get 15% Discount Coupon For V20 Wallet . Use Coupon ( Coinworldstory ) During Checkout To Get Exclusive 15% Off For Coinworldstory Visitors
2. SecuX W20 Hardware Wallet
Secux W20 Is A Crypto Hardware Wallet. The Product Comes Embedded With Infineon Cc Eal5+ Certified Secure Element Chip, Thus Making It Suitable For Securely Storing Private Keys And Pins. Furthermore, The Embedded Infineon Cc Eal5+ Certified Security Chip Ensures That The Users' Confidential Information Is Hack-proof Even If Someone Attempts To Access The Information By Connecting The Device With A Usb Or Bluetooth.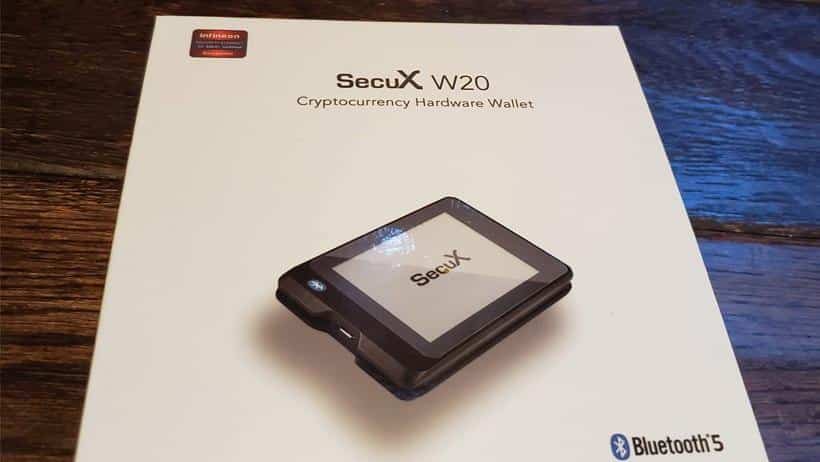 Additionally, The Infineon Cc Eal5+ Certified Security Chip Makes It A Military-grade Secure Device When It Comes To The Storage Of Data Like Pins And Private Keys. Also, Being A Hardware Wallet, The Device Remains In An Offline Mode, Which Makes It Virtually Impossible To Hack Into Without Authorized Access. Hence, As Far As Security Standards Are Concerned, The Secux W20 Crypto Hardware Wallet Is Right Up There With Any Other Product In The Market.
Secux W20 Crypto Wallet Supported Cryptocurrency Assets
As Well As The W20 Flagship Model, It Supports All Major Cryptocurrency, Like Bitcoin, Bitcoin Cash, Ethereum, Litecoin, Ripple, Binance Coin, Digibyte, Dash, Doge, Stellar Lumens, Groestlcoin, And All Erc 20 Tokens.
Let us now list down the exclusive features of SecuX W20 Hardware wallet for your convenience.
SecuX W20 is equipped with a 2.8" Color Touchscreen display
The device hosts and embedded with Infineon CC EAL5+ certified Secure Element chip, that ensures military-grade security
It offers dual connectivity – USB & Bluetooth, thus allowing users to execute transactions from multiple devices
Users can use the W20 cross-platform to access data and process transactions
Users can connect their W20 wallet with the SecuX Mobile iOS/Android App.
W20 offers a moderate to high battery life
Users have the option to store more than 1000 cryptocurrencies in the W20 wallet
Offers high safety from hackers and unwanted access through top-notch security standards.
Allows users to perform transactions on the go.
The SecuX W20 Wallet is priced at $119, which as per our research is a good deal for anyone looking to secure their crypto assets using a hardware wallet. Having said that, we advise readers to go for the W20 only if they have adequate experience in using hardware crypto wallets. This is not an entry-level device. For people looking for a beginners' device, we suggest that the SecuX W10 is a better option.
3. SecuX W10 Hardware Wallet
Secux W10 Lite Crypto Hardware Wallet, Which Is A Great Hardware Wallet For Occasional Use.
It Has The Same Big Color 2.8″ Touch Screen As The Previous 2 Models, Therefore It Is Very Easy To Use And Also Very Secure.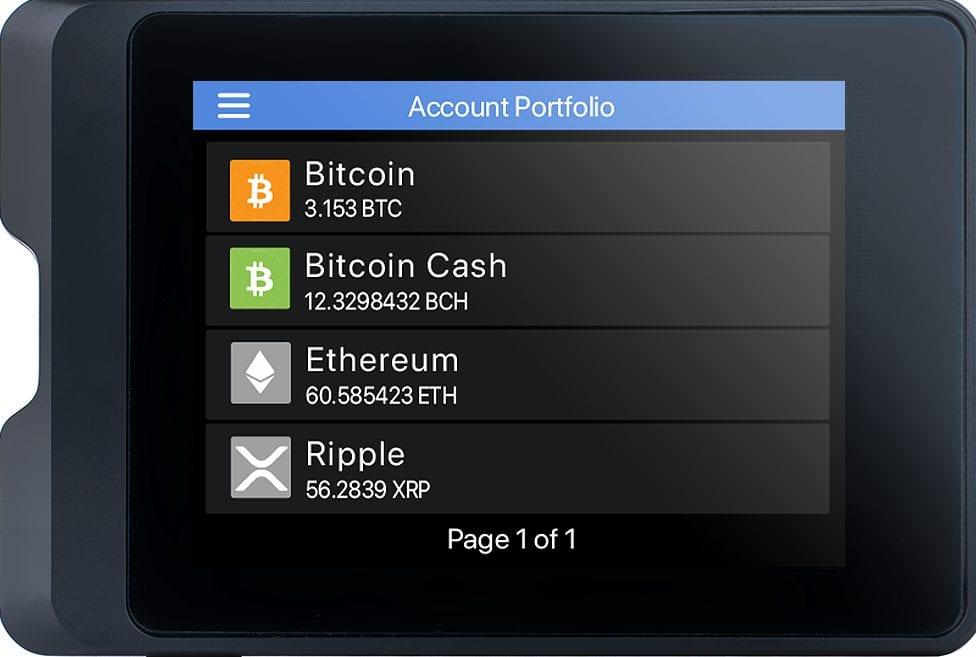 Secux W10 Lite Crypto Wallet Is A Deep Cold Storage Hardware Wallet, Perfect For Hodling Your Cryptocurrency Assets, But Not Using For Everyday Use. This Has No Battery And The Device Can Only Be Used With Usb Connectivity, For This Using A Micro Usb Connector.
Some Features Of SecuX Wallets
Available For Multiple Device
The wallet supports devices which run Windows, Linux, iOS, Mac OS, and Android. It also has a USB-C connection as well as a Bluetooth 4.2 connection for your smartphone.
Easy To Recover
I won't be surprised that SecuX is fully compliant with BIP32, BIP39, and BIP44, which are able to recover existing accounts from the standard 12, 18, or 24-word passphrases. That means you can easily swap your hardware wallet to another one built in the same portal from Bitcoin.org, even once a week for the new models on the market.
Private Key
A SecuX hardware wallet can generate a private key randomly from its microcontroller unit (MCU), which is your distinctive key to keep all the crypto coins/tokens you hold on the blockchains. Another key is possible to be generated from the Device/Dashboard/ Settings /Hidden Wallet if you could like to create as an option.
Supported Cryptos
The wallet supports some cryptocurrencies including Bitcoin, Ethereum, Bitcoin Cash, Ripple, Litecoin, and ERC-20 at the moment and promises to support even more moving forward.
Battery Life
Normally a big screen comes with a big battery, so it does the V20 and W20. They are all embedded with a 600mAh rechargeable Li-polymer battery that requires for about 2 hrs. for a full charging after the unboxing.
You can use it continuously for around 7 hrs., and shall be lasting for about 6 months' cold storage. During the period, you can review the account balance when booting up the anytime.
Verdict
The SecuX All Wallets is a great hardware wallet.While either are easily seen as high-quality cold storage devices, the SecuX Wallets may be more most useful to active traders on the go.Additionally, the touchscreen and connectivity options are nice extras to have if cost is no barrier.The time saved with the improved display will certainly add up and eliminate the annoyance of waiting to confirm an entire address or wait for other information to be displayed.