Cryptocurrency exchanges are online platforms for exchanging and trading cryptocurrencies, other digital assets, and fiat. For example, to buy bitcoin for usd or sell Ethereum for stable coins. The exchange organizes transactions between buyers and sellers, receiving commissions for this. The price of a cryptocurrency asset is formed based on the supply and demand of traders, and crypto exchanges provide the entire infrastructure for conducting trading operations.
What is a Crypto exchange?
Cryptocurrency exchange is a trading platform, the main functionality of which is to buy and sell digital coins for fiat or exchange them for each other. Such platforms are created by analogy with traditional stock exchanges, but they have significant differences from them, for example:
You can trade 24/7 without breaks and weekends. Stock exchanges work according to a strict schedule.
No taxes. Of course, if a trader receives income from trading, then he can independently calculate and file a tax return.
Some crypto exchanges allow you to trade without verification, while on stock exchanges, the user is required to provide all information about himself.
Some crypto exchanges provide the opportunity to trade only cryptocurrency pairs (ETH / BTC; LTC / BTC, and so on); others offer trading in fiat currencies such as BTC/USD, ETH/USD. The same applies to ways to replenish the balance and withdraw.

Overall Top 5 Cryptocurrency Exchange
1 – Binance Exchange
Binance is the most famous international exchange. It started its activity in 2017 and by the end of the year entered the top list of the largest trading platforms in terms of trading volume. Legally, the company was registered in Hong Kong, moved to Malta in 2018. Company tried not to reveal her whereabouts, but in 2021, Changjong Zhao (CEO) said that the headquarters would still be opened to simplify work with regulators.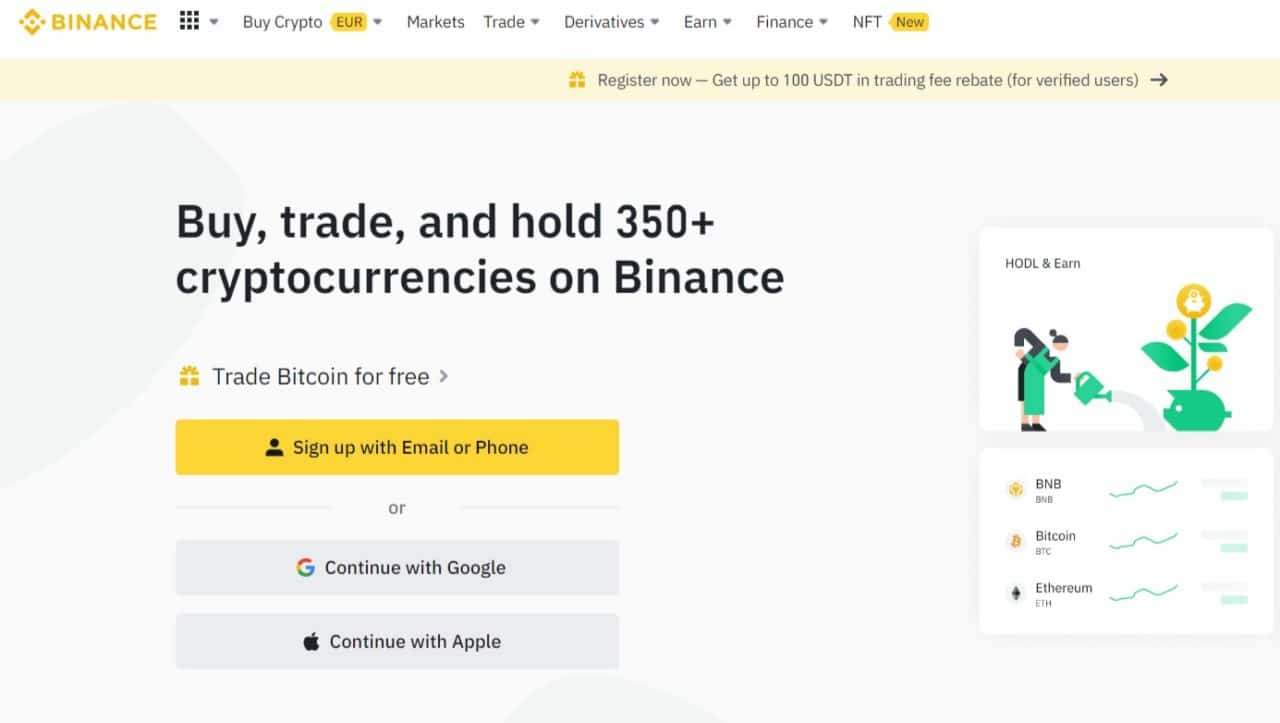 Binance allows you to trade cryptocurrency pairs, of which there are 1283 today. It accepts fiat, you can pay with a bank card, but verification is required. Margin trading is available from 06/26/2019. The listing includes 346 coins and tokens: Bitcoin, Ethereum, Litecoin, Stellar, Nem, IOTA, Cardano and other promising cryptocurrencies . Commission – up to 0.1% of the transaction volume (when buying a BNB token or increasing the trading volume, the commission is reduced to 0.015%). You cannot replenish your account without passing verification, and you can withdraw no more than 0.06 BTC per day. Binance is a trusted crypto exchange for trading cryptocurrencies.

2- Coinbase Exchange
Coinbase Exchange is a US-based crypto trading and investment platform where users can easily buy, sell, exchange and store cryptocurrencies. The platform is intuitive and beginner-friendly with support for basic transactions, digital wallet, and PayPal withdrawals. For more advanced traders, Coinbase Pro offers more professional trade execution and lower fees. However, in June 2022, the company announced that Coinbase Pro will be phased out and all users will have access to the "Advanced Trade" feature on the main app.

The project was established by former Airbnb engineer Brian Armstrong and former Goldman Sachs trader Fred Ehrsam in 2012.
Brian Armstrong is CEO of the company. He graduated from Rice University, Texas with a bachelor's degree in economics & computer science, and later received a master's degree in computer science as well. Armstrong began his career as a developer at IBM, worked as a consultant for Deloitte, and then joined Airbnb as a software engineer.
3 – Okex Exchange
OKX is an innovative cryptocurrency exchange with advanced financial services. We rely on blockchain technology to provide everything you need for wise trading and investment.
Enjoy hundreds of tokens and trading pairs. With OKX, you can join one of the leading crypto exchanges by trading volume. We're serving millions of users in over 100 countries. We're providing spot, margin, futures, options, perpetual swaps trading, DeFi, lending, and mining services.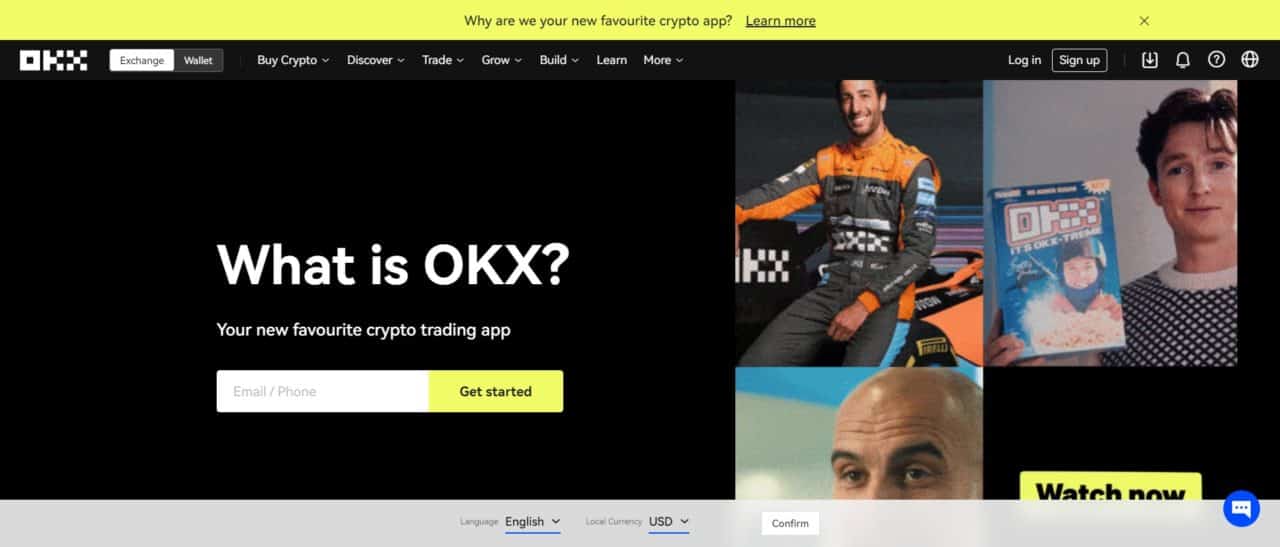 OKX also has its own native blockchain — OKX Chain and native token — OKB, which allows builders and projects to deploy DApps and developers to use infrastructure like OKX Oracle and more.
4- Bybit Exchange
Bybit is a cryptocurrency centralized exchange (CEX) that offers a professional platform featuring an ultra-fast matching engine, quality customer service and multilingual community support for crypto traders of all levels. Established in March 2018, Bybit currently serves more than 10 million users and institutions offering access to over 100 assets and contracts across Spot and crypto derivatives like Futures and Options, launchpad projects, earn products, an NFT Marketplace and more.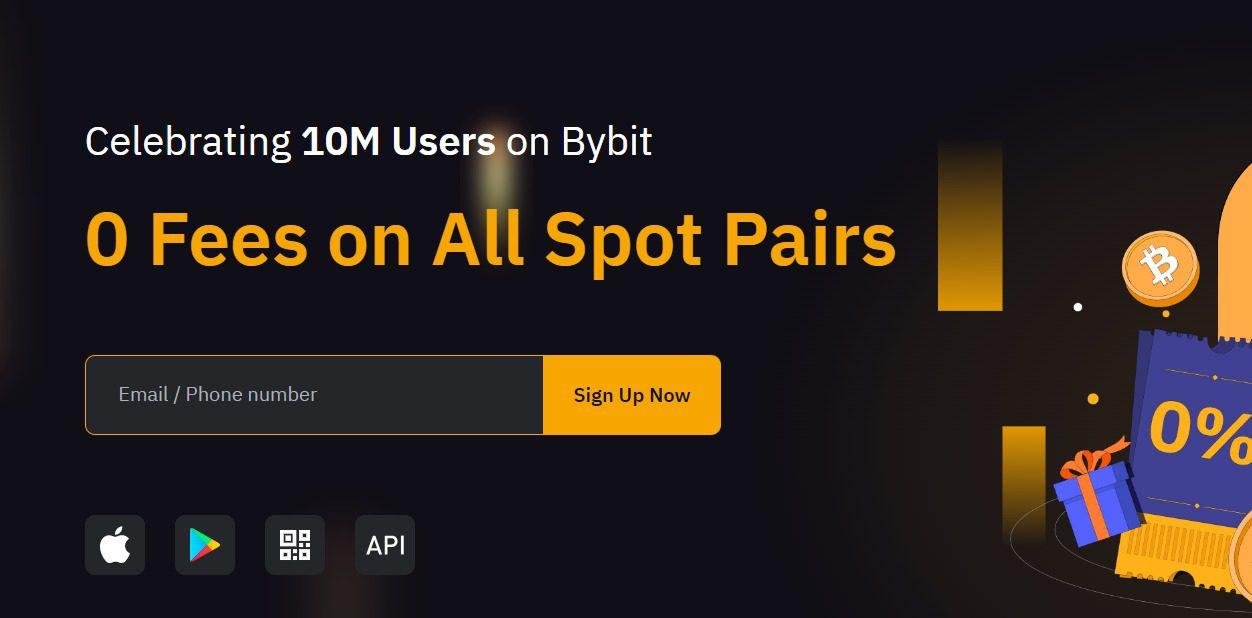 Bybit is a proud partner of Formula One racing team, Oracle Red Bull Racing, esports teams NAVI, Astralis, Alliance, Virtus.pro, Made in Brazil (MIBR), City Esports, and Oracle Red Bull Racing Esports, and association football (soccer) teams Borussia Dortmund and Avispa Fukuoka.
5 – Huobi Exchange
Huobi Global is an international digital asset exchange with a presence in over 100 countries. Founded in China in 2013, the platform works with global clients and provides trading and investment services to users around the world, handling over $4 billion in daily trading volume.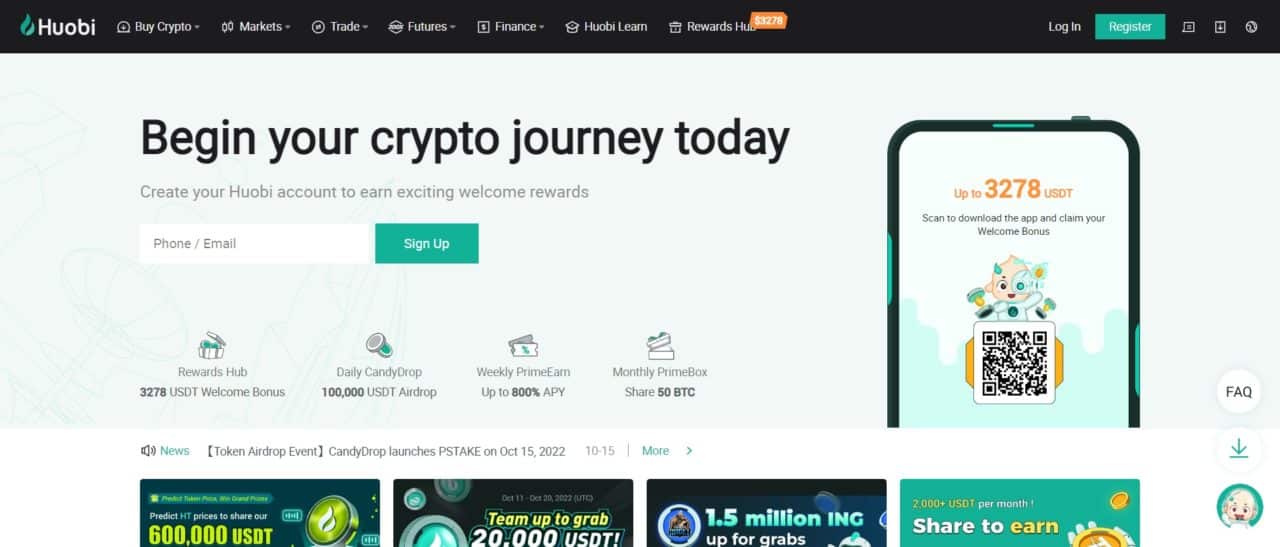 The centralized exchange (CEX) supports initial coin offering (ICO) tokens and offers an extensive list of cryptocurrencies, with over 500 assets and 300 trading pairs listed on the platform. An insurance policy is available for users to protect their assets, and there is also 24/7 access to several channels for contacting the support service.
Security Tips When You Using Exchange
When working with the exchange, you must enable two-factor authorization (2FA) for account security. This can be done through the Google Authenticator app or through a message to your phone. When using Google Authenticator, be sure to save the backup key. It is better to use a complex password and a secure mailbox when registering, which also enable 2FA.
To store passwords and generate them, it is best to use special programs, such as KeePass.

We Hope You Like Our Top 5 Cryptocurrency Exchange Review . Please Give Rating