TXGPRO: In this article, we cover a detailed review of TXGPRO. How does TXGPRO work & Are important features?
About TXGPRO
TXGPRO employs an inflationary mechanism that effectively manages the supply of TXGP tokens. Every time transactions take place within its ecosystem, a fraction of tokens is intentionally burned – an action which gradually decreases their overall supply, leading to an increase in intrinsic value over time. This approach not only ensures a sustainable economic model for TXGP ecosystem but also increases scarcity for holders by strengthening holdings while creating an economy-boosting effect for TXGP holders.
The TXGPRO Point Table
TXGPRO Price Live Data
Multiple Games, One Home
They make it easy to Discover, Invest and manage all your TXG Tokens at one place, looked up one of the more obscure. Find the right Games collections to buy & Earn within the platform.
Inflationary Mechanism
TXGPRO employs an inflationary mechanism that manages the supply of TXGP tokens. With each transaction conducted within the ecosystem, a portion of TXGP tokens is meant to be burned. This burning process decreases the total supply of tokens, increasing their value over time. The mechanism contributes to the scarcity of TXGP tokens, which benefit token holders.
Staking on TXGPRO DeFi Protocol
TXGP token holders have the option to stake their tokens on the TXGPRO DeFi protocol. Staking involves locking up tokens for a specified period, and, in return, users earn yields or rewards. By staking their TXGP tokens, users can accumulate additional tokens or rewards, making their holdings more productive and potentially increasing overall returns.
TRUSXGAMING Is First AAA Gaming Portal on WEB 3.0
Blockchain integration
Trusxgaming incorporate blockchain technology for asset ownership, in-game economies, and game development funding.
Decentralized gaming worlds
Trusxgaming utilize decentralized networks and protocols to create more resilient and censorship-resistant virtual worlds.
Player driven economies
Trusxgaming facilitate player driven economies where players have a direct influence on in-game markets, pricing, and scarcity of items.
Play To Earn
Trustxgaming give rewards by participating in the game. This incentivize both new and experienced players.
First AAA Gaming in Web 3.0
Txg in game items will be tradable and tracked this allow us to offer traditional financing instruments In a defi enviourment while speculating on Game fi assets.
TXGPRO Features
Users Can Enjoy a Diverse Game Selection
Users can experience an exciting range of popular games, such as Ludo, Poker and Rummy to provide entertainment to a broad audience.
Skill-Based Rewards
Players are incentivized to develop and expand their gaming skills and achievements by earning TXG crypto tokens for their efforts, adding a competitive and rewarding element to the gaming experience.
TrustxGaming integrates cryptocurrency tokens (TXG), giving users an opportunity to earn real world value digital assets, creating engagement and stimulating interest in the realm of cryptocurrencies.
Access and Convenience
The platform is easily accessible online, providing gamers with an effortless way to enjoy their favorite games and earn crypto rewards from the comfort of their own devices.
Incentivized Competition
Engaging in competition not just for fun but also with an eye toward earning cryptocurrency rewards is an engaging and motivating way of stimulating competition among users, keeping them engaged and active.
TrustxGaming Provides an Engaging Learning Experience
TrustxGaming gives users an enjoyable way to learn about cryptocurrencies through gaming, making it both educational and entertaining.
TXGPRO Team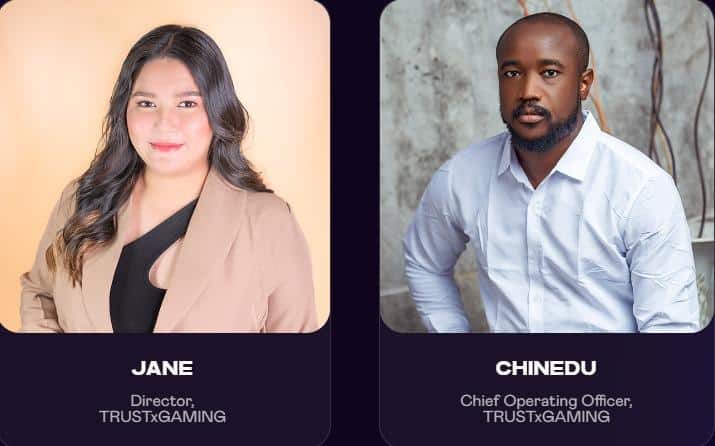 TXGPRO Conclusion
TXGPRO stands out as an engaging online gaming platform that brings entertainment together with cryptocurrency world. TXG Gaming Platform offers an exciting variety of popular games, catering to a broad audience and rewarding players for their gaming accomplishments with TXG crypto tokens – providing a potentially lucrative approach that promotes healthy competition and motivation among its players.
TrustxGaming not only entertains but also educates its users by offering an enjoyable way of discovering cryptocurrency world. With its easy access and convenient online presence, Crypto Rewards opens the door to a whole new realm of gaming where players can both experience their favorite titles while exploring all that crypto rewards can bring them. It adds a rewarding twist to gaming that welcomes enthusiasts on an engaging journey of skill and strategy.
TXGPRO FAQ
What is TrustxGaming?
TrustxGaming is an online gaming platform that offers a variety of popular games, including ludo, poker, rummy, and more. It allows users to play these games and earn crypto tokens in the form of TXG based on their skills and achievements.
How do I earn TXG tokens?
You can earn TXG tokens by participating in games on TrustxGaming and showcasing your gaming skills and achievements. The better you perform, the more TXG tokens you can accumulate.
What is the value of TXG tokens?
The value of TXG tokens can vary and is influenced by market factors. They can be traded or used within the TrustxGaming ecosystem.
Is TrustxGaming accessible on all devices?
Yes, TrustxGaming is an online platform, making it accessible on various devices such as computers, smartphones, and tablets.
How can I get started with TrustxGaming?
To get started, you'll need to create an account on the TrustxGaming platform, select your preferred game, and begin playing to earn TXG tokens.
Is TrustxGaming secure and trustworthy?
TrustxGaming prioritizes the security and fairness of its games. The platform employs encryption and smart contract technology to ensure secure and transparent gaming experiences.