About WB-Mining Coin
WB-Mining Coin Imagine opening an app on your smartphone. It's an economic and construction simulation, where the goal is to make smart decisions, grow your empire and increase your income. With one difference: Real money is involved and your decisions have an impact on real life. Together with other players you make decisions and thus concretely influence the course of the project in real life. This worldwide unique concept is a milestone in the entertainment industry and sets new standards for how they will think about money, community and investments.
WB-Mining is an economic game, with reference to real life. All decisions are made collectively by all players. It is the task of the players to prove cohesion and thus lead the project to success. No individual achievements count here. Winning or losing is only done together – as a team. Since ad-hoc decisions have to be made on site (e.g. staking a claim), WB-Mining reserves the right to make decisions on site in the interest of the community and in the interest of the project and, if necessary, to present them to the community for voting afterwards.
WB-Mining Coin Point Table
Procedure and game structure
Every player gets a right to vote. No matter whether he owns WBM tokens for 5 euros or 20 thousand euros. In this way, they prevent frustration among the players and at the same time prevent market manipulation by so-called whales. Each vote has the same influence on the decisions. Interpersonal cohesion and the promotion of swarm intelligence are the main focus, not the depth of wallets. The app developed specifically for this purpose, maps the central hub of all actions and insights.
This is where players currently find polls and their personal account with a WBM token (share). Later, reports, community panels, the media center and the in-game store will be added. More content is in the planning stage. The app will be linked to a personal user account. The user account will be linked to a phone number, which allows to prevent multiple accounts as far as possible.
Voting right: You decide
What makes WB-Mining different from any other previous project is that the players have a democratic vote. Every major decision happens only by the majority vote of the fellow players. This starts with deciding the direction of the next drill and ends with deciding the payout in WBM tokens when gold is found. The more gold is found, the higher the demand for WBM tokens. Maybe it is worth to wait with the distribution, maybe not. The players decide collectively.
The value of each vote is equal – no matter how many WBM tokens a player owns. In the decision-making process, players are supported by reports from geologists, business economists and shift managers. Each expert working on site at the mine has no decision-making power, but submits his or her work and recommendations to the community, which has to make a majority decision like a joint board of directors.
The Utility "WBM Token"
At the heart of the entire game are the utility tokens – the WBM tokens. They take on the function of a currency within the game, but are also digital speculation objects, and are similar in many respects to a cryptocurrency such as Bitcoin. The number of tokens is limited to 18 million from the beginning and cannot be increased by anyone.
The token is based on state-of-the-art blockchain technology and, like any professional cryptocurrency, is considered mathematically indecipherable. The technically correct name is BEP 20 token. BEP here stands for blockchain technology. Therefore, a falsification of the market conditions is as good as impossible. This had this utility token programmed specifically for your purposes and according to your specifications.
Why Choose WB-Mining Coin?
In parallel, they are building your own social media platforms where they regularly report
on what is happening on the ground and establish cross-target group series formats.
The goal here is to build your own media company that serves to market the
overarching brand – namely WB-Mining. A comparable example is the "Servus TV"
channel, which is a marketing channel for the RedBull company in the broadest sense.
The demand for such content has demonstrably risen continuously in recent years. For
example, the small specialty channel "DMAX" was able to achieve a market share of
over 4% in Germany with a show like "Goldgräber". YouTube and other social media are
currently experiencing similar phenomena. Some of the most successful influencers
come from exactly this scene.
Where Can You Buy WB-Mining Coin?
Tokens Can Be Purchased On Most Exchanges. One Choice To Trade Is On PancakeSwap (V2). As It Has The Highest WBM/WBNB. e Trading Volume, $8,947 As Of February 2021. Next is OKEx, With A Trading Volume Of $6,180,82. Other option To Trade Include WBM/WBNB And Huobi Global. Of Course, It Is Important To Note That Investing In Cryptocurrency Comes With A Risk, Just Like Any Other Investment Opportunity.
Market Screenshot

WB-Mining Coin Supported Wallet
Several Browser And Mobile App Based Wallets Support WB-Mining Coin. Here Is Example Of Wallet Which WB-Mining Coin – Trust Wallet For Hardware Ledger Nano.
Roadmap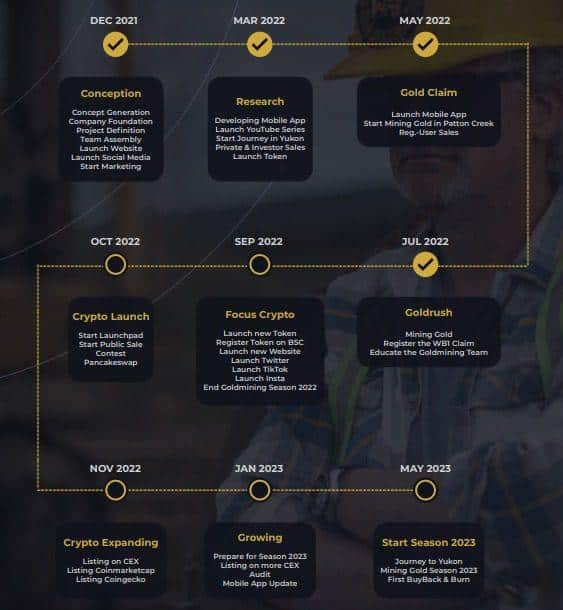 FAQ Of WB-Mining Coin
Where I Can Find WB-Mining Coin Whitepaper?
You Can Find WB-Mining Coin Whitepaper By Clicking Here.
Where I Can Buy/Sell Balancer Token?
You Can Buy or Sell Balancer Token On Some Popular Exchange For Example – PancakeSwap (V2).
What is Circulating Supply Of Balancer Token?
Circulating Supply Of Balancer Token Is 18,000,000.00 WBM.