After the popularity of decentralized finance (DeFi) came the rise of nonfungible tokens (NFTs), and to the surprise of many, NFTs took the lead in 2022 in terms of high-volume sales in January. GameFi apps did surpass DeFi in terms of user popularity. According to data from DappRadar, Bloomberg gathered:
In November 2021, the percentage of wallets connected to decentralized applications to play video games reached 50% of the total. Surpassing for the first time the percentage of wallets connected to decentralized finance, or DeFI, dapps which fell to 45% in the same period.
However, as more games start to be released, gamers should equip themselves with enough knowledge to know which ones will be most relevant in the future. To do this, they must consider interoperability, that is, the ability of one blockchain to interact with the next. And also to consider that games with the greatest potential are those who have a strong development according to the community, because those governed by the community manage to exceed the expectations of the players.
Amid this, WonderGame (https://www.wondergamers.club/) emerges as the new collectible crypto game, addressing both interoperability and active community support. Alongside the carefully crafted artwork, not only can NFT holders earn passive crypto yield but they can also use the NFT as VIP access into other Metaverse realms. WonderGame has partnered with Metaverses such as The Sandbox and TCG World, owning a stake in their land plots, with plans to build VIP lounges and hangouts for their community of NFT holders.
The Vision of WonderGame is to create a real-world utility template for metaverses, with community at its core. By continuing to incorporate a wide array of projects into their world, they aim to provide communities with the tools to build and create their own spaces inside the Wonderverse.
The Wonderverse already have interesting investors & partners like BlueChain Capital, Meta Moon Capital, Aten Venture Capital Fund, Ethereum Foundation, Chainlink, Polygon, OpenSea, CoinMarketCap, Binance Smart Chain, The Sandbox, Uniswap and Thunder ETH.
As global Metaverse VR technology develops, WonderGame aims to integrate completely into this decentralized world to allow users to enter the Wonderverse through VR, interact and enter various games, trade, earn, and build their own empire as they build the DeFi wealth. Similarly, responding to the need to be a user-driven platform, the WanderGame will have a governance utility token called WonderGold, which will be the most precious resource players can obtain. They will be able to use it to develop their land or go shopping.
WonderGame is an exciting new Metaverse project where players own NFT Characters that help build kingdoms and farm crypto WonderGold! What's also epic about this project, is their donation of $100,000 to a charity selected by the community to plant 50,000 trees and build the worlds first Community WonderForest.
White Rabbits and Mad Hatters enter the Metaverse
The WonderGames backbone are the White Rabbits that control the farming of the precious Gold and its flow through the economy. On the other side, Mad Hatters, that are impossible to catch, steal resources from White Rabbits and Farmers. As a result, Mad Hatters are the most profitable actors in WonderGame. In the WonderGame, thousands of White Rabbits and Mad Hatters compete to earn crypto. A tempting prize of $WG awaits, with deadly high stakes.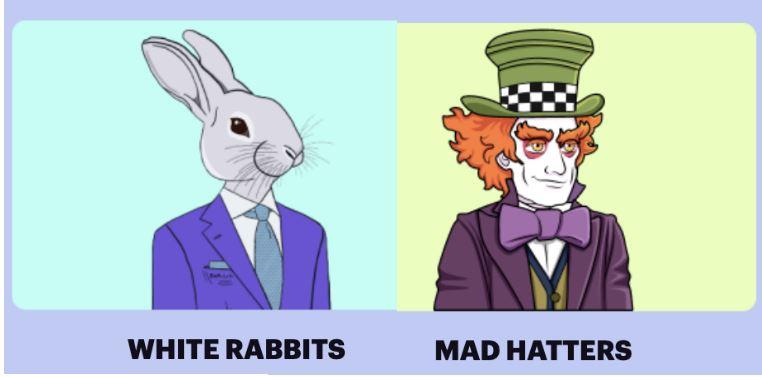 Land will be a finite resource, only 10,000 genesis land plots will ever exist. Land owners will be able to host their own hangouts, businesses, farming operations, or lease the space out for rental yield. Land can be used to host a wide array of things like a custom realm, business, fan club, a gaming complex or community, among others. DeFi Projects could buy land to integrate with their protocol via a Bank or Shop. NFT projects could build art galleries. Land Owners can host their own education or social events, and even live metaverse concerts with your favourite musician.
Businesses can be either completely in the Wonderverse, or also in the physical world with their enterprise partners. Physical-world businesses hosted within the Metaverse could be your favorite National Sports Club, Services Provider, or Merchant. Wonderverse can host NFT projects, quests, storylines, items, and smart contracts. Imagine buying a new in-game
NFT Watch for your character, and having the physically-backed item appear at your door to wear in real life.
WonderGame has secured exciting partnerships with large DeFi platforms, NFT projects, and even public listed companies from the physical-world wanting a piece of the metaverse. They collaborate with important collections, projects or businesses more extensively via dedicated buildings, quests, and community events. You can check the project on their twitter account @WonderGame_Meta or on their website https://www.wondergamers.club/, where is an opportunity to win entry onto the pre-mint whitelist that is closing soon! Learn more about the whitelist on https://wndr.vip/wha.