In At Least 6 Years, Dogecoin (Doge), Which Was Inspired By The Obsessive Plot, Has Gradually Changed From A Joke To A Tool Later Used By The Cryptocurrency Community As A Reward Because Of Its Fun And Grass-roots Nature. , People Like It.
Until Tesla Ceo Musk Started Talking About It Publicly In January Of This Year, This Cheap "Red Envelope" Tool Was No Longer Cheap. A Hype Carnival Pushed Its Unit Price From $0.005 At The Beginning Of The Year To A Maximum Of $0.74. 147 Times. Currently, Dogecoin Is Quoted At Around $0.3.
A Few Days Ago, In An Interview With The Media, Technology Rich And Nba Mavericks Owner Mark Cuban Supported Dogecoin As The "Strongest Trading Medium" Because It Is Cheap Enough And Close To The Grassroots Of Society. However, Data Shows That Dogecoin Holders Tend To Be Centralized And Liquidity Is Reduced. This Data Makes The Views Of The Rich Man Seem Too Wishful.
On August 13, A Report From Chainalysis, An On-chain Data Analysis Agency, Showed That The Ownership Of Dogecoin Was Very Concentrated. 106 Billion Dogecoins Accounted For 82% Of The Supply. They Are Held By 535 Entities, Each Of Which Holds More Than 10 Million Dogecoins Account For 0.01% Of The Entity. Chainalysis Emphasizes That The Entities In It Do Not Rule Out Exchanges. In Addition, The On-chain Liquidity And Daily Activity Of Dogecoin Are Decreasing.
The Holders Of Dogecoin Are Not As Scattered As They Were 7 Years Ago. With The Increase In Price Volatility, This Reward Tool Is No Longer "Grass-rooted". It Is Becoming More And More Like A Speculative Or Investment Target, Which Makes It More And More Inconsistent. Too Easy To Become A Payment Tool.
82% Of Doge Supply Is Held By 535 Entities
On August 15th, In An Interview With The Media, American Tech Tycoon And Nba Mavericks Owner Mark Cuban Supported Dogecoin As The "Strongest Trading Medium." He Stated On Twitter That The Imperfection And Simplicity Of Dogecoin Is Its Biggest Advantage, "You Can Only Use It For Two Things: Spend It Or Save It. Both Are Easy To Understand And Buy. It's Cheap. This Makes It A Community That Anyone Can Join And Enjoy."
His Statement Was Echoed By The "Dogecoin Leader" And Tesla Ceo Musk On Twitter. Musk Has Mentioned Dogecoin In Public Since January Of This Year, And Has Gradually Become The Most Well-known Kol In The Crypto Asset Community. The Two Sing Together Pushed Dogecoin From $0.29 That Night To $0.34, A 14% Increase In 8 Hours.
So, How Much Dogecoin Does Mark Cuban Hold?
Some Twitter Netizens Are Also Curious About This. Subsequently, The Rich Man Also Responded Generously On Twitter That He Personally Owns Dogecoin Worth $494. Not Only That, He Also Disclosed The Value Of Dogecoin He And The Team Have, "Between The Team And My Personal Account, The Value Of Dogecoin Is Less Than $15,000." In May Of This Year, Mark Cuban Had Said That He And His Son Own 3,250 Dogecoins, And The Team He Manages Has Accepted Dogecoins As Payment.
Mark Cuban Sold His Internet Company Broadcast.com To Yahoo For $5.7 Billion In 1999 And Became A Billionaire. According To The "Bloomberg" Millionaire Index, Mark Cuban Has A Net Worth Of Us$5.8 Billion, But He Only Holds Dogecoin Worth Us$494. Netizens, Especially Dogecoin Supporters, Were Also Short-sighted.
Based On The Current Value Of Dogecoin At Around Usd 0.3, Mark Cuban Probably Has More Than 1,640 Dogecoins.
This Is Really Not That Much, Because An August 13 Report By Chainalysis, An On-chain Data Analysis Agency, Shows That There Are Currently 4 Million Dogecoin Holders On The Chain, But Most Of The Supply Is Held By A Few Wealthy Entities. There Are 106 Billion Dogecoins Accounting For 82% Of The Supply, And These Dogecoins Are Held By 535 Entities, And Each Entity Holds More Than 10 Million Dogecoins Accounting For 0.01% Of The Total Number Of Entities. This May Be A Mix Of Multiple Businesses, "For Example, An Exchange That Stores Dogecoin For Millions Of Traders, And Some Early Investors."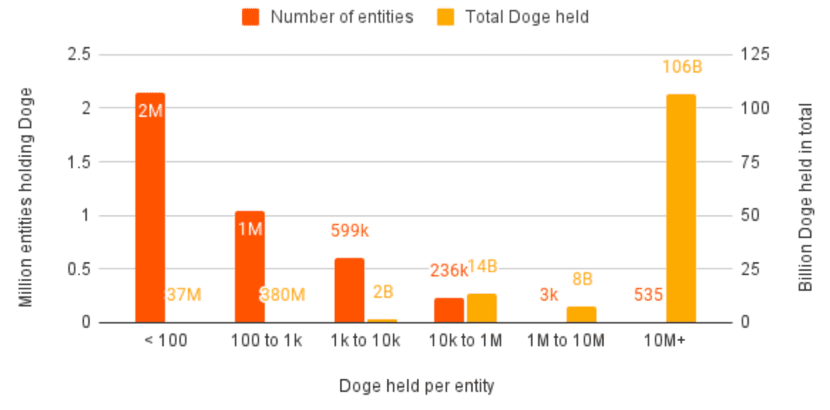 In Terms Of Dogecoin Holdings, The Rich Mark Cuban Is Not A Rich Man. The Chainalysis Report Also Shows That Of The 106 Billion Dogecoins, 37 Billion Are Held By Only 31 Investors. They Belong To The Early Investors Who Have Held 6 Months To 2 Years, With An Average Of More Than 1 Billion Dogecoins Per Person. Currency.
In Other Words, These 31 Are The Dogecoin "Rich Among The Rich". There Are Indeed People Who Got Rich Because Of Dogecoin Investments, Such As The Managing Director Of Goldman Sachs Who Resigned After Making Millions Of Dollars From Investing In Dogecoin . Chainalysis Also Emphasized That These Dogecoin Rich Lists Do Not Exclude Exchange Addresses. "For Example, Robinhood Currently Does Not Allow Withdrawals, And Retail Customers Generally Do Not Often Withdraw Funds From The Exchange On The Chain. Therefore, If Not Very Large. Most Dogecoins Are Locked In Exchanges And Traded Through Retail, Which Is Concentrated In The Hands Of A Few Large Players."
"Reward Tool" Is Becoming A Long-term Investment Target
Dogecoin's Years Of Existence Can Rival Ethereum.
In December 2013, Adobe Programmer Jackson Palmer Created Dogecoin With The Scrypt Algorithm In Order To Satirize The Crazy Encrypted Asset Market. It Generated 100 Billion Coins In The First Year, And Has Since Decreased With An Annual Inflation Rate Of 5%. Today, The Supply Of Dogecoin Is Around 129.624 Billion.
The Price Of Dogecoin Was Only 0.1 Cents At First, And Fell To 0.01 Cents In 2015. The Cheap Price Is An Important Reason For Many Cryptocurrency Community Players To Buy It In The Early Days. They Use It To Give Rewards And Red Envelopes On Reddit, And Some People Also Use It To Make Charitable Donations. Its Shiba Inu Logo Is Very Popular In The Crypto Community, Making It Interesting Like Memes Like Emoticons, Representing The "Grassroots Culture" Of Cryptocurrency Enthusiasts.
However, This Situation Changed In 2016. At The Beginning Of That Year, Dogecoin Began To Rise, And The Unit Of Measurement Gradually Changed From Us Cents To Us Dollars, And The 0 After The Decimal Point Became Less And Less. As The Bull Market Peaked At The End Of 2017, Dogecoin Climbed To $0.015. However, The Subsequent Bear Market Fell To Between 0.002-0.003 Us Dollars, The Decline Fell More Than 90% With The Broader Market, And The Unit Returned To The Cent Level.
Until July 2020, The Popular Trend Of Dogecoin Appeared On Tiktok, And The Price Of The Currency Rose To $0.004; When Entering January 2021, Musk Began To Talk About Dogecoin On Twitter. On April Fool's Day, He Said On Twitter That He Would Use Spacex To Send Dogecoin To The Moon. Since Then, Dogecoin Has Really To The Moon. It Reached An All-time High Of Us$0.74 On May 8th. In Less Than Half A Year, It Has Risen By 14700%.
"This Price History Is Reflected In The Nature Of Holdings On The Chain." Chainalysis Showed In The Report The Share Of Dogecoin Supply Held By Different Types Of Holders.
In The First Year, Most Of Dogecoin Was Liquid, As 74% Of The Current Supply Was Mined In 2014. After The Initial Distribution Was Completed, The Liquidity Supply And New Investors (Investors Who Held Less Than 6 Months) Later Held 30% Of The Supply In 2015.
In Early 2016, As The Price Of Dogecoin Rose, New Investors Entered The Market And Purchased Another 13% Of The Supply. Throughout 2017, The Supply Of Liquidity And New Investors Increased, And By The Beginning Of 2018, They Received 70% Of The Supply. Since Then, Liquidity Has Declined, And New Investors Continue To Hold Their Shares And Become Long-term Investors.
With The Support Of The Tiktok Trend, New Investors Returned Again In July 2020. By October 2020, Their Holdings Increased From 9% Of The Supply To 17%. Beginning In January 2021, Both Musk And Reddit Are Increasing The Popularity And Price Of Dogecoin, And New Investors Have Purchased More Quantities. In The Past 6 Months, Investors Who Bought Dogecoin Now Hold 25% Of The Supply, While Investors Who Have Held It For More Than Two Years Have Dropped From 30% In July 2020 To 20% Today.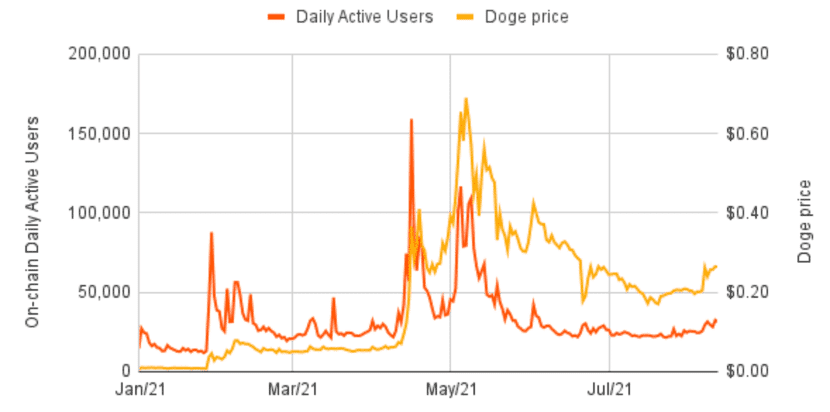 Chainalysis Believes That Most Dogecoin Activities Are Generated On Exchanges, Not Retail Investors On The Chain, But There Are Still On-chain Signals That Can Reflect The Activity Of Dogecoin-in 2021, Dogecoin's Daily On-chain The Average Number Of Active Users (Dau) Is 32,000, But This Number Also Changes With Price Fluctuations.
So Far, The Correlation Value Between The Percentage Change In Dau And The Percentage Change In The Dogecoin Price In 2021 Is 0.7, "Correlation Is Not A Causal Relationship. Active Users And Price Spikes Are Consistent With Dogecoin-related Social Media Performance. The Increase In On-chain Activity Surrounding These Events Indicates The Strength Of The Response, Because On-chain Transfers Are More Troublesome Than Transactions."
With The Decline Of Dogecoin's Liquidity And Activity On The Chain, It Has Become Less And Less Like A "Reward Tool". Its Properties Are Changing Toward The Direction Of Investment Targets, And Dogecoin Is No Longer Grassroots. In The Crypto-asset Market, It Has Come To The Fore With Alarming Gains.
Going Back To Mark Cuban's View, He Considered Dogecoin To Be The "Strongest Trading Medium", And Musk Also Echoed The Sentence "Agree." Earlier, The Ceo Of Tesla Even Launched A Poll On Twitter, Asking Netizens "Do You Want Tesla To Accept Dogecoin Payment?" Obviously, The Two Rich People Regard Dogecoin As A Medium Of Transaction And Payment. Type Currency.
But With The Concentration Of Dogecoin Holders' Ownership And The Decrease Of Liquidity, The Possibility Of Dogecoin As A Medium Of Exchange Is Also Decreasing. After All, The Rich Will Not Distribute Money To Civilians For Use In Vain. Liquidity And Stability Of Value Are Very Important To Currencies. At Present, Dogecoin With High Volatility And Low Liquidity Obviously Cannot Be A Payment Tool.
Article Disclaimer
The Information Presented Here Does Not Constitute Investment Advice Or An Offer To Invest. The Statements, Views, And Opinions Expressed In This Article Are Solely Those Of The Author/company And Do Not Represent Those Of Coinworldstory. We Strongly Advise Our Readers To Do Your Own Research (DYOR) Before Investing In Any Cryptocurrency, Blockchain Project, Or Ico, Particularly Those That Guarantee Profits. Furthermore, Coinworldstory Does Not Guarantee Or Imply That The Cryptocurrencies Or Projects Published Are Legal In Any Specific Reader's Location. It Is The Reader's Responsibility To Know The Laws Regarding Cryptocurrencies And Icos In His Or Her Country. Please Respect Your Country Law & Take Advice From Your Advisor .