After Months Of Consolidation, Bitcoin Has Skyrocketed In The Last 24 Hours. The Price Of Bitcoin Surpassed $ 39,000 In The Early Hours Of Monday For The First Time Since June 16. The Rally Is Presumed To Be A Reaction To New Unconfirmed Reports That Amazon Is Preparing To Accept Bitcoin Payments By The End Of This Year .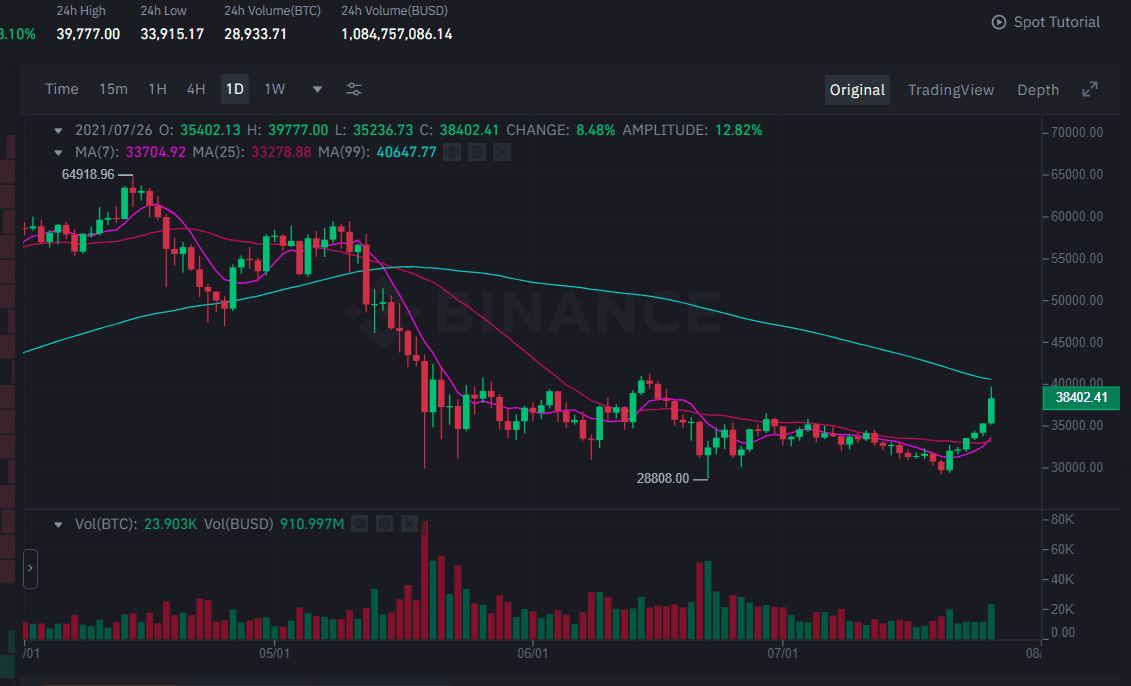 Bitcoin Making Waves
The Price Of The World's Oldest Cryptocurrency Briefly Traded Above $ 39,800 On July 26, Before Backtracking A Bit. At Press Time, Btc Is Comfortably Sitting With A Gain Of 11.25% At $ 38,391. This Makes Bitcoin The Top Performer Among The Top 10 Cryptocurrencies By Market Capitalization.
From A Technical Standpoint, A Short "picture Perfect" Contraction Occurred As Prices Rose, And The Bullish Momentum Intensified As The Price Jumped From The $ 34k Zone To Over $ 39,000 In The Span Of Three Hours.
The Sudden Rally Has Seen Several Indicators With Intermittent Positive Signals. For Example, Cryptocurrency Analyst Lark Davis Noted That Bitcoin's Price Is Now Above Its 50-day Moving Average.
Insider: Amazon To Integrate Bitcoin Payments In 2021
After Posting A List Of Crypto And Blockchain Related Jobs Over The Past Weekend, New Details Have Emerged About Amazon's Potential Crypto Project.
On July 25, British Publication City Am Reported That The Retail Giant Is "Definitely" Preparing To Integrate Bitcoin Payments Later This Year, Citing A Source Familiar With The Knowledge.
"This is not just following motions to set up cryptocurrency payment solutions at some point in the future; this is an integral part, well discussed, of the future mechanism of how Amazon will work, "said the source.
The Anonymous Source Postulated That Bitcoin Is The First Major Step Of This Crypto Adventure And The Directive Comes From Above, Namely Jeff Bezos. In Fact, He Indicated That The Project Is "Practically Ready To Roll . "
Following Bitcoin, Amazon Executives Are Looking To Add Other Top Cryptocurrencies In The Future.
"Ethereum, Cardano, and Bitcoin Cash will be next in line before bringing eight of the most popular cryptocurrencies online. It won't take long because the plans are already there and they've been working on them since 2019. "
The Source Further Indicated That Amazon Is Also Looking To Mint Its Own Native Cryptocurrency Starting In 2022.
Although The News That Amazon Will Accept Bitcoin For Payments Is Not Yet Official, The Market Has Gone Crazy, As It Seems That It Is Already Weighing That Possibility.