Some of the Best AI News and Blog Websites in the ever-evolving field of artificial intelligence include well-respected platforms such as TechCrunch AI, MIT Technology Review's AI section, and OpenAI's own blog. TechCrunch AI provides insightful coverage of the latest AI innovations, startup developments, and industry trends, making it a valuable resource for staying updated on AI's rapid advancements.
MIT Technology Review's AI section offers in-depth analysis and thought-provoking articles, often authored by leading experts in the field. OpenAI's blog is a goldmine of information on cutting-edge AI research, including breakthroughs in natural language processing and reinforcement learning. These platforms, among others, are essential for anyone seeking to stay informed about the exciting world of artificial intelligence.
Why Choose AI News and Blog Websites
Selecting AI news and blog websites can be an advantageous move for several reasons:
Staying Informed: Artificial intelligence is an ever-evolving field with new developments happening all the time. AI news and blogs help keep you abreast of these advances by keeping up-to-date on trends, research, and developments relating to this dynamic industry.
Access Expert Insights: Many AI news and blog websites feature articles written by industry experts, researchers, and practitioners. Reading their views can provide you with invaluable perspectives and deep insight into AI technologies, applications, and best practices.
Discover and Expand: These platforms often provide educational materials such as tutorials and guides to expand your AI knowledge and abilities, whether you are just beginning or an experienced pro – there is always something new to discover in AI!
Networking Opportunities: AI news and blog websites provide an ideal forum to connect with a community of AI enthusiasts, researchers, and professionals who can be useful resources in terms of networking opportunities or collaborations. Participating in discussion threads or fora may lead to more collaborative opportunities or even new friendships!
Staying abreast of AI news can also help you discover emerging job openings, research areas, and possible career pathways in AI.
Gain Competitive Edge: In an AI-dominated world, understanding AI technologies and trends is becoming ever more vital for success in both your career or business endeavors. A thorough knowledge of these developments could give you an edge.
Ethical Considerations: Many AI news and blogs address the ethical implications of artificial intelligence development and deployment, helping you become aware of any challenges or considerations involved with developing or deploying it.
AI news and blog websites are invaluable resources for anyone interested in AI, from students, researchers, professionals or those simply curious about its transformative effects on our world.
Here Is List Of Best AI News and Blog Websites
MIT News
The Berkeley Artificial Intelligence Research
Analytics Vidhya
Towards Data Science
KDnuggets
Science Daily
Great Learning
NVIDIA Blog & NVIDIA Developer
MarkTechPost
TensorFlow Blog
DeepMind Blog
Towards AI
ML CMU Blog
There's An AI For That
AI Scout
Ofemwire.com
AI Trends
DLabs.AI
Neptune.ai
20 Best AI News and Blog Websites to Follow Trends
1. MIT News
Many technologists dream of studying at Massachusetts Institute of Technology (MIT). And it's easy to see why: MIT conducts groundbreaking research with results published directly on its blog.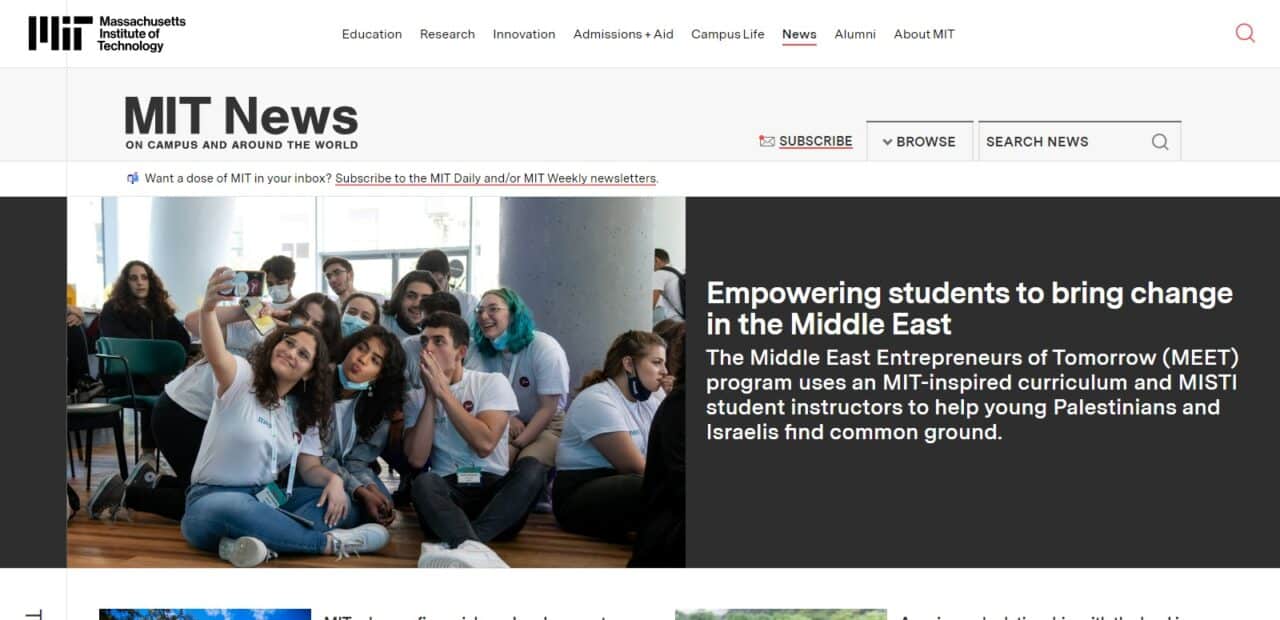 Better still, you can follow the MIT community's achievements on their YouTube channel – an alternative way of exploring their accomplishments without actually attending classes there!
2. The Berkeley Artificial Intelligence Research
Staying academic: the next blog on our list comes from another acclaimed US university: Berkeley Artificial Intelligence Research Lab at UC Berkeley provides a forum for researchers in machine learning, computer vision and natural language processing to come together.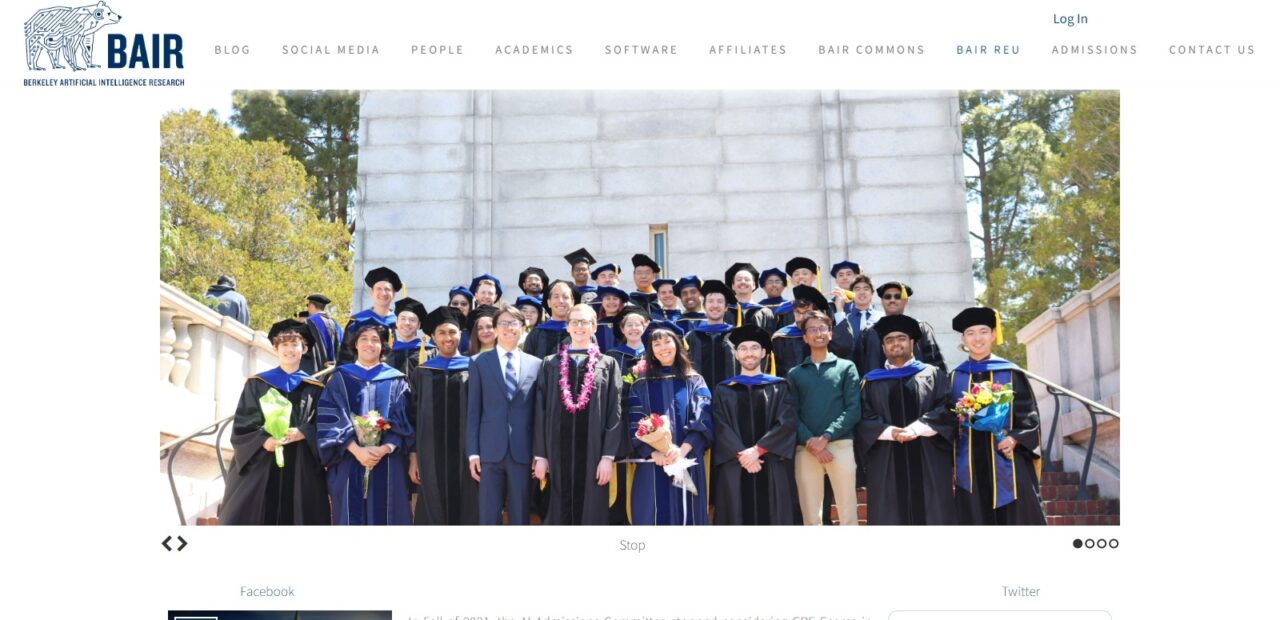 BAIR uses its blog as an outlet to share its findings with the world, keeping its readers abreast of AI-related developments.
3. Analytics Vidhya (Best AI News and Blog Websites)
Analytics Vidhya is a blog for data scientists. Specialists share insights through in-depth articles that include tips and guides relevant for both amateurs and professionals alike.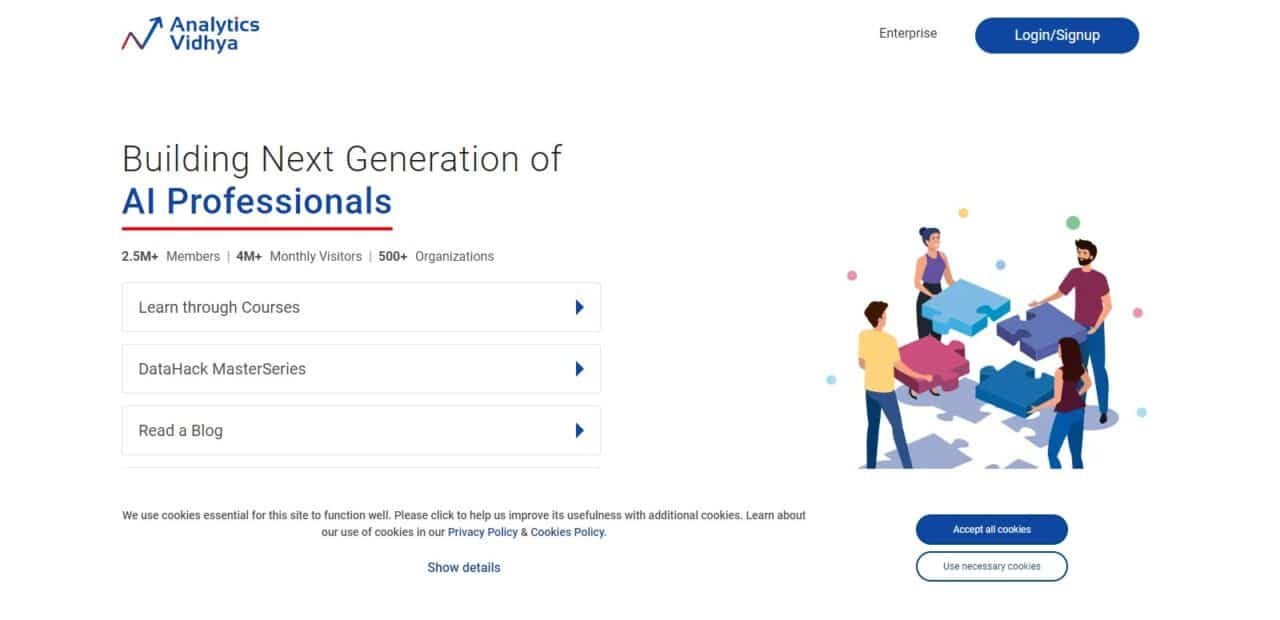 At Hackathon.io you'll also find training programs and an educational forum – and there may even be the occasional hackathon hosted on site! Should you ever wish to enhance your abilities.
4. Towards Data Science
Medium's publication Towards Data Science serves to exchange ideas among data science specialists and to broaden public understanding. Independent writers may submit articles (you'll even find one written by our very own Przemek 'Shemmy' Majewski!).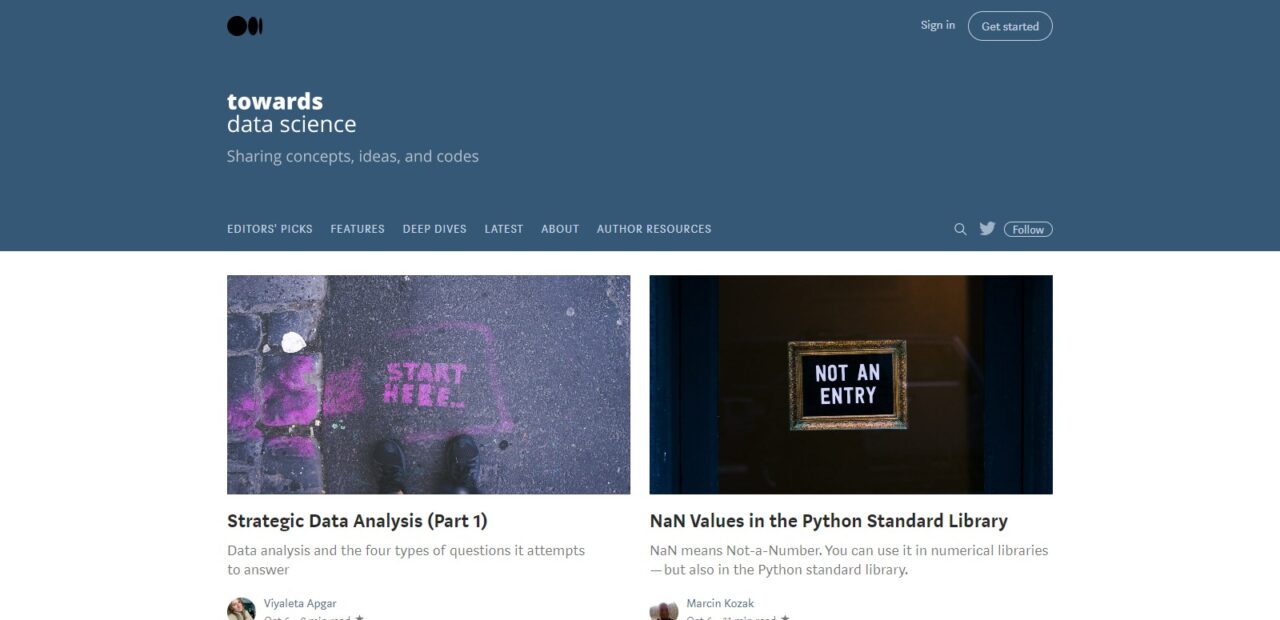 Data scientists of all levels will find it invaluable. You'll gain an overview of what other data scientists are working on while remaining aware of any major developments.
5. KDnuggets
KDnuggets should be your daily read for programmers of all skill levels, covering the latest developments. Plus, its calendar provides details of upcoming tutorials, courses, and training events – something else programmers will surely appreciate.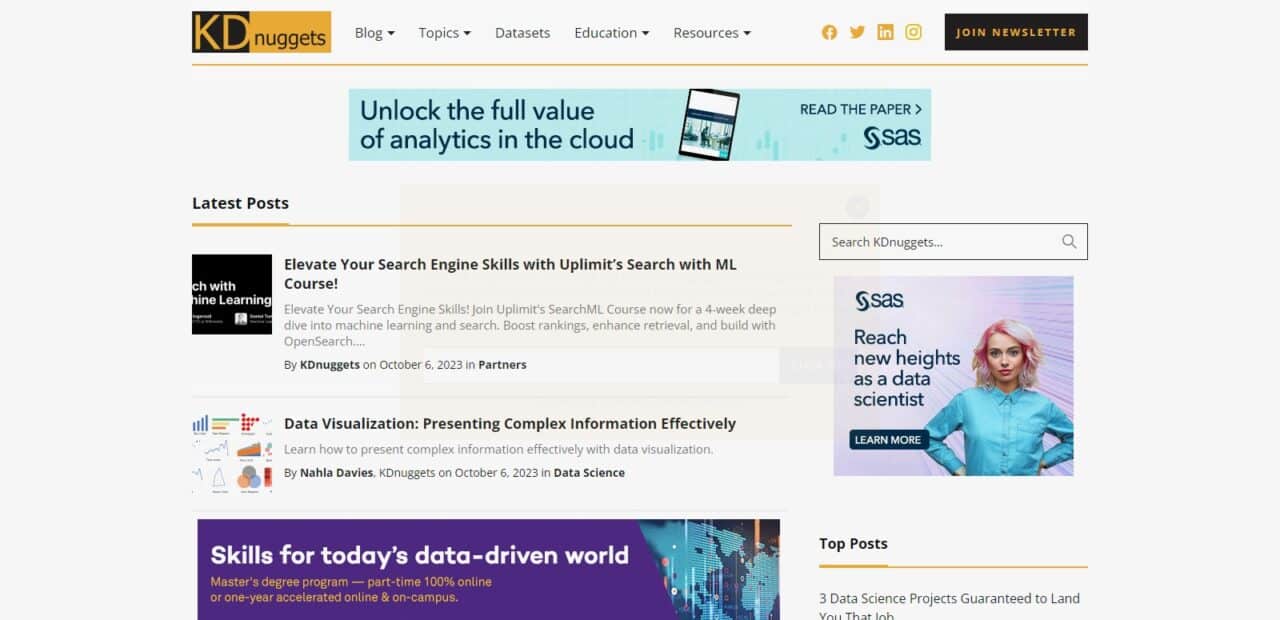 As well as this, there's also a library of data sets that may prove invaluable in your current projects, not forgetting a selection of certificates you could earn!
6. Science Daily (Top AI News and Blog Websites)
Science Daily is an indispensable source for staying current with scientific discoveries in a range of disciplines, spanning psychology to global warming. If artificial intelligence (AI) is of particular interest, Science Daily does not disappoint and offers ample coverage on AI-related topics – making it an invaluable resource.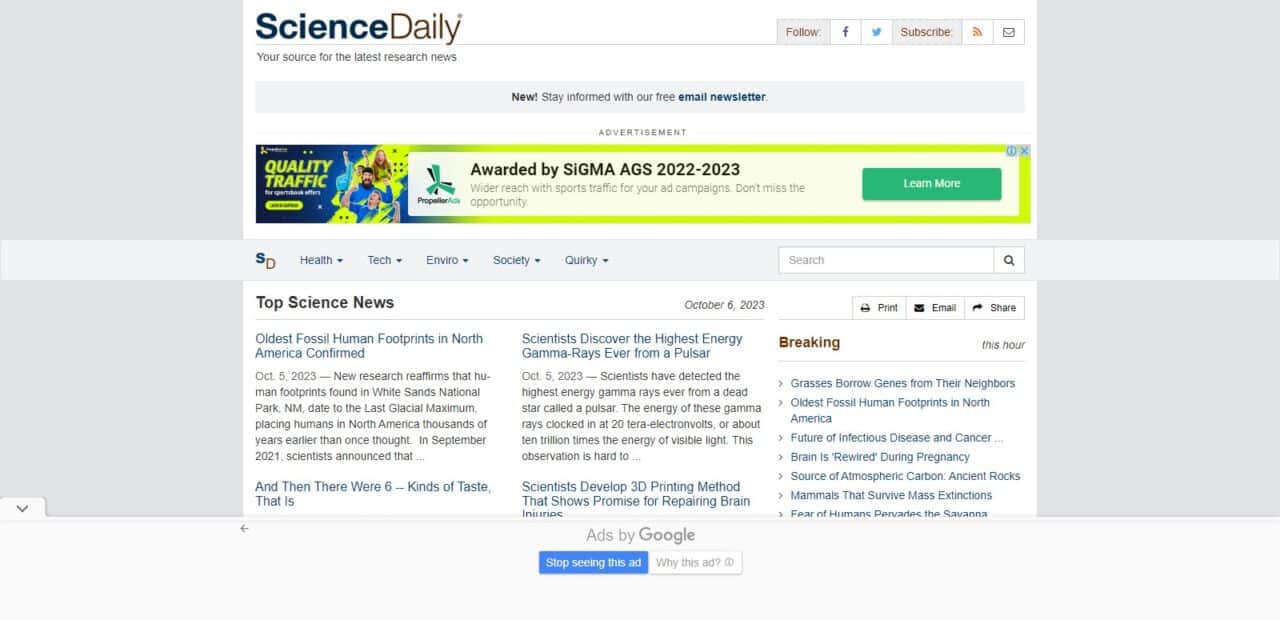 If academic research intrigues you, Science Daily also makes for an ideal blog as it offers insight into cutting-edge research shaping both AI's future as well as that of wider scientific communities.
7. Great Learning
Great Learning is an invaluable platform for those starting their learning journey, offering free tutorials and courses designed specifically to be accessible for beginners. Covering a broad spectrum of topics ranging from cloud foundations to introductory Python machine learning classes for machine learning,.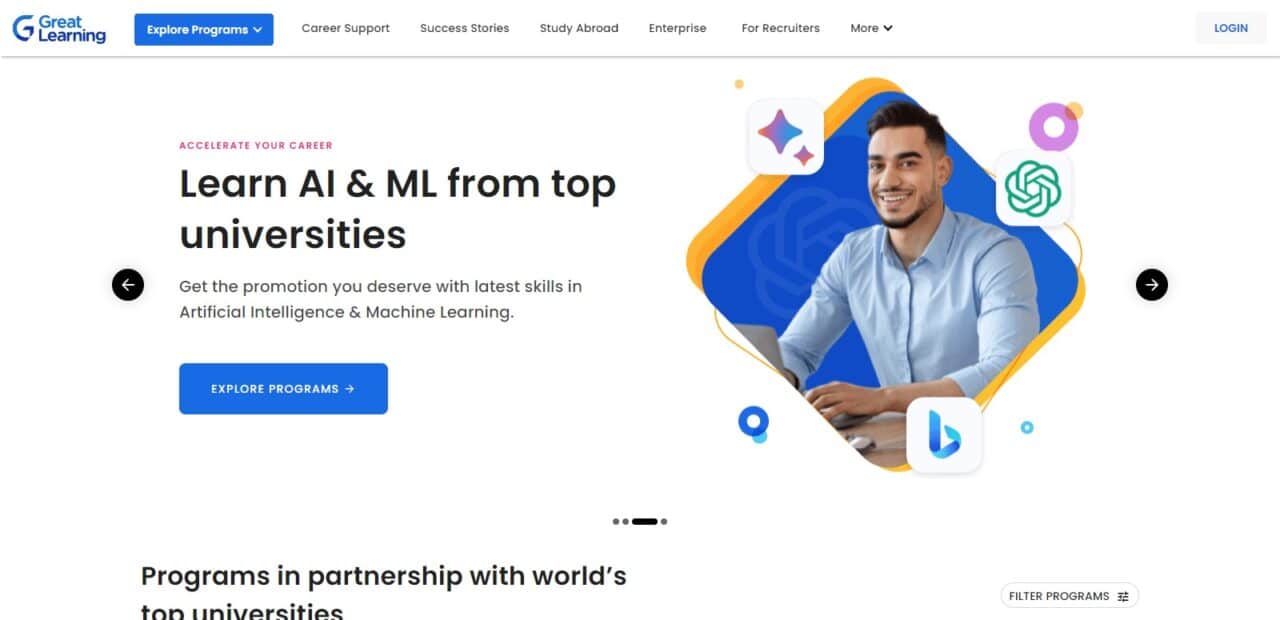 R programming, data visualization and visualization visualization, it offers users an abundance of user-friendly resources for attaining new skills and knowledge across technology and data science disciplines.
8. NVIDIA Blog & NVIDIA Developer
NVIDIA stands tall in the tech sector: as the creator of GPU technology – responsible for interactive graphics on laptops, workstations, mobile devices, notebooks and PCs alike – they share how everything works across two sites dedicated to them.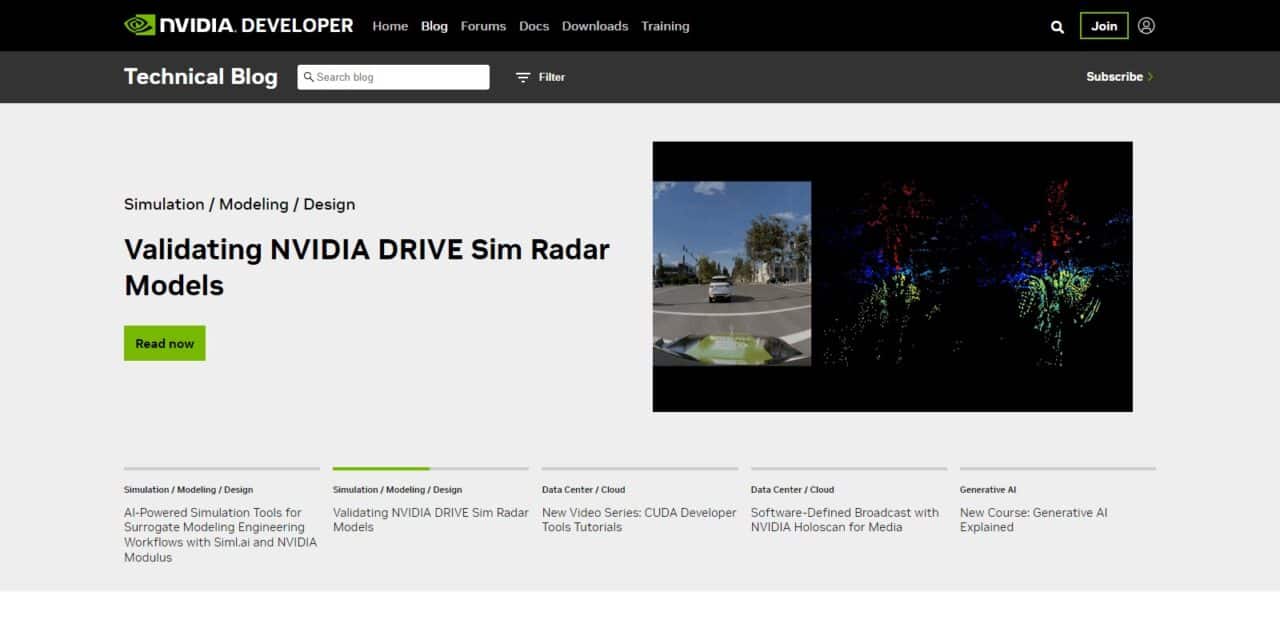 The first is intended for more general technology topics, including how AI is revolutionizing sectors such as networking and healthcare. The second, however, focuses specifically on developers.
Expect more in-depth coverage of artificial intelligence, data science and deep learning from this company. Furthermore, their active forum provides developers with a great place to find an answer to nearly every AI-related query they might have.
9. MarkTechPost (Best AI News and Blog Websites)
MarkTechPost, located in California's tech hub, stands out as an essential online destination dedicated to machine learning, deep learning and data science research. Offering more than mere articles about these fields of study, this multifaceted platform.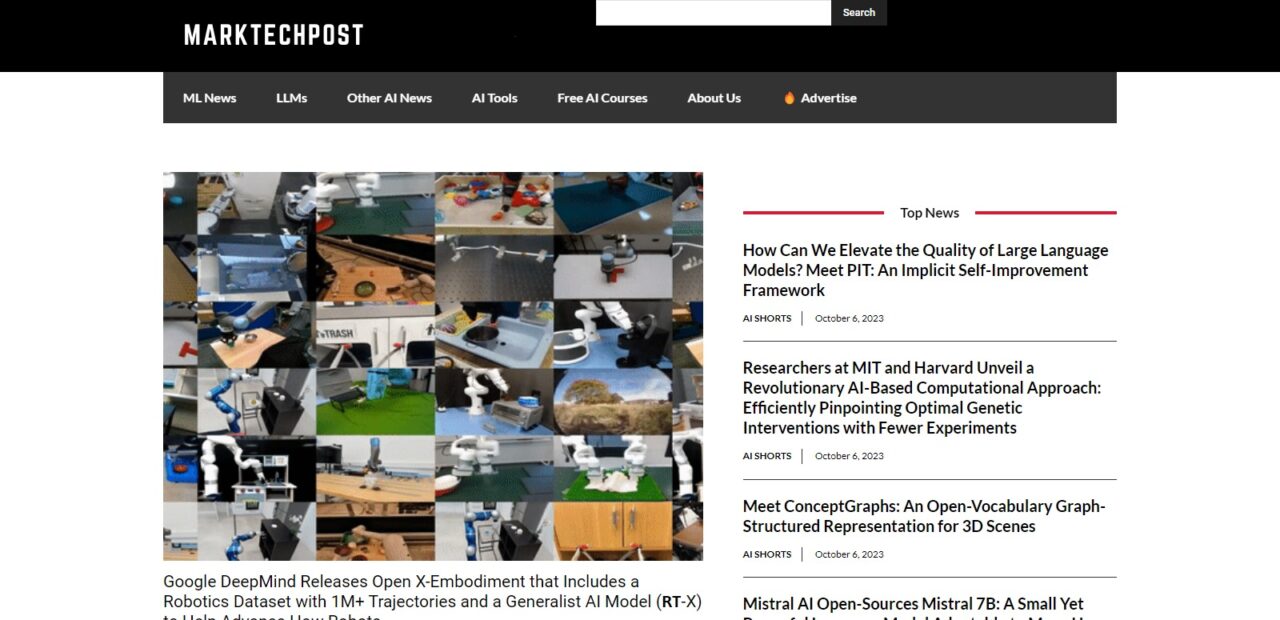 Aalso features tutorials and university research – ideal resources for developers navigating artificial intelligence research. Furthermore, MarkTechPost hosts insightful interviews with key figures within AI who offer unique perspectives from technological innovation at its cutting-edge.
10. TensorFlow Blog
The TensorFlow blog serves as an exceptional resource for programmers exploring TensorFlow and its vast ecosystem, which comprises tools, libraries, and an active community. Packed with articles covering all things related to machine learning solutions – providing insights into what's hot right now while serving.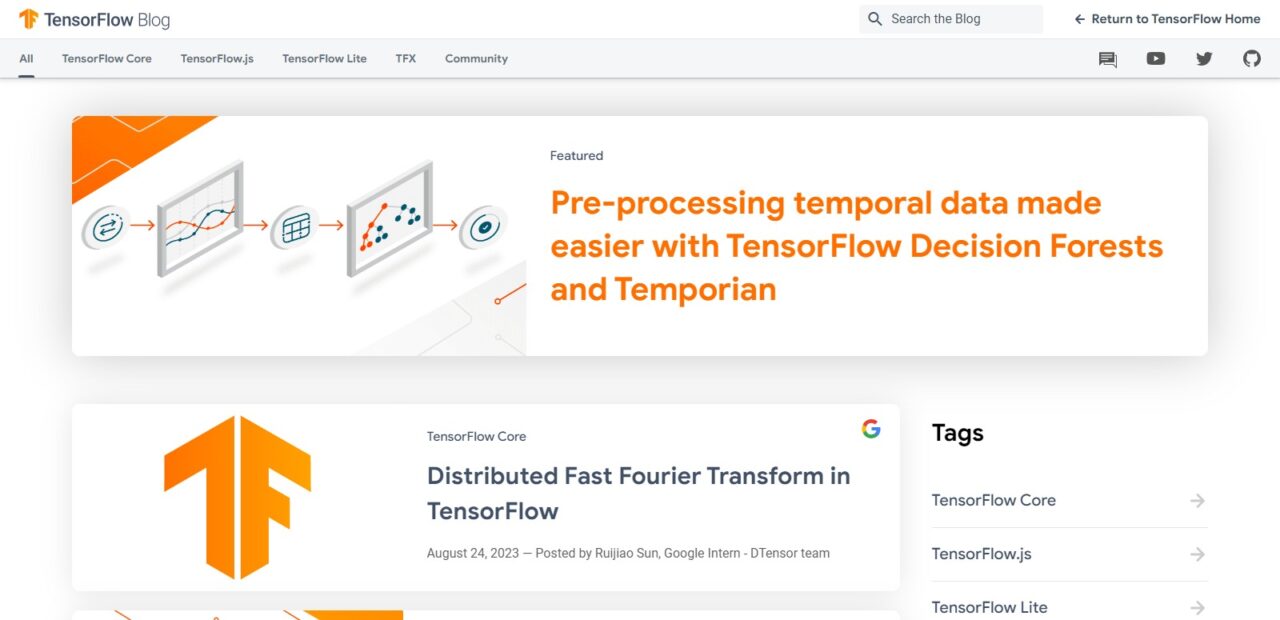 As invaluable guides enabling developers to efficiently craft and deploy machine learning-powered applications – whether experienced TensorFlow users or just starting out, this blog serves as an indispensable guide in keeping abreast of developments within this dynamic field.
11. Serokell.io (Top AI News and Blog Websites)
Serokell.io is a valuable blog tailored to newcomers venturing into the exciting world of AI. With a focus on fundamental concepts, the authors offer their insights on topics such as "Convolutional Neural Networks for Beginners," "A Brief Introduction to Template Haskell," and "Introduction to Phoenix."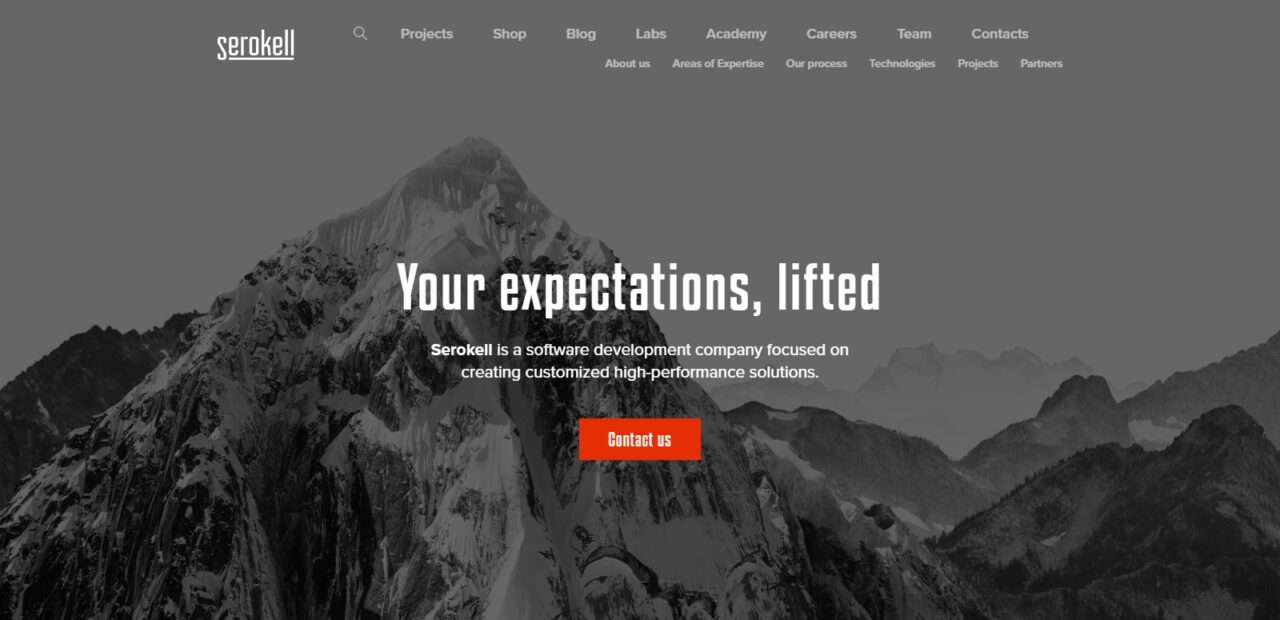 This resource serves as an invaluable starting point for individuals seeking to grasp the basics of AI-related subjects. Its straightforward approach and beginner-friendly content make it a notable and reliable source for acquiring foundational knowledge in the AI industry, making it a must-visit for those taking their first steps into this dynamic field.
12. Towards AI
Towards AI is an online information hub dedicated to artificial intelligence. Here you will find articles covering many areas like NLP, machine learning, deep learning, JavaScript Python data science data science. and much more!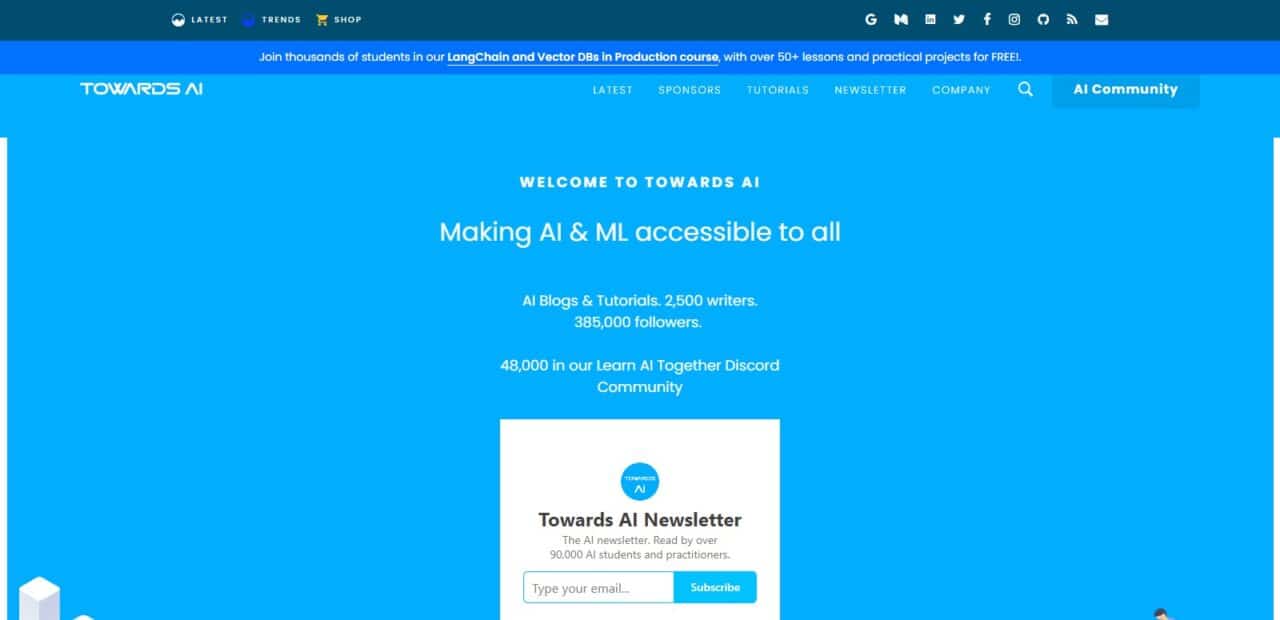 Every day you will find new material on Towards AI that's sure to enrich your reading habits – giving you plenty of reason to add this book into your routine reading routine!
13. ML CMU Blog (Top AI News and Blog Websites)
Carnegie Mellon University in Pittsburgh provides higher education enthusiasts and machine learning enthusiasts with a valuable resource – its dedicated blog. This platform provides invaluable insights into machine learning from an impressive lineup of contributors ranging from esteemed faculty members, accomplished Ph.D. researchers and talented students – including esteemed faculty members, accomplished Ph.D. researchers and even talented students themselves!
But what distinguishes this blog is its steadfast dedication to spreading original research. Instead of simply highlighting authors' credentials, this site aims to share cutting-edge discoveries, innovative ideas and groundbreaking studies with the global community – making it an invaluable resource for those wanting to delve further into machine learning and its many applications.
14. There's An AI For That
Are you searching for AI tools to boost productivity and stay current on cutting-edge advances? Look no further than "There's An AI For That", one of the world's largest AI aggregators! Featuring over 300,000 tools to complete over 899 tasks and an intuitive search engine allowing for easy searching or browsing by category,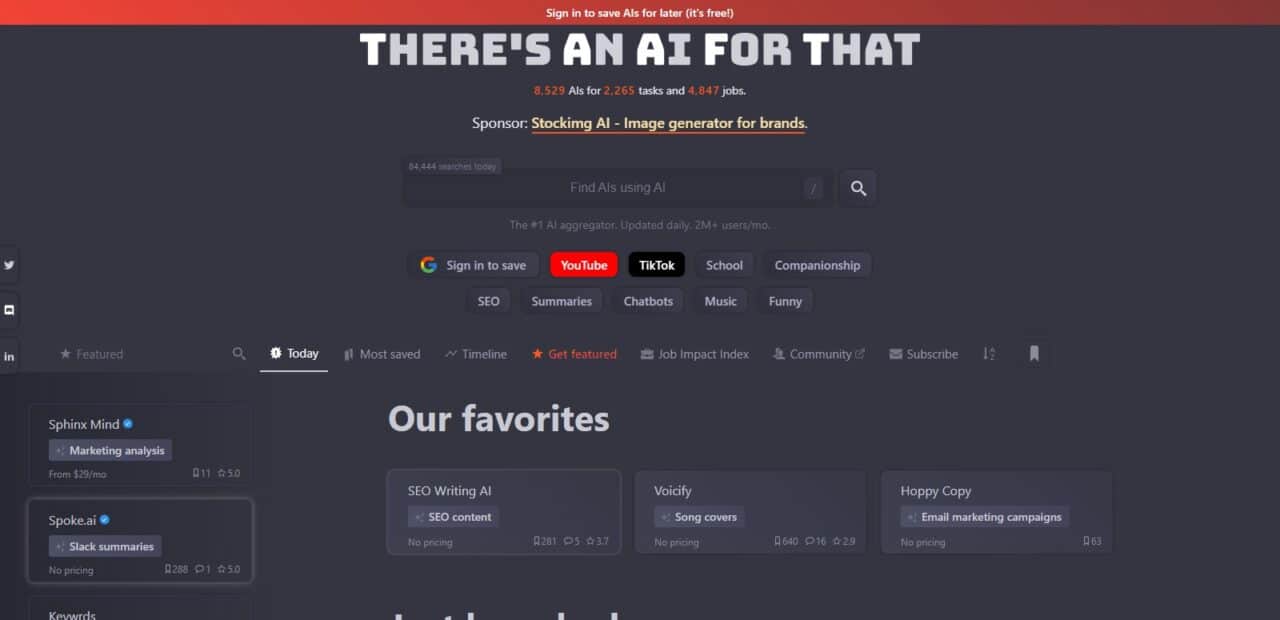 "There's An AI For That" offers everything needed for enhanced work efficiency with cutting-edge AI technology! Don't miss this chance to improve efficiency today with cutting-edge AI!
15. AI Scout
Are you in search of even more AI tools? Look no further. AI Scout offers a free directory of AI applications designed to help users explore and discover the rapidly expanding world of artificial intelligence. Ranging from writing tools, digital marketing applications, programming language tools and web development applications;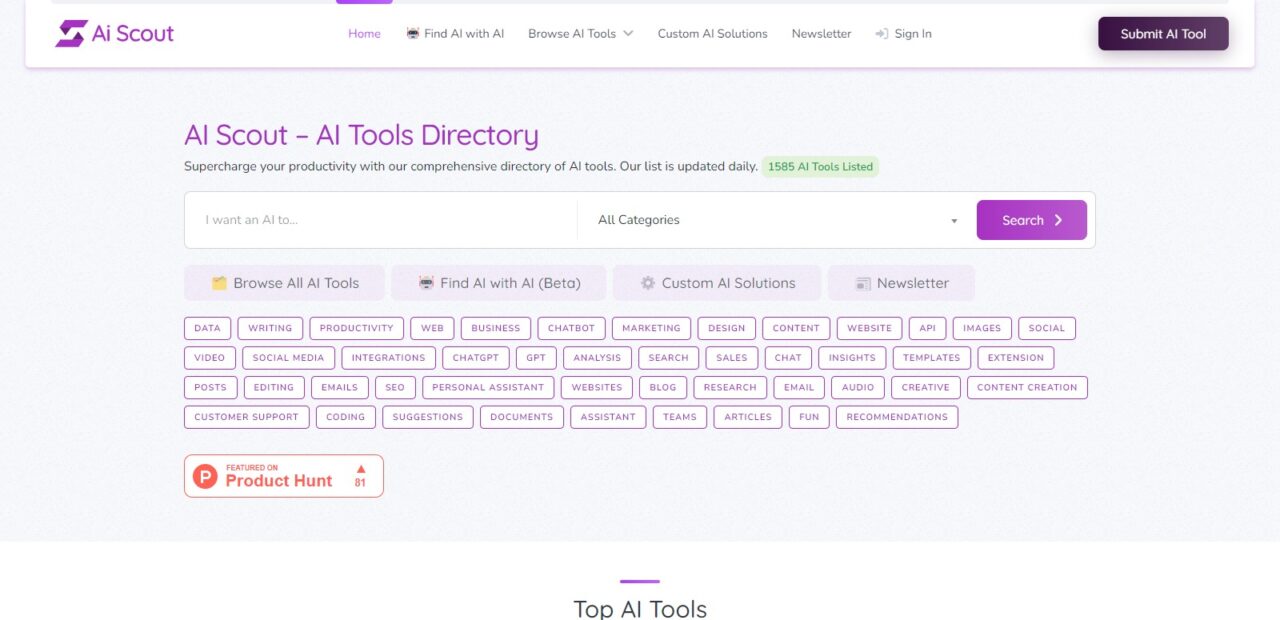 AI Scout keeps its listings current with all of the newest AI offerings – keeping users current on best tools available while being user friendly enough for any use case with its chatbot ScoutBud providing recommendations.
16. Ofemwire.com (Best AI News and Blog Websites)
Are You Exploring AI Tools Alone? Don't Feel Lost… Ofemwire.com Can Help. Their team of expert writers and reviewers take the time to carefully test and assess each tool, providing readers with detailed insights into its features, functionality, and performance. By reading their thorough yet impartial reviews you can select AI tools which best meet your needs.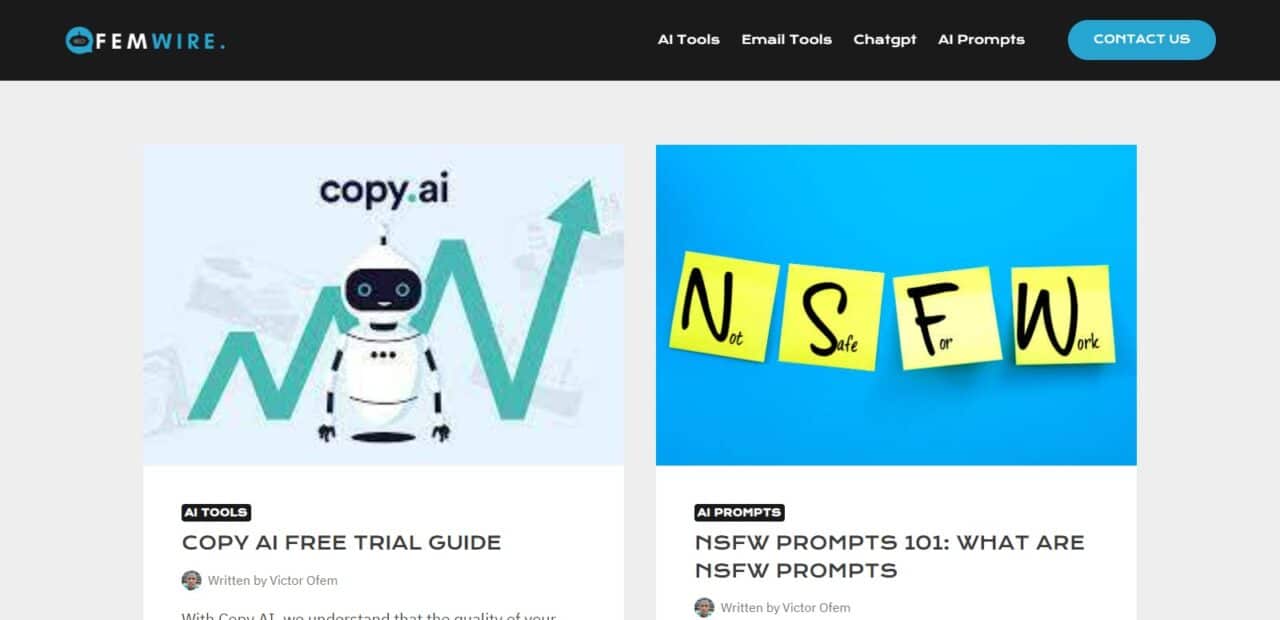 Not only that – Ofemwire.com also features articles, news stories and opinion pieces about AI technology. As they keep tabs on all the latest advancements in the field, Ofemwire provides an invaluable source for staying current and informed – saving both time and helping make informed decisions with Ofemwire's help!
17. AI Trends
This blog provides insights on both the business and technology aspects of AI. It is particularly popular among AI enthusiasts for its coverage of apps in various industries like eCommerce, healthcare and energy – providing invaluable knowledge.
An excellent source for gathering industry insights and gaining access to emerging technologies first, the website also contains details of webinars and events related to AI that may interest visitors.
18. DLabs.AI
As one of Central Europe's premier software development and consulting companies, we specialise in designing and creating automated AI software solutions for businesses. It would be remiss of us not to acknowledge this important resource: our blog.
At AI Blog we have plenty of insights to share – our tech articles come from specialists in JavaScript, Python, Data Science and Machine Learning among others.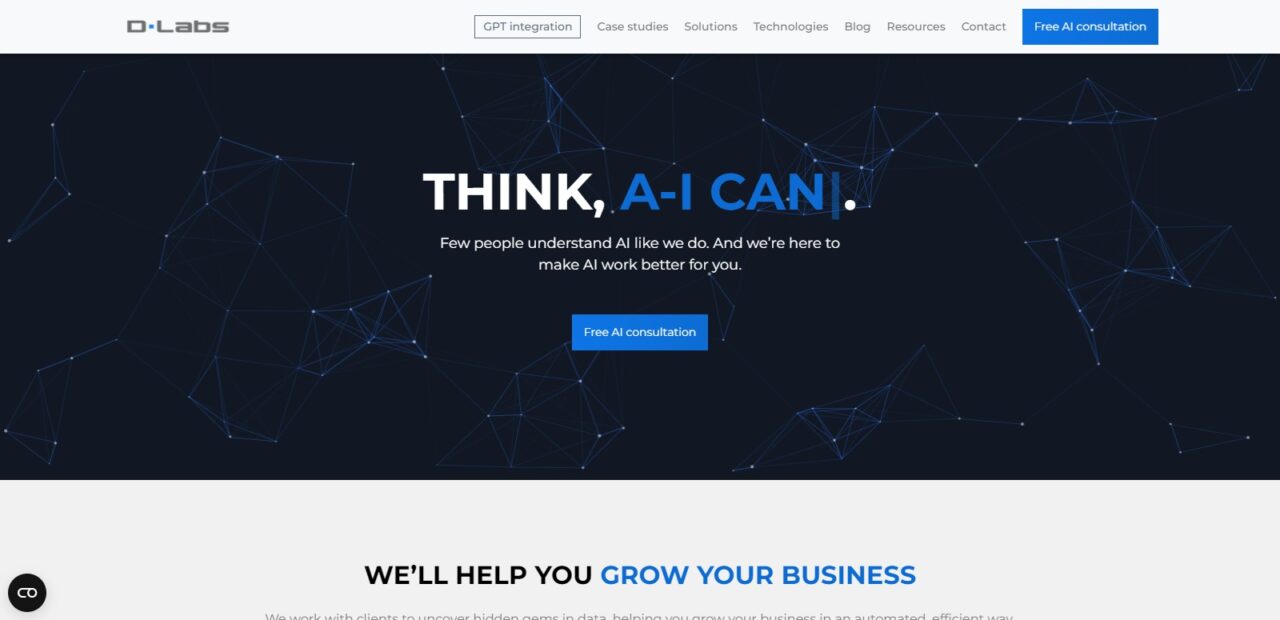 Additionally, we provide practical examples of how businesses can implement AI as well as relevant news from the Artificial Intelligence community.
And to stay current with all of the latest AI news and trends, sign up for our AI newsletter now to receive a bounty of inspiring ideas and trend analysis delivered directly into your inbox each month.
19. Neptune.ai (Best AI News and Blog Websites)
Neptune.ai is a widely recognized and popular machine learning blog that consistently delivers insightful content on a variety of topics within the field. Its articles cover a broad spectrum, offering valuable tutorials on subjects like data exploration, machine learning tools, and model evaluation, among others. What sets Neptune.ai apart is its dedication to providing practical solutions for machine learning practitioners.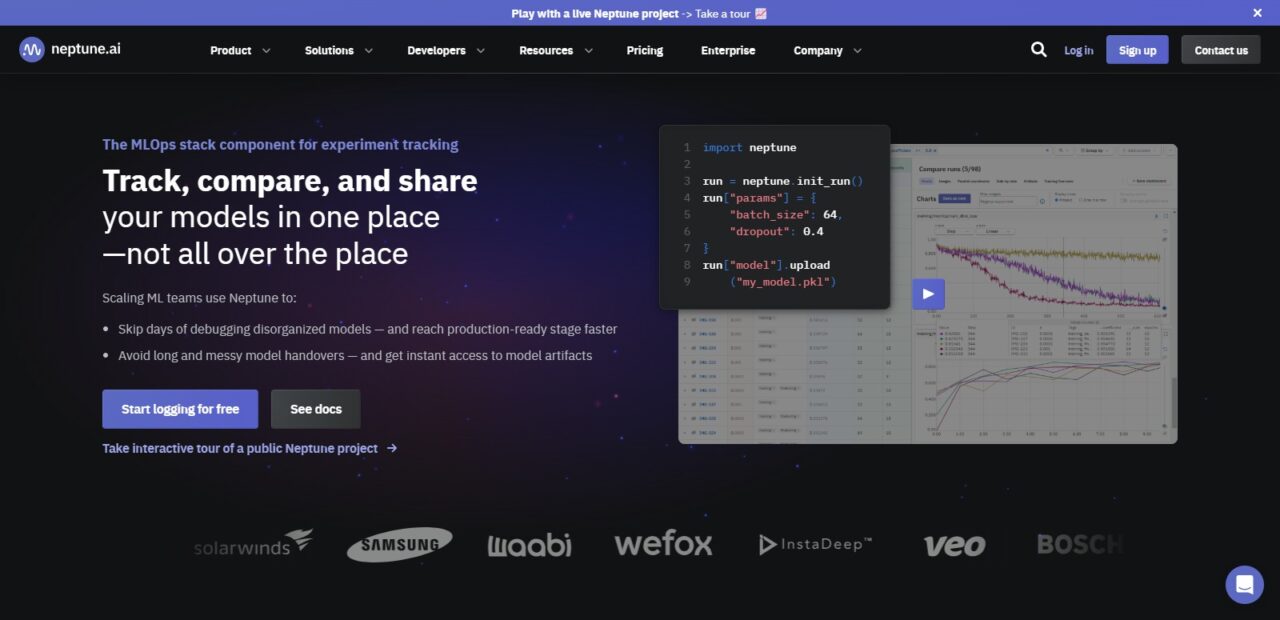 Notably, it offers a robust framework designed to streamline the tracking of Jupyter notebooks and facilitate the management of experimentation processes. This resource is a must-visit for anyone in the machine learning community seeking to enhance their knowledge and optimize their workflow.
20. DeepMind
DeepMind is an internationally-renowned artificial intelligence research lab and company, known for its pioneering work in deep reinforcement learning and its groundbreaking contributions to AI research. DeepMind was established in London in 2010 with the mission of developing advanced AI systems capable of excelling at various tasks ranging from playing complex board games such as Go to solving scientific puzzles.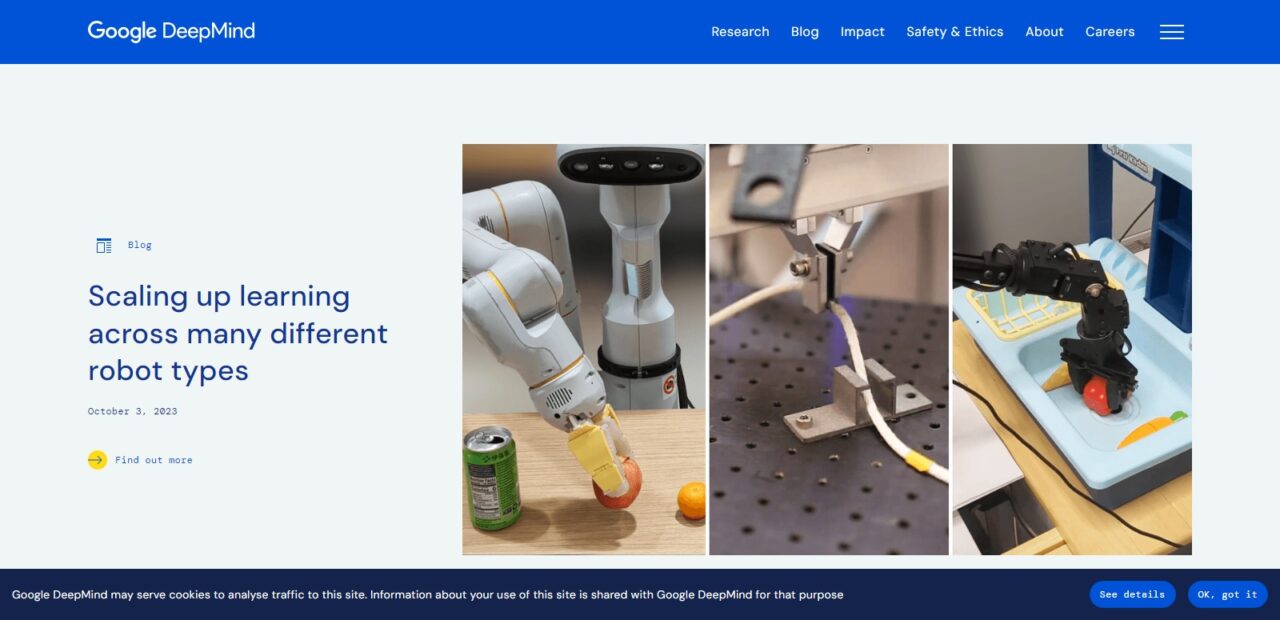 DeepMind AI Research Group was acquired by Alphabet Inc (Google's parent company) in 2014, and continues to pioneer research into artificial intelligence with applications spanning healthcare, neuroscience and robotics. DeepMind's work not only advances AI but has the power to revolutionize various industries and change how we tackle complex problems. Their commitment to ethical AI makes them a prominent player on the global AI landscape.
Best AI News and Blog Websites Conclusion
Best AI News and Blog Websites FAQ
What are the best AI news and blog websites?
Some of the best AI news and blog websites include TechCrunch AI, MIT Technology Review's AI section, OpenAI's blog, and many others tailored to specific AI subfields.
Why should I follow AI news and blogs?
Following AI news and blogs helps you stay updated on the latest developments, research, and trends in the field, enhancing your knowledge and keeping you informed about AI's impact on various industries.
Are there websites for beginners in AI?
Yes, several AI news and blog websites offer content specifically designed for beginners, providing introductory articles, tutorials, and foundational knowledge.
Do AI news and blog websites provide educational content?
Yes, many of these websites offer educational content, including tutorials, guides, and resources to help individuals learn and enhance their AI skills.
Are there AI news websites that focus on ethical considerations?
Yes, some AI news and blog websites delve into the ethical aspects of AI, discussing topics such as bias, privacy, and the responsible development and deployment of AI technologies.
Can following AI news websites help with career opportunities?
Yes, staying updated on AI news can help you identify emerging job opportunities, research areas, and potential career paths within the AI field.