India boasts an exquisite and diverse coastline that is home to some of the Best Beach Resorts in India around. Goa offers tranquil shores while Kerala provides exquisite shores; Andaman and Nicobar Islands add exotic charm – giving beach lovers plenty of choices in India. Goa remains a top choice for travelers seeking both relaxation and adventure, while Kerala boasts eco-friendly beachfront havens surrounded by lush coconut groves and backwaters.
Andaman and Nicobar Islands provide a more remote and exotic escape, boasting crystal-clear waters and vibrant coral reefs. India's beach resorts have something to suit everyone, whether that's tranquility, water sports activities, or simply enjoying stunning ocean views – whatever it may be you need an escape!
Here is List of Best Beach Resorts in India
​​​​Niraamaya Retreats Surya Samudra, Kovalam
InterContinental Chennai Mahabalipuram Resort
Beach House Madh Island, Mumbai
Villa Beira Mar by Lohono Stays, Alibaug
SaffronStays Ocean Pearl, Hejamady
Novotel Mumbai Juhu, Mumbai
SwaSwara, Gokarna
Ahilya By The Sea, Goa
JW Marriott Juhu, Mumbai
Taj Exotica Resort and Spa, Goa
10 Best Beach Resorts in India
​​​​1. Niraamaya Retreats Surya Samudra, Kovalam
Niraamaya Retreats Surya Samudra stands as an impressive Relais & Chateaux property, epitomizing Ayurveda and Kerala's rich heritage. Nestled within the picturesque fishing village of Kovalam lies this extravagant resort: an oasis of peace and traditional charm featuring beautiful Keralite heritage cottages dotted throughout lush grounds.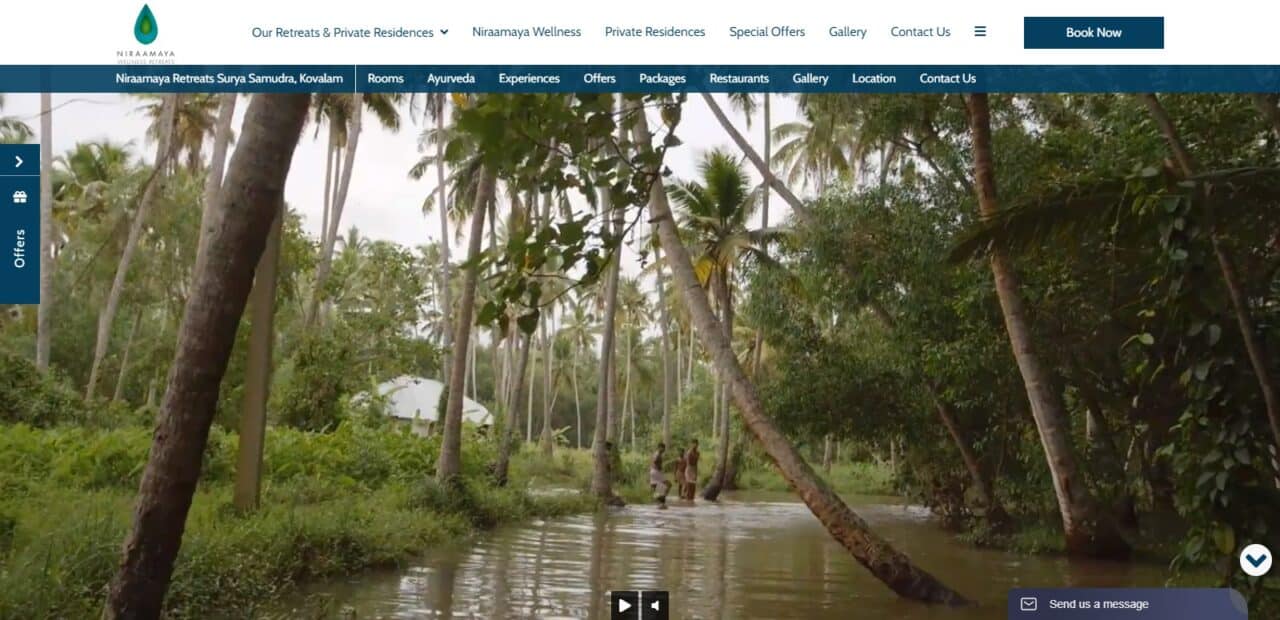 Overlooking the sparkling Arabian Sea, this property provides an idyllic setting for relaxation and revitalization. Niraamaya Spa is known for its holistic approach and offers an extensive menu of wellness services, from traditional Ayurved therapies and yoga and meditation practices to pranayama sessions to provide a complete mind-body experience.
Niraamaya offers guests a truly unforgettable dining experience, from Cafe Samsara, an all-day multi-cuisine eatery, and Essence, an exciting Southeast Asian and seafood restaurant, where guests can relish delectable flavors set against the tranquil seaside vista. Niraamaya Retreats Surya Samudra provides those seeking authentic Ayurveda retreats an idyllic coastal setting for rejuvenation.
2. InterContinental Chennai Mahabalipuram Resort
Hotel Coromandel Coast features 105 guestrooms and suites, award-winning restaurants, a spa, panoramic ocean views of Coromandel Coast over looking Bay of Bengal as well as 15,000 sq feet of landscaped gardens surrounding private beach area near ancient Shore Temples of Mahabalipuram. This property also includes 15,000 sq ft landscaped gardens for easy maintenance of landscaped grounds as well as private beach access.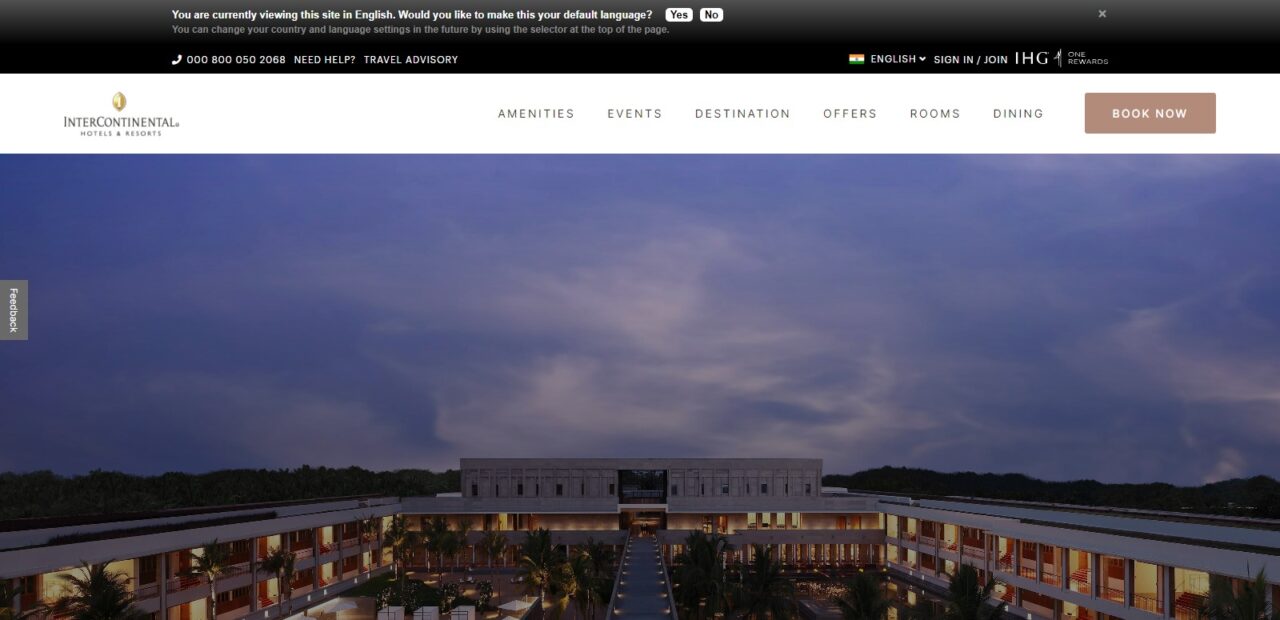 South Indian architecture inspired by nearby Mahabalipuram temples can be found at this resort, and each night its lotus pond in the central courtyard is illuminated with lanterns. Amrtam Spa and Wellness Studio has become famous for providing holistic treatments while guests can also take part in private dining experiences on the beach under marquee tents.
3. Beach House Madh Island, Mumbai (Best Beach Resorts in India)
Tucked away on Madh Island in northern Mumbai, this sprawling beach villa provides the ideal spot for relaxation. Boasting two well-appointed bedrooms, its location amidst coconut trees makes this homestay even more tranquil. Indulge in delectable local dishes such as Fried Bombay Duck, Rawas Fish Curry, Bhakri and Sol Kadhi prepared from only freshest ingredients by its culinary team – delicious choices await your arrival here.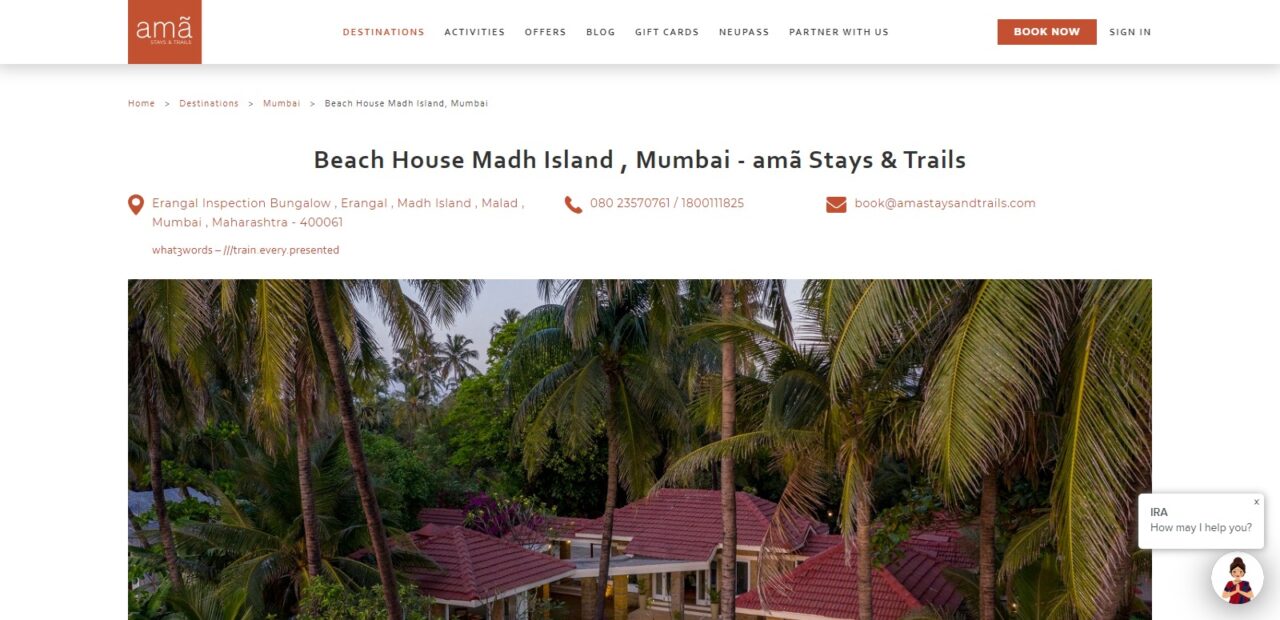 While enjoying time on the beach, visitors can also explore Madh Island village's age-old Portuguese churches or visit its fish market. While this villa does not feature its own pool, gym, or spa services, guests may use those at Taj Lands End, Mumbai.
4. Villa Beira Mar by Lohono Stays, Alibaug
Villa Beira Mar is an Alibaug coastal gem, perfectly situated along Kihim Beach for ultimate relaxation and recreation. Boasting five bedrooms, its sea-view location makes this five bedroom homestay the ideal place for vacationing families or group travelers to share. Boasting beautifully kept lawns complete with an exquisite gazebo, private pool for swimming laps and an invigorating dip, as well as indoor entertainment such as a pool table for indoor entertainment, Villa Beira Mar is truly remarkable!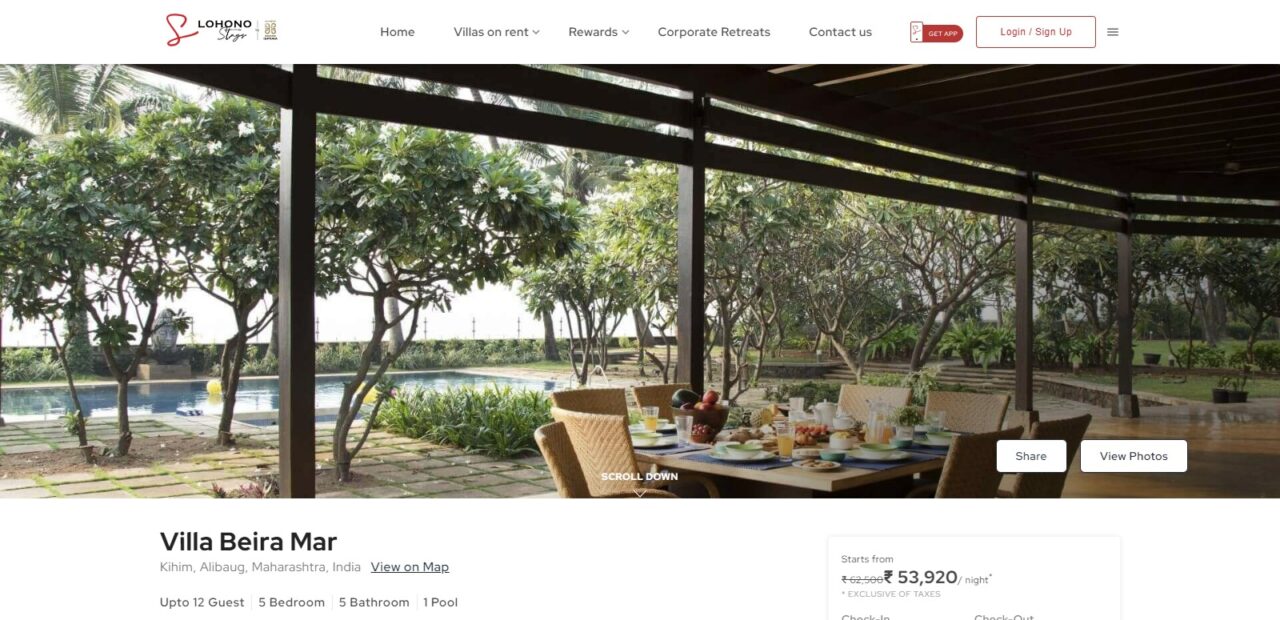 Villa Beira Mar boasts spacious rooms that are tastefully designed with contemporary furniture, colorful soft furnishings and eye-catching artworks to provide a seamless indoor-outdoor experience. Beyond providing comfortable accommodations, this property ensures guests will have an enjoyable stay by offering yoga sessions, spa treatments and board games to keep guests occupied throughout their stay.
Villa Beira Mar is an oasis for beachside retreaters seeking comfort, leisure and delicious local and international dishes prepared by their on-site chef, providing an exquisite culinary experience that complements its breathtaking surroundings. Villa Beira Mar's accommodation combines comfort, leisure, and mouthwatering cuisine into one blissful beachside escape!
5. SaffronStays Ocean Pearl, Hejamady
SaffronStays Ocean Pearl villa lies tucked into Mangalore's scenic coastal beauty and provides guests with an inviting homey yet welcoming stay in three bedrooms. Overlooking picturesque Hejamady beach on one side and tranquil backwaters on the other, its charming tiled roof and rustic interiors create a cozy yet comfortable sanctuary for its visitors.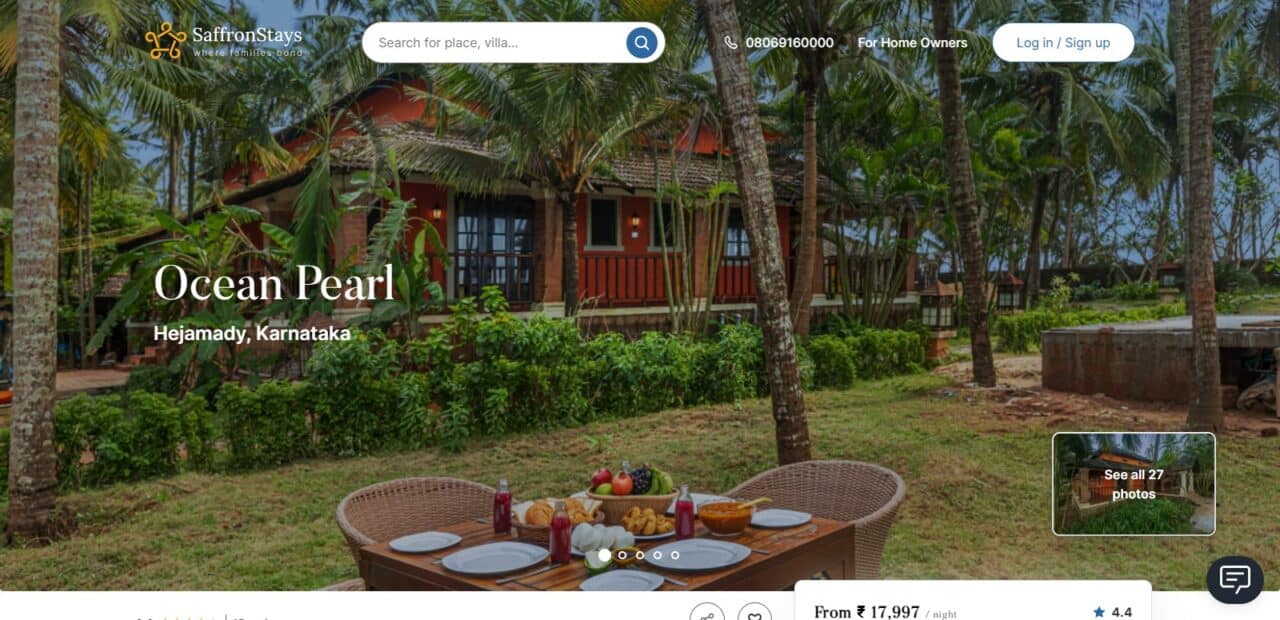 Dining experiences at SaffronStays Ocean Pearl are sure to impress, with options ranging from casual dining rooms and verdant gardens – both overlooking serene backwaters – to the in-home chef, Chitranjan, who creates exquisite coastal and southern meals using daily catch! At this warm and welcoming hotel, savor all that the region has to offer while taking advantage of tranquil coastal surroundings.
6. Novotel Mumbai Juhu, Mumbai (Best Beach Resorts in India)
Novotel Mumbai Juhu Beach by AccorHotels provides stunning vistas of the Arabian Sea for an ideal beach staycation. This 203-key hotel on its picturesque setting, right by the Arabian Sea shores, caters to both business and leisure travelers and houses six dining locations offering delectable Chinese, Indian, Italian and Continental dishes that promise something delicious to please every palette.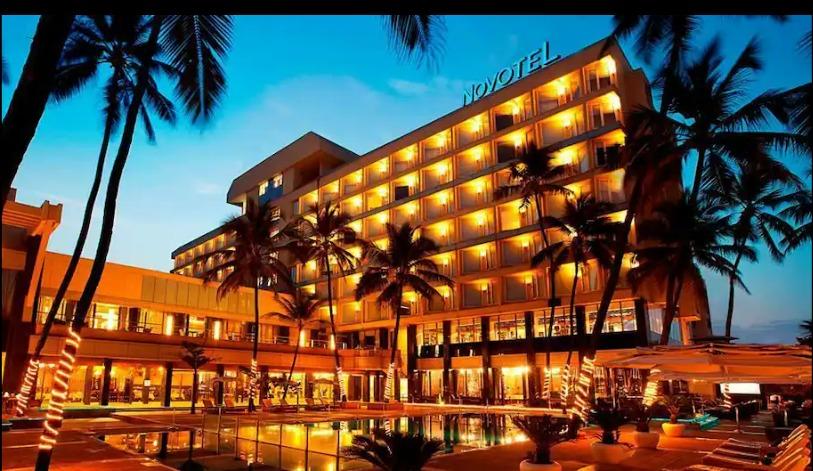 Novotel Mumbai Juhu Beach's rooms boast chic interiors that create an ideal setting for guests to unwind. But what truly sets it apart is Bageecha – an immensely popular seasonal poolside Indian restaurant offering delightful al fresco dining with breathtaking sea views as the backdrop. So whether you're seeking serenity or culinary adventure on the beachfront, Novotel Mumbai Juhu Beach promises an unforgettable experience for every guest.
7. SwaSwara, Gokarna
SwaSwara Wellness Retreat can be found on Gokarna's Om Beach and offers luxurious wellness experiences that pay homage to its scenic landscape. The property houses 24 Konkan villas made using local materials like laterite and coconut thatch; each villa provides an unique indoor/outdoor living experience, boasting open courtyards and partially open-to-sky bathrooms for optimal living experiences.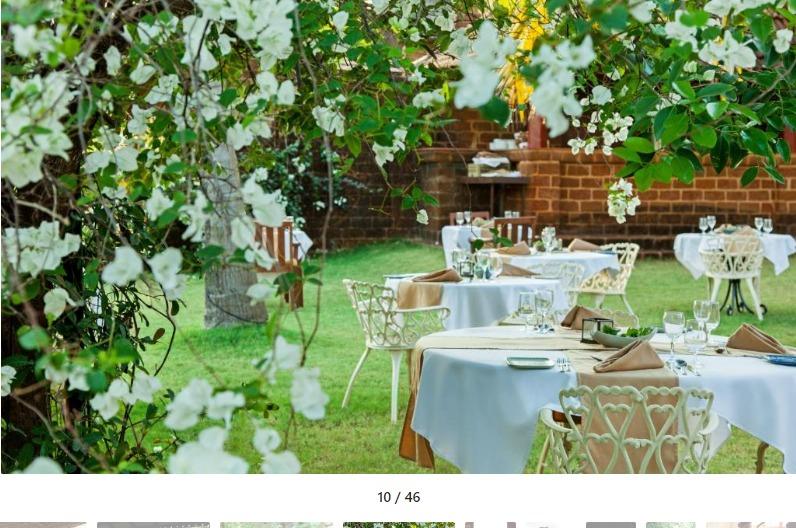 SwaSwara is widely known for its wellness programs that feature Hatha yoga and guided meditation sessions, nutritious cuisine, nature trails, bird watching tours, painting classes and cooking sessions. Their expert team also organizes nature trails, bird watching excursions, painting lessons and cooking demonstrations.
8. Ahilya By The Sea, Goa (Best Beach Resorts in India)
Showcasing Portuguese colonial architecture, this property houses three villas and an infinity pool within Goa's idyllic scenery. Managed by the Holkar royal family who own the resort, hospitality at this nine-key retreat was conceptualized and constructed by owner Leela Ellis for maximum visual impact.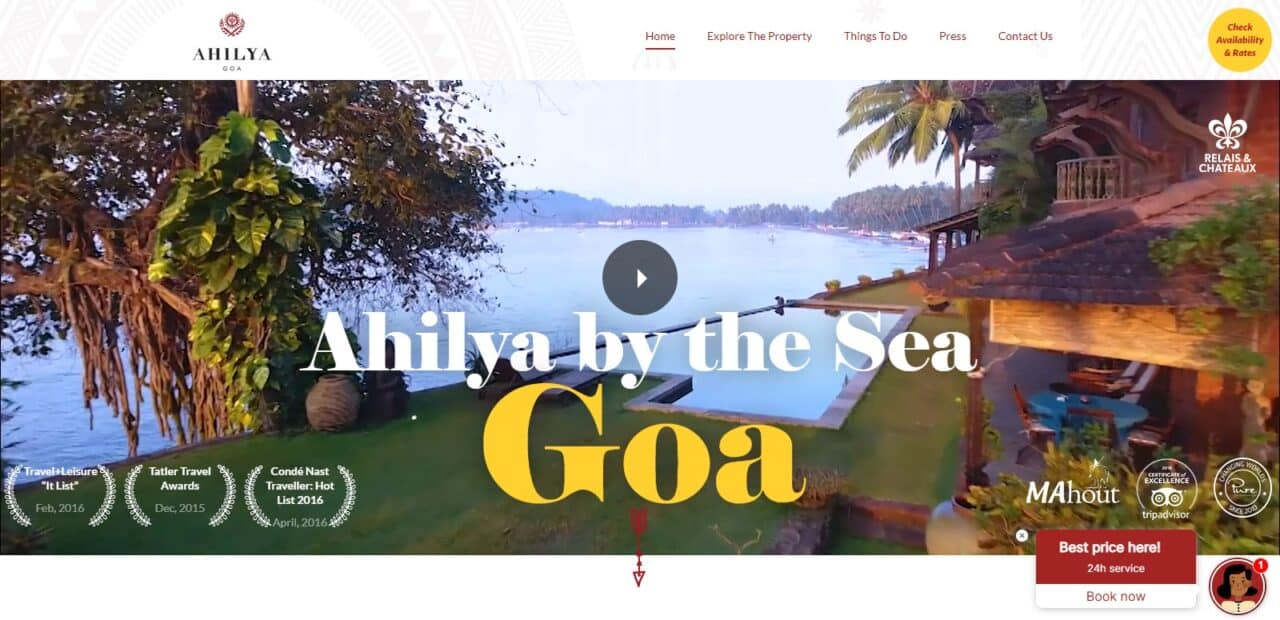 Ahilya By The Sea was designed in collaboration with internationally acclaimed designer Isla Maria 'Loulou' van Damme. Crafted with hand-cut red laterite stone from locally, it houses eclectic furniture and decor pieces from across the world. Recently, Ahilya By The Sea attracted great interest when featured prominently in Deepika Padukone's Gehraiyaan movie.
9. JW Marriott Juhu, Mumbai
The JW Marriott Mumbai Juhu hotel has long been a celebrity favorite and it's easy to see why: boasting 326 rooms and 29 suites, it provides travelers with ample space and style options for comfort and style. Multiple dining venues cater to various culinary preferences, while a well-equipped gym and spa provide relaxation and rejuvenation. Furthermore, this contemporary hotel features rooms that boast stunning views of its surroundings as well as beautifully appointed spaces that promise relaxation.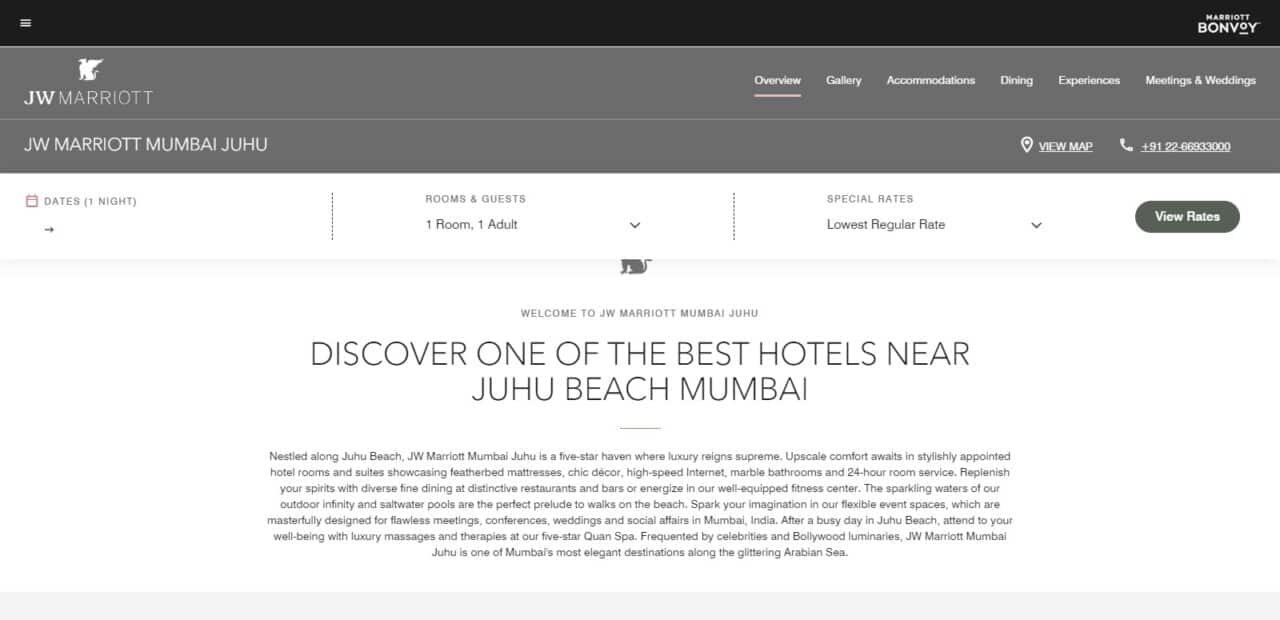 For an unforgettable experience, they recommend booking the sea-facing Sunset Suite of JW Marriott Mumbai Juhu, featuring spectacular vistas of the Arabian Sea. Additionally, guests can relax in Quan Spa or one of the three outdoor pools on property.
Dining options at JW Marriott Mumbai Juhu are equally outstanding, including stylish pan-Asian eatery Dashanzi and Saffron for delicious Indian fare; Lotus Cafe for an indulgent Sunday brunch experience and so on. Additionally, for an elite hotel experience the JW Marriott Mumbai Juhu offers lavish rooms designed for an unforgettable stay experience.
10. Taj Exotica Resort and Spa, Goa
Taj Exotica Resort and Spa, situated in Benaulim on Goa's southwest coast, features Mediterranean-inspired rooms and villas featuring tiled roofs, textured walls, an earthy colour scheme, as well as visually pleasing furnishings and features.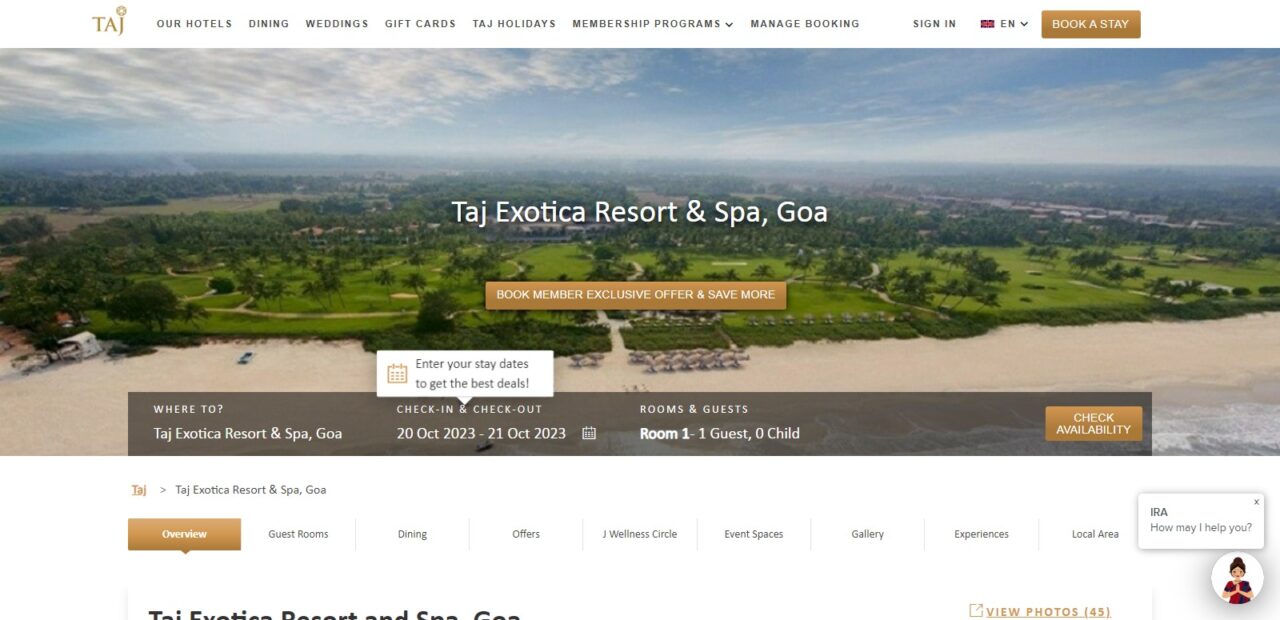 Lobster Village at this hotel's seasonal beachfront restaurant stands out for serving locally sourced seafood in an exquisite atmosphere. Additionally, their concierge can arrange excursions to bird sanctuaries, spice plantations and Goa's historic sites; plus we absolutely adore that this property is pet-friendly!
Best Beach Resorts in India Conclusion
Best Beach Resorts in India provide a diverse range of experiences, from the vibrant shores of Goa to Kerala's serene backwaters and Andaman and Nicobar Islands' exotic allure. These coastal havens cater to travelers of all tastes, offering unobstructed views of the Arabian Sea from luxurious accommodations, delectable cuisine and an abundance of activities suitable for every traveler.
These beach resorts provide the ideal destination for relaxation, adventure, or a combination of both – offering world-class amenities in stunning locations that guarantee every visit will be an enjoyable and rejuvenating escape.
Best Beach Resorts in India FAQ
What are some of the best beach resorts in India?
Some of the best beach resorts in India include Novotel Mumbai Juhu Beach, SaffronStays Ocean Pearl, and Niraamaya Retreats Surya Samudra, to name a few. These resorts offer a range of amenities and experiences for beach lovers.
What types of accommodations do these beach resorts offer?
Beach resorts in India typically offer a variety of accommodations, including rooms, suites, cottages, and villas. The choice often depends on the specific resort and your preferences.
Are these beach resorts suitable for families with children?
Yes, many of these beach resorts are family-friendly and provide facilities and activities for children, such as kids' clubs, play areas, and family-oriented entertainment
Do these resorts offer water sports and recreational activities?
Yes, many beach resorts in India offer water sports like snorkeling, scuba diving, and jet skiing. They also provide recreational activities such as yoga, spa treatments, and outdoor games.
Can I expect local cuisine at these beach resorts?
Absolutely. Most beach resorts offer a mix of local and international cuisine. You can savor delicious coastal dishes, seafood, and traditional Indian fare, as well as international options.
Are these resorts suitable for honeymooners or romantic getaways?
Yes, many of these beach resorts are perfect for honeymooners or couples looking for a romantic escape. They offer private, cozy accommodations and often have special packages for couples.