Best Crypto Demo Accounts For Trading are essential tools when it comes to learning cryptocurrency trading and familiarizing oneself with this emerging sector. Many platforms offer high-quality crypto demo accounts that allow traders to hone their skills without risking real funds. One prominent example is eToro, with its user-friendly interface and vast array of cryptocurrencies to trade using virtual funds.
Furthermore, its demo account enables traders to explore various trading strategies while also accessing real-time market data. Binance's "Binance Futures Testnet" demo platform enables users to simulate futures trading using virtual assets for an incredibly realistic trading experience. By taking advantage of one of these top crypto demo accounts, aspiring traders can gain invaluable insight, confidence, and strategies before entering live trading environments.
What is a Crypto Demo Account?
A cryptocurrency demo account, also referred to as virtual or simulated trading account, is a service provided by cryptocurrency trading platforms that enables users to practice trading without using real money. Simulation of trading environments and virtual funds provide users with the means to make trades and test various strategies.
Simply, demo trading provides traders, both novice and veteran alike, with an ideal opportunity to familiarize themselves with the platform features, explore various cryptocurrencies, and gain hands-on trading experience without risk.
Crypto demo accounts offer realistic trading conditions without actual financial risk, offering the ideal place for learning and building confidence before embarking on real trading with real funds. They are an invaluable way of building knowledge.
Here Is List Of Best Crypto Demo Accounts For Trading in 2023
Coinbase
Swyftx
eToro
TradingView
Binance
Plus500
Bitmart
OKX
Phemex
Bitsgap
Kraken
KuCoin
12 Best Crypto Demo Accounts For Trading in 2023
1. Coinbase
Coinbase is one of the world's best-known and widely utilized cryptocurrency exchanges, having launched in 2012. Based in the US, Coinbase provides an easy platform for purchasing, selling, storing and transacting various cryptocurrencies. The exchange provides support for popular coins like Bitcoin, Ethereum and Litecoin as well as various digital assets.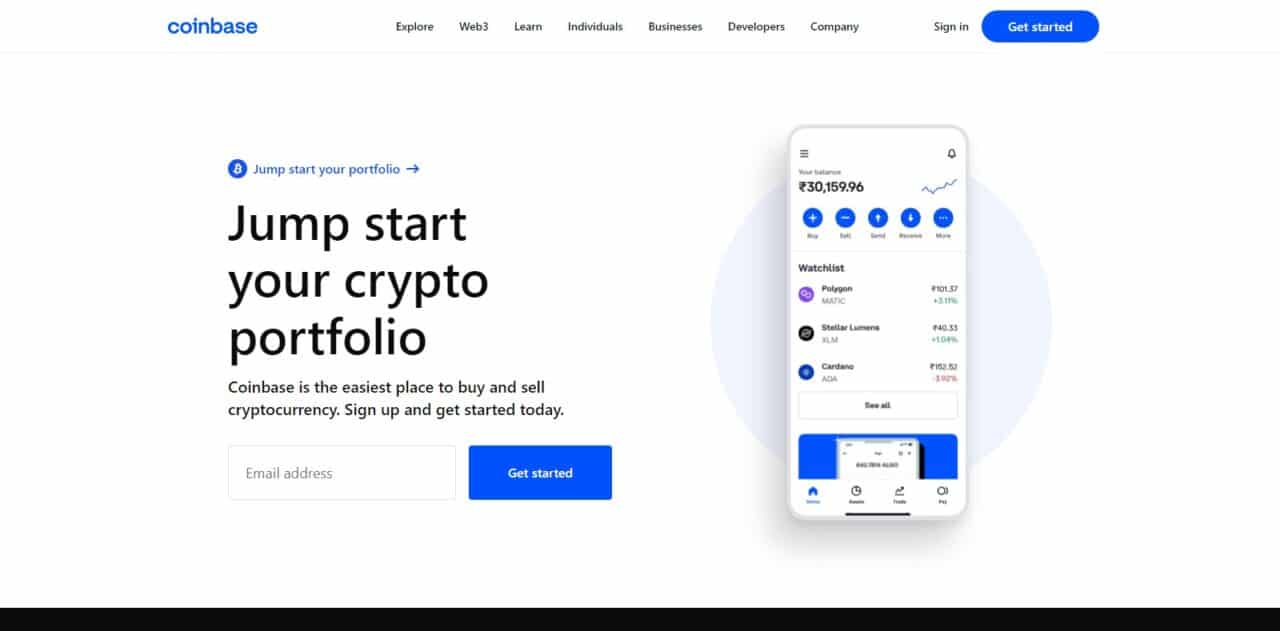 Coinbase's user-friendly platform caters to both novices and more experienced traders with features like Coinbase Pro – an advanced trading platform. Security is of utmost importance on this platform, which places most user funds in cold storage facilities and follows industry-standard security practices.
Coinbase also offers additional services, such as Coinbase Wallet for securely storing cryptocurrencies and Coinbase Earn, which allows users to earn crypto by completing educational tasks. Due to its easy interface and comprehensive service offering, Coinbase is becoming the platform of choice for individuals and institutions looking to enter the world of cryptocurrencies.
2. Swyftx (Best Crypto Demo Accounts For Trading)
Swyftx, established in Australia in 2017, provides a user-friendly cryptocurrency exchange and trading platform with advanced features for novice traders as well as more experienced traders alike. Swyftx provides access to an expansive portfolio of cryptocurrencies for trading, from major coins and altcoins, all the way down to lesser-known coins like P2P tokens.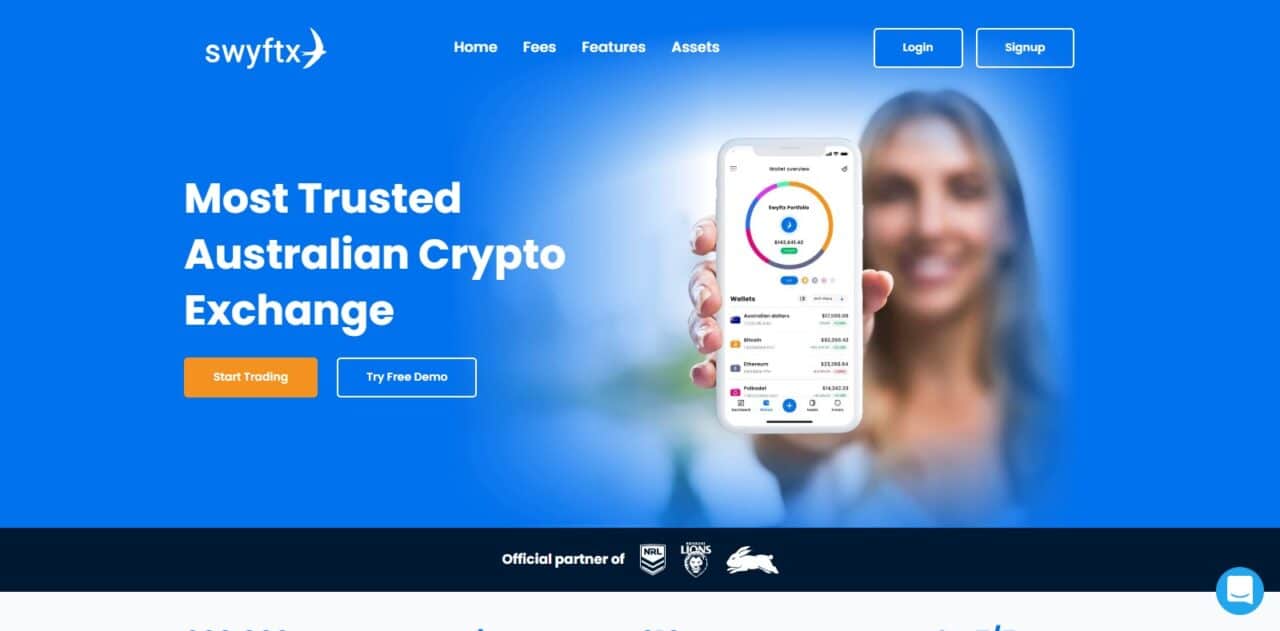 Their platform's intuitive and seamless user interface make purchasing, selling and trading crypto easy and straightforward. Swyftx provides features such as instant deposits and withdrawals in Australian Dollars (AUDs), low fees, advanced charting tools, mobile app trading access, two-factor authentication measures and cold storage of funds – making for seamless trading on-the-go. Security is of course paramount.
Swyftx provides exceptional customer support and educational resources to assist users with navigating the world of cryptocurrency trading. Thanks to its user-centric design and comprehensive features, it has quickly gained popularity among Australian cryptocurrency traders.
3. eToro
eToro, established in 2007, is an innovative social trading and multi-asset brokerage platform designed for both seasoned traders and novices. Thanks to their revolutionary platform design, eToro seamlessly connects traditional financial markets with cryptocurrency trading – offering traders of all experience levels access.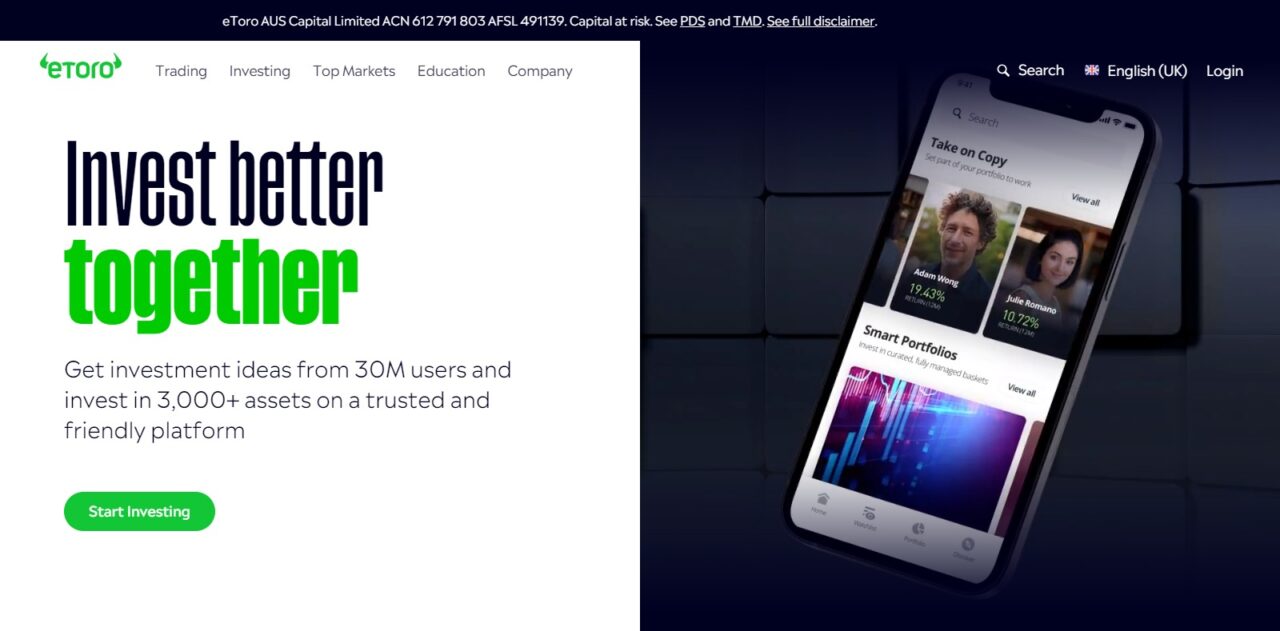 eToro provides users with an easy to use platform and various features, including social trading where users can follow and copy successful traders' trades. Furthermore, access is granted to stocks, cryptocurrency trading assets, commodities trading assets and much more! eToro offers an exclusive feature called "CopyPortfolios," allowing users to invest in pre-constructed portfolios managed by experts.
Furthermore, user security is put first at eToro with regulatory oversight and advanced encryption measures in place to protect users. Due to its range of assets and social trading features as well as focus on user experience, eToro continues to attract traders looking for an all-encompassing trading platform.
4. TradingView (Best Crypto Demo Accounts For Trading)
TradingView is an internationally popular online platform for charting and analyzing financial markets. Since its release in 2011, it has become the go-to tool of traders and investors globally. TradingView provides an expansive set of features, such as interactive charts and technical analysis tools as well as an expansive library of indicators.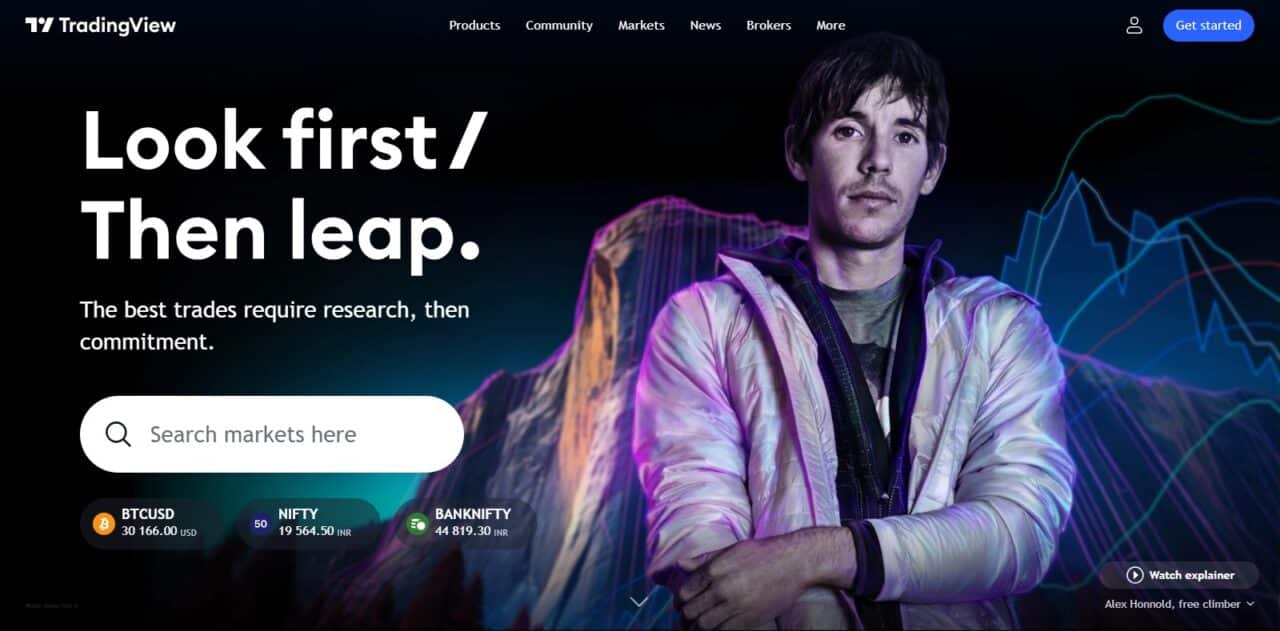 Customizable charts allow users to draw trendlines, apply various chart patterns and gain real-time market data across a wide variety of asset classes such as stocks, cryptocurrencies, forex and more. TradingView allows users to collaborate and exchange ideas with fellow traders while accessing an active community where market insights and strategies are discussed.
TradingView can be found both through web browsers as well as mobile applications for on-the-go analysis. Thanks to its user-friendly interface, extensive charting capabilities, and vibrant community support network, TradingView is a valuable asset for traders making informed decisions while staying current with financial markets.
5. Binance
Binance is one of the world's largest and most-recognized cryptocurrency exchanges, established by Changpeng Zhao in 2017 to offer an extensive range of cryptocurrencies at highly competitive trading fees and with robust platform features. Binance offers a user-friendly platform and supports an array of trading options ranging from spot trading, margin trading and futures trading – not to mention access to an abundance of cryptocurrency coins from major to lesser-known tokens.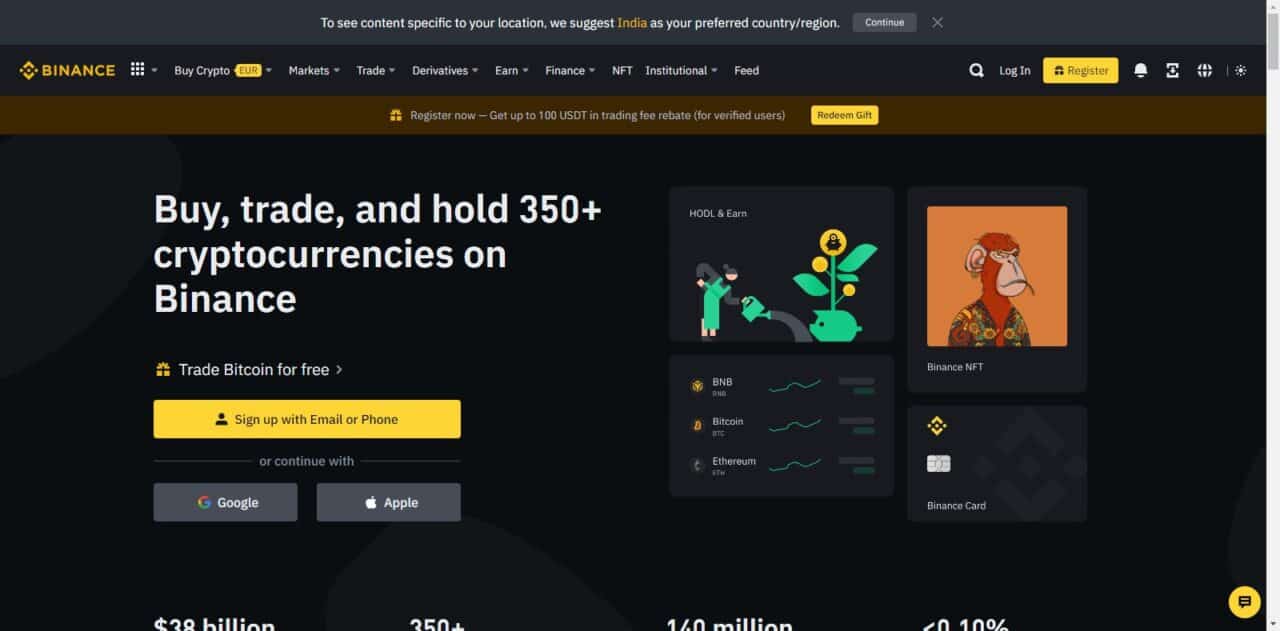 Binance is well known for its deep liquidity pool and quick order execution speeds, making it appealing to both retail traders and institutional traders. Binance provides various services and products, including its decentralized exchange (Binance DEX), staking, lending and its native token (BNB), which offers reduced trading fees. With its strong track record, extensive features and commitment to security, Binance remains a leading force in cryptocurrency trading landscape.
6. Plus500 (Best Crypto Demo Accounts For Trading)
Plus500 is an established online trading platform, enabling its users to trade a wide range of financial instruments such as cryptocurrencies, stocks, indices, commodities and more. Plus500 was established in 2008 and headquartered in Israel, making it an internationally trusted platform.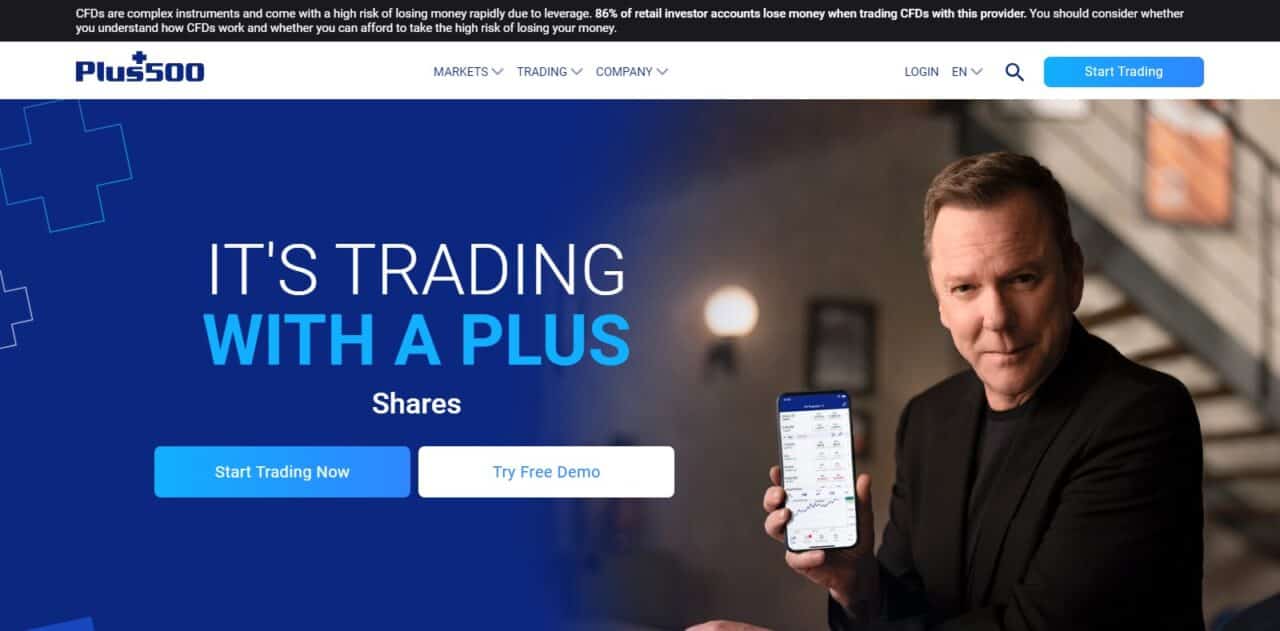 Plus500 offers an intuitive user-interface that is accessible to traders with all experience levels. Plus500 offers advanced charting tools, real-time market data, and risk management features that enable traders to make informed trading decisions.
Plus500 also provides a demo account option, so users can test out trading strategies without risking real money. With its wide array of tradable assets and regulatory compliance capabilities as well as intuitive interface, Plus500 continues to be the go-to choice for traders seeking an all-encompassing online trading experience.
7. Bitmart
Bitmart, established in 2017, offers users a secure and efficient cryptocurrency trading experience based in Cayman Islands. Their selection includes both popular coins as well as newer tokens for trading. Bitmart provides spot trading, margin trading and futures trading platforms aimed at meeting traders of all preferences.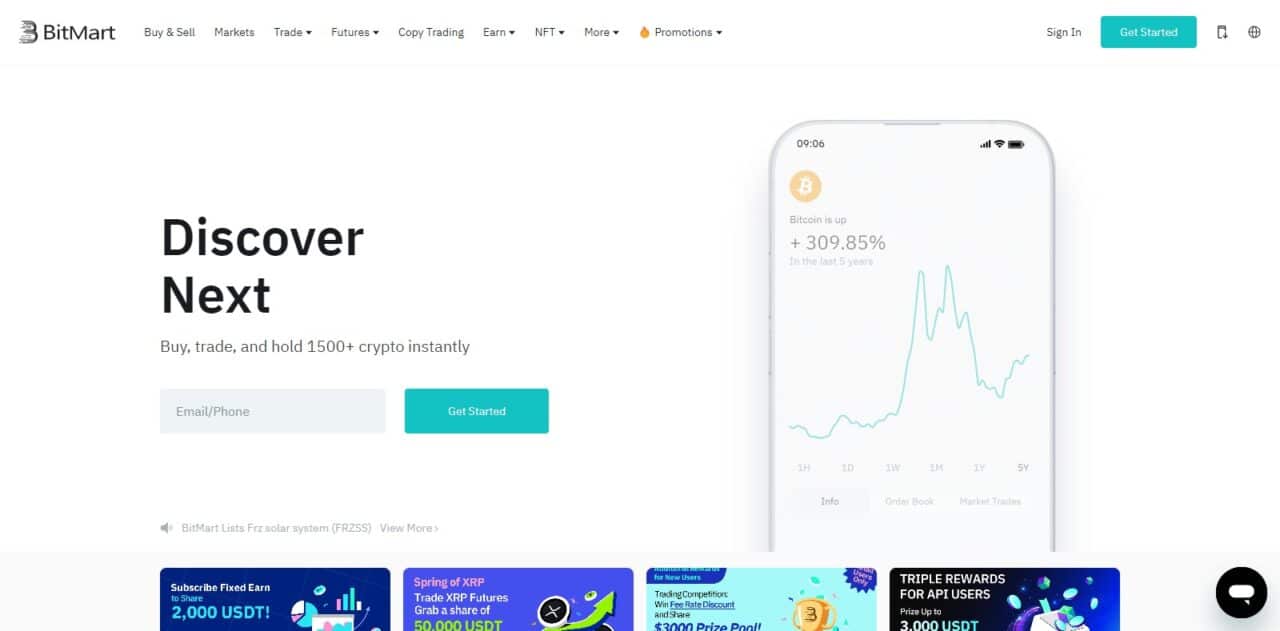 Their user-friendly interface makes the platform accessible even to novice traders. Bitmart provides features like instant buy/sell, advanced charting tools, and real-time market data to assist users in making informed trading decisions.
Furthermore, they place strong emphasis on security with measures such as cold storage, two-factor authentication, and regular security audits – making Bitmart one of the top cryptocurrency exchanges within its industry. With its comprehensive features, wide variety of cryptocurrencies offered and dedication to security measures – Bitmart has become a notable cryptocurrency exchange.
8. OKX (Best Crypto Demo Accounts For Trading)
OKX was launched in 2017 as an innovative cryptocurrency exchange offering an extensive range of trading services and features. Based in Malta, OKX provides users with access to major coins as well as emerging tokens. OKX offers spot, futures and options trading to accommodate traders with diverse strategies and risk profiles.
OKX's advanced trading features such as margin trading, algorithmic trading and an API that facilitates seamless connectivity to external trading tools make the platform attractive to traders of varying profiles and strategies. Emphasis is given to user safety through implementation of stringent security measures such as cold storage, multi-factor authentication and regular audits.
OKX provides users with a user-friendly experience and access to comprehensive trading tools, real-time market data and educational resources. Thanks to its broad selection of cryptocurrencies and wide trading options as well as its unwavering commitment to security, OKX remains an outstanding presence within the cryptocurrency exchange landscape.
9. Phemex
Phemex, established in 2019, is an innovative cryptocurrency derivatives exchange offering advanced trading features and products tailored specifically for professional and retail traders alike. Phemex provides traders with access to an array of cryptocurrency derivatives, such as perpetual contracts, futures contracts and options contracts.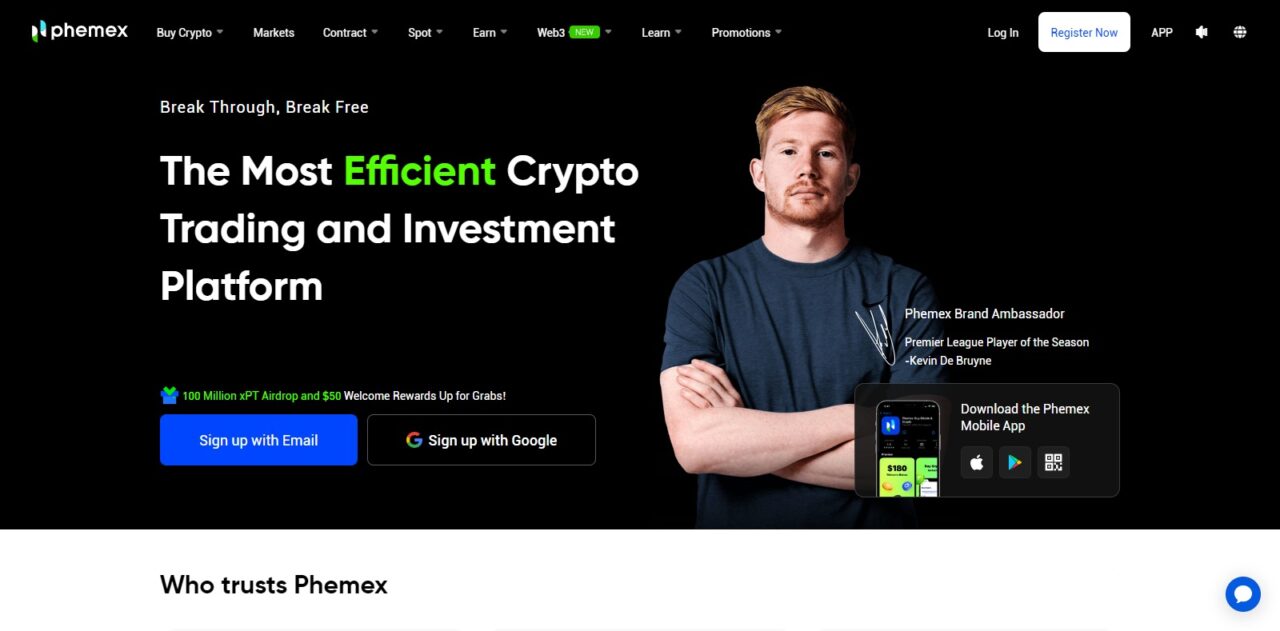 Its lightning-fast trading engine enables high liquidity with low latency trading conditions. Phemex provides competitive trading fees and supports an expansive list of cryptocurrencies for trading.
Furthermore, the platform prioritizes security measures like cold storage and multi-factor authentication to protect user funds. Thanks to its user-friendly interface, robust trading features, and strong commitment to user funds protection, Phemex has established itself as a trustworthy choice among traders looking for cryptocurrency derivatives trading.
10. Bitsgap (Best Crypto Demo Accounts For Trading)
Bitsgap is a comprehensive cryptocurrency trading platform offering traders with tools and features designed to optimize their strategies. Established in 2018, this cryptocurrency trading platform aims to streamline the trading experience by connecting to multiple exchanges through one interface.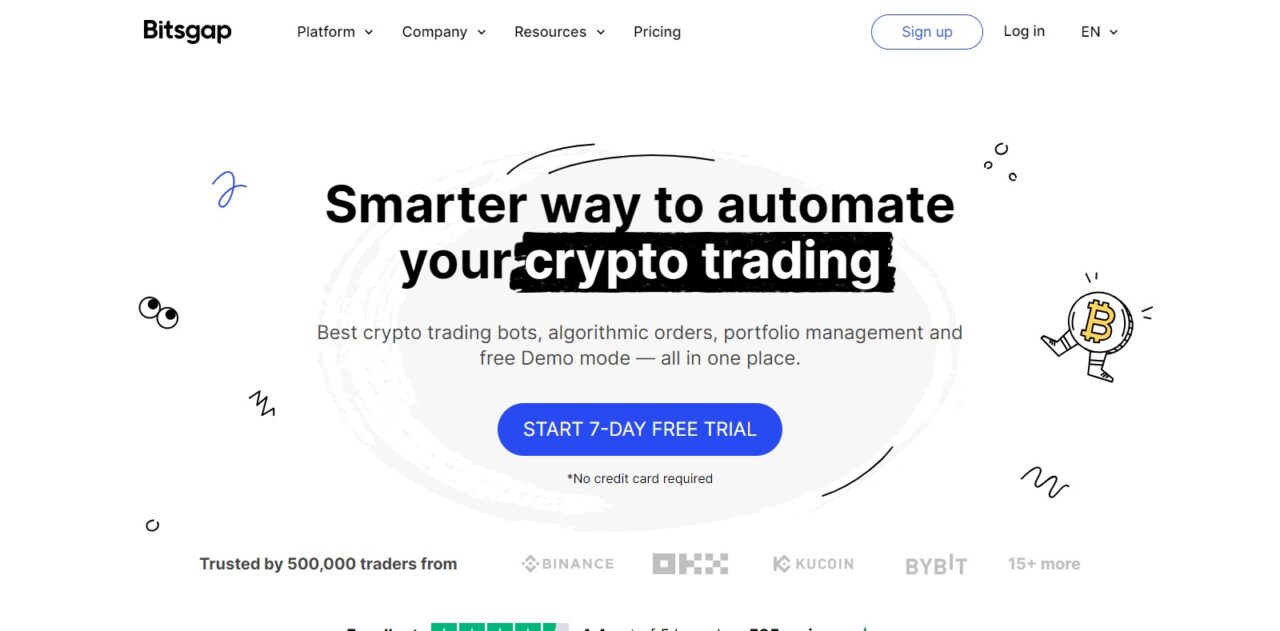 This platform offers features like automated trading bots, portfolio management tools, arbitrage trading capabilities and backtesting features that allow traders to execute trades seamlessly across different exchanges while capitalizing on price discrepancies for maximum profit.
Bitsgap provides real-time market data, advanced charting tools, and trading signals to assist users in making informed decisions. Bitsgap's user-friendly interface and robust set of features make it suitable for both novice and seasoned traders, helping them streamline their trading activities and potentially increase profitability in the volatile world of cryptocurrency trading.
11. Kraken
Kraken is an acclaimed cryptocurrency exchange founded in 2011 and headquartered in the US. Known for its stringent security measures, advanced trading features, and extensive selection of supported cryptocurrencies; Kraken stands out among competitors for being secure, advanced trading features and its diverse cryptocurrency support portfolio.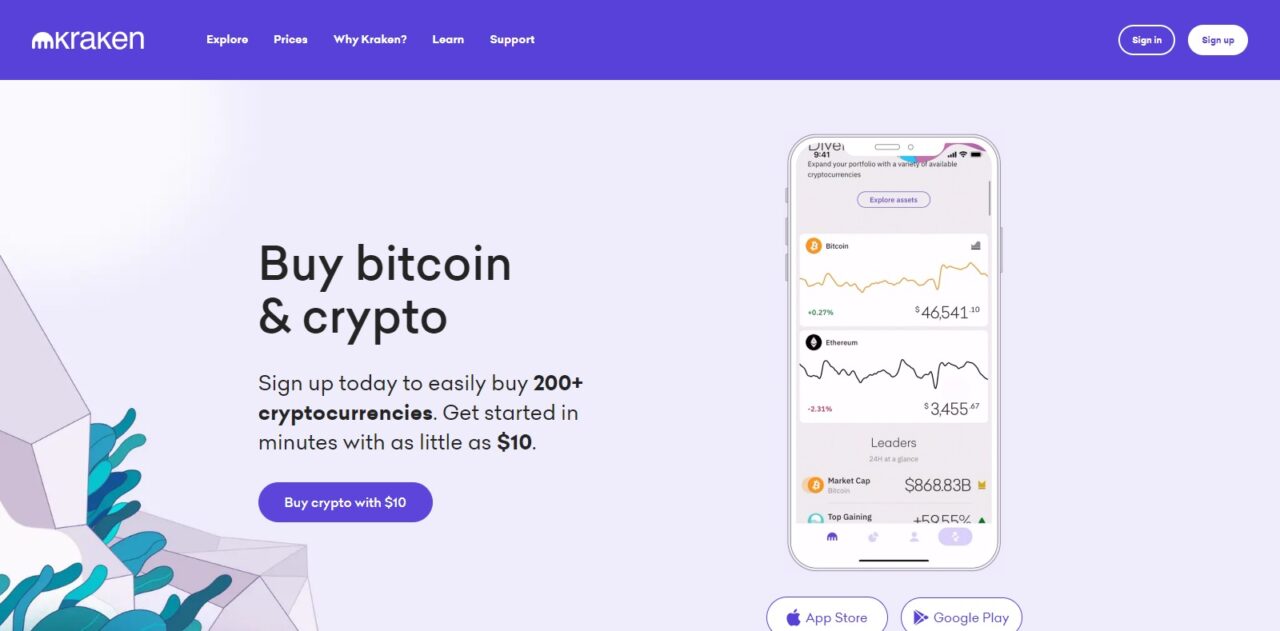 Kraken provides an intuitive trading interface and strong compliance requirements, making it attractive to both individual traders and institutional investors. This platform offers various trading options, such as spot trading, margin trading and futures trading – to meet the diverse trading strategies and risk preferences of traders. Kraken places great emphasis on security, utilizing methods such as cold storage, two-factor authentication, and strong encryption protocols.
Kraken exchange offers an outstanding user experience with features like fast deposits and withdrawals, access to educational resources, market analysis tools and market surveillance capabilities. As one of the premier cryptocurrency trading platforms worldwide, it remains popular choice among crypto traders globally.
12. KuCoin (Best Crypto Demo Accounts For Trading)
KuCoin is an established cryptocurrency exchange established in 2017. Based in Seychelles, this platform provides traders with access to an expansive selection of cryptocurrencies ranging from well-known coins like bitcoin to new tokens that may emerge.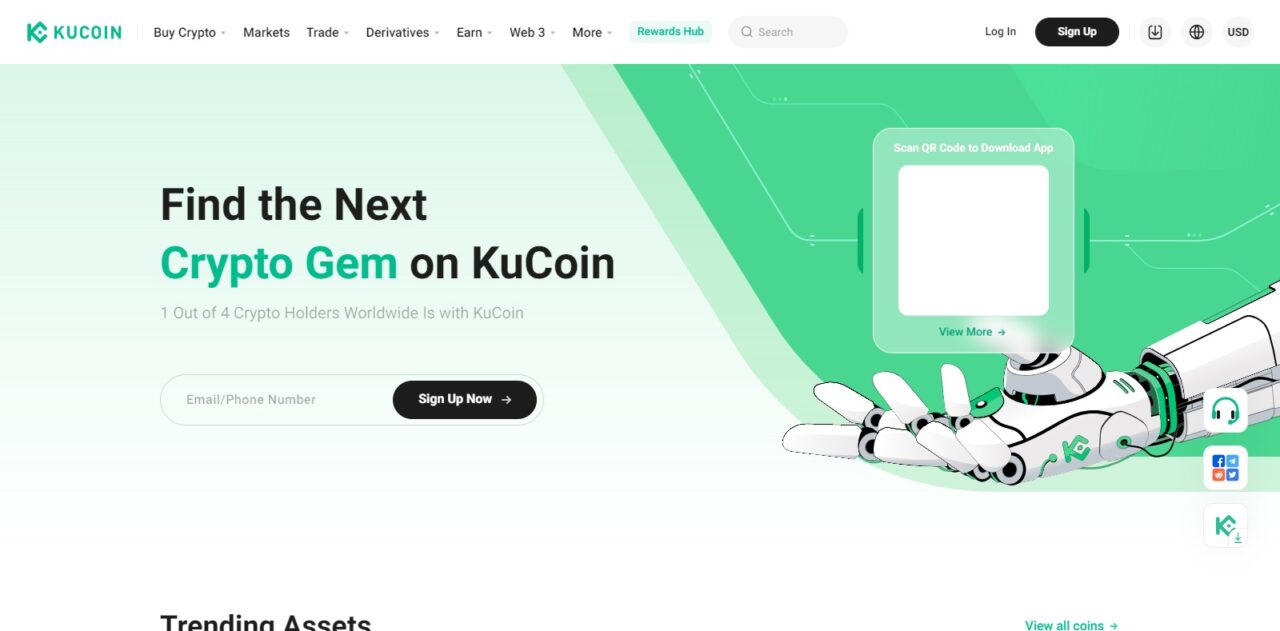 KuCoin provides both novice and experienced traders with an intuitive trading platform designed for maximum ease and safety, employing multiple security measures including two-factor authentication and encryption to provide a secure trading environment. KuCoin provides additional services like staking and lending to help users earn passive income from their crypto holdings.
KuCoin's native token, KuCoin Shares (KCS), provides benefits like reduced trading fees and bonus rewards to users of this exchange. Overall, KuCoin has earned itself a place as a reliable exchange in the cryptocurrency industry by providing comprehensive trading experiences to its customers.
How should choose a demo crypto trading account?
When selecting a demo crypto trading account, there are various factors you should keep in mind to ensure you find one best suited to your needs. Here are a few key considerations:
Reputation of Platform: When selecting a crypto trading platform, select one with an excellent reputation in terms of security, reliability and customer support. Make sure there are reviews available as well as user feedback so you can assess a demo account provided by them before signing up with their demo service.
Looking for an Ideal Trading Environment: Ideally, look for a demo account that best represents the reality of trading by providing access to real-time or historical market data, realistic trading fees and an array of cryptocurrencies to trade.
User Interface and Features: Carefully evaluate the user interface of a demo account to make sure it's intuitive, user-friendly and provides essential trading features such as order types, charting tools and risk management options.
Educational Resources: Be sure that the demo account offers educational materials like tutorials, guides or webinars to assist in your understanding and advancement of cryptocurrency trading.
Time Limit and Flexibility: Consider the duration and flexibility of using a demo account before choosing one to use. Some platforms impose time restrictions while others give unrestricted access – choose one which gives you enough time for practice and confidence building.
Customer Support: Make sure the platform offers responsive and effective customer support if any issues arise while using its demo account.
Transition into Live Trading: If your goal is to transition from demo trading into live trading at some point in the future, make sure that the platform provides seamless transition from your demo account into your live account.
By taking into account these factors, you can select a demo crypto trading account that aligns with your trading goals while offering an immersive learning experience.
Conclusion
In conclusion, after careful consideration of various factors, three standout options for the best crypto demo accounts in trading are Kraken Trading, Kraken Exchange, and DEF Trading Platform.
Kraken Trading offers a user-friendly interface and a wide range of cryptocurrencies, allowing traders to gain hands-on experience in a diverse market. The availability of real-time market data enhances the trading experience and helps users make informed decisions. Additionally, Kraken Trading provides comprehensive educational resources, empowering traders to expand their knowledge and improve their trading strategies.
Overall, Kraken Trading, Kraken Exchange and DEF Trading Platform offer impressive crypto demo accounts with their own distinct features and advantages for traders looking to test out strategies or sharpen skills without risk. By taking advantage of the best crypto demo accounts available today, traders can increase their chances of success when transitioning into live trading in this ever-evolving cryptocurrency world.