Best Crypto Exchange Mobile App The best crypto exchange mobile app offers a seamless and user-friendly experience for traders and investors in the world of cryptocurrencies. It combines a sleek and intuitive interface with robust security features to ensure the safety of users' digital assets. This app typically provides real-time market data, advanced charting tools, and a wide range of cryptocurrency trading pairs, allowing users to make informed decisions on the go.
Furthermore, it often supports features like instant deposits and withdrawals, enabling quick and convenient access to funds. With excellent customer support and regular updates to adapt to the evolving crypto landscape, the best crypto exchange mobile app serves as an essential tool for anyone looking to engage in cryptocurrency trading and investment while on the move.
What is Crypto Exchange ?
A cryptocurrency exchange is a digital platform that facilitates the buying and selling of digital assets such as Bitcoin, Ethereum and others. An exchange acts as an intermediary to connect buyers and sellers in the cryptocurrency market, enabling users to exchange fiat currency such as USD, EUR or JPY for cryptocurrency or trade one cryptocurrency for another.
Crypto exchanges come in several varieties, from centralized exchanges (CEXs) run by centralized entities that require users to trust them with their funds to decentralized exchanges (DEXs) that use blockchain technology and offer greater privacy and control, but may require users to go through an onboarding process before becoming fully functional. Both types play an essential part in the cryptocurrency ecosystem by offering liquidity, price discovery, and accessibility for individuals and institutions looking to participate in digital assets.
Here is list of Best Crypto Exchange Mobile App
Mudrex
WazirX
Binance 
CoinSwitch Kuber
Zebpay 
Unocoin 
CoinDCX
7 Best Crypto Exchange Mobile App
1. Mudrex
Mudrex is a well-established cryptocurrency trading platform offering an array of tools and services designed to simplify and automate the trading process for cryptocurrency trading. Mudrex was established in 2018 and quickly earned widespread praise for its user-friendly interface and powerful algorithmic trading capabilities. It allows both novice traders and experienced ones alike to create, test, and deploy trading bots without relying on programming knowledge for implementation.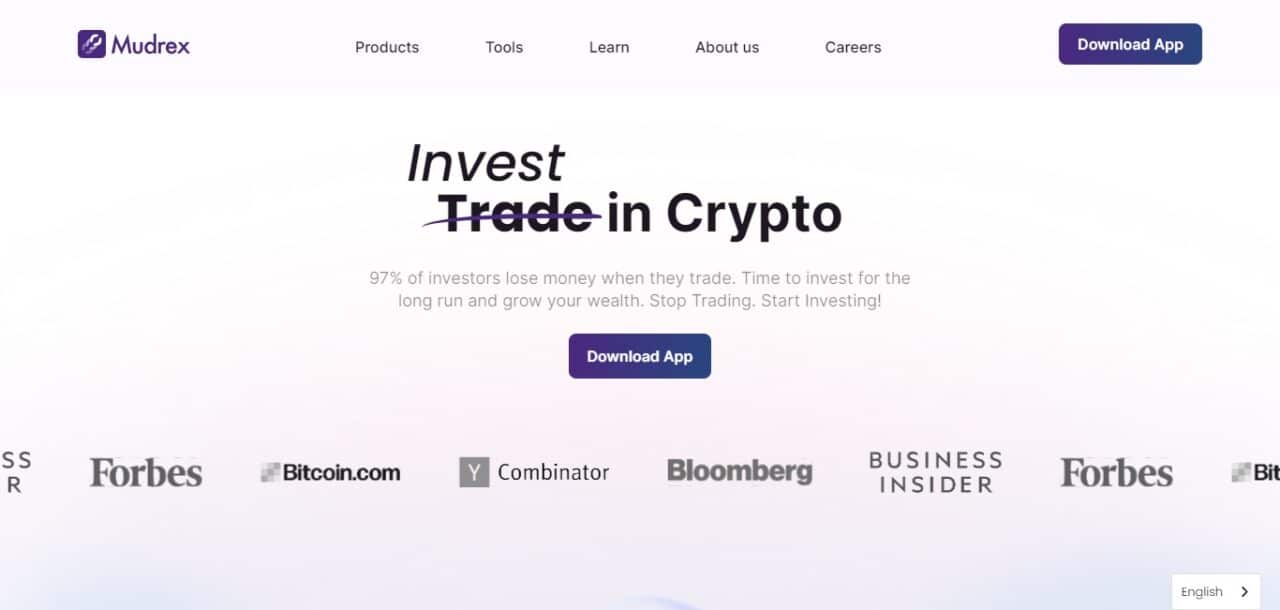 This platform gives users access to an extensive array of trading strategies and indicators, enabling them to diversify their portfolios while managing risk effectively. Mudrex provides traders with a marketplace where they can buy and sell trading strategies, creating an inclusive community within cryptocurrency trading. Emphasizing security and transparency, Mudrex has quickly become an indispensable resource for those seeking to automate their crypto trading strategies and maximize investment returns.
2. WazirX (Best Crypto Exchange Mobile App)
WazirX, an established cryptocurrency exchange based in India, is well known for facilitating the buying and selling of various digital assets. WazirX was established in 2018 and quickly emerged as a leading cryptocurrency platform, offering users with an intuitive user experience and access to an expansive selection of cryptocurrencies to trade.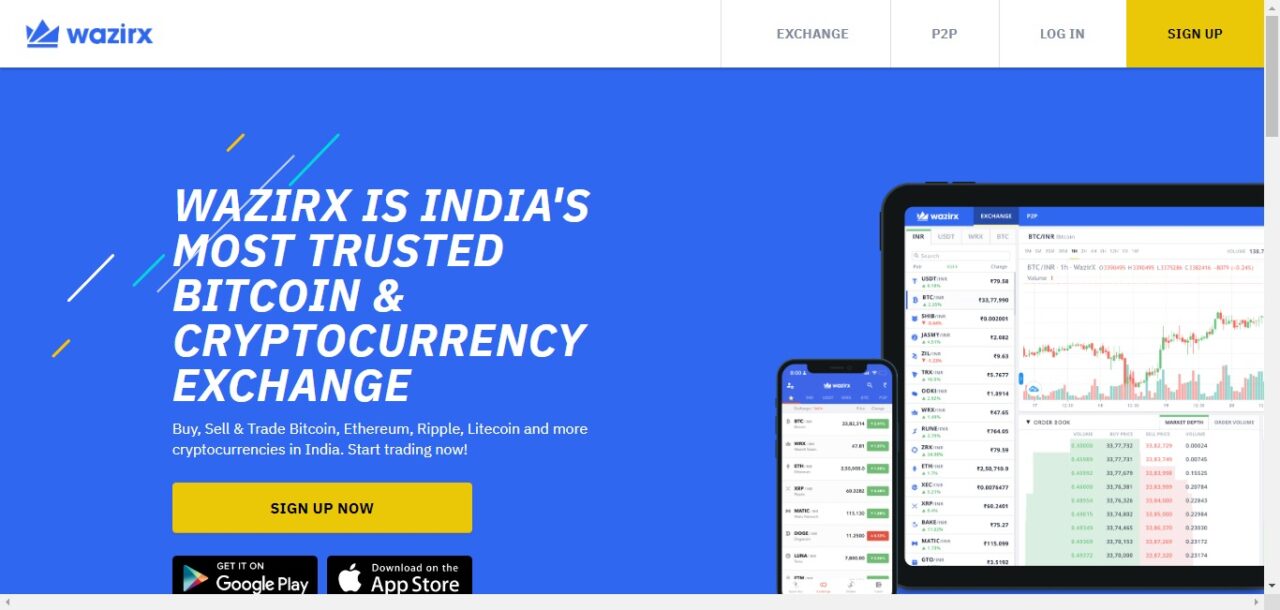 Binance exchange offers many features for trading cryptocurrency and tokens, such as spot trading, futures trading, staking, and an exclusive token called WRX. One standout feature is their integration with Binance that allows users to seamlessly transfer funds between platforms.
WazirX has played an instrumental role in India's surge in enthusiasm for cryptocurrency and blockchain technology, and continues to offer innovative solutions that meet user demands while adhering to evolving regulatory standards in this space.
3. Binance 
Binance is one of the world's premier cryptocurrency exchanges, known for their wide array of digital asset services. Established by Changpeng Zhao in 2017, Binance quickly rose to become an industry-wide force within months. Binance Exchange provides various services, such as spot trading, futures and options trading, staking, lending and its own cryptocurrency known as Binance Coin (BNB).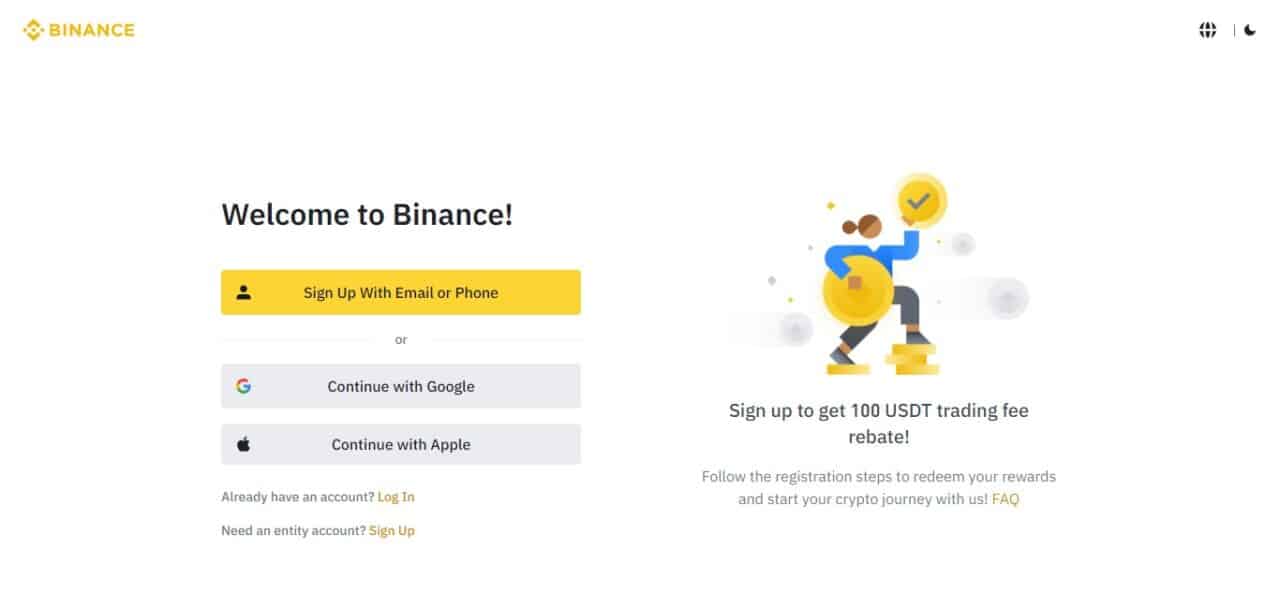 Binance is renowned for its secure platform and extensive selection of cryptocurrencies, making it an attractive option for both novice and veteran traders alike. Binance's Smart Chain (BSC), launched by the exchange, has become an influential blockchain network capable of hosting decentralized applications (DApps) and DeFi projects.
Binance's global reach, commitment to innovation and continuous efforts to expand services have solidified their place as one of the premier players in cryptocurrencies and blockchain technology.
4. CoinSwitch Kuber (Best Crypto Exchange Mobile App)
CoinSwitch Kuber is an immensely popular cryptocurrency exchange platform in India that provides users with an accessible way to purchase, sell and trade a range of cryptocurrencies. CoinSwitch Kuber quickly gained prominence in India's crypto market following its introduction in 2020 due to its user-friendly mobile app and support of multiple digital assets – such as Bitcoin, Ethereum, Ripple and beyond.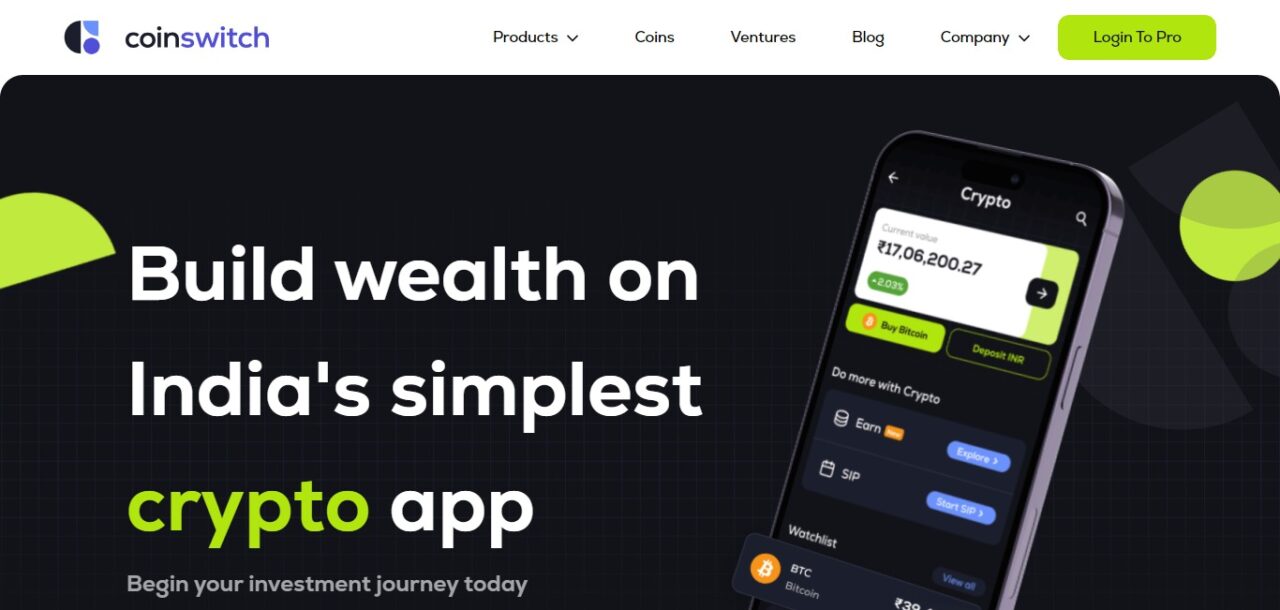 This platform aims to ease the onboarding process for new cryptocurrency enthusiasts by offering an intuitive user interface, making trading effortless for them. CoinSwitch Kuber also provides real-time market data, educational resources, and customer support to assist users in making well-informed investments decisions.
CoinSwitch Kuber's commitment to security and compliance with Indian regulations have made it a popular choice for individuals looking to enter the cryptocurrency sector in India, and continues to play a pivotal role in increasing crypto adoption and accessibility within India.
5. Zebpay 
ZebPay, founded in 2014 and operating out of India initially, quickly rose to prominence within its target market of Indian cryptocurrencies. Being one of the early pioneers in providing an easy and convenient platform for buying, selling, and trading cryptocurrencies was certainly pioneering work at that time.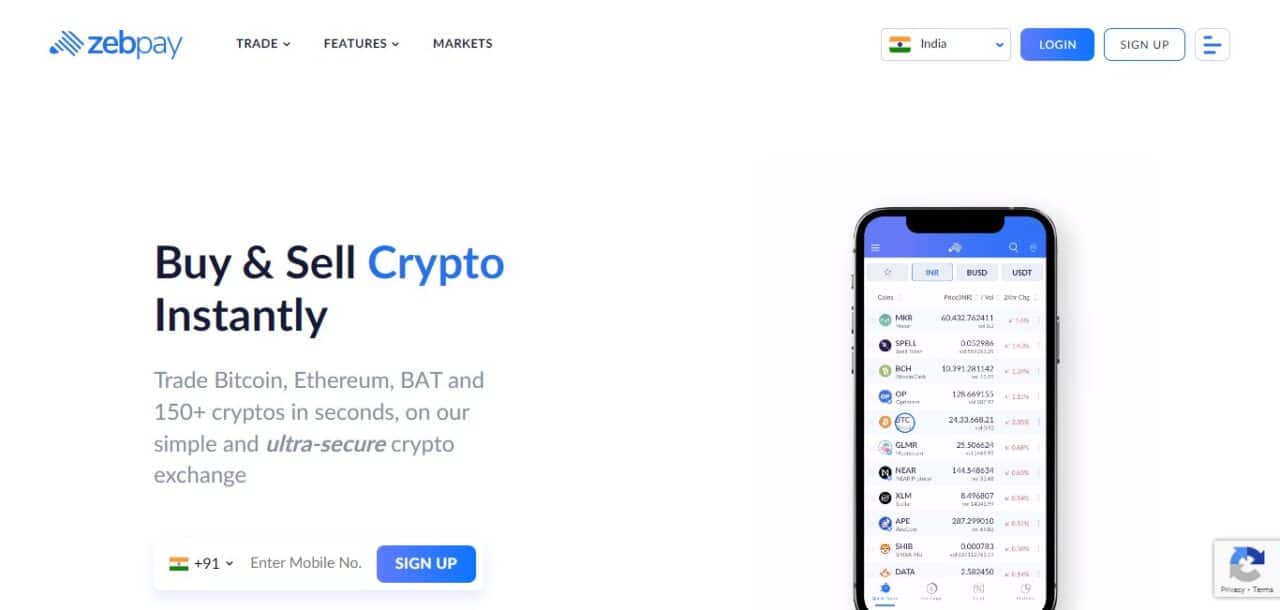 ZebPay provides an intuitive mobile app, making it simple for users to gain access to digital assets on-the-go. ZebPay initially started operations in India but has since expanded their services to cater to a global audience, providing access to various cryptocurrencies like Bitcoin, Ethereum and Ripple.
ZebPay prioritizes security, compliance and user education to provide a secure trading environment for both novices and seasoned traders alike. Their contributions have helped shape India's and beyond's cryptocurrency scene significantly while providing reliable platforms that support participation by both newcomers and established traders in cryptocurrencies' world.
6. Unocoin (Best Crypto Exchange Mobile App)
Unocoin is a cryptocurrency exchange and blockchain services provider, having played an instrumental part in the growth of digital currencies in India since 2013. Established in 2013, Unocoin stands as one of the longest-standing platforms available today in this regard. Unocoin specializes exclusively in Bitcoin, providing users with an accessible platform for buying, selling and storing it securely.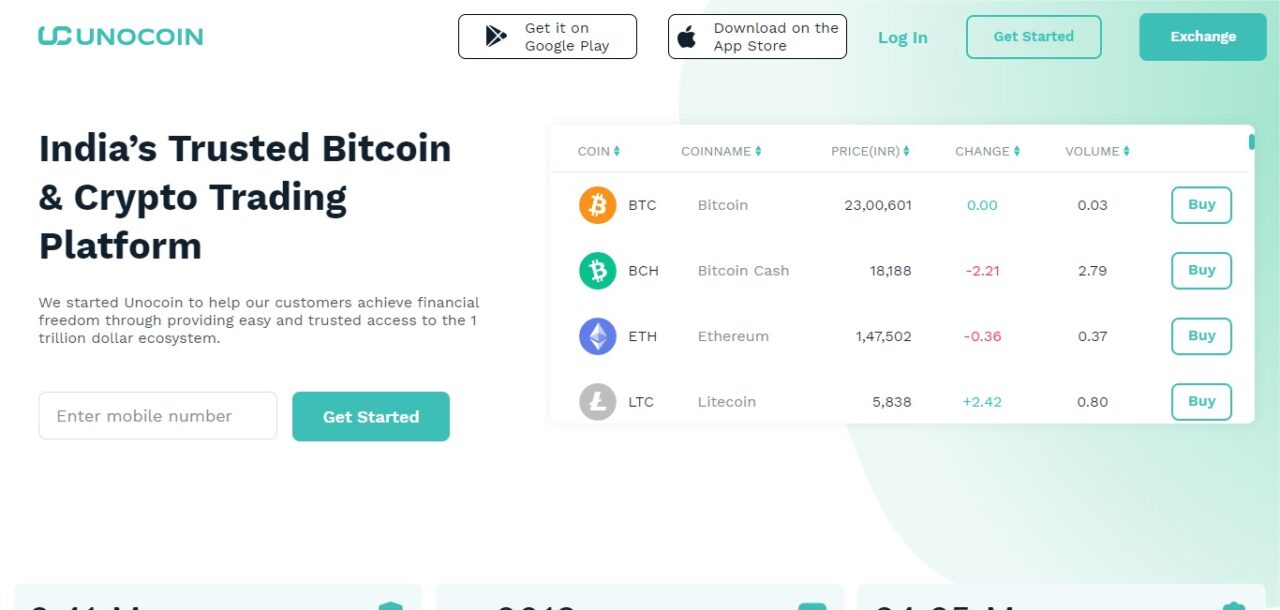 Unocoin has played an instrumental role in introducing Indians to cryptocurrency. Unocoin offers both mobile app and web-based platforms for its users to easily access digital currency services. Unocoin has also expanded its offerings with services such as systematic investment plans (SIPs) in Bitcoin, lending, merchant services and SIPs in order to meet users' various crypto needs.
Despite regulatory challenges within India's crypto space, Unocoin remains an invaluable and trusted platform for crypto enthusiasts, helping further establish cryptocurrency ecosystems within India.
7. CoinDCX
CoinDCX is one of India's leading cryptocurrency exchange platforms, known for its user-friendly services in the digital asset space. CoinDCX quickly established itself as one of India's premier cryptocurrency platforms upon its debut in 2018. Offering an array of features tailored specifically for new traders as well as experienced ones, CoinDCX quickly rose to become a key component in India's cryptocurrency scene.
The platform provides access to an expansive selection of cryptocurrencies for trading, including Bitcoin, Ethereum, and numerous altcoins paired with Indian rupees (INR), making trading accessible and hassle-free for Indian users. CoinDCX places great emphasis on security, employing advanced encryption and safety measures to safeguard user funds.
CoinDCX provides traders with various trading tools, educational resources, and an intuitive mobile app in order to help make informed investment decisions. Their commitment to complying with Indian regulations while encouraging crypto adoption has made CoinDCX a key player in India's emerging cryptocurrency industry and contributed significantly towards mainstream acceptance of digital assets across India.
Best Crypto Exchange Mobile App Conclution
Conclusion The ideal crypto exchange mobile app serves as an indispensable resource for traders and investors to navigate the ever-evolving world of cryptocurrencies. Combining user-friendly interfaces with robust security measures for an effortless trading experience. These apps provide access to real-time market data, advanced charting tools and various cryptocurrency trading pairs so users can make informed decisions while on the move.
Furthermore, they typically offer instant deposits and withdrawals, giving users easy and rapid access to funds. Customers looking to participate in cryptocurrency trading and investment will find that top crypto exchange mobile apps provide excellent customer support and regular updates that adapt to an ever-evolving landscape, making them essential companions in today's fast-paced digital economy.
Best Crypto Exchange Mobile App FAQ
What is a crypto exchange mobile app?
A crypto exchange mobile app is a software application that allows users to buy, sell, and trade cryptocurrencies using their mobile devices, such as smartphones or tablets. These apps provide access to cryptocurrency markets, real-time price data, and various trading features.
How do I choose the best crypto exchange mobile app?
To choose the best app, consider factors like security, user interface, available cryptocurrencies, fees, customer support, and regulatory compliance. It's essential to select an app that aligns with your specific trading needs and preferences.
Are crypto exchange mobile apps safe?
Many reputable crypto exchange mobile apps prioritize security by implementing robust encryption, two-factor authentication (2FA), and cold storage for user funds. However, the security of your assets also depends on your own practices, such as keeping your mobile device secure and using strong passwords.
Do I need to provide personal information to use a crypto exchange mobile app?
Yes, most crypto exchange apps require users to complete a Know Your Customer (KYC) verification process, which involves providing personal information and identification documents. This is done to comply with legal regulations and enhance security.
Can I trade a wide variety of cryptocurrencies on mobile apps?
The availability of cryptocurrencies varies from one app to another. Some apps offer a broad range of digital assets, while others may have a more limited selection. Make sure the app you choose supports the cryptocurrencies you intend to trade.