Best Crypto OTC Exchanges (over-the-counter) exchanges have quickly become an essential platform for cryptocurrency trading, offering high-volume transactions and personalized services. Of all of the best crypto OTC exchanges, there are a few notable names that stand out. Kraken OTC provides an efficient and secure platform for trading large amounts of cryptocurrency with competitive pricing and access to an expansive list of supported assets.
Circle Trade, operated by Circle, an acclaimed crypto financial services provider, boasts extensive liquidity and personalized assistance – making it the go-to choice for institutional investors. Paxos-powered exchange ItBit stands out from the competition as being regulatory compliant and offering large trades with minimal price slippage. They prioritize privacy, reduced market impact, tailored solutions to meet institutional player and individual client needs – and can efficiently handle large crypto transactions discreetly and efficiently.
What is Crypto OTC Exchanges?
Crypto OTC (Over-The-Counter) exchanges are platforms which facilitate cryptocurrency trading outside of traditional public exchanges. While regular exchanges make transactions visible on an order book and facilitate execution through centralized platforms, OTC exchanges offer more privacy and personalized trading experience – making OTC trading ideal for large volume trades typically conducted between institutional investors, high net-worth individuals or organizations seeking to complete large trades without creating significant price fluctuations in broader markets.
OTC trades involve buyers and sellers working directly with brokers or OTC desks as intermediaries to match up buyers with sellers at mutually agreeable prices, negotiate the terms of trades between both parties, and execute large trades without disrupting open markets. OTC exchanges also often provide services like market research, trade analysis, and personalized support which are invaluable resources for institutional investors navigating cryptocurrency markets.
Here is List Of Best Crypto OTC Exchanges in 2023
Coinbase Prime
Kraken
FalconX
Crypto.com
Genesis Global trading
Best Crypto OTC Exchanges in 2023
Coinbase Prime
Coinbase Prime is a specialized offering by Coinbase, one of the most recognized and widely used cryptocurrency exchanges globally. Tailored for institutional investors and professional traders, Coinbase Prime provides a suite of advanced trading features and services to meet the needs of sophisticated market participants.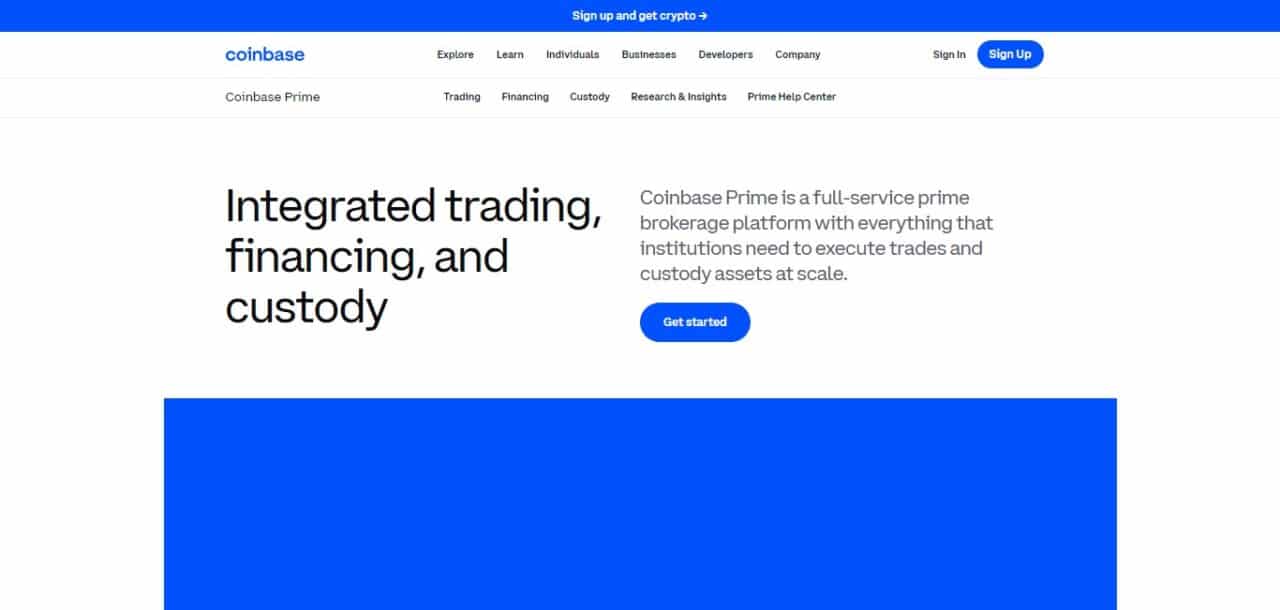 With features like high liquidity, secure custody solutions, and access to a wide range of cryptocurrencies, Coinbase Prime empowers institutional clients to execute large trades efficiently while minimizing market impact. The platform also offers tools for risk management, market analysis, and reporting, aiding institutions in making informed trading decisions.
Backed by Coinbase's strong reputation for security and regulatory compliance, Coinbase Prime serves as a bridge between the traditional financial world and the rapidly evolving realm of cryptocurrencies, facilitating seamless and secure entry for institutional players into the crypto market.
Kraken (Best Crypto OTC Exchanges)
Kraken OTC stands out in the cryptocurrency space with its focus on offering tailored solutions and services tailored specifically to meet the needs of institutional investors and high net-worth individuals. Kraken OTC specializes in facilitating large-volume trades with minimal slippage and reduced market impact, and supports large transactions quickly.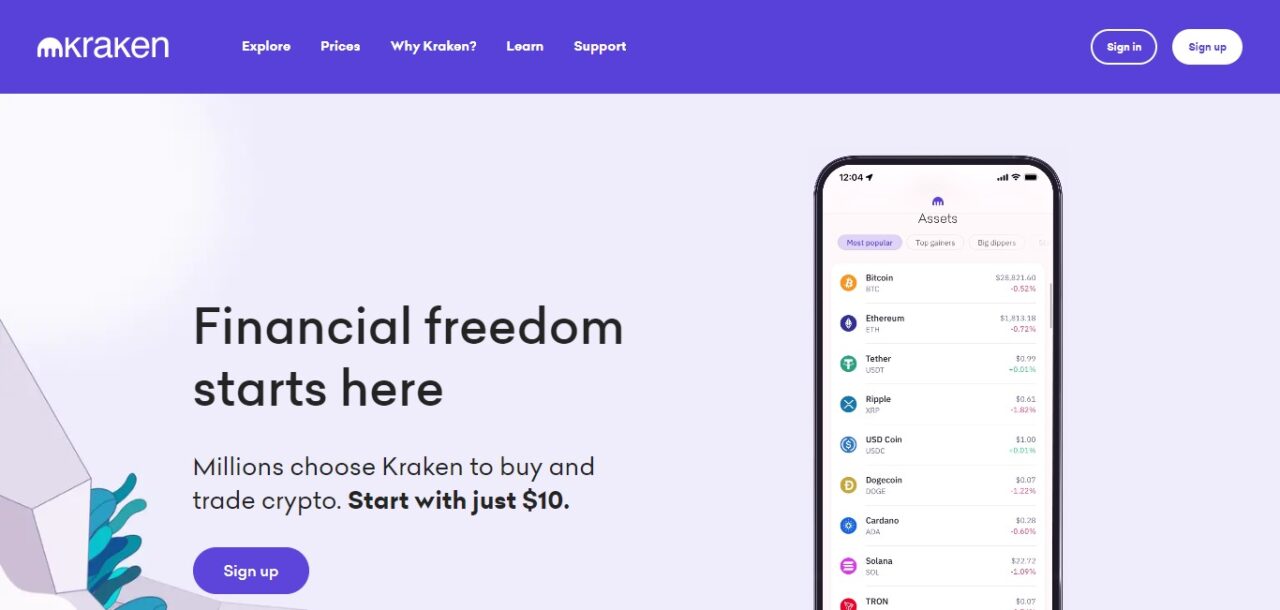 The platform provides access to an expansive selection of cryptocurrencies, enabling clients to carry out large-scale transactions while protecting their privacy and maintaining discretion. Kraken OTC's experienced team and personalized support ensure clients receive assistance throughout the trading process, from trade execution to settlement.
By prioritizing security, liquidity, and comprehensive market insights – with its emphasis on security – it offers reliable support when navigating the complexities of cryptocurrency trading on a larger scale.
FalconX
FalconX OTC has quickly established itself as a top cryptocurrency trading platform designed specifically to meet the demands of institutional investors and professional traders. FalconX OTC is widely known for its exceptional liquidity, making it the go-to place for large-volume trading across an array of cryptocurrencies.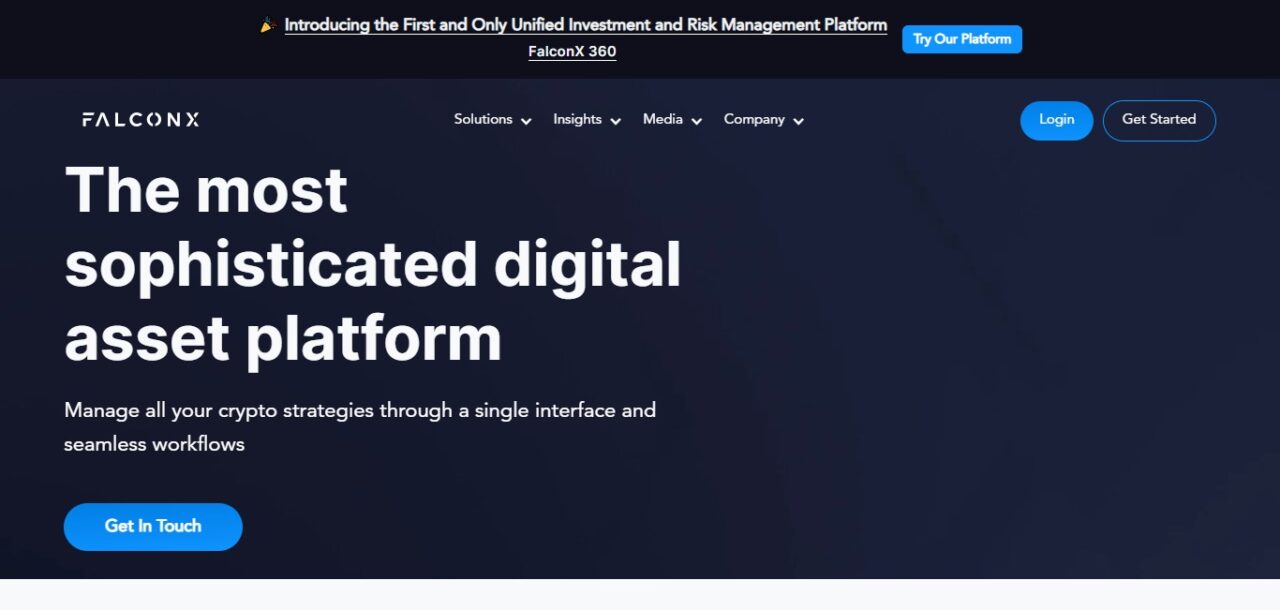 This proprietary technology efficiently aggregates liquidity from various sources, guaranteeing competitive pricing and reduced slippage. FalconX's dedication to security is illustrated by its partnership with industry-leading custodians who secure client assets throughout the trading process.
FalconX OTC provides clients with access to an expansive suite of data analytics and market insights, helping them make more informed trading decisions. Thanks to its focus on transparency, speed, and institutional-grade services, it has built up an outstanding reputation among those looking for help to navigate the complexity of crypto markets with precision and confidence.
Crypto.com (Best Crypto OTC Exchanges)
Crypto.com OTC Exchanges provide an invaluable service for institutional and high-net-worth traders looking to conduct large-scale cryptocurrency transactions. Crypto.com OTC stands out for its user-friendly interface and comprehensive suite of financial services, offering seamless execution of significant trades while mitigating market impact.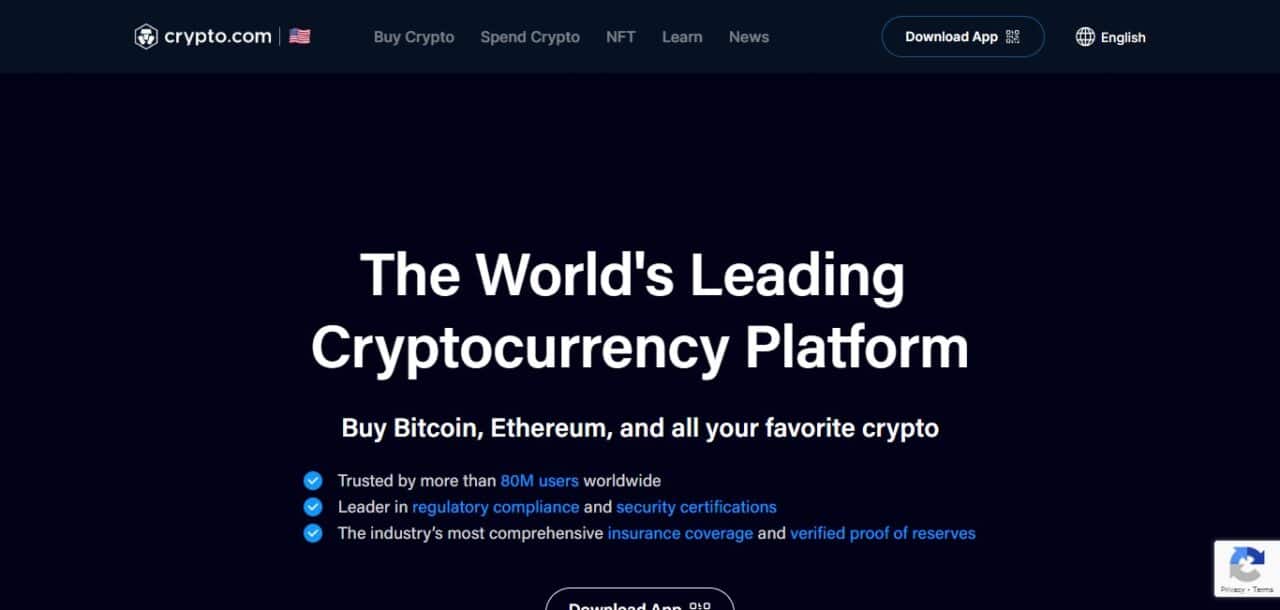 The platform provides clients with access to an array of cryptocurrencies, providing them with ample assets for trading strategies. Crypto.com's commitment to regulatory compliance and security can be seen through its industry-leading custodial solutions and stringent verification processes.
Clients enjoy personalized support and expert guidance to facilitate a smooth trading experience from negotiation through settlement. Crypto.com OTC stands out among institutional players looking to navigate the cryptocurrency market with confidence and efficiency.
Genesis Global trading
Genesis Global Trading is a prominent player in the cryptocurrency OTC trading landscape, offering a comprehensive platform tailored to the needs of institutional investors and sophisticated traders. As one of the pioneering OTC desks, Genesis Global Trading provides a seamless and secure environment for executing large-volume cryptocurrency trades with minimal market impact.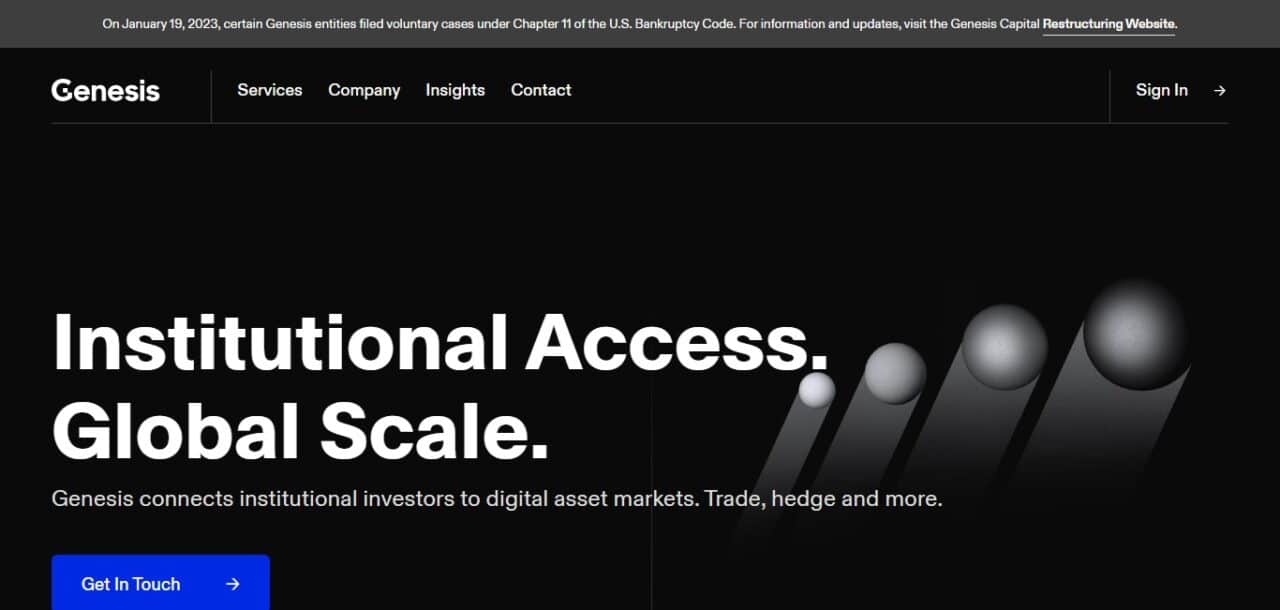 With a wide range of supported cryptocurrencies, the platform ensures access to diverse assets to meet various trading strategies. Genesis Global Trading's extensive network of counterparties and liquidity providers contributes to competitive pricing and efficient trade execution.
What sets Genesis Global Trading apart is its dedication to regulatory compliance and best practices in security. The platform operates under strict regulatory frameworks and partners with trusted custodians to safeguard client assets throughout the trading process.
Moreover, clients benefit from personalized support and a team of experts who provide insights and assistance, ensuring a smooth end-to-end trading experience. With its proven track record, liquidity depth, and commitment to industry standards, Genesis Global Trading remains a cornerstone for institutional players seeking to engage in cryptocurrency trading at scale.
How Does OTC Trading Crypto Work?
OTC desks typically require approval before trading and enforce trade minimums that typically start in the five or six figure range. Most platforms assign individual account representatives who work closely with clients. Clients have options available such as buying, selling, lending/borrowing and custody services.
OTC desks typically connect buyers and sellers for trades one at a time, though larger platforms that also operate traditional exchanges (such as Coinbase and Kraken ) offer liquidity pools that enable instantaneous trades similar to regular crypto exchanges.
OTC desks often make money through charging a "spread," or commission, on each trade that they facilitate, which typically ranges from 0.25-1 percent of transaction size.
Benefits Of Trading OTC
Trading over-the-counter (OTC) in the cryptocurrency market offers several distinct benefits, particularly for institutional investors, high-net-worth individuals, and those looking to execute large-volume transactions. Some of the key advantages of OTC trading include:
Reduced Market Impact: OTC trades are executed off the public order books, which means that large trades can be conducted without causing significant price fluctuations. This is especially important for investors dealing with substantial quantities of cryptocurrency, as executing such trades on public exchanges could lead to unfavorable price slippage.
Enhanced Privacy: OTC trading provides a higher level of privacy compared to public exchanges, where trades and orders are visible to other market participants. OTC transactions are typically conducted directly between the buyer and the seller, offering increased confidentiality and discretion.
Tailored Solutions: OTC desks often provide personalized services, including dedicated account managers and market experts. This enables clients to receive custom-tailored solutions that align with their specific trading goals and strategies.
Liquidity: OTC desks usually have access to significant liquidity pools, which can facilitate the execution of large trades without disrupting the broader market. This liquidity access ensures that traders can enter and exit positions smoothly.
Faster Execution: OTC trades can be executed more quickly compared to public exchanges, where order matching and confirmation processes might take longer. This speed is crucial for capturing timely opportunities and responding to market developments.
Extended Trading Hours: OTC desks often operate outside regular exchange hours, allowing traders to execute transactions around the clock. This is particularly valuable in the global cryptocurrency market that operates 24/7.
Risk Management: OTC desks provide risk management tools and strategies that help mitigate potential losses and market risks, enhancing the overall stability of large trades.
Regulatory Compliance: Many reputable OTC desks adhere to regulatory compliance standards and engage in know-your-customer (KYC) and anti-money laundering (AML) practices. This can provide a sense of security and legitimacy to traders.
Access to Diverse Assets: OTC desks often offer access to a wider variety of cryptocurrencies and tokens than what might be available on public exchanges, allowing traders to diversify their portfolios effectively.
Expert Guidance: OTC desks typically have experienced professionals who can offer insights, analysis, and guidance on market trends and trading strategies, helping traders make well-informed decisions.
Best Crypto OTC Exchanges Conclusion
Conclusion Cryptocurrency trading has witnessed the emergence of top-tier OTC exchanges that play a pivotal role in catering to institutional investors and high net-worth individuals. Kraken OTC, Coinbase Prime, FalconX OTC and Genesis Global Trading all offer services that set them apart. Reduced market impact, enhanced privacy and tailored solutions allow these platforms to empower traders with confidence and efficiency to complete large-volume transactions.
Benefits extend far beyond smooth trade execution, such as liquidity access, regulatory compliance, risk management and expert guidance. As the cryptocurrency market evolves, these OTC exchanges serve as critical bridging platforms between traditional financial practices and the ever-evolving digital assets ecosystem – offering secure environments where institutional players can navigate and thrive within this fluid realm of digital assets.
Best Crypto OTC Exchanges FAQ
What are crypto OTC exchanges?
Crypto OTC (Over-The-Counter) exchanges are platforms that facilitate the trading of cryptocurrencies outside traditional public exchanges. They offer a more private, personalized, and efficient environment for executing large-volume trades, often catering to institutional investors and high-net-worth individuals.
Why would I use a crypto OTC exchange?
Using a crypto OTC exchange is beneficial for traders looking to execute substantial transactions with reduced market impact and increased privacy. It's particularly useful for those dealing with large quantities of cryptocurrency and seeking tailored solutions, risk management, and access to liquidity.
How does OTC trading work?
In OTC trading, buyers and sellers work with brokers or OTC desks to facilitate trades. The broker helps match buyers and sellers and negotiates prices. The trade is conducted off the public order books, providing privacy and minimizing price slippage.
What are the benefits of trading on OTC exchanges?
The benefits of OTC trading include reduced market impact, enhanced privacy, personalized support, access to liquidity, faster execution, extended trading hours, risk management tools, regulatory compliance, and expert guidance on trading strategies.
Who typically uses crypto OTC exchanges?
Institutional investors, high-net-worth individuals, and entities dealing with large quantities of cryptocurrency often use crypto OTC exchanges. These traders seek to execute significant transactions without causing price fluctuations on public exchanges.