Best Fishing Games provide virtual angling enthusiasts with an engaging virtual angling experience, offering both expert anglers and casual gamers exciting fishing-based virtual experiences. These games have advanced over time, incorporating lifelike graphics, dynamic weather and water physics, and multiple fishing techniques for an unparalleled simulation of this sport.
Titles like "Fishing Sim World" and "The Fisherman: Fishing Planet" provide immersive environments, lifelike fish behavior models, and customizable equipment to create an authentic fishing adventure.
Ridiculous Fishing provides an entertaining, whimsical experience, with addictive gameplay and unique graphics to provide a fast-paced arcade-style fishing escapade. From patiently waiting for that first bite to reeling in virtual trophies – fishing games offer something for every gaming audience and represent one of gaming's most beloved and enjoyable genres.
What Is Fishing Games?
Fishing games are a genre of video games that simulate the experience of fishing. These titles strive to replicate various aspects of real-life fishing, such as selecting spots, selecting gear, casting lines out onto bodies of water, waiting for bites and reeling in fish. Fishing games range from highly realistic simulations that aim to capture every nuance of sport fishing to arcade-style games designed more for entertainment purposes than serious recreation.
Fishing games allow players to explore virtual lakes, rivers, oceans and other aquatic environments in search of various virtual fish species. Gameplay generally involves using fishing rods, reels, lures and bait to attract and catch them; some titles also incorporate elements like weather conditions, time of day and fish behaviors for added complexity and realism.
Fishing games can be found across several gaming platforms, from consoles and PCs to mobile devices. Fishing games offer players a relaxing and sometimes competitive activity of fishing without leaving their homes. As technology has advanced, more realistic graphics, realistic physics, and immersive gameplay have emerged over time – providing gamers with everything from relaxing virtual fishing trips to exciting angling challenges – catering to everyone's taste in style!
Here Is List Of Best Fishing Games of 2023
Fishing Planet
Fishing Sim World
Barents Sea
Fishing: North Atlantic
Professional Fishing
Reel Fishing: Road Trip Adventure
Russian Fishing 4
7 Best Fishing Games of 2023
1. Fishing Planet
"Fishing Planet" is a popular fishing simulation video game developed by Fishing Planet LLC. It is known for its highly realistic approach to fishing, aiming to provide players with an authentic fishing experience. The game is available on various platforms, including PC, PlayStation 4, Xbox One, and was also planned for release on PlayStation 5 and Xbox Series X/S.
In "Fishing Planet," players can explore different fishing locations, each accurately modeled after real-world environments. The game offers a wide variety of fishing gear, equipment, and tackle options to choose from. Players can select the appropriate rods, reels, lines, lures, and bait for specific fish species and fishing conditions.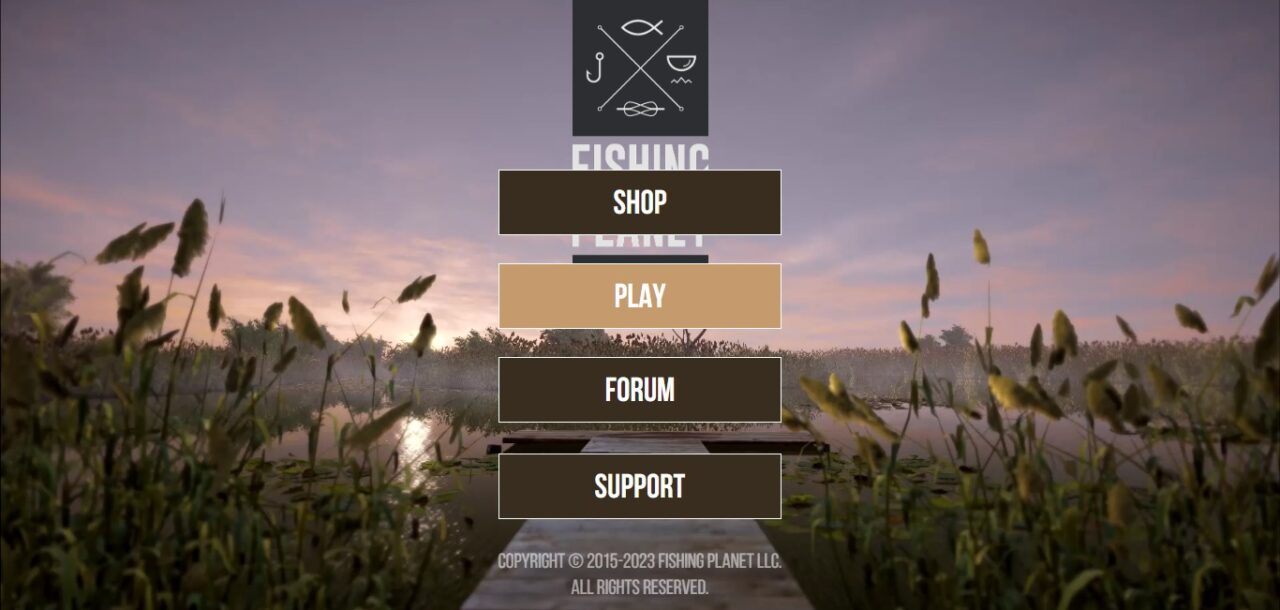 The game pays attention to details like fish behavior, feeding patterns, and the influence of weather and time of day on fishing success. Players need to use their skills and knowledge of fishing techniques to succeed in catching a diverse range of fish species. The game features a leveling system where players can gain experience and unlock new locations, equipment, and challenges as they progress.
"Fishing Planet" is also known for its free-to-play model, allowing players to download and play the base game for free. However, the game offers various in-game purchases for virtual currency that can be used to acquire premium gear and items.
Overall, "Fishing Planet" is appreciated by fishing enthusiasts and gamers alike for its dedication to realism and its immersive fishing experience, making it a prominent title within the fishing games genre.
2. Fishing Sim World
"Fishing Sim World" is another well-known fishing simulation video game developed by Dovetail Games. It's designed to offer players a comprehensive and realistic fishing experience, replicating various aspects of angling in both freshwater and saltwater environments. The game is available on platforms like PC, PlayStation 4, and Xbox One.
In "Fishing Sim World," players have the opportunity to explore a variety of fishing locations, each with its unique set of challenges and fish species. The game boasts highly detailed graphics, dynamic water systems, and realistic fish AI, aiming to provide an immersive environment for virtual anglers.
One of the key features of "Fishing Sim World" is its emphasis on authenticity. The game includes a wide selection of licensed fishing gear from well-known brands, giving players the opportunity to choose from a range of rods, reels, lines, lures, and other equipment. The choice of gear is important, as different fish species and fishing conditions require specific approaches.
The gameplay involves mastering different fishing techniques such as casting, reeling, and lure presentation. Weather conditions, time of day, and seasonal changes also play a role in affecting fish behavior, adding an extra layer of complexity to the gameplay.
"Fishing Sim World" offers a single-player career mode where players can compete in tournaments, complete challenges, and progress through the ranks to become a top angler. The game also includes a multiplayer component, allowing players to fish with friends and compete against each other in various modes.
3. Barents Sea
"Barents Sea" is a fishing simulation video game developed by Misc Games. It focuses on the commercial fishing industry and allows players to experience the challenges and rewards of being a fisherman in the harsh and unpredictable conditions of the Barents Sea, located in the Arctic Ocean.
In the game, players become skippers of their own fishing vessels, equipped with various fishing gear and tools. The main objective is to run a successful fishing business by catching a variety of fish species, managing resources, and maintaining the ship's equipment. Players must navigate the waters, locate schools of fish using sonar, deploy nets and lines, and haul in their catches.
"Barents Sea" places a strong emphasis on realism. The game includes detailed ship controls, weather conditions, day-night cycles, and accurate representations of fish species found in the Barents Sea region. Players need to adapt to changing weather patterns, manage crew members, and make decisions that affect the profitability and sustainability of their fishing operations.
The game also introduces a management aspect, where players need to consider factors such as fuel costs, maintenance, and the fishing quotas imposed by regulations to prevent overfishing. The goal is to balance the economic aspects of the fishing business with environmental conservation efforts.
"Barents Sea" offers a unique experience for players who are interested in the more technical and strategic aspects of commercial fishing. It simulates the challenges faced by real-world fishermen and provides an opportunity to explore the remote and unforgiving environment of the Barents Sea. The game's dedication to authenticity and its focus on the intricacies of the fishing industry have garnered it a following among simulation enthusiasts.
4. Fishing: North Atlantic
"Fishing: North Atlantic" is a fishing simulation game created by Misc Games – the same developer behind "Fishing: Barents Sea." Building upon its predecessor's foundations, "Fishing: North Atlantic" delivers an even more expansive and detailed fishing experience focused on North Atlantic Ocean fisheries.
"Fishing: North Atlantic," like "Fishing: Barents Sea," places players into the role of commercial fishermen, managing their own vessel and business. The game features various fishing techniques – longline, net, trawling – as they navigate challenging waters of the North Atlantic with changing weather, waves and environmental elements that could alter fishing operations.
"Fishing: North Atlantic" features realistic models of multiple fish species and requires players to adapt their strategies depending on which fish species they're after. Like its predecessor, "Fishing: North Atlantic" incorporates elements of resource management, crew management and adhering to fishing regulations in order to promote sustainability in its fishing practices.
One of the greatest enhancements in "Fishing: North Atlantic" is its improved graphics and more intricate gameplay mechanics, both designed to offer players an engaging fishing experience ranging from operating a vessel realistically through depictions of North Atlantic ecosystems.
5. Professional Fishing
Developed by the Polish studio 4Fishing, presents an arcade-style approach to this wonderful and calming process, making it accessible to fishermen who prefer more straightforward gameplay. It means you don't need to be an expert on different fish species to fully enjoy it.

One exciting feature is that you can freely explore your surroundings, swim, and ride a quad bike. It's free-to-play, but if you wish to enhance your game, various optional DLCs are available.
6. Reel Fishing: Road Trip Adventure
"Reel Fishing: Road Trip Adventure" is a fishing simulation video game developed by Natsume Inc. It's part of the "Reel Fishing" series, which has been known for its more casual and approachable take on fishing games. The game was released for the Nintendo Switch in 2019.
In "Reel Fishing: Road Trip Adventure," players embark on a fishing journey across a variety of scenic locations in a fictional world. The game blends fishing mechanics with a story-driven adventure, where players not only catch fish but also engage with characters, complete quests, and discover hidden treasures as they travel. This differentiates it from some other fishing simulations that focus solely on the angling experience.
The game is designed to be accessible to players of all ages and skill levels. It features simplified fishing mechanics that allow players to easily cast their lines, reel in fish, and enjoy the process without getting too bogged down in the technical aspects. The emphasis is on relaxation and enjoyment, making it a suitable choice for players looking for a more casual and laid-back fishing experience.
"Reel Fishing: Road Trip Adventure" stands out for its colorful and vibrant art style, as well as its fusion of fishing and exploration gameplay. It's a departure from the hyper-realistic fishing simulations and leans more towards an adventurous and relaxed gameplay style.
7. Russian Fishing 4
"Russian Fishing 4" is a free-to-play fishing simulation game developed by Russian studio Itchigoo and available exclusively on PC. This title stands out for its realistic fish species selection and comprehensive approach to fishing experience, among other characteristics.
"Russian Fishing 4" offers players the chance to discover various fishing locations across Russia and other countries, each faithfully recreated as real world environments. This game includes day/night cycles, weather conditions and realistic fish behavior as well as multiple fishing techniques such as float fishing, spinning bottom fishing or bottom fishing which each require different strategies and equipment for success.
Players can select from an extensive array of fishing gear such as rods, reels, lines and bait to customize their setup to their preferred fishing style and target fish species. The game pays special attention to details such as bait selection, depth fishing depth and even time of day for an engaging and strategic experience.
"Russian Fishing 4" incorporates RPG elements, with players leveling up their character's skills, collecting new equipment, and unlocking different fishing areas as they progress. The game emphasizes realism through fish weight measurements, fishing license requirements, environmental considerations, and even environmental effects that influence fishing outcomes.
Multiplayer functionality of the game is another highlight, enabling players to fish together, compete in tournaments, and form social interactions within its community.
Russian Fishing 4 has long been recognized for its realistic fishing experience, making it a firm favourite among those looking for something closer to real-life virtual angling simulation.
Conclusion
In the realm of virtual entertainment, fishing games have carved a unique and captivating niche that appeals to a diverse range of players. These games, whether they lean towards hyper-realistic simulations or embrace a more casual and arcade-style approach, offer a remarkable fusion of relaxation, skill, and immersion.
Titles like "Fishing Sim World," "Fishing: North Atlantic," and "Russian Fishing 4" have demonstrated an unwavering commitment to realism, enabling players to explore intricate ecosystems, master diverse fishing techniques, and navigate the challenges of weather and fish behavior.
On the other hand, games like "Reel Fishing: Road Trip Adventure" offer a more lighthearted experience, combining fishing with exploration and storytelling. The genre's evolution has resulted in stunning graphics, dynamic environments, and an assortment of gear, reflecting the growing appreciation for both the artistry and science of angling.
Regardless of whether players seek tranquility on a digital riverbank or the thrill of catching a digital trophy, fishing games cast a wide net, bringing joy to gaming enthusiasts and fishing aficionados alike.
FAQ
What are fishing games?
Fishing games are a genre of video games that simulate the experience of fishing. Players can explore virtual water bodies, choose fishing gear, cast lines, and attempt to catch a variety of virtual fish species.
What platforms are fishing games available on?
Fishing games are available on various platforms, including PC, consoles (PlayStation, Xbox), and mobile devices (iOS, Android).
What types of fishing games are there?
There are different types, ranging from highly realistic simulations like "Fishing Sim World" to more casual and arcade-style games like "Reel Fishing: Road Trip Adventure."
What is the appeal of fishing games?
Fishing games offer relaxation, skill-building, and immersion. They allow players to experience the joy of fishing without leaving their homes and often feature beautiful virtual environments.