Best Free Cloud Storage Google Drive stands out as one of the premier free cloud storage solutions, offering 15GB free storage to every user – making it an excellent option for individuals as well as businesses alike. Google Drive integrates seamlessly with other Google services like Gmail and Photos to provide a convenient means for users to store, access, and share files across devices.
Dropbox offers two GB of free storage with the opportunity to earn additional space through referrals or other activities. Dropbox stands out as an ideal cloud storage solution with its user-friendly interface and reliable file syncing features, making it a go-to option for easily storing documents and media files without hassle or complication. Both Google Drive and Dropbox provide safe cloud storage solutions that meet various user needs.
What is Cloud Storage?
Cloud storage is a digital service that enables individuals and organizations to store and manage their files, documents, photos and videos securely on remote servers accessible via the internet. Instead of relying on physical storage devices such as hard drives or physical servers for data management needs, cloud storage uses third-party providers' infrastructures instead, giving users access to their information from anywhere with internet access.
Cloud storage offers several advantages: easy scalability; data backup synchronization across devices ; cost effectiveness; as well as robust security measures. It has become a vital component of modern computing, providing seamless data access solutions both individuals as businesses alike.
Here is List Of Best Free Cloud Storage
Blomp
Degoo
Mega
Media fire
Yandex disk
Google drive
Icedrive
Koofr
Mimedia
Sync
Dropbox
Pcloud
Onedrive
Icloud
Amazon drive
15 Best Free Cloud Storage for 2023
1. Blomp
Running out of memory during a project or trip can be extremely frustrating, but with Blomp you no longer need to worry about low storage warnings! With free cloud storage up to 200GB for images, videos, documents and any other formats compatible with your device.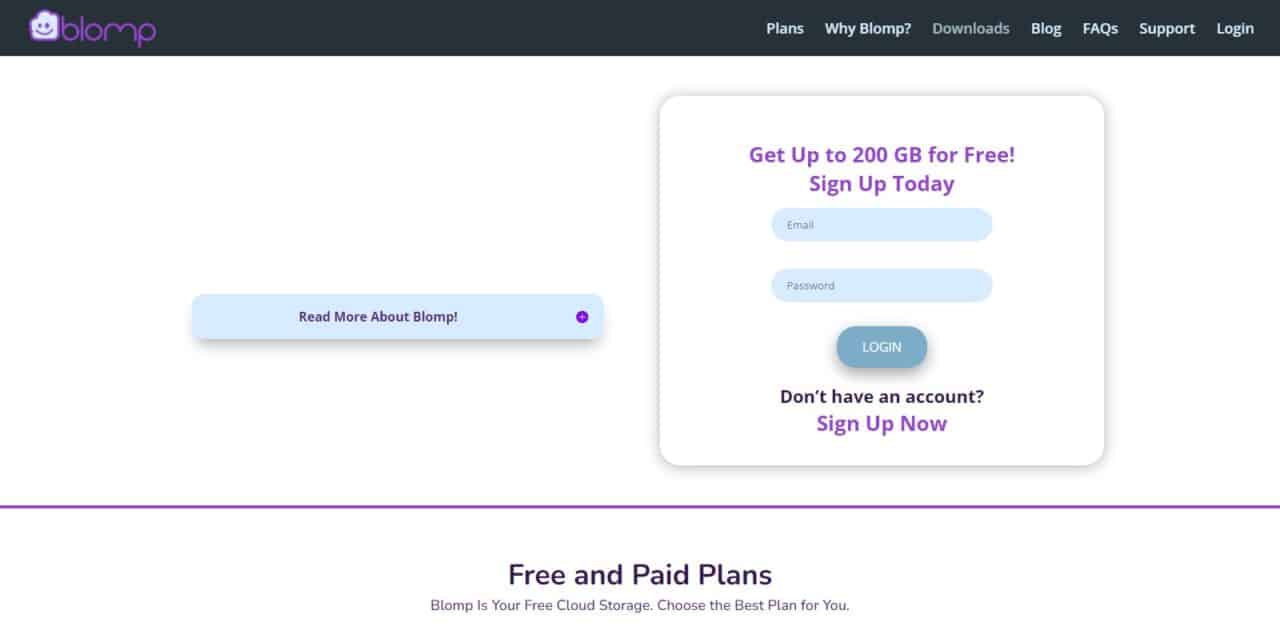 Blomp provides a simple and secure application for organizing and backing up videos and images, accessible across Mac, Windows and Ubuntu Linux systems as well as using its mobile app on Apple or Android smartphones for accessing and managing files in your cloud directly from their phone.
2. Degoo (Best Free Cloud Storage)
Degoo is an award-winning cloud storage app offering 100GB of free storage space – its primary offering! Additionally, Degoo offers an easy mobile app so users can access it anywhere with Android and iOS devices.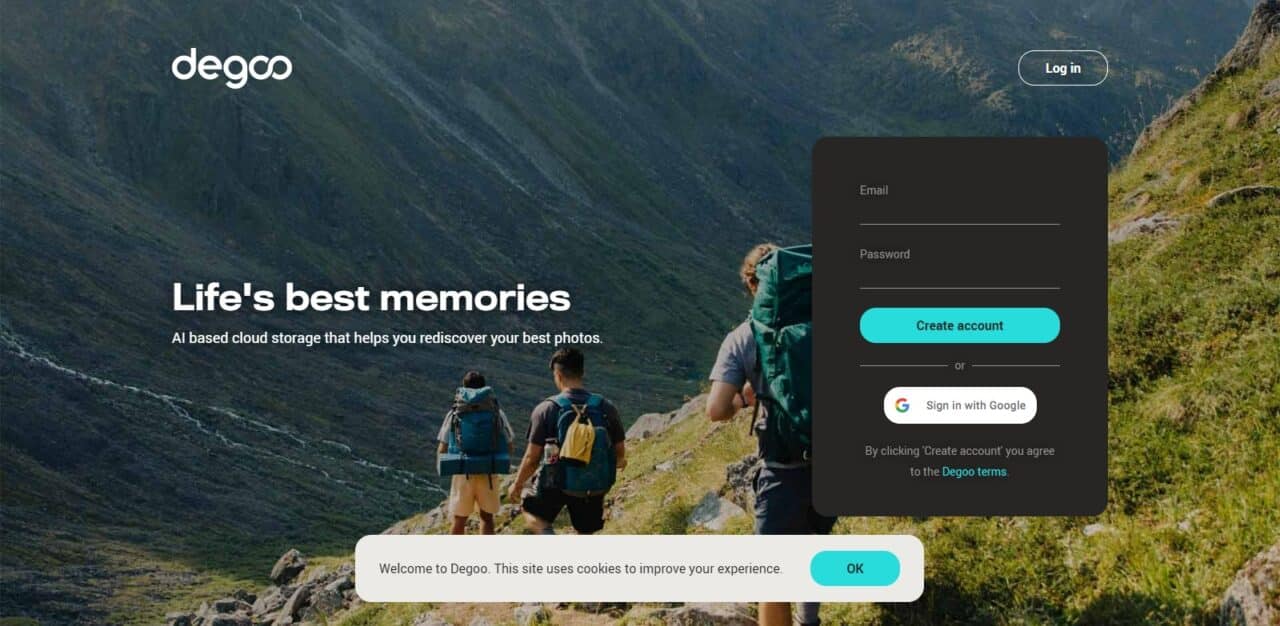 Degoo has an edge over Blomp in that you can expand your free storage capacity through referrals and mobile app support, while paid plans offer 500GB for $3 per month.
3. Mega
Mega is an outstanding cloud storage platform, very similar to Dropbox in many respects, with the only real difference being in how much free storage space Mega provides compared to Dropbox – 50GB free memory to download or compress large files easily for storage and access, plus you can upload them through their mobile app!
Mega provides an ideal file storage platform, enabling users to archive large files by compressing and labeling. You can accomplish so much with 50 GB worth of space available!
4. Media fire (Best Free Cloud Storage)
Media Fire is one of the easiest cloud storage platforms you'll come across, providing 10 GB for documents, contacts and images to store for free with the option of increasing it to 50GB for an annual fee.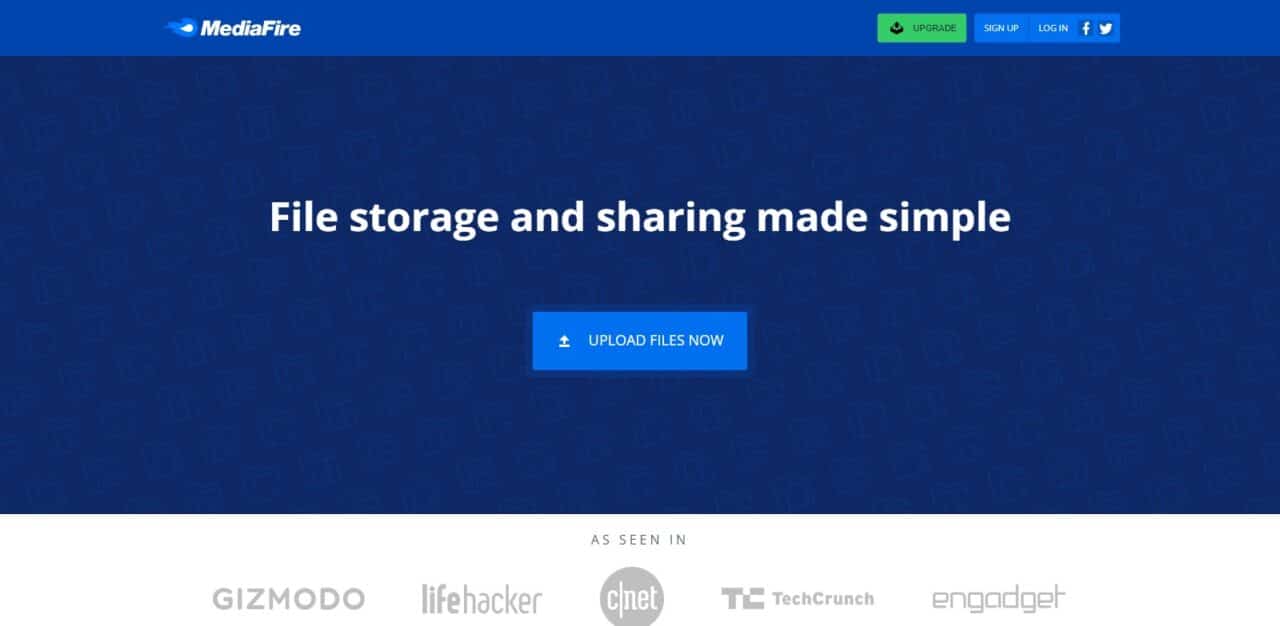 Media Fire offers an intuitive user-interface to make it simple for you to manage and store files. Upload multiple files at the same time from any browser, manage and search documents quickly with its user-friendly system, or generate single-use links that make sharing documents simple.
5. Yandex disk
Yandex Disk offers another reliable cloud storage service at no cost: the Auto Upload feature on this platform allows you to store documents and images at their original resolution without degrading phone quality. Both Android and iOS platforms support Yandex Disk.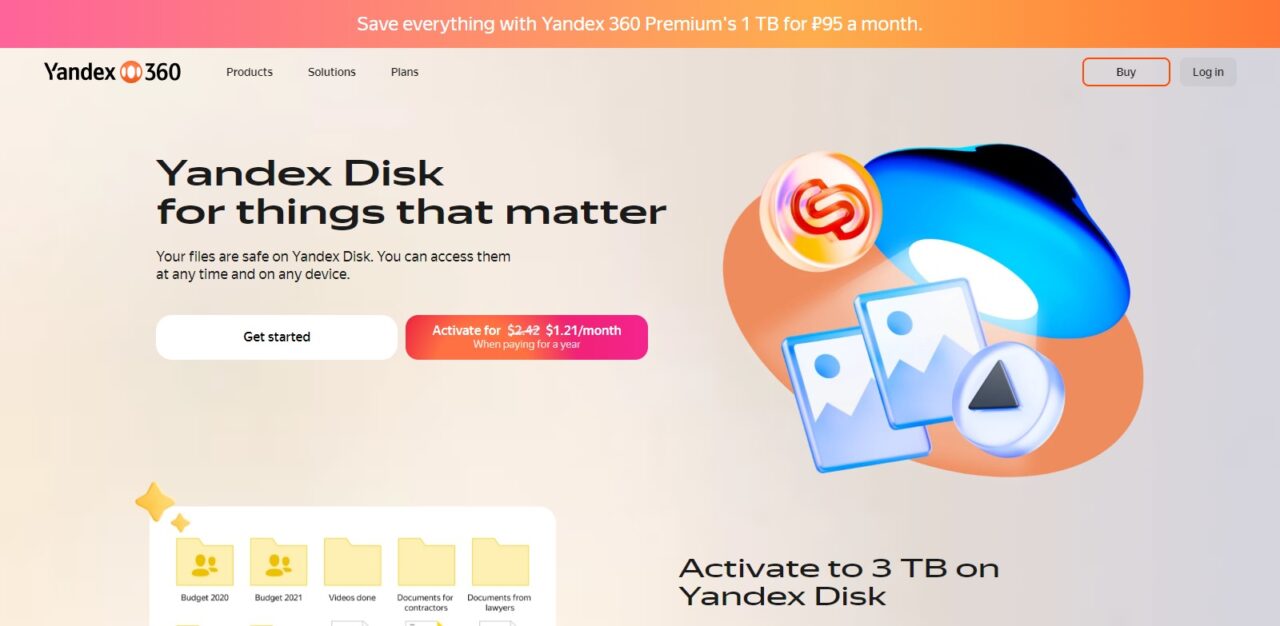 Signing up for Yandex Disk will get you 10 GB of free cloud storage space. By participating in promotional activities offered by Yandex, this can quickly grow by an additional 32GB. In addition, Yandex allows users to access documents like presentations and spreadsheets without installing their apps directly onto their phones – perfect for presentations! You can share the files easily.
6. Google drive (Top Free Cloud Storage)
All cloud storage solution providers share one thing in common: you can easily upload files and synchronize them across devices. But Google Drive goes further, offering more features than just storage that make it one of the most popular cloud platforms. With 15GB of free storage space and synced directly with Google accounts, Google Drive makes file and document sharing across platforms, people, and devices simple and accessible.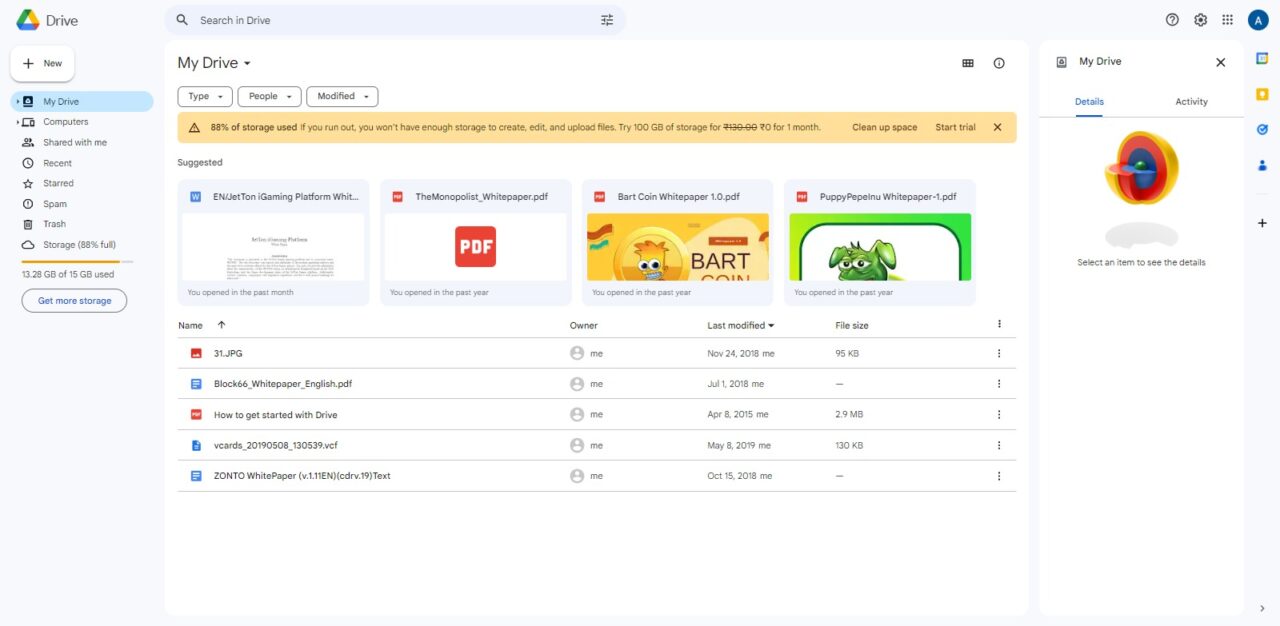 Additionally, Google apps like Photos and Docs can help users create and share files easily. With features such as Google Lens providing additional insights into existing documents or making modifications directly from within Google apps for easy editing and management of files stored online.
7. Icedrive
Icedrive provides easy file management and access, providing dedicated storage space that enables users to share, showcase, and collaborate their files across apps on this platform. What sets Icedrive apart is its support for Twofish Encryption which sets it apart from similar platforms.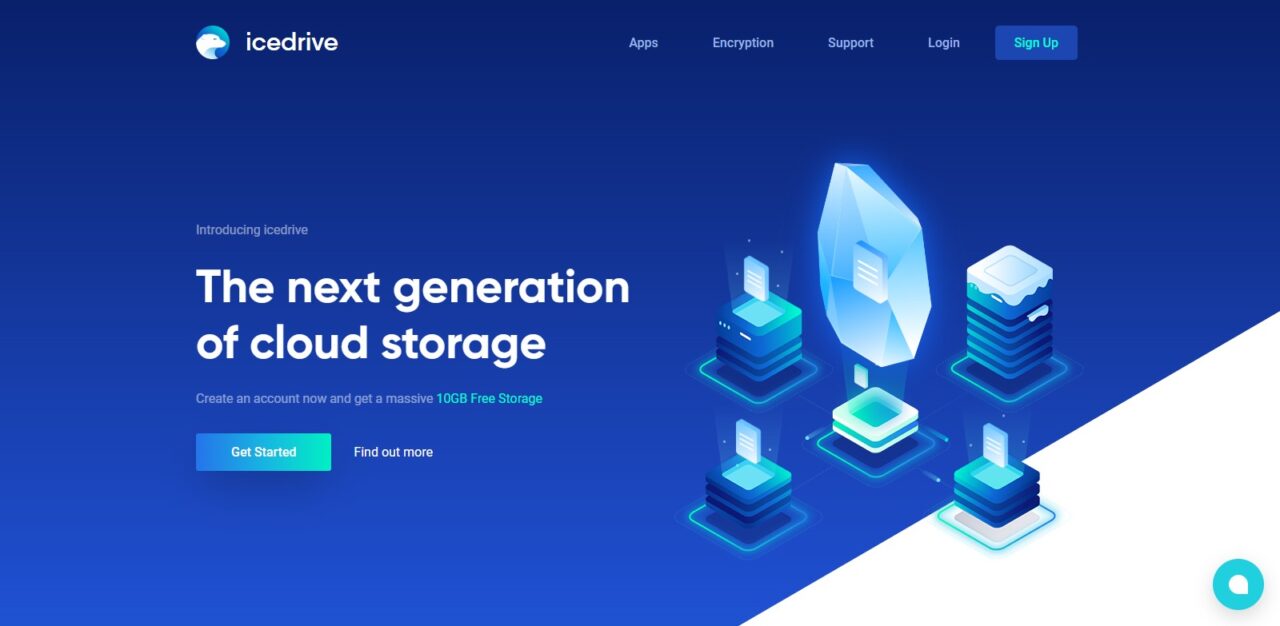 Signing up will grant you 10GB of free cloud storage space on Icedrive, with its minimalist and user-friendly user interface making file management straightforward. Documents can be synced instantly. Furthermore, streaming content directly from memory and sharing it can also be done easily with others.
8. Koofr (Best Free Cloud Storage)
Google Drive stands out among other cloud storage platforms because it ties directly into your Google account and its associated apps, while Koofr allows you to connect it to Dropbox, OneDrive or Amazon and Google accounts – offering 10GB free cloud storage as well as using any free space available on hard drives.
Koofr can easily sync to all of your primary accounts and is compatible with Android, iOS, Mac and Windows, offering unparalleled flexibility that sets it apart from most other names on this list.
9. Mimedia
Mimedia is one of the newest additions to cloud storage platforms. When you sign up with Mimedia, you receive 10 GB of free storage space – making it an excellent platform if you need cloud backup of files that matter. Mimedia helps organize your personalised file collection efficiently.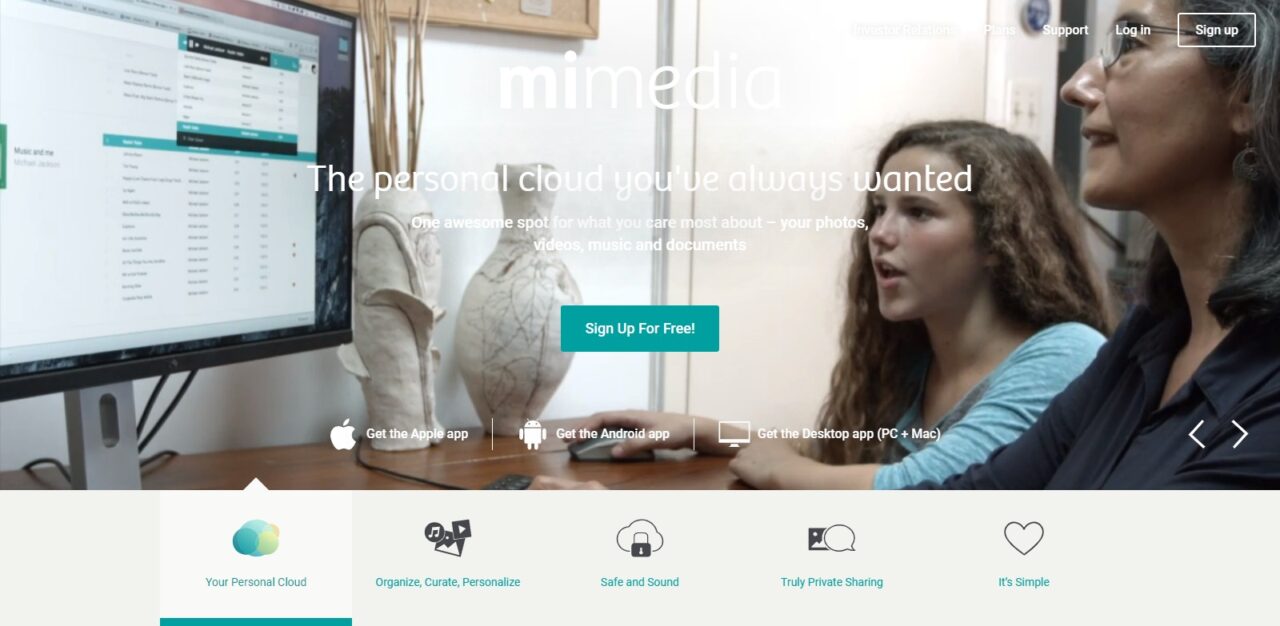 Mimedia allows you to easily access and manage images, music and documents across all of your devices in multiple formats. An additional unique feature of Mimedia is being able to import documents directly from Facebook, Google Drive, Dropbox or Flickr – plus there is even a desktop app running both Windows and Mac systems!
10. Sync (Top Free Cloud Storage)
If you tend to delete things by mistake, Sync can help restore files quickly. Perfect for those who change their minds about individual file deletion. Plus, its web panel offers great productivity features!
As soon as you sign up with Sync, you get 5 GB worth of storage space. However, through their unique "Get Free Space" feature and by inviting friends, Sync offers another 1GB for every new signup referred by you – giving each of those who sign up 1GB additional storage.
11. Dropbox
Dropbox is one of the premier free cloud storage platforms, boasting incredible backup features to make it more reliable than most competing solutions. Files of various sizes and formats such as presentations, images, videos API and even CAD designs can safely be added to your DropBox account for safekeeping.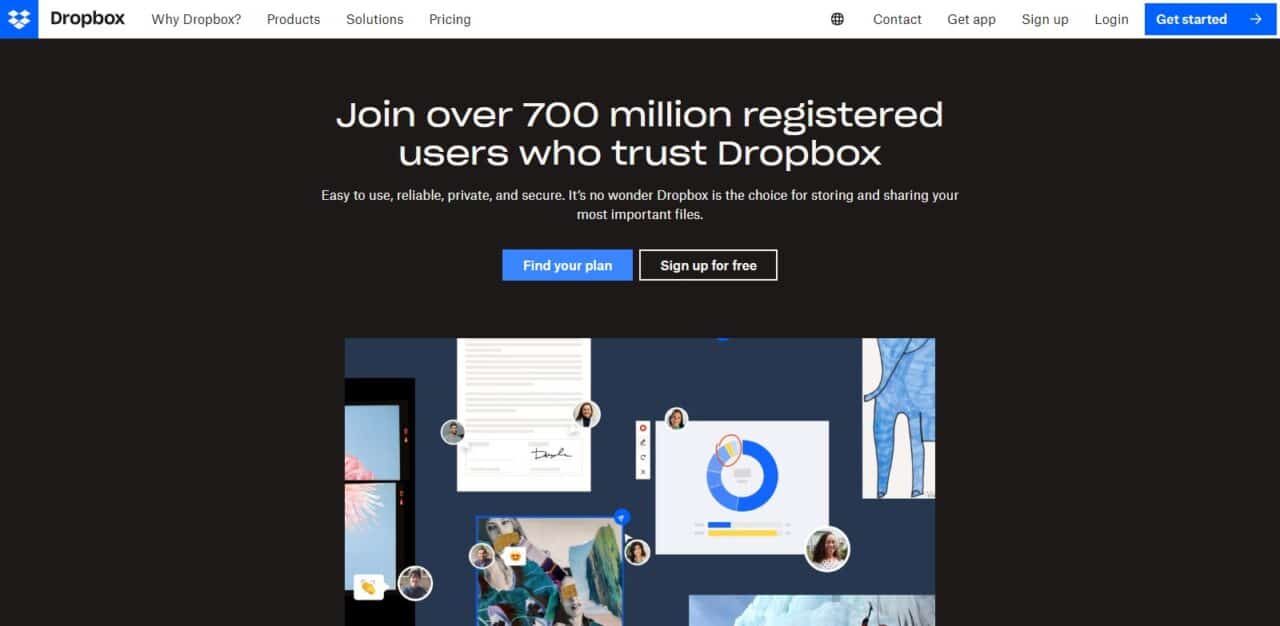 Dropbox stands out with its remote wipe feature; should you lose a device syncing your DropBox account with cloud files, you can remotely delete them all from that one device – one of its many security measures which makes DropBox reliable. DropBox only comes with 2 GB of free storage space; to expand it further, they offer attractive paid plans.
12. Pcloud (Best Free Cloud Storage)
pCloud is one of the most adaptable platforms and boasts one of the highest storage capacities of any platform on this list, providing 10GB free cloud storage which can expand up to 2 TB. Furthermore, this platform makes resizing images effortless thanks to a range of resizing options built right in.
pCloud stands out by offering unlimited Remote Upload Traffic and archive features with multiple archives that automatically lock themselves every time your system shuts down.
13. Onedrive
Microsoft OneDrive makes it simple and accessible to keep all your documents and files safely stored online. OneDrive is one of the leading cloud storage solutions on the market; existing Microsoft account holders can sign in and access email, OneDrive files and more in one convenient place.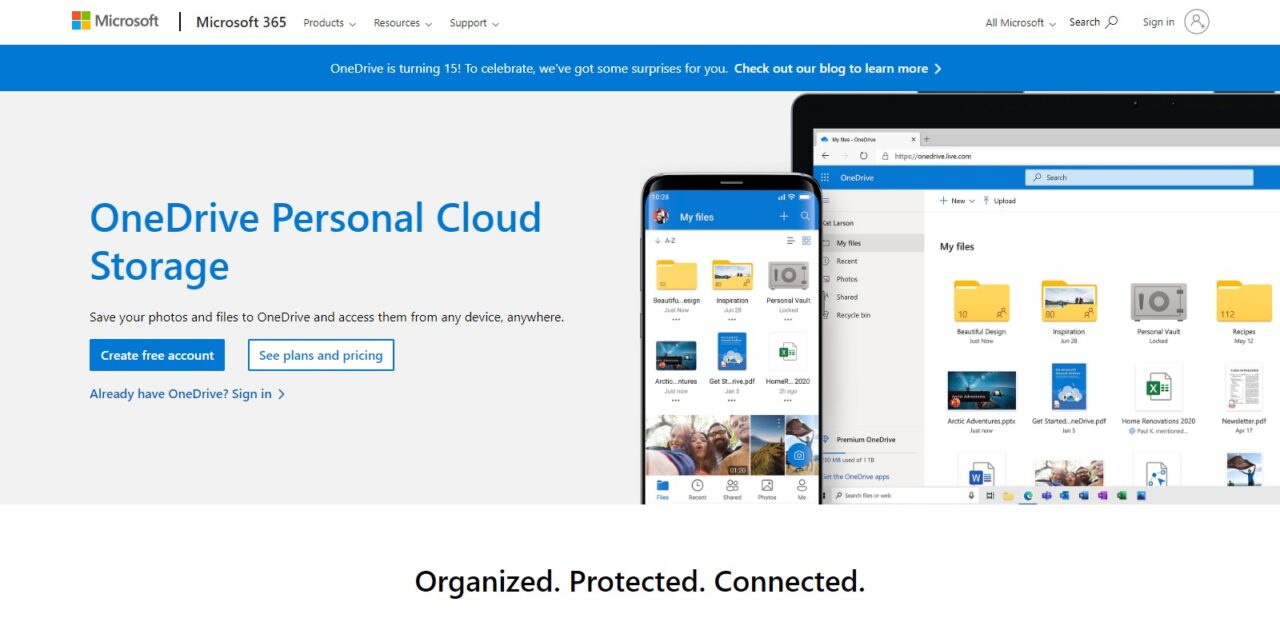 Formerly offering 15 GB free online storage but now limited to 5 GB; all Windows devices – desktops as well as mobile – come preinstalled with OneDrive so it can easily be accessed from any location, making it one of the second most in-demand cloud platforms behind Dropbox in terms of business use.
OneDrive helps solve that problem by offering you the option to save email attachments directly into OneDrive's cloud storage.
14. Icloud (Top Free Cloud Storage)
Apple users depend on iCloud as their go-to cloud storage solution. With 5 GB of complimentary cloud space, iCloud seamlessly synchronizes all your Apple applications, including photos and videos, across various Apple devices such as iMac, MacBook, and iPad. The user-friendly folder organization simplifies sharing files and folders among friends and family, making collaboration a breeze.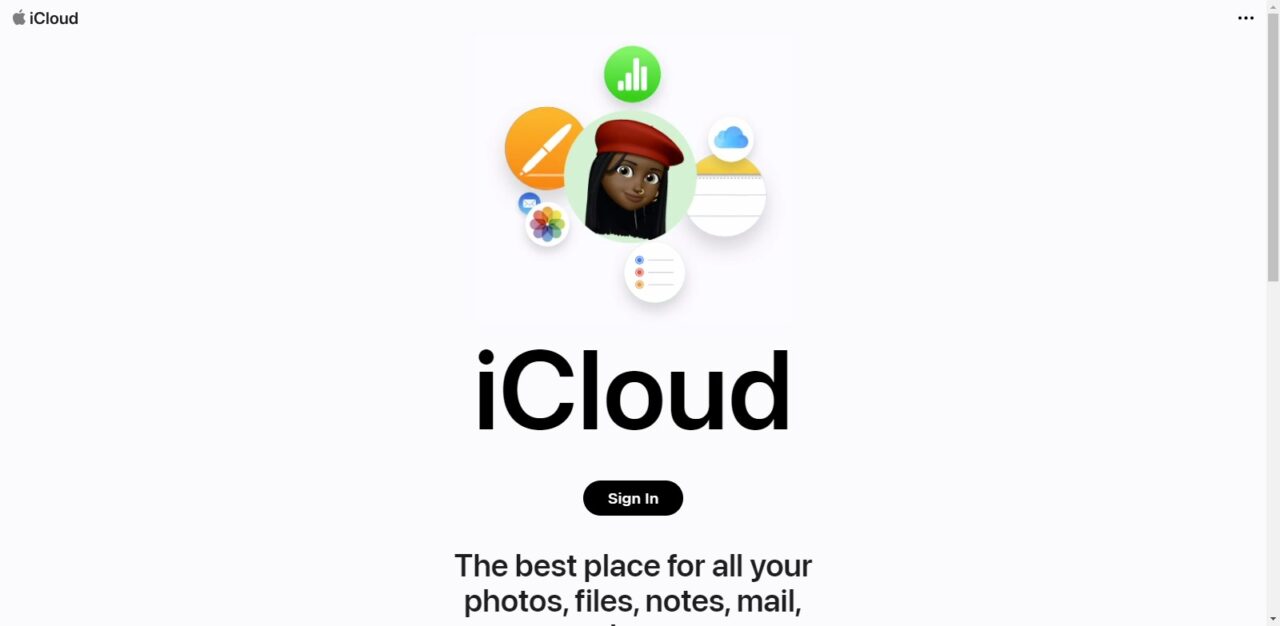 Moreover, iCloud ensures that your messages sync effortlessly across your devices, allowing you to pick up conversations right where you left off last time. This comprehensive synchronization feature truly enhances the user experience, making iCloud an essential tool for Apple enthusiasts.
15. Amazon drive
Amazon Drive simplifies collaboration, providing a user-friendly platform for effortless photo and document sharing across various platforms, including social media. With 5GB of built-in storage and round-the-clock app support.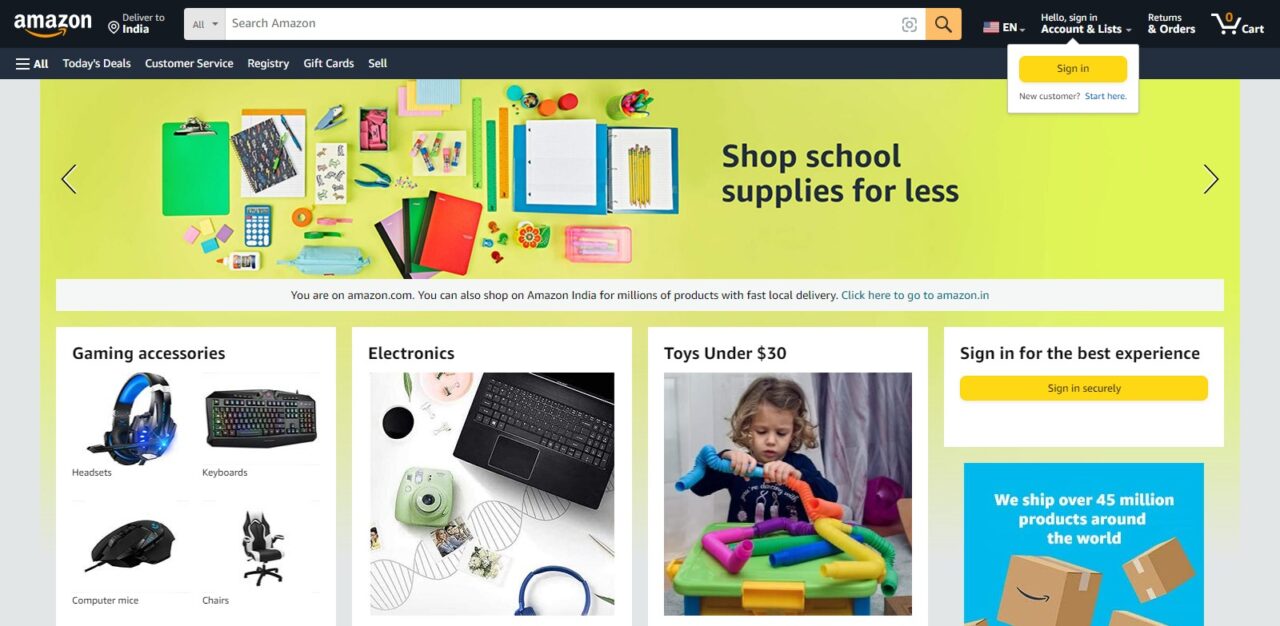 Amazon Drive offers a secure and reliable solution for storing and accessing your important files and memories. Whether you need to share documents with colleagues or showcase your latest photos to friends and family, Amazon Drive ensures a seamless and efficient experience.
Why do you need cloud storage?
Cloud storage offers some distinct advantages over offline storage options. Security and Control Your chances of data loss in case of device breakage or loss can be decreased considerably, collaboration can easily occur, scaling can easily meet growing storage needs, and you have access from multiple devices anytime and anywhere.
Should you pay for the cloud storage?
No need, though it depends on your needs. There are plenty of free cloud storage solutions for personal use; up to 200GB are typically free. Should your storage requirements grow beyond this threshold, all cloud providers offer upgrade plans at minimal costs.
However, for business storage needs, paid services with stronger security features and multiple access/permission layers should be your top pick. Paid plans come equipped with more features.
What is Cloud Storage, and what is the need for it?
Cloud storage provides you with an efficient means to store computer data securely on servers for use at any time from an offsite location. You can access various forms of digital files easily through an internet connection. Internxt, Icedrive, Mega and PCloud all provide free online storage solutions.
Cloud storage is an indispensable necessity:
Security: One of the primary draws of cloud storage is its advanced security features, keeping your data safe online without risk of deletion and providing the ability to fully recover if disaster strikes.
Scalability: Cloud storage can easily expand as your needs increase; simply upgrade the plan if more storage space is required.
Easy File Sharing: With cloud storage, you gain easy file-sharing features which enable seamless file transfers.
Cost-Effective: By opting for free cloud storage service providers that offer secure environments and take care in protecting their data, no extra storage facilities or teams are necessary to take care of it.
What should you know about cloud storage security?
Below are a few key aspects to keep in mind regarding cloud storage security:
Backup Plan: Storing all your data on one server or offline is risky; therefore, using cloud storage as a back up is the safest solution. Not only is there free unlimited cloud storage space online available for this service; you can upload as much data as desired to secure its protection.
Data Encryption: Storing data on the cloud enables you to encrypt it either before or after sending. With services like Single Sign On and MFA available, only those authorized can gain access to it.
Security against hackers and malware: Cloud storage offers several layers of protection that make it harder for hackers and malware to gain entry to your data.
Best Free Cloud Storage Conclusion
As it stands, when it comes to selecting the most suitable free cloud storage solutions, there is an array of choices available to meet your individual requirements and preferences. Most free options provide generous storage capacities of 200GB or more without incurring an immediate cost; but which is right for you depends entirely on your storage requirements and preferences;
Should more space or features become necessary, upgrading to paid plans with reliable providers may offer improved security, advanced functionality, and greater peace of mind for both personal and business use; the ideal cloud storage is determined by what best fulfills these criteria – ultimately the one best fits with what suits you need when it comes to personal data sharing needs or storage/sharing needs is what defines best practice.
Best Free Cloud Storage FAQ
What is free cloud storage, and how does it work?
Free cloud storage is a service that allows you to store and access your digital files, such as documents, photos, and videos, on remote servers provided by a cloud storage provider. Users can upload and download files through the internet, and these files are stored securely in data centers maintained by the provider.
How much free cloud storage can I typically get?
Free cloud storage plans vary by provider, but they usually offer anywhere from 2 GB to 15 GB of storage space. Some providers may offer more storage space as part of promotional offers or for referrals.
Are there any limitations with free cloud storage?
Yes, there are limitations with free cloud storage. These limitations often include restricted storage space, lower security features, limited customer support, and sometimes restrictions on file types and sizes. Free plans may also have bandwidth limitations, affecting the speed of uploading and downloading files.
Is free cloud storage secure?
Free cloud storage providers do implement security measures, but the level of security may not be as robust as paid plans. It's essential to use strong passwords, enable two-factor authentication, and be cautious about what you store in the cloud. For sensitive or confidential data, consider using a paid cloud storage plan with enhanced security features.
Free cloud storage plans are typically free to use within their stated storage limits. However, some providers may offer additional features or storage space for a fee. Be sure to review the terms and conditions to understand any potential costs.