A variety of tools for working with PDF files are available on the website PDF Candy. It offers a variety of capabilities, including password security, PDF editing, merging, splitting, and compression. Without having to download or install any software, users may immediately access these functions through a user-friendly interface. Anybody who wants to work with PDFs will find PDF Candy to be a handy tool because it supports a variety of languages and file types. Overall, PDF Candy is a useful and effective PDF file management application.
Because it provides an OCR option, which is absent from the majority of free PDF editors, PDF Candy took the top rank on this list. The OCR text cannot be edited directly in the editor. However, if you upload your PDF file, PDF Candy will extract the text from it and produce an editable text document for you.
Despite being a browser-based tool, PDF Candy performs many of the same tasks as an app. Numerous buttons with various features are available on the home page. To use PDF Candy, all you have to do is choose the button for the task you want to finish, add your file, and let the programme handle the rest.
Best Free PDF Candy Alternatives 2023
Smallpdf
There are 21 tools available in the web-based PDF editor Smallpdf for editing and converting PDF files. With the slogan "We make PDF easy," Smallpdf provides straightforward tools with an easy-to-use UI.
Because it provides the most choices for converting files into PDFs and PDFs into other file types, Smallpdf was selected as the best programme for file conversion. Word, Excel, PowerPoint, and JPG files can all be converted to and from PDF.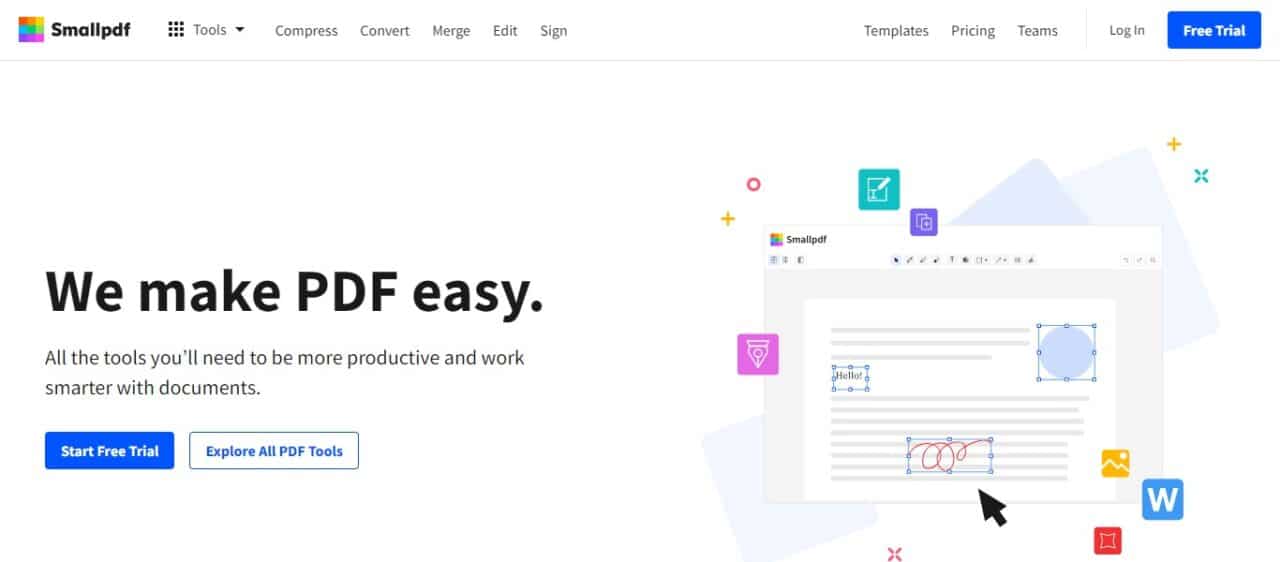 Additionally, Smallpdf provides an eSign function that enables you to sign your PDF and ask for others to do the same. This is perfect for any HR or legal paperwork that your business may submit to outside parties for signature.
Are you concerned that someone might misuse your PDF? You may password-protect your PDF with Smallpdf. Only those with the correct password can open a file that has been encrypted with a password since once it has been applied, it cannot be deleted. Additionally, you have the choice to turn off encryption when you want to.
PDFescape
One of the simplest tools on our list to use is PDFescape. Anyone looking for a quick, cost-free, and accessible choice for modifying PDFs can benefit from this browser-based PDF editor's compatibility with Chrome, Firefox, Edge, Opera, Safari, and Internet Explorer. It is free to use as long as the PDF doesn't exceed 100 pages or 10MB.
In fact, PDFescape contains a lot of capabilities for a free programme that will please anyone who needs to perform simple PDF editing. You can change the font's style, size, color, and alignment with the text tool. Fonts can also be made bold, underlined, or italicised.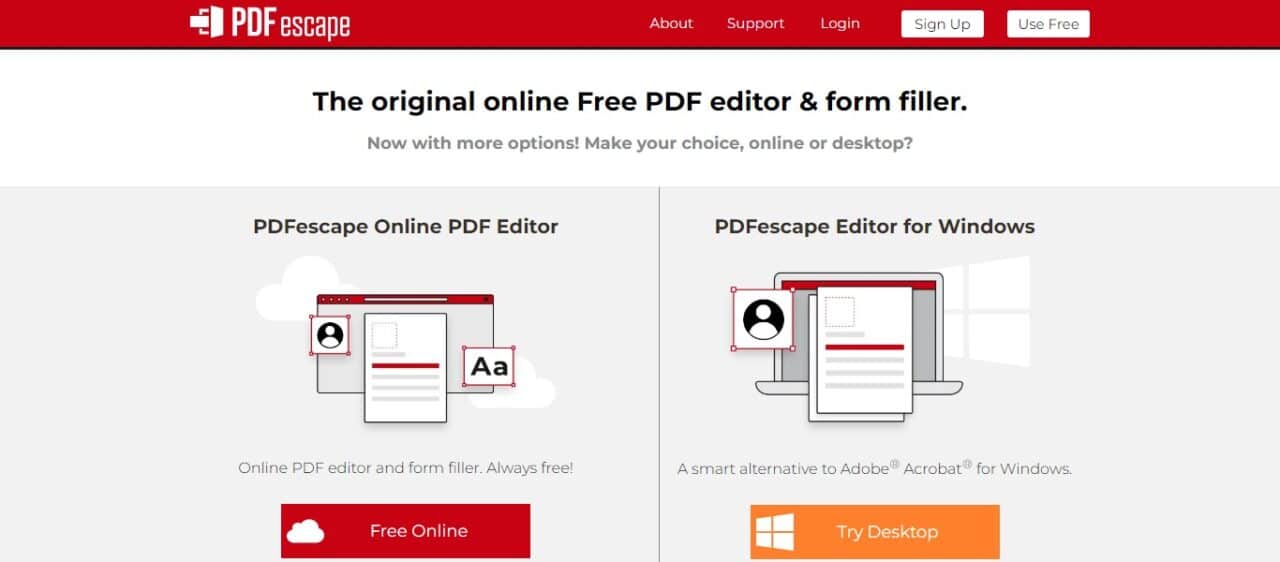 This is the tool for you if you intend to annotate a lot. On PDF documents, you can add drawings, strikethrough text, or white space over the portions you want to conceal. Additionally, you can include sticky notes and comments on the page. To further annotate the page, you can use the tool to place check marks, arrows, circles, and other symbols.
Existing text and photos cannot be changed using this tool, which is one of its drawbacks. You can, however, include your own text, pictures, links, form fields, and other content.
You can also delete specific pages from the PDF, crop out parts of the page, rotate pages, reorganize pages, and add additional pages from another document. To get started, upload your PDF file or past the URL to an online PDF. You can also create your own PDF from scratch.
FormSwift
As implied by the name, FormSwift is the best application for modifying and completing electronic forms. You may explore their extensive collection of legal and business forms in addition to being able to modify PDF files there. You can use FormSwift to fill out a sample form or upload your own PDF to save as a PDF.
The PDF editing process is made simple by FormSwift. You can add text and photos, highlight, redact, or delete existing text using the solution's capabilities after dragging a file into the browser.
It should come as no surprise that FormSwift offers an e-signature capability given that it is the best form solution available. The ability to download, print, or send fast via email makes it simple to fill out and sign forms.
The capability to swiftly and simply convert paper documents into digital ones using your mobile device is another fantastic advantage. You may quickly take a picture and upload your form to the tool so that you can easily make changes and sign it.
One of the downsides of FormSwift is its limited text options. You cannot make changes to existing text, and users only have four fonts to choose from. However, you can resize fonts, make changes to text colors, and choose different styles. You can also add new text to the form by placing the text field where you want to add content.
Sejda PDF Editor 
Sejda PDF Editor markets itself as the "easy, pleasant, productive" PDF editor, and it earns that title well. With a user-friendly interface that makes it easy to find and use all the editing options, anyone can learn to use Sejda.
Often people store secure information like professional or financial data in PDFs. Sejda is a great option for those who use PDFs to store sensitive information. All files uploaded to the platform are wiped from its servers after two hours.
Sejda PDF Editor offers a range of useful features like merging and splitting PDFs, compressing files, watermarking, and protecting PDFs with password encryption. With OCR capabilities, you can also extract text from scanned docs and edit the text directly.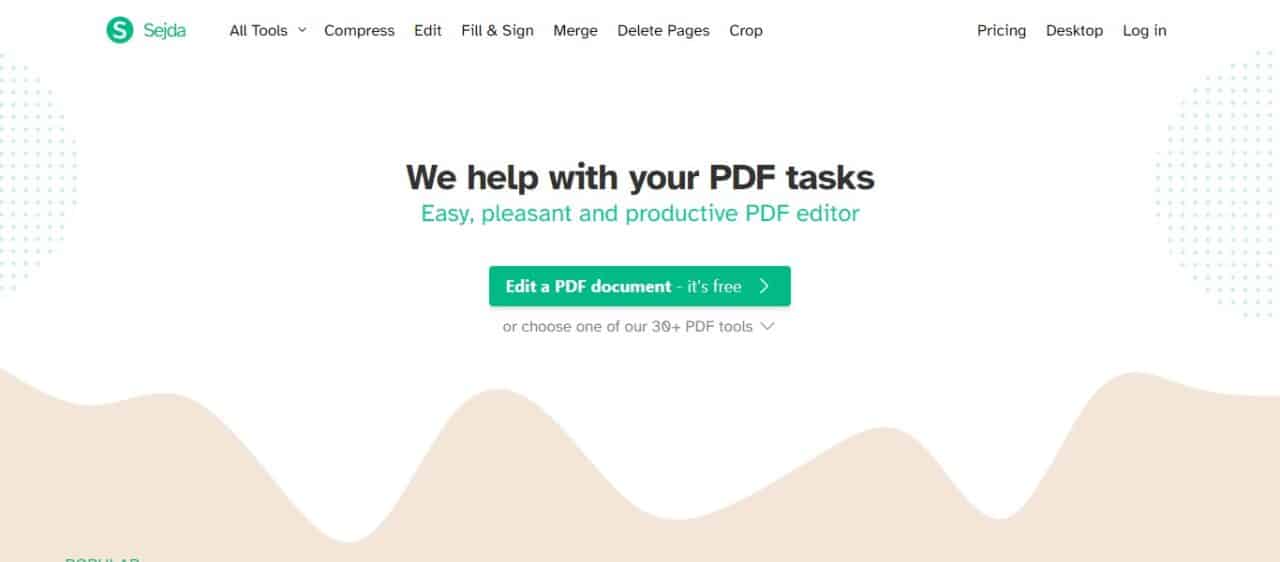 This free PDF editor also allows you to fill and sign documents. You can also create your own forms by adding fillable form fields to an existing PDF. This is a convenient feature for anyone who needs to digitize forms that were once printed and filled out physically.
Sejda also makes it easy to save and access your PDFs. When you're done editing a PDF doc, you can save the finished product to Dropbox, Google drive, or locally on your computer.
The free version of Sejda is limited to 3 tasks per hour, 50 MB, or 200 PDF pages. However, it's not too restrictive for those using the tool occasionally.
PDF-XChange Editor
For Windows users, PDF-XChange Editor is a free PDF editor. Compared to some of the other tools on this list, the user interface can be a little more challenging. However, the PDF editor does come with a number of useful tools that you may utilise right away.
With PDF-XChange Editor, you can generate, view, edit, and annotate PDF files, just like with the majority of the other tools on this list. You may digitally sign PDFs with it as well.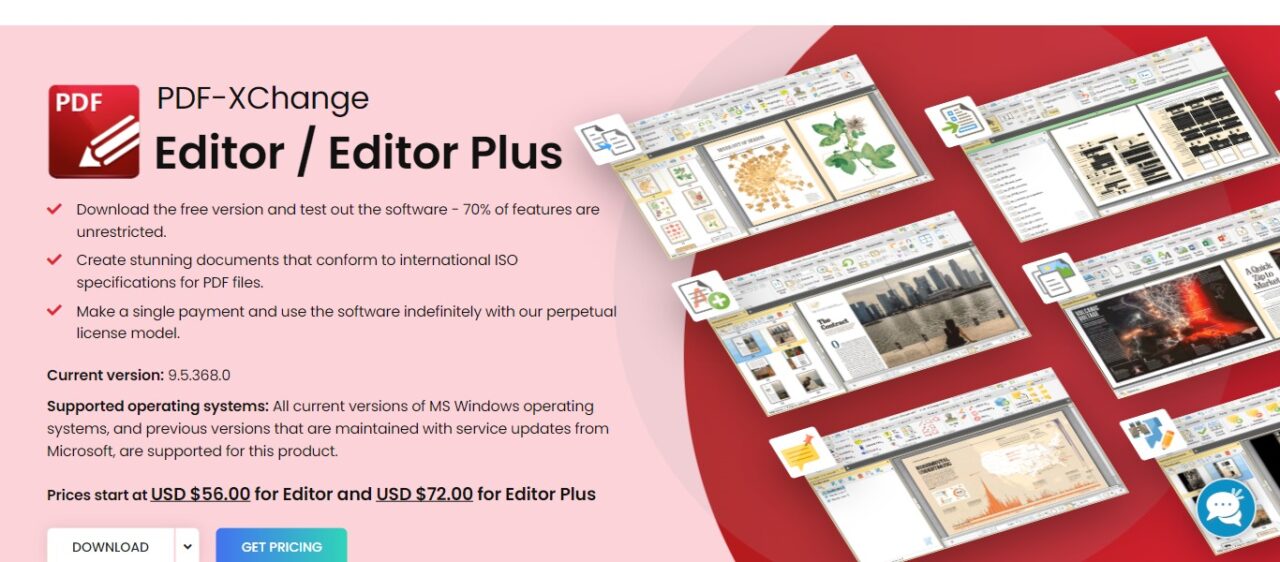 The fact that PDF-XChange Editor has an integrated OCR is one of its distinctive features. This means that you can alter text inside the programme because it can recognise text from written and copied documents. Any document's text can also be rearranged to match a particular font.
The use of more than 70% of the capabilities in PDF-XChange Editor is free. The PDF will, however, have a trial watermark because of the remaining features. In other words, you must either forgo those features or pay for the plus edition if you don't want a watermark on your document.
Apple Preview
Apple Preview is the best option for Apple users who need offline access to a PDF editor. It already comes installed on your Apple computer and offers all the features you might need for basic PDF editing. Not to mention, it also offers a variety of image editing features that can come in handy.
When first opening the tool, you'll see a few basic PDF editing tools on the toolbar like highlighting text or rotating pages. While it may be a little harder to find, there is a full set of markup tools inside Preview. You just have to click the small markup button near the search bar.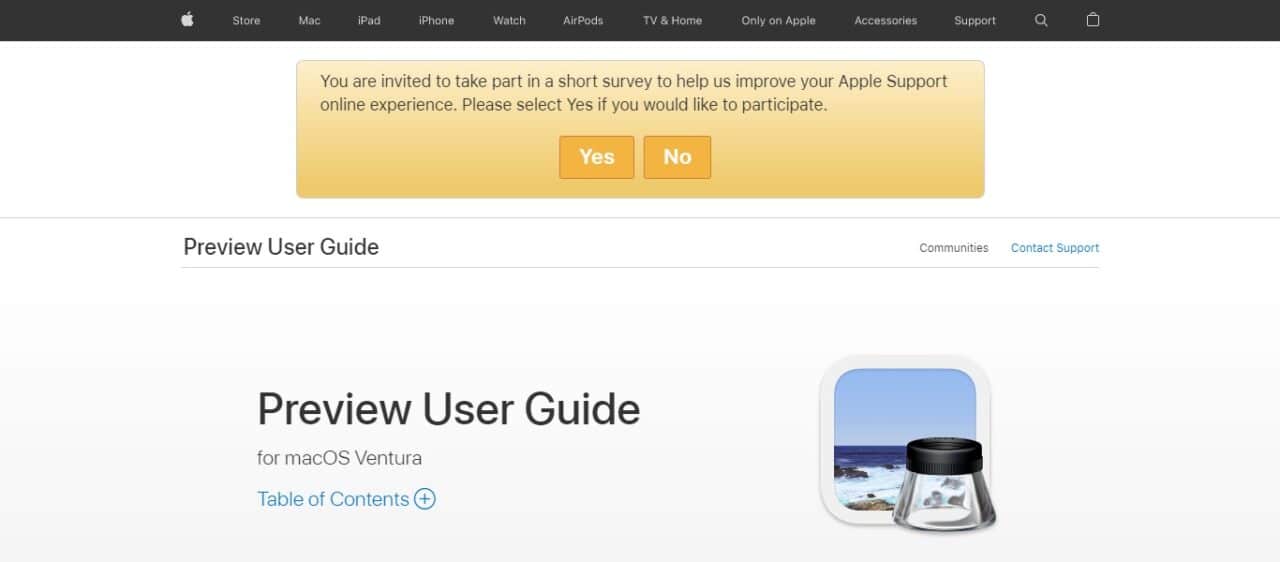 With Apple Preview, you get access to a variety of markup tools. You can select certain text, freehand draw on the document, add additional text to the document, and even insert shapes and notes—making this an excellent choice for annotation.
This free PDF editor also offers a signature tool. This allows you to capture your signature through your computer's camera, a tablet, or your trackpad. (No more resorting to a script font because you can use your actual signature.)
Canva's PDF Editor
With Canva's free online PDF editor, you can modify PDF documents to make them more appealing and attractive. It's one of the easiest online PDF editors you'll ever use. Import right into Canva and edit for free.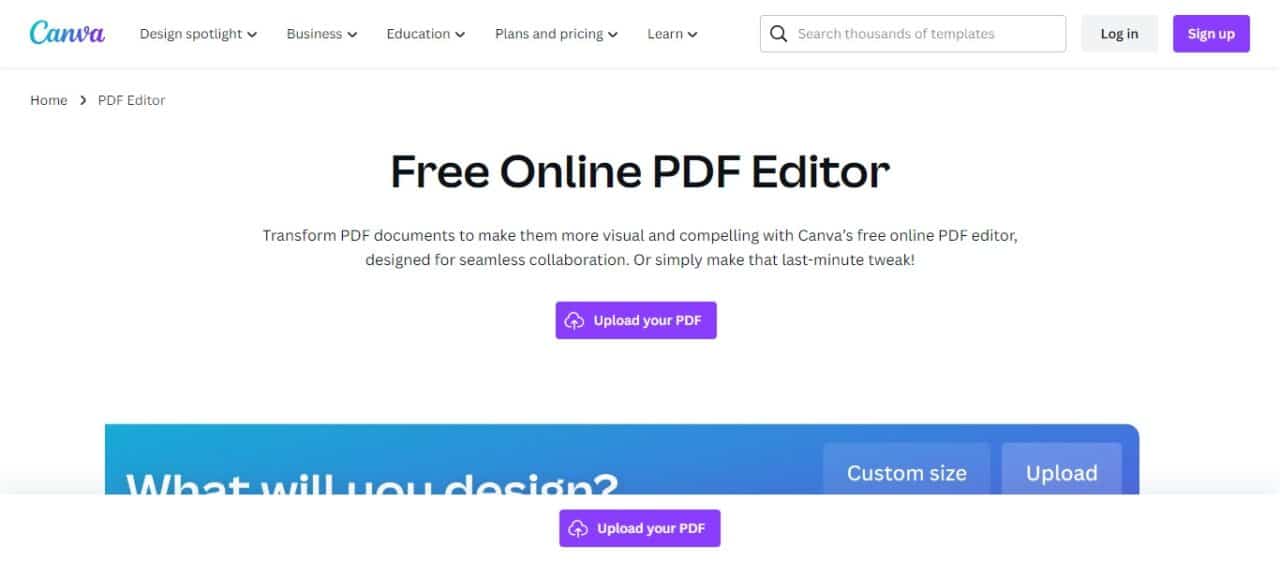 Your PDF can be modified and converted just like any other design. From there, Canva works its magic and separates your PDF into editable elements. Then you can simply share the file as a link or compress it into a JPG, PNG, or PDF file. From the same dashboard, you can also download files that are print-ready and shareable online. On top of all that, Canva's free online PDF editor is built for seamless collaboration.
About Free PDF
Independent of software, hardware, or operating systems, the Portable Document Format (PDF) is a file format used to exhibit and transmit information with reliability. It is frequently used to distribute electronic content like eBooks, manuals, and brochures.
Despite the abundance of free PDF viewers, specialised software may be required in order to create and modify PDF files. Additionally, some websites demand a fee to view certain PDF files, while others provide free PDF downloads for educational or promotional purposes.
Remember that sharing or downloading copyrighted content without authorization is prohibited, and always respect other people's intellectual property rights.
Why Free PDF Popular
Free PDF is well-liked for a number of reasons:
Universal Accessibility: PDF files may be opened and viewed using a PDF viewer on any device or operating system, making it a simple and widely usable file format.
Consistency: PDF files maintain their formatting and layout independent of the software or device being used since they are consistent across a variety of platforms and devices.
Security: PDF files can be encrypted or password-protected to add a layer of protection for sensitive or private data.
Easy to Share: PDF files are a popular option for documents that need to be shared with coworkers, acquaintances, or family members because they can be readily shared using email, messaging applications, or cloud storage services.
Cost-Effective: Since many PDF viewers and converters are free to use, producing, viewing, and modifying documents in PDF is a reasonably priced choice.
Eco-friendly: PDF files are a greener option for sharing and distributing information since they use less paper and have a smaller carbon footprint when printed and shipped.
Free PDF is a recommended file format for both personal and professional use because of its simplicity, reliability, cost-effectiveness, accessibility, and ease of use.
Why Free PDF Not Good Choice For Some Users
Even though Free PDF is a popular file format among consumers, not everyone should use it. Here are some explanations as to why Free PDF might not be the best option for all users:
Limited Editing Options: Although basic editing tools are accessible, modifying PDF files can be difficult, and more complex features frequently need for specialised software, which may incur a fee.
File Size: When sending or receiving huge files, it may be a problem that PDF files are larger than other file formats.
Incompatibility with Some Software: Working with some papers can be difficult since some software may not be able to open PDF files.
Formatting Issues: While PDF files are designed to maintain formatting consistency, there can still be issues with formatting when opening PDF files on different devices or software.
Accessibility: While PDF files can be read on any device with a PDF viewer, they may not be accessible to users with certain disabilities, such as visual impairments, without additional assistive technology.
Security Issues: While PDF files can be password-protected or encrypted, they may still be vulnerable to security breaches or hacking attempts, which can compromise sensitive or confidential information.
Free PDF Conclusion
Overall, PDF Candy is a reliable and useful tool for anyone who works with PDF files on a regular basis. While it may not have all the features of paid PDF software, it provides more than enough functionality for most users' needs, and its free nature makes it an excellent choice for budget-conscious individuals and small businesses.