AutoCAD Civil 3D is widely renowned 3 . Created by Autodesk, this powerful program is tailored to meet the complex demands of civil engineering projects. AutoCAD Civil 3D integrates advanced design and drafting capabilities with sophisticated modeling tools for civil infrastructure modeling; engineers can utilize it to create 3D models of surfaces, roadways, or any other infrastructure elements for accurate visualization and analysis purposes.
AutoCAD Civil 3D's dynamic modeling capabilities enable engineers to explore various design scenarios, optimizing plans for efficiency and cost effectiveness. Furthermore, its documentation process streamlines significantly, producing detailed construction documentation as well as helping coordinate design teams. With its comprehensive feature set making AutoCAD Civil 3D an indispensable tool for civil engineers in terms of efficiency and precision of project execution.
What is Civil Engineering Software
Civil engineering software refers to a range of programs designed specifically to aid civil engineers with various aspects of their work, from design and analysis through project management and documentation. Civil engineering projects often include complex infrastructure such as roads, bridges, buildings and water systems – these software tools are tailored specifically to address their particular challenges.
Civil engineering software encompasses a diverse selection of programs and applications, such as CAD (Computer-Aided Design) programs for creating detailed drawings, structural analysis tools for evaluating structures' stability and strength, project management software for scheduling resource allocation, and surveying software that offers accurate data collection and terrain modeling.
These tools improve the efficiency and precision of tasks involved with civil engineering project planning, design, and execution, contributing to infrastructure success and safety. AutoCAD, SAP2000 and Primavera are just a few examples that offer invaluable assistance in this multifaceted field of civil engineering.
Here is List of Best Software For Civil Engineering
AUTOCAD for Drafting
STAAD PRO for Design and Analysis
PRIMAVERA for Construction Management
REVIT Structure for Building Information Modelling
ETABS for Design and Analysis
SAP 2000
MS EXCEL
ARCGIS for Surveying
3DS Max – Modelling
MX Road – Road design and Analysis
10 Best Software For Civil Engineering
1. AUTOCAD for Drafting
AUTOCAD stands as a foundational software in the realm of drafting and documentation for construction projects, developed by Autodesk. Its widespread utilization is evident across numerous structural design consultancies and firms, particularly in India, where it has become a staple in the toolkit of engineers and architects. AUTOCAD's significance lies in its ability to provide a user-friendly platform for creating precise 2D drawings and documentation, streamlining the design process.
Notably, the 3D version of AUTOCAD further extends its capabilities, allowing professionals to delve into the realm of three-dimensional modeling. The software's versatility and intuitive interface make it an essential resource for transforming conceptual ideas into detailed and accurate representations, playing a crucial role in shaping the landscape of architectural and engineering projects.
2. STAAD PRO for Design and Analysis
Bentley System's STAAD PRO software is widely recognized for its ability to help designers and analysts analyze structures. Professionals working within the construction field frequently rely on this application.
STAAD.Pro is the go-to software solution for structural engineers looking to design structures made of steel, concrete, timber, aluminum and cold-formed steel – such as culverts, petrochemical plants tunnels bridges piles – through its flexible modeling environment, advanced features and fluid data collaboration capabilities.
3. PRIMAVERA for Construction Management
Primavera stands as an industry-leading construction planning and scheduling software, favored by more than 70% of planning and scheduling professionals in the field. Primavera's extensive capabilities make it a reliable solution for managing complex construction projects by offering tools for planning, scheduling, and project control. Critical Path Method Scheduling, Resource Allocation, and Project Tracking provide professionals with all of the features necessary to optimize project timelines and resource usage.
Professionals seeking to increase project efficiency and mitigate risks within the construction industry frequently turn to RPA solutions as a solution. Notably, Microsoft Office also offers an equivalent project planning and scheduling tool known as MS Project that offers an intuitive user interface and integration features into its ecosystem. When choosing between Primavera or MS Project for project management professionals, much depends on their individual needs and preferences.
4. REVIT Structure for Building Information Modelling
Building Information Modelling can be considered one of the 21st century's greatest innovations for infrastructure projects. BIM (Building Information Modeling) is an intelligent 3D model-based process which gives architecture, engineering and construction (AEC) professionals tools and insight needed to plan, design, construct and manage buildings more effectively and efficiently.
5. ETABS for Design and Analysis
ETABS is the ultimate integrated software package for structural analysis and design of buildings, drawing upon 40 years of continuous research and development to offer unrivalled 3D object-based modeling and visualization tools, fast linear and nonlinear analytical power, comprehensive material selection capabilities for design solutions across a wide variety of materials, insightful graphic displays, reports and schematic drawings that facilitate understanding the results quickly.
6. SAP 2000
SAP2000 stands out as an impressive software tool in structural engineering, offering a reliable platform for design and analysis of structures. Used extensively across numerous structural firms worldwide, this versatile program equips engineers with an impressive set of features.
One notable feature is its vast library of templates, which enables quick start-up of new models. This software offers parametric templates catering to various structures like beams, 3D trusses, frames, storage vessels, staircases, dam structures and pipes.
Template-driven modeling not only speeds up the modeling process but also ensures high levels of accuracy and consistency in structural analyses. SAP2000's versatility and efficiency make it a valuable asset for engineers who face the challenging task of designing and analyzing diverse structural systems.
7. MS EXCEL
Microsoft Excel, the spreadsheet software developed by Microsoft, has become an indispensable asset in various fields – especially Civil Engineering. Excel goes far beyond traditional calculation and graphing tools with advanced features like pivot tables and the Visual Basic for Applications (VBA) macro programming language. Since Excel version 5's introduction in 1993, its versatility and user-friendliness has led to its widespread usage within Civil Engineering.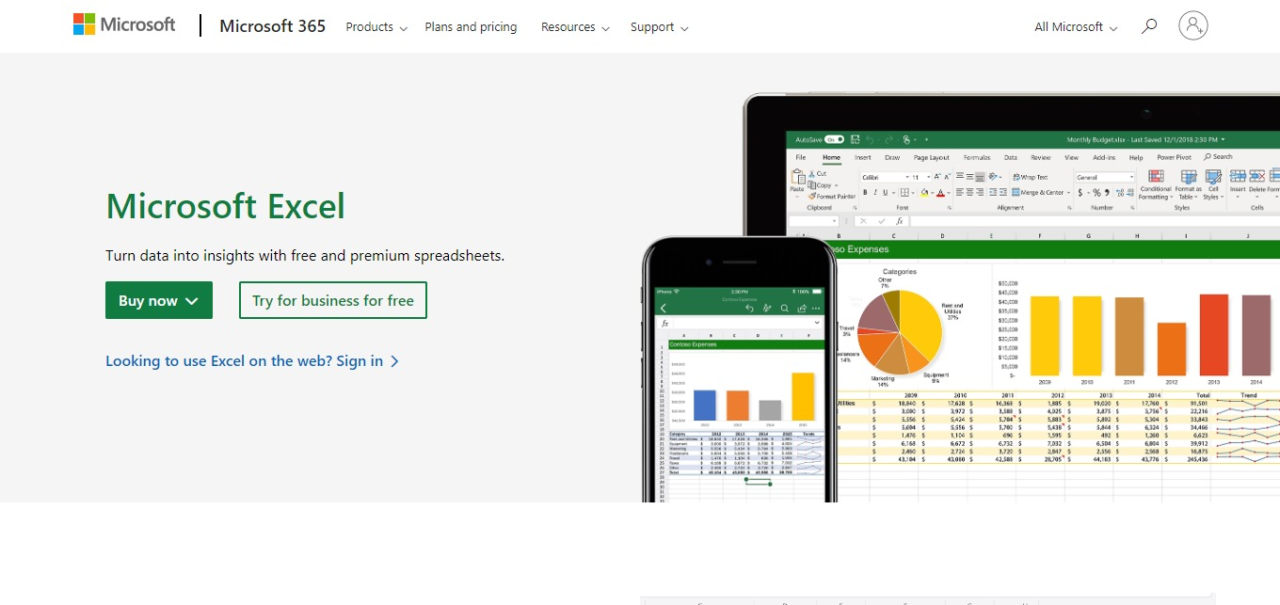 Excel plays an essential role in data collection, surveys, analysis and design processes. Engineers often utilize spreadsheet software as it offers a structured environment for organizing and manipulating data, making it the go-to solution for performing complex calculations, producing detailed reports and aiding efficient decision making across a range of civil engineering projects.
8. ARCGIS for Surveying
ArcGIS is an extremely useful software used in Geographic Information System and assists in creating Thematic Maps. ArcGIS for Desktop provides access to location awareness. Collect and manage data, create professional maps, perform traditional and advanced spatial analyses, solve real problems – making a tangible impactful difference for organizations, communities and societies everywhere!
9. 3DS Max – Modelling
Autodesk's 3ds Max stands as an influential animation software known for producing striking visuals. A comprehensive modeling and rendering tool, 3ds Max meets the complex demands of various industries – interior design being its specialty area. Utilizing an intuitive user experience and comprehensive features, this software enables designers and animators to realize their creative dreams.
3ds Max provides an effective platform for 3D modeling, texturing and rendering that makes creating intricate interior spaces or stunning visual graphics easy and efficient. 3ds Max provides users with an expansive toolkit of lighting, shading and animation tools to produce realistic yet visually captivating results. Created by Autodesk, 3ds Max remains an indispensable choice for professionals seeking to push the limits of digital design and animation creativity.
10. MX Road – Road design and Analysis
MX Road by Bentley Systems stands out as an outstanding software solution for road design in civil engineering. This ground-breaking tool seamlessly combines 3D modeling technology with established design workflows to usher in an era of precision and efficiency in road infrastructure projects. MX Road's innovative 3D modeling solution empowers engineers to build precise 3D models of roads, highways and related structures allowing a deeper insight into a project's spatial dynamics.
MX Road's combination of cutting-edge technology with classic design approaches not only elevates design quality, but also provides for an easier, intuitive design process. MX Road software enables engineers to simulate real-world conditions, anticipate challenges and optimize road layouts for safety and functionality. MX Road's ability to streamline design workflow contributes to increased productivity and better decision-making – making it an indispensable resource for civil engineers engaged in road design projects.
What are the benefits of using civil engineering software?
Civil engineering software offers many benefits that can increase efficiency, accuracy, and overall project success for infrastructure projects. Some key advantages include:
Efficient Design and Modeling: Civil engineering software such as AutoCAD and Revit enable engineers to efficiently create 2D and 3D models of structures and infrastructure in AutoCAD or Revit for efficient design and modeling, streamlining their design process while improving visualization.
Enhance Analysis and Simulation: Structural analysis software such as SAP2000 enables engineers to assess the stability, strength, and behavior of structures under various conditions in order to optimize designs for safety and performance.
Project Planning and Management: Primavera and Microsoft Project are ideal tools for project planning, scheduling and resource allocation – providing greater coordination, timely completion and efficient use of resources throughout its lifespan.
Data Accuracy and Integration: Civil engineering software facilitates accurate data collection via surveying tools, while unifying various sources for more reliable project information.
Cost and Time Savings: Automating repetitive tasks and exploring multiple design scenarios are proven ways to reduce time wastage while increasing accuracy reduces errors and costly rework costs.
Collaboration and Communication: Civil engineering software platforms often enable collaborative efforts among team members, providing real-time sharing of project data as well as improved communication among architects, engineers, and other stakeholders.
Compliance Features: Civil engineering software often includes features to ensure projects comply with local building codes, regulations and industry standards – reducing legal issues and project delays as a result.
Visualization and Communication: Visualization tools like SketchUp and Lumion make design concepts more accessible to clients and stakeholders, leading to enhanced communication and understanding between all parties involved.
Environment Impact Analysis: Some software offers tools for assessing the environmental impacts of projects, helping engineers make informed decisions regarding sustainable practices and regulatory compliance.
Adaptability to Change: Software provides quick and efficient ways of making modifications to designs and plans to adapt to changes in project requirements or unanticipated obstacles.
Civil engineering software plays an integral part in improving efficiency, accuracy and collaboration throughout infrastructure project lifecycles, leading to their successful planning, design and execution.
Pros & Cons Best Software For Civil Engineering
Pros
User-Friendly: MS Project has a relatively intuitive interface, making it accessible.
Integration: Seamless integration with other Microsoft Office applications.
Affordability: Often more budget-friendly compared to some alternatives.
Cons
Limited Functionality: May not have the advanced features required for very complex projects.
Scalability: While suitable for smaller to medium-sized projects, it may struggle with extremely large projects.
Dependency on Microsoft Ecosystem: Integration benefits are maximized within the Microsoft ecosystem.
Best Software For Civil Engineering Conclusion
Conclusion When selecting the most appropriate software for civil engineering projects and professionals involved, choosing the optimal software ultimately depends on their individual needs, scale, preferences and project requirements. AutoCAD stands out as an industry standard that can offer both 2D and 3D modeling capabilities – its widespread adoption makes it an attractive option; SAP2000 excels with advanced structural analysis features while Primavera/MS Project provide robust tools for planning/scheduling/resource allocation/project tracking/management respectively.
Each software option brings with it unique advantages and limitations; AutoCAD is widely recognized for its versatility but can be resource intensive; SAP2000 provides powerful structural analysis but may be complex for beginners; Primavera's robust project management tools may be overkill for smaller projects; MS Project is user-friendly but may lack some advanced features;
At times, combining multiple tools may provide the optimal approach. Civil engineers continue to reap the rewards of technology's advances with sophisticated software solutions designed specifically to advance designs, analyses, and project management practices – offering professionals new heights of success with designs, analyses, and project management practices. It is crucially important that professionals understand their specific project demands when selecting software suitable to match those requirements.
Best Software For Civil Engineering FAQ
What is the best software for 2D and 3D modeling in civil engineering?
AutoCAD is widely considered the industry standard for 2D and 3D modeling in civil engineering due to its versatility and widespread use.
Which software is best for structural analysis in civil engineering?
SAP2000 is renowned for its advanced structural analysis capabilities, making it a preferred choice for civil engineers working on structural projects.
What software is recommended for project planning and scheduling in civil engineering?
Primavera and Microsoft Project are popular choices for project planning and scheduling, offering robust tools for resource management and coordination.
Is there affordable software suitable for small to medium-sized civil engineering projects?
Microsoft Project is often more budget-friendly and suitable for smaller to medium-sized projects, providing a user-friendly interface and integration within the Microsoft ecosystem.
Which software is commonly used for collaborative work in civil engineering projects?
AutoCAD, Revit, and other Autodesk products are known for their collaborative features, allowing multiple users to work on the same project simultaneously.