About Bybit Exchange
Bybit Exchange is a cryptocurrency derivatives exchange with a wide range of advanced trading tools. It has top-notch security and a no-down-time commitment, but it's not available in the U.S.
Bybit is one of the absolute key players in the crypto exchange world and it's been around since March 2018. The platform is registered in the British Virgin Islands and is regularly one of the biggest exchanges in terms of 24 hour contract trading volume (only Binance is regularly bigger).
On the date of last updating this review (13 January 2023), Bybit Exchange had a 24 hour trading volume amounting to USD 12.9 billion, spread out over 191 different trading pairs, according to Coinmarketcap.com.
Information Table
| | |
| --- | --- |
| Exchange Name | Bybit |
| Exchange Service | Spot and futures trading |
| Exchange Launch Year | 2018 |
| Made In | Singapore |
| Mobile App | Android & IOS |
| Fiat Option | Available |
| KYC | Required |
| 2FA Security | Available |
| Transaction Fees | Maker Fee: -0.025%Taker Fee: 0.075% |
| Listed Cryptocurrency | BTC, ETH, USDT, EOS, XRP, & more |
| Trading Pairs | BTC/USD, ETH/USD, XRP/USD, EOS/USD, BTC/USDT |
| Support | Email & Live Chat Option Available |
| Official Website | Click Here To Visit |
How To Register At Bybit Exchange?
To register on Bybit, click Register Now button at the top of the page. You can also start creating an account directly through the form on the main page.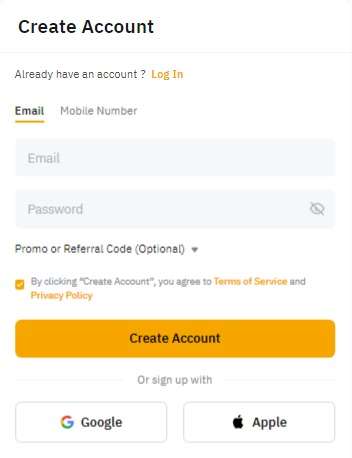 You only need to enter your e-mail and come up with a password. If there is a referral code, it is also entered at this stage. Password requirements: at least 8 characters, numbers, upper and lower case.
Click " Create Account " then go to your email to verify it. Enter the code you received and registration is complete. You can start replenishing your account.
How To Verify Your Bybit Exchange Account ?
There is no mandatory verification at Bybit, but you can pass it if you wish. At the moment, the only restriction imposed on unverified users is the withdrawal limit of 2 BTC per day. In the future, depending on the actions of regulatory authorities, conditions may change.
For verification, you can use one of four documents to choose from: passport, driver's license, identity card or residence permit. Artificial intelligence is used to evaluate the authenticity of documents. This service is provided by the Onfido online identification service, already used by the Bitstamp, Revolut platforms.
How To Buy Crypto Or Deposit Crypto At Bybit Crypto Exchange ?
There are two main options for topping up your balance on Bybit Exchange. Firstly, you can buy cryptocurrency with a bank card – it's fast and convenient. Go to the " Buy crypto " -> " Buy crypto with a credit card " section.
Choose a cryptocurrency (currently there are 13 coins available for purchase in this way). Enter the amount and select the fiat currency to be used for payment.
After that, you will need to select a payment channel: each of them has conditions. You can choose between Simplex, Mercuryo, Banxa and Moonpay. Click " Buy " next to the appropriate option.
Agree to the terms and confirm the transition to the site of the payment provider. Enter information about the card and its owner, confirm the transaction. Cryptocurrency will be credited to the exchange account within a few minutes.
Second Method
You can transfer digital assets to the balance of the exchange from any external crypto wallet. For this:
Go to the "Deposit" section from the "Assets" menu.
From the drop-down list, you can select the cryptocurrency you want to deposit into your account.
The wallet address will appear. You need to copy it and send funds to it from another wallet or exchange. Please note that only bitcoin can be sent to bitcoin addresses, similarly with other coins.
You can also click "Show QR code" – for transfers from a mobile wallet, this is a more convenient option.
How To Withdraw Crypto Asset From Bybit Exchange ?
Having completed all the necessary trading operations, it's time to withdraw the received assets to an external wallet. Go to " Assets " -> " Withdraw ". Please note that the operation is only available after enabling two-factor authentication in the settings. This is for added security and requires less than a minute, so don't neglect this measure.
Select a cryptocurrency and enter the withdrawal amount. Each coin has its own withdrawal fee, for example, for BTC it is 0.00057 BTC. Click " Output ". By default, the exchange processes applications three times a day, however, hourly withdrawals are available for Premium users. Also, the time of receipt of the cryptocurrency is affected by the workload of the blockchain network.
How To Secure Your Bybit Exchange Account ?
Also remember to go to the Security tab and activate two-factor authentication using the Google Authenticator app – this is the most reliable way to prevent unauthorized access to your account.
Bybit Fees
Bybit trading fees vary depending on your membership level and the type of trading you are doing. Your level is determined by your asset balance and your 30-day trading volume. To summarize, the contract trading fees range from 0.075% to 0.0525% for takers and 0.01% to 0.00% (i.e. free) for makers. Spot trading fees ranges from 0.10% to 0.02% for takers and 0.10% to 0.00% (i.e. free) for makers.
Bybit Trading Fees
There are 7 membership levels:
Non-VIP
VIP 1
VIP 2
VIP 3
Pro 1
Pro 2
Pro 3
For USDC options trading, the maker and taker fee are both 0.03% for all membership levels. This is the easy one.
For contracts or derivatives, trading non-VIP members have a 0.06% fee for takers and a 0.01% for makers. This drops to 0.03% and 0% respectively at the highest membership level.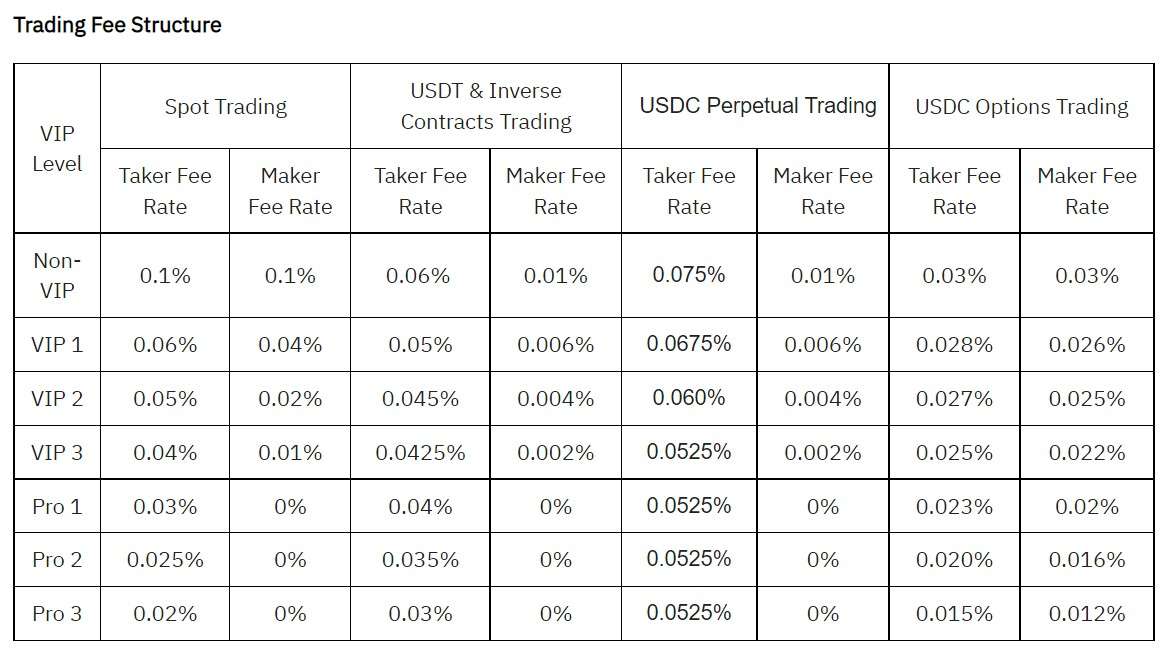 Bybit Withdrawal fees
When withdrawing BTC from the Bybit trading platform, you will have to pay 0.0005 BTC per BTC withdrawal. This is slightly lower than the current global industry average, being 0.0004599 BTC per BTC withdrawal.
Features Of Bybit Crypto Exchange
1 Click Coin Swaps
Users can easily swap between supported cryptocurrencies from within their accounts.
100,000 TPS per contract
Which is 10x the industry average and results in no overloads.
Cold Wallet Storage/Manual Withdrawals
Bybit employs cold storage and conducts three daily manual withdrawals to strengthen security
Unlimited Withdrawals
Users of the platform are allowed to make virtually unlimited trades and withdrawals
No KYC
Accounts can be opened and maintained with just an email address and username.
Referral Program
The referral program aims to share the financial incentive with the active traders who introduced or referred friends and families to Bybit. Traders can earn an instant bonus of $10 equivalent in BTC. The following table shows the referral bonus earned based on the trade volume of a newly introduced user.
| VOLUME | BONUS |
| --- | --- |
| 50K | $5 |
| 100K | $5 |
| 200K | $10 |
| +100K | $10 |
| 5M | $500 |
Available At Android & IOS Store
Bybit exchange application available on both world famous mobile store google play store and iOS store . You Can download App and start trading .
Passive earning tools
In the Passive Income section of Bybit, you can invest USDT or BTC and earn daily profits. At the same time, the exchange guarantees the receipt of the declared profit, since even in the event of a deterioration in the market situation, it will cover payments from its own funds until it develops a new strategy.
Mind Blowing Design
They've done a great job with making the homepage easy to navigate. The only drawback is that, with the white background, it can be hard on your eyes. Other than that, you'll find their charts and trade tools easy to use if you're already familiar with Tradingview.
Bybit Video
Conclusion
The Bybit exchange is listed on sites like CoinGecko and CoinMarketCap. You'll find high trading volumes, especially for futures. With a premium account, you can save a lot of money when buying it for one year; at the same time, all commissions for spot-trading will be waived. If you're unsure about anything, there's always a test platform that offers virtual assets. On Phemex, the user doesn't have to go through any verification; however, we recommend it if you want full functionality and many bonuses.