What is Crystalsound Ai ?
The "My Voice Only" feature from CrystalSound is a ground-breaking innovation that transforms how we interact with audio recordings. This technology isolates and amplifies the user's voice, delivering crystal-clear clarity in any circumstance by successfully eliminating unwanted noise and other voices.
The "My Voice Only" application enables users to record, edit, or simply listen to their own speech in busy indoor or outdoor settings without being disturbed by outside noises. With its innovative technologies, smooth and immersive audio experiences are now possible, increasing convenience and productivity.
Key Points
| Key | Point |
| --- | --- |
| Product Name | Crystalsound Ai |
| Product Type | Ai Audio Editing Tool |
| Free Trail | Yes Available Basic Version |
| Price Start From | $8/month |
| Deployment | SaaS/Web/Cloud Mobile – Android Mobile – iOS |
| Offline/Online Support | Online |
| Customer Type | Large Enterprises ,Medium Business ,Small Business |
| Official Website | Click Here To Visit |
Crystalsound AI Transcription Pricing
Now it's time to talk about company plans and pricing.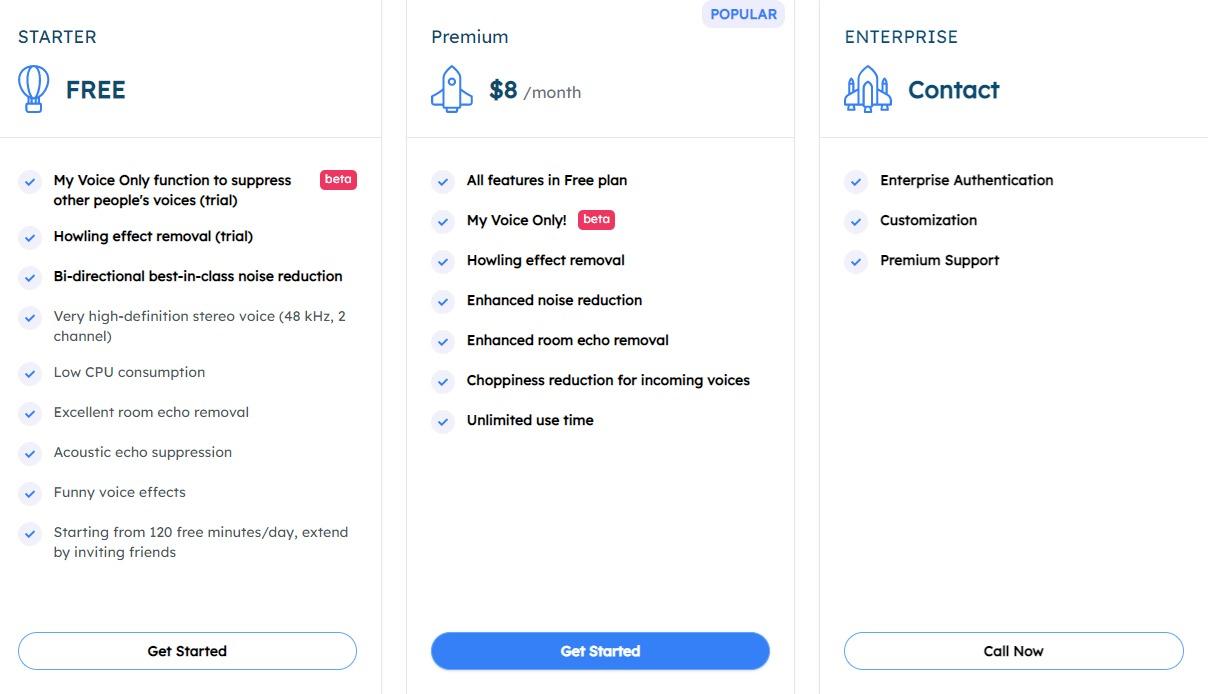 How to Sign Up & Use Crystalsound Ai?
Visit the CrystalSound website: Go to the CrystalSound website using your preferred web browser.
Create an account: Look for the "Sign Up" or "Create Account" button on the website's homepage. Click on it and fill out the required information, including your name, email address, and password. Review and accept the terms of service and privacy policy if prompted.
Verify your email: After completing the sign-up process, you will receive an email from CrystalSound. Open the email and click on the verification link to confirm your account.
Log in to your account: Once your account is verified, return to the CrystalSound website and click on the "Log In" button. Enter your email address and password to access your account.
Upload your audio file: On the CrystalSound platform, you will find an option to upload an audio file. Locate this option and click on it. Select the audio file from your device that you want to process with the "My Voice Only" feature.
Choose the "My Voice Only" feature: Once your audio file is uploaded, look for the "My Voice Only" feature in the CrystalSound interface. It may be in the form of a toggle switch or a checkbox. Enable this feature to activate the noise elimination and voice isolation capabilities.
Customize settings (optional): CrystalSound may offer additional customization options for the "My Voice Only" feature. Explore the settings to adjust parameters such as noise reduction strength, voice clarity, or other audio enhancement options. Experiment with these settings to optimize the output according to your preferences.
Process the audio: After configuring the settings, initiate the processing of your audio file. Depending on the file size and the processing power of the CrystalSound platform, this may take a few moments.
Access the processed audio: Once the audio processing is complete, you will be able to access and download the processed audio file. Look for a download button or link on the CrystalSound platform and save the file to your device.
Use the processed audio: The processed audio file now contains only your voice, with unwanted noise and other voices effectively removed. You can use this file for various purposes, such as transcription, editing, or simply listening to your own voice without distractions.