About Dragon War
Dragon War is a turn-based strategy game in which characters are represented by unique NFTs on the blockchain system. The NFT will give players much better ownership rights as it is truly owned by them at their wallet address. These NFT characters are also very distinguished, with different appearance, attributes, and characteristics. They can't be tampered with and are completely on-chain.
The NFT Dragon War Ico will be built and minted, and should consist of many different unique body parts. If Axies can either be of pure breed or a hybrid of many different types with many different parts and abilities, Your dragons would like to be built in the same way.
All dragon's body parts have their own strengths and weaknesses. And this system means they can make every battle a different experience. Since the strategy is key, you'll want to pay attention to synergies between characters, dragon line-up, power cards and items also.
Synergies are a critical part of your strategy. Your own elemental dragon will consist of 4 characteristic attributes: Earth — Fire — Thunder — Water and the incompatible mechanics in the game are Fire > Earth > Thunder > Water > Fire. They are similar to the rock-paper-scissor game.
Token Basic Information
Dragon War's Lore
A long time ago, when that was the beginning of time, Geva, the Goddess of Creation, created the first human beings in this tedious and primitive world. She shaped the world by building up spectacular mountains, dredging oceans, blowing out the sky, and bringing life to all things. That land, called Eragard, was inhabited by many different races and creatures, they all had to struggle to survive in the harsh elements of a waking world.
Game's Progress
Any game in the world always has progressed. It is just like a machine, when you turn on the 1st step, it makes motivation and goes to other steps, then it back to the 1st step and keeps making a new round. Dragon War's progress has the same meaning, it is circulation. When User plays it, they can earn more and more rewards besides of get stronger than before.
Tokenomic
Tokenomics of Dragon War somehow would be similar to the same turn-based Game category and we should learn from the best.In this tokenomic, we have 2 tokens, one is the main token DRAW can be used to
Buy main in-game NFTs such as Heroes, Dragons,…
Staking for reward from Game Revenue and governance how the game should be developed in future.
The ERA – 2nd token which you can use to
Buy other NFTs in-game such as Skill cards, Heroes equipment items, consumable items…
Can be used to upgrade Char, item, or fusion your Dragons.
Later, when we have PvP mode ready and PvP tournament, it can be used as a fee to participate in these events also.
Strength of Dragon War's Tokenomic
In Dragon War, the amount of NFTs is huge. We have not only tens of thousands of Dragon variances, Ability/Skill Cards… but also Heroes, Equipment Items, Consumable Items…In addition to that, with our tokenomic model, the tokens will have a lot of different use cases that can be used, or burned. That would be an important factor to balance and decide how sustainable a token comic is.Running on Solana is another strong support for our tokenomic:
For other games running on BSC or Ethereum, the gas fees are huge so a lot % of reward you need to spend for the gas fees to play the game. In Sol, the gas fee is a thousand times less than BSC, which is almost equal to 0. That would definitely make the cost for tokenomic much lower than the others which would also make tokenomic more sustainable.
Play to earn​
There are many ways Users can earn values from Dragon War:
Players can earn the token by winning a battle;
Completing game daily/weekly missions.
Top ranking of sessions.
Winning sessions in the World Boss raid, Guild wars mode.
Also can earn value through selling rarity, enhancement items/Heroes on Marketplace
Dragon War Chest
The first kind of Dragon Chest available for buy will be Pre-Sale Chest. With this chest, User can get to 5 Dragons with Class and Element in randomly. And you will have at least 1 RARE Dragon when you open this chestRemember, the PRE-SALE CHEST only in the first days of the game-opening, with only 1 Chest for each User, with the very interesting prices for User get the first ticket to onboard the Dragon War's Flight. So it's up to you to get that rarity chance.
The Team
Dragon War brings together all the members who have both experience in the field of Game development as well as Blockchain technology. All members of our team have a passion to bring a good qualified NFTs game to the player's hand, we believe that with experience, they can be the next successful Blockchain game team.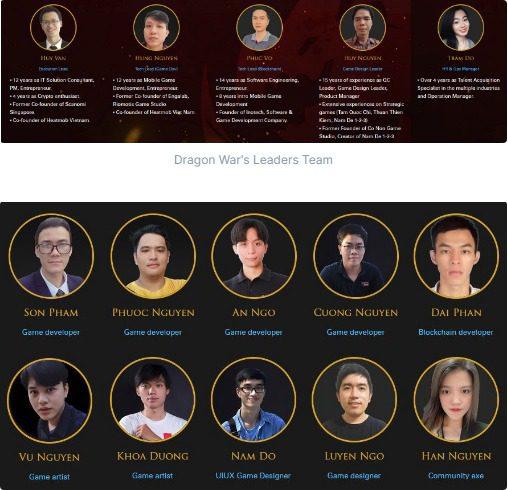 Video