The Founder of Bitcoin Foundation Bruce Fenton has stated that people make sound decisions from their own experience than the government telling them what to do with their lives.
In a post on Twitter, he enumerated how the markets have so far prudently regulated Cryptocurrency than any regulator could have done. From his perspective, people take risks, some win, some lose and learn from such actions.
According to him, it is based on such experiences that people end up making better decisions. Fenton wrote:
"The free markets have regulated crypto far better than any regulator could have. People take risks. Some win. Some lose.
All learn. People then make better decisions on their own experience, not a nanny government telling them what's good or bad. Price discovery is natural."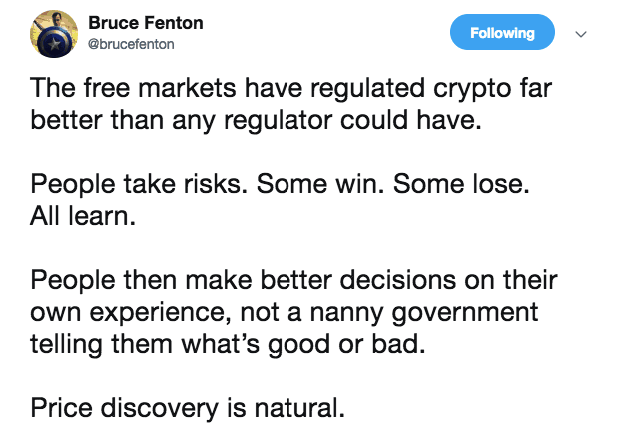 Followers' Response
Fenton's post received mixed responses from his followers, some of which he addressed eloquently.
Rubberroad responded:
"While I agree with the sentiment, I'm having trouble taking this line of thought to people who have lost everything. Perhaps a bigger focus should be on educating 'investors'. A role exchanges can help play. I'm talking basics here."
"Bro, is this really a free market? Heavy price manipulation taking place by wealthy corporations," Chris Blec asked. In his answer to Blec, the Bitcoin adoption pioneer explained, "Trading is part of the free market. The free market works. If people manipulate the price to the detriment of other investors then those investors leave."
Blec then countered by saying he understands Fenton's point but the regulators are already involved and large corps are buying and selling bitcoin that doesn't even exist. The price is being tamed by these parties and he doesn't think it's accurate to call this a free market.
However, Ashe Oro believes the market just doesn't typically have enough time to self-regulate/correct before the government busybodies jump in. In the same vein, James Lowerjd thinks "End it with some bogus financial term price discovery. Whatever u wanna call a legacy market with no economical price anchors, it is not price discovery. It is market manipulation."
Crypto Market Regulation
The call to regulate Cryptoshere has come from many quarters. National to regional government agencies has declared their intentions to regulate the sector.
Last year the EU declared that Cryptocurrency cannot be stopped and the best they can do is to regulate it. However, how they are going to do it, no one knows.
Similarly, the G20 in March this year called for the regulation of Cryptocurrency by July. The fact is, we are in November and nothing has been done yet.
Can governments around the world regulate Crypto or Free Market Regulation is the best? Keep reading CWS and we will get you experts views on that.
Article Disclaimer
The Information Presented Here Does Not Constitute Investment Advice Or An Offer To Invest. The Statements, Views, And Opinions Expressed In This Article Are Solely Those Of The Author/company And Do Not Represent Those Of Coinworldstory. We Strongly Advise Our Readers To Do Your Own Research (DYOR) Before Investing In Any Cryptocurrency, Blockchain Project, Or Ico, Particularly Those That Guarantee Profits. Furthermore, Coinworldstory Does Not Guarantee Or Imply That The Cryptocurrencies Or Projects Published Are Legal In Any Specific Reader's Location. It Is The Reader's Responsibility To Know The Laws Regarding Cryptocurrencies And Icos In His Or Her Country. Please Respect Your Country Law & Take Advice From Your Advisor .