About Meta Game City Coin
Meta Game City Coin is a virtual gaming platform and ecosystem where users can create, own, and monetize their own gameplay experiences in the metaverse. The platform integrates with BNB Smart Chain (BSC) and uses both MECI Tokens and Game Tokens as its utility tokens. MECI offers a user-generated content ecosystem with a metaverse society. This means that users can create their own assets, content, and experiences while sharing them with a bigger society inside of the metaverse.
With this concept, MECI aims to cultivate and encourage a community of creators, not just consumers. The vision of MECI is to spearhead a decentralized creator community and gaming market alongside a functional metaverse society. It is a haven for creators and developers to showcase their work for monetary gain. Additionally, it would simulate an entire society within the metaverse where users can spend their time and cultivate virtual equivalents of industries from the physical world.
Meta Game City Coin Point Table
Revisions
The Company reserves the right to modify or completely revise any of the information presented in The Document. They hold no obligation whatsoever to inform the public prior to any changes made to The Document. As a result, the readers of this Whitepaper are responsible for informing themselves of the latest changes that occur.
No Guarantees
Readers must acknowledge that any information presented in The Document is not a guarantee of the progress and development of the MECI platform or tokens. In detail, The Company holds neither power nor influence over the outcome and reception of the platform or tokens. As such, they hold no responsibility for any losses related to these factors for the foreseeable future.
Security Token Disclaimer
For legal reasons, The Company clarifies that do not sell security tokens. This means that the possession of any MECI Tokens or Game Tokens does not indicate holding a stake or sum of The Company or platform. This clarification is for the purposes of avoiding possible legal action from token holders of MECI Token or Game Token, particularly within territories with strict security token regulations. In addition, no information presented in The Document should be regarded as security token sales advice.
Version
The Document has only been written in the English language. There have been no other approved
translations nor copies distributed other than this, at the time of writing. Any mistranslation or alteration as a result of unauthorized copying is not The Company's responsibility. Readers acknowledge that in the event of conflicts regarding specific terms, inaccuracies, or deviation from any part of The Document, this version will stand.
Accuracy
The Company does not guarantee the complete accuracy of all the information presented in The
Document. The information presented has not been verified or approved by any higher authority ahead of publishing. As a result, The Company holds no responsibility for any discrepancies in the information, opinions, ideas, or statements presented in The Document.
Why Choose Meta Game City Coin?
NFT Market
The NFT industry has shown huge amounts of growth ever since 2020. Digital collectibles gained $1.3 billion in Q2 2020 and shot up to $10.7 billion in Q3 2020. Meanwhile, NFT sales in the art industry reached $20 million in 2020 and then shot up to $2.57 billion in 2021. The NFT market as a whole surpassed $40 billion by the end of 2021. Other than statistics, the NFT industry's growth can be seen in the mass of personalities and entities exploring the space.
The Metaverse Market
Although the widespread adoption of the metaverse may take some time. Leading brands are already working on huge plans. The global metaverse market value at around $27.21 billion in 2020 and scaled up to $60.29 billion in 2021. Meanwhile, research predicts that by 2030 it is expected to soar up to $824.53 billion, with a compound annual growth rate (CAGR) of 39.1% from 2022 to 2030.
NFTs and the Metaverse Combined
NFTs and the metaverse are two of the largest concepts in the blockchain and cryptocurrency industry. Additionally, the industry has seen the potential in both of these concepts separately and has begun interweaving both concepts with each other. Platforms such as Decentral and and The Sandbox are two of the most prominent names that combine both concepts of NFTs and the metaverse.
Where Can You Buy Meta Game City Coin?
Tokens Can Be Purchased On Most Exchanges. One Choice To Trade Is On BitForex, As It Has The Highest MECI/USDT. e Trading Volume, $8,947 As Of February 2021. Next is OKEx, With A Trading Volume Of $6,180,82. Other option To Trade Include MECI/USDT And Huobi Global. Of Course, It Is Important To Note That Investing In Cryptocurrency Comes With A Risk, Just Like Any Other Investment Opportunity.
Market Screenshot

Meta Game City Coin Supported Wallet
Several Browser And Mobile App Based Wallets Support Meta Game City Coin. Here Is Example Of Wallet Which Meta Game City Coin – Trust Wallet For Hardware Ledger Nano.
Team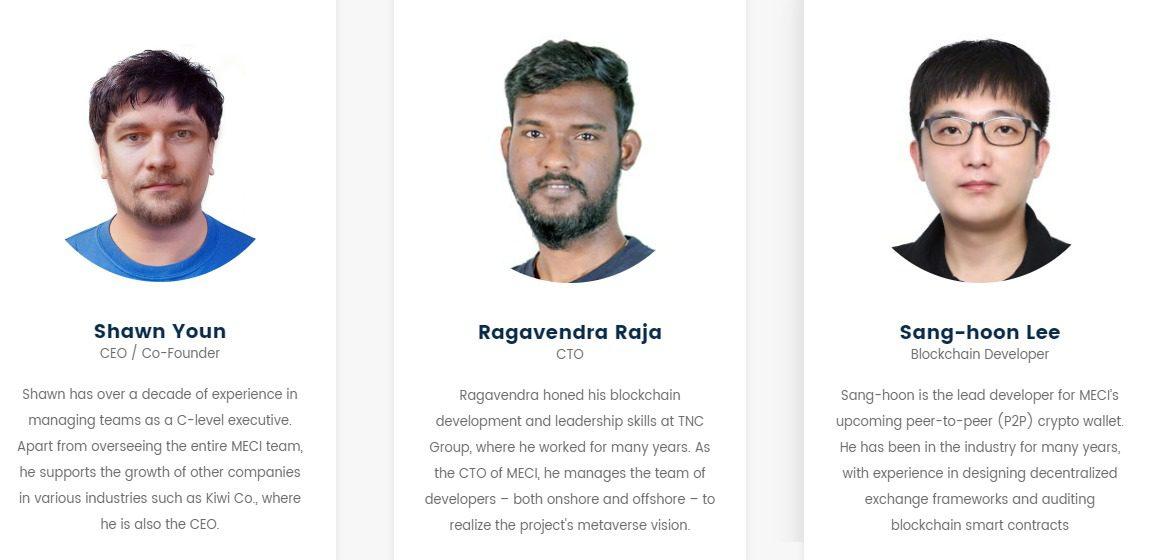 Roadmap

FAQ Of Meta Game City Coin
Where I Can Find Meta Game City Coin Whitepaper?
You Can Find Meta Game City Coin Whitepaper By Clicking Here.
Where I Can Buy/Sell Balancer Token?
You Can Buy or Sell Balancer Token On Some Popular Exchange For Example – BitForex, VinDAX.
What is Circulating Supply Of Balancer Token?
Circulating Supply Of Balancer Token Is 66,030,338 MECI.