About Ofero Coin
Ofero Coin vision of Ofero Network is simple and clear. The future requires smart investments, supported by a strong currency. This principle implies clever investments in the development of business environment, ecology, education, and innovative ideas. It also means the creation of new solutions to old problems. That is the reason why Ofero Token (OFE) was created. The mission of Ofero Network team is to set this dynamic ecosystem in motion.
Giving to the users the possibility to use the Ofero currency (OFE) in the ecosystem, it will become a valuable asset in everyone's wallet. Ofero Network aims to attract, build, and develop an entire community. Then to provide benefits and opportunities to its members by using concrete tools, various utilities, real and self-sustainable investments.
Ofero Token (OFE) is based on the marketing and advertising platform ofero.ro, which has already established itself as a business community benefitting from its own operating system. Your team set out to build the Ofero Network ecosystem and then develop it in multidirectional manner around this newly-created and ever-growing community.
Ofero Coin Point Table
Why to invest in the Ofero Token (OFE)?
Ofero Token (OFE) provides answers to an ever-growing market demand – that of digital currencies being able to support physical investments, and vice versa. It is a way to build confidence in both the project and the currency. Basically, in addition to the other advantages, the Ofero Token (OFE) offers the possibility of automatically investing in the physical projects that are currently under development within the network, as well as in the projects that will be developed in time.
Their return on investments is mirrored in the cryptocurrency value, gradually and in different forms. In addition, all proposed and forecasted investments are made in areas that will become increasingly important in the future: "green energy", education, digital apps, online marketing, payment systems, etc. Every Ofero Token (OFE) investor will implicitly become part of these projects.
The Elrond Blockchain
Designed as a digital ecosystem, the Elrond blockchain enables features such as crypto transactions, dApps. (decentralized apps) or Smart Contracts. It could be seen as a "provider" of advantages for a digital coin built using its technology. These advantages include a superior transaction confirmation speed, an increased security, an architectural design with high operating and scaling capacity.
The ofero.ro platform
The success of this platform, since its launch in 2007, has led to the Ofero Token (OFE) project. This relied on the experience gained, the results obtained, and the system already created. This system comprises of an ever-growing database which currently includes thousands of Romanian businessmen, from various areas of expertise. These companies are provided with a tool – the ofero.ro token, which enables them to create competitive advantages on the platform and to connect with other businesses.
"Green energy" investments
Climate change is a global challenge that requires an intelligent approach focusing on concrete actions at international, regional, national, and local level. The European Green Deal – the new EU enlargement strategy – published by the European Commission (COM) on December 11th, 2019, sets the direction for the various European policies for the coming years.
Why Choose Ofero Coin?
Diversity of utilities
The cryptocurrency value increases as its associated utilities diversify and multiply. That is one of the main directions they are aiming within the Ofero project. This intend to do so by approaching different areas, that have great potential and are reliable.
Investment continuity and consistency
Once the mechanism is up and running, starting from current and near-term investments, the Ofero Network team aims to develop a steady stream of other placements, based on the market
trends and demand. These investments will be associated with the cryptocurrency, becoming utilities, and will be communicated throughout the project.
Innovation
All think and plan for is future-oriented in order to find ideas, solutions and applications based on new technologies or improving existing technologies. Innovation stems from both the way this approach these projects and the way put them into practice.
Transparency
They are convinced that this is an essential cornerstone for trust and sustainability. That is the reason why all the projects developed by are subject to full transparency and visibility, from the public wallets associated with the distribution of cryptocurrencies and up to the tracking /inventory of path followed by the tokens, services, and users within the ecosystem.
Where Can You Buy Ofero Coin?
Tokens Can Be Purchased On Most Exchanges. One Choice To Trade Is On Maiar Exchange, As It Has The Highest OFE/WEGLD. e Trading Volume, $8,947 As Of February 2021. Next is OKEx, With A Trading Volume Of $6,180,82. Other option To Trade Include OFE/WEGLD And Huobi Global. Of Course, It Is Important To Note That Investing In Cryptocurrency Comes With A Risk, Just Like Any Other Investment Opportunity.
Market Screenshot

Ofero Coin Supported Wallet
Several Browser And Mobile App Based Wallets Support Ofero Coin. Here Is Example Of Wallet Which Ofero Coin – Trust Wallet For Hardware Ledger Nano.
Team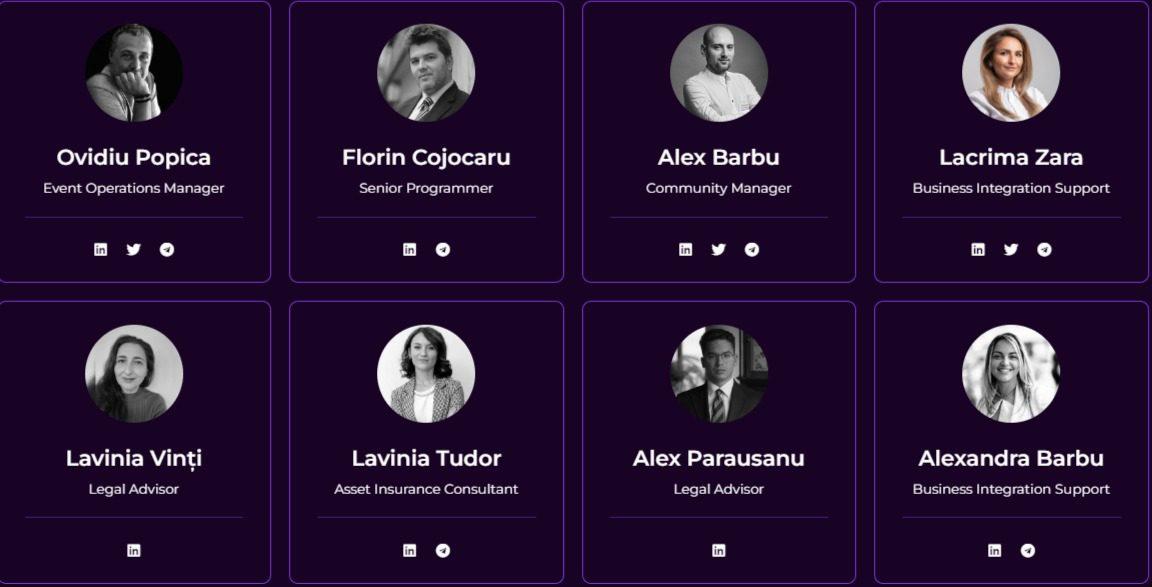 Roadmap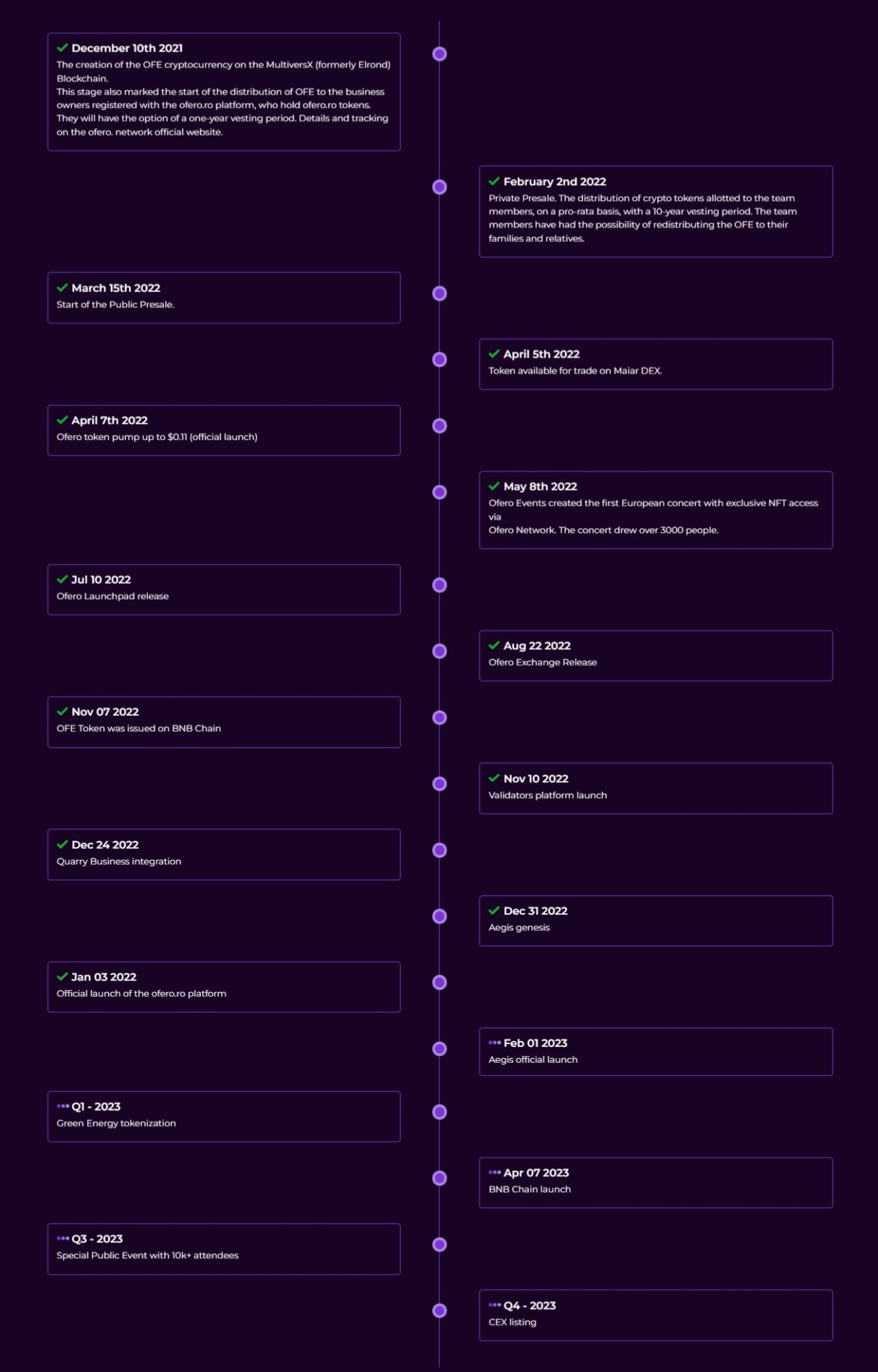 FAQ Of Ofero Coin
Where I Can Find Ofero Coin Whitepaper?
You Can Find Ofero Coin Whitepaper By Clicking Here.
Where I Can Buy/Sell Balancer Token?
You Can Buy or Sell Balancer Token On Some Popular Exchange For Example – Maiar Exchange.
What is Circulating Supply Of Balancer Token?
Circulating Supply Of Balancer Token Is 281,012,344 OFE.