About Polyx Exchange
Polyx Exchange platform that allows users to buy, sell, and trade different cryptocurrencies. Users can deposit funds into their Polyx exchange account and use those funds to purchase different cryptocurrencies like Bitcoin, Ethereum, and more. The platform provides a user-friendly interface, real-time market data, and a range of trading tools to help users manage their portfolios and make informed trading decisions.
Polyx Exchange is a cryptocurrency exchange registered in Estonia that launched in November 2018. They support trading in the following cryptocurrencies: BTC, ETH, XRP, USDT, EOS and LTC.
Polyx is a platform that makes it easy to work with cryptocurrencies: a secure wallet for storage, an exchange for trading and services for merchants who accept payments in cryptocurrency. Cryptoexchange Polyx is equipped with modern technologies that allow the exchange of crypto assets in the most productive way.
Information Table
| | |
| --- | --- |
| Exchange Name | Polyx Exchange |
| Exchange Service | Spot and futures trading |
| Exchange Launch Year | 2018 |
| Made In | Estonia  |
| Mobile App | Android & IOS |
| Fiat Option | Available |
| KYC | Required |
| 2FA Security | Available |
| Withdraw Fee | 0.0004 BTC |
| Taker Fees | 0.10%  |
| Maker Fees | 0.10%  |
| Support | Email & Live Chat Option Available |
| Official Website | Click Here To Visit |
How To Register At Polyx Exchange ?
To register on Polyx , click Register Now button at the top of the page. You can also start creating an account directly through.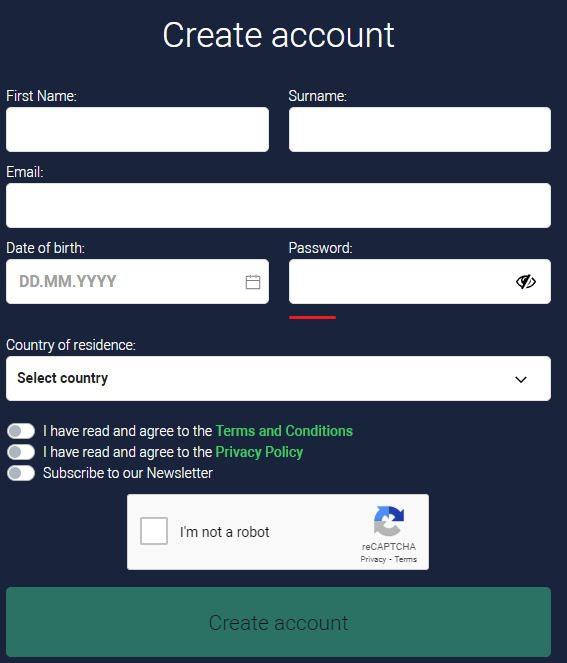 You only need to enter your e-mail and come up with a password. If there is a referral code, it is also entered at this stage. Password requirements: at least 8 characters, numbers, upper and lower case.
Click " Create Account " then go to your email to verify it. Enter the code you received and registration is complete. You can start replenishing your account.
How To Verify Your Polyx Account ?
There is no mandatory verification at Polyx , but you can pass it if you wish. At the moment, the only restriction imposed on unverified users is the withdrawal Fee of 0.0004  per day. In the future, depending on the actions of regulatory authorities, conditions may change.
For verification, you can use one of four documents to choose from: passport, driver's license, identity card or residence permit. Artificial intelligence is used to evaluate the authenticity of documents. This service is provided by the Onfido online identification service, already used by the Bitstamp, Revolut platforms.
How To Buy Crypto Or Deposit Crypto At Polyx Crypto Exchange ?
There are two main options for topping up your balance on Polyx Exchange. Firstly, you can buy cryptocurrency with a bank card – it's fast and convenient. Go to the " Buy crypto " -> " Buy crypto with a credit card " section.
Choose a cryptocurrency (currently there are 13 coins available for purchase in this way). Enter the amount and select the fiat currency to be used for payment.
Agree to the terms and confirm the transition to the site of the payment provider. Enter information about the card and its owner, confirm the transaction. Cryptocurrency will be credited to the exchange account within a few minutes.
Second Method
You can transfer digital assets to the balance of the exchange from any external crypto wallet. For this:
Go to the "Deposit" section from the "Assets" menu.
From the drop-down list, you can select the cryptocurrency you want to deposit into your account.
The wallet address will appear. You need to copy it and send funds to it from another wallet or exchange. Please note that only bitcoin can be sent to bitcoin addresses, similarly with other coins.
You can also click "Show QR code" – for transfers from a mobile wallet, this is a more convenient option.
How To Withdraw Crypto Asset From Polyx Exchange ?
Having completed all the necessary trading operations, it's time to withdraw the received assets to an external wallet. Go to " Assets " -> " Withdraw ". Please note that the operation is only available after enabling two-factor authentication in the settings. This is for added security and requires less than a minute, so don't neglect this measure.
Select a cryptocurrency and enter the withdrawal amount. Each coin has its own withdrawal fee, for example, for BTC it is 0.00057 BTC. Click " Output ". By default, the exchange processes applications three times a day, however, hourly withdrawals are available for Premium users. Also, the time of receipt of the cryptocurrency is affected by the workload of the blockchain network.
How To Secure Your Polyx Account ?
Also remember to go to the Security tab and activate two-factor authentication using the Google Authenticator app.
Trading fee levels
Every time you place an order, the exchange charges you a trading fee. The trading fee is normally a percentage of the value of the trade order. Normally, exchanges distinguishes between takers and makers. Takers are the one who "take" an existing order from the order book. Makers are the ones who add orders to the order book, thereby making liquidity at the platform.
Polyx Exchange doesn't care about whether you are a taker or a maker, you pay the same fee regardless: 0.10%. Fees like this are normally referred to as "flat fees". 0.10% is in line with, or even slightly below, the global industry averages for centralized exchanges. Industry averages have historically been around 0.20-0.25% but we now see new industry averages emerging around 0.10%-0.15%.
| MAKER | TAKER | TRADE VOLUME |
| --- | --- | --- |
| 0.1 % | 0.1 % | ≤ 100 BTC |
| 0.1 % | 0.1 % | ≥ 100 BTC |
| 0.1 % | 0.1 % | ≥ 500 BTC |
| 0.1 % | 0.1 % | ≥ 1000 BTC |
| 0.1 % | 0.1 % | ≥ 5000 BTC |
Polyx Exchange Withdrawal fees
Polyx Exchange charges a withdrawal fee of 0.0004 BTC per BTC-withdrawal. This fee is slightly below the industry average BTC-withdrawal fees. The current global industry average is arguably around 0.0006 BTC per BTC-withdrawal so a competitive offering by Polyx Exchange here as well.
Deposit and withdrawal fees
| CURRENCY | DEPOSIT FEE | WITHDRAWAL FEE | MIN DEPOSIT * | MAX DEPOSIT * | WITHDRAWAL LIMITS |
| --- | --- | --- | --- | --- | --- |
| USDT | 0 % | 5 – 15 USDT | 50 USDT | 30000 USDT | 50 – 10 000 USDT |
| BTC | 0 % | 0.0005 BTC | 0.001 BTC | 1 BTC | 0.001 – 0.5 BTC |
| ETH | 0 % | 0.005 ETH | 0.005 ETH | 10 ETH | 0.01 – 10 ETH |
| TRX | 0 % | 50 TRX | 100 TRX | 300000 TRX | 100 – 100 000 TRX |
| PLX | 0 % | 10 – 150 PLX | 100 PLX | 100000 PLX | 100 – 100 000 PLX |
| BNB | 0 % | 0.015 BNB | 0.01 BNB | 100 BNB | 0.03 – 20 BNB |
Deposit Methods
Polyx Exchange lets you deposit assets to the exchange in many different ways, through wire transfer, debit card, and of course also by just depositing existing cryptocurrency assets.
Seeing as fiat currency deposits are possible at this trading platform, Polyx Exchange qualifies as an "entry-level exchange", meaning an exchange where new crypto investors can start their journey into the exciting crypto world.
Features Of Polyx Crypto Exchange
Polyx is a cryptocurrency exchange platform that offers the following features:
Trading Platform
Polyx provides a secure and user-friendly trading platform that allows users to buy, sell, and trade cryptocurrencies.
Market Data
The platform provides real-time market data, including up-to-date price information, trading volume, and market trends.
Deposits and Withdrawals
Polyx supports multiple deposit and withdrawal options, including bank transfers, credit card payments, and cryptocurrency deposits.
Portfolio Management
The platform provides users with a range of tools to help manage their portfolios, including a trading history, order book, and real-time market data.
Customer Support
Polyx provides 24/7 customer support to assist users with any questions or concerns they may have.
Security
Polyx implements a range of security measures to protect user accounts, including two-factor authentication, encryption, and secure storage of funds in cold wallets.
Trading Tools
The platform provides advanced trading tools, such as limit and market orders, stop loss orders, and margin trading, to help users make informed trading decisions.
Mobile App
Polyx offers a mobile app that allows users to access the platform and trade on the go.
Conclusion Polyx
In conclusion, Polyx is a cryptocurrency exchange platform that provides users with a secure, user-friendly, and feature-rich environment to buy, sell, and trade cryptocurrencies. With real-time market data, advanced trading tools, and 24/7 customer support, Polyx is a good choice for both beginner and experienced traders.
Additionally, the platform's strong focus on security, with features such as two-factor authentication and secure storage of funds, helps to ensure that users' assets are safe and secure. Whether you're looking to trade cryptocurrencies for profit or simply to diversify your investment portfolio, Polyx is worth considering.