Shiba Inu Burn Rate Explained: Understanding Token Burning
Shiba Inu follows suit, employing token burning as a common practice among cryptocurrency projects. Token burning involves physically destroying some of the tokens currently in circulation, thus decreasing their supply. This is done by sending them to an address from which they cannot be accessed or used again. This practice helps manage cryptocurrency supply, boost its value, and enhance long-term viability.
Shiba Inu's burn rate is the rate at which its tokens are being burned. As a relatively new cryptocurrency, Shiba Inu has gained notoriety due to its meme-based branding and affiliation with Dogecoin's community. Therefore, this metric is important for investors and traders as it can significantly impact the value of each token.
Shiba Inu's burn rate is determined by the total number of tokens being burned and their frequency. They use a system called the "WoofPaper" to establish this policy; it outlines all rules and processes related to burning Shiba Inu tokens. As per this document, 50% of their total supply has now been burned off and removed from circulation.
Shiba Inu tokens remain subject to ongoing burning. The burn rate is determined by several factors, including the number of transactions on the network, tokens held in wallets and demand for the token. As demand grows for Shiba Inu, so could the burn rate correspondingly; leading to a reduction in supply as well as an increase in value overall.
Token burning is a way to encourage investors and traders to hold onto their tokens for longer periods of time. Burning tokens reduces their supply, making each remaining one more valuable. This could lead to increased demand for the token which in turn raises its price. Furthermore, token burning helps prevent inflation caused by too many coins in circulation.
More Than 20.2 million Shiba Inu destroyed
Shibburn reports an increase in the burn rate for Shiba Inu tokens. Twenty-two million,583 tokens were transferred to unspendable wallets over 24 hours, although this amount falls short of what was burned earlier this month, the current burn rate represents a 148% rise from yesterday's rate.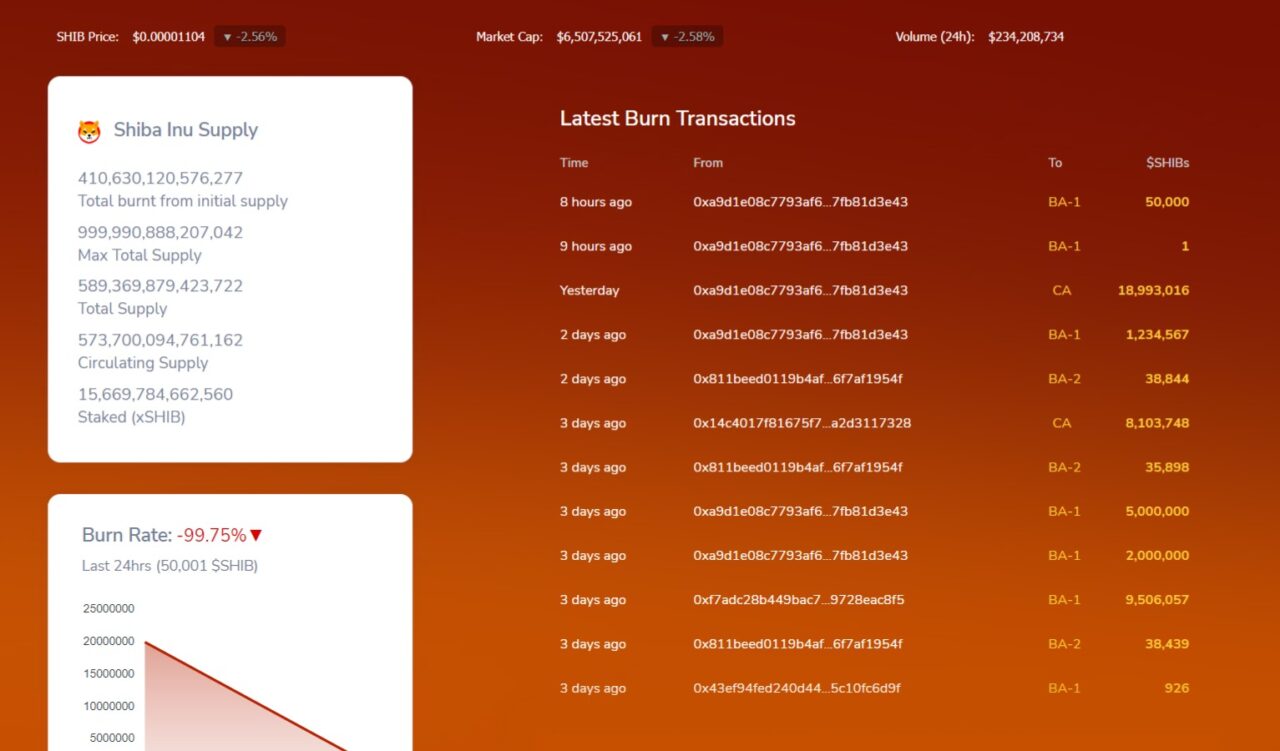 Recent Development
In the last 24 hours, there have been reports of significant developments in the SHIB ecosystem. Notably, there has been a transfer of millions of SHIB tokens from exchanges by large SHIB holders, commonly known as whales. Market analytics firm, Santiment, has revealed that on March 20, six transactions took place, resulting in a transfer of 406 billion SHIB tokens (worth $276 million) from an exchange wallet to a self-custody wallet.
Big Fish Grab More Than 300 Million In Last Few Hours
"BlueWhale0073", an Ethereum investor known as "BlueWhale0073", has reportedly increased their cryptocurrency holdings by adding 229,963,072,498 SHIB tokens to their portfolio – worth over $2.5 million. This puts them in 254th position among the top 500 investors on the Ethereum network according to WhaleStats.
Koyo Will Burn 50% Of Its Revenue In Shiba Inu
Koyo's platform utilizes its native cryptocurrency, the Koyo token, as a payment option. At present, attention is being drawn to their ongoing SHIB burns. As of Monday, the project had already burned through an impressive amount of Shiba Inu tokens–4.631 billion–equal to approximately $50,000.
Yet they have continued their efforts with another 733.02 million SHIB tokens being burned on Tuesday. Koyo's burn was carried out by transferring tokens to Shiba Inu's dead wallet, accounting for most of the SHIB burn that day as reported by SHIB Burn. Within 24 hours only 25 million SHIB tokens had been burned by other entities – an indication of Koyo's significant contribution to this burn.
Does burning Shiba Inu work?
Burning Shiba Inu tokens or any cryptocurrency can be highly effective depending on a variety of factors.
Burning tokens can lead to a decrease in their total supply, which could ultimately increase the value of any remaining coins in circulation. The idea behind this is that as demand for these coins increases due to decreased availability, their market value could potentially rise. Moreover, token burns create an atmosphere of scarcity which may bolster investor interest and further fuel demand.
However, the success of token burns in achieving their objectives can be determined by several factors, including market conditions and investor sentiment. If there is already too much token supply on the market, burning a small fraction may not have much of an effect on its value. Furthermore, if investors' demand does not significantly increase, then those remaining tokens may remain worthless.
Furthermore, burning tokens does not guarantee success in the long run. The value of a cryptocurrency depends on factors like its adoption rate, development progress and overall market sentiment.
In conclusion, burning Shiba Inu tokens may lead to an increase in value; however, the effectiveness of this mechanism is uncertain and depends on a variety of factors.