Splinterlands Gaming is a decentralized collectible card game built on blockchain technology. It is similar in concept to games like Magic the Gathering and Hearthstone where you build up a collection of cards, which all have various different stats and abilities, and use them to battle other players in skill-based matches. By using blockchain technology, players can own their digital cards, and can trade and sell them freely just as if they were physical cards, without the control of any centralized company or entity.
How to Singup with The Splinterlands
For now, The Illuvium only offers an experience through its free builder tool. Using it to get acquainted with the game is free. 
Buying Illuvium tokens is possible with an in-wallet swap. Binance also offers trading and swapping services for this asset. Bidding for and buying LAND assets is done through the Illuvium browser app. In the future, new experiences and types of play will be added. 
Gameplay
Splinterlands offers incredible depth for all card fan enthusiasts out there. With two types of cards, Summoners and Monsters. Both of them are the core elements of your deck. Players need to first select a Summoner. The team building screen will display all the Summoners in your Collection. Your choice of Summoner will determine which Monsters you can use, and its level will determine the level of the Monsters that can be added as well.
From there, you are restricted to selecting Monsters from the same allegiance of your selected Summoner or from the Neutral monsters. These are monsters that can be used in any deck considering they aren't restricted in any way. Your team is limited to a total of 25 Mana, and every card you add brings you closer to that limit so keep an eye on that counter while forming your deck.
Splinterlands adopts a unique and innovative playing mechanism, with the battlefield featuring two rows and six positions. Each row serves a different type of monster, either ranged or melee. Melee characters need to exist in the front row, while ranged characters need to be in the backline. They can't attack if placed in each other's positions, which is logical to say the least.
What is Splinterlands
Splinterlands is a multiplayer digital-collectible trading card game on the Hive blockchain. The game is a strategic auto-battler, where players must put together the most optimal 7-card deck to fight against their opponents in each round.
Each round will begin with its own set of rules upon which the player must create their deck. It's reminiscent of games such as Hearthstone, Legends of Runeterra, Yu-Gi-Oh and Magic the Gathering Arena.
Cards in Splinterlands are player-owned non-fungible tokens. Players can use their NFTs to battle for prizes, collect them as collectibles, trade them on the peer-to-peer market, combine them to level up, or even burn them to get Dark Energy Crystals, Splinterlands' official in-game cryptocurrency.
Splinterlands follows a play-to-earn model with players winning rewards in the 'Ranked mode' by competing against each other in a league-based system. To progress up the league, players must secure wins and earn rank points. The higher the league, the better rewards players can earn through winning matches.
How Does Splinterlands Work?
Everybody who plays the game will get the free set of starter cards. All cards are NFTs. These cards have an 'S' mark in the top-right corner. This allows you to start building teams. The teams can play with a variety of rulesets and battle conditions.
However, to earn rewards, you need to buy Booster Packs or rent cards. I will explain later where to buy cards and packs or how to rent them. Once you buy a pack of cards, the game creates a Hive wallet for you, with private keys and all.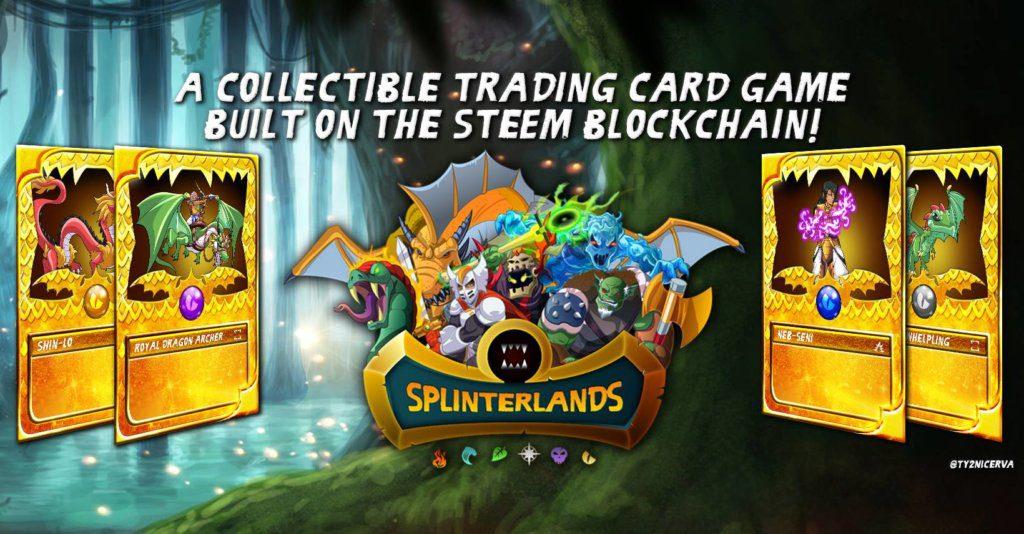 To play the game, you will also need a leveled-up summoner. So that your summoner can summon the cards at the right levels. Now you can start battling, There are two modes, 'Wild' or 'Modern'. Once the game finds your opponent, a countdown starts. You have a short time frame to review his recent battle history. In the same count-down, you need to create a team from your cards. You start with selecting a summoner. Now you are ready to start the game.
For each game mode, there are Leagues, in which you can advance. Each League has 6 levels. The game also has seasons, which can range from 12 days to 16 or more days. Your ranking in the current League determines your placement in the next season.
You can also take part in tournaments. These come in different customizable forms and have price pools. You can find more details in the games docs. There is also an extensive tutorial on how to play on their website. The picture below shows part of their tutorial.
Powered By Blockchain Technology
Blockchain technology is powering the future of gaming, allowing players to trade, sell, and lease their card assets.
The cards in your collection are compatible with 3rd party marketplace platforms such as Open Sea, PeakMonsters, Monster Market, and elsewhere.
Play To Earn
Splinterlands makes it easy to earn on a daily basis. Players can win rewards from Tournaments, Ranked play, and Quests! No matter what your skill level or collection size, there is always an opportunity to earn!
Among the many prizes you may win are collectible cards of varying rarity, card packs, magic potions, and Dark Energy Crystals (a tradable, digital currency used to buy items in the shop).
Got Crypto
Splinterlands makes it easy to get involved with cryptocurrency. In fact, a Hive cryptocurrency wallet is automatically generated for you upon registering on this website.
For veteran crypto users, you'll be glad to know that Splinterlands has cross-compatibility with other blockchains such as Ethereum, Tron, and WAX.
Buy in-game credits with a variety of cryptocurrencies, earn crypto and other digital assets, and even earn HIVE cryptocurrenty tokens by simply participating in our SplinterTalk social media community!
Video