What Is Ookeenga (OKG)?
Ookeenga is a 3D gaming project which built on the Binance Smart Chain. With breath-taking graphics, appealing world-building, and addictive gameplay, This is ready to create an uniquely immersive play-own-earn experience. The gaming industry has existed for decades since the first games appeared on PCs and gaming consoles like Atari or Nintendo. It brings a whole new entertainment experience to the world, and as technology envelopes, those experiences become more immersive and accessible.
The potential of the game industry is enormous; however, unlike the film or music industry, the game industry has not yet reached its peak. According to estimation, by the end of 2021, there will be about 2 billion gamers, equivalent to 26% of the world's population.
According to analysts, the gaming industry will generate $196 billion in revenue by 2022 and cross the $200 billion revenue threshold next year. As a result, the game industry is still a very fertile market with many growth potentials
Ookeenga Storage Key Points
| Coin Basic | Information |
| --- | --- |
| Coin Name | Ookeenga |
| Short Name | OP |
| Total Supply | 50,000,000 |
| Circulating Supply | 50,000,000OP |
| Source Code | Click Here To View Source Code |
| Explorers | Click Here To View Explorers |
| Twitter Page | Click Here To Visit Twitter Group |
| Whitepaper | Click Here To View |
| Support | 24/7 |
| Official Project Website | Click Here To Visit Project Website |
GameFi
The appearance of the concept of Game Fi, a combination of gaming and a new concept called Decentralized Finance, has brought a new trend to the gaming industry. In 2021, hundreds of Defi projects had shown up and generated an estimated $15 billion in assets. Today's gamers will no longer only spend money to play games like before but also generate income from the assets and value they create in the game world.
This trend motivates game developers like us, as a project will now revolve around the development team and the participation of investors and players. This connection creates a sustainable path with real value created for the community. It is the door for game developers to expand their ability to connect their products to the market.
Tokenomics
Ookeenga has two fungible tokens that fuel all operations: OKG and KAB.
$OKG: OKG is the governance and utility token. It has a fixed supply
$KAB: Tokens received from game activities with no supply limit. Players can trade $KAB to receive $OKG. $KAB is used in most game features such as breeding heroes, enhancing items, crafting equipment, etc.
Ookeenga Token
Ookeenga Token (OKG) is a BEP-20 fungible protocol token of the Ookeenga Platform, being a transferable representation of attributed governance and utility functions specified in the protocol/code of the Ookeenga Platform, and which is designed to be used solely as an interoperable utility token thereon. OKG holders will be able to earn $OKG rewards when they stake their tokens, play the game, and participate in key governance votes. Players will also be able to earn $OKG when they engage in various activities within the game.
Earning $OKG Tokens
Play-to-Earn / Game-Fi Incentives. $OKG also acts as an economic incentive which will be distributed to encourage users to exert efforts towards contribution and participation in the ecosystem on the Ookeenga Platform, thereby creating a mutually beneficial system where every participant is fairly compensated for its efforts. $OKG are an integral and indispensable part of the Ookeenga Platform, because without $OKG, there would be no incentive for users to expend resources to participate in activities or provide services for the benefit of the entire ecosystem on the Ookeenga Platform. Given that additional $OKG will be awarded to a user based only on its actual usage, activity and efforts made on the Ookeenga Platform and/or proportionate to the frequency and volume of transactions, users of the Ookeenga Platform and/or holders of $OKG which did not actively participate will not receive any $OKG incentives.
Technology
GAME ENGINE
The game will be developed using the Unity 3D engine, version 2020.3.20f1. Unity is a flexible real-time development platform with powerful features, a vast Assets Store, and a very active and supportive user community.
Unity's flexibility and a good learning curve make it the most suitable team and what we want to achieve. The graphics system effectively facilitates our visual targets, while the Assets Store offers many packages that help speed up the development and multiplatform.
ART STYLE
Ookeenga employs a semi-realistic art style that combines 3D stylized characters with realistic rendering. The result is a rich & colorful art style that fits well with the well-constructed world of the game.
BLOCKCHAIN SECURITY
Transaction security is fundamental to the whole project. Therefore, we do not allow any malfunction in smart contracts, including the Token and NFT contracts. Tokenomic operations will be meticulously tracked to monitor off-chain and on-chain transactions, ensuring accuracy and safety. All smart contracts are testnet launched over multiple versions to find and fix any errors that arise in the transaction and economical operation in the game.
BACKEND
The backend is hosted on Playfab and Photon Cloud. PlayFab is a complete backend platform for live games with managed game services, real-time analytics, and LiveOps. PlayFab enables developers to use the intelligent cloud to build and operate games, analyze gaming data and improve overall gaming experiences.
Team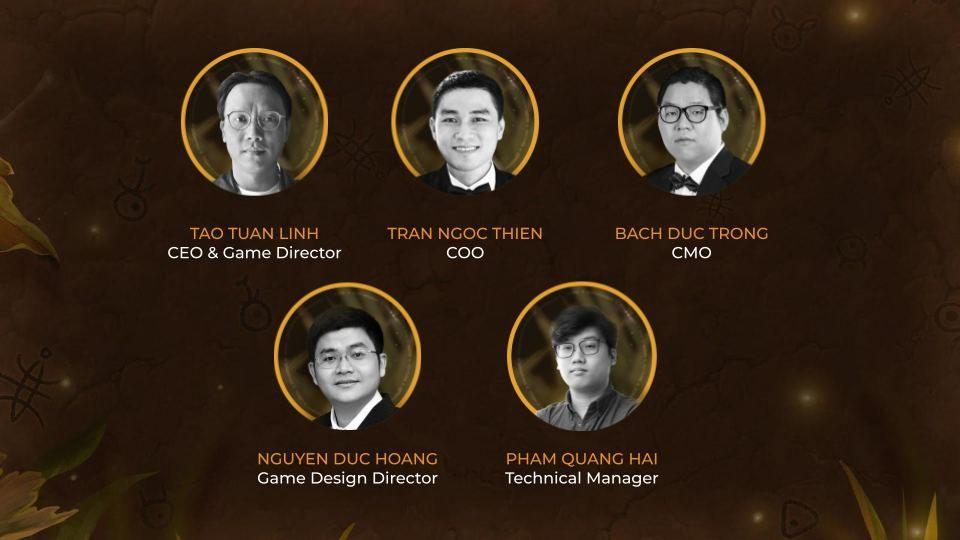 Roadmap