About ACE Cryptocurrency
ACE Exchange is committed to building the most professional Fiat to Crypto exchange in the Chinese community and providing a channel for all Taiwanese people to have first contact with cryptocurrencies.
The ACE Exchange was registered in 2018 in Taipei, the capital of Taiwan. It offers browser-based and mobile platforms for spot transactions with cryptocurrencies, including pairs with fiat Taiwanese dollars.
In addition to active trading, the clients of the exchange have access to investment plans with different terms, and they can also earn from staking digital assets. The ACE Exchange cooperates with KGI Bank, which is part of China Development Financial Holding, which is in the field of KYC verification and bank trust custody.
Information Table
| | |
| --- | --- |
| Exchange Name | ACE Exchange |
| Exchange Service | Spot and futures trading |
| Exchange Launch Year | 2018 |
| Made In | Taiwan |
| Mobile App | Android & IOS |
| Fiat Option | Available |
| KYC | Required |
| 2FA Security | Available |
| Withdraw Fee | 0.0002 BTC |
| Taker Fees | 0.10% |
| Maker Fees | 0.00% |
| Support | Email & Live Chat Option Available |
| Official Website | Click Here To Visit |
How To Register At ACE Exchange ?
To register on ACE, click Register Now button at the top of the page. You can also start creating an account directly through.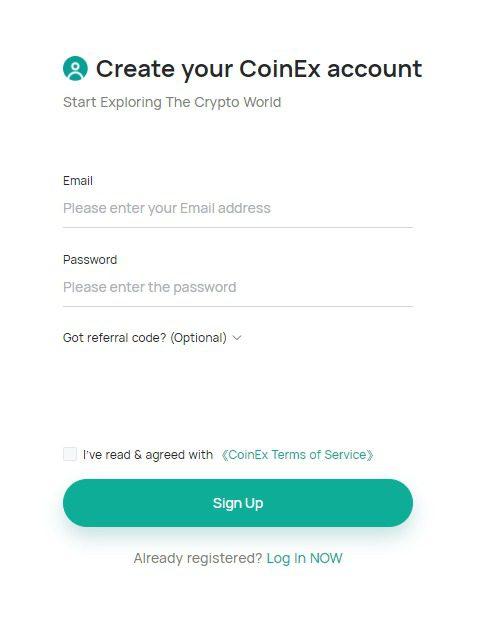 You only need to enter your e-mail and come up with a password. If there is a referral code, it is also entered at this stage. Password requirements: at least 8 characters, numbers, upper and lower case.
Click " Create Account " then go to your email to verify it. Enter the code you received and registration is complete. You can start replenishing your account.
How To Verify Your ACE Account ?
There is no mandatory verification at ACE, but you can pass it if you wish. At the moment, the only restriction imposed on unverified users is the withdrawal Fee of 0.001 BTC per day. In the future, depending on the actions of regulatory authorities, conditions may change.
For verification, you can use one of four documents to choose from: passport, driver's license, identity card or residence permit. Artificial intelligence is used to evaluate the authenticity of documents. This service is provided by the Onfido online identification service, already used by the Bitstamp, Revolut platforms.
How To Buy Crypto Or Deposit Crypto At ACE Crypto Exchange ?
There are two main options for topping up your balance on ACE Exchange. Firstly, you can buy cryptocurrency with a bank card – it's fast and convenient. Go to the " Buy crypto " -> " Buy crypto with a credit card " section.
Choose a cryptocurrency (currently there are 13 coins available for purchase in this way). Enter the amount and select the fiat currency to be used for payment.
Agree to the terms and confirm the transition to the site of the payment provider. Enter information about the card and its owner, confirm the transaction. Cryptocurrency will be credited to the exchange account within a few minutes.
Second Method
You can transfer digital assets to the balance of the exchange from any external crypto wallet. For this:
Go to the "Deposit" section from the "Assets" menu.
From the drop-down list, you can select the cryptocurrency you want to deposit into your account.
The wallet address will appear. You need to copy it and send funds to it from another wallet or exchange. Please note that only bitcoin can be sent to bitcoin addresses, similarly with other coins.
You can also click "Show QR code" – for transfers from a mobile wallet, this is a more convenient option.
How To Withdraw Crypto Asset From ACE Exchange ?
Having completed all the necessary trading operations, it's time to withdraw the received assets to an external wallet. Go to " Assets " -> " Withdraw ". Please note that the operation is only available after enabling two-factor authentication in the settings. This is for added security and requires less than a minute, so don't neglect this measure.
Select a cryptocurrency and enter the withdrawal amount. Each coin has its own withdrawal fee, for example, for BTC it is 0.00057 BTC. Click " Output ". By default, the exchange processes applications three times a day, however, hourly withdrawals are available for Premium users. Also, the time of receipt of the cryptocurrency is affected by the workload of the blockchain network.
How To Secure Your ACE Account ?
Also remember to go to the Security tab and activate two-factor authentication using the Google Authenticator app.
Trading Fees
ACE Exchange Trading fees
Every time you place an order, the exchange charges you a trading fee. The trading fee is normally a percentage of the value of the trade order. Normally, exchanges distinguishes between takers and makers. Takers are the one who "take" an existing order from the order book. Makers are the ones who add orders to the order book, thereby making liquidity at the platform.
ACE Exchange's fee for takers is 0.10%. These spot trading taker fees are substantially elow the global industry averages for centralized exchanges. Industry averages have historically been around 0.20-0.25% but they now see new industry averages emerging around 0.10%-0.15%. According to coinworldstory.com latest empirical study, the industry average spot trading taker fees were 0.229% and the corresponding spot trading maker fees were 0.185%. 0.10% is – by comparison – far better.
ACE Exchange Withdrawal fees
ACE Exchange charges a withdrawal fee of 0.0002 BTC per BTC-withdrawal. This fee is below the global industry average. The current global industry average is 0.0004599 BTC per BTC-withdrawal.
NTD withdrawal limit
Security Level
A
Pre_B
B
C
daily limit
0
100-
300,000
100-
2,000,000
100-
2,000,000
Deposit Methods
At this exchange, you can purchase crypto through credit or debit cards. This can be helpful especially for newer crypto investors who want a broad selection of available deposit methods. Many exchanges offer no fiat currency deposit method at all so ACE Exchange does distinguish itself somewhat by also offering card payment possibilities.
New Taiwan dollar deposit limit
Security Level
A
Pre_B
B
C
daily limit
0
300,000
2,000,000
2,000,000
Features Of ACE Crypto Exchange
Security:
ACE Exchange has adopted a world-class DDos Attack prevention mechanism and Artificial Intelligence application firewall, effectively defending ACE's system from hackers, server attacks, and maximizing the protection of users' assets.
User Growth System
ACE is the first exchange in Taiwan that adopt a "User Growth System". Users will be able to earn ACE points through a variety of interactions with ACE and therefore receive exclusive discounts and prizes.
The ACE team is comprised of experts from financial, information technology, marketing, and blockchain industry. The mission is to provide the most secure and user-friendly trading platform to all Taiwanese people.
ACE Exchange Mobile Support
Most crypto traders feel that desktop give the best conditions for their trading. The computer has a bigger screen, and on bigger screens, more of the crucial information that most traders base their trading decisions on can be viewed at the same time. The trading chart will also be easier to display. However, not all crypto investors require desktops for their trading. Some prefer to do their crypto trading via their mobile phone. Fortunately for them, ACE Exchange is also available as a mobile application (both for iPhones and Androids).
Wide Range of Cryptocurrencies
ACE Crypto Exchange supports a wide range of cryptocurrencies, including Bitcoin, Ethereum, Litecoin, Bitcoin Cash, Ripple, and many more. This allows users to diversify their cryptocurrency holdings and take advantage of market trends.
Competitive Fees
ACE Crypto Exchange charges competitive fees for trades and deposits. The trading fees are among the lowest in the industry, and the deposit and withdrawal fees are also reasonable.
High Liquidity
The exchange has high liquidity, which means that users can quickly buy and sell cryptocurrencies without having to worry about price slippage.
Advanced Trading Features
ACE Crypto Exchange offers advanced trading features, such as stop-loss orders, take-profit orders, and limit orders. These features allow users to manage their trades and minimize their risk.
Mind Blowing Design
They've done a great job with making the homepage easy to navigate. The only drawback is that, with the white background, it can be hard on your eyes. Other than that, you'll find their charts and trade tools easy to use if you're already familiar with CoinEx .
24/7 Customer Support
ACE Crypto Exchange offers 24/7 customer support to help users with any questions or issues they may have. The support team is knowledgeable and responsive, and can be reached via email or live chat.
Conclusion ACE
ACE Crypto Exchange is a digital asset exchange platform that offers a wide range of cryptocurrencies, low fees, advanced trading features, and high liquidity. The platform is designed to be user-friendly, with a simple and intuitive interface that is accessible to both novice and experienced traders. The security measures employed by ACE Crypto Exchange are also top-notch, ensuring the safety and protection of users' funds and personal information. With 24/7 customer support, ACE Crypto Exchange is a reliable and trustworthy platform that is a good option for those looking to buy, sell, and trade cryptocurrencies.