Introducing a ground-breaking Ai Tool To Convert Text To Video that transforms text into compelling films. The state-of-the-art technology seamlessly transforms any written content into engrossing visual presentations by utilising the power of artificial intelligence. With the help of this application, users can easily turn their concepts, tales, or ideas into dynamic videos that clearly convey their message.
The AI tool automatically analyses the text, detects essential components, and creates appropriate visuals, including images, animations, and transitions, using cutting-edge computer vision and natural language processing techniques. As a consequence, a polished video is produced that increases the impact of the original text
And is appropriate for a variety of uses, including presentations, marketing initiatives, instructional materials, and much more. With the AI-powered tools, discover the future of content production text-to-video tool and unlock a world of possibilities for expressing your ideas in a visually stunning and compelling manner.
What Is Ai?
Artificial intelligence, or AI for short, is the branch of computer science that focuses on building smart machines that are capable of carrying out tasks that traditionally call for human intelligence. It entails creating algorithms and systems that provide computers the ability to mimic human cognitive processes via learning, reasoning, perceiving, and making judgements.
Machine learning, natural language processing, computer vision, robotics, and expert systems are some of the subfields in AI that it encompasses. A key element of AI is machine learning, where algorithms are trained on massive datasets to recognise patterns and predict or respond based on the data. Numerous facets of human existence, from virtual assistants and autonomous vehicles to healthcare diagnostics and financial analyses, have the potential to be automated and improved by AI.
Here Is List Of Ai Tool To Convert Text To Video
Synthesia
Pictory
Fliki.ai
Voice2v
Elai.io
Invideo
Designs.ai
Steve.ai
Hour One
Colossyan
10 Best Ai Tool To Convert Text To Video
1. Synthesia
Synthesia is a cutting-edge video synthesis technology that uses AI to turn written content into realistic videos. By transforming text into aesthetically pleasing scenarios with lifelike avatars and voiceovers, Synthesia's cutting-edge technology enables users to produce dynamic and interesting videos.
Synthesia can precisely animate the avatars' facial expressions, movements, and lip-syncing by utilising deep learning algorithms, which gives the videos a genuine and real feel.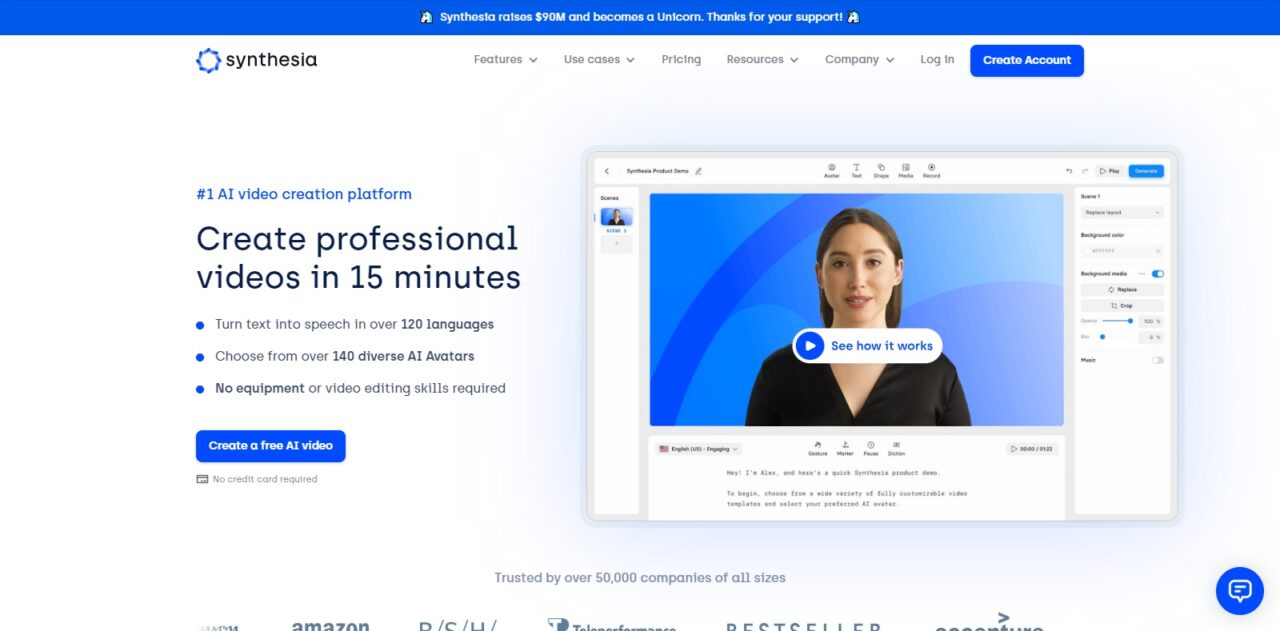 Numerous applications, such as marketing, e-learning, training, and personalised communication, are available on this flexible platform. Users of Synthesia may easily produce professional-caliber videos in a variety of languages, revolutionising the way we exchange knowledge and communicate in the digital age.
2. Pictory (Ai Tool To Convert Text To Video)
The groundbreaking platform Pictory is redefining how we produce and distribute visual storytelling. Users may easily turn their most treasured memories and experiences into gorgeous, interactive photo narratives using Pictory. People can submit their images and arrange them in a visually appealing and engaging way using this user-friendly platform's seamless interface.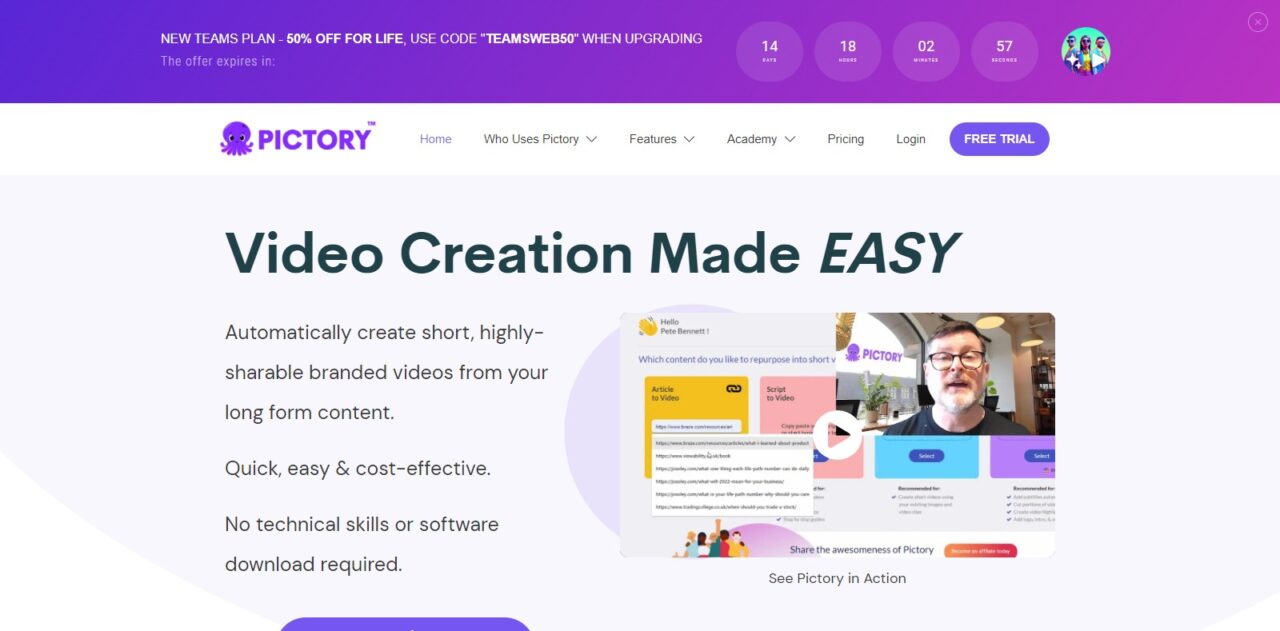 Users can add subtitles, descriptions, and even audio recordings to their narratives to give their experiences more meaning and depth. To make each picture tale distinctive and compelling, Pictory also provides a variety of editable templates and design components.
With Pictory, users can create captivating visual stories that connect with their audience, whether it's for a vacation journal, family album, or professional portfolio. Simply click a couple times to Pictory enables anyone to become a skilled storyteller and share their moments in a visually captivating way.
3. Fliki.ai
An breakthrough AI-powered platform called Fliki.ai makes it easier to produce interesting and interactive content. Utilising the power of artificial intelligence, users can create dynamic movies, presentations, and animations with ease using Fliki.ai. The capabilities available on this flexible platform include text-to-video conversion, editable templates, and sophisticated design tools.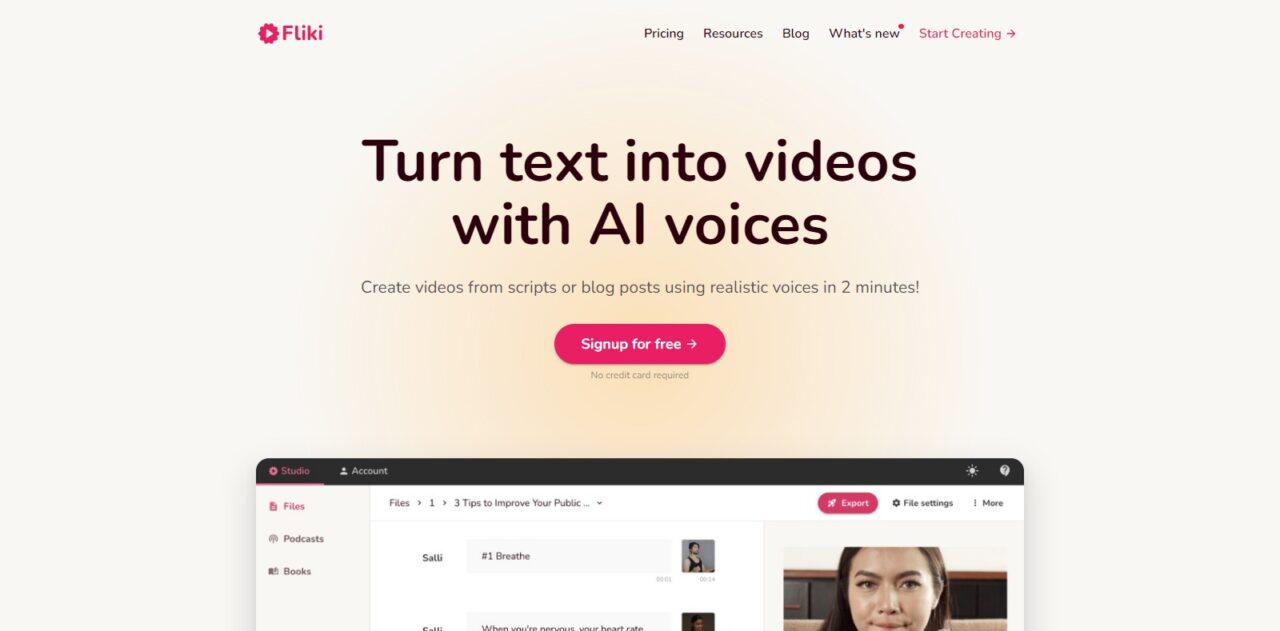 The content is brought to life in an eye-catching way thanks to Fliki.ai's sophisticated algorithms, which analyse the supplied text and automatically generate related images, animations, and transitions. Users can add graphics, photographs, and sounds to their creations to give them a more unique feel.
Fliki.ai enables users to create professional-looking images with ease, whether for marketing campaigns, instructional materials, or social media content. Fliki.ai revolutionises content creation with its user-friendly interface and AI-driven capabilities, making it accessible to individuals and businesses alike, and allowing them to captivate their audience with visually appealing and engaging content.
4. Voice2v (Ai Tool To Convert Text To Video)
A cutting-edge tool called Voice2V uses artificial intelligence to convert text into believable, high-quality voiceovers. Users may easily turn their written content, such as scripts, articles, or presentations, into captivating audio narratives by using Voice2V. This intuitive platform makes use of cutting-edge speech synthesis technology to produce voices that sound natural and have exceptional clarity and intonation.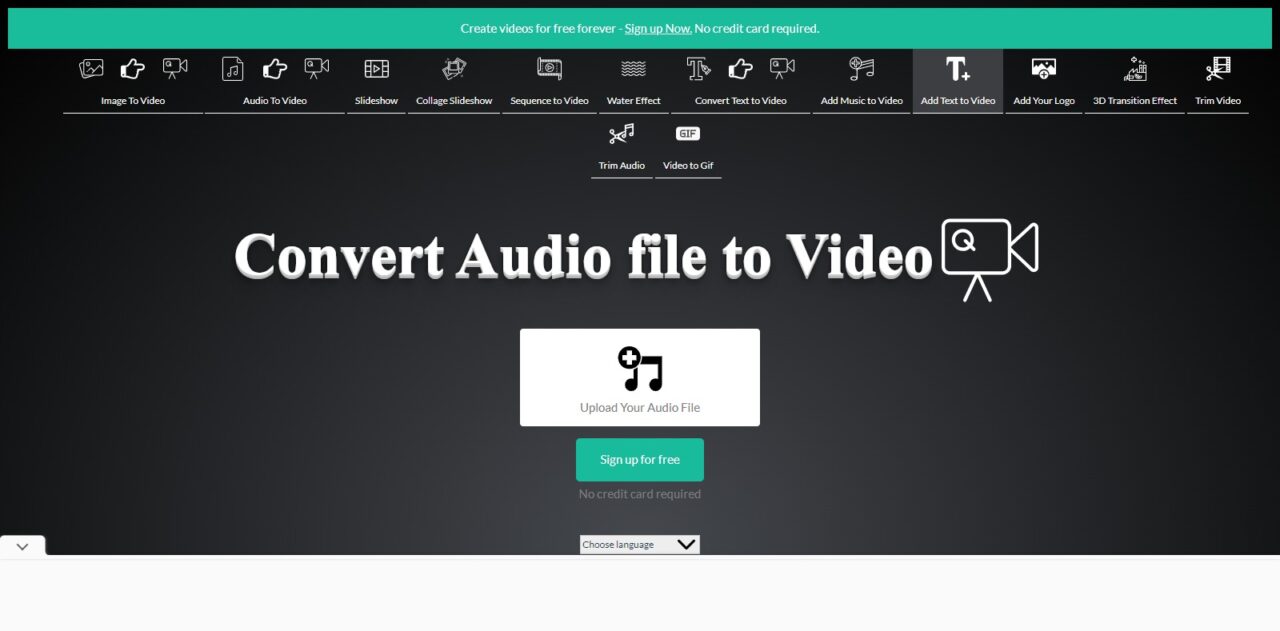 Users have the freedom to select a variety of voices to match their preferred tone and style, including voices with various accents, languages, and genders. The generated voiceovers are produced using Voice2V's cutting-edge algorithms, which guarantee that they maintain a high level of accuracy and authenticity.
As a result, they are ideal for use in a variety of applications, including videos, podcasts, voice-overs for animations, and more. Voice2V makes it possible for those who are blind to access multimedia projects with a professional touch revolutionizes the way we create and consume audio content, making it easier than ever to bring written text to life through engaging and realistic voiceovers.
5. Elai.io
Language translation and interpretation are being revolutionised by the AI-powered platform Elai.io. Users can easily translate textual information or support multilingual interactions in real time with Elai.io. Modern natural language processing algorithms are used by this cutting-edge platform to precisely analyse and interpret text or speech in one language and offer correct translations into a different language.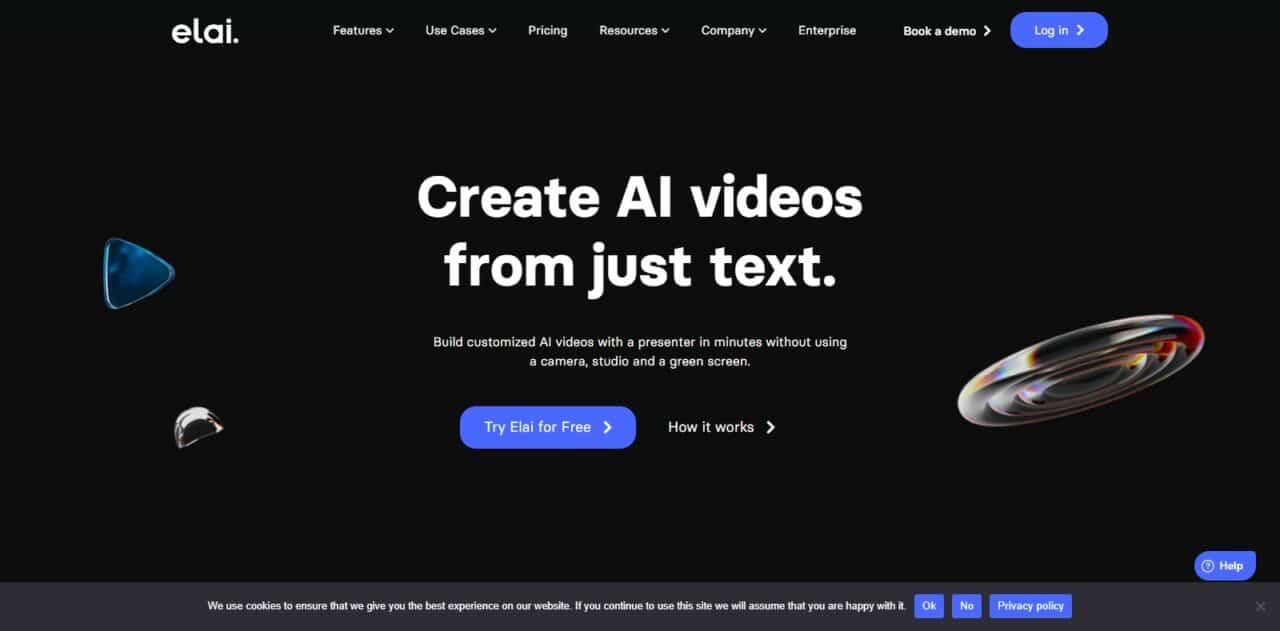 Users of Elai.io can interact clearly despite language difficulties thanks to the site's support for a variety of languages. The platform's user-friendly interface makes it accessible to those looking for dependable and effective language translation solutions as well as to businesses and organisations.
Elai.io equips users with effective language tools that speed up communication and fill in linguistic gaps around the world, whether they are translating documents, websites, or taking part in cross-border commercial talks. Language is no longer a barrier but rather a gateway with Elai.io.
6. Designs.ai (Ai Tool To Convert Text To Video)
A flexible and cutting-edge platform called Designs.ai uses artificial intelligence to improve and streamline the design process. Users have access to a variety of intelligent design tools with Designs.ai that make it easier to create beautiful images, logos, films, and mockups. The platform makes it simple for users to realise their creative ambitions by providing a vast collection of pre-designed templates, modifiable elements, and an accessible interface.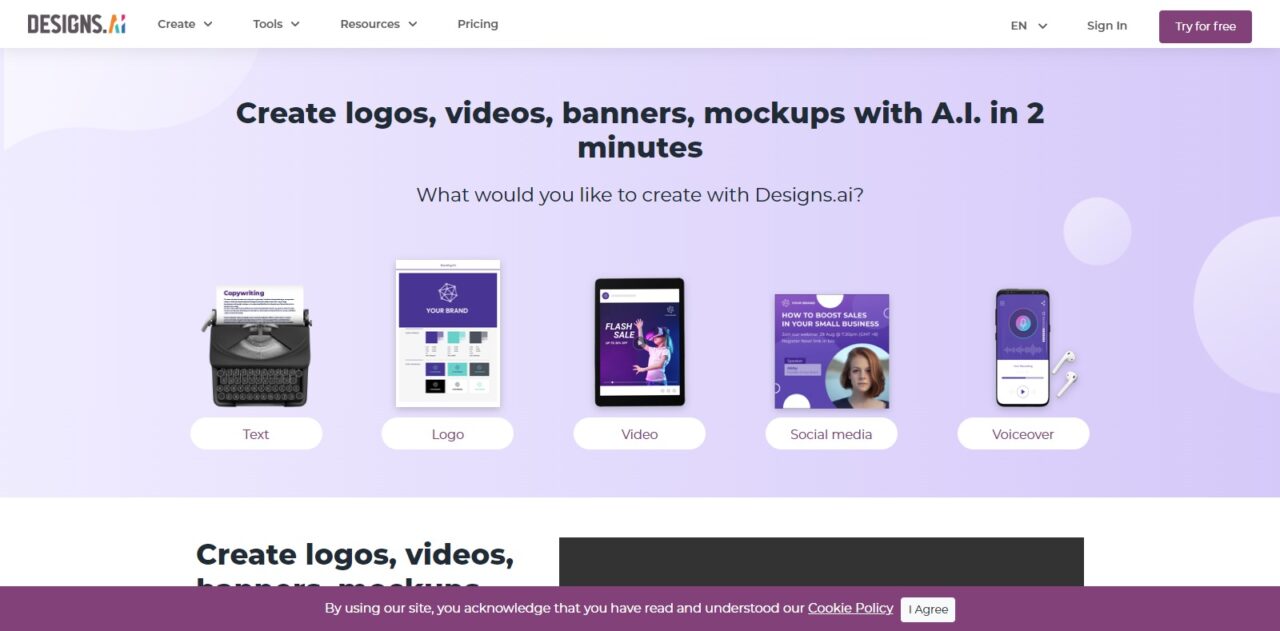 The AI algorithms used by Designs.ai examine user inputs and preferences to produce customised design suggestions and automated adjustments that save time and effort. Designs.ai equips users, irrespective of their degree of design expertise, with professional-level design capabilities,
Whether it is for creating marketing materials, social media content, or brand identities. Designs.ai revolutionises the design industry with its clever features and extensive resource base  process, providing individuals, entrepreneurs, and businesses with the tools they need to create visually stunning and impactful designs.
7. Steve.ai
With the help of the tool's video-making assistant, Steve.ai is ideal for transforming your script or static photos into immersive and interesting videos with subtitles, voice-overs, and music. The platform contains more than 1000 unique bespoke video templates, including promotional, instructional, explainer, and commercial ones.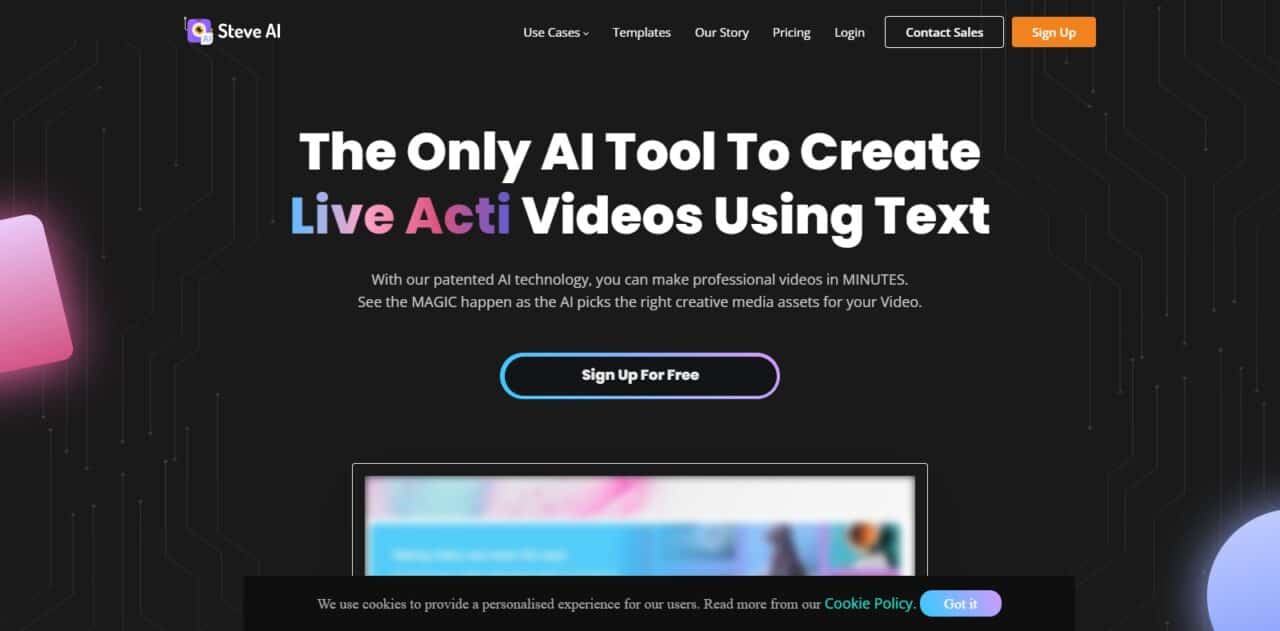 Additionally, it provides over 20 different ways to use it to make films, such as a text-to-video converter, corporate video maker, product video maker, and more. So if you require a text-to-video converter with features like detailed graphics, music, and video assets, allowing seamless cooperation, Steve AI is a great option.
8. Hour One (Ai Tool To Convert Text To Video)
An new productivity tool called Hour One assists users in making the most of their time and productivity. Users can efficiently manage their work, calendar, and priorities with Hour One, making the most of every hour. The platform has a number of tools that help users focus and complete their tasks, such as task organisation, time tracking, and goal planning.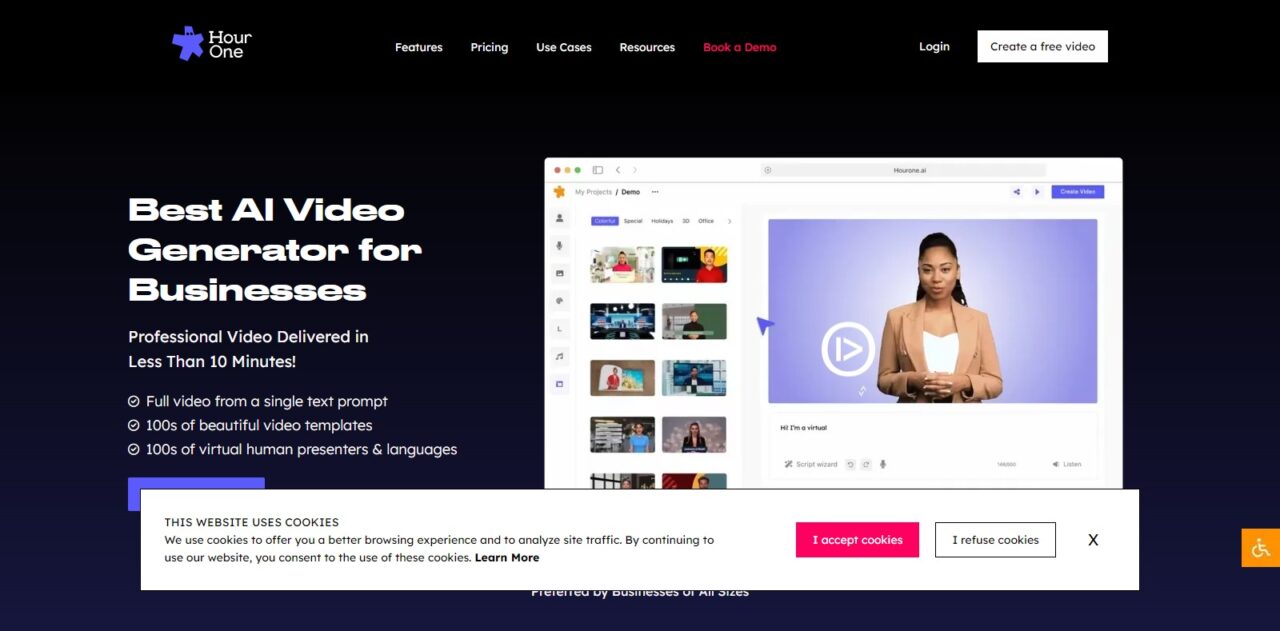 Hour One uses sophisticated algorithms and data analytics to reveal productivity trends and pinpoint areas in need of improvement. Additionally, by encouraging pauses and offering reminders for self-care, it encourages a good work-life balance.
Hour One enables people to take charge of their time, reduce procrastination, and accomplish their goals with the help of a straightforward interface and personalised advice. Whether it is for business or personal use productivity, Hour One is a valuable tool for optimizing daily routines and enhancing overall efficiency.
9. Colossyan
Without specialised tools or knowledge, Colossyan enables you to transform scripts, PPTs, and blogs into movies in over 75 different languages.
It creates studio-quality content with presenters who resemble humans using technologies like automated translation, an AI script aid, a personalised avatar, and video with subtitles.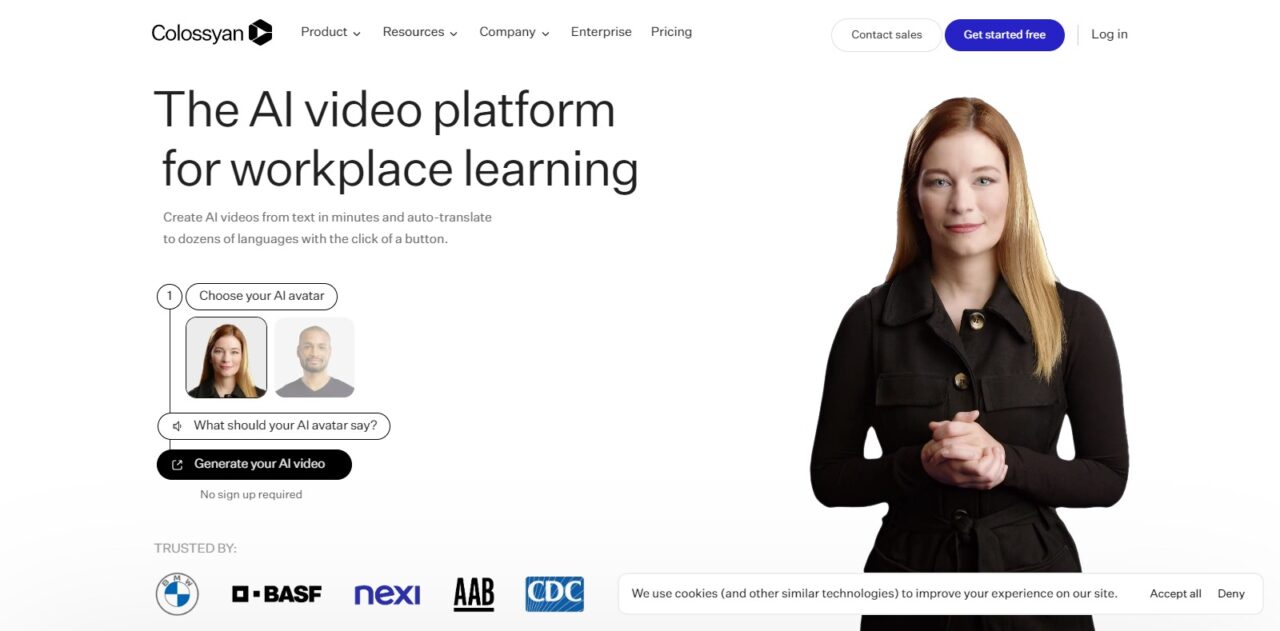 There are countless video genres you may produce, including explainer videos, company onboarding films, marketing and sales videos, educational and learning videos, and blog content videos. This quick and flexible AI text-to-video converter is available for free trial.
10. Invideo (Ai Tool To Convert Text To Video)
With the help of the robust online video editing platform InVideo, users may easily produce videos of professional quality. Users can use InVideo to create visually attractive videos from their unprocessed video, still photos, and audio for a variety of uses, such as marketing campaigns, social networking posts, presentations, and more.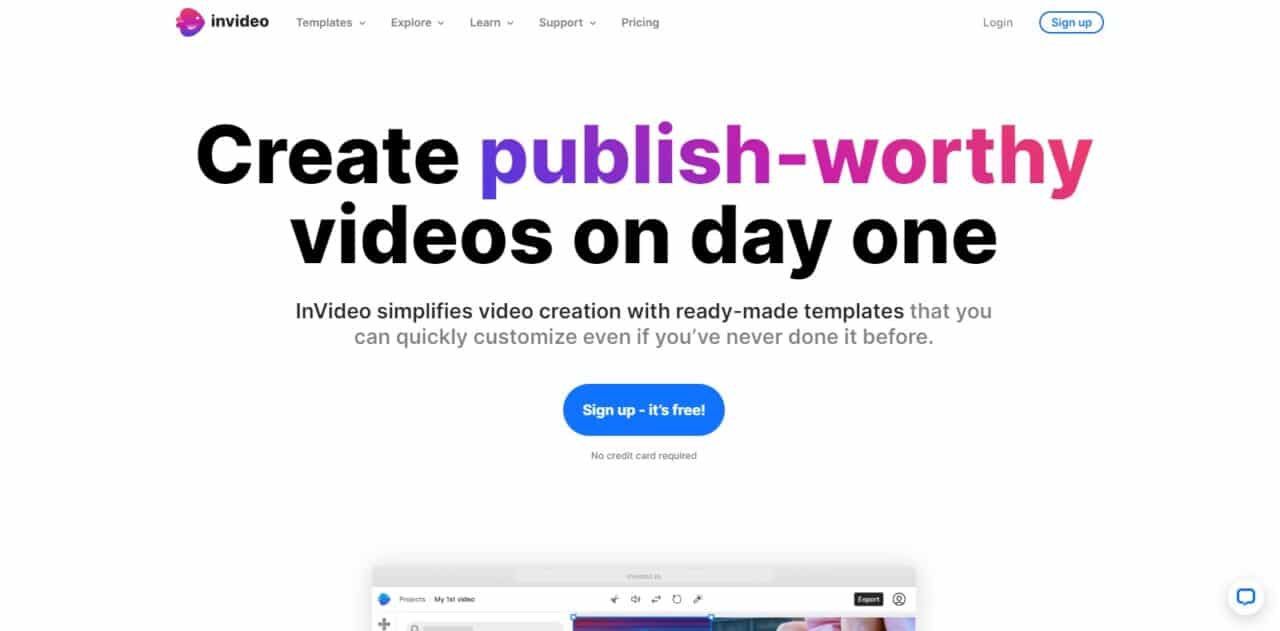 Users can add their own unique touches to their movies to make them more interesting and engaging using the platform's extensive selection of editable templates, design elements, and special effects. Even for individuals with no video editing experience, InVideo's user-friendly interface and simple drag-and-drop editor make editing a breeze.
In order to improve video production, it also gives users access to a huge library of stock music, graphics, and video. Anyone can unleash their creativity and create fascinating videos that have a long-lasting impression on their viewers using InVideo.
Ai Tool To Convert Text To Video Conclusion
In conclusion, the development of text-to-video solutions powered by AI has revolutionised how we interact with visual content and communicate. These ground-breaking tools provide a quick and simple method for making engaging films from written material thanks to sophisticated natural language processing and computer vision algorithms.
They give people and companies the ability to visually stunningly and dynamically bring their ideas to life, increasing the impact and accessibility of their message. AI text-to-video technologies simplify the content creation process and enable users to create professional-looking movies without a lot of specialised technical knowledge thanks to customisable templates, intelligent design elements, and automatic visual generation.
These artificial intelligence (AI) tools give us a universe of possibilities, allowing us to express ourselves through marketing, education, and storytelling ourselves and convey information in captivating ways that resonate with audiences worldwide. The future of content creation is truly transformed with AI-powered text-to-video tools.
Ai Tool To Convert Text To Video FAQ
What is an AI tool to convert text to video?
An AI tool to convert text to video is a software application that utilizes artificial intelligence algorithms to transform written text into dynamic video content. It analyzes the provided text, identifies key elements, and generates corresponding visuals, animations, and transitions, creating engaging videos that enhance the impact of the original text.
How does an AI tool convert text to video?
The AI tool employs natural language processing and computer vision algorithms to analyze the text and understand its context, tone, and structure. It then uses this information to generate appropriate visuals, select relevant images or animations, and synchronize them with the audio to create a cohesive video representation of the text.
What can I use an AI tool to convert text to video for?
An AI tool for text-to-video conversion has various applications. It can be used for creating marketing videos, educational materials, training content, presentations, social media posts, or any situation where visual storytelling is desired. It enables you to transform your ideas, stories, or concepts into compelling videos that effectively communicate your message.
Do I need any technical expertise to use an AI tool for text-to-video conversion?
No, most AI tools designed for text-to-video conversion are user-friendly and do not require extensive technical expertise. They typically provide intuitive interfaces, pre-designed templates, and automated processes that make it easy for users to input their text and generate visually appealing videos without complex editing or programming skills.
Can I customize the videos generated by an AI text-to-video tool?
Yes, many AI tools offer customization options. You can often customize the visuals, fonts, colors, and other design elements to match your branding or personal preferences. Additionally, you can usually add or edit images, animations, transitions, and even include your own voiceovers or audio tracks to personalize the video further.