Artificial Intelligence (AI) is rapidly progressing, and Best Ai Youtube Channels that specialize in AI-related content offer informative and educational material on this topic. Some of the top AI YouTube channels provide content suitable for both beginners and experts alike, covering a range of topics – from machine learning and neural networks to natural language processing and computer vision.
"Two Minute Papers" offers engaging explanations of cutting-edge AI research papers in two minutes or less, making complex ideas accessible to a broader audience. Meanwhile, "Sentdex" stands out with practical tutorials and code samples focused on AI implementation and real world applications.
Lex Fridman provides in-depth discussions and interviews with industry experts on artificial intelligence (AI), robotics, and human intelligence (HI). His channels showcase current advancements and trends within AI while providing valuable knowledge.
What is Ai Youtube Channels?
AI YouTube channels are content creators on YouTube who specialize in videos related to artificial intelligence (AI). These channels often cover a range of topics related to artificial intelligence (AI), machine learning, deep learning neural networks natural language processing computer vision etc. Additionally, these channels often provide educational content as well as tutorials, discussions interviews and presentations about recent advancements within this field of AI research and development.
AI YouTube channels are an invaluable resource for anyone interested in AI, whether beginners looking for introductions or experienced professionals staying abreast of developments. Many channels utilize visual aids, animations and real-life examples to make complex AI concepts more understandable to a broad audience.
Some AI YouTube channels are managed by researchers, professors or experts in artificial intelligence; others may be run by enthusiasts or organizations dedicated to raising AI awareness. Either way, these channels play an essential role in disseminating information, building communities of learners and practitioners around artificial intelligence technologies, and contributing to global understanding and application of these disciplines.
Here Is List Of Best Ai Youtube Channels
Sentdex
DeepLearningAI
Two Minute Papers 
Kaggle
Siraj Raval
Jeremy Howard
Krish Naik
Matt Wolfe
StatQuest with Josh Starmer
Daniel Bourke
10 Best Ai Youtube Channels
1. Sentdex
"Sentdex" is an immensely popular YouTube channel run by Harrison Kinsley, commonly referred to as Senddex across various coding platforms. His channel provides educational content related to programming, data science and artificial intelligence with Python being featured heavily. Harrison provides insightful videos on its use in AI-related applications – making "Sentdex" an invaluable resource for both novice and seasoned programmers interested in AI/machine learning applications.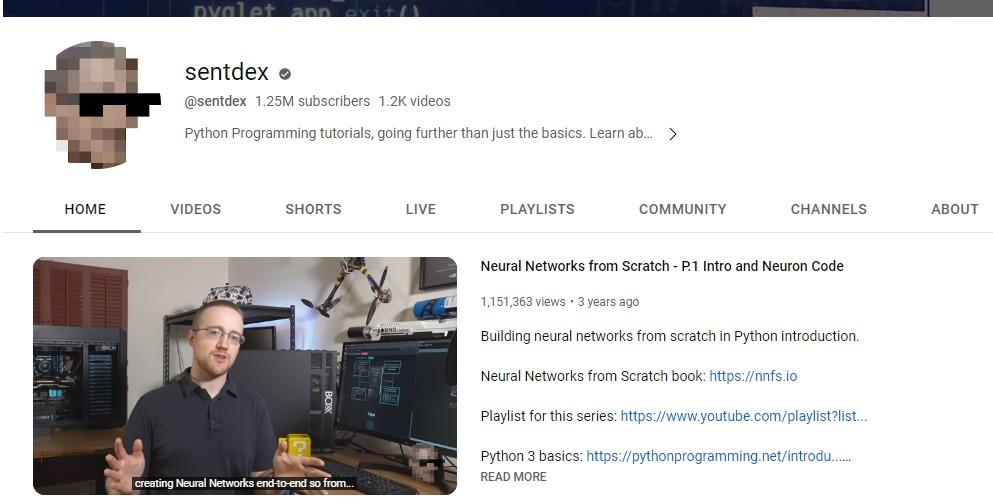 On Sentdex Channel you can find tutorials and explanations covering topics such as machine learning algorithms, neural networks, natural language processing, computer vision and data analysis. Harrison's teaching style is straightforward yet approachable making complex topics more easily digestible by wide audiences.
Sentdex channel covers topics related to AI as well as web development, finance and general Python programming – making it an indispensable source for many aspiring data scientists, machine learning enthusiasts and programmers looking to advance their AI knowledge.
2. DeepLearningAI (Best Ai Youtube Channels)
"DeepLearning.AI" YouTube channel is associated with Andrew Ng, a renowned computer scientist and AI specialist who founded DeepLearning.AI organization. Andrew is one of the pioneers in artificial intelligence research, having made significant contributions towards deep learning's advancement.
DeepLearning.AI's YouTube channel hosts an array of educational content on AI, machine learning, and deep learning. Andrew Ng and his team offer insightful lectures, tutorials, and discussions covering fundamental concepts as well as advanced techniques and the newest research within the field of artificial intelligence.
Andrew Ng's channel regularly offers detailed explanations of popular deep learning models and algorithms, practical coding examples, and real-world applications of AI. His engaging teaching style makes his content accessible and valuable for both beginner AI enthusiasts and experienced enthusiasts.
"DeepLearning.AI" also offers online courses and certification programs through Coursera and deeplearning.ai to equip individuals with necessary AI/deep learning expertise.
3. Two Minute Papers 
"Two Minute Papers" is an engaging YouTube channel hosted by Karoly Zsolnai-Feher – better known in AI circles as Karoly "Charlie" Zsolnai – that provides concise yet informative summaries of cutting-edge research papers related to artificial intelligence, computer graphics and other areas.
Each video provides a two-minute overview of a research paper by Karoly, discussing its significance, methodology, and key findings. He uses visual aids, animations and demonstrations to make complex concepts more approachable for a wide audience. Karoly's enthusiasm and passion for his subject matter shines through in his presentations – creating engaging and enjoyable viewing.
"Two Minute Papers" offers an informative channel covering topics related to machine learning, deep learning, neural networks, computer vision, natural language processing and robotics research. This channel serves as an invaluable source of staying current with advancements and breakthroughs within AI research communities worldwide.
As well as research paper summaries, this channel also features interviews with prominent researchers and experts, providing valuable insights into their work as well as the future of AI and computer graphics.
4. Kaggle (Best Ai Youtube Channels)
Kaggle is an online platform and community for data science and machine learning enthusiasts founded in 2010 and acquired by Google in 2017. Known for hosting machine learning competitions where participants compete to develop predictive models that address real-world problems through predictive algorithms, Kaggle is well-regarded among data science enthusiasts and machine learning enthusiasts alike.
On Kaggle, organizations and companies host competitions and provide datasets that allow data scientists and machine learning practitioners to come up with innovative and accurate solutions for various problems. Participants submit predictions and their models' performance is then displayed publicly leaderboards – creating both healthy competition and collaboration among participants.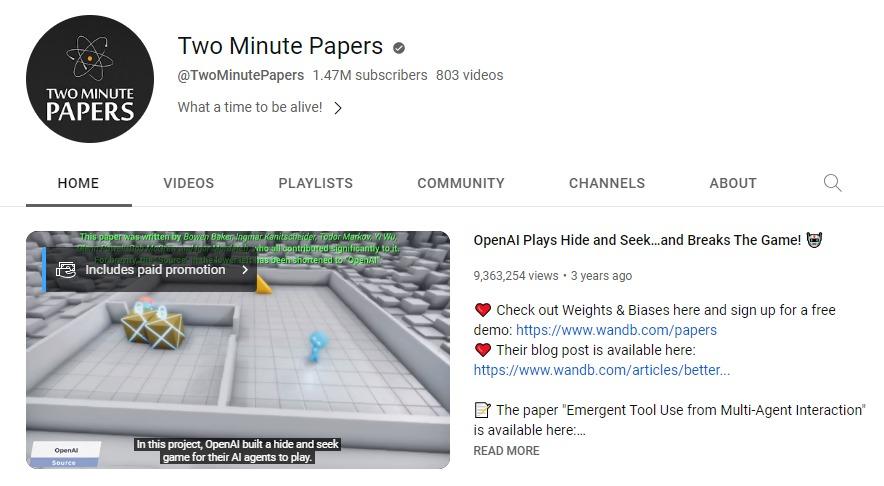 Kaggle provides more than just competitions for data scientists; it also provides datasets, notebooks and forums where they can exchange knowledge, discuss ideas and learn from each other. Furthermore, its dataset repository serves as a valuable resource when it comes to finding data sets for various analyses or research needs.
Kaggle also offers a cloud-based data science environment known as Kaggle Kernels that allows users to write, run, and share code using Jupyter notebook format. This feature makes data science projects collaborative while sharing findings with the community.
5. Siraj Raval
Siraj Raval is an esteemed figure in the artificial intelligence and machine learning community, famed for his contributions in data science, education and entrepreneurship. His YouTube channel and online courses gained immense renown; these helped garner international fame within AI circles.
Siraj Raval's YouTube channel boasts an array of content related to artificial intelligence (AI), machine learning (ML), deep learning (DL), programming and related areas. His videos on various AI topics provide engaging tutorials, code examples and explanations while still being entertaining and approachable for viewers.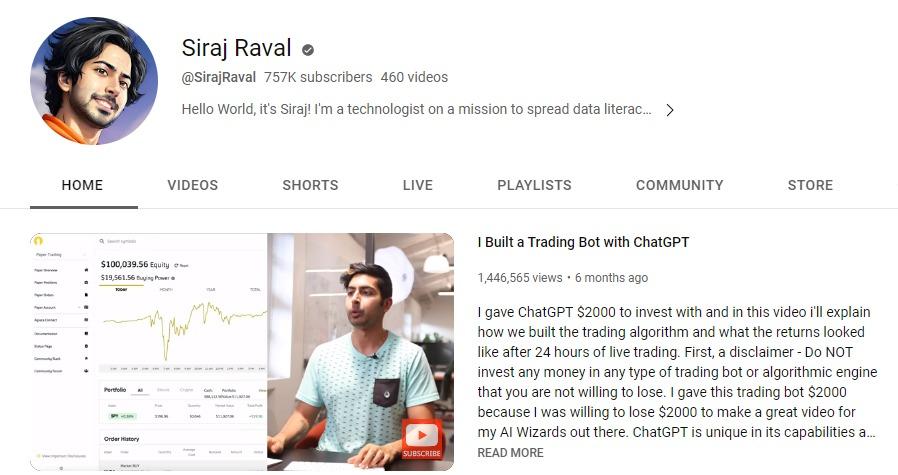 Siraj Raval has made AI and machine learning accessible to a wider audience via his YouTube channel and online courses and bootcamps. Known for his passion for teaching, his courses make AI education available to more people.
Since 2015, Siraj has been actively engaged with various artificial intelligence projects and initiatives, such as creating AI music compositions, contributing to open-source projects, organizing hackathons and workshops, as well as organizing hackathons and workshops.
Siraj Raval has received accolades for his educational content and enthusiasm for artificial intelligence (AI), but has also experienced criticism and controversy regarding some of his content and business practices. Therefore, viewers need to remain critical consumers and supplement his material with additional research from other sources.
6. Jeremy Howard (Best Ai Youtube Channels)
Jeremy Howard is an influential leader in artificial intelligence and deep learning. A data scientist, researcher, educator, and entrepreneur who has made significant contributions to AI education over time.
Jeremy Howard co-founded fast.ai, an organization offering free online courses on deep learning and machine learning for all audiences – even those without prior programming experience or data science education. These courses make complex AI concepts easily understandable to participants with no background whatsoever in such disciplines as programming or data science.
His teaching style places emphasis on practical application, equipping students to build and deploy real-world AI models and projects. fast.ai courses have proven especially popular due to their hands-on nature and emphasis on using open source libraries and tools.
Jeremy Howard has also contributed significantly to AI research projects and initiatives, including natural language processing, computer vision and healthcare applications of AI.
7. Krish Naik
Krish Naik is a well-recognized data scientist, educator, and YouTuber renowned for his contributions in data science and machine learning. Based in India and with an online presence primarily through YouTube and LinkedIn, he is well known among his peers in data science circles.
Krish Naik runs a YouTube channel dedicated to data science, machine learning and programming education. His videos often include tutorials, code examples and practical demonstrations of AI/data science concepts. Krish's teaching style strives to make complex subjects understandable to his viewers – making his content popular both with beginners and experienced data scientists alike.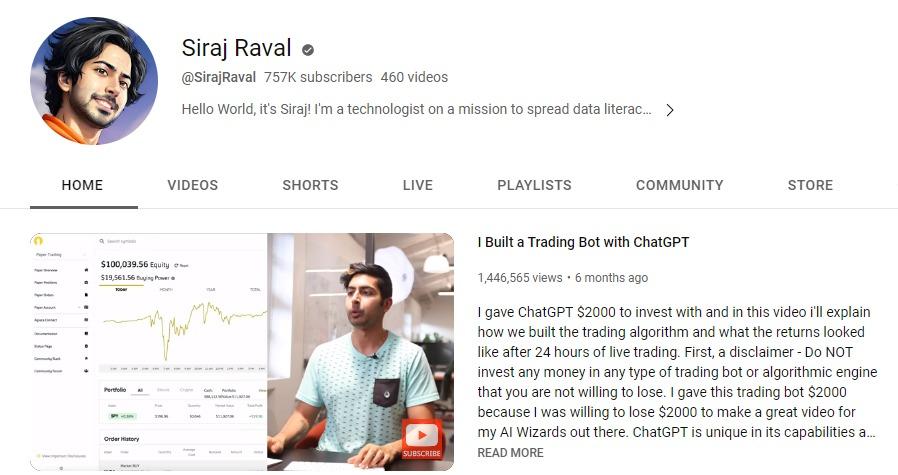 Krish Naik can also be found actively participating on LinkedIn, where he shares insights, updates on data science trends and engages with his followers through posts and discussions.
Krish Naik has made waves within the data science community as an educator and influencer, inspiring many aspiring data scientists to pursue careers in artificial intelligence and machine learning. His commitment to spreading knowledge and love of data science have earned him a sizable following on social media platforms such as LinkedIn.
8. Matt Wolfe (Best Ai Youtube Channels)
Matt Wolfe is an industry icon when it comes to online business and digital marketing. An entrepreneur, educator and content creator himself, Matt specializes in helping individuals and businesses establish or expand their presence online.
Matt Wolfe co-hosts the popular podcast "The Hustle and Flowchart Podcast" alongside Joe Fier. In each episode, they interview successful entrepreneurs and marketers and offer valuable insights, strategies, and tactics for building and scaling online businesses.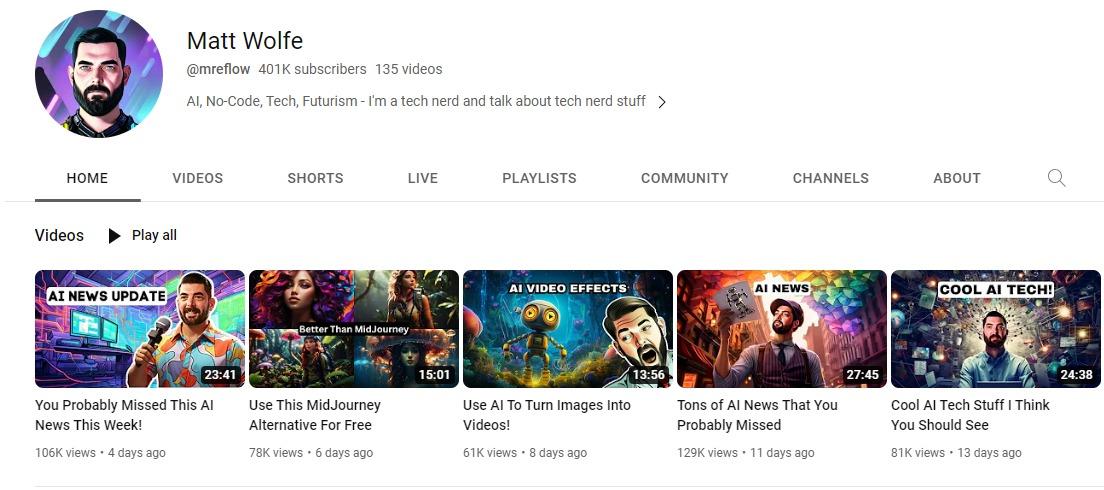 Matt Wolfe can also be found thriving across social media and YouTube, where he frequently shares educational content related to topics like affiliate marketing, email marketing, content creation and productivity.
Matt Wolfe is well-known for his friendly and approachable teaching style, making complex concepts in online business and marketing accessible to a broad audience. His content often provides practical tips and real-life examples that enable his followers to effectively implement strategies.
9. StatQuest with Josh Starmer
StatQuest with Josh Starmer is an award-winning YouTube channel hosted by data scientist and educator Josh Starmer. The channel focuses on providing clear explanations of statistical concepts and machine learning algorithms for wide audiences.
Josh employs an engaging and animated teaching style to simplify complex statistical topics into understandable visual explanations, covering an extensive array of concepts such as probability, hypothesis testing, linear regression, logistic regression, decision trees and random forests among many more.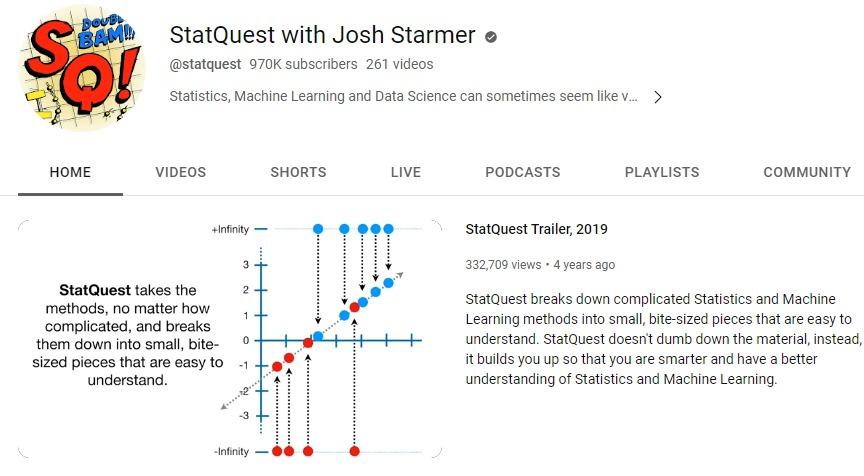 StatQuest with Josh Starmer has quickly become a beloved resource among data science practitioners for its ability to make complex statistics and machine learning concepts simple and accessible, even for novices. His content provides students, data scientists and anyone seeking an in-depth knowledge of statistical modeling and machine learning the fundamentals they require for understanding these fundamentals.
Josh Starmer is not only well-known on YouTube but is also an Associate Faculty Member at University of North Carolina Chapel Hill where he teaches data science courses and conducts research. His dedication to demystifying complex topics has earned him great respect in data science education circles.
10. Daniel Bourke (Best Ai Youtube Channels)
Daniel Bourke is an Australian data scientist renowned for his contributions in machine learning and artificial intelligence. With strong presences on YouTube, GitHub, and Twitter – and with over five years' experience as an educator – Daniel Bourke stands out as an innovator within these fields.

Daniel Bourke offers educational content on machine learning, deep learning and data science through YouTube videos that include tutorials, coding examples and practical demonstrations of AI concepts and projects. Daniel's teaching approach emphasizes practical experience to make complex subjects more digestible for his learners.
Daniel Bourke can also be found sharing code repositories and open-source projects related to artificial intelligence and machine learning on GitHub. His repositories provide invaluable resources for students and developers seeking to learn and apply AI techniques in practical settings. Daniel Bourke uses Twitter as an engaging way to interact with his audience, share insights, and remain abreast of AI-related news and trends.
Best Ai Youtube Channels Conclusion
Artificial Intelligence is ever-evolving, and YouTube offers several excellent AI channels that cover various areas. Ranging from educational videos on fundamental AI concepts to discussion threads about cutting-edge research projects, these channels serve as invaluable resources both beginners and seasoned AI specialists alike.
Channels such as "Two Minute Papers" provide concise summaries of research papers, making the latest advances in AI more accessible to a broader audience. "Sentdex" offers tutorials and code samples focusing on AI implementation, while "DeepLearning.AI" offers courses covering everything you need to know about the subject matter.
Additionally, channels hosted by notable figures like Siraj Raval and Jeremy Howard play an instrumental role in AI education by inspiring and equipping aspiring data scientists and machine learning enthusiasts. Overall, AI YouTube channels play an invaluable role in disseminating knowledge, creating vibrant communities of learners, and expanding global understanding and application of artificial intelligence.
Best Ai Youtube Channels FAQ
What are AI YouTube channels?
AI YouTube channels are content creators on YouTube who specialize in producing videos related to artificial intelligence (AI), machine learning, deep learning, and other related fields. These channels offer educational content, tutorials, discussions, and presentations to cater to various audiences interested in learning about AI concepts and applications.
How can AI YouTube channels benefit viewers?
AI YouTube channels can be highly beneficial to viewers in several ways. They provide valuable educational content, making complex AI concepts more accessible and understandable for both beginners and experienced professionals. Viewers can learn about the latest advancements, gain insights from experts, and discover practical applications of AI through tutorials and coding examples.
What kind of content do AI YouTube channels cover?
AI YouTube channels cover a wide range of topics related to AI and machine learning. They may include tutorials on popular AI algorithms, explanations of research papers, discussions on AI ethics and applications, real-world use cases, and interviews with industry experts. Some channels focus on beginner-friendly content, while others dive into more advanced and technical aspects of AI.
Are AI YouTube channels suitable for beginners?
Yes, many AI YouTube channels cater to beginners and provide content that is approachable and easy to understand. These channels often start with fundamental concepts, gradually building the viewers' knowledge and confidence in AI. As viewers progress, they can explore more advanced topics to deepen their understanding.
What are some popular AI YouTube channels?
Some popular AI YouTube channels include "Two Minute Papers," which offers concise research paper summaries, "Sentdex," known for its practical coding tutorials, "DeepLearning.AI," providing comprehensive AI courses, "Siraj Raval," offering engaging and inspirational AI content, and "Jeremy Howard," known for his clear explanations of AI concepts and applications.