Best Alternatives To Chatgpt : ChatGPT has become an innovative solution in the dynamic field of artificial intelligence and natural language processing, revolutionizing how we interact with AI-generated text. As technology continues to advance, so too do its alternatives that offer specific features, specialized applications, and various levels of customization. No matter your reason for exploring ChatGPT alternatives, discovering them can become an enjoyable journey through the unique world of conversational AI.
From industry solutions to platforms with expansive developer APIs, these alternatives promise innovation, reliability, and the flexibility needed to meet specific user requirements. This exploration takes us deep into the world of AI-powered language models, unveiling some of the top contenders that vie for attention in an industry defined by continual innovation and improved conversational experiences.
What Is Chatgpt?
ChatGPT, developed by OpenAI and specifically using GPT-3.5 architecture, is a language model designed to generate human-like text based on input provided. GPT stands for Generative Pre-trained Transformer 3.5; one iteration of this technology.
ChatGPT has been trained using text from across the internet, enabling it to generate contextually appropriate and coherent responses in natural language. It excels at performing various language tasks including text completion, summarization, translation and engaging in conversations between users – hence its name!
ChatGPT stands out by its ability to understand and produce responses in a conversational style, making it suitable for chatbots, virtual assistants and other human-computer interaction scenarios. Users can input prompts or messages; ChatGPT generates text-based replies which demonstrate its remarkable capacity for contextual understanding and language generation.
Though ChatGPT has shown significant potential, it must also be kept in mind that it may have certain limitations; these could include producing incorrect or nonsensical answers, being sensitive to input phrasing and potentially exhibiting biased behavior based on its training data. Current research and development efforts seek to address and overcome such hurdles.
Why Should You Look For Best Alternatives To Chatgpt?
Specialized Capabilities : Depending on your application or industry, specialized capabilities that go beyond ChatGPT's general conversational abilities may be necessary. Other solutions might provide tailored features tailored specifically for specific use cases – for instance industry-specific terminology or advanced language understanding in a particular domain.
Cost Considerations : Some options offer cost-effective pricing models to suit your usage patterns or budget constraints, making AI solutions accessible without incurring excessive expenses. This can be particularly relevant for businesses or individuals seeking efficient AI solutions without incurring unnecessary expenditure.
Customization and Contro l: Alternatives may offer more comprehensive customization features, enabling users to tailor models according to their particular requirements. If more precise control over behavior or output of language models is desired, alternatives with adjustable parameters may provide the solution.
Ethics or Bias Concerns : If ethical considerations or bias concerns in AI models are of primary concern, exploring options which prioritize fairness, transparency or ethical AI principles could be the deciding factor in selecting one over another. Some may implement additional measures to counteract any possible language model biases.
Integration With Existing Systems : Depending on your workflow and existing systems, certain alternatives may offer better integration options – for instance compatibility with specific programming languages, APIs or platforms.
Innovation and Updates : Natural language processing is ever-evolving, offering opportunities to find models more tailored to meet the changing demands or industry standards of today or tomorrow. Alternatives may provide insights into new developments that align more closely with your evolving needs or emerging industry standards.
Here Is The List Of 50 Best Alternatives To Chatgpt In 2024
DialoGPT (Best Alternatives To Chatgpt)
Cortana
Rasa (Best Alternatives To Chatgpt)
TextBlob
Snips.ai (Best Alternatives To Chatgpt)
Hugging Face Transformers
Mycroft
Microsoft Bot Framework
GPT-J
Microsoft Azure Language Understanding
Facebook BlenderBot
ChatterBot (Best Alternatives To Chatgpt)
Lex from AWS
GPT-3.5 Turbo
Replika
Jarvis AI (Best Alternatives To Chatgpt)
Mozilla DeepSpeech
Microsoft Turing Models
Google BERT (Best Alternatives To Chatgpt)
AllenNLP (Best Alternatives To Chatgpt)
Rasa X
ChatterBot (Best Alternatives To Chatgpt)
IBM Watson Natural Language Understanding
Jasper (Best Alternatives To Chatgpt)
Peltarion
Snips NLU
Prodigy
Microsoft LUIS
Wit.ai
Microsoft Azure Bot Service
BERT-based models
Spacy
Rasa X
PandoraBots
Replika
Chatbot API (Best Alternatives To Chatgpt)
NLTK (Best Alternatives To Chatgpt)
EleutherAI Models
Dialogflow by Google
Mycroft
IBM Watson Assistant
Mozilla DeepSpeech
RiveScript (Best Alternatives To Chatgpt)
TextBlob
SpeechRecognition
GPT-J
Jasper (Best Alternatives To Chatgpt)
SpaCy
Microsoft Bot Framework
Botpress
50 Best Alternatives To Chatgpt In 2024
1. DialoGPT (Best Alternatives To Chatgpt)
DialoGPT from OpenAI represents a groundbreaking advancement in conversational artificial intelligence. Based off its parent GPT-3 model, DialoGPT excels at producing coherent and contextually relevant responses in dialogue format, through extensive internet-based conversations training. By understanding natural language complexities as well as context factors better, DialoGPT produces responses more closely related to human communication that reflect context awareness.
DialoGPT stands out among language models by its ability to hold extended and meaningful dialogue sessions, making it suitable for applications such as chatbots, virtual assistants and interactive dialogue systems. Unfortunately, like any language model it does have its limitations; sometimes producing responses which seem plausible but lack factual accuracy or consistency.
OpenAI has continuously improved DialoGPT by taking into account user feedback in order to enhance performance and reduce potential biases. This commitment to continuous development exemplifies OpenAI's dedication to responsible AI development.
DialoGPT boasts impressive capabilities of producing dynamic and contextually rich text; however, users should remain mindful of its limitations and use it wisely within its training data limits. As conversational AI advances, DialoGPT stands as evidence of ongoing efforts to develop more sophisticated language models with context awareness.
2. Cortana
Cortana from Microsoft is an intelligent virtual assistant designed to give users a tailored and personalized computing experience. Inspired by Cortana from Halo video game series, this virtual assistant seamlessly integrates into its ecosystem – including Windows operating systems and various Microsoft applications.
Cortana stands out with its natural language processing capacity, enabling users to interact with their devices using voice commands and text input. Over time, this virtual assistant learns from user preferences and behavior, adapting its responses and suggestions according to individual needs. Cortana can assist users with tasks like setting reminders, sending emails, providing weather updates and offering personalized recommendations – just a few uses for Cortana.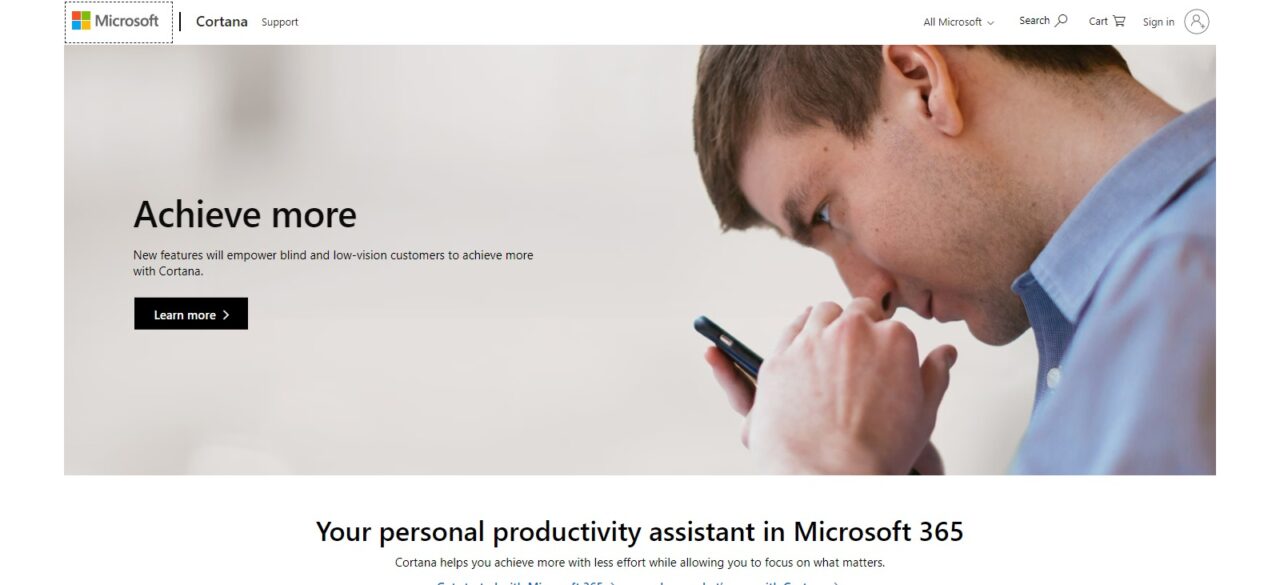 As technology has advanced, Cortana has grown beyond a mere voice-activated assistant to become an integral component of Microsoft's overall vision for creating an intelligent and context-aware operating environment. While its presence has expanded across various platforms – Windows, Android and iOS included – in recent years Microsoft has prioritized integrating more Cortana features and functionalities into Microsoft 365 applications and services than before.
Cortana continues to play an essential role in virtual assistant development and user-centric computing experiences despite any shifts in its strategic positioning.
3. Rasa (Best Alternatives To Chatgpt)
Rasa is an open-source conversational AI platform, distinguished for its commitment to providing developers with tools they need to create sophisticated chatbots without compromising control or data privacy.
Rasa's framework empowers developers to build contextual AI-driven dialogues that transcend simple command-response interactions. Its architecture permits for both rule-based and machine learning-based models, creating a hybrid approach combining predetermined rules with machine learning algorithms for optimal conversational depth and accuracy.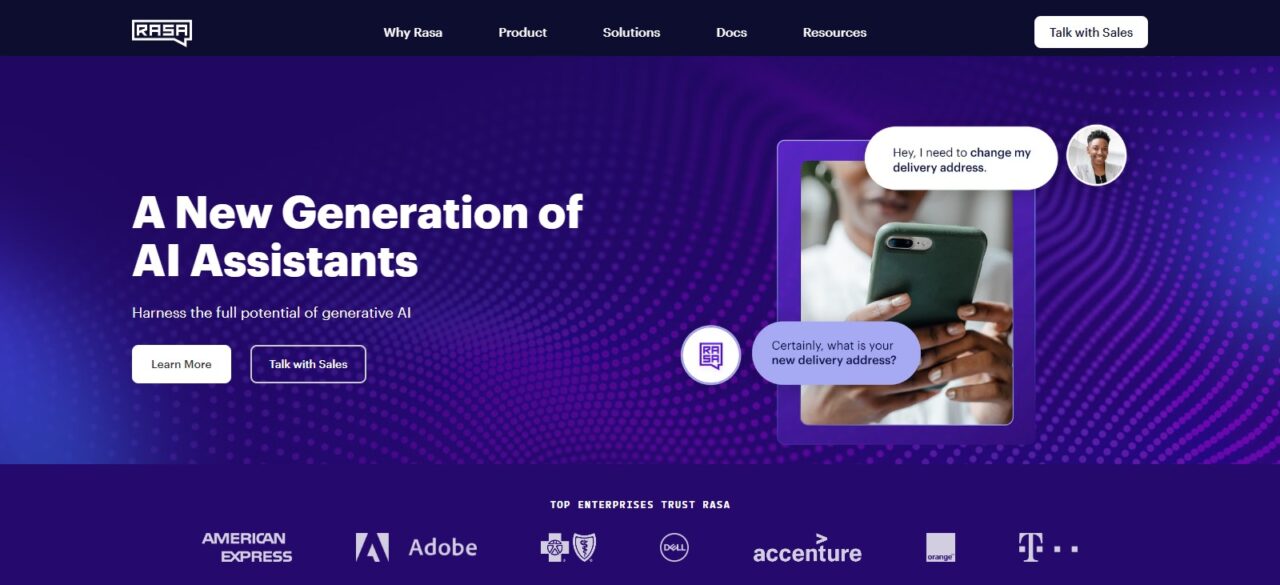 Rasa's emphasis on open-source development creates an engaged community of developers who actively contribute to its improvement. Rasa offers flexible deployment options, enabling developers to integrate chatbots seamlessly into various platforms and applications without disruption from external components such as server infrastructure or external server-side libraries. Furthermore, its multi-turn conversation support enables creation of robust chatbots able to handle complex dialogues or user queries effectively.
Rasa's dedication to flexibility, transparency and user empowerment makes it an invaluable asset for organizations looking to implement conversational AI solutions tailored specifically for their specific needs. As demand for intelligent chatbots increases, Rasa stands as a strong representative of open source principles and innovation within conversational AI development.
4. TextBlob
TextBlob, a Python library for textual data processing, has become increasingly popular with developers and researchers searching for an intuitive natural language processing (NLP) tool with straightforward operations. Thanks to its straightforward API design, TextBlob makes complex NLP tasks accessible for users of all levels of expertise.
TextBlob stands out with its sentiment analysis capabilities, enabling users to quickly assess the polarity of any piece of text easily. Furthermore, TextBlob offers functionality such as part-of-speech tagging, noun phrase extraction, classification translation and more for more complex tasks like content categorization opinion mining information retrieval.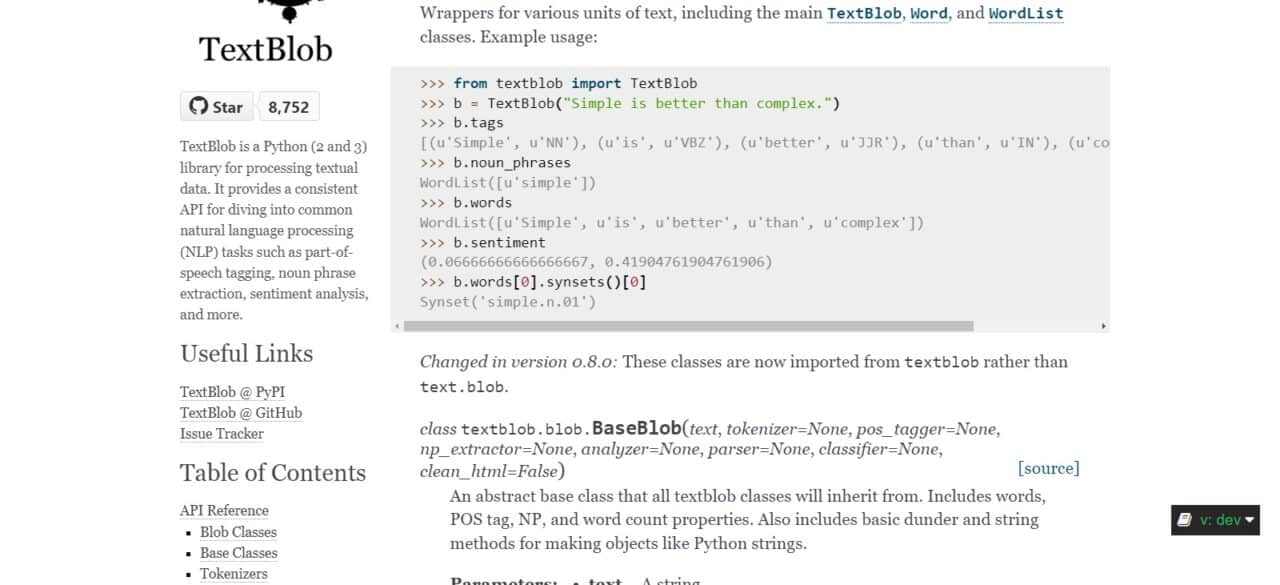 TextBlob's user-friendly surface masks a powerful engine built upon Natural Language Toolkit (NLTK) and Pattern libraries, combining their strengths for an extensive NLP toolkit. TextBlob delivers reliable results while remaining easy to use; making it ideal for quick prototyping and experimentation with various NLP applications.
TextBlob has proven itself incredibly popular and continues to draw an engaged community around it, serving as an excellent solution for adding NLP functionality into Python-based projects without an steep learning curve often associated with more advanced libraries.
5. Snips.ai (Best Alternatives To Chatgpt)
Snips.ai, now part of Sonos, was an early pioneer in the world of private voice assistants. Renowned for its commitment to user privacy, Snips.ai provided solutions that enabled users to build voice-enabled apps without risking sensitive data. Focused on local natural language processing (NLP), their solutions enabled voice commands to be processed without cloud servers posing threats to data privacy and security.
Snips.ai is best known for its Snips Voice Platform, a framework enabling developers to integrate voice recognition and natural language understanding capabilities into various apps. The platform's offline capabilities were especially appealing for users seeking privacy-conscious alternatives to cloud-based voice assistants.
Sonos, a leader in smart speakers and home audio systems, acquired Snips.ai in order to strengthen its voice technology capabilities. While Snips.ai no longer operates independently, their focus on privacy-centric voice solutions has had a lasting effect on discussions around data security in voice activated technologies.
As the industry evolves, Snips.ai serves as a reminder of the significance of privacy when it comes to voice technology, and of how important it is to balance convenience with robust data protection measures.
6. Hugging Face Transformers
Hugging Face Transformers has quickly become one of the premier platforms in natural language processing (NLP) and machine learning, providing easy access to state-of-the-art language models and inspiring innovation across various NLP applications. Thanks to Hugging Face's wide range of pre-trained transformer models, Hugging Face has democratized access to cutting-edge language models fostering further advancement within NLP applications.
Transformers is the platform's library that provides researchers, developers, and data scientists with an intuitive user-interface for easily incorporating cutting-edge models into their projects. Ranging from popular models like BERT and GPT to niche architectures – including pre-trained transformers catering to different use cases and industries.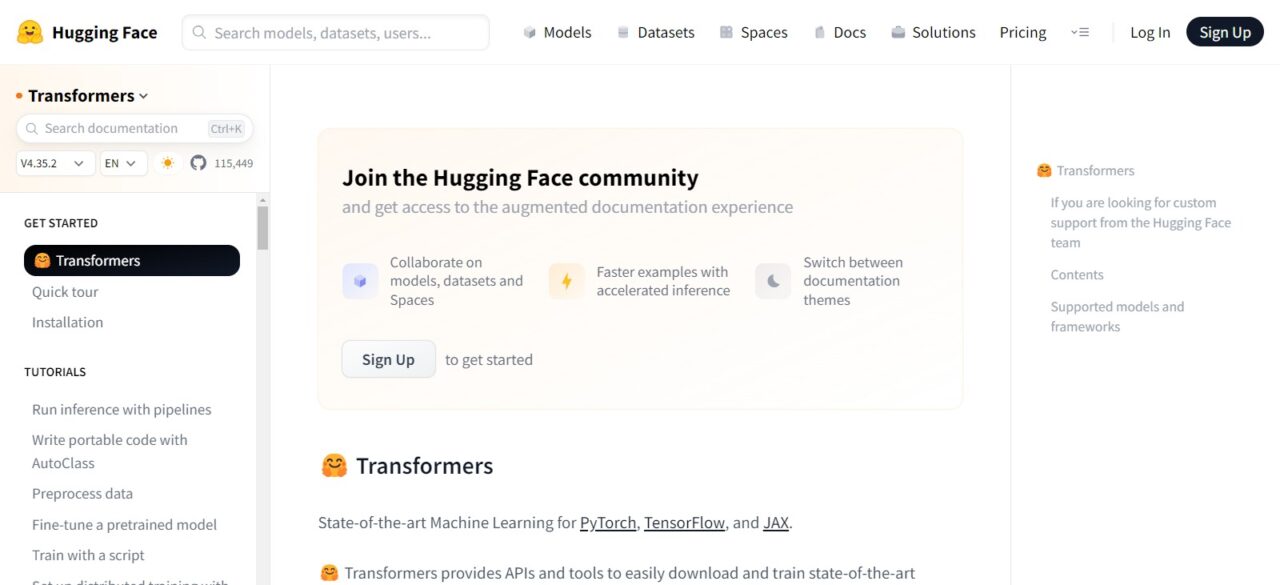 Hugging Face Transformers not only facilitate the deployment of powerful models more easily but also encourage collaboration within the AI community. Being open-source encourages contributions and improvements from a global network of developers fostering a dynamic ecosystem.
Additionally, this platform enables model training and fine-tuning capabilities, enabling users to adapt pre-existing models according to their specific needs. This makes it an invaluable resource for beginners as well as more seasoned practitioners looking to leverage cutting-edge natural language understanding technologies in their applications.
Hugging Face Transformers have played a pivotal role in furthering NLP by making sophisticated transformer models accessible to a broader audience, encouraging innovation and collaboration within this rapidly developing field of machine learning.
7. Mycroft
Mycroft offers users an alternative voice assistant experience while keeping data processing locally. Users can deploy voice-activated solutions while still keeping processing close.
Mycroft stands out as an open-source platform, encouraging community-driven development to continually upgrade and enhance it. Users have the power to customize Mycroft according to their individual needs from custom wake words and integrations all the way down to personalized skills and integrations.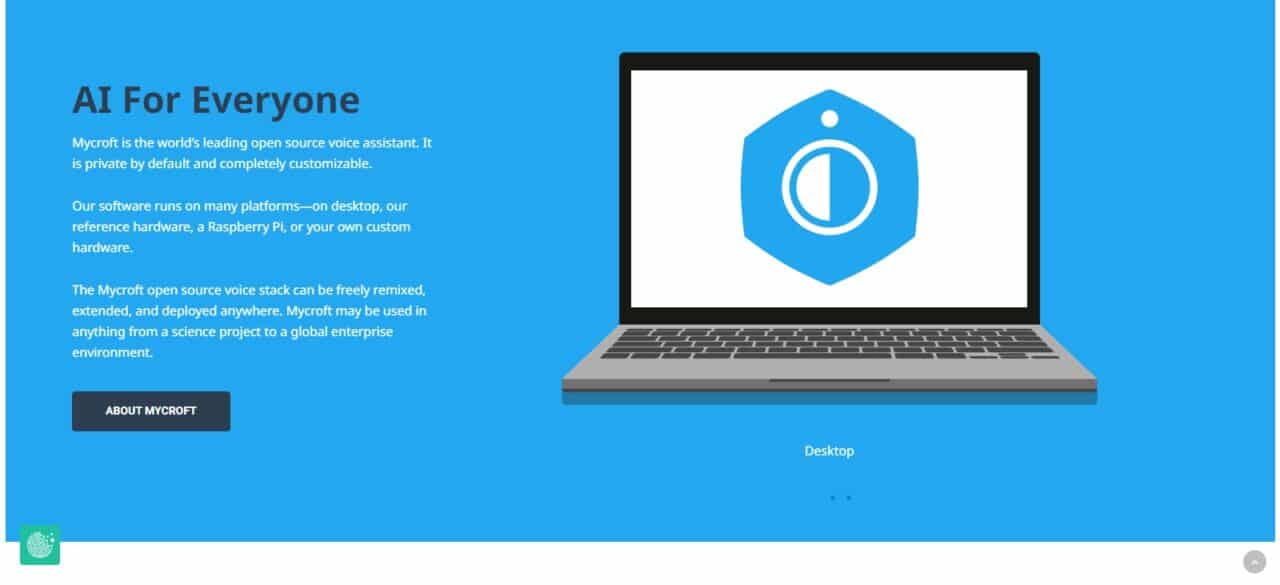 Mycroft's architecture provides for on-device processing of voice data, eliminating privacy concerns associated with sending data off-device to external servers. This emphasis on privacy aligns perfectly with growing demands for more secure and transparent voice technologies.
Mycroft supports an array of applications ranging from smart home automation and weather updates to more complex tasks such as language translation. Due to its adaptability and extensibility, Mycroft makes for an ideal tool for developers seeking to create tailored voice-enabled solutions without jeopardizing user privacy.
Mycroft stands out as an innovative open source platform with user control at its core and an emphasis on ethical, customizable voice assistant solutions that respect privacy. As the voice technology landscape shifts and changes, Mycroft remains a noteworthy player offering user-centric voice assistant solutions.
8. Microsoft Bot Framework
The Microsoft Bot Framework offers an ideal and versatile platform for creating intelligent and interactive bots for use across a range of channels. Created by Microsoft, this framework enables developers to craft chatbots capable of natural language processing, multi-turn conversations and integration with various Microsoft services and third-party applications.
One of the greatest strengths of Microsoft Bot Framework is its versatility in accommodating various channels such as Microsoft Teams, Skype and Slack; providing a single development environment to create cross-channel conversations experiences. Furthermore, C#, Node.js and Python support enable developers to utilize their preferred languages and tools.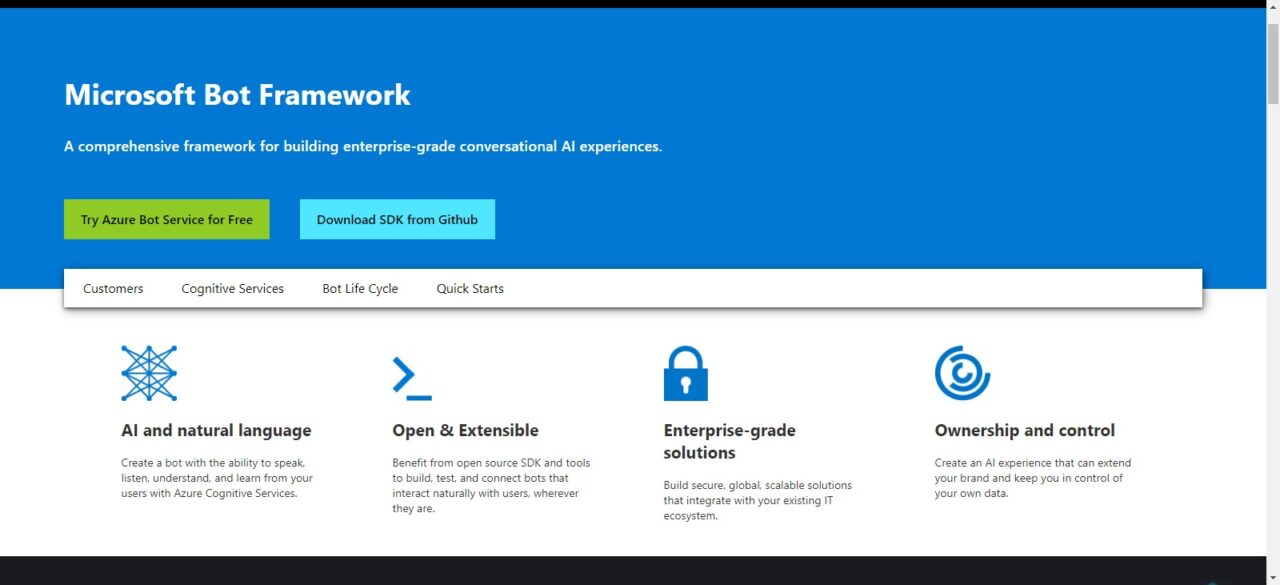 Microsoft Language Understanding (LUIS) capabilities enable developers to provide their bots with advanced natural language understanding for more context-aware interactions, while Azure Bot Services facilitate scalable and secure deployment of bots ensuring optimal performance and user experiences.
the Microsoft Bot Framework makes an important contribution to conversational AI by offering a flexible, feature-rich and scalable platform that organizations can utilize for customer service, internal automation or virtual assistant needs. Integrating Azure services further expands this framework's capabilities making it an invaluable asset in creating intelligent yet user-friendly chatbot solutions.
9. GPT-J
GPT-J, or Generative Pre-trained Transformer-Jumbo, represents an innovative advancement in large-scale language models and natural language processing. Created by EleutherAI, GPT-J stands out with its impressive 6 billion parameters – one of the largest public language models currently available – that allow it to capture intricate patterns and nuances within language that enable generation of more contextually relevant and coherent text.
GPT-J is an extension of the transformer architecture and takes advantage of its capacity for understanding context over long passages, which enables it to excel at various natural language understanding tasks. Pre-training on diverse and extensive datasets contributes to its adaptability across domains and applications.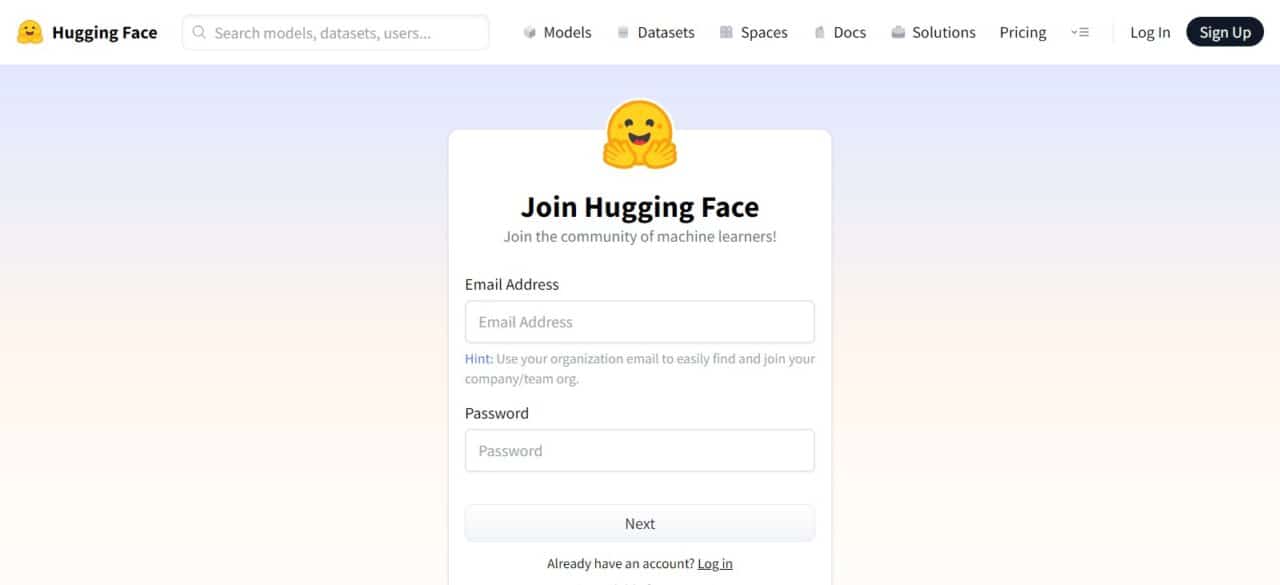 GPT-J's release to the public fits with an emerging trend of increasing access to powerful language models, providing researchers, developers, and broader communities access to explore its capabilities for content generation, summarization, translation, etc. Additionally, its availability provides opportunities for innovation such as content repurposing.
GPT-J is an impressive piece of work due to its immense scale; however, users should remain mindful of ethical considerations, potential biases, and environmental impacts associated with training such large models. As GPT-J continues to be explored and utilized, it represents another step in developing sophisticated and versatile natural language processing models.
10. Microsoft Azure Language Understanding
Microsoft Azure Language Understanding, part of Azure Cognitive Services suite, is an indispensable resource that brings advanced natural language processing capabilities directly to developers and businesses. This service empowers applications to interpret human speech in ways that facilitate more intelligent interactions.
Azure Language Understanding stands out from its peers by performing sentiment analysis, named entity recognition, and language classification – capabilities which enable developers to build applications that understand not only what users are saying but also the emotional context behind their words.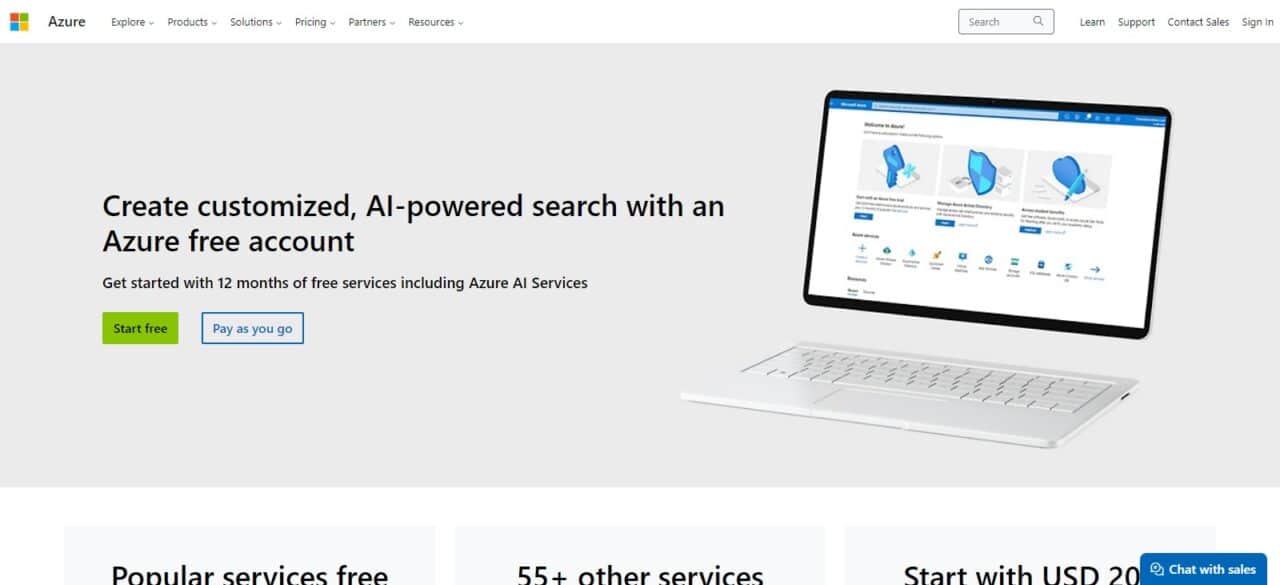 Azure Language Understanding uses machine learning to adapt and improve over time, making it a dynamic solution for a range of applications from chatbots and virtual assistants to customer sentiment analysis in customer reviews. Integration with other Azure services like Bot Services makes for smooth development and deployment of intelligent applications.
Azure Language Understanding was built with both scalability and security in mind. Developers can easily scale their applications on demand while counting on Microsoft's safeguards to safeguard sensitive user data.
As natural language processing remains at the core of human-computer interactions, Azure Language Understanding remains at the forefront of providing developers with tools necessary for more intuitive, context-aware applications that incorporate language understanding.
11. Facebook BlenderBot
BlenderBot from Facebook AI Research (FAIR) represents an impressive advancement in conversational AI and chatbot technology. Operating as an open-domain chatbot, BlenderBot exhibits remarkable capacities to engage in coherent, contextually relevant dialogue – making it suitable for customer support services, virtual assistants and many other uses.
BlenderBot stands out by its training on various online conversations, which enables it to generate responses that demonstrate its broad understanding of language and context. Utilizing both rule-based methods and machine learning techniques for effective navigation through discussions, it has proven its ability to deliver informative responses in context-appropriate situations.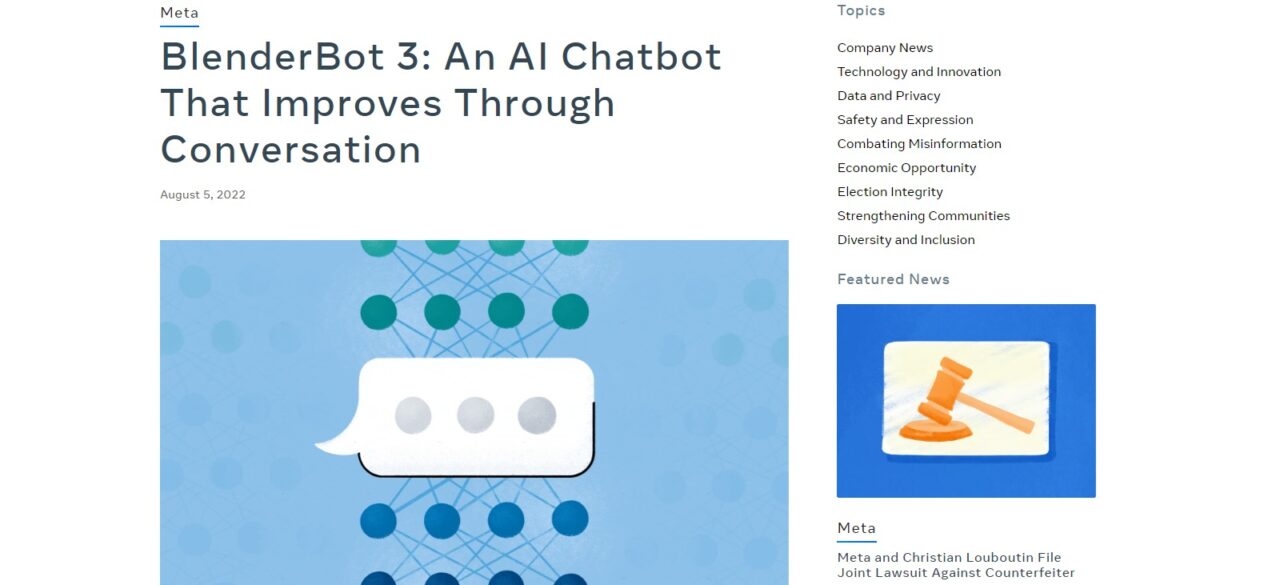 BlenderBot also participated in the Conversational Intelligence Challenge, where it demonstrated outstanding abilities at generating human-like responses. Training it on an enormous and varied dataset allowed it to handle subtle yet dynamic dialogues, increasing its utility in real world settings.
BlenderBot represents an impressive step forward for open-domain chatbot capabilities; however, ongoing research and development efforts continue to address challenges such as biases and inaccurate or inappropriate responses generated by it. As conversational AI evolves, BlenderBot remains an outstanding contribution; pushing back against what is possible when it comes to creating human-like conversational agents.
12. ChatterBot (Best Alternatives To Chatgpt)
ChatterBot, an open-source Python library for creating chatbots, has gained popularity for its ease of use in natural language processing applications. Created to engage users, ChatterBot uses machine learning algorithms to produce contextually appropriate responses based on what it receives as input from its users.
ChatterBot stands out from other chatbots by employing "corpus-based learning," an innovative training process in which the chatbot learns from pre-existing datasets of conversations to gradually enhance its language understanding and response generation capabilities over time. Users may extend this dataset so it adapts more readily to specific domains or industries.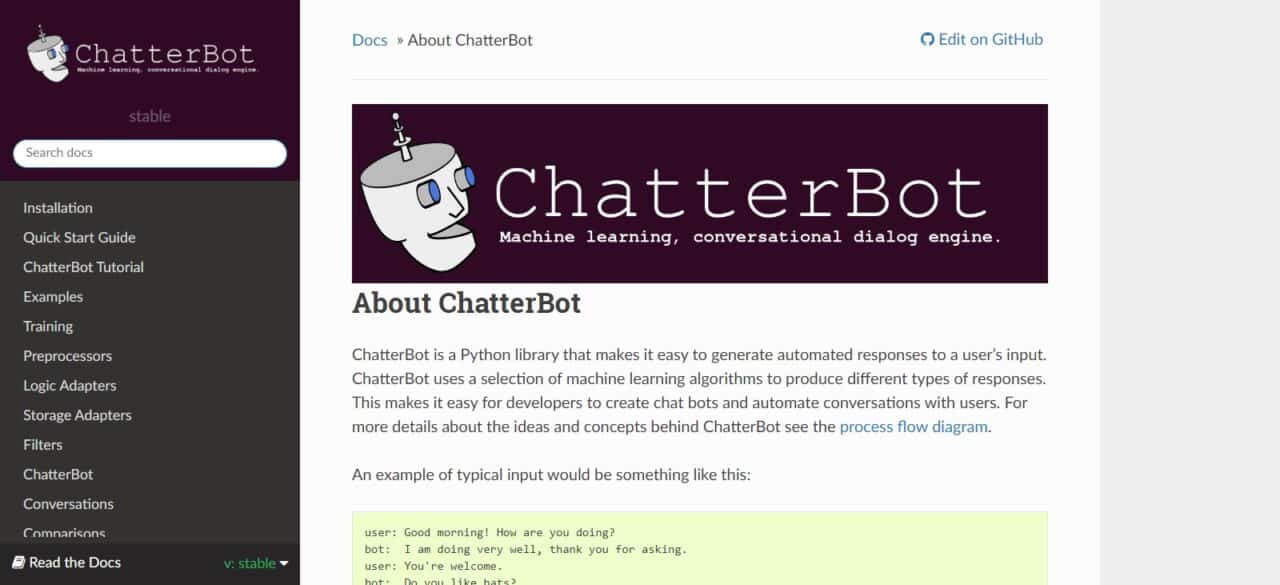 ChatterBot's modular structure and straightforward implementation makes it accessible for developers of all skill levels, providing a valuable resource for anyone experimenting with chatbot development. It has been used in applications ranging from customer support bots to interactive conversational agents demonstrating its versatility.
Though ChatterBot may not possess the advanced features of more complex models, its lightweight nature and user-friendly design make it an excellent option for small to medium-sized projects that foster creativity and experimentation in conversational AI.
13. Lex from AWS
Lex, part of Amazon Web Services (AWS), provides developers with an innovative service for building conversational interfaces using voice and text. Lex uses natural language understanding technology with advanced machine learning algorithms for processing user inputs – making it ideal for building chatbots, virtual assistants and voice-enabled apps.
Lex's strength lies in its seamless integration with AWS services, enabling developers to easily link conversational applications created using Lex to cloud resources such as Lambda functions, databases and storage solutions – thus increasing scalability and functionality beyond simple conversations.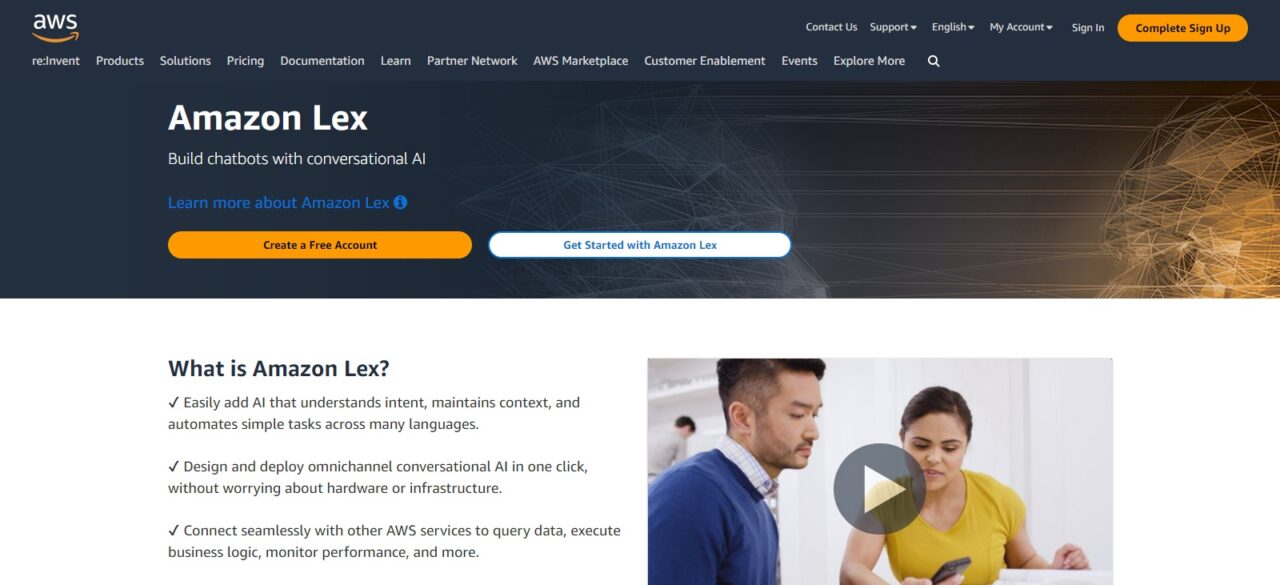 Lex supports both voice- and text-based interactions for an enjoyable experience across channels. With automatic speech recognition (ASR), developers can build voice-driven applications that understand spoken language.
Lex employs machine learning models to continuously enhance its language understanding and adapt to specific use cases. Developers can tweak these models for increased accuracy or domain-specific requirements, making Lex a versatile solution across a variety of industries and applications.
As conversational interfaces become increasingly widespread, Lex from AWS serves a critical role in streamlining application development for sophisticated and context-aware apps – playing an essential part in natural language processing and voice-enabled technologies.
14. GPT-3.5 Turbo
GPT-3.5 Turbo, OpenAI's Generative Pre-trained Transformer (GPT) model, stands as an important milestone in natural language processing. Renowned for its impressive scale – 175 billion parameters! – GPT-3.5 Turbo represents one of the largest language models available, making it capable of understanding context, producing coherent text and performing an array of natural language understanding tasks.
GPT-3.5 Turbo excels at producing human-like responses across an array of contexts, from answering questions and writing essays, translating languages, creating code snippets or answering e-mails. Its versatility comes from being pre-trained on extensive and diverse datasets so as to capture intricate language usage patterns.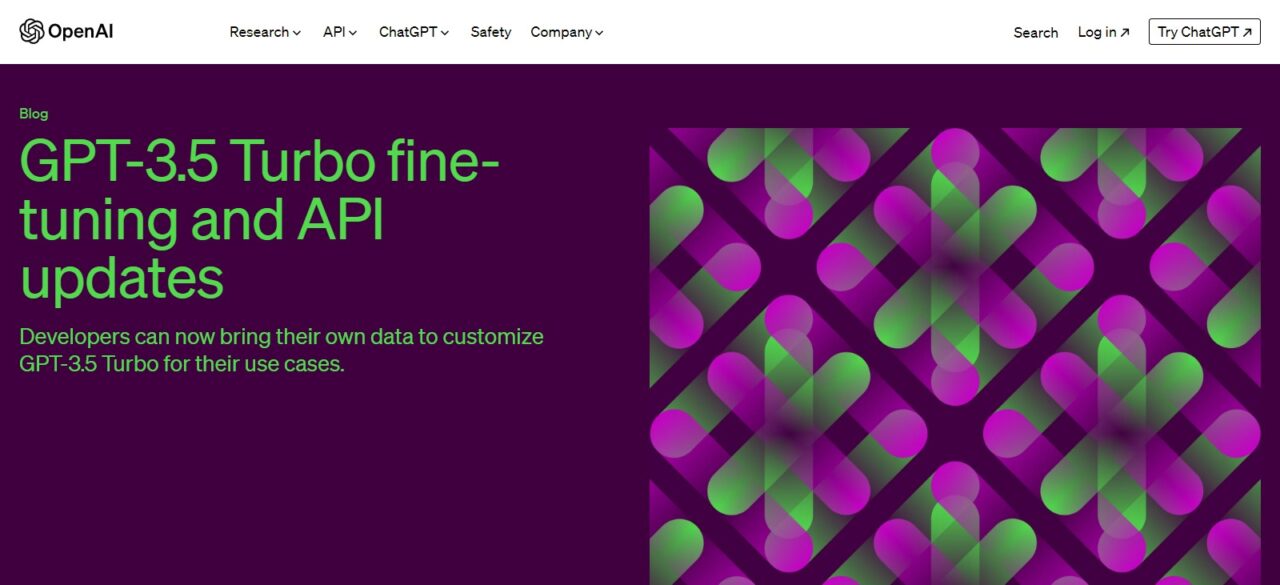 Developers and businesses use GPT-3.5 Turbo through the OpenAI API, integrating its language generation capabilities into various apps and services. While its capabilities are impressive, users should remain cognizant of potential biases when employing such advanced language models.
GPT-3.5 Turbo has become an invaluable asset across industries and has proven its worth as an exemplar of ongoing advances in natural language processing, pushing back against current limitations to generate contextually rich and coherent text, thus changing the face of conversational AI applications and language-based applications.
15. Replika
Replika strives to build meaningful and emotionally satisfying interactions between its users. While traditional chatbots might prioritize functional tasks, Replika allows its users to engage in open-ended conversations – offering space for self-expression and reflection.
Replika stands out from its competition by placing emphasis on creating a personalized relationship between user and bot. Conversations progress as Replika learns from user inputs, adapting its responses based on individual preferences, interests, and conversational style – creating an immersive and emotionally resonant experience for each user.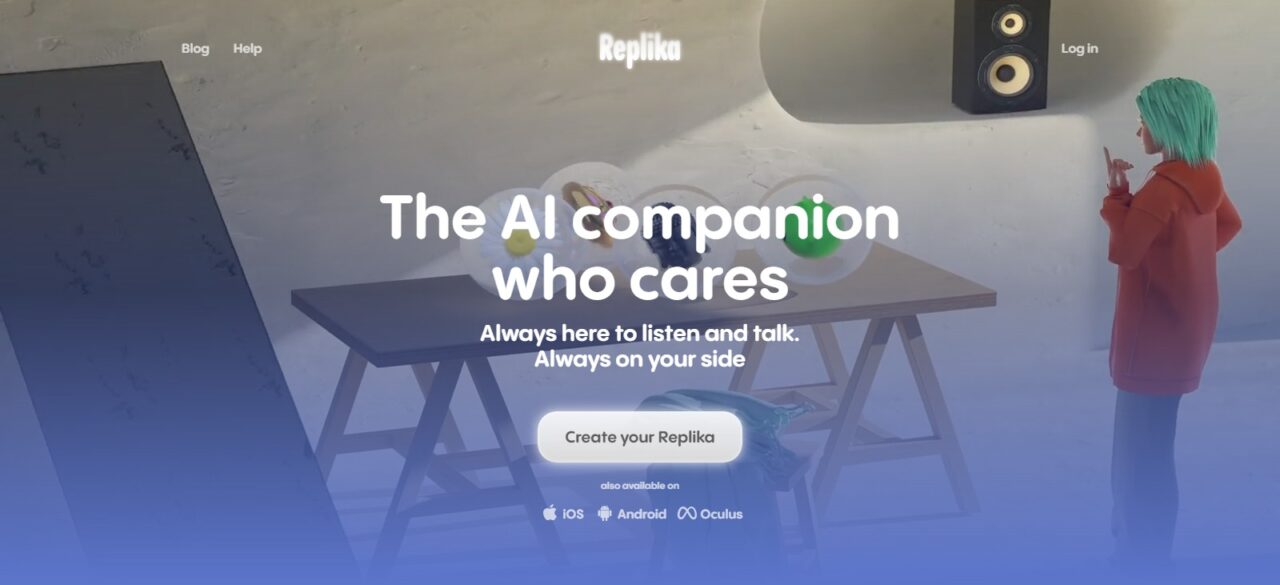 Replika's core technology incorporates natural language processing and machine learning capabilities to understand user interactions in a natural conversational format, providing companionship, mental health support and an avenue for self-exploration of thoughts and emotions.
Replika serves a range of functions, from entertainment and companionship to meaningful interactions and providing nonjudgmental spaces for users – making it one of the standout conversational AI solutions today. As demand for customized and emotionally intelligent companions rises, Replika continues to demonstrate AI's potential in improving human wellbeing through conversations that foster empathy.
16. Jarvis AI (Best Alternatives To Chatgpt)

Jarvis AI, developed by OpenAI, is a sophisticated language model that demonstrates the cutting edge of natural language processing technology. While sharing its roots with the renowned GPT models, Jarvis AI is specifically fine-tuned for conversational applications and exhibits an advanced understanding of context, making it well-suited for a variety of interactive tasks.
One of the standout features of Jarvis AI is its versatility in generating contextually relevant and coherent responses across different domains. Whether answering questions, composing text, or engaging in dialogue, Jarvis AI showcases a nuanced grasp of language, capturing the intricacies of human communication.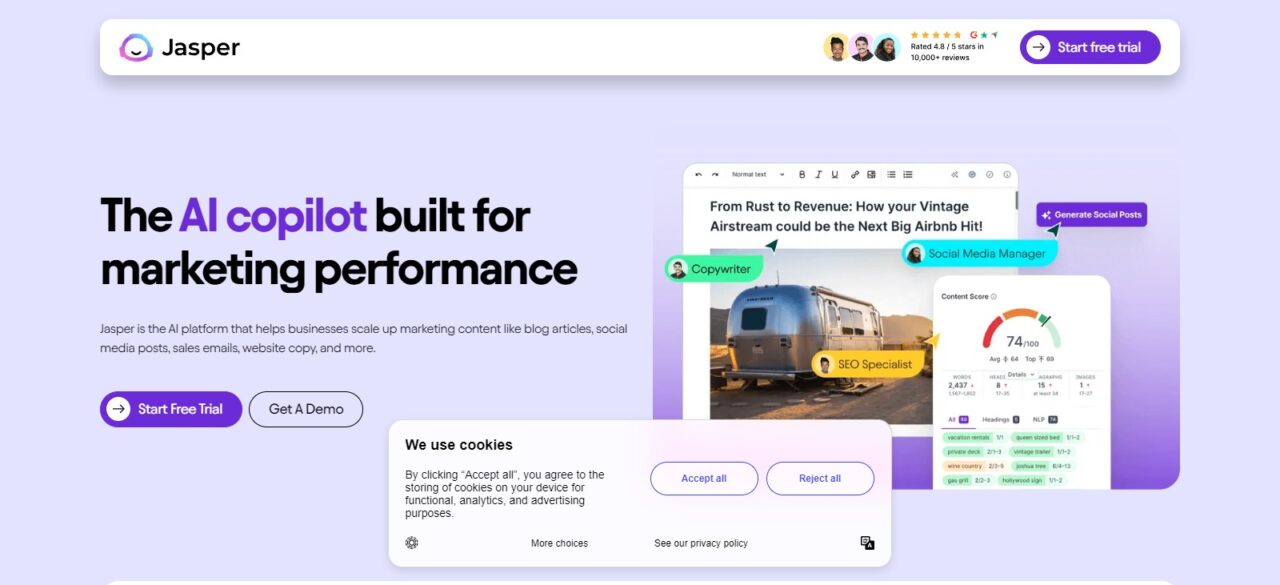 In addition to its language prowess, Jarvis AI can be integrated into a range of applications through the OpenAI API. Developers can leverage its capabilities to enhance user interactions in chatbots, virtual assistants, and other conversational interfaces, providing a more natural and intelligent user experience.
However, as with any advanced language model, considerations around responsible and ethical usage are paramount. OpenAI encourages developers and users to be mindful of potential biases and the impact of AI applications on society, emphasizing responsible AI deployment.
Overall, Jarvis AI represents a significant stride in the evolution of conversational AI, demonstrating the potential for language models to play a pivotal role in shaping the future of human-machine interactions.
17. Mozilla DeepSpeech
Mozilla DeepSpeech is an open-source automatic speech recognition (ASR) engine developed by Mozilla that emphasizes transparency, accessibility and community collaboration. The primary function of DeepSpeech is translating spoken language to written text; making it useful in applications ranging from transcription services to voice-controlled interfaces.
Mozilla DeepSpeech stands out by adhering to open-source principles, permitting developers and researchers to access and contribute freely to its underlying codebase. Furthermore, its model was trained on large datasets, making it adaptable to diverse languages and accents – fitting nicely with Mozilla's mission of making speech recognition technology available to a global audience.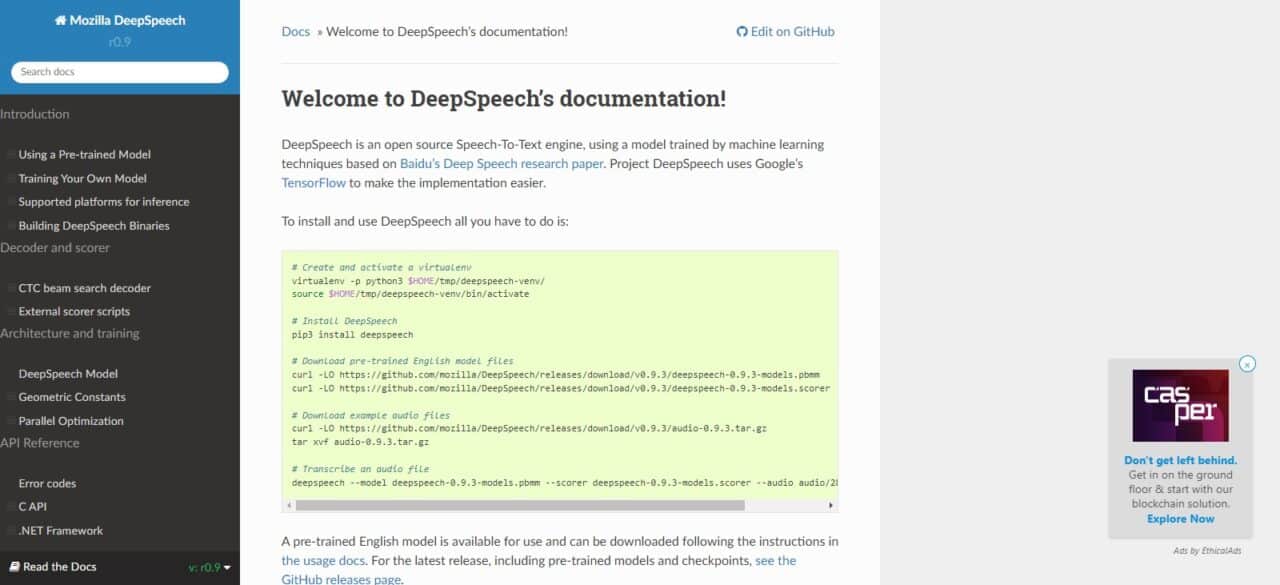 DeepSpeech uses deep neural networks to process audio data, extracting linguistic patterns to generate accurate transcriptions. The model's architecture facilitates training on new datasets, enabling users to customize and fine-tune it for specific applications or domains.
Mozilla DeepSpeech actively engages the community in its development, fostering an environment for collaboratively improving accuracy, addressing biases, and strengthening its model's robustness. As an open and accessible ASR solution, Mozilla DeepSpeech serves an invaluable purpose by furthering speech technology while upholding principles of inclusiveness in AI communities worldwide.
18. Microsoft Turing Models
Microsoft Turing Models mark a groundbreaking advancement in natural language processing, and are an impressive testament to Microsoft Research's dedication to producing cutting-edge language models for diverse applications. These models were specifically developed to understand and generate human-like text – making them useful tools for tasks like text completion, language translation, and contextual understanding.
Microsoft Turing Models stand out due to their sophisticated architecture, using large-scale neural networks to capture intricate language patterns and contextual nuance. This enables them to perform exceptionally well across a range of language-related tasks – ultimately leading to enhanced user experiences across its products and services.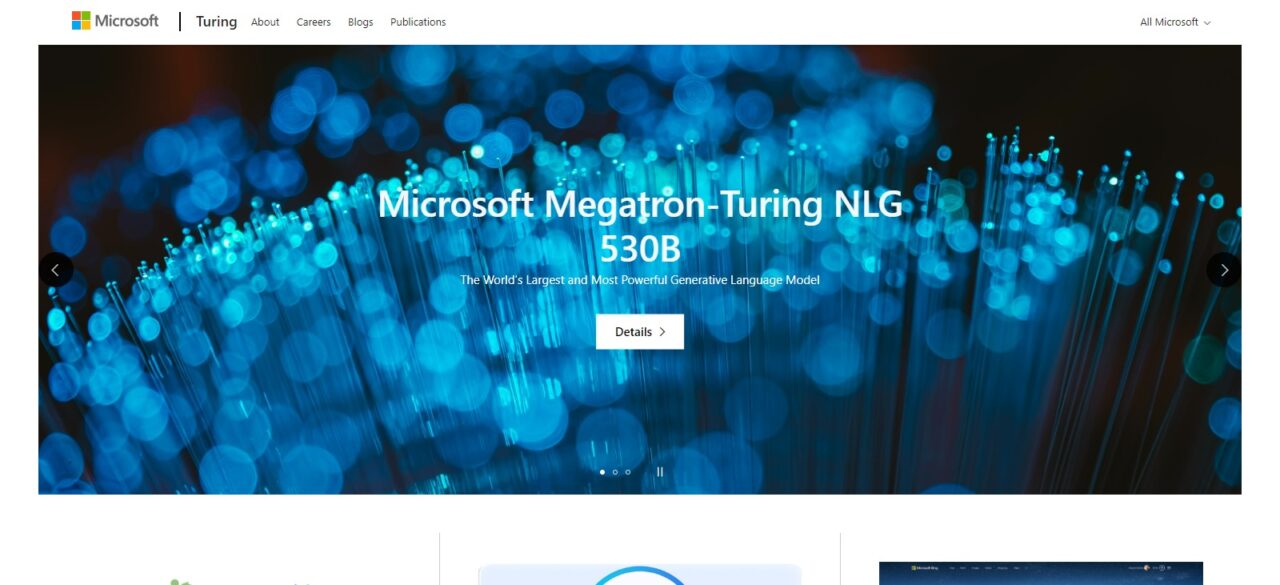 Microsoft Turing Models benefit from extensive research and development efforts, keeping up-to-date with advances in natural language processing technology. As part of the company's AI initiatives, these models demonstrate Microsoft's dedication to producing cutting-edge AI tools that empower both users and developers alike.
As demand for sophisticated language models increases, Microsoft Turing Models have emerged as a key player in shaping natural language understanding and generation – contributing significantly to AI-powered applications and services.
19. Google BERT (Best Alternatives To Chatgpt)
Google BERT (Bidirectional Encoder Representationss from Transformers) represents a groundbreaking advancement in natural language processing and understanding, developed by Google Research. This pre-trained language model has significantly enhanced how search engines interpret user queries, leading to more contextually relevant search results.
BERT stands out with its bidirectional approach to language modeling, enabling its model to consider all context within which a word appears within a sentence rather than simply its preceding or following words alone. This increased awareness allows BERT's model to better capture subtleties such as context-dependent meanings and nuanced tones of speech.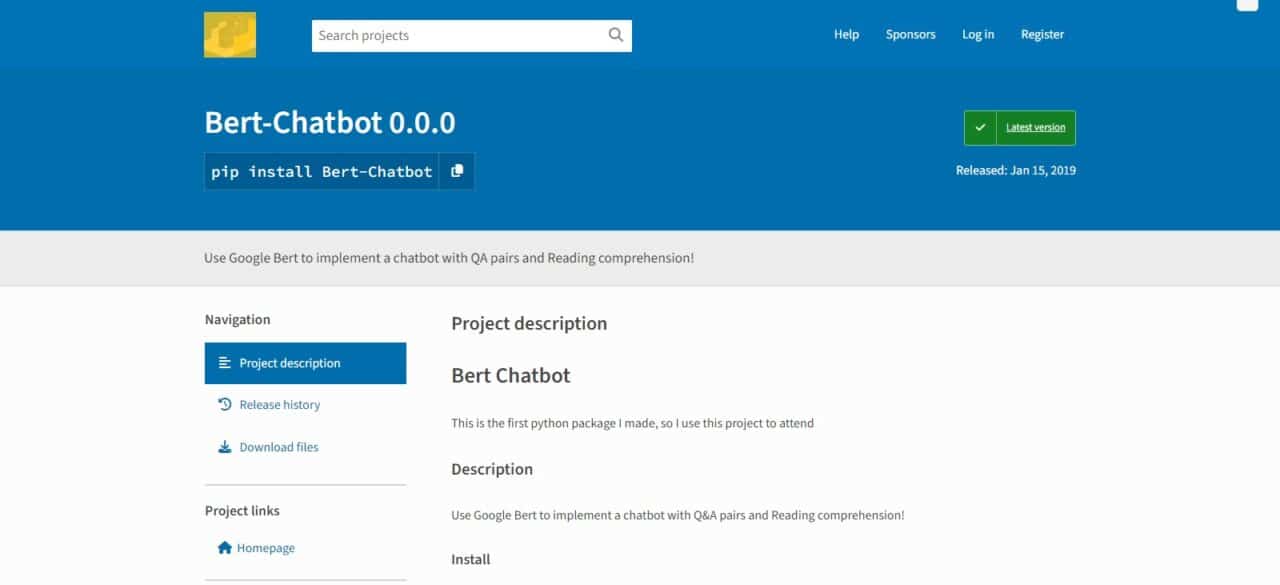 BERT has made an immeasurable difference beyond search engines; it has become an essential component of various natural language processing applications. BERT's pre-trained representations can be fine-tuned for specific tasks such as text classification, sentiment analysis and question answering to produce state-of-the-art results.
Google's open sourcing of BERT has ignited innovation and research within natural language processing, inspiring many organizations to adapt the model for diverse uses. BERT's success underscores its relevance in context-aware language models as well as advances in techniques that facilitate computers comprehending human-like text more readily.
20. AllenNLP (Best Alternatives To Chatgpt)
AllenNLP, an open-source natural language processing (NLP) library developed by AI2, has proven itself as a valuable resource for researchers and developers in NLP. Acclaimed for its flexibility, usability, and emphasis on reproducibility, AllenNLP allows researchers and developers to implement cutting-edge models and algorithms more easily than ever.
AllenNLP stands out from other NLP libraries through its flexible modular and extensible design, enabling users to mix-and-match components according to individual research questions or industry applications. From text classification and entity recognition to more complex tasks such as semantic role labeling and coreference resolution, AllenNLP covers it all.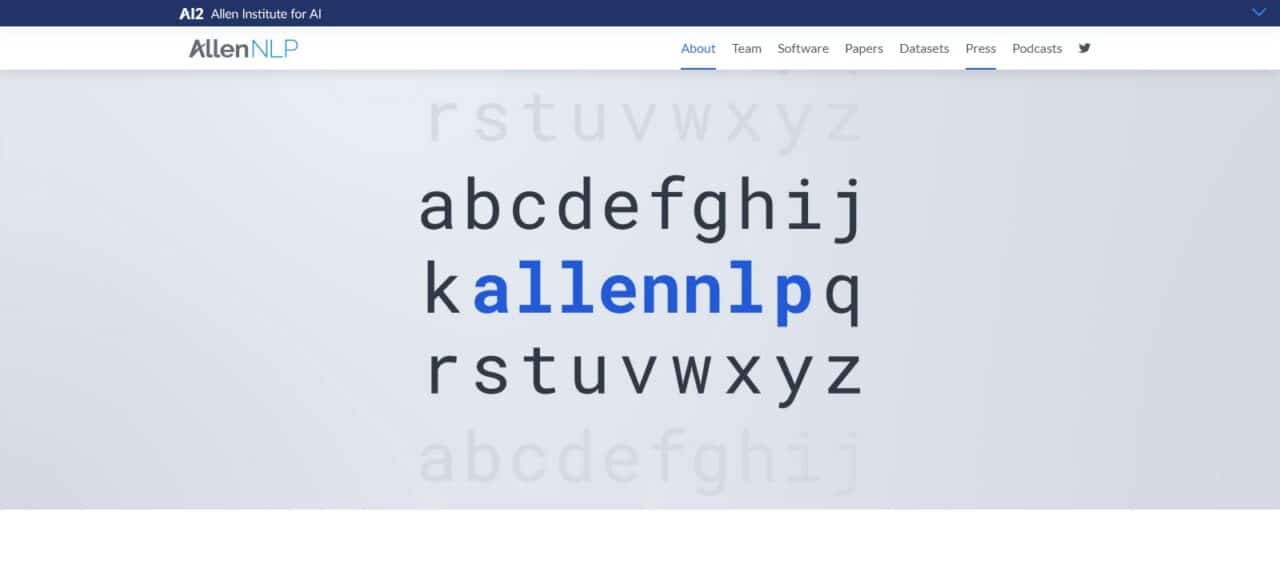 AllenNLP stands out as an accessible choice thanks to its transparency and documentation, making it suitable for both experienced researchers as well as newcomers in the field. AllenNLP integrates with popular deep learning frameworks such as PyTorch to give users access to computational power necessary for training and deploying sophisticated models quickly and successfully.
AllenNLP continues to evolve by cultivating a collaborative and open-source community that has allowed it to stay abreast of recent advances in natural language processing research. Contributions have led to novel algorithms, benchmark datasets, and reproducible experiments – further expanding collective knowledge and capabilities within the NLP community.
21. Rasa X
Rasa X, an expansion of Rasa Technologies' open-source framework, stands out as an impressive tool for creating conversational AI applications. With an easy user-friendly interface and robust features such as chatbot creation workflow automation and management features, Rasa X provides developers and non-technical users alike a reliable resource in building AI-powered chatbots or virtual assistants.
Rasa X's interactive learning mode provides developers and domain experts with an effective tool for fine-tuning chatbot responses with ease, using user-friendly interfaces and real conversations for training the model with real conversations and feedback from real users. This process further strengthens performance through iterative improvement processes that use real data such as conversations or feedback from real users.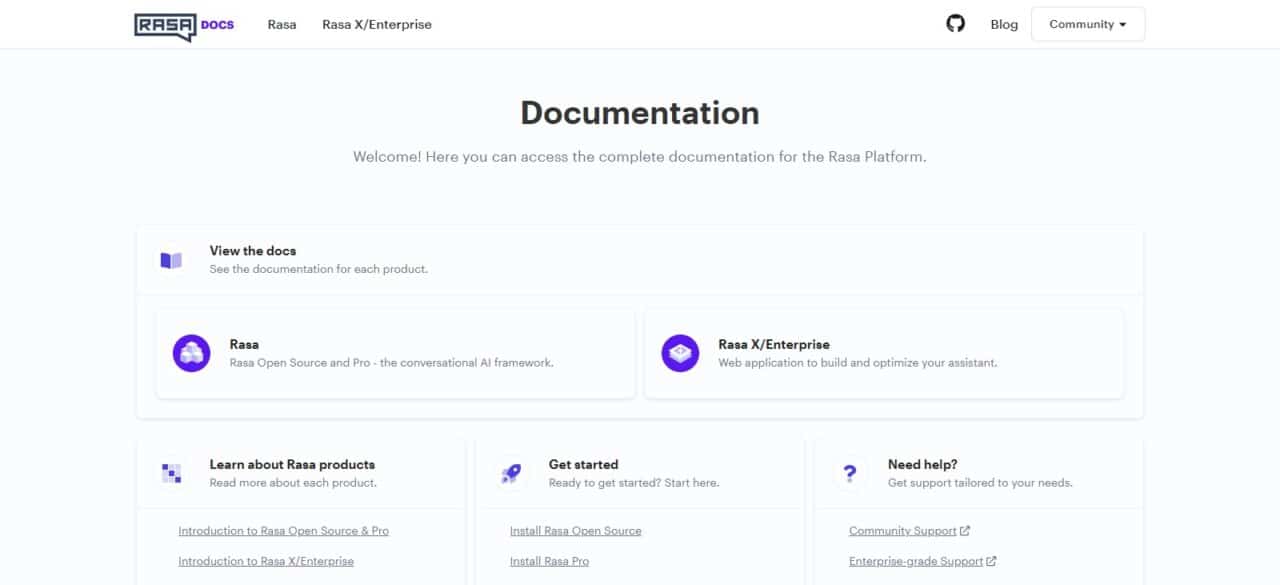 Rasa X helps teams collaborate efficiently by offering a centralized platform for managing conversation data, training models and tracking bot performance. Integration with version control systems enhances replicable models while also supporting smooth collaboration across larger development teams.
Rasa X also supports multi-language models, making it possible to build chatbots that understand and respond in multiple languages – an especially valuable feature for businesses and developers with global audiences.
Rasa X remains at the forefront of conversational AI solutions, empowering developers and organizations alike to quickly develop sophisticated yet context-aware chatbots with ease.
22. ChatterBot (Best Alternatives To Chatgpt)
ChatterBot, an open-source Python library, has become increasingly popular with developers entering the world of conversational AI. Built for ease and accessibility, ChatterBot allows for effortless chatbot creation making it an excellent starting point for those new to natural language processing.
ChatterBot stands out from other chatbots with its use of corpus-based learning – a machine learning algorithm which relies on training the chatbot on preexisting conversations to recognize patterns and context from real interactions – thus becoming adept at producing responses that match up with style and context of its training data.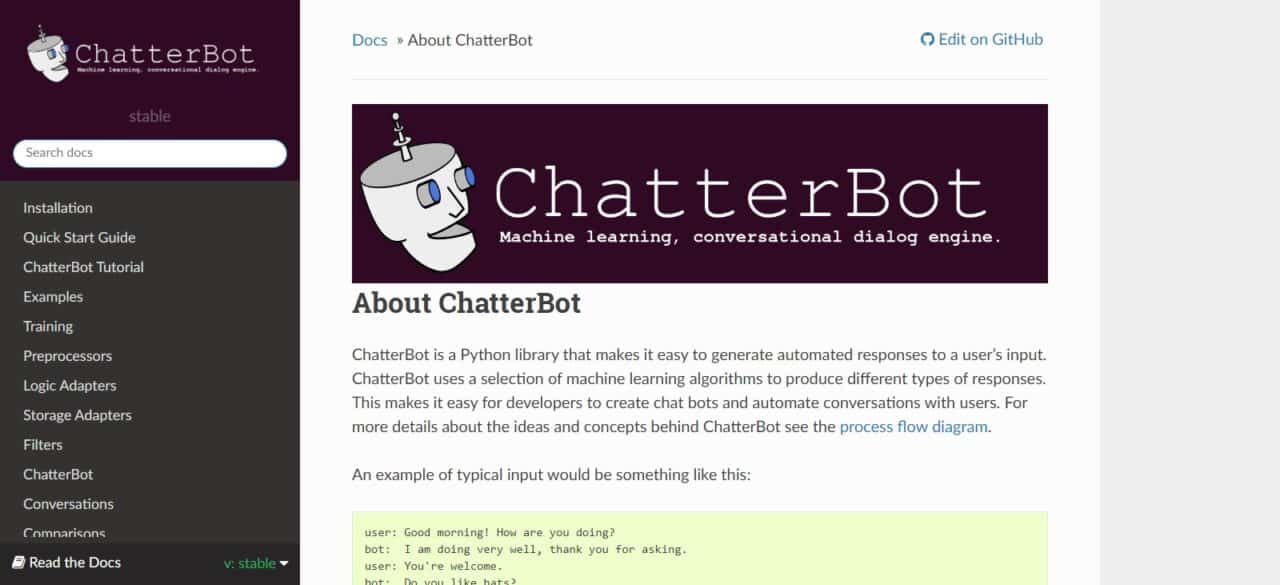 ChatterBot's modular structure gives developers the freedom to extend its functionality, experiment with various training datasets, and tailor it specifically for specific use cases. While not possessing the complexity of more sophisticated models, ChatterBot remains an effective prototyping and learning platform when it comes to conversational AI.
Developers appreciate ChatterBot's versatility, using it to craft chatbots for tasks ranging from answering FAQs to more engaging conversational experiences. Its user-friendly design and straightforward implementation have also proven popular as an entryway into chatbot development for newcomers looking to explore this realm of development.
23. IBM Watson Natural Language Understanding
IBM Watson Natural Language Understanding (NLU) provides a robust and comprehensive solution in natural language processing developed by IBM. Leveraging advanced machine learning and deep learning techniques, Watson NLU allows businesses to extract insights from unstructured text data while giving applications powerful language understanding capabilities.
Watson NLU stands out as an unparalleled text analysis solution due to its diverse ability. Ranging from sentiment analysis, entity recognition, emotion detection, concept tagging and much more – Watson NLU offers features designed to address different needs for content categorization, social media monitoring and customer feedback analysis applications.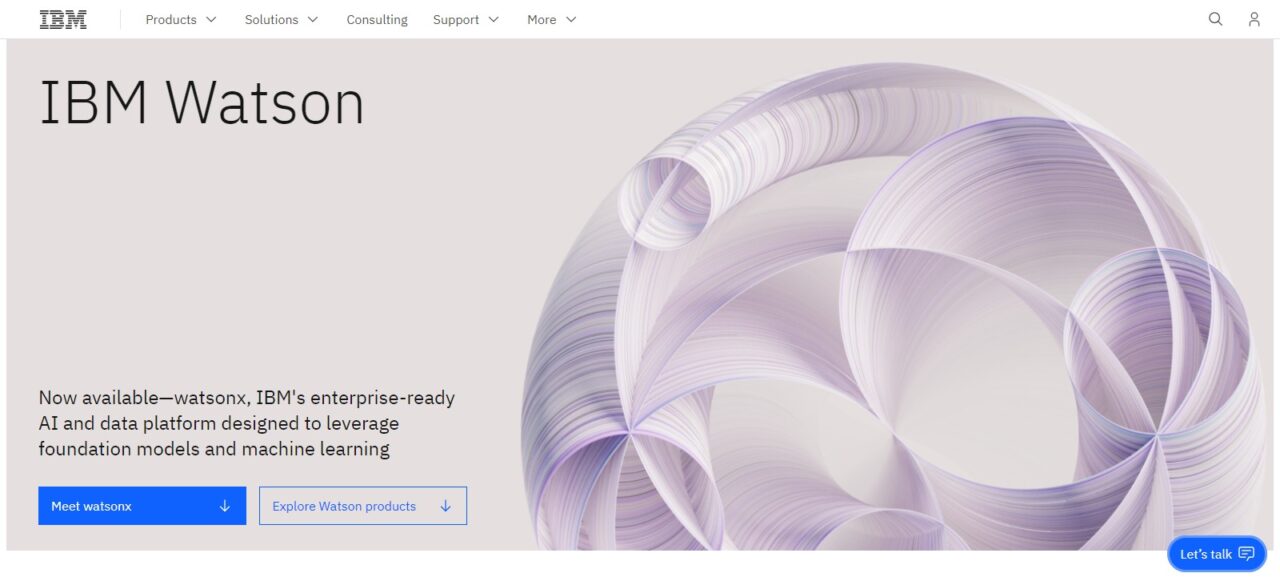 Watson NLU stands out by its ability to analyze content written in multiple languages and support for industry-specific domains, broadening its applicability across various sectors. Furthermore, its intuitive APIs and integration features ensure seamless incorporation into existing applications and workflows.
Watson NLU offers continuous learning capabilities that enable it to adapt to changing language patterns and remain relevant in dynamic environments. Integrating other IBM Watson services such as Watson Discovery and Assistant provides businesses looking to leverage AI-powered language understanding for better decision-making and user experiences.
24. Jasper (Best Alternatives To Chatgpt)
Jasper, an open-source platform designed for building voice-controlled applications, has quickly earned itself recognition due to its ease of integration and emphasis on simplicity. Created by the Jasper Project, this platform equips developers and hobbyists alike with tools they need to develop voice-activated projects ranging from home automation systems to interactive voice assistants.
One key advantage of Jasper is its modular architecture, enabling users to adapt its functionality for specific projects and requirements. Developers can integrate various plugins and modules to further extend its capabilities – making Jasper suitable for use across a range of voice-controlled apps.
Jasper uses speech recognition engines and natural language processing to interpret user commands for an effortless and interactive user experience. Support for multiple languages makes Jasper accessible to a global audience, while being compatible with popular hardware platforms such as Raspberry Pi makes it an appealing option for DIY enthusiasts looking for voice-controlled projects on inexpensive hardware that's widely available.
As an open-source project, Jasper fosters a collaborative community where developers can help shape its development and improvement. This spirit aligns perfectly with open source development ethos, making Jasper an exciting platform for those interested in voice-controlled applications or furthering conversational interface development.
25. Peltarion
Peltarion has quickly established itself as an innovative platform for streamlining the deployment of artificial intelligence models, particularly deep learning models. Established with the aim of making AI accessible to all, Peltarion provides an end-to-end solution for building, deploying, and managing machine learning models at scale.
Peltarion provides an intuitive graphical user interface to assist non-expert users in efficiently designing and training deep learning models, for applications ranging from computer vision, NLP, time series analysis and beyond.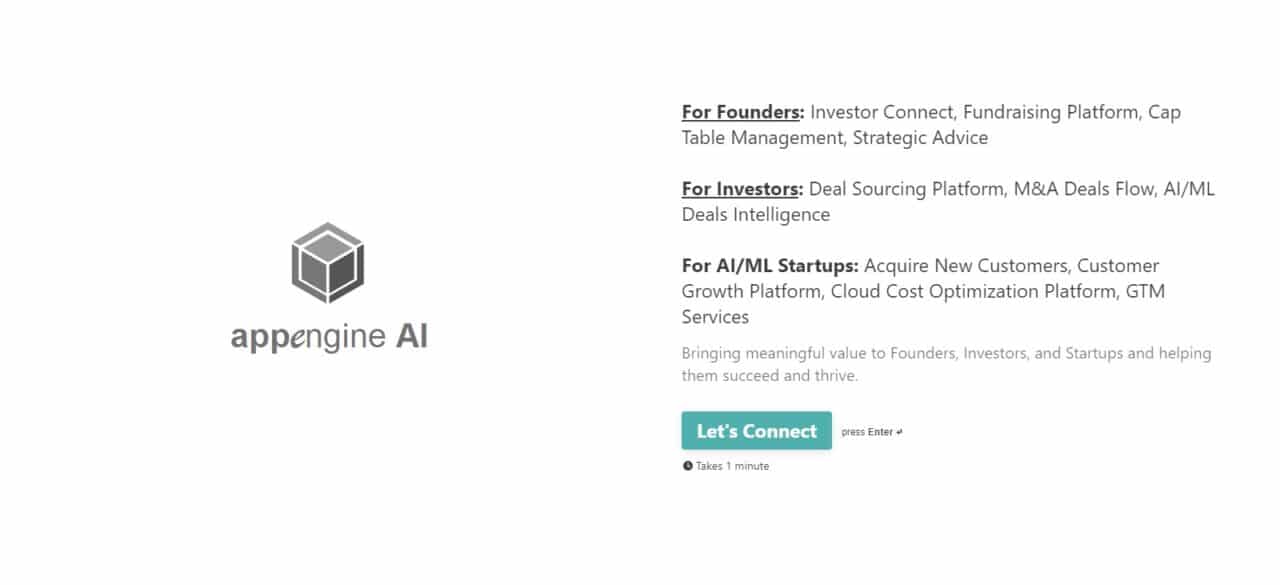 Peltarion provides seamless collaboration by enabling teams to work on projects collaboratively, sharing insights and improving model performance collaboratively. Furthermore, its integration capabilities enable users to incorporate models into existing applications or workflows seamlessly.
Peltarion makes deep learning accessible and user-friendly for organizations seeking to harness its power without incurring unnecessary technical complexities, speeding up development and deployment across industries. With its cloud-based infrastructure providing scalability for small projects as well as enterprise deployments. As AI adoption increases, Peltarion remains committed to its user-friendliness; making it a valuable resource for organizations seeking to harness deep learning without bearing technical complexities themselves.
26. Snips NLU
Snips NLU (Natural Language Understanding) stands out as an open-source, privacy-driven platform specialized in natural language processing capabilities for voice-controlled applications. Built by Snips, a company known for putting user security first, it enables developers to integrate sophisticated language understanding capabilities into their projects without jeopardizing user data security.
Snips NLU stands out by processing natural language queries locally on edge devices without sending data out to external servers – an approach that keeps sensitive information within users' control and ensures privacy is respected.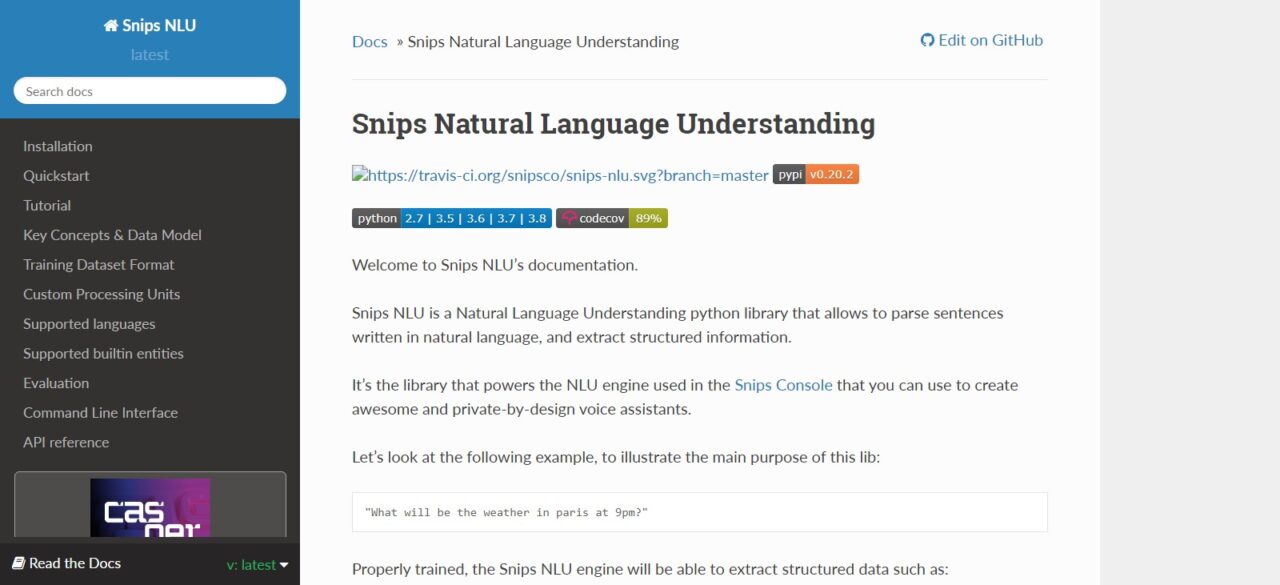 Snips NLU provides support for multiple languages and allows developers to define custom language models tailored specifically for their application needs. With its modular architecture, voice-controlled applications for smart home devices, voice assistants and more are made possible.
Snips NLU stands as an outstanding example of how natural language understanding technology can seamlessly integrate into applications while protecting user data protection. As AI technologies become ever more reliant upon privacy protection measures, Snips NLU serves as an exemplar.
27. Prodigy
Prodigy by Explosion AI is an annotation tool designed to streamline the creation of training data for machine learning models. As an accessible and user-friendly platform, Prodigy makes annotation easy while helping data scientists, machine learning engineers and researchers efficiently enhance their datasets.
Prodigy stands out with its active learning approach, engaging with users to intelligently select examples for annotation. This optimizes not only the annotation process but also improves labeled data quality resulting in more efficient model training.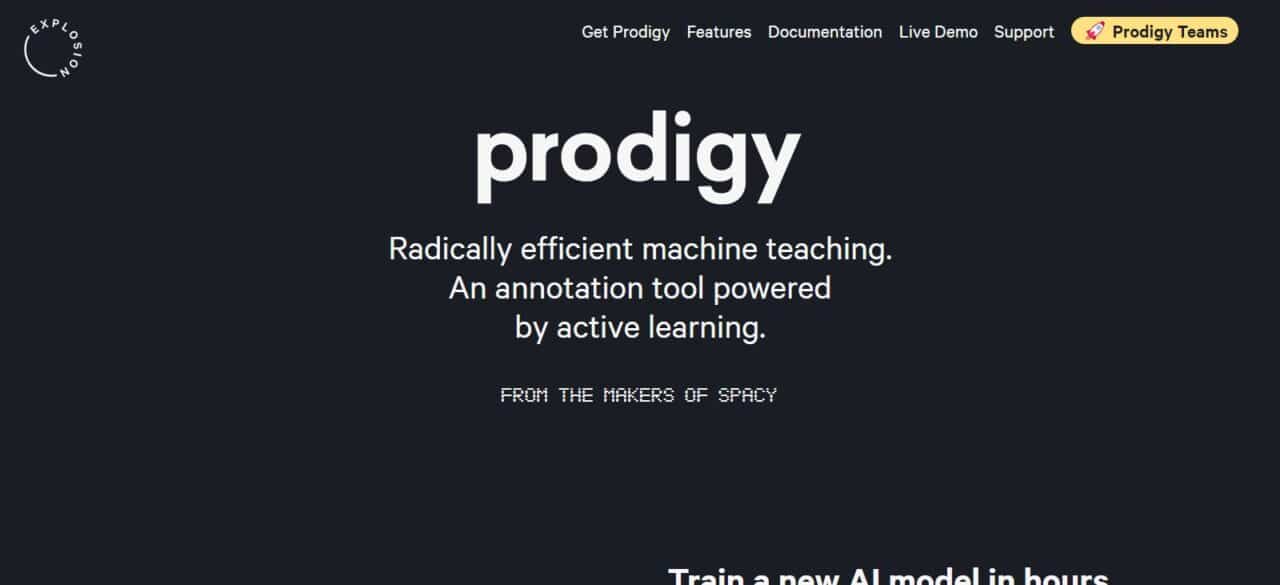 Prodigy supports multiple annotation tasks, including text classification, named entity recognition and image categorization. Due to its adaptability it makes Prodigy suitable for many different projects and tasks ranging from natural language processing through computer vision applications.
Prodigy's user interface is tailored for ease and efficiency, enabling users to annotate data quickly. Furthermore, Prodigy facilitates collaboration by enabling teams to work on annotation projects together while sharing insights to jointly increase model performance.
As part of Explosion AI's ecosystem, Prodigy plays an integral part in furthering machine learning technology by helping practitioners create high-quality training datasets. With intelligent annotation, flexibility and collaborative features – Prodigy makes for an indispensable addition to the machine learning toolbox.
28. Microsoft LUIS
Microsoft Language Understanding Intelligence Service (LUIS) is a cloud-based natural language processing (NLP) service that enables developers to build conversational applications more quickly. Created by Microsoft, LUIS was designed to understand user input in natural language form, enabling applications to understand users intentions and respond accordingly.
One of the hallmark features of LUIS is its user-friendly interface, which makes creating language understanding models simpler for developers. By specifying intents, entities, and utterances for training the model to recognize user input accurately and extract relevant data quickly – an indispensable feature when building chatbots, virtual assistants or any other conversational interfaces.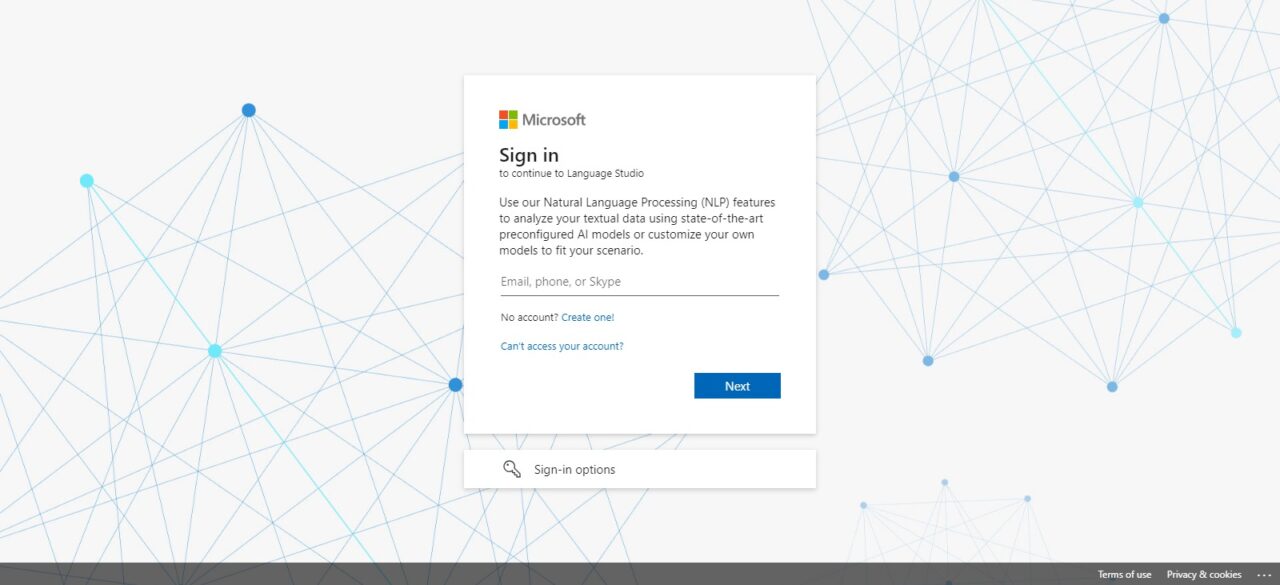 LUIS supports multiple languages and provides pre-built models for common tasks, minimizing time and effort spent implementing language understanding in applications. Furthermore, it seamlessly integrates with Microsoft services like Azure Bot Service and Bot Framework, offering an ecosystem for creating intelligent and context-aware dialogue experiences.
Microsoft's commitment to democratizing AI shows through in the form of LUIS. As an accessible and scalable solution, it makes an invaluable tool for developers looking to incorporate natural language understanding into their applications – ultimately increasing user interactions and engagement.
29. Wit.ai
Wit.ai, an NLP platform acquired by Facebook, has quickly earned popularity due to its user- and developer-centric approach for building conversational applications. Wit.ai allows developers to integrate voice- and text-based natural language understanding directly into their apps for creating interactive and engaging user experiences.
Wit.ai stands out as an unparalleled platform due to its simplicity and adaptability. Utilizing its user-friendly interface, developers can teach their applications to respond intuitively to user input by training models with labeled examples that define intents, entities, dialogue flows and dialogue flows that expand language understanding capabilities of an application.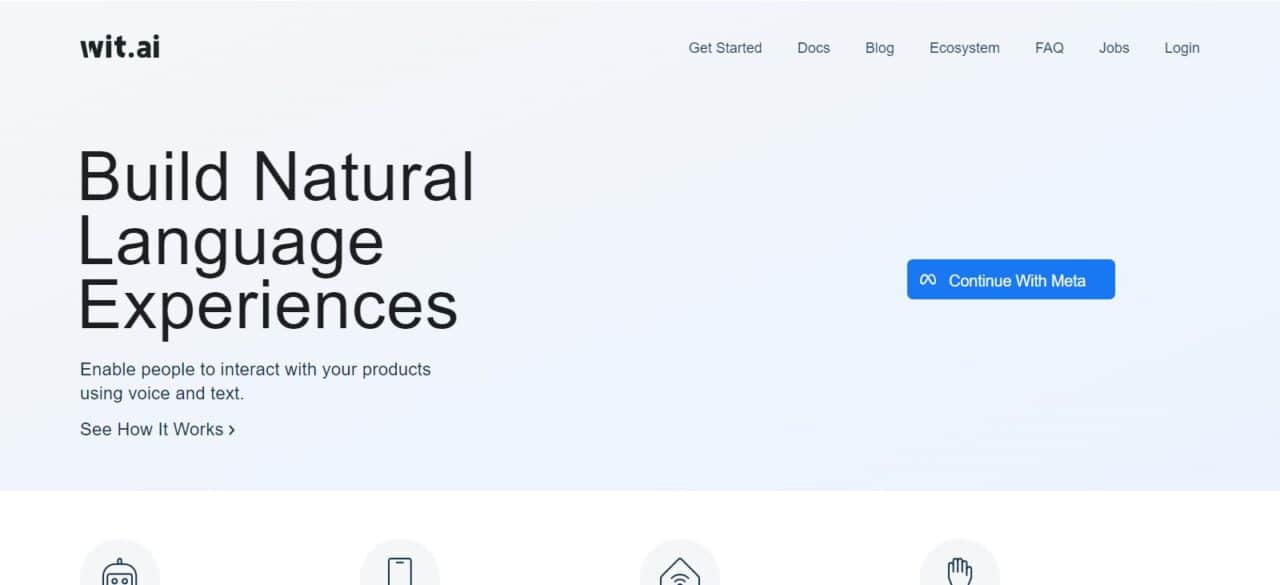 Wit.ai supports multiple programming languages and comes equipped with pre-built models for common tasks, enabling developers to quickly begin their projects without extensive training data requirements. Furthermore, its open-source nature encourages community collaboration among developers as knowledge is shared freely among them.
Wit.ai offers impressive integration capabilities across platforms and devices, making it suitable for creating conversational interfaces across web, mobile, and smart devices. From chatbots and virtual assistants to voice-activated applications and voice recognition applications – developers are empowered with advanced language understanding technology seamlessly integrated into their applications for improved user experiences.
30. Microsoft Azure Bot Service
Microsoft Azure Bot Service is at the forefront of helping developers build intelligent and interactive bots for use across various applications. Leveraging its extensive cloud capabilities, this service offers a comprehensive and scalable solution for designing, deploying and managing chatbots.
Azure Bot Service stands out with its integration with the Microsoft Bot Framework, an essential toolkit for creating bots across channels like Microsoft Teams, Slack and Facebook Messenger. Developers can utilize various programming languages when building bots that seamlessly deploy onto Azure's cloud environment.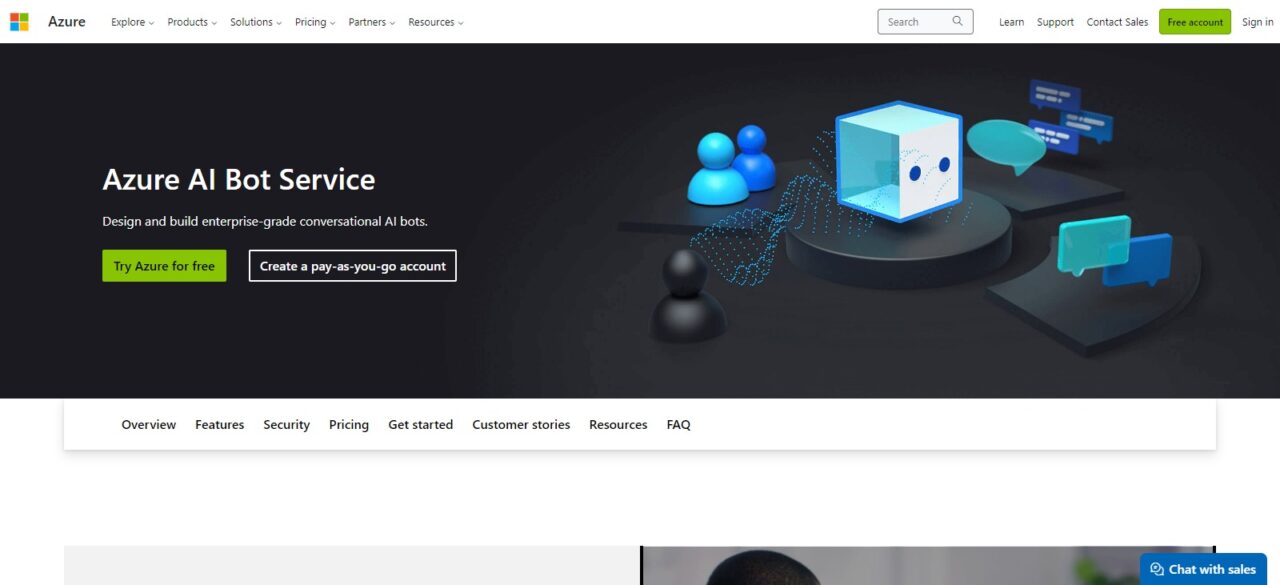 Azure Bot Service also enables developers to get started quickly by offering pre-built templates. Furthermore, its extensibility enables the inclusion of additional cognitive services like language understanding and computer vision which enhance the capabilities of their bot.
Azure Bot Service's inherent scalability and reliability makes it suitable for applications ranging from small chatbots to enterprise-level conversational agents, while integration with Azure's tools and services enables end-to-end bot development from initial design through deployment and monitoring.
Microsoft Azure Bot Service plays an indispensable role in helping developers meet the increasing demand for intelligent conversational interfaces by providing them with tools and infrastructure necessary for creating flexible bots that cover various scenarios.
31. BERT-based models
BERT (Bidirectional Encoder Representationss from Transformers), developed by Google and standing for Bidirectional Encoder Representations from Transformers, represents an innovative breakthrough in natural language processing (NLP). Used to train models such as RoBERTa, DistilBERT and ALBERT models that utilize its breakthrough, this breakthrough revolutionizes how machines understand and process language by capturing bidirectional context in pre-training. These models take full advantage of this innovation to excel in numerous NLP tasks.
BERT-based models' primary advantage lies in their ability to understand context and relationships among words in a sentence. Bidirectional context allows these models to comprehend a word's meaning more accurately by considering both its preceding and succeeding words, providing more precise language comprehension.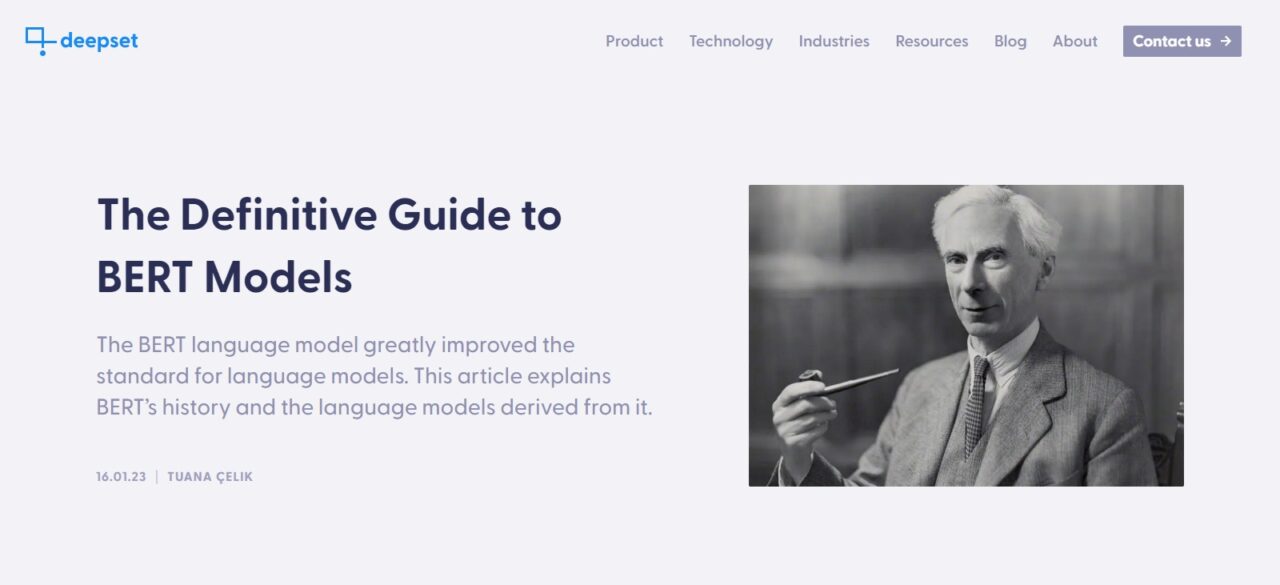 BERT-based models demonstrate superior performance across a range of NLP benchmarks, from text classification and named entity recognition to question-answering. Their versatility has become a go-to solution for developers and researchers working on applications ranging from chatbots to sentiment analysis.
As natural language processing (NLP) continues to advance, BERT-based models remain at the forefront, setting new standards for contextual language understanding and contributing significantly to machine comprehension and communication advances. Their reach across industries shows just how powerful bidirectional context can be in augmenting natural language processing models' capabilities.
32. Spacy
Spacy, an open-source natural language processing (NLP) library developed by Explosion AI and designed with efficiency in mind has earned widespread praise for its efficiency, speed, and user-friendliness. Built to offer industrial strength linguistic analysis capabilities while providing a simple user experience for developers.
Spacy stands out with its speed and efficiency, making it ideal for processing large volumes of text data quickly. Its production-ready applications allow developers to seamlessly incorporate Spacy into their workflows for tasks such as part-of-speech tagging, named entity recognition and dependency parsing.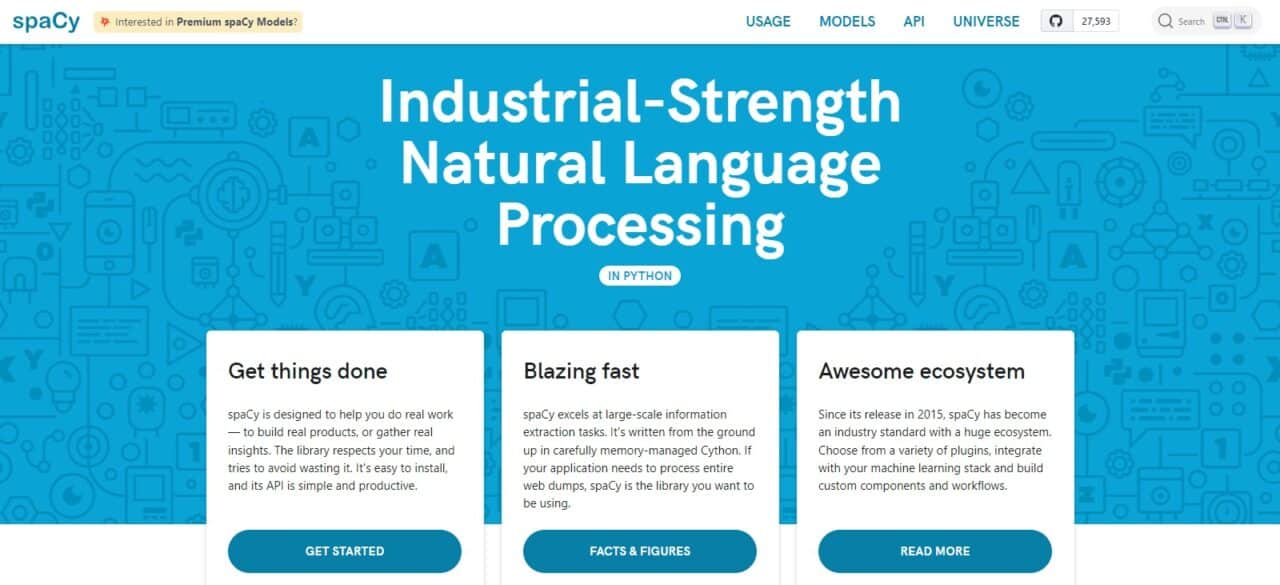 Spacy's pre-trained models cover multiple languages and NLP tasks, providing it with great versatility for various applications. Furthermore, developers are given access to train custom models on specific domains within its library – providing maximum flexibility when dealing with projects with unique linguistic requirements.
Spacy's API has become extremely popular due to its simplicity, enabling developers to perform complex linguistic analyses with just a few lines of code. Furthermore, its integration with popular machine learning frameworks and compatibility with multiple platforms make Spacy an excellent option for both beginning NLP practitioners and experienced practitioners looking for advancements in natural language understanding and text processing applications.
33. Rasa X
Rasa X is an essential component of Rasa Conversational AI Framework, designed to facilitate the design, deployment and improvement of chatbots and virtual assistants powered by AI technology. An open-source platform, Rasa X enables developers and data scientists to build, test, refine and monitor AI-driven chatbots easily.
Rasa X stands out with its user-friendly interface that simplifies training and fine-tuning of models. This visual interface, accompanied by its collaborative annotation tool, facilitates developers' visibility of dialogue structure allowing for rapid optimization. Together these features enable team collaboration for improving chatbot capabilities.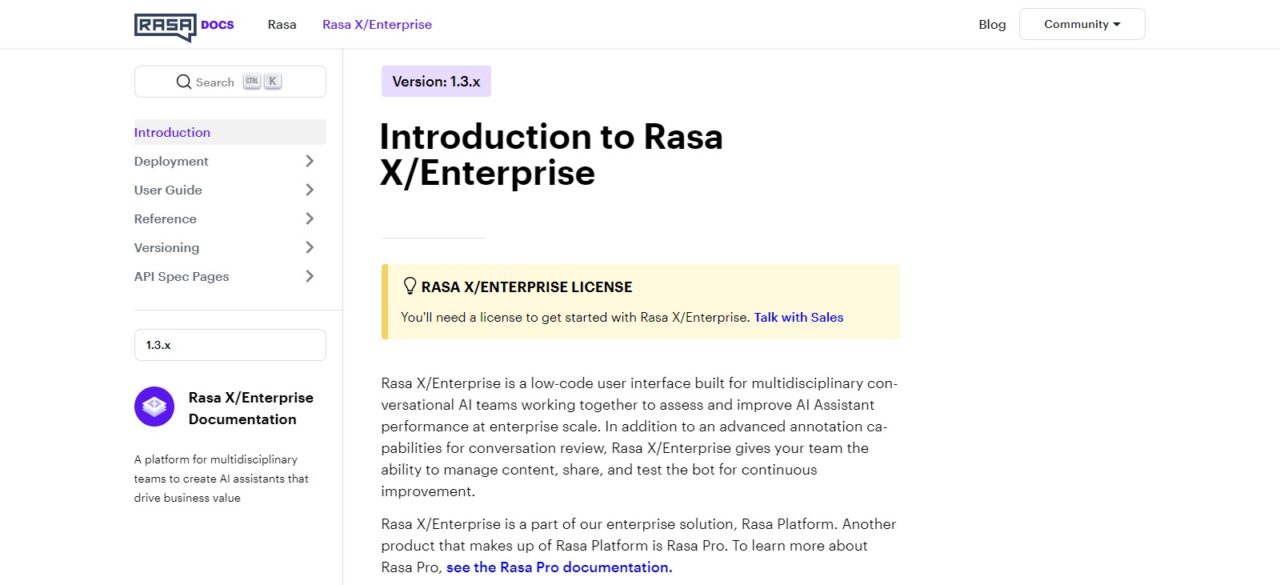 Rasa X provides machine learning-powered suggestions and insights to developers for improving model performance. By taking advantage of these suggestions and insights, they can incrementally strengthen Rasa's understanding of user inputs while honing its responses over time.
Rasa X is an integrated platform, supporting the deployment of chatbots across different platforms while guaranteeing a seamless user experience. Committed to openness and collaboration, its vibrant community contributes to conversational AI's development while making Rasa X an invaluable tool for creating sophisticated context-aware chatbots.
34. PandoraBots
PandoraBots is an industry leader when it comes to chatbot development, offering an innovative platform that facilitates the creation of intelligent and conversational agents. Focused on natural language understanding, PandoraBots equips developers and businesses alike with tools for creating dynamic chatbots capable of engaging in context-sensitive and meaningful dialogue.
PandoraBots stands out with its AIML (Artificial Intelligence Markup Language). AIML serves as the basis for creating conversational scripts and defining chatbot behavior, making development simpler while simultaneously expanding expressive capability; developers can utilize this framework to craft bots ranging from basic informational bots to sophisticated virtual assistants.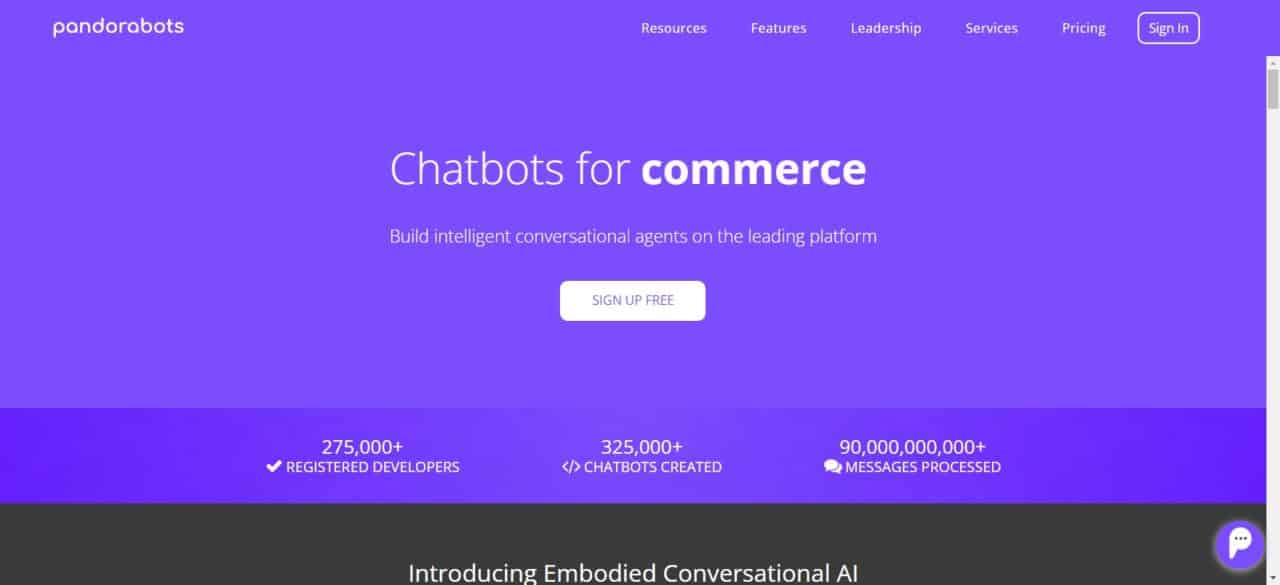 PandoraBots' platform makes deploying chatbots easy across a variety of channels – such as websites, messaging apps, and voice interfaces – so developers can reach users no matter where they are and provide seamless interactions across mediums.
As the need for interactive and intelligent chatbots continues to expand, PandoraBots continues to remain an influential player in chatbot development. Its user-friendly tools and AIML compatibility make it a vital resource for businesses and developers looking to provide engaging dialogue experiences to their target customers.
35. Replika
Replika, an AI chatbot designed to facilitate meaningful dialogues and offer companionship, has garnered widespread acclaim due to its distinctive approach to conversational AI. Created by Luka Inc., Replika stands out by serving as a virtual friend, providing users with an inclusive space in which to interact.
Replika stands out by its use of machine learning algorithms to adapt and learn from user input. When users engage in dialogue with Replika, its artificial intelligence learns user preferences, tone, and conversational style before adapting its responses accordingly for an engaging, personalized dialogue experience. This adaptability contributes to creating an adaptive virtual companion who evolves based on experiences and interactions over time.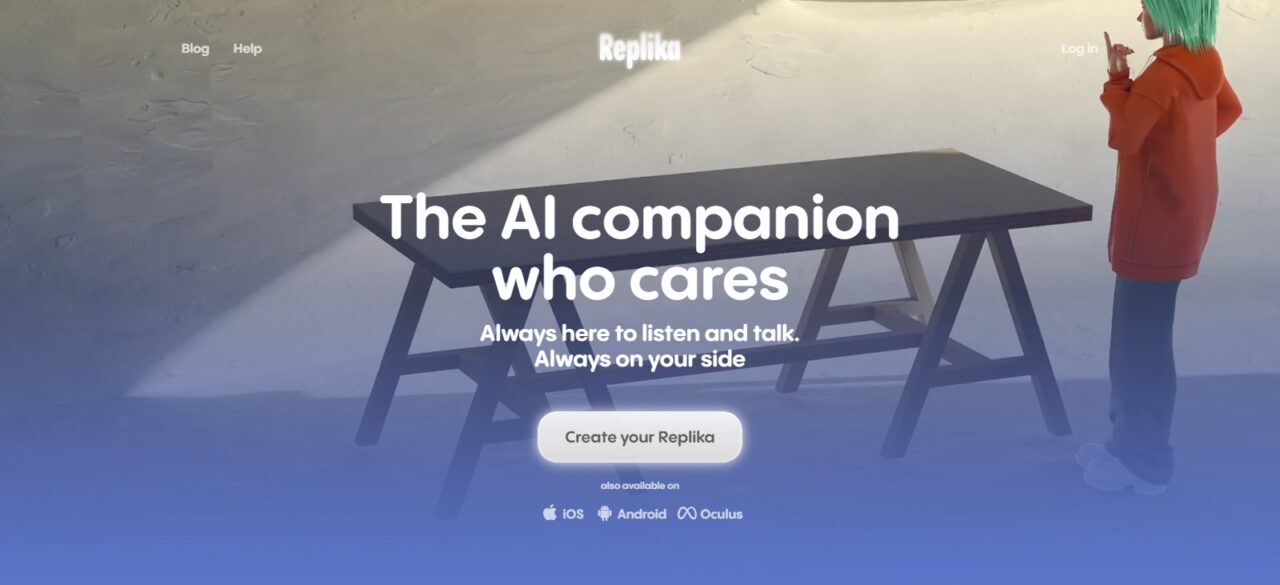 Replika emphasizes mental wellness through features that encourage users to share their thoughts, feelings and concerns freely and without judgment – providing a space where users can safely explore their emotions while building bonds between users that foster understanding.
Replika stands out in conversational AI technology due to its dedication to offering virtual companions that go beyond providing information, creating genuine connections and offering emotional support for users seeking more emotional interactions with AI technology.
36. Chatbot API (Best Alternatives To Chatgpt)
Chatbot API, an invaluable asset in conversational AI, gives developers an efficient means of integrating chatbot functionality into applications, websites or services. Conceived as an approach for simplifying chatbot building and deployment processes, Chatbot API makes use of natural language processing technologies such as conversation management to enable sophisticated capabilities without an in-depth knowledge of their inner workings.
One of the key advantages of Chatbot API is its versatility, supporting integration across platforms, messaging services, and applications. Developers can seamlessly embed chatbot functionalities into their projects for enhanced user interactions and engaging dialogue experiences.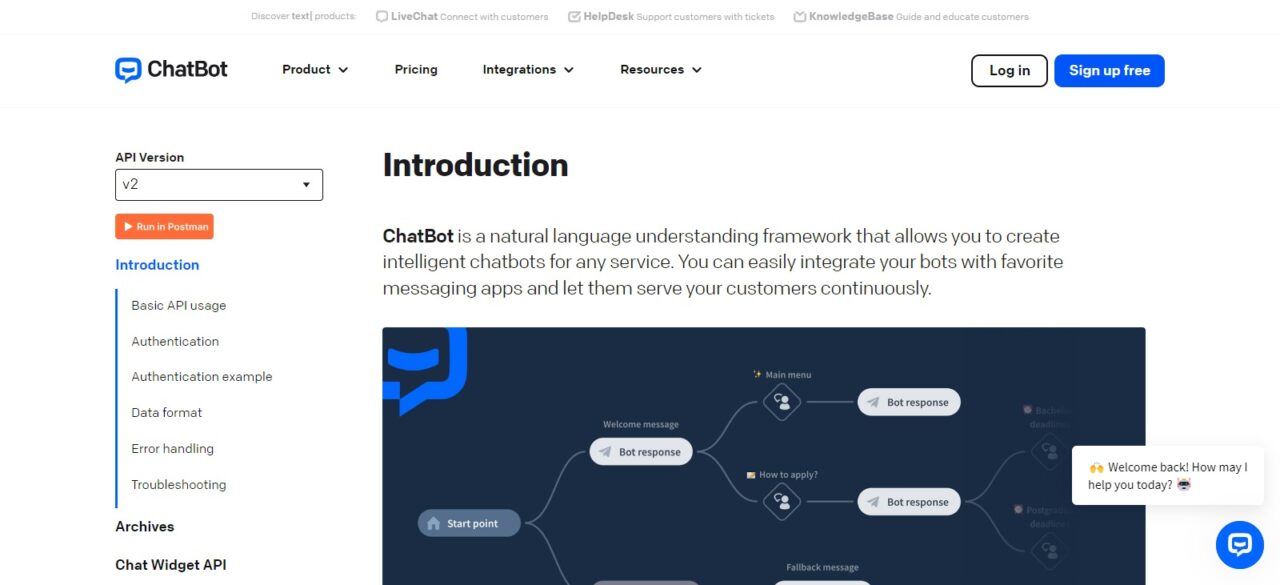 APIs often feature pre-trained models that enable chatbots to understand user inputs, respond appropriately and even participate in context-aware conversations. Some Chatbot APIs even offer customization features so developers can tailor chatbot behavior specifically for particular use cases or industries.
Chatbot API's ease of use and accessibility make it a popular choice among developers looking to add conversational interfaces to their applications. By making natural language understanding simpler and flow easier for developers, this API enables complex chatbot interactions without needing expert knowledge in AI or NLP.
37. NLTK (Best Alternatives To Chatgpt)
Natural Language Toolkit (NLTK) has long been recognized as a keystone in natural language processing (NLP), providing a comprehensive library and suite of tools for processing human language data. Written in Python, NLTK offers an impressive set of functionalities which make it indispensable to researchers, educators and developers working across NLP.
One of the hallmarks of NLTK's appeal lies in its versatility. This toolkit offers modules for tasks such as tokenization, stemming, part-of-speech tagging and syntactic parsing allowing users to conduct numerous analyses involving language processing. Furthermore, users have access to numerous lexical resources, corpora and pretrained models which enable experimentation and research in this realm of language processing.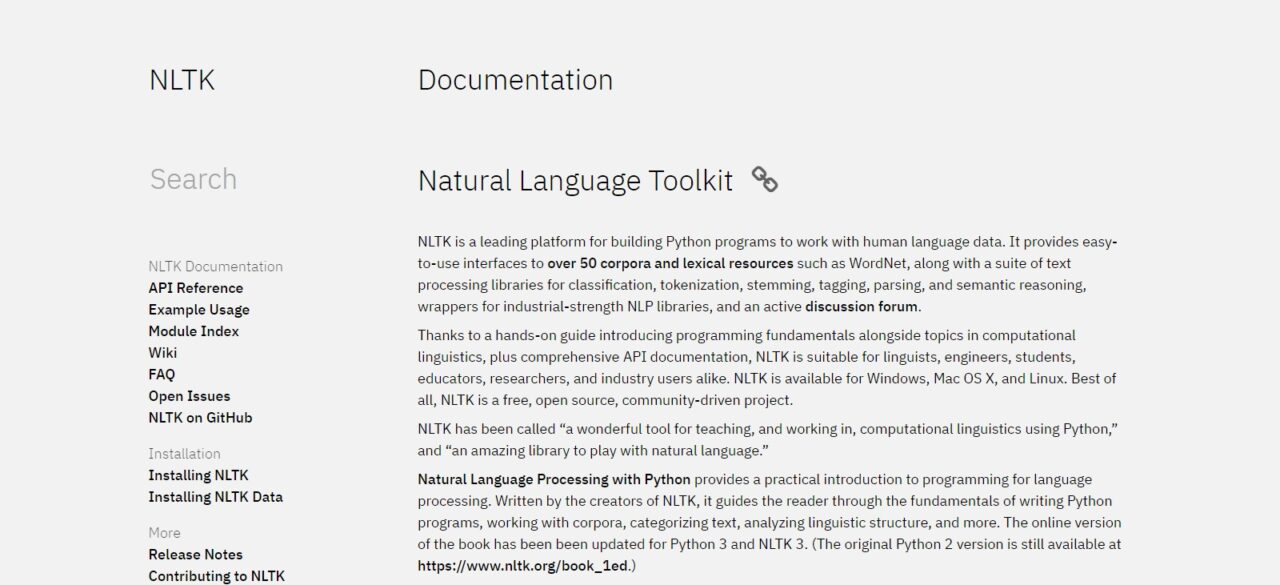 NLTK's accessibility and ease of use has contributed to its immense popularity with both novices and veteran NLP practitioners alike. Its well-documented functionality combined with an active community has fostered collaborative development and knowledge exchange.
Educational institutions frequently include NLTK in their NLP courses, highlighting its significance in teaching fundamental concepts and techniques in this rapidly-evolving field. As NLP continues to change over time, NLTK remains an indispensable foundational tool for those attempting to understand human language computationally.
38. EleutherAI Models
EleutherAI Models represent an exciting step toward open source and community driven advances in natural language processing (NLP). EleutherAI, as a decentralized research organization, is dedicated to pushing the limits of AI research while offering access to cutting-edge models – their models often use transformer architecture with an aim to rival or surpass state-of-the-art language models.
EleutherAI Models' hallmark characteristic is their dedication to openness and collaboration. EleutherAI encourages community participation by inviting researchers and developers worldwide to contribute towards model development while sharing insights. This approach creates an inclusive and diverse landscape for NLP advancements.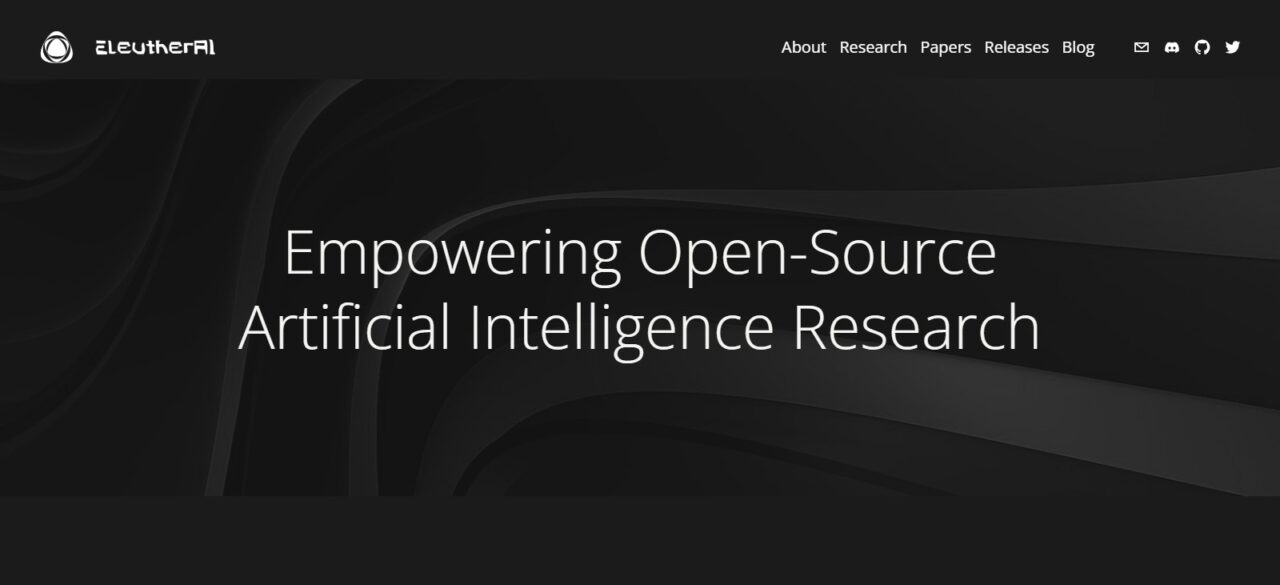 EleutherAI models are created to be highly scalable, enabling efficient training on large datasets – something critical to reaching high performance in NLP tasks. Leveraging distributed computing capabilities, EleutherAI uses this power to address challenges associated with training massive language models while keeping its research agenda transparent and sustainable.
EleutherAI Models have long been at the heart of pushing natural language understanding forward. Offering open access to state-of-the-art models and encouraging collaborative research efforts, EleutherAI models have played a critical role in shaping AI development's future.
39. Dialogflow by Google
Dialogflow from Google offers an accessible platform for building conversational interfaces such as chatbots and virtual agents, empowering developers to craft natural interactions between users and applications by taking advantage of its natural language processing (NLP) capabilities.
One of the hallmarks of Dialogflow's superior user experience and accessibility lies in its user-friendly platform interface, allowing developers to design conversation flows, define intents, and specify entities without extensive coding – expediting development time while making it accessible to more developers who lack deep expertise in NLP.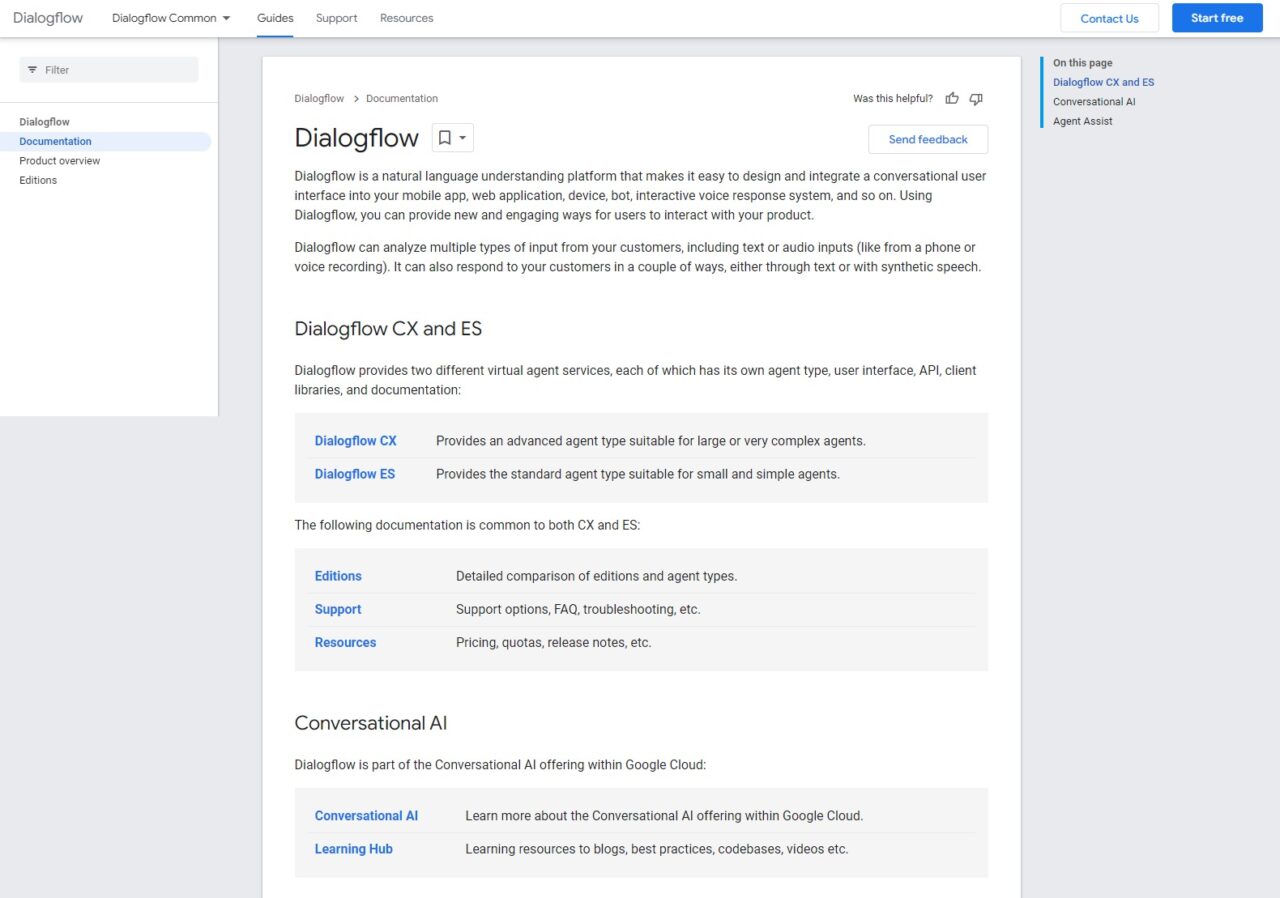 Dialogflow's versatility can be seen through its cross-platform compatibility, which enables developers to deploy chatbots across platforms such as websites, messaging services and voice-activated devices – providing an optimal user experience regardless of which interaction medium is chosen.
Dialogflow works seamlessly with Google Cloud services to expand its capabilities with features like sentiment analysis, language translation, speech-to-text transcription and response management for multilingual conversations and rich media responses. Developers seeking an advanced and context-aware conversational application will find this platform appealing.
40. Mycroft
Mycroft is an open-source voice assistant that stands out as a notable presence in conversational AI. Positioned as a privacy-focused alternative to mainstream voice assistants, Mycroft operates locally while safeguarding user interactions and data securely and privately.
Mycroft stands out as a voice assistant due to its dedication to open-source principles, giving developers freedom to explore, modify and contribute back into its codebase. This transparency not only supports principles of collaboration and community-driven development but also provides users with more control over their voice-enabled devices than with proprietary voice assistants.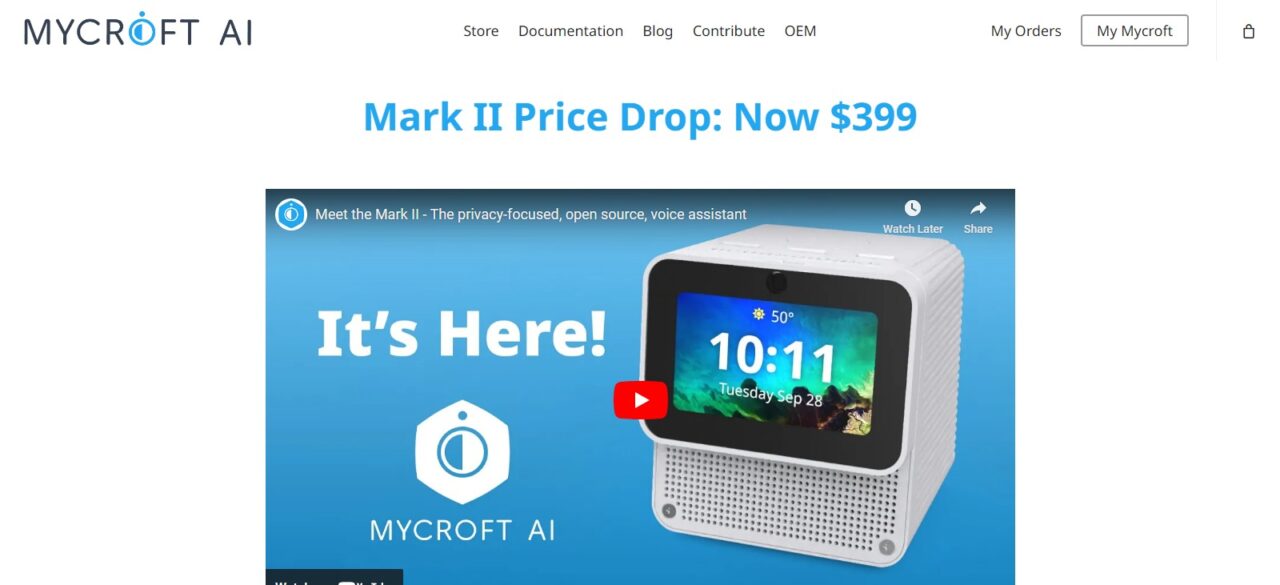 Mycroft is designed to be versatile and compatible with multiple platforms and devices, such as desktop computers, smart speakers and embedded systems. This adaptability enables users to easily integrate Mycroft into their preferred hardware for a personalized voice assistant experience.
Mycroft goes beyond voice recognition and natural language understanding to offer additional functionality via Skills, modular components that extend Mycroft's functionality. Users and developers can collaborate to develop these Skills so Mycroft can complete an expanding variety of tasks while connecting to diverse services.
As privacy continues to dominate user choices, Mycroft stands as an attractive choice for those in search of an open-source voice assistant that prioritizes security, transparency and user empowerment.
41. IBM Watson Assistant
IBM Watson Assistant, part of IBM's Watson AI platform, is an innovative and flexible tool for creating AI-powered chatbots and virtual assistants. Well known for its sophisticated natural language processing (NLP) capabilities, Watson Assistant allows developers and businesses to craft conversational interfaces that understand and respond appropriately to user inputs.
One of the standout features of IBM Watson Assistant is its advanced machine learning algorithms, which enable it to continuously learn and improve over time. This adaptiveness ensures that it keeps pace with users' evolving needs and preferences, creating more personalized and effective interactions for each interaction.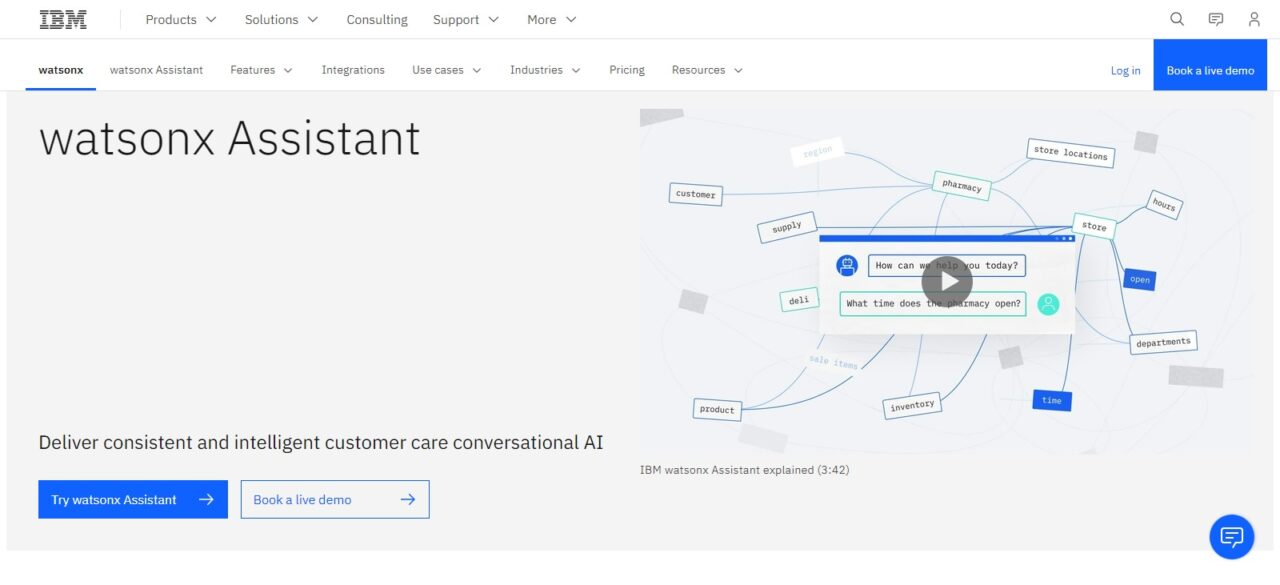 Watson Assistant offers multiple integration options, making it compatible with various platforms, messaging services and applications. Furthermore, its multilingual capabilities enable developers to build chatbots that engage users from diverse user bases – catering specifically to each language they speak.
IBM Watson Assistant excels at handling complex dialogues and can be leveraged for an array of uses ranging from customer support to helping users through complex workflows. Its user-friendly interface and integration with IBM Cloud services make it a popular choice among both developers and businesses looking to deploy sophisticated, context-aware conversational agents.
42. Mozilla DeepSpeech
Mozilla DeepSpeech is an open-source automatic speech recognition (ASR) system designed by Mozilla to democratize access to speech recognition technology. Utilizing deep learning techniques, DeepSpeech converts spoken language into written text for accurate and accessible recognition capabilities.
Mozilla DeepSpeech stands out from the competition through its commitment to openness and transparency. All codebase files, pre-trained models and training data for DeepSpeech can be freely found online allowing developers to collaborate in improving the system – this open approach aligns perfectly with Mozilla's commitment to privacy and user empowerment.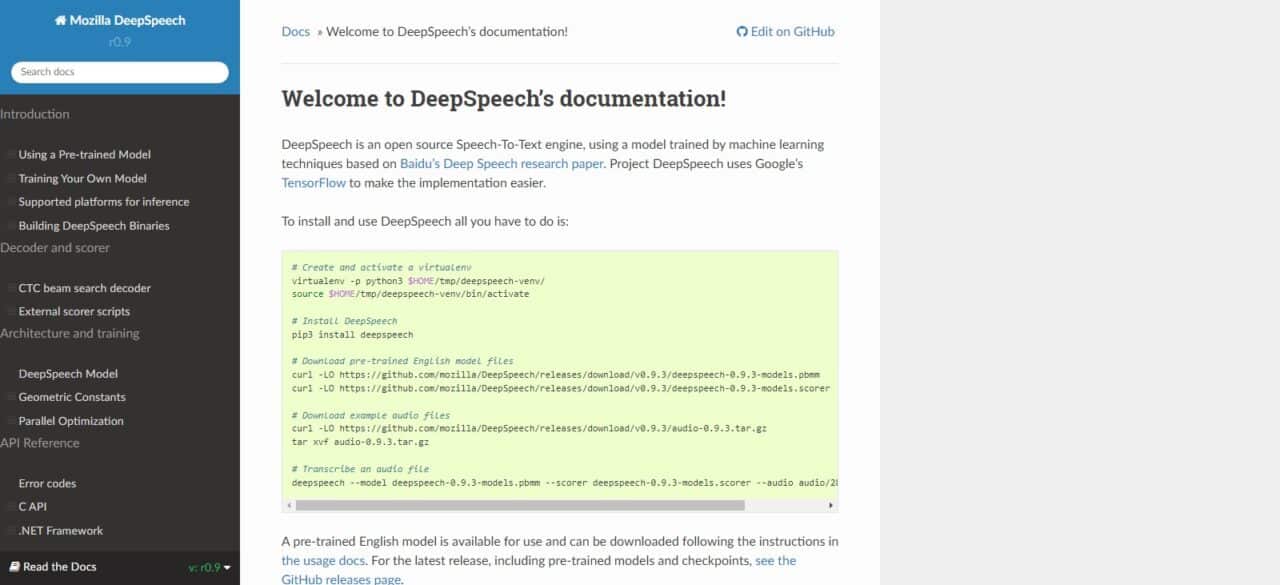 DeepSpeech uses cutting-edge deep neural networks to achieve impressive accuracy in recognizing spoken language. Its models are trained using large datasets, enabling it to generalize well across accents, languages, and speaking styles. Furthermore, its flexibility and adaptability makes DeepSpeech suitable for various applications ranging from voice-controlled interfaces to transcription services.
As speech recognition advances, Mozilla DeepSpeech stands out as an important player. It provides accessible and high-quality speech-to-text capabilities while its open source nature facilitates collaborative development of robust yet privacy-sensitive speech recognition solutions.
43. RiveScript (Best Alternatives To Chatgpt)
RiveScript, a lightweight yet versatile scripting language created for creating chatbots and conversational agents, has gained widespread praise for its ease of use and straightforward syntax that facilitates creating dynamic and engaging conversations. RiveScript can also accommodate developers of all skill levels with equal ease – an attribute which makes RiveScript particularly accessible for newcomers to programming.
RiveScript's core component is its set of rules that outline its behavior as a chatbot. These include patterns and responses, allowing developers to craft interactive dialogues based on user inputs. Furthermore, the language supports concepts like variables, conditional statements, and inline code allowing for an expressive level of conversational experience creation.
RiveScript is widely recognized for its portability, as it can be implemented across various programming languages including Python, JavaScript and Perl. This enables developers to seamlessly incorporate RiveScript into existing projects for more conversational user interfaces and wider functionality of applications.
RiveScript's simple yet versatile nature make it a top choice for individuals and developers experimenting with chatbot development. Its lightweight nature and user-friendly syntax enable them to build engaging dialogue agents without needing extensive programming knowledge.
44. TextBlob
TextBlob, a Python library for textual data processing, has become a go-to library due to its ease and effectiveness in natural language processing (NLP). Utilizing NLTK and Pattern as its foundations, TextBlob offers a high-level API that makes NLP accessible even to users with limited programming knowledge.
TextBlob stands out for its ease of use. The library offers an accessible and straightforward user interface for tasks such as part-of-speech tagging, noun phrase extraction and sentiment analysis – making the library ideal for developers and researchers who wish to quickly implement NLP functionalities without getting bogged down in technicalities.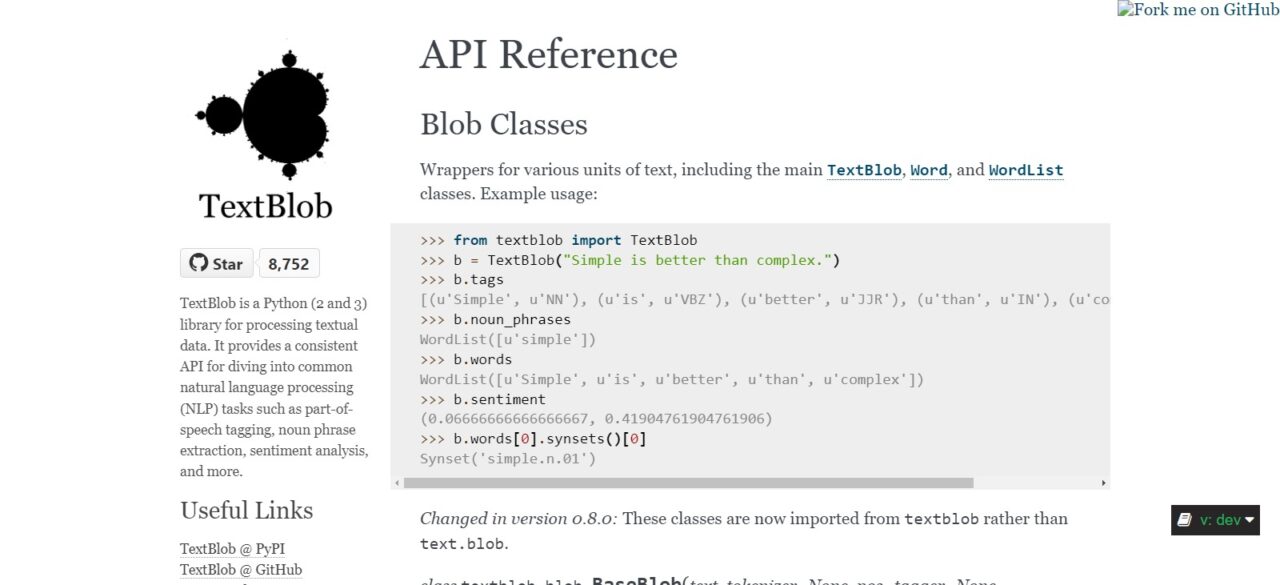 TextBlob stands out with its sophisticated sentiment analysis capabilities, assigning each text with both a polarity and subjectivity score to indicate positivity or negativity of sentiment and objectivity/subjectivity of its words. This makes TextBlob an invaluable asset when used for applications requiring sentiment analysis such as social media monitoring or customer feedback analysis.
TextBlob provides support for multiple languages and allows easy integration with other Python libraries and tools, with its open-source nature and active community contributing to its continued development and adoption in countless projects, solidifying its place as the go-to library for simple yet powerful NLP in Python.
45. SpeechRecognition
SpeechRecognition, a Python library, serves as a versatile solution for adding speech recognition capabilities into applications and projects. Renowned for its ease of use and support for various speech recognition engines, SpeechRecognition makes an excellent solution that adapts well to different use cases.
SpeechRecognition stands out amongst its competitors with its compatibility with multiple engines such as Google Web Speech API, Sphinx and Microsoft Bing Voice Recognition. This flexibility enables developers to select an engine best suited to their requirements – be it real-time recognition, offline processing or multilingual support.
SpeechRecognition simplifies the process of turning spoken language into text by providing an accessible API for developers. SpeechRecognition supports various audio file formats and streaming audio streams, making it suitable for applications such as voice-controlled interfaces, transcription services, voice activation services and voice activated apps.
SpeechRecognition offers more than basic speech-to-text conversion. Its capabilities extend well beyond this basic task; its software can handle different languages, adjust recognition parameters and even identify specific keywords or phrases within spoken content. SpeechRecognition's flexibility coupled with its easy integration into Python projects makes it an invaluable asset for developers looking to incorporate speech recognition features into their applications with minimal complexity.
46. GPT-J
GPT-J, short for "Generative Pre-trained Transformer Jumbo," represents an outstanding advancement in large-scale language models. Created by EleutherAI – an open-source research organization – this advanced language model leverages transformer architecture to offer powerful yet cost-efficient solutions for natural language understanding and generation tasks.
GPT-J is distinguished by its large scale of 6 billion parameters, making it one of the largest publicly available language models. This massive scale allows GPT-J to understand and generate coherent text across a range of topics and languages, contributing to its successful translation capabilities.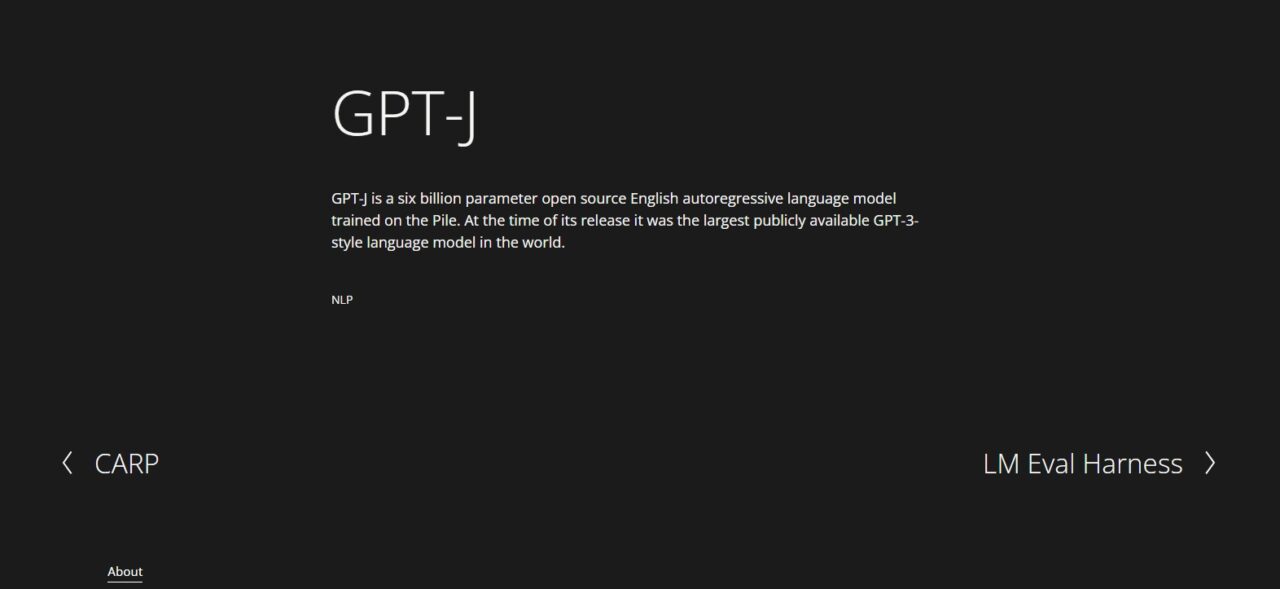 GPT-J uses the pre-training approach, in which its model is trained on an extensive corpus of text data in order to understand intricate patterns and relationships within language. Following training, fine tuning GPT-J on specific tasks further improves performance for tasks like text completion, summarization and question-answering.
GPT-J is an open source initiative and adheres to principles of transparency and collaboration, giving researchers and developers around the globe access to its architecture and parameters – encouraging community-led advancements and improvements.
As natural language processing evolves, GPT-J stands as a testament to large-scale language models' abilities. As researchers and practitioners aim to take advantage of cutting-edge language understanding and generation capabilities in their applications, this resource proves indispensable.
47. Jasper (Best Alternatives To Chatgpt)
Jasper, developed by the University of Maryland as an open-source platform, is a speech and natural language processing system specifically designed to support voice-controlled applications. Abbreviating "Just A Rather Sensitive Personal Assistant", it provides a framework for creating personalized and context-aware voice interfaces that respond to spoken commands.
One of the main strengths of Jasper is its modularity, enabling developers to tailor and extend its functionality based on individual use cases. Jasper supports numerous plugins and modules, giving users access to additional capabilities seamlessly integrated into voice-controlled apps.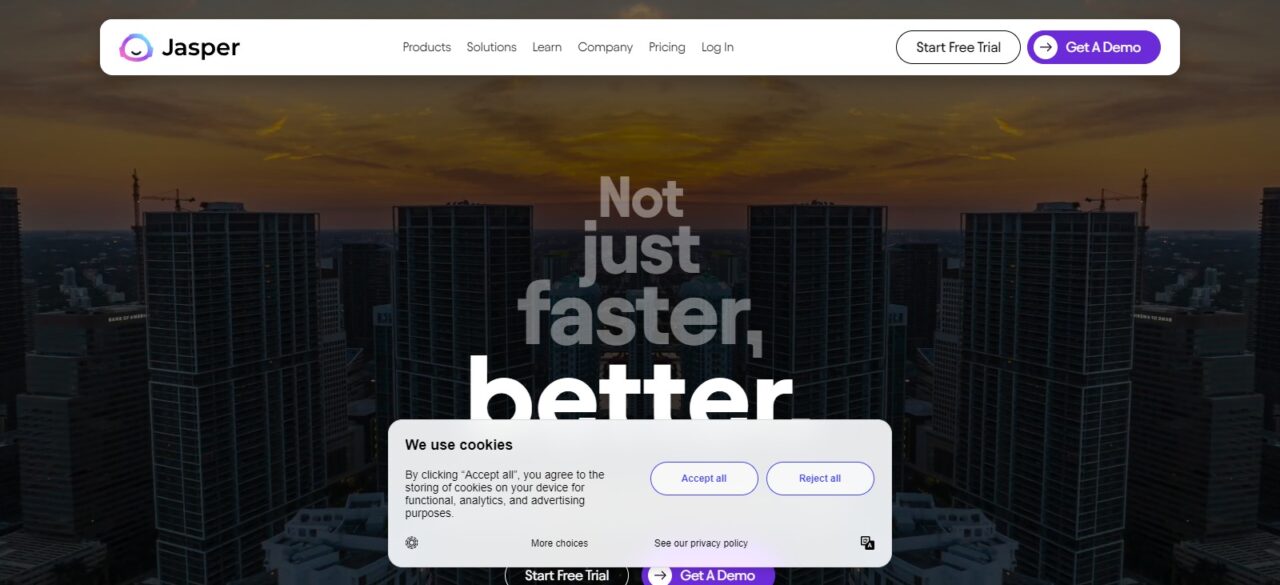 Jasper's speech recognition capabilities are powered by the pocketsphinx library, making it suitable for offline voice recognition without needing a continuous internet connection. This feature helps protect privacy while still providing responsiveness even in environments with limited connectivity.
Jasper is extensible enough for developers to integrate it with other smart home devices and services, creating a central hub for voice-controlled automation. From setting reminders, controlling smart lights or retrieving information – Jasper offers a flexible yet customizable platform that enables individualization based on personal preference – while its open source nature fosters collaboration and innovation, making Jasper an invaluable asset in developing voice-controlled interfaces.
48. SpaCy
SpaCy is an open-source natural language processing (NLP) library for Python that has quickly gained accolades for its speed, efficiency, and user-friendly design. Created by Explosion AI, SpaCy offers robust tools for various NLP tasks ranging from part-of-speech tagging, named entity recognition to dependency parsing and text classification.
SpaCy's stand-out feature is its emphasis on speed and efficiency. This library has been carefully tuned to perform efficiently while processing large volumes of text with minimal computational resources; making it especially valuable in real-time or batch applications of natural language data processing.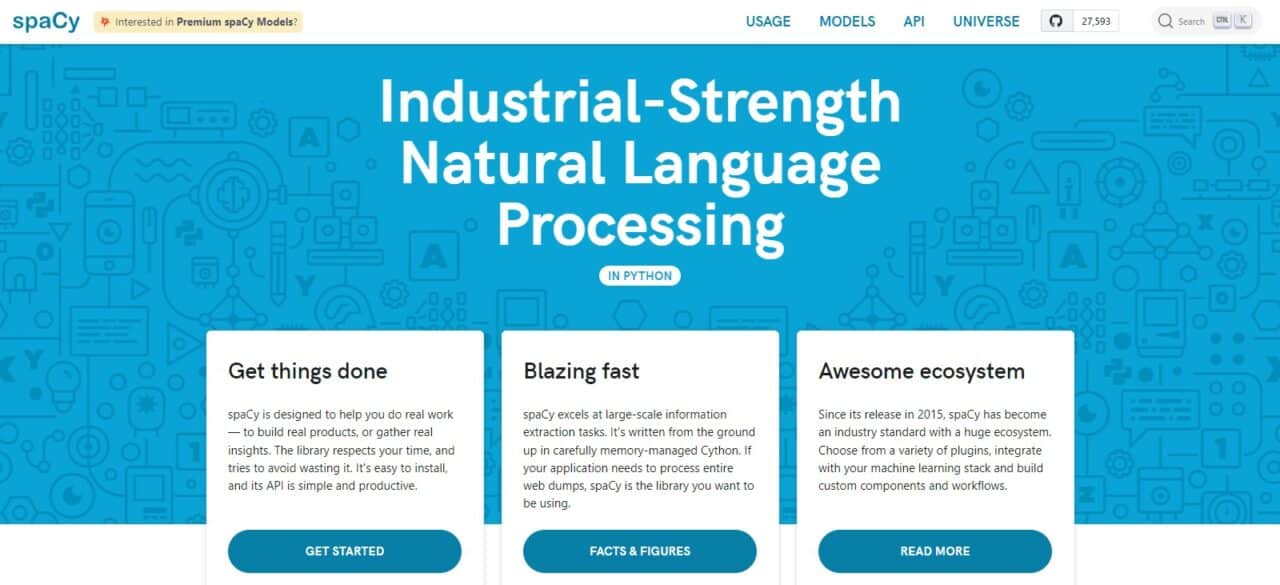 SpaCy provides impressively accurate pre-trained models for multiple languages, while its customizable pipeline enables users to tailor processing steps according to individual user needs. Furthermore, its seamless integration with deep learning frameworks such as TensorFlow and PyTorch extends its versatility by enabling developers to integrate cutting-edge techniques into NLP workflows.
SpaCy was developed with user experience in mind, providing a straightforward API and comprehensive documentation that are easily accessible for beginners as well as experienced NLP practitioners alike. An active community and regular updates keep SpaCy evolving with changing NLP challenges – solidifying SpaCy as one of the premier choices for efficient natural language processing in Python.
49. Microsoft Bot Framework
The Microsoft Bot Framework is an extensive set of tools and services developed by Microsoft that aims to facilitate the creation, testing, and deployment of conversational AI applications like chatbots and virtual assistants. Offering capabilities such as creating, testing and deploying intelligent bots across various channels – this framework makes creating chatbots and virtual assistants much simpler.
One of the greatest strengths of the Microsoft Bot Framework lies in its versatility: developers can use it to quickly build bots for messaging platforms like Microsoft Teams, Slack and Facebook Messenger. Plus, it supports multiple programming languages so developers can choose their favorite – be it C#, Node.js or Python.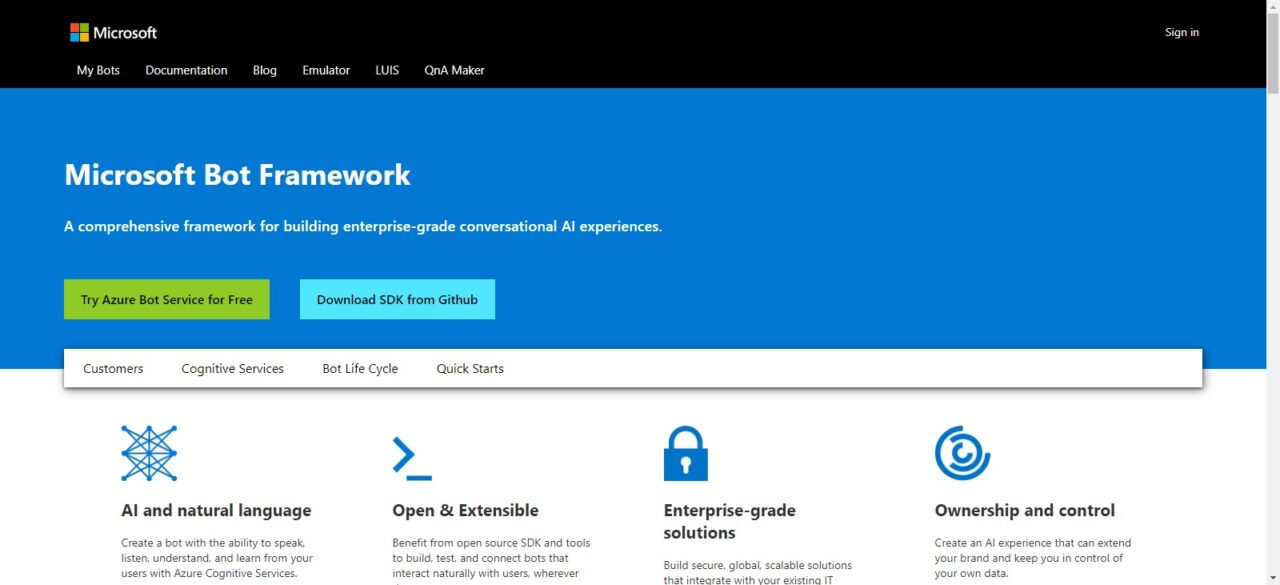 Microsoft Bot Framework features the Bot Builder SDK, a set of libraries that allows for rapid bot development with natural language understanding and advanced conversation flow management capabilities. Furthermore, this framework integrates seamlessly with Microsoft Azure services providing hosting, analytics, cognitive services for enhanced bot capabilities such as language understanding, vision recognition and more.
With its strong focus on user experience, the Microsoft Bot Framework empowers developers to craft intelligent, context-aware bots that can engage in meaningful dialogues. Regular updates and integration with Azure services ensure developers have access to cutting-edge tools and technologies for improving conversational AI applications.
50. Botpress
Botpress, an open-source conversational platform designed for creating chatbots and virtual assistants, stands out as an open-source conversational platform due to its versatility and user-friendliness. Created by Botpress Inc., this platform makes creating customized and advanced chatbots easier than ever.
Botpress provides a visual interface that simplifies bot creation, enabling developers to design conversation flows, manage content and integrate external services without extensive coding. Its modular architecture facilitates adding custom modules and plugins tailored specifically to meet particular requirements allowing them to extend the functionality of their bots based on specific needs.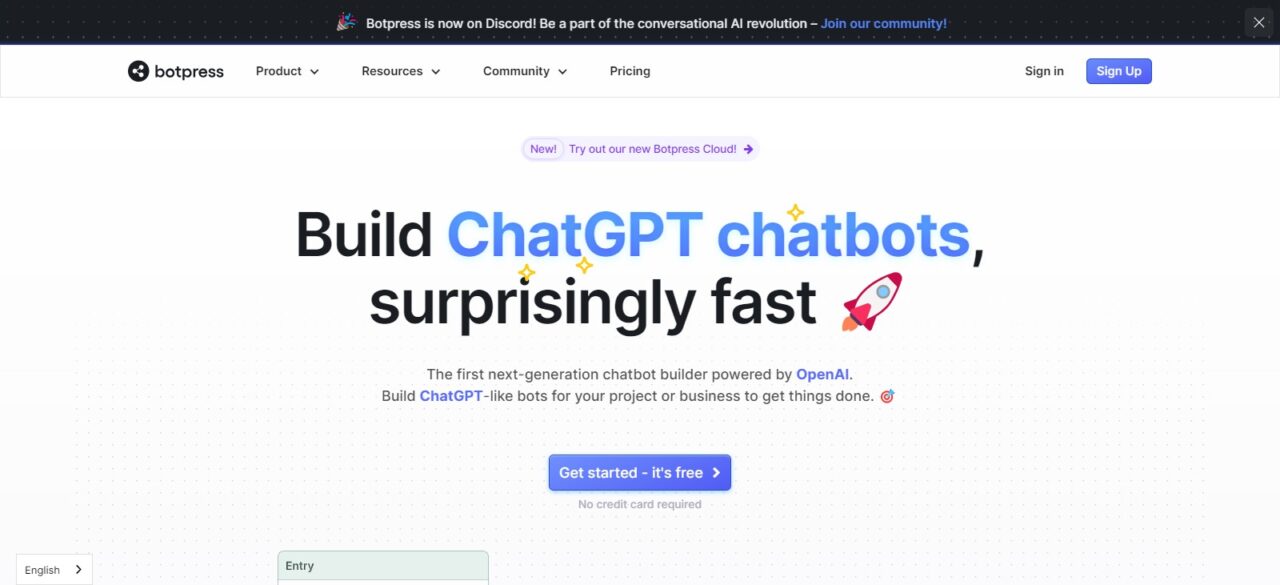 Botpress's natural language understanding (NLU) capabilities are enhanced through integration with popular NLU services like Dialogflow and Rasa, giving users the freedom to select their ideal NLU engine. Furthermore, Botpress provides support for multiple messaging channels like Facebook Messenger, Slack, and WhatsApp for bot developers who wish to deploy bots across these platforms.
As an open-source project, Botpress benefits from the contributions and involvement of an engaged community of contributors who help maintain updates, improvements, and support. Botpress's openness and extensibility makes it a useful solution for developers seeking a flexible yet powerful conversational interface platform to use.
Tell Me The Best Feature Of Best Alternatives To Chatgpt?
Specialized Domain Knowledge: Some alternatives excel in specific industries or domains, offering models trained on specialized datasets. This enables more accurate and contextually relevant responses in niche areas like finance, healthcare, or legal.
Fine-Tuning and Customization: Certain alternatives offer extensive options for fine-tuning and customization, enabling users to tailor the behavior of language models more precisely to their individual needs, making the model more adaptable to unique use cases.
Enhance Output Control: Some alternatives provide advanced controls over output generation, allowing users to more precisely influence the model's behavior and maintain specific tones or formality levels in applications where that may be crucial.
Cost-Effective Solutions: Users often look for cost-effective alternatives with competitive pricing models without compromising performance. Some platforms allow flexibility in pricing plans so users can select plans that best meet their budget and usage needs.
Built-In Security Measures: Security features are of utmost importance in any scenario where data protection is at stake, including privacy and confidentiality issues. In such instances, alternatives with robust security features such as encryption protocols and compliance with industry standards may be preferred for optimal data protection.
Real-Time Collaboration: For collaborative projects, certain alternatives emphasize real-time collaboration features to enable teams to seamlessly work on language-related tasks together, improving productivity and streamlining workflows.
Ethical AI Principles: Alternatives that prioritize ethical AI principles such as fairness and transparency will attract users who prioritize ethical considerations while wanting to avoid bias in language generation.
What Ideal Features Should Best Alternatives To Iphone Have?
Ideal features of alternatives to the iPhone should combine performance, design and functionality for maximum user satisfaction. A compelling alternative should provide a user-friendly operating system with seamless navigation and regular updates for optimal user experience; customization options allow individuals to personalize their device according to individual tastes and personalization options give devices individual charm.
Build quality and design are of utmost importance, with customers seeking solutions made of premium materials with an appealing appearance. Display quality should also be given consideration; users expect vibrant high-resolution screens available in different sizes to meet various user needs.
Performance is of utmost importance, necessitating powerful processors and enough RAM for smooth multitasking and responsive applications. A camera system often proves decisive, with users favoring those offering superior photography or videography features as well as low light photography abilities.
User experience is of utmost importance, with users preferring devices that provide full day use with fast charging capabilities and provide quick replenishment. Incorporating storage options, connectivity features and biometric authentication also contributes to an enjoyable user experience.
Competitive pricing, ecosystem integration with other devices and services, reliable customer support and innovative features set the best alternatives apart from one another. Durability, water resistance and sustainable practices further broaden their appeal as practical and ethical considerations are addressed as well as practicality considerations are met by this solution. In essence, an ideal iPhone alternative combines cutting-edge technology with user-centric features in order to offer an all-encompassing user experience across multiple user groups.
Conclusion : Best Alternatives To Chatgpt
As discussed previously, conversational AI offers numerous alternatives to ChatGPT that each boast unique features and capabilities to meet specific user needs. As we traverse this realm, it becomes evident that selecting the ideal option depends entirely on individual users' or businesses' individual requirements.
These advanced conversational AI options, featuring specialized domain knowledge, fine-tuning capabilities and enhanced control over outputs, demonstrate the rapidly advancing nature of conversational AI. Real-time collaboration features and commitments to ethical AI principles further demonstrate progress toward creating more versatile and responsible language models.
Cost-effective solutions, integrated security measures and unique collaborative approaches contribute to a vibrant ecosystem of alternatives to ChatGPT that offers users a range of choices tailored to their preferences and priorities. As technology continues to advance, conversations surrounding alternatives to ChatGPT not only reflect enhanced functionality but also address ethical considerations while encouraging inclusivity in language generation.
At its core, finding the ideal alternative depends on each user's specific use case, making a careful evaluation of features, customization options, ethics and operational standards as the deciding factors for choosing between alternatives to ChatGPT vital for ongoing innovation and refinement within conversational AI.
FAQ'S : Best Alternatives To Chatgpt
What features should I consider when searching for alternatives to ChatGPT?
Important features may include customization options, industry focus, collaboration features, pricing models, security measures and ethical considerations.
Are there alternatives tailored specifically for specific industries or domains?
Yes, some alternatives specialize in specific industries by providing domain-specific language models and responses for more accurate and pertinent responses.
How do the pricing structures vary among alternative platforms?
Pricing models range from flexible usage-based plans to subscription models, making it essential to assess pricing based on individual usage patterns and budget constraints.
Can alternatives integrate seamlessly into existing applications or workflows?
Many alternatives provide APIs that make integration seamless, making it easy for developers to incorporate advanced language models into applications and workflows more efficiently.
How do alternatives address bias in language generation?
Ethical alternatives take steps to address biases, such as conducting ongoing research, transparency initiatives and mitigating potential biases in model outputs.
Do ethical alternatives provide real-time collaboration features for teams?
Yes, some alternatives emphasize real-time collaboration features for improved team productivity in language-related tasks.
How do alternatives protect security and data privacy?
Security-minded alternatives implement stringent measures, including encryption protocols, industry compliance standards compliance and transparent data handling practices to safeguard data privacy and confidentiality.
Can alternatives be used in industry specific applications?
Absolutely, certain alternatives offer solutions tailored to specific industries, with models trained on datasets relevant to that sector.
How can users select the optimal alternative for them?
Users should take into account factors like customization options, industry focus, collaboration features, pricing, security measures and ethical considerations in their evaluation. A thorough assessment will allow users to select the most suitable alternative.
Are There Alternatives That Focus On Updates And Improvements?
Yes, some alternatives emphasize research and development to keep their models relevant with emerging developments in natural language processing.